Husband and wife Josefin Zernell and Kiril Shaginov started Mork in 2012 to get proper dark drinking chocolate into Melbourne cafes. Three years on, they opened their own cafe in North Melbourne, Mork Chocolate Brew House to showcase the range. Another spot followed in the city in 2021.
Now comes a third location, in the Dairy Produce Hall at Queen Victoria Market. The core range of bean-to-cup hot chocolates – 50, 65, 70 and 85 per cent cacao, respectively – is, of course, being brewed. Each drink is topped with a house-made, blowtorched-to-order marshmallow in vanilla, chocolate or miso caramel flavours. The marshmallows also appear in s'mores. Cakes and pastries come from sister business Sot, including its popular Swedish-style cinnamon buns.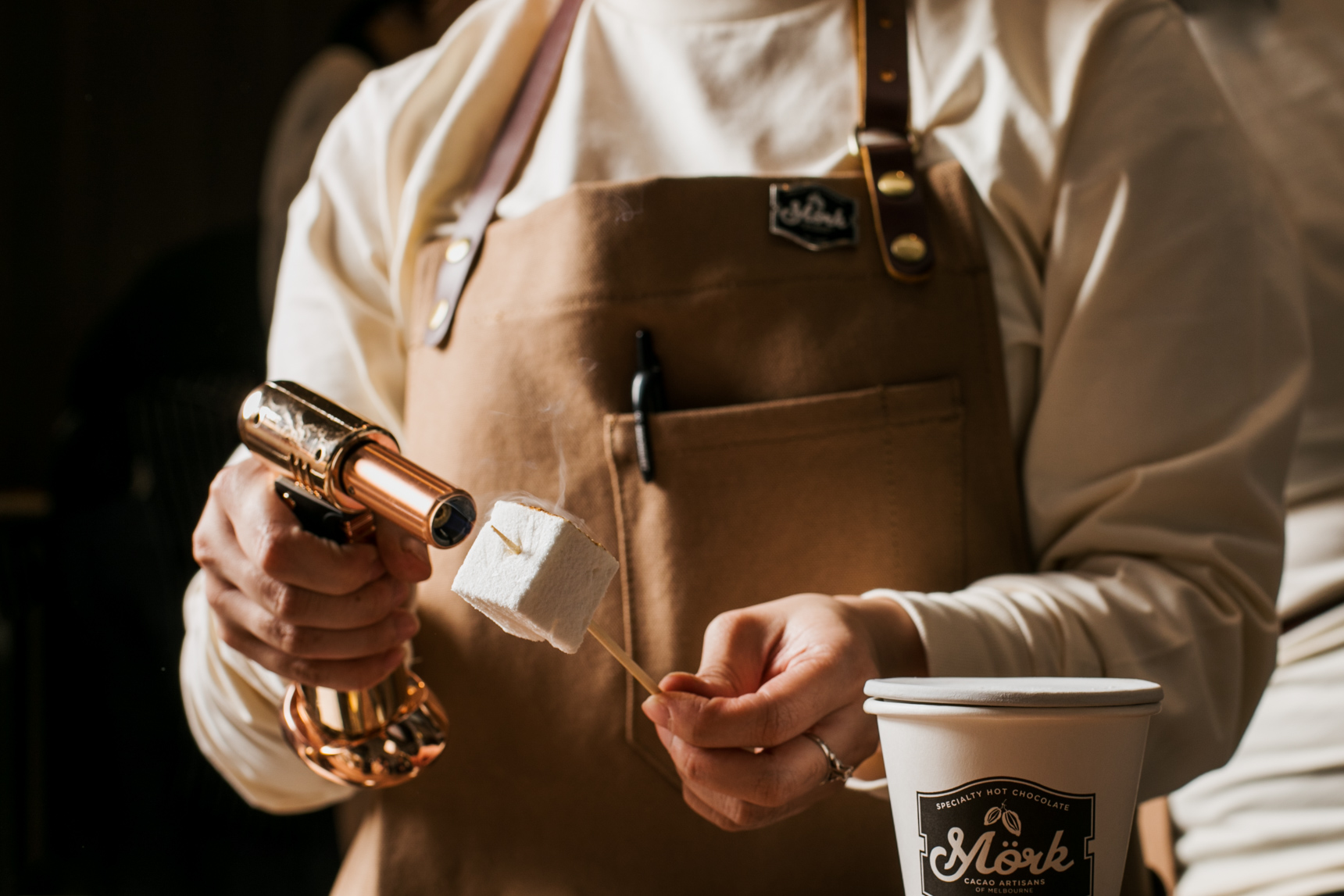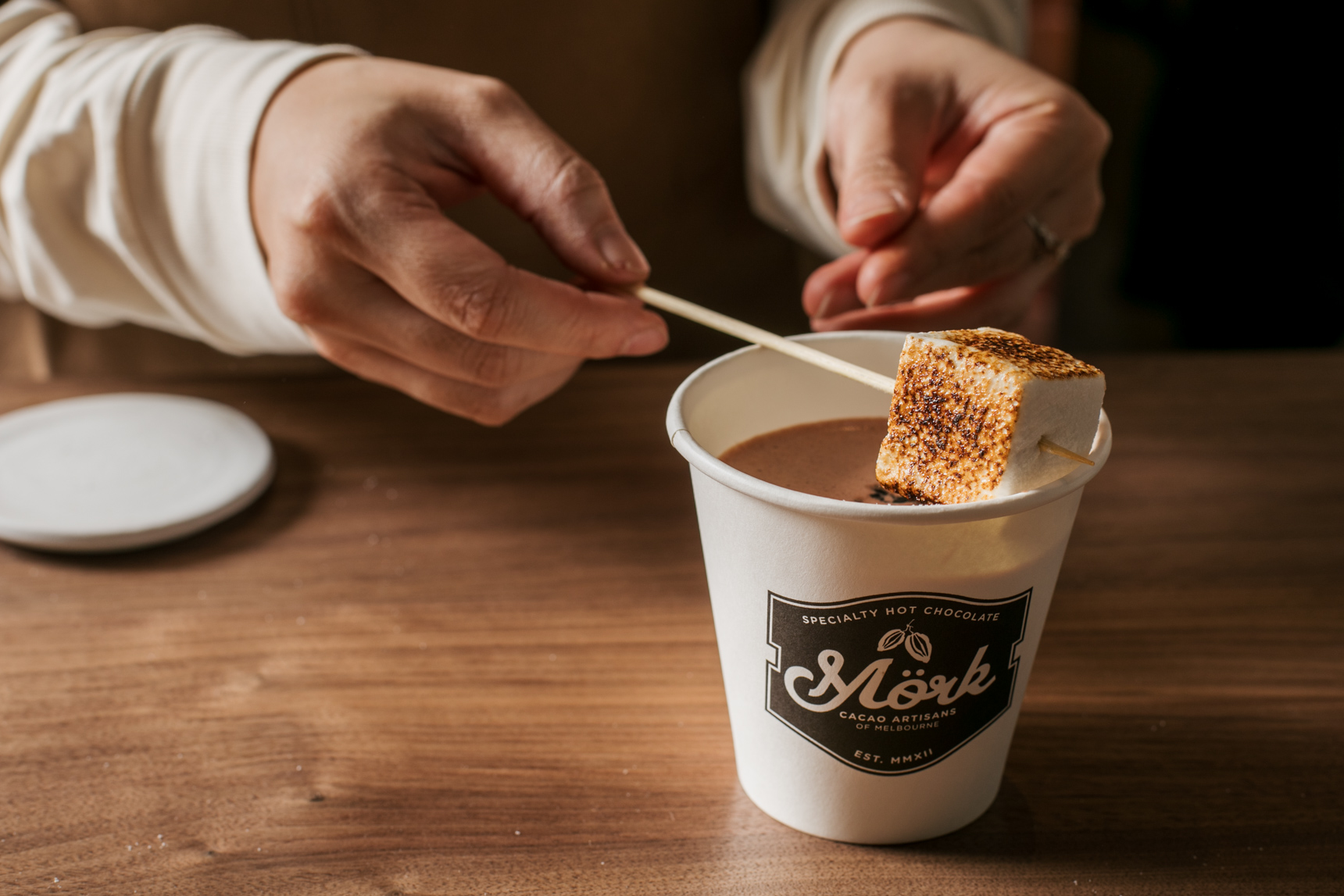 Mork hot chocolate and blowtorched marshmallows. Photography: Amy Hemmings

This year, gift them a dinner to remember with a Broadsheet Gift Card.
BUY NOW
"I'm Swedish, so cinnamon buns to me are what croissants are to the French, it's part of my everyday life," Zernell says. "People [in Australia] usually go for an American-style scroll, and there's just so much bread, you know? There's just not enough spice or sugar. Really, it's got to be like 50 per cent butter and spices and sugar. [In Sweden] [a]nyone's grandma will make it so that the butter and sugar oozes out of the bun. That's the right way to do it."
The couple developed the cinnamon bun, or kanelbullar, years ago with former Lume chef, Sean Quade. Sticky on the outside and dense on the inside, the bun is filled with generous amounts of cinnamon, cardamom and – to add Mork's own sweet spin – caramelised chocolate.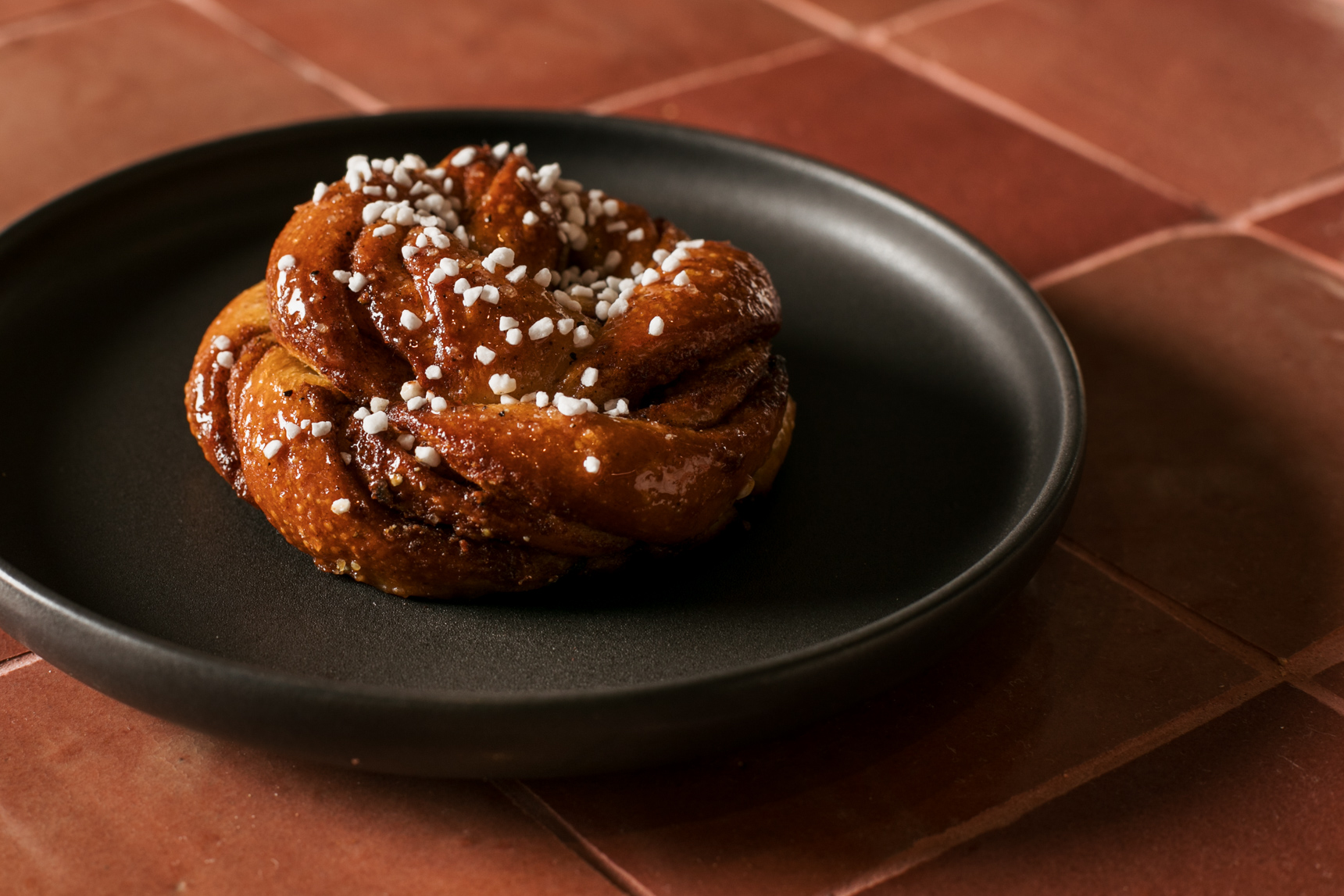 Mork's Swedish cinnamon bun. Photography: Amy Hemmings

Leftover cinnamon buns are also used to make cinnamon bun milk punch, a fragrant and buttery cocktail that's part of a ready-to-drink cocktail line created in collaboration with the Drinks by Loro founder Orlando Marzo. Bottles are available in store.
The space was formerly home to a cake and biscuit shop. As market regulars, Zernell and Shaginov would walk past the shopfront each week, dreaming of how they might update it. When the lease became available, the pair presented their vision to market management and beat out almost 100 other applicants. They started hosting pop-ups in the shop just before Christmas last year and started renovations just after Easter
Being a heritage-listed site, many original features have been retained. This includes the tiles, windows and marble counters, which for years were covered with heavy glass tops but now proudly display Mork's chocolates, drinks, ceramics and, of course, those show-stealing cinnamon buns.
This story was updated on June 13 to include the following correction. The original version of this story incorrectly said that the shopfront had been empty for years before Mork took over the lease: it was in fact vacant for three weeks before Mork started hosting pop-ups in the space in December 2022.
Mork Chocolate QVM
Dairy Produce Hall Queen Victoria Market, Shop 51-54, Melbourne
No phone
Hours
Tues 6.30am–3pm
Thurs to Sat 6.30am–3pm
Sun 8.30am–3pm