When did we start pampering our pets so much? Investing in quality collars and leads for stylish walks, choosing treats that are good on stomachs and buying compostable poo bags is standard stuff for pet owners in 2023. These Australian and New Zealand brands are catering to dapper dogs and fussy felines alike.
Houndsome
Handsome hounds wear Houndsome. The Melbourne-based brand handcrafts quality collars, coats and even cravats for the most discerning doggos. Working with local makers and suppliers, every piece is made for a lifetime of love. You will also find matching poo bag carriers and hand-thrown ceramic bowls in the collection.
Hommey
A brand already loved by humans, Hommey has recently made a foray into the world of squishy comfort for pets. The collection offers machine-washable beds, blankets and bone-shaped pillows – made with the brand's signature bouclé and faux fur. Plus, there are handsome bouclé leads for when you need to go walkies.
Save 20% when you buy two or more Broadsheet books. Order now to make sure they arrive in time for Christmas.
SHOP NOW
The Paws Room
The Paws Room offers a chic solution to crate training with its oak-finished designs. The Archie will slot in seamlessly with your decor, while offering a cosy and safe space for your pup to sleep – and the brand is currently offering $100 off the regular price. It's perfectly sized to house small to medium dogs. The Teddy crate and Coco couch have multiple sizing options, depending on your pet's needs.
Dog by Dr Lisa
Dog by Dr Lisa is a go-to for coat care. Founded by veterinarian Dr Lisa Chimes, the range is centred on the idea that dogs should only be washed every four to six weeks so as not to disrupt the natural defences of their coat. Compostable wipes for post-park clean-up, leave-in conditioner to help detangle knots, and a calming cologne to keep your pooch smelling (and acting) sweet, are better choices for between baths. A good brush is important too.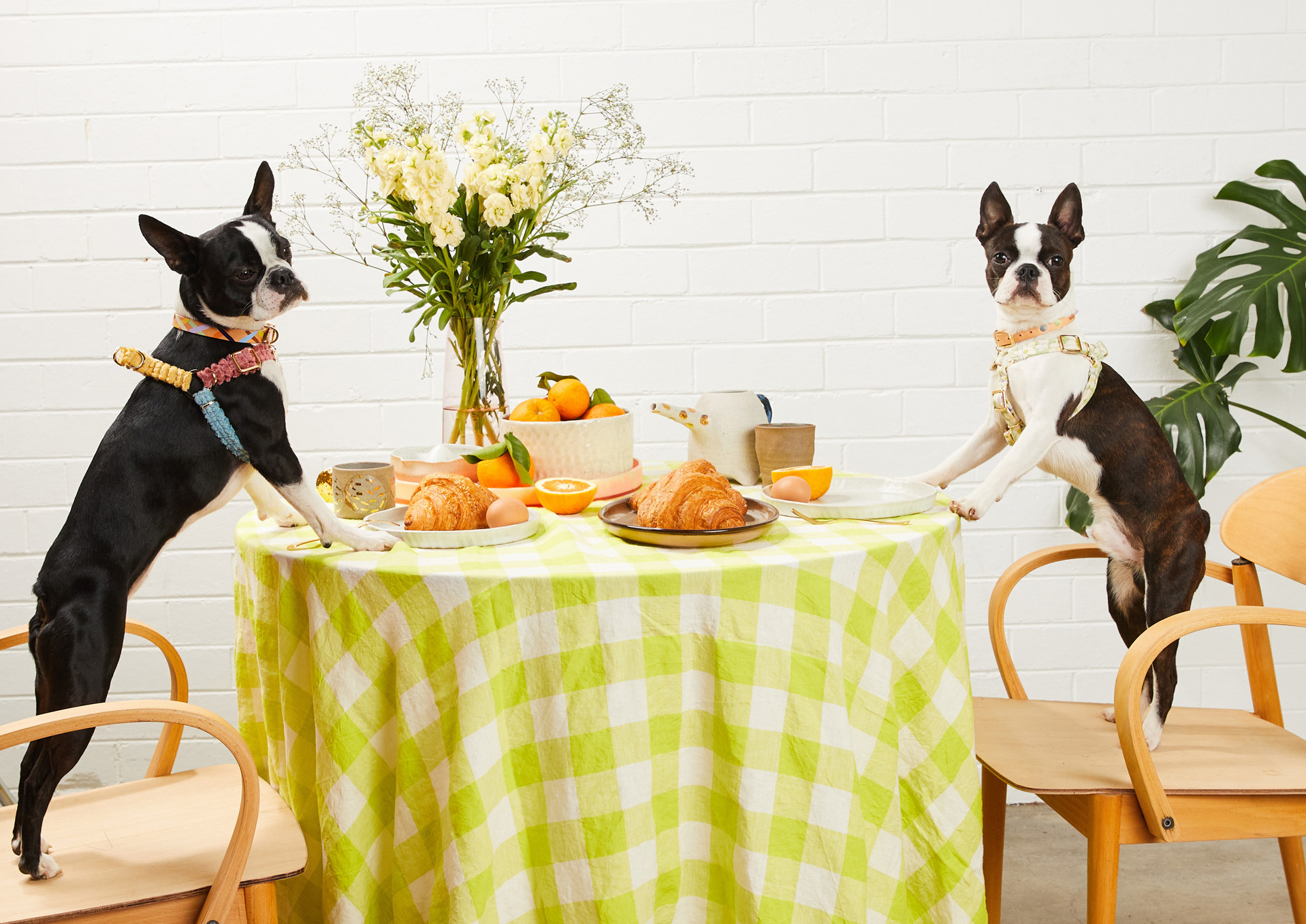 Nice Digs
Handmade in Victoria's Dandenong Ranges, Nice Digs has you covered for walk, sleep and play. From vibrantly printed collars and leads to cosy cushioned beds, wool blankets and interactive toys there's something for every dog- and cat-lover. The accessories collection is designed and crafted by an all-female team in the brand's Belgrave studio, while the bedding range is made in small runs a maker in Melbourne. The majority of fabric remnants are upcycled into printed accessories to reduce wastage.
Dazy Dog
After launching with orthopaedic beds in 2019, Dazy Dog has expanded its range to meet more of your pal's wellbeing needs. The same function-first mentality has been applied to the brand's bowls, which are made from food-grade stainless steel with an anti-slip ring on the base and a 1.9 litre capacity for all-day hydration. There are also water- and odour-proof collars and leads available.
Bell & Bone
Dental disease is a common concern for pups and can lead to expensive and painful teeth-cleaning procedures. Bell & Bone's dental chews are designed to help keep doggy breath at bay, and prevent and reduce plaque and tartar. The range is filled with delicious, healthy flavours like kangaroo, salmon, chicken and lamb combined with oral-care superfoods like mint, manuka honey, activated charcoal and seaweed. Broadsheet readers can also get a 20 per cent discount with the code BROADSHEET20.
Oh Crap
You've got to pick up the poo. And with Oh Crap's plastic-free compostable poo-bag subscriptions, you'll never be left without a bag for clean-ups. The bags are made from cornflour and disintegrate in landfill within three months. The Geelong-born brand has recently added a range of premium treats to reward all the good boys and girls for doing their number twos. Broadsheet readers can get a 10 per cent discount with the code BROADSHEET10.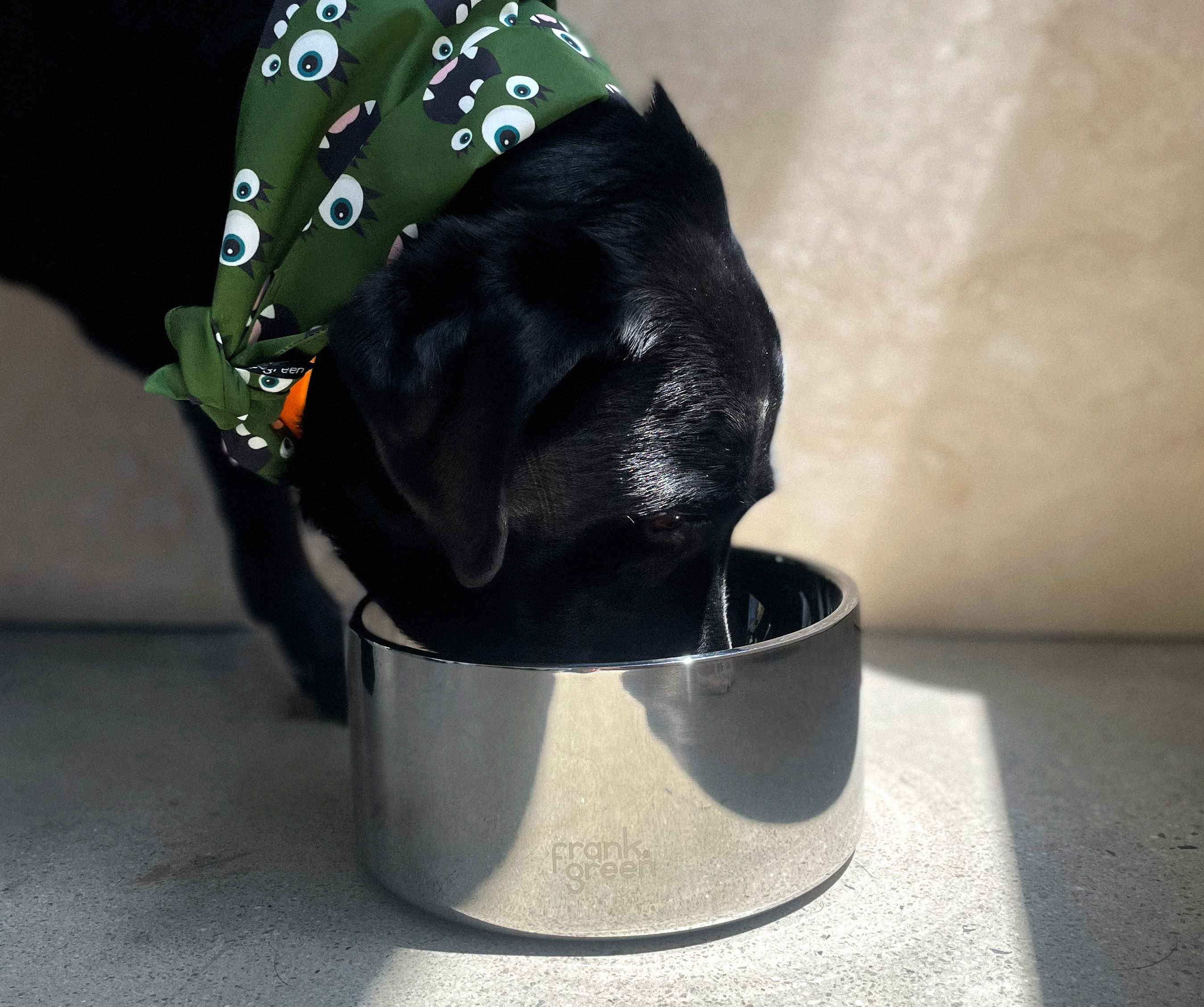 Frank Green
Fans of Frank Green will know that the brand has extended its range to cater for all members of the family – including your furry pals. The collection spans from customisable collars and matching leads, to treat and poo-bag holders, bowls, bandanas and even a squeaky toy shaped like everyone's favourite reusable coffee cup. The latest to join the line-up is a cat collar made from strong but stretchy silicone.
Barkly
Tasty, all-natural treats are the name of the game for Sydney-based brand Barkly. From banana and peanut butter to tuna, salmon and spinach or kangaroo and carrots, the treats are made with human-grade ingredients free from additives, chemicals, fillers, preservatives, salts and sugars. Try a sample pack to find your pup's favourite flavour. Broadsheet readers can get a 15 per cent discount with the code TREATS15.
The Paws Room
The Paws Room offers a chic solution to crate training with its oak-finished designs. The Archie will slot in seamlessly with your decor, while offering a cosy and safe space for your pup to sleep. It's perfectly sized to house small to medium dogs. The Teddy crate and Coco couch have multiple sizing options, depending on your pet's needs.
Scratch
Not all dog food is created equal. With a direct-to-door subscription service, Scratch is an Australian-made, B Corp-certified brand that will keep your furry friend well fed for breakfast, lunch and dinner. Packed with lean, high-quality proteins, you can choose from flavours like pasture-raised lamb with ancient grains, turkey, lamb and beef and kangaroo, which is great for sensitive stomachs. Broadsheet readers can get a free bag of beef jerky treats with their first order. Use code BROADSHEETPUP at checkout.
Ollie & James
Kiwi brand Ollie & James will turn your morning stroll into a catwalk with its premium leather collars, leads and harnesses. From extra small to large, the range is sized for breeds big and small. Each piece is designed in New Zealand and comes finished with polished golden hardware. Invest in a matching set and prepare to be the talk of the dog park.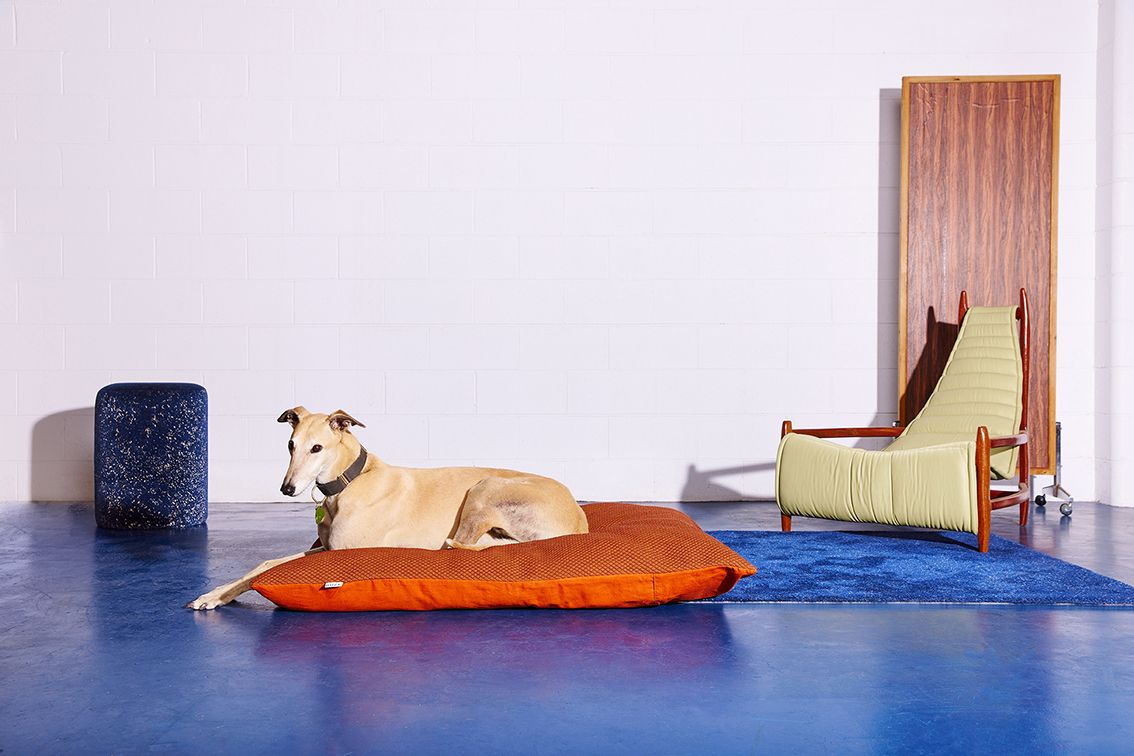 Doze
Stylish sleep solutions that are made to last, Doze dog beds are designed and handcrafted in Adelaide with knitted Febrik textiles by Dutch fabric innovator Kvadrat. Normally used for commercial or residential upholstery and furniture, these materials are soft, comfortable and will withstand whatever your pooch puts them through. And they're not just for pooches – designer Sophie Guiney told Broadsheet that her cats like to sneak a nap when the dogs aren't looking.
Bondi Wash
You might know Bondi Wash for its botanical home and body products, but the Sydney-born business also caters for your furry friends. Designed specifically for dogs' sensitive skin, the brand's wash, conditioner, dry wash and kennel spray come in a paperbark and lemongrass scent that not only cleans their fur but also helps to repel insects and keep them calm during grooming.
Lazy Lab
Only the best will do for our best friends, which is why Sydney-based brand Lazy Lab has created a range of Australian-made treats using real meat and fish with nothing nasty added. Marrow chews, Little Fishies and Chewy Roo sticks will keep doggos deliciously entertained and well-rewarded, no matter what tricks they have up their sleeves.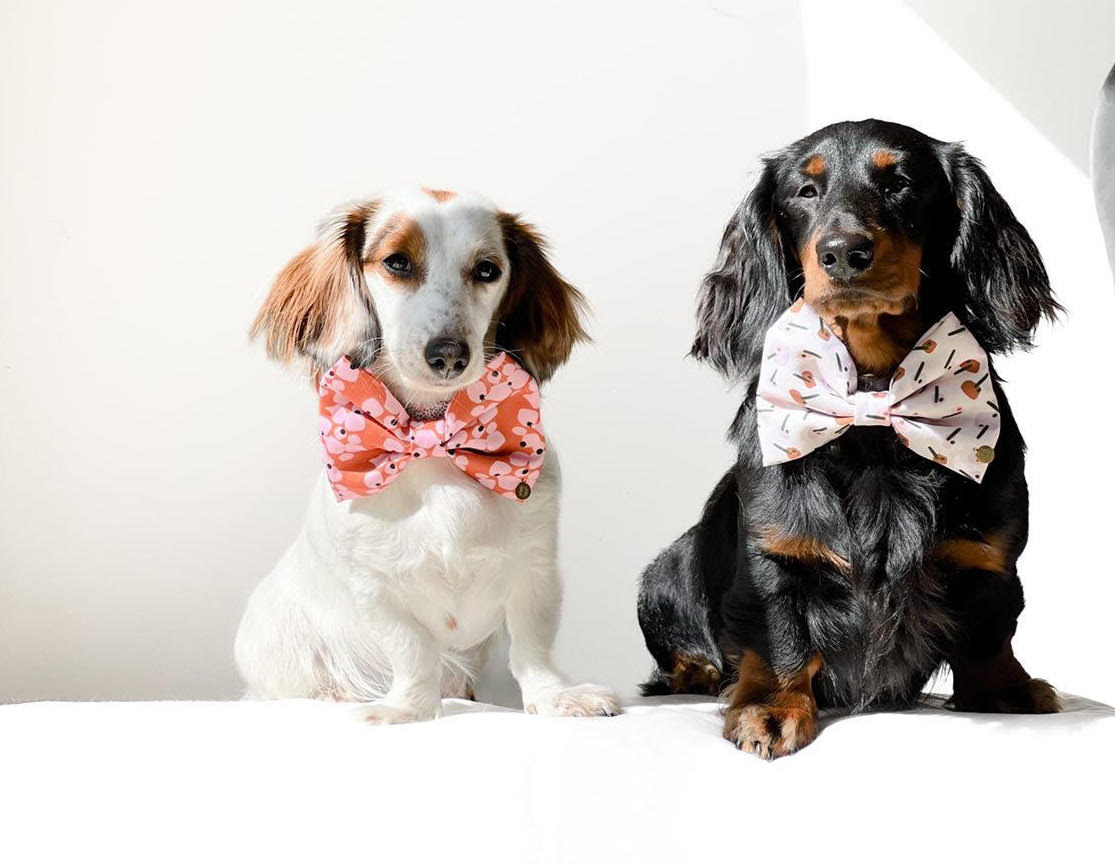 Django & Co
Your pup will be the best dressed at the dog park with Django & Co's raw leather leads and collars, printed treat pouches and customisable name tags. Pet parents can also stock up on knitted toys and tasty snacks from the brand.
Fine Day
Sustainably minded store Fine Day offers a range of chic minimalist pet wear and accessories for both in and out of the house. Choose a lead and coat made from recycled materials for walkies. Meanwhile anti-tip bowls made from stone and non-slip silicone mats keep feeding times fuss-free.
Gorman
Gorman's signature bright prints bring a dose of whimsy to walkies. Collars, leads, bandanas, coats and harnesses are available in seasonal designs to keep your pooch looking smart. Food and water bowls are also available – perfect for coordinating with the brand's human homewares.
St Argo
Melbourne brand St Argo creates pet carriers that could pass for designer handbags. They also offer leads, harnesses and collars made from the same soft-finish, scratch-proof polyurethane vegan leather, in colours like sage, lilac, bottle green, red and navy. Get ready for the most stylish walks yet with a matching set.
We hope you like the products we recommend on Broadsheet. Our editors select each one independently. Broadsheet may receive an affiliate commission when you follow some links.