Despite Sydney's lengthy lockdown, the city has spawned an astonishing array of new eateries. And while the rest of the world thinks of Aussie breakfast as avocado on sourdough with poached eggs, we know better; these days, Sydney's morning meal is so much more than that, drawing in influences from across the globe to redefine what cafe dining can be.
Indeed, it's been a year when definitions fragmented and genres were spurned. Venues that would once have launched as cafes have broken the mould to create their own type of eatery. So, while your favourite local haunt may not be in our best cafes list, keep an eye out for the outstanding new delis, takeaways and more in the coming weeks.
For now, we pay tribute to those who have continued fighting the good fight during one of the hardest years for hospitality on record. They've continued to serve us our morning coffee with smiles from behind their masks, and shown us once again that, despite enormous challenges, Sydney more than holds its own on the world stage when it comes to breakfast.
Itacate, Redfern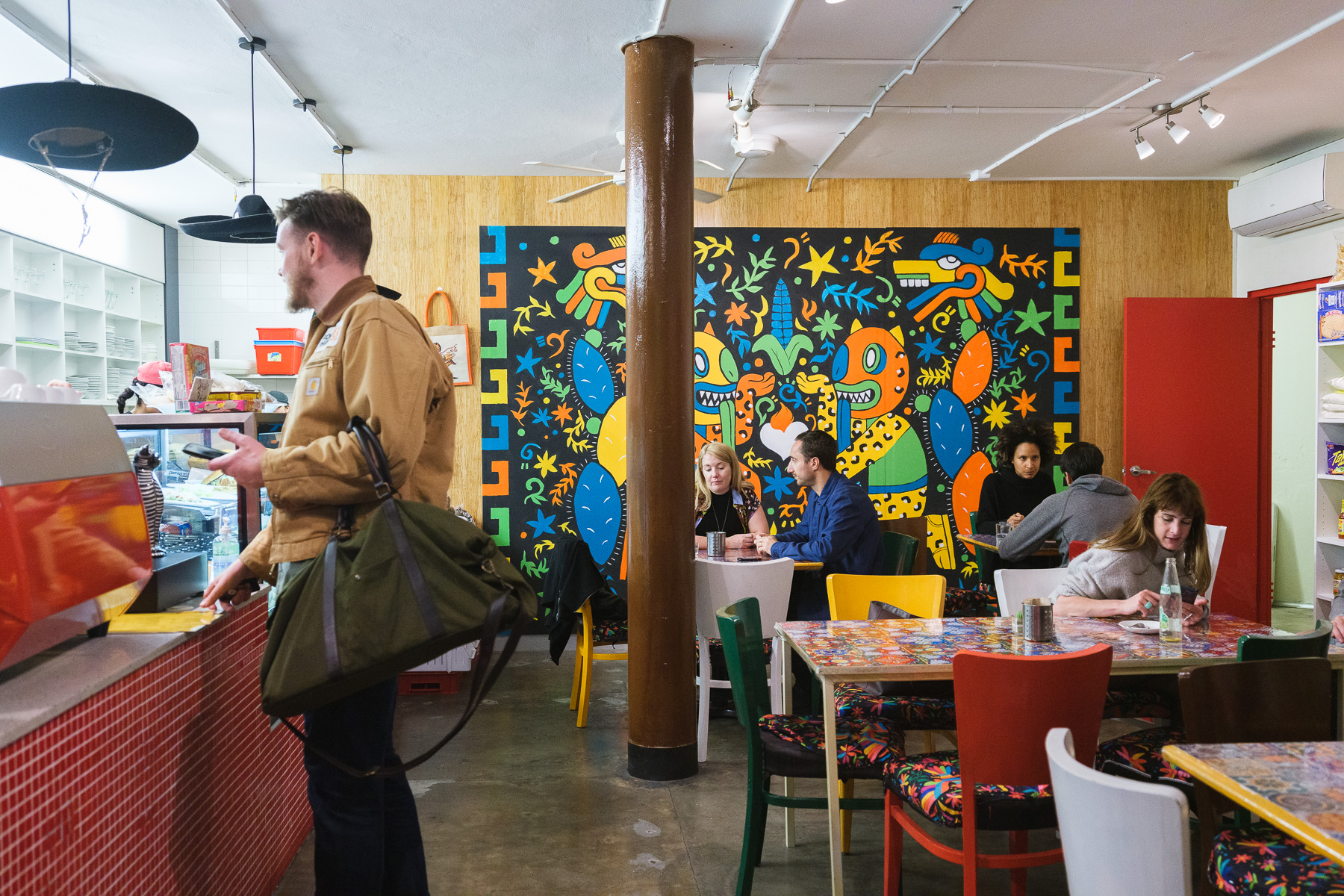 At Rosa Cienfuegos's second eatery, Redfern's Itacate, she continues to cook some of Sydney's best and most authentic Mexican food. Here she serves on-point tacos, an array of tamales, tlacoyos, cheesy quesadillas and birria (beef quesadilla served with a side of consommé for dipping). You might have seen that last dish, which comes from Jalisco in southern Mexico, go viral on Tiktok. There are also lots of fruit-spiked desserts such as pavlova, and sponge cake soaked in milk and topped with whipped cream and strawberries. This is also the place you come for Mexican groceries and Cienfuegos's famous tamales which, if you aren't familiar, are steamed parcels of masa (corn dough) filled with meats, cheeses, fruits and veggies. She freezes them so you can stock up for later.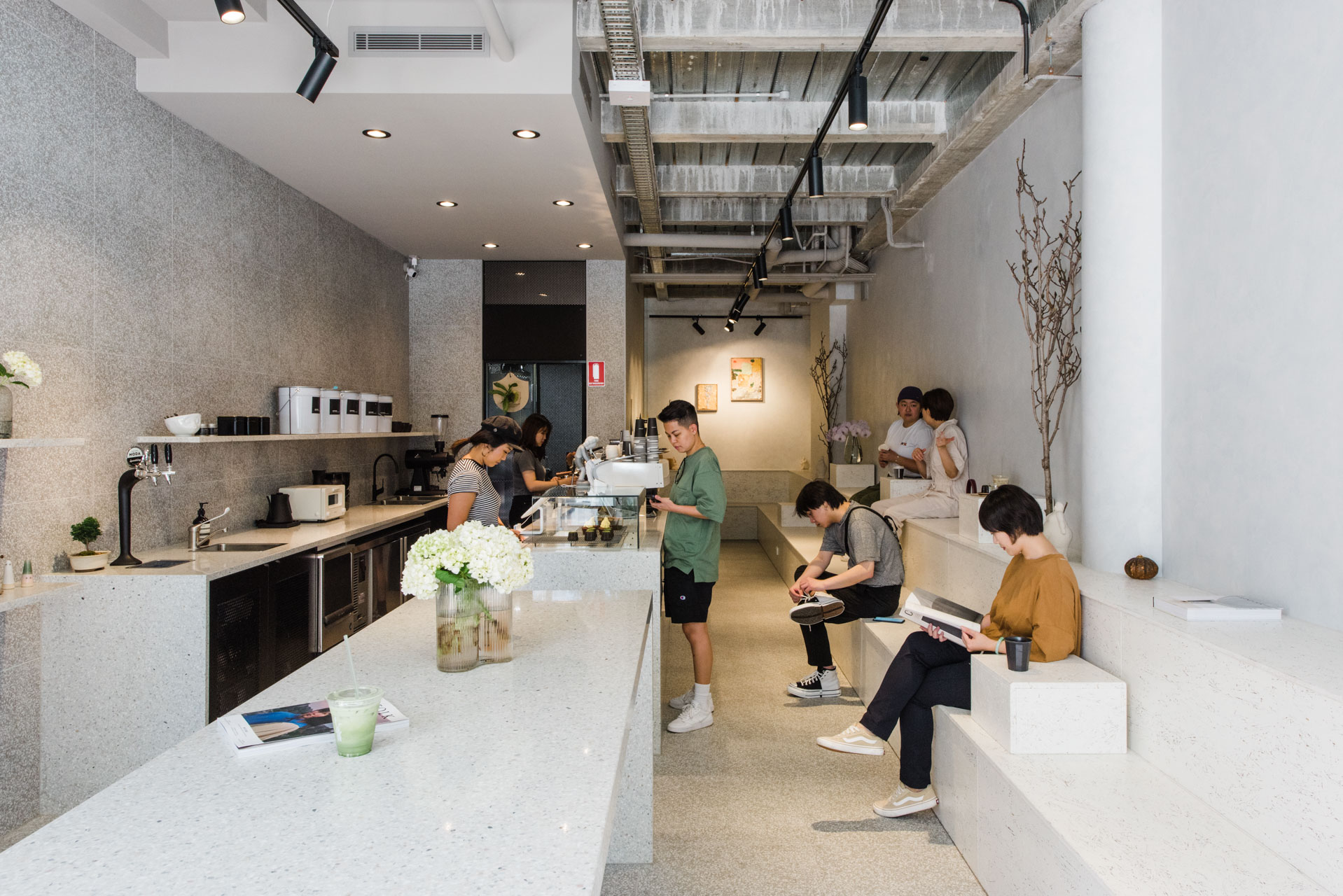 Not to sound shallow, but Moon & Back is extremely good looking. With its sleek lines, white and grey tones and minimal decoration, it resembles a gallery more than a cafe. And it makes sense – not only does Moon & Back make a mean cuppa, it's also a store populated with carefully chosen ornaments and homewares you can take home. But Moon & Back doesn't just rest on its looks. It uses coffee from consistently excellent roaster Artificer. And co-owner Carol Xu is a Le Cordon Bleu-trained pastry chef. The signature here is the croffle: a croissant-waffle hybrid with rotating toppings, including blueberry and cream cheese; Lotus Biscoff; and egg, cheese and nori. Canales are also a menu standard, and pretty crepe cakes, Swiss rolls with not-standard fillings such as mango and black sesame, and baked tiramisu often make the cut on the rotating menu. Moon & Back's first cafe is in Kyoto, Japan – and that Japanese influence is clear for all to see.


Pina, Potts Point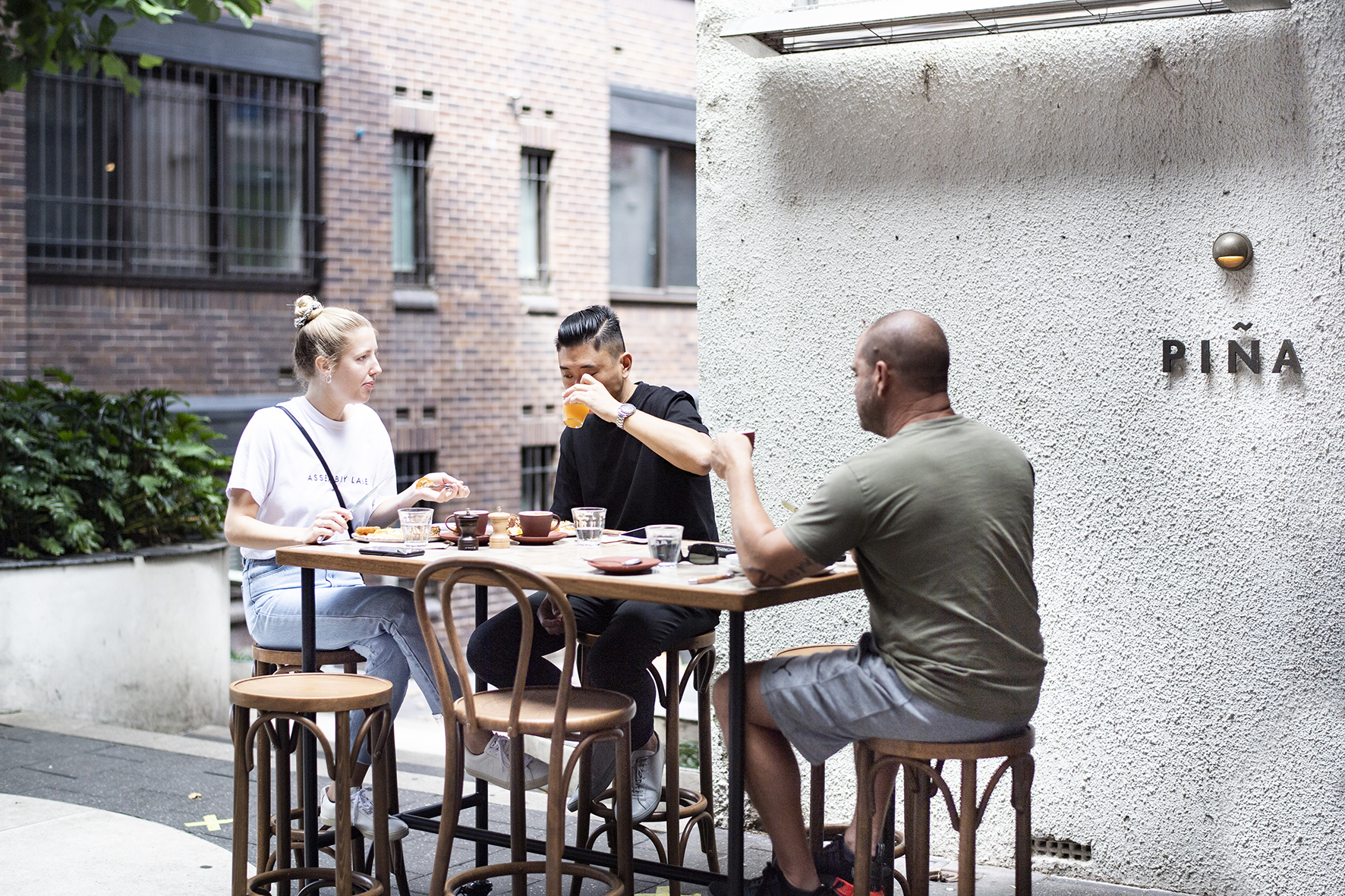 We're gonna get this out of the way: this crowd-pleasing cafe by the Room Ten crew opened late last year but missed the deadline for our 2020 list, so here it is. And it's great to be able to talk up how much we love it. There's something refreshingly old-school about the extensive menu, with options to add on things you love and leave off what you don't. Its egg-and-sausage roll is a small triumph – and something Broadsheet national editor Sarah Norris couldn't stop thinking about – but this Potts Point cafe also does less hefty options, including vibrant salads and all the usual brunch faves. Service is swift and friendly, and sitting in Llankelly Place on a beautiful sunny day is particularly great. Its coffee is on-point, too.


Sammy Junior, CBD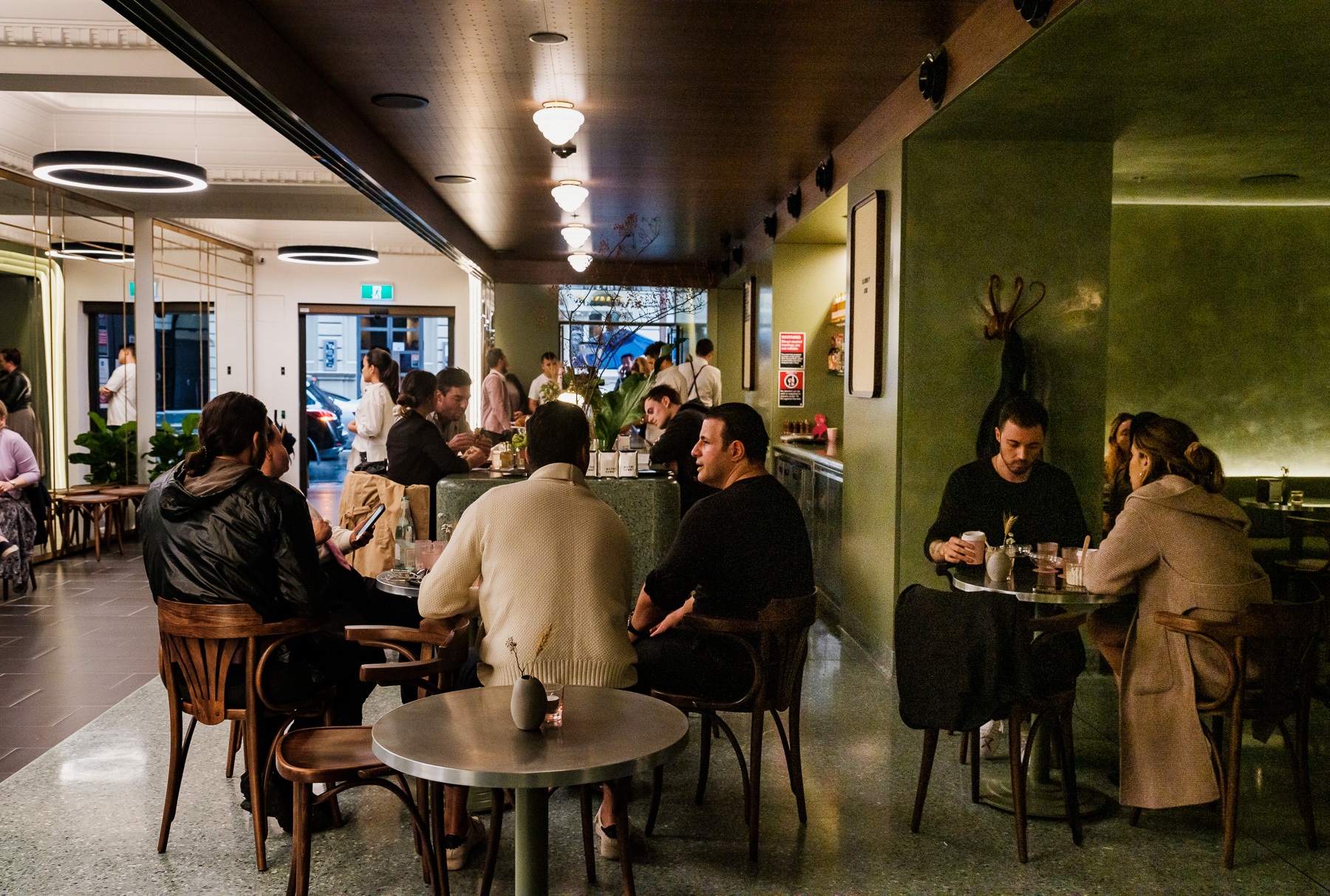 The staff at this cafe-slash-aperitivo bar have the same exuberance as those at its sister venue, the award-winning Maybe Sammy. Their energy is infectious, and sometimes it's exactly what you need to draw you out of your get-to-work morning focus. The team want people to think of Sammy Junior not as a daytime coffee shop and a night-time cocktail bar, but a place you can order those things whenever the mood takes, even if it's a Martini at breakfast. The drinks are made extremely well and, alongside those, there are breakfast favourites, paninis, wraps and a salad you can curate with add-ons. It's also one of the CBD's prettiest recent additions, with marble, terrazzo and smart light design by George Livissianis, who has given it a beautiful Accidentally Wes Anderson vibe.


Soul Deli, Surry Hills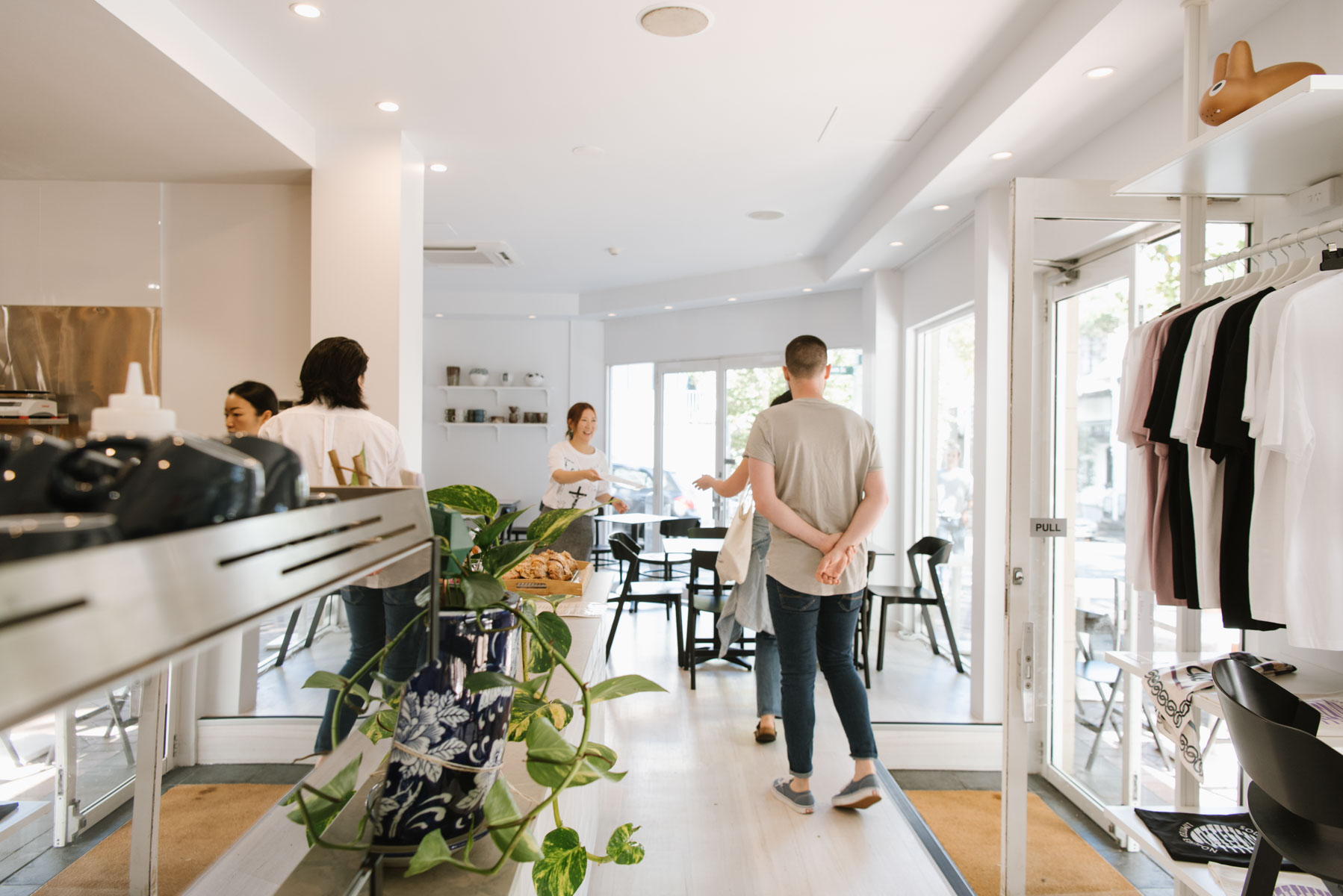 In a city that's loved Sunday-brunch yum cha for decades, it's no surprise we have in recent years fully embraced breakfasts involving flavours and techniques from Asia. Soul Deli – a spin-off of Korean restaurant Soul Dining – is adding Korean flair to cafe classics. Smashed avocado and poached eggs comes with white kimchi, an omelette is served with salty cod roe, and the "sweetcorn pizza" is like a corn fritter, kimchi pancake and pizza hybrid, finished off with buffalo mozzarella and herbs. It all spun out of last year's lockdown, when Soul Dining started serving takeaway Korean bowls bearing a resemblance to bibimbap: rice topped with proteins such as salmon, mushroom and pork belly, plus pickles, kimchi and an egg.


Soulmate, Newtown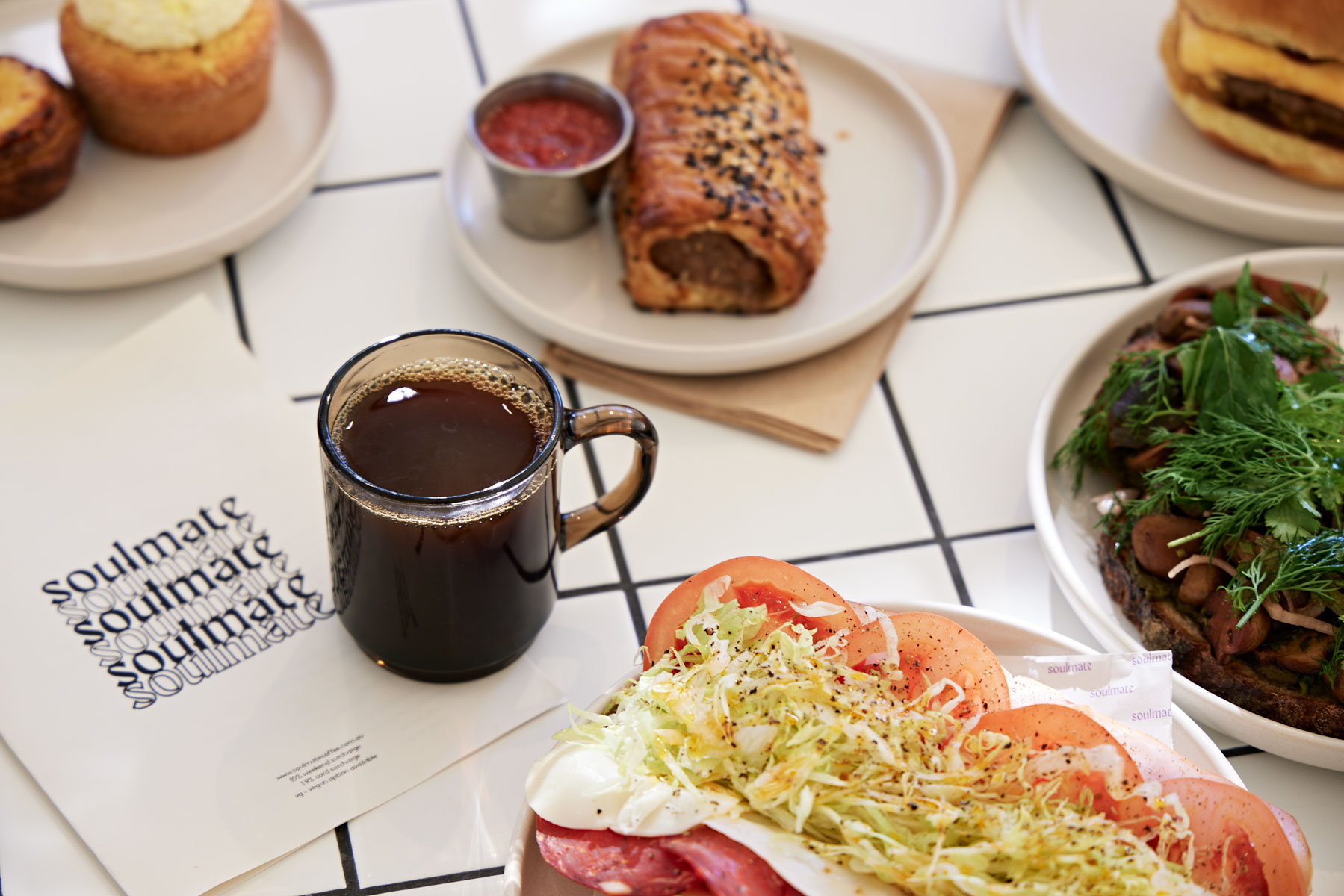 Being called basic isn't usually a compliment, but one of Soulmate's mainstay menu items wears the label with pride – and rightly so. The Basic Bae roll at this sunlit corner cafe is a crowd pleaser, and its simplicity has kept us coming back weekend after weekend since Soulmate opened in May. Crisp bacon and a ready-to-pop fried egg are sandwiched in a potato bun (add a hash brown for extra crunch) with your choice of tomato or barbeque sauce. It's a reliable hangover buster that's served locals well throughout lockdown and into summer. Perhaps that's part of Soulmate's charm? It's not pretentious, and yet you can order a batch-brew coffee topped with whipped cream (called the McHenry) and no one will bat an eyelid. That's not all the Newtown all-day diner offers; there's vegan tofu scramble on toast, house-made bagels, mushrooms on toast with kale butter and pickled onion, and a porchetta roll with braised greens. It's also one of the best places for coffee in Newtown, serving Single O's Killerbee blend in its milky coffees, and single origins in its cold and filter coffees. It's been a rocky start, but the community support for this newbie speaks volumes.


Super Okay Coffee, Brookvale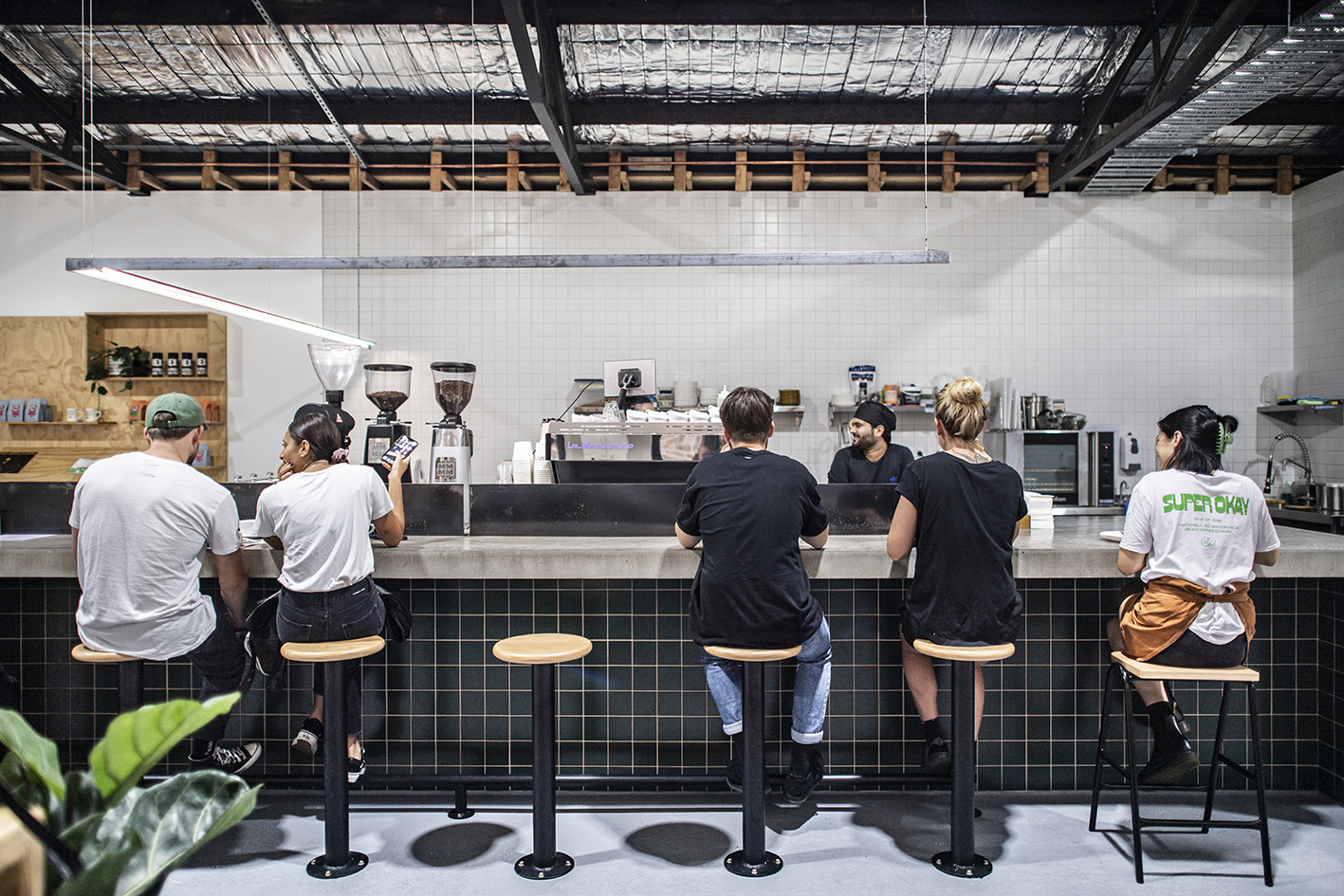 Disregard the name: Super Okay Coffee is more than okay. It's fantastic. In a northern beaches warehouse, its owner Bo Hinzack – also one of the founders of Rollers Bakehouse – is dialling back the pretentiousness he says he often sees in coffee culture, and bringing it back to basics: good coffee and a simple menu. Beans are from Okay Coffee, the roastery he co-owns. And food-wise, it's all about jaffles, made using quality ingredients. The bestseller is a smoked ham, cheddar and bourbon relish number. But you can (and should) double down and get the hefty bolognaise toastie or the truffled mushroom with grated ricotta. They're all made on bread designed specifically by neighbouring Berkelo to make for good jaffles. Now that's a level of detail we can get behind.


Valentina's, Marrickville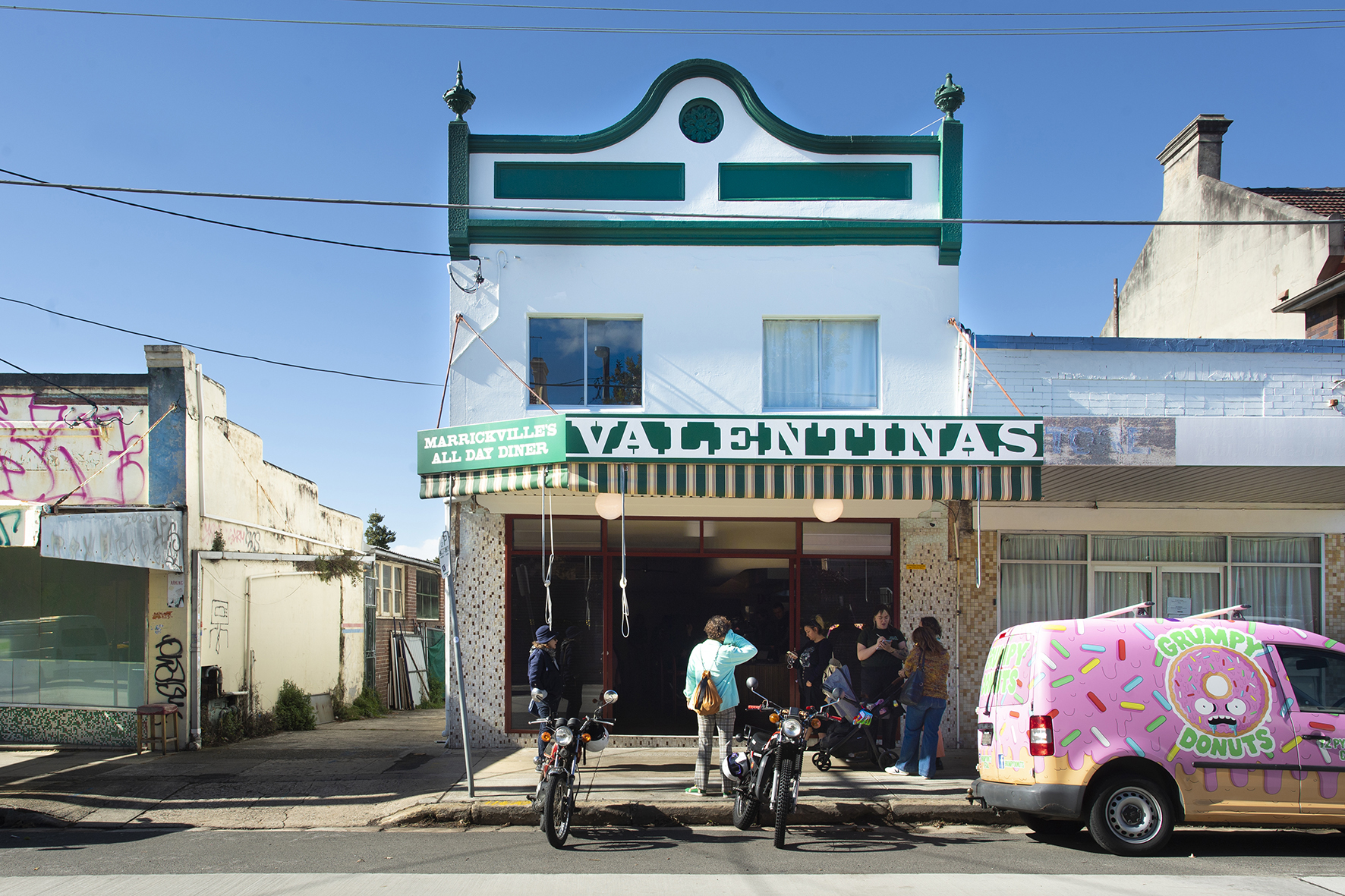 Valentina's doesn't miss a trick: this neighbourhood diner (which draws people from all over) serves up American-style diner food in sleek and sophisticated surrounds – it's the type of place you might step into and think, "I wonder if this place does merch?" It's by the duo behind Grumpy Donuts, who continue pushing their love of American diner culture on the people of Sydney (and if the constantly full tables and lines out the front are anything to go by, we're lapping it up). And a greasy spoon this is not – everything is made with care, from the outstanding sausage-and-egg muffin, built with folded egg and perfectly melty cheese (go extra Yankee and get it on a Southern-style savoury biscuit), to the omelette, which comes with a zesty horseradish cream and fresh pico de gallo. The short-stack pancakes come simply with butter and maple syrup, and you can really embrace the Americana with biscuits and a burnt white-pepper gravy. We pledge allegiance to Valentina's.
Honourable mentions
For nearly 20 years now, Coffee Alchemy has been serving inner-westies their morning coffee (no food) in a bare-bones space in industrial Marrickville. But, with the imminent demolition of its original building, it's upped sticks to a new space, on the other side of the suburb. It continues to pump out the same perfectly structured cuppas, just in a different (but strikingly similar) space.
Right around the corner from Alchemy 2.0, Black Market Coffee – which has an ever-popular Newtown cafe – has opened a second venue. This one is in a sprawling, light-filled warehouse. They'll serve you coffee with a smile but are taking things to the next level with tasting "flights" of coffee paired with food, and a short-but-sweet menu of toasties and bagels. It's an oasis in a fairly gritty part of town.
Two great Sydney brands came together in Manly this year: Skittle Lane and Assembly Label. It's Skittle Lane's third cafe and, like its predecessors, it's a truly stripped-back space, all blond wood and white walls. Enjoy a seasonal blend in the sunny cafe, then drift through to pick up Assembly Label's well-made basics, right in the next room.

Additional reporting by Pilar Mitchell, Emily Barlow, Molly Urquhart, Katrina Holden, Ariela Bard, Georgina Safe, Jasmine Crittenden and Aimee Chanthadavong.
Check out our best restaurant openings of 2021 here.
Been to all the best new cafes of 2021? Check out the top openings of 2020.