When you think of a secluded New Zealand getaway, maybe you picture wandering a remote stretch of beach, gazing at a striking mountain range, or being surrounded by greenery.
Find all this and more at Wharekauhau Country Estate, a ruggedly luxurious hideaway less than two hours' drive from Wellington airport (or 10-minute helicopter ride, if that's your style).
Wharekauhau – pronounced "fah-reh-co-ho" – translates to "place of knowledge" in te reo Māori. The 1840s homestead is on over 3000 acres of farmland overlooking the Pacific Ocean at Palliser Bay. If you swam south from there, you wouldn't hit anything before you reached Antarctica. From certain vantage points, it feels like you're at the edge of the world – and then you can pull the curtains closed on your four-poster bed and forget about the world for a while.
It's owned by American businessman and vintner Bill Foley of Foley Entertainment Group – a billionaire's behemoth that includes resorts, vineyards, sports teams and arenas both here and in the States. The story goes that he visited the property with his wife, Carol Foley, and was so taken with it that he decided (along with several other investors) to purchase the lodge from Waikato farmers Annette and Bill Shaw in 2010. After my two-night stay, I find myself mentally patting my pockets to figure out how many friends I'd need to rope in to take it off their hands. If it's good enough for Prince William, Princess Kate and Prince George (who stayed at Wharekauhau during their 2014 royal tour), then it's good enough for me.
General manager Richard Rooney says the Wharekahau team wants the property to be home to multigenerational memories. "Nothing makes us happier than when we see guests fall in love with Wharekauhau on a much-deeper-than-surface level," he tells Broadsheet. "We love to see families come to Wharekauhau annually, then when the time comes, those children get married at Wharekauhau and they continue to return with their own children. The estate, and our team, become woven into guests' family fabric."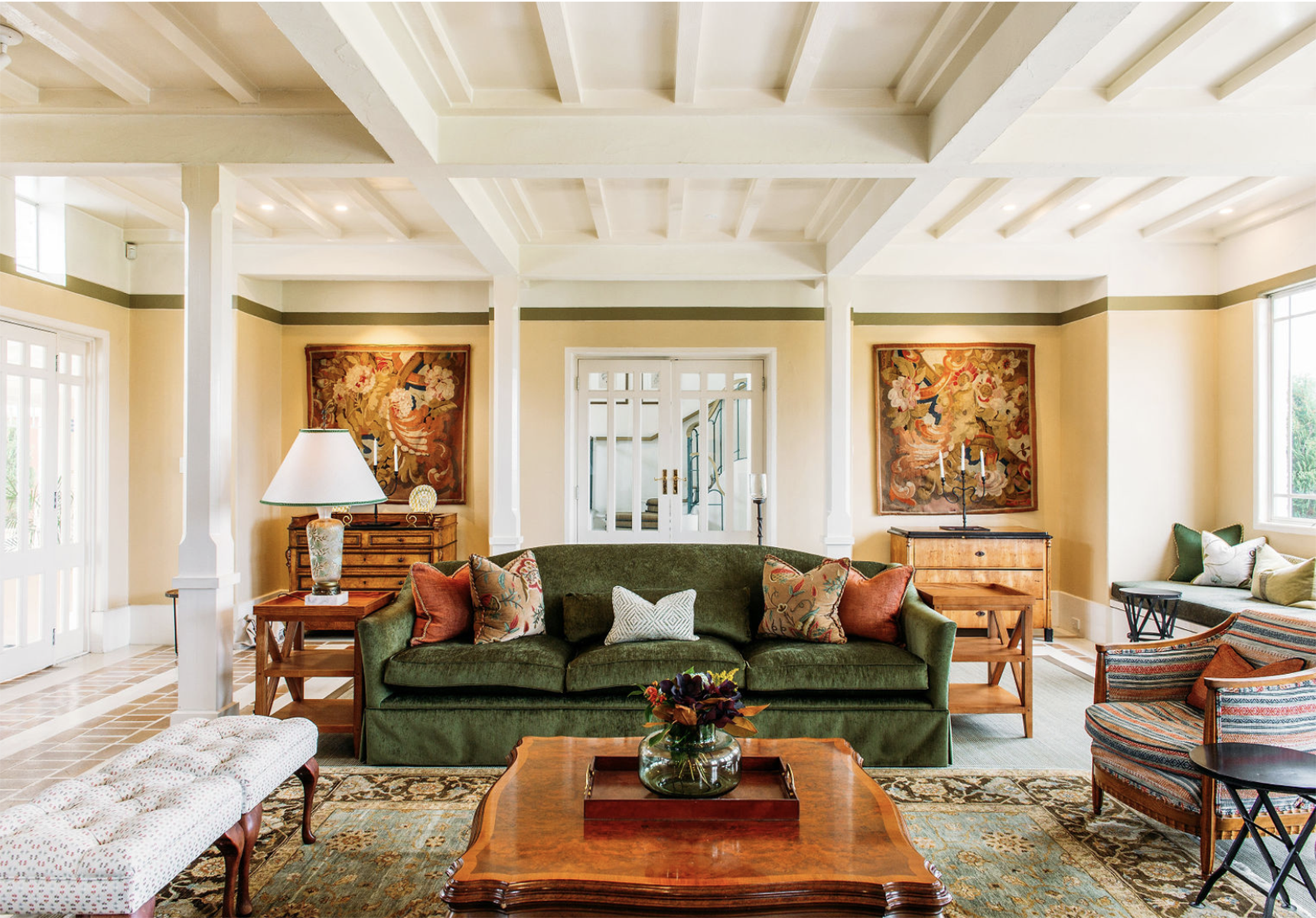 The main lodge
I arrive at Wharekauhau's main lodge after nightfall, via a winding drive over Remutaka Hill, down a country road and along a gravel driveway. It really is secluded. Already, the farmhouse theme takes centrestage with several Red Band gumboots (a Kiwi icon) lining the entryway – including the sweetest teeny kids' pairs. The Virginia Fisher-designed lodge is spacious and elegant while still feeling cosy and welcoming. Textured cream and terracotta brickwork covers the walls and floor, and there are several lounge spaces on both the first and second storeys – most housing oversized fireplaces and an abundance of antique furniture. From every window on one side of the building, you can look out over the sloping lawn and wetlands to the ocean beyond. It's a mesmerising view on both sunny and overcast days – both of which graced my stay.
Meals are served at this lodge, too. I enjoyed eating in the light-filled conservatory, overlooking the back garden by the country-style kitchen. There's also a larger formal dining room, and you can have a private dining experience in one of the various lounge areas. On my first night, I had a feast for one in the upstairs library, and I saw a group of guests helicopter in for an intimate lunch in the front lounge on my last day.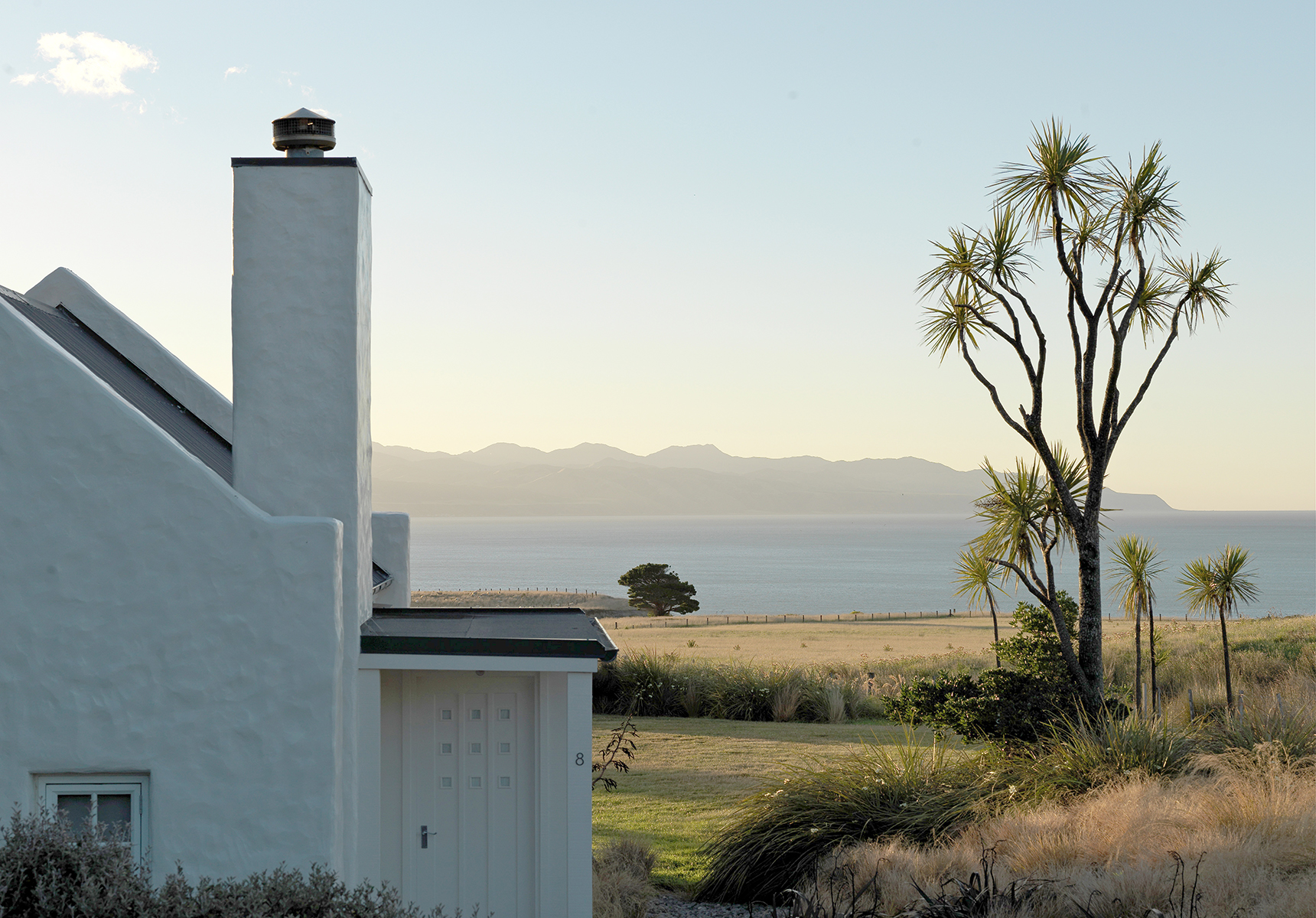 The cottage suites and Foley Villa
You'll sleep in one of 16 cottages lining a path within 150 metres of the main lodge. Each 70-square-metre suite sleeps up to three with one bathroom. For larger families, the suites can be connected by unlocking a side door for easy access. Decked out in cream and warm beige tones, the super-king-sized four-poster bed, heated floors and tastefully strewn rugs combine for a cocooning effect. Invite the outside in and throw open the doors overlooking the sloping land and ocean beyond, while lounging on the sofa by the fireplace – which I found was the best place to enjoy one of the signature shortbread biscuits from the stacked jar. Forget your dreaded weekday alarm; here, you'll wake to the sound of twittering birds and ducks, and with the Wairarapa area being Aotearoa's newest dark-sky reserve, see some of the most spectacular skyscapes from your private back terrace before dozing off each night.
If you really want to do as Will and Kate did, you can book to stay in Foley Villa – a three-bedroom house 10 minutes' walk away from the main lodge. General manager Rooney jokes that this Hamptons-inspired stay comes with "a lot of NDAs", and it has a price tag to match – but is certainly spectacular with its own pool, private chef and dedicated helicopter landing area.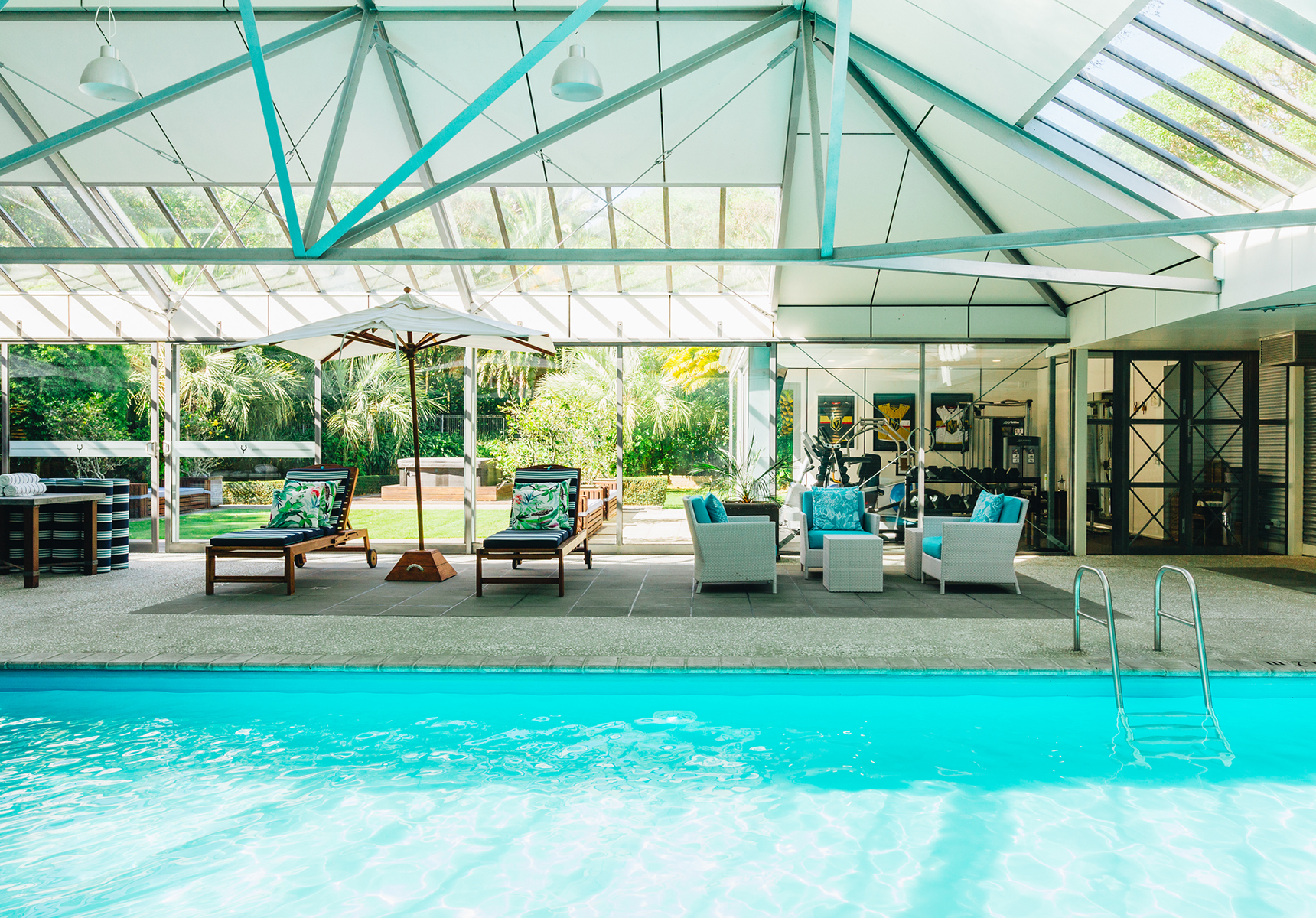 The surroundings and activities
It might be tempting to never leave your cottage, but Wharekauhau is about more than where you lay your head. "At this end of the global luxury accommodation market, it's an absolute expectation that the suites will be lovely, and the hospitality and services will be on-point, but the surprise for many is how drawn they are into the vast and inspiring landscapes," says Rooney. He meets a number of people who come to relax with a book, but soon they're booking in for one of the many available activities such as ATV quad biking or clay shooting.
I did both, and highly recommend them as novel time-and-place experiences that get you into the spirit of Wharekauhau's position on a working beef and lamb station. An ATV tour took me all around the farm, up some relatively challenging slopes and through shallow river crossings, then down to the black-sand expanse of Ocean Beach with the mountains at our backs. If exploring wine variatals is more your thing, you can book a vineyard tour in the nearby Martinborough winemaking region, and if you're after a massage, facial or manicure, book into Wharekauhau's Hauora Spa. As a complimentary part of any stay, you have access to the on-site tennis court, heated swimming pool and gym, and an upstairs gaming room with a pool table, board games and TV in the main lodge.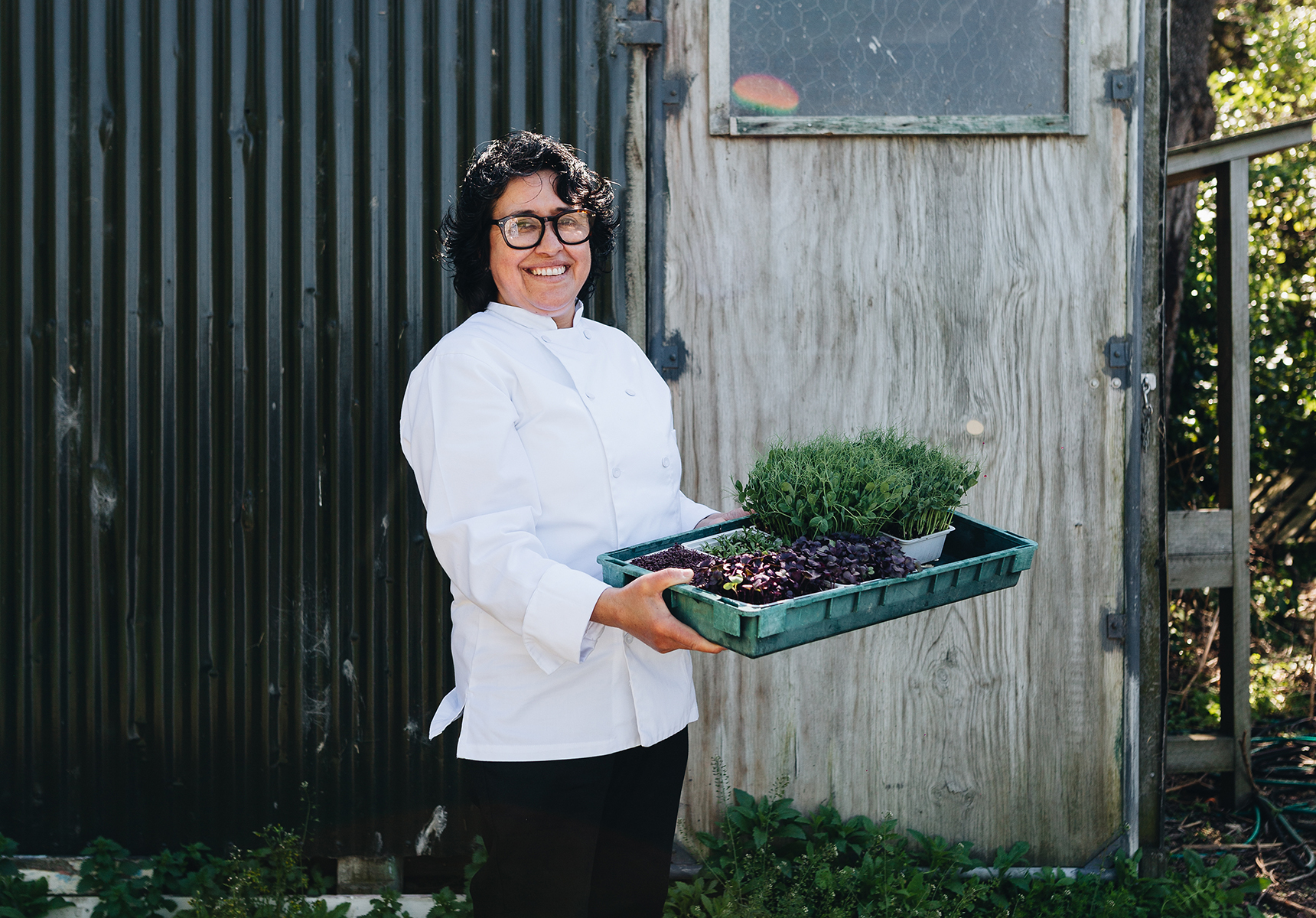 The food and drinks
Executive chef Norka Mella Munoz oversees a seasonal farm-to-table menu that uses many ingredients grown on the land surrounding the lodge. There's even a chief forager – Jack Fredrickson – who harvests produce every two days. In-house sommelier Adrien Champigny and restaurant manager Nicholas Simonucci curate wine matches from the 5000-bottle cellar; Mt Difficulty, Grove Mill, Vavasour and more Foley Wines labels are well represented, but there are also other makers from Aotearoa and the US.
For one of my multiple-course dinners, I ordered a delightful Saorsa Wines viogner from Hawke's Bay to have with my amuse-bouche of lamb and dry-aged duck, followed by a silky artichoke soup with peppery kawakawa oil and house-made focaccia and sourdough. Confit blue cod with 'nduja dressing followed, then a baked chocolate soufflé tart. You won't go hungry. Breakfast and lunch are more pared-back but just as high-quality; you might order a poke bowl with garden vegetables and salmon, or a spiced confit duck quesadilla with hoisin sauce.
The company also owns small-batch distiller Lighthouse Gin, which is made with the mountain spring water that filters down beside the estate. You can order it in cocktails and, for yet another activity, book a tasting experience where Champign will tell you the distillery's story and guide you through different varieties. I did this straight after quad biking, which I'd say is the correct order.
The summary
Some resorts or lodges you visit to stay contentedly in one place. You could do that happily at Wharekauhau, but I'd say you'd be missing an important chunk of what makes it so memorable and unique. The Wairarapa area and Palliser coast are frequented by Wellingtonians – but it's generally an underrated part of the country, and being out in its wild beauty makes it even more satisfying when you return to your sumptuous lodgings every day. In winter, you'll pay NZ$2295 a night per cottage suite and up to $5145 a night during peak summertime – so it's very much in the premium bracket. But if you're looking for an adventurous luxury getaway with character, you'll find it here.
The writer stayed at Wharekauhau as a guest of the lodge.