At the launch of his new recipe book, Modern Chinese, Sam Low said, "This is the book I wish I had growing up."
It's the 2022 Masterchef New Zealand winner's first cookbook and, while he's technically been working on it for just over a year, he says the last 20 years of life and culinary experience have gone into its creation. "In the last year it's morphed and formed into how I see it being important for me," he tells Broadsheet, "allowing me to use the skills I have to encourage people to cook – and allowing room for gratification as well. That's a big one for me."
The book incorporates over 70 recipes that take inspiration from the nostalgic, traditional classics Low ate while growing up in a diasporic Chinese household – and includes everything from sauces to snacks, rice- and noodle-based dishes, dumplings, and ways to cook vegetables, seafood and meat.
There are also desserts, and Low has outlined a detailed guide to how to build your Chinese ingredient pantry so you can easily reach for what you need. "The biggest part of the book was almost curating a pantry that I felt is accessible for everyone around New Zealand," says Low. He wants people to feel like they can get everything they need, "even if you only have access to a Kmart and a Western supermarket."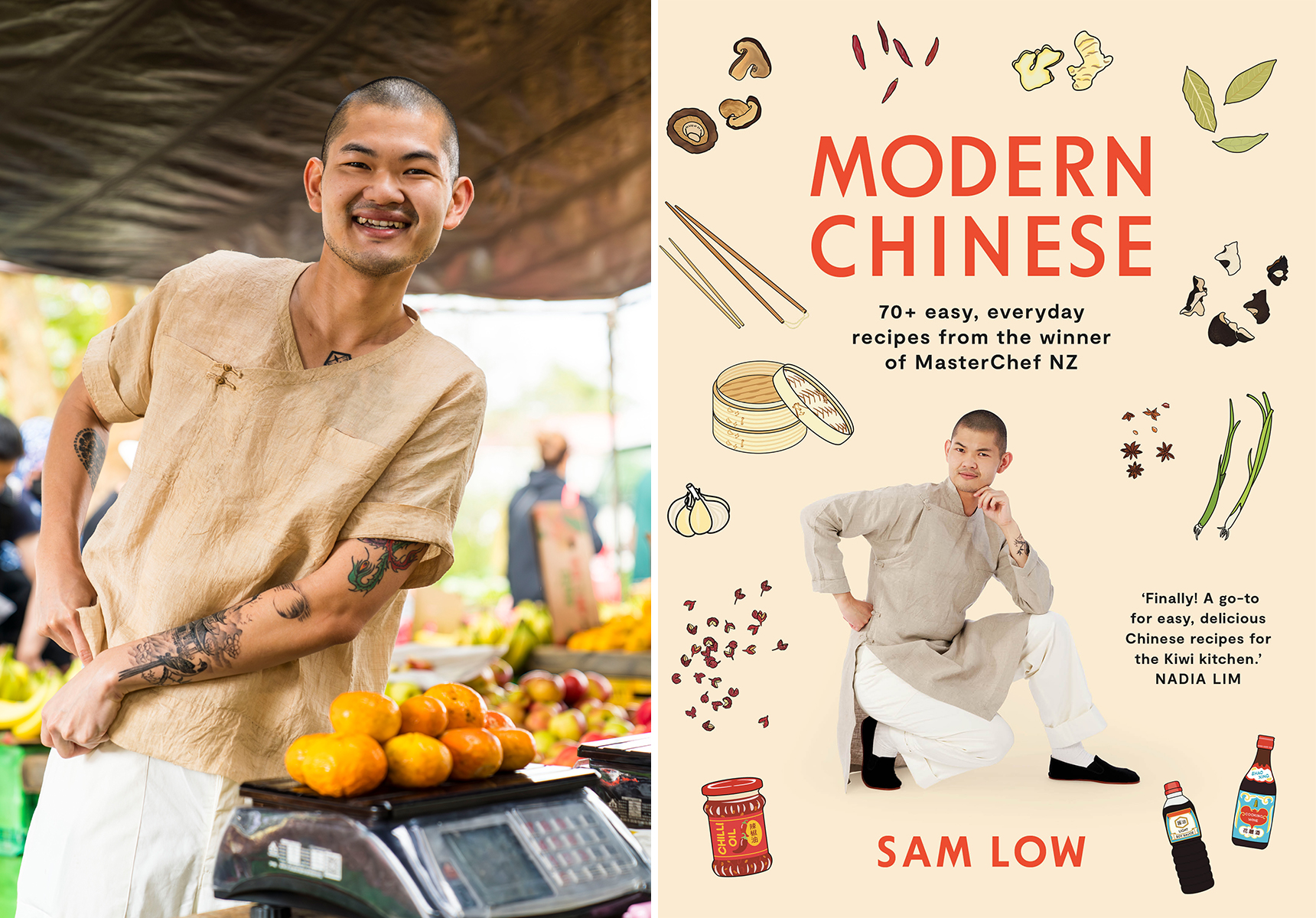 For Low, it was important to make this recipe book a reflection of his personal journey – and it also contains poetry from Auckland Pride creative director and playwright Nathan Joe, and Aotearoa's current Poet Laureate Chris Tse. "As I was writing it I thought, 'How can I add other nuances of things that represent me in the book?' The sensation of community – having a lot of other queer and East Asian creatives involved in the book's production."
For this salmon dish – and most of the recipes in Modern Chinese – you can envision it as part of a banquet, or as a standalone centrepiece with rice.
"This perfectly balanced combination of spicy, fragrant flavours and the delicate steamed salmon makes this an incredibly drool-worthy main for the middle of the table," says Low in his introduction.
You can substitute the salmon with any fish – frozen basa fillets work well too. Just be aware that steaming times will differ depending on the fish type, size and fat content. Feel free to use a whole fish instead.
Sam Low's steamed salmon in chilli bean sauce
Serves 2-4 as a protein side with rice
Prep time: approx. 5-10 minutes
Cooking time: approx. 25 minutes
Ingredients:
600-800g pin-boned, skin-on salmon fillets
2 tbsp Shaoxing wine or any aromatic rice wine
½ tsp salt
30g fresh ginger, sliced
Chilli sauce
3 tbsp oil
1 tbsp preserved black bean
2 tbsp Sichuan chilli bean paste (doubanjiang) or sriracha or your favourite chilli sauce
30g fresh ginger, finely chopped
6 cloves garlic, finely chopped
100ml water
1 tbsp light soy sauce
2 tsp sugar
2 tbsp black vinegar salt to taste
1½ tbsp cornflour mixed with 3 tablespoons water to make a thickening slurry small handful of coriander, chopped, to garnish (optional)
For the fish, prepare a steamer with a lid over a wok or a large pot with at least 2 litres of boiling water. Rub the rice wine and salt over the salmon fillets and lay them on the dish skin-side down. Top with the ginger slices.
Steam the fish for 15–20 minutes until cooked. Use a chopstick to poke through the flesh at the thickest point; if there's resistance, steam for a little longer. Once the fish is cooked, remove the sliced ginger and turn off the steamer but let it sit in the residual heat so the fish stays hot.
For the chilli sauce, place the oil, black bean and chilli bean paste in a wok or medium pan and cook over a high heat, constantly moving it around to prevent burning, until fragrant (about 1 minute).
Add the ginger and garlic and fry for another 1 minute. Add in the water plus the cooking liquid from the steamed fillets (hold the fish in place with chopsticks and tilt the juices from the dish into the wok or pan).
Add in the soy sauce, sugar and black vinegar. Bring to a simmer for 1 minute and taste. Add salt if required.
Reduce the heat to medium. Slowly stir in as much of the slurry as needed to reach your desired consistency – it should resemble a thick pouring gravy.
Turn off the heat. Pour the sauce over the top of the fish. Garnish with coriander, if desired.
Extracted from Modern Chinese: 70+ easy, everyday recipes from the winner of MasterChef NZ by Sam Low.
Recipe photography: Melanie Jenkins (Flash Studios). RRP$49.99. Hardback. Published by Allen & Unwin NZ. Out now.