The days are getting longer but, in Auckland, mornings and nights are still feeling frosty. In our experience, ramen is a satisfying slurp rain or shine – but nothing beats a comforting bowl when it's cold outside. Tāmaki Makaurau is blessed with many different places to find topnotch brothy noodles. Here are some of the best around the city.
Ramen Takara, Browns Bay & Ponsonby
While many noodle lovers swear by Ramen Takara's Ponsonby branch, the OG in Browns Bay is hard to beat. It launched in 2007 with just 12 seats as an ode to Hochinro, the restaurant that owner Yuki Yamaguchi's father ran near Mount Fuji. Ramen Takara is a little bigger these days, but it's still best to book as it's always busy. It does the classics well, such as shoyu ramen – the original soy-based number with chashu pork (Japanese braised pork belly), egg, bok choy, spring onion and bamboo. For extra heat, slurp up the spicy black tan-tan ramen with a sour and spicy sesame base and pork mince. For a refreshing bowl, try the chilled salmon salad noodles with slices of avocado and a tangy dressing.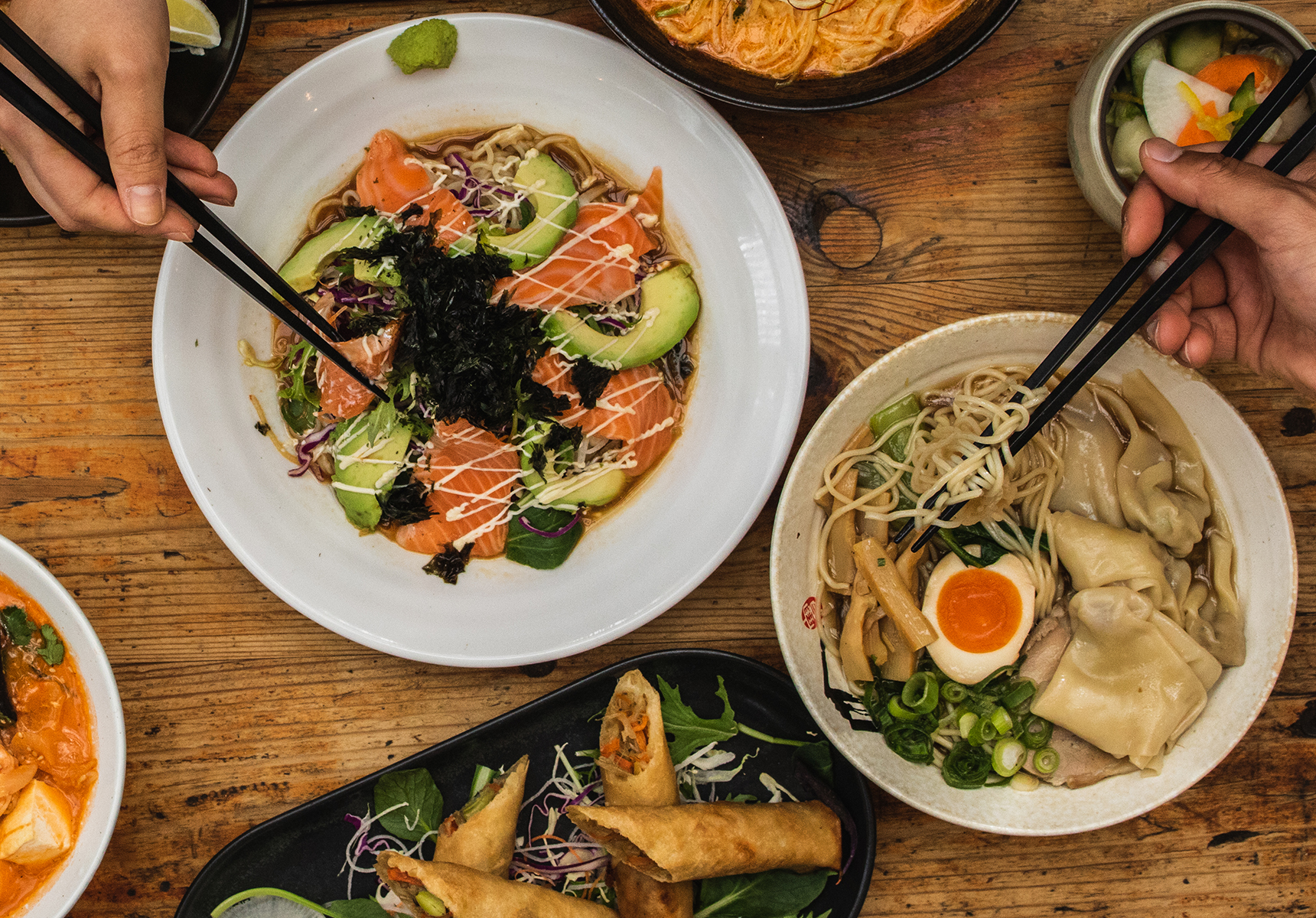 Chop Chop Noodle House, Ponsonby
From restaurateur Mark Wallbank and chef Che Barrington, this Ponsonby Central ramen house and whisky bar is probably one of the only places in town where you can get your ramen with a shot of Canadian Club for extra warmth. Chop Chop's ramen has rye noodles, and while you can order familiar toppings like roasted pork belly, try the 12-hour organic beef brisket ramen, which oozes with sesame and black garlic flavour. If you're ultra-hungry, the enthusiastically named Cobra Kai Super Mega Ramen has crispy fried chicken, pork belly, pulled pork shoulder and bacon – as well as kimchi, mushrooms, corn and egg. The vegetarian miso ramen is also worthy, topped with smoked eggplant, and Chop Chop caters to gluten-free diets by subbing in vegetable noodles.
Ramen Do, Eden Terrace
Head to Symonds Street for some ramen love from chef Hidenobu Tanimukai. This is true home-style food; Tanimukai cooks two batches of broth a week, with each simmering for about 24 hours. The chef lives above the restaurant with his wife, Eriko, and they pop down and check it every now and again. The noodles are also handmade every day in Hokkaido style – the yellow noodles that look a bit crinkly. Try their Hokkaido miso ramen, made with Rausu-kombu – a dry seaweed that gives the broth a unique flavour and aroma. Eriko's cross-stitch artwork gives the space a homely feel, reflecting the care the couple pours into the restaurant and every mouthful of ramen.
Ajisen, Newmarket & Takapuna
The noodle soup revolution continues with international ramen chain Ajisen – originally founded in 1968 in Japan by Takaharu Shigemitsu. Ajisen specialises in tonkotsu broth and wheat flour noodles. The menu is plentiful, with sections divided into classic ramen, "exotic" ramen and even "dry" ramen – although, technically, ramen isn't ramen without the broth. Meat eaters will love the Grand Zen Nose, a Kumamoto broth (characterised by its thick texture) topped with slow-braised soft ribs, spring onion, tamago (egg) and kikurage (wood ear) mushrooms. First-timers might like to start with the OG Ajisen ramen, another Kumamoto-style pork-based broth topped with chashu pork and garnishes.
Daikoku, CBD
Daikoku has several branches around Auckland, and claims its Quay Street restaurant was New Zealand's first teppanyaki steakhouse and ramen restaurant when it opened in 1989. Regardless, it's perfectly situated for the CBD – right next to Britomart station. Choose from a menu of three broth bases: shoyu, tonkotsu and miso. Chashu pork features prolifically, and for added spice try the rich red Hot Energy Ramen, a spicy miso bowl. You can also add your own toppings if you're feeling extra peckish. The "gourmet" ramen bowls are chicken-based, with lesser-seen (in Auckland) toppings of beef curry, seafood, and shio (salted) butter.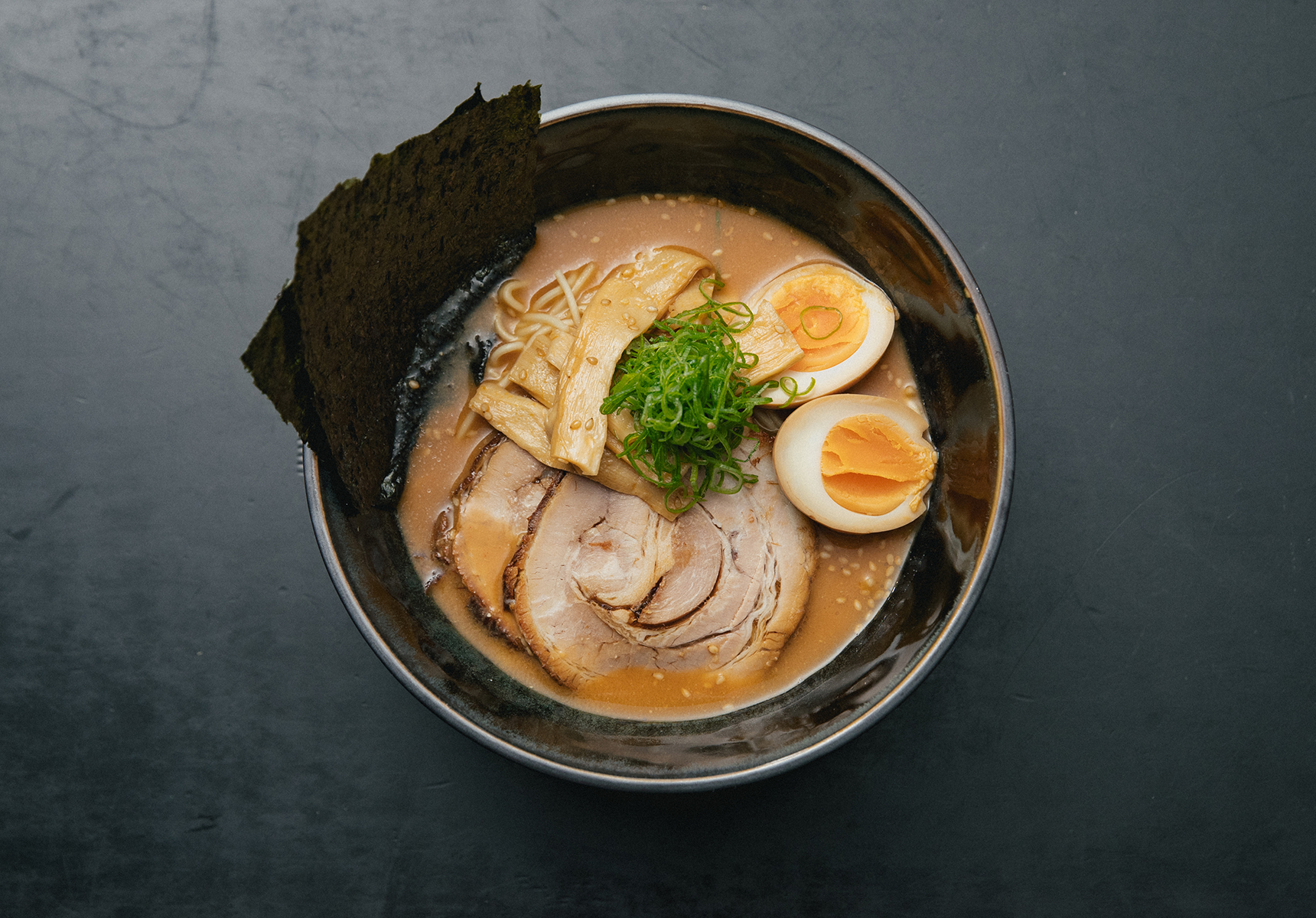 Azabu, Ponsonby & Mission Bay
Azabu's no secret; it's been a well-loved mainstay of the local food scene for years. But if you haven't been lately, you might not know there's currently a winter ramen special running at lunchtime. Choose from shio tare (tare is a ramen's base seasoning sauce) with chashu pork in a chicken-bone broth; spicy miso tantanmen in a miso pork broth; and spicy miso goma (miso sesame) with chashu pork in a sesame pork broth. All come with trimmings of soy egg and bamboo shoots. While you can order the ramen alone, the lunch deal extends to a choice of two sides such as sashimi, karaage chicken and spicy pork gyoza. The same deal is running at Ebisu (also run by Savor Group, Azabu's parent company); check the menu tabs on Savor's website for availability.
Tanpopo Ramen, Glenfield & CBD
This North Shore gem – with a sibling on Anzac Avenue in the CBD – is a go-to for those in the know when it comes to ramen. Owned by Michio Kurihara, it's famed for its deeply flavoured broths and fine egg noodles. There are many options, but the signature Tanpopo Ramen features a creamy soup that blends both pork and shio broth – usually made with chicken. This lends it a more complex flavour and, topped with barbeque pork, bamboo shoots, seaweed and red garlic, it's hard to go past. Another local favourite is the yuzu shio ramen, with barbeque pork, bamboo, dried seaweed and spring onion.
Zool Zool, Mount Eden
Created by chefs Kazuya Yamauchi (of nearby Japanese fine diner Kazuya) and Toru Hirae, Zool Zool prides itself on authenticity. The paitan – chicken breast, egg and trimmings in a rich chicken broth – is probably their most famous dish, but the seafood champon is well worth a try. It comes with a soy milk and chicken broth, and toppings of prawn, squid and scallops. If you're not in the mood for soup, try the Zoolmen – a drier ramen with a broth reduction featuring either kimchi and pork or chicken breast.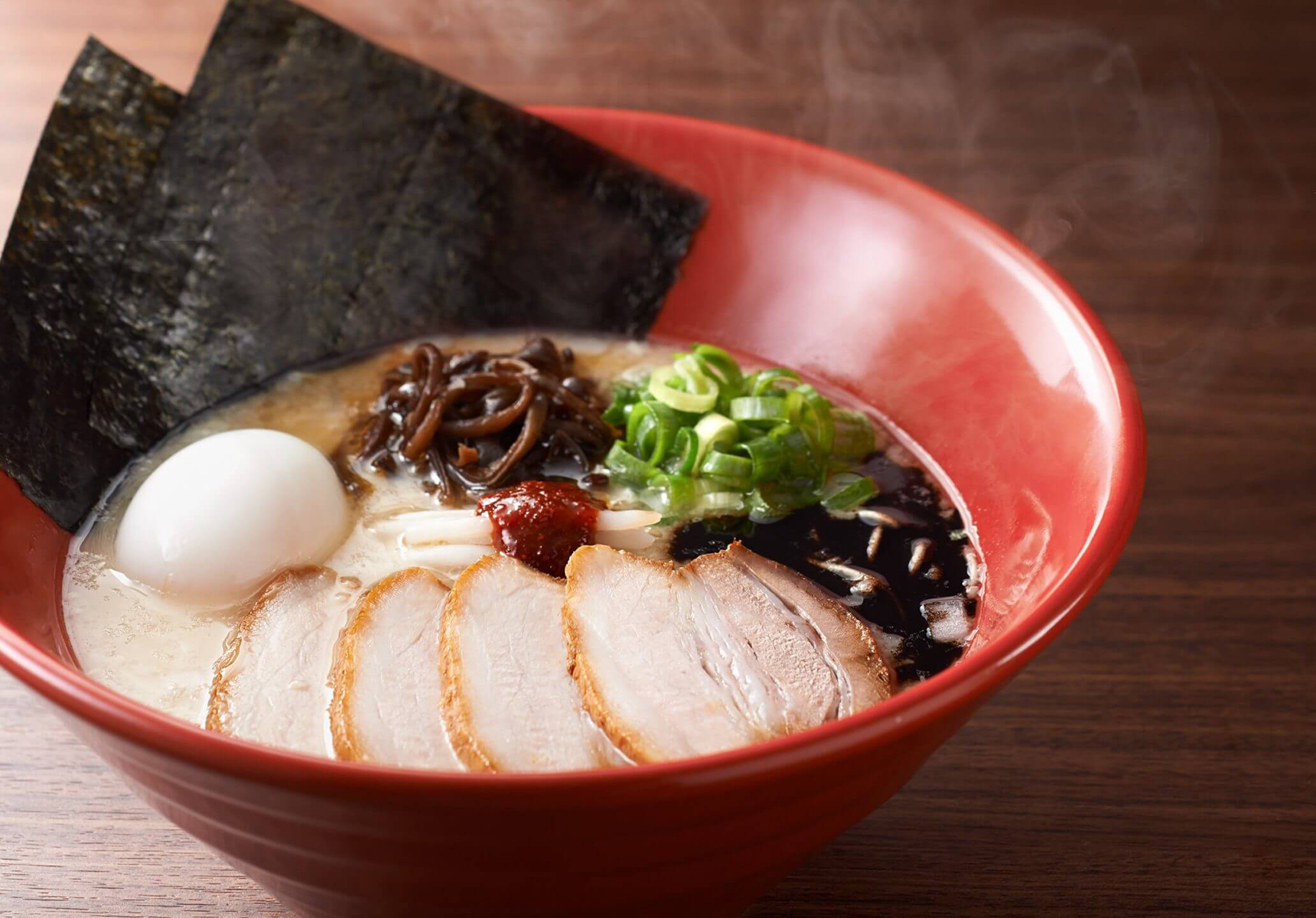 Ippudo, Newmarket & Sylvia Park
Put your shopping on hold; there's ramen to be had. Ippudo is a global ramen chain with outlets all over Japan and Asia, and in New York and Australia. That doesn't mean it's not good; its Newmarket and Sylvia Park branches are worth a visit whether or not you're heading to the mall itself. Decide what texture you'd like your noodles, and go for tonkotsu (pork broth) or, if you'd prefer a clear broth, the tori shoyu – a chicken-blend broth with Japanese fishcake. The karaka men (Ippudo's original tonkotsu broth) is served with thin, wavy noodles, pork belly and spring onions, or try the special spicy miso with ground pork belly, pork loin and garlic oil.
Ichiban, CBD
With just 10 stools for diners to slurp their noodles, be prepared to wait your turn if you want a seat at Ichiban. If you like spice, this is the place to be – although be warned, here it's not for the faint-hearted. Level three is plenty hot enough; four and five are off the charts. We recommend the jigoku chashu ramen, a spicy soy-chilli noodle with pork, vegetables and roast chicken, and the Ichiban chashu miso ramen, with pork mince, roast chicken and vegetables. The miso butter ramen is rich and delicious; watch the butter melt while you do the same.
Yawara Ramen Bar, Orewa
Head north of the city to the seaside suburb of Orewa for some top-quality noodles and sauces imported from Japan. Find Yawara Ramen Bar (the first of its kind to open in the area) down a little side street, serving Hokkaido-style ramen in flavoursome cloudy broth. Yawara's owner trained in Hokkaido and brought back the skills to New Zealand to open his shop. He also takes huge pride in the broth, making it by himself which usually takes over eight hours each time. For something different and more inclusive than your standard tonkotsu, the vegan shio ramen, with soy mince, bean sprouts and vegan chashu, is worth a try. You're unlikely to go wrong with any choice, thanks to the deliciously thick noodles. Locals reckon it's up there with the best ramen in Auckland – go and see if they're right.