Pretty plates, ornate cake stands and dainty bites all turn a regular afternoon tea into a special experience. With spring and summer events season arriving, we've selected some of the best high teas in Auckland – so why not get a group together and get dressed up?
Park Hyatt Auckland, CBD
Head to Park Hyatt Auckland's Living Room restaurant by the water's edge for luxurious afternoon tea with a view – and if you can, book a seat by the window so you can people-watch (and boat-watch) while you tuck into your treats.
Overseen by executive pastry chef Callum Liddicoat, the seasonal menu currently draws inspiration from abundant spring flavours, colours and blossoms. You'll enjoy a trio of canapes to start, with bites like fresh garden pea tartlet with mint and yoghurt labneh. For sweets, you might have a roasted banana caramel and passion fruit dome that's covered in edible flowers, and the sandwich selection elevates the nostalgic food to a delicacy-level. You'll finish with a vanilla buttermilk scone topped with an oat crumble and served with mascarpone cream and house-made jam, alongside a doughnut filled with vanilla custard and lemon curd.
The hotel often has themed afternoon teas, too. Throughout October, it is putting on Steeped In Support, a four-course, pink-themed afternoon tea to raise money for Breast Cancer Awareness Month – proceeds go towards Breast Cancer Foundation NZ. There's also a special fundraising tea on October 12. On October 14, the Artists' Conversation Afternoon Tea will celebrate Māori artists, featuring a four-course treats menu hosted by Sir Bob Harvey and discussions by artists Peata Larkin and Steve Dunlop. 99 Halsey Street, Auckland CBD.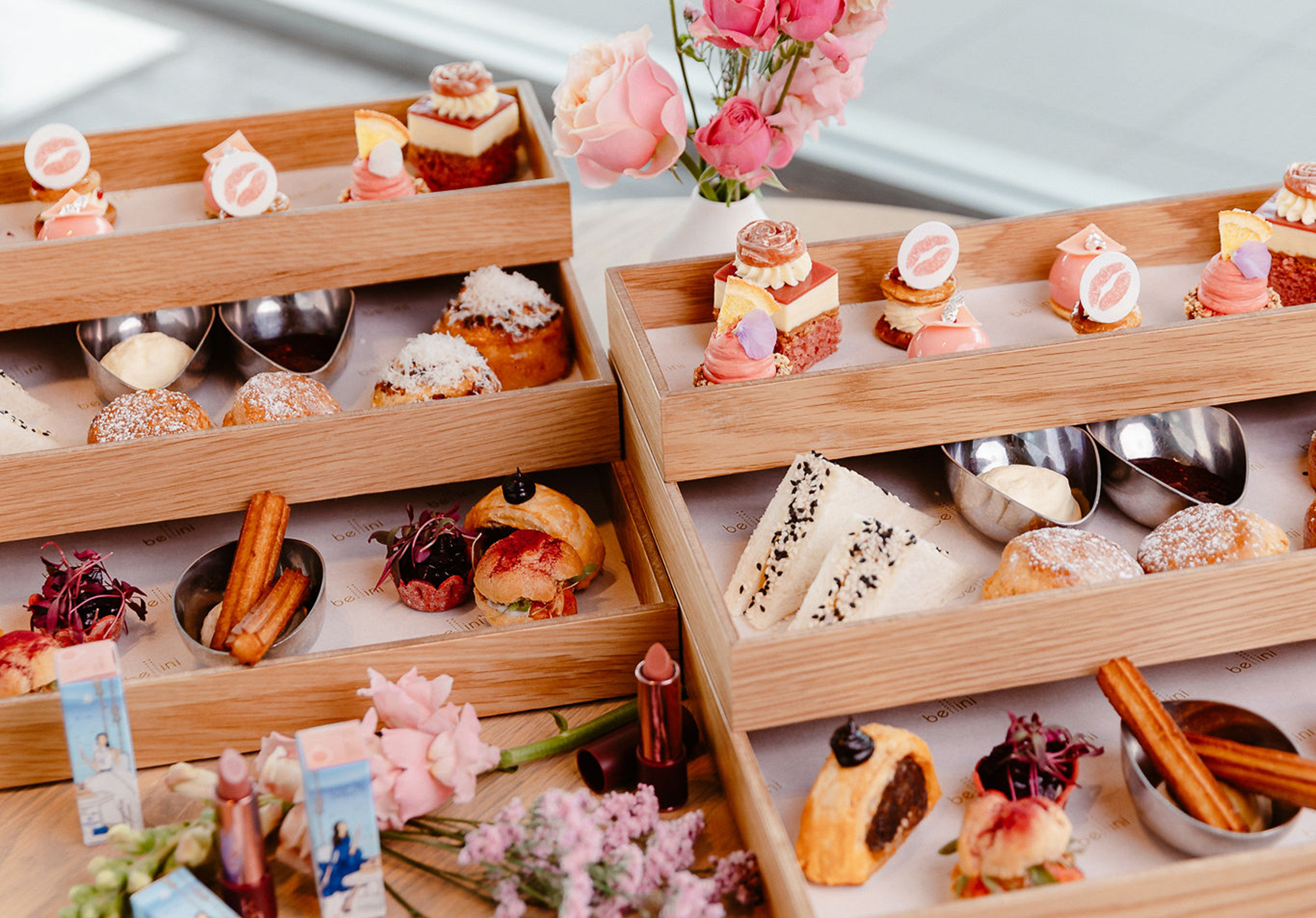 Bellini at Hilton Auckland, CBD
Rather than changing seasonally, Hilton Auckland's high teas are themed in collaboration with high-end local brands and companies – its current Kisses by Hilton afternoon tea was inspired by organic Kiwi beauty brand Karen Murrell's Blushing Rose lipstick.
The sweet selection heroes the lippy with treats like a guava and strawberry mousse with sesame sable. Naturally, scones are on the menu (this one comes as a buttermilk scone with sweetened cream and mixed berry jam) and savoury options include a beetroot tartlet with truffle mascarpone, Wagyu sausage roll with black garlic puree, and a hoisin chicken sandwich with toasted sesame.
Bellini's tea selection is generous; we recommend you try T2's Gorgeous Geisha, a green tea with flavours of strawberry and cream; or Morning Sunshine, a robust and malty black tea made with Assam, Darjeeling and Rwandan estate teas. If you prefer bubbles, there's NV Bedan prosecco rosé – or splash out with NV Bollinger special cuvee champagne. Plus, you'll go home with a free lipstick to keep those kisses coming. 147 Quay Street, Auckland CBD.
Moxie, Birkenhead
Set in a restored villa, Moxie is a family-run restaurant on the North Shore. The vintage high tea is a crowd-pleaser, held on the last Sunday of every month. Teas are served in pretty teacups accompanied by crystal cream pots, little silver teaspoons, wee jam jars, candles and teapots, and decorative pearls.
They're all planned by chef-owner James Bratton's mum Di Bratton and include nostalgic classics such as cucumber sandwiches (Moxie's come with dill crème fraîche and cultured butter), coronation chicken, and classic egg mayo, curry salt and chives. An ever-changing flavour of Di's signature cupcake heads up the sweets, along with strawberry lamingtons. There's a generous selection of teas to choose from and, of course, feel free to pile your fresh-baked scone with the house-made jams. There are also monthly specials of French bubbles for $50 per bottle, or $10 a glass.
Special event high teas include Mother's Day – next year's Mother's Day High Tea is almost sold out already – and there's a Christmas edition on December 10. If you're celebrating something, you can book the high tea as a private function. Menus cater for most tastes (excluding vegan and halal) and bookings are recommended at least two months in advance because word has gotten out that Moxie's is a great destination. 82 Hinemoa Street, Birkenhead Point.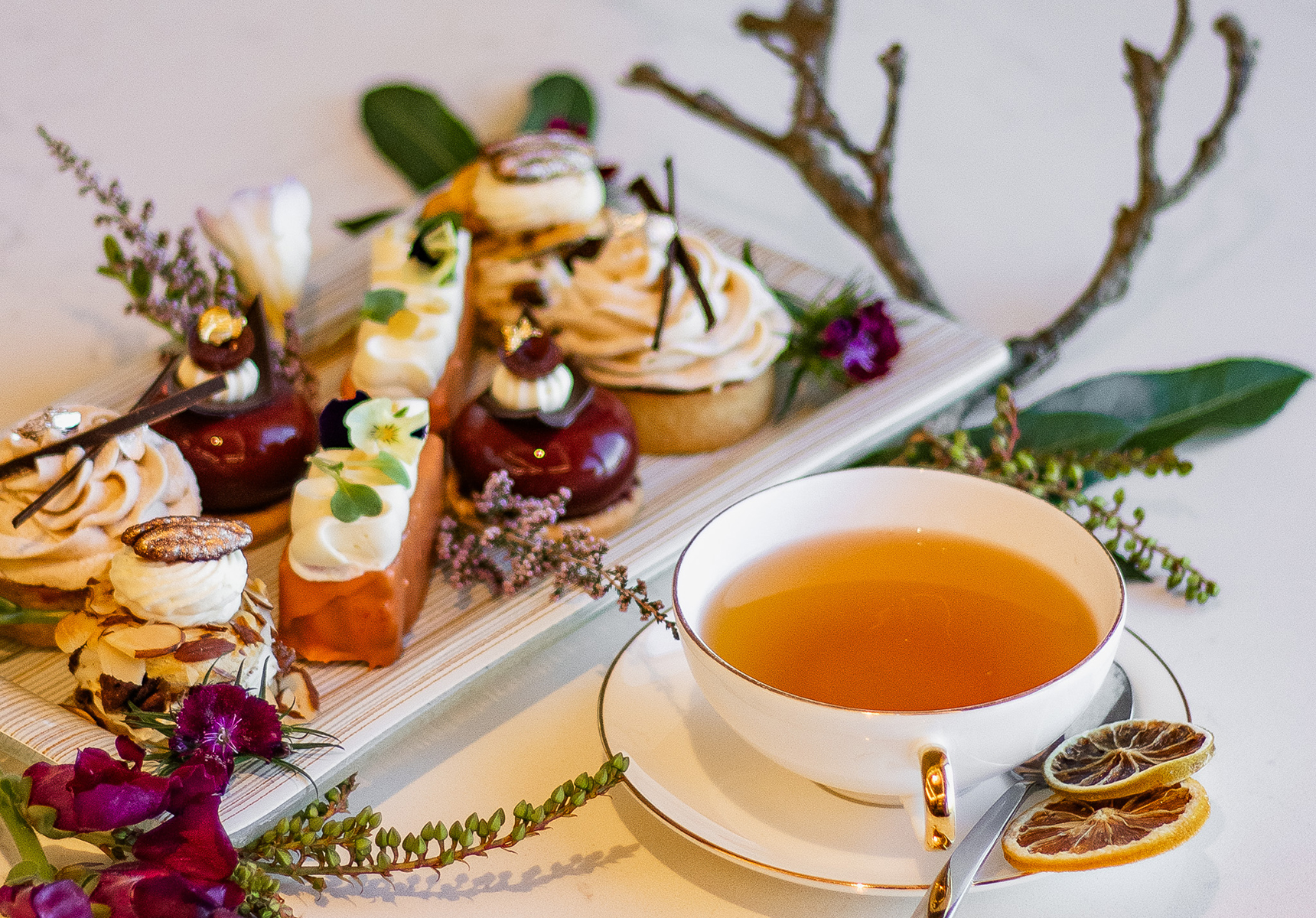 Cordis Auckland, Grafton
Whether or not you're staying at the hotel, Cordis is a popular central Auckland high tea destination. As well as the signature offering, it has a dedicated vegan high tea – and the Cody high tea makes for a dainty kids' party with a difference.
The standard high tea is a lovely fusion of traditional and contemporary items: egg sandwiches or ones filled with cucumber, peas and goat's cheese, along with other savouries like a puff pastry wheel with pork belly, gouda and apple. Sweets might range from chestnut and blackcurrant Mont Blanc tarts to date or plain scones.
Even if you don't follow a plant-based diet, the vegan high tea is a highlight thanks to bites like teriyaki vegan-cured "salmon" with slaw on a walnut cracker; creamy pecan-stuffed dates; vegan scones; and a vegan carrot cake. Both menus end with a charmingly English almond Bakewell tart.
The Cordis is known for themed kids' menus and the adorable Cody high tea is served in a golden wheel cake tray decorated with little Cody plushies (the red panda is the hotel's mascot). Spinach and beetroot popcorn starts them off (some stealthy veggies in here) and the selection includes fairy bread, crustless ham sandwiches, chocolate cake and buttermilk scones. 83 Symonds Street, Grafton.
The Wintergarden Pavilion, Parnell
Spring is in the air, and the winter gardens at Auckland Domain are at their most spectacular at this time of year, so why not enjoy a stroll among the flowers around a delicious high tea? High tea at the Pavilion runs between 10am and 2pm, so it's also a great lunch alternative if you want to spend a leisurely day enjoying the heritage century-old glasshouses that were uncovered earlier this year after a two-year renovation.
The menu changes according to season and availability, but you can expect the likes of herbed vol-au-vents, salmon and cream cheese bites on rye, chicken finger sandwiches, and scones with raspberry jam and whipped cream.
In keeping with the "sharing" spirit of the gardens, your high tea will be served on stands in the centre of a table that you'll be partaking with others outside of your group, and the tabletop bouquets are just what you'd expect from a venue famous for its flowers. Bookings are essential; gluten-free, vegetarian and dietary requests can be accommodated with two days' notice. 20 Kiosk Road, Parnell.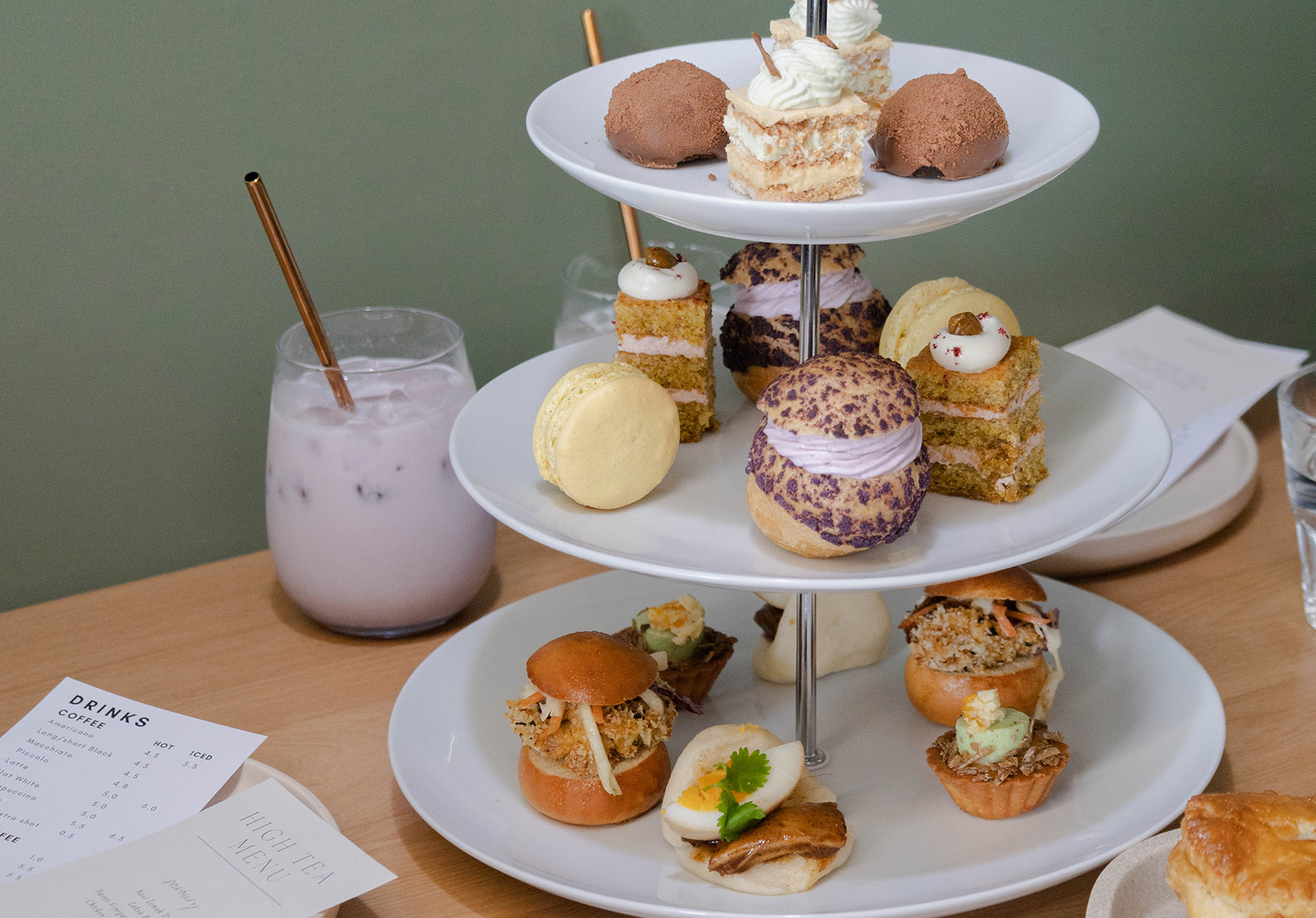 Folds Patisserie, Mount Eden
At her bakery Folds Patisserie, pastry chef Wendy Lau combines European techniques with Southeast Asian flavours, inspired by her childhood food memories in Brunei, Malaysia. Her high teas are no different, and while the menu changes every three months, each item has a nostalgic Singaporean-Malaysian vibe. Current savouries include a nasi lemak tart, a laksa pie and a sweet vinegar chicken bao. From the sweets, try the curry and salted egg macarons, and the roti kahwin.
Folds has Western teas and coffees but it's worth trying the hojicha – a mild, Japanese roasted green tea that is said to help with relaxation – or Thea's organic matcha. There's also an array of colourful mocktails for a pick-me-up.
Folds has a quiet, cosy vibe, with subtle decor, comfy cushions and soft lighting to make you feel you're in your own little world while you enjoy your high tea. Lau is currently planning a vegan high tea for the first week in November to coincide with World Vegan Day on November 1. She's also looking at some festive options to create a Christmas vibe when the normal high tea menu changes in December. Its high teas sell out fast, so booking is essential. 297 Dominion Road, Mount Eden.
Waitakere Resort & Spa, Waiatarua
Head out west on a weekend for this high tea that comes with a view of native bush, Rangitoto Island, the sea and the CBD.
It's available between midday and 3pm, and is served on triple-decker stands – plenty of space for what's on offer – with either a pot of boutique tea or a glass of bubbles for the deluxe version. You might have an English muffin with cream cheese and smoked salmon, or basil pesto, mozzarella and tomato finger sandwiches. Finish off with praline nougat-filled mini eclairs and a strawberry jelly tart with white chocolate ganache. And don't sleep on the banoffee tarts. The raisin scones are decadent, served with butter, fruit jam and passionfruit mascarpone cream. 573 Scenic Drive, Waiatarua.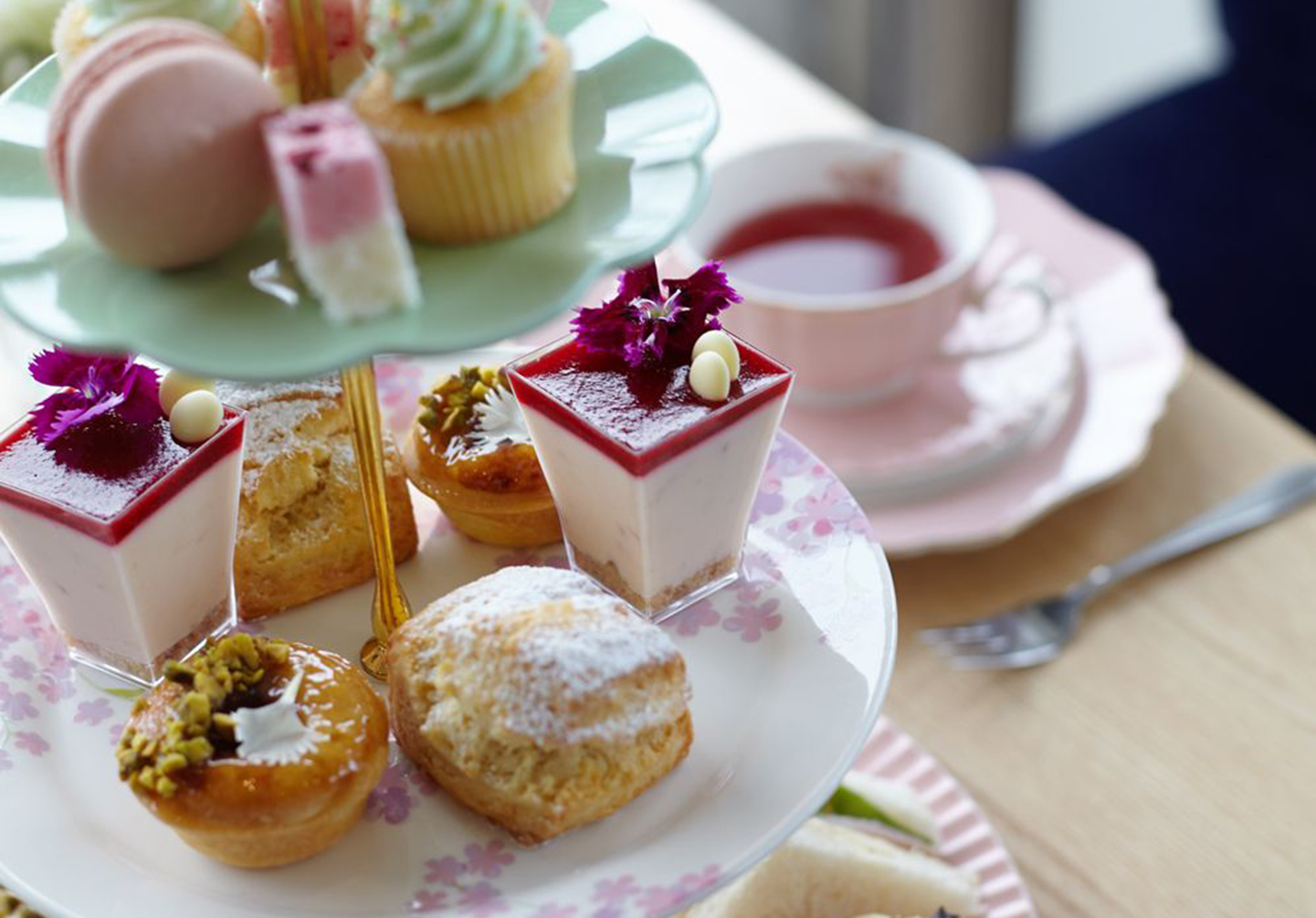 Bluebells Cakery, various locations
Known for exquisite birthday cakes and cupcakes, it's no surprise that Bluebells' high tea is fabulous. There are six different high teas to choose from, plus a takeaway high tea if you want to create your special occasion at home.
For a traditional British-style high tea, the standard version includes herbed egg tea sandwiches, quiche Lorraine, pork sausage rolls and a range of cupcakes, cheesecakes and tarts. The pregnancy-friendly high tea takes the stress out of "Can I eat this?" with its Indian spiced filo, bliss balls and coconut ice, while the gluten-free, vegan and vegetarian options make catering for a crowd a whole lot easier.
If you're treating the kids, the junior high tea menu is cute with ham and cheese pastry twists, scones with jam and cream, and other sweets to keep little fingers busy and little tummies full. Kids can also feel grown up with their cups of hot chocolate and fluffies.
Available seven days a week, the menu items are seasonal and all served with vintage tableware in all three locations.
Miann Chocolate Factory, Morningside
Have your very own Charlie moment as you step into this chocolate factory for a dessert-laden afternoon tea. The clear glasshouses in the courtyard make for an even more singular setting.
Miann makes chocolate from 10 different regions and you'll taste some of them in your high tea – available every Saturday from midday until 6pm. Look forward to caramel chocolate choux, Caramellow tarts and pecan brownie, while for savoury the salmon, sour cream and caper brioche bun is hard to beat.
Because it's Miann, even the tea has a chocolatey edge. Try the Miann blend of chocolate husk and rooibos, or the mixed berry with chocolate husk. You can still order standard teas but, while you're here, the hot chocolates are not to be missed as they come in a variety of flavours. From dark to milk and white, you can get them spiked with dulce de leche, chilli, matcha and more. 14 McDonald Street, Morningside.
Eden Garden, Epsom
For a venue that's in the middle of a busy suburb, Eden Garden is surprisingly peaceful. The five-and-a-half-acre garden is packed with New Zealand native and internationally sourced plants, and tuīs, fantails, kingfishers and wood pigeons creating a background choir that's a welcome change from city noise.
Book a classic, vegetarian or pescatarian tea – there's also a gluten-free option, but keep in mind they don't do vegan or dairy-free. This is a cosy, homestyle high tea with scones and a traditional cucumber sandwich that's been upscaled to include chicken. You might eat shrimp mornay vol-au-vents or a blini with prosciutto and feta whip alongside sips of your Dilmah tea or coffee.
High teas are available from Tuesday to Sunday and, as with most venues, booking 48 hours in advance is required. Fees for the garden are usually $12, but this is included with your high tea. You can also BYO wine and cake (for small fees), which is a bonus for extra-special occasions.
24 Omana Ave, Epsom.