Shibuya – from the millions who traverse its neon centre every day, to its bewildering central train station and pulsing nightlife – often seems to move at hyper-speed. You can easily lose hours in the nine-storey Tower Records store, or spend just as long staring at the beauty product advertisements projected across countless screens. It's all less than an hour's train ride from Haneda Airport.
But there are still unlikely pockets of calm in this sprawling city. Once you venture outside of its overwhelming nucleus, things tend to move a little more slowly. The serene expanses of Yoyogi Park and the austere, adjoining Meiji Shrine invite quiet and introspection. Elsewhere, food and drink are prepared with the same sense of leisurely intent. From rustic cake shops that only open three times a week, to spots where you can linger all afternoon with a glass of natural wine, and fresh, traditional udon, each serve made entirely from scratch, here's where to eat and drink – time be damned – in Tokyo's busiest district.
Udon Shin
The noodles at Udon Shin are made to order. They remain a fresh, just-kneaded ball of dough until an order comes through, then they're sliced into chunky laces and boiled to perfection. And that's no exaggeration – the water is meticulously tested and adjusted every day to ensure consistently plump and delicious udon.
Save 20% when you buy two or more Broadsheet books. Order now to make sure they arrive in time for Christmas.
SHOP NOW
The most traditional experience is to consume the udon cold (zaru) with a bonito dipping sauce and crispy tempura prawns and vegetables on the side. Otherwise, try a hot (or kake) udon with beef and soft-boiled egg. Pasta purists, look away now: Udon Shin has been known to put an audacious carbonara-style dish on the menu, replete with bacon, parmesan and gooey yolk.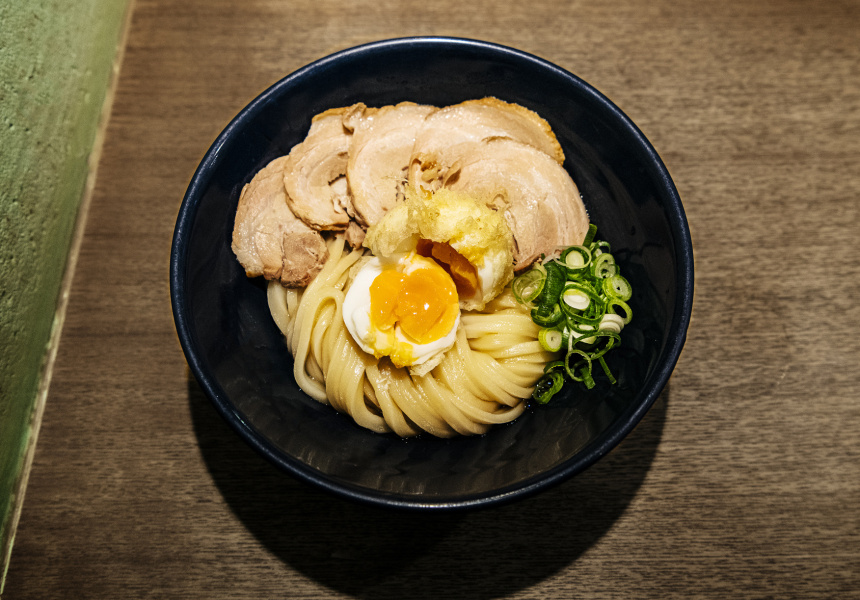 1F, 2 Chome-20-16 Yoyogi, Shibuya City, Tokyo, 151-0053, Japan
Path
There are quite a few reasons to check out Tomigaya, the increasingly cool and creative Shibuya district, but Path's pillowy Dutch pancake with prosciutto, creamy burrata and maple syrup ranks high among them. As, in fact, do any of the other dishes this European-inspired hideaway serves up as it transitions from day to night.
Pâtissier Yuichi Goto crafts some of Tokyo's very best pastries (star among them the flaky, sugar-laminated kouign amann) – but you'll need to get there pretty early to try them, as they sell out fast. Most days, Path closes at 2pm and reopens at 6pm, when Italian-adjacent dishes and natural wines take over.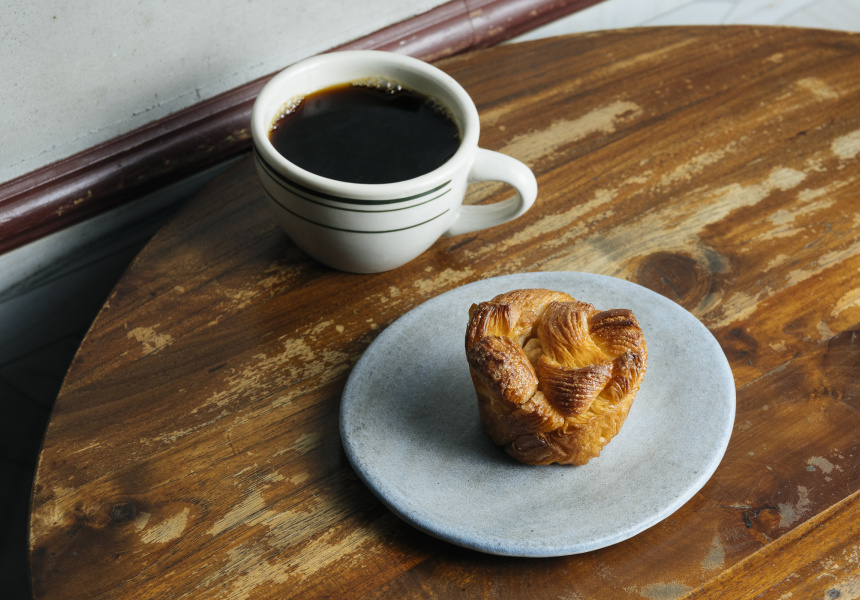 A-FLAT 1F, 1 Chome-44-2 Tomigaya, Shibuya City, Tokyo, 151-0063, Japan
Sunday Bake Shop
This cult cake store, now tucked discreetly below a real estate agency, moved from its former location a few years ago, but the quirky cat paraphernalia, tree branches and paper ornaments have all made the journey over.
The cake counter is stacked each day with lemon-drizzle loaf cakes, fresh cream and house-made raspberry jam crowned with Victoria sponge, matcha brownies, dense cheesecake and piles of classic scones. The coffee is pretty great too, courtesy of Scandi-Japanese roastery Fuglen Coffee.
For those with suitcases more generous than their stomachs, Sunday Bake Shop's signature cat-shaped shortbreads make a no-brainer souvenir. Seating is a hot commodity here, so if you can't get a spot at one of the communal tables, grab your goodies and head to nearby Yoyogi Park for a makeshift picnic.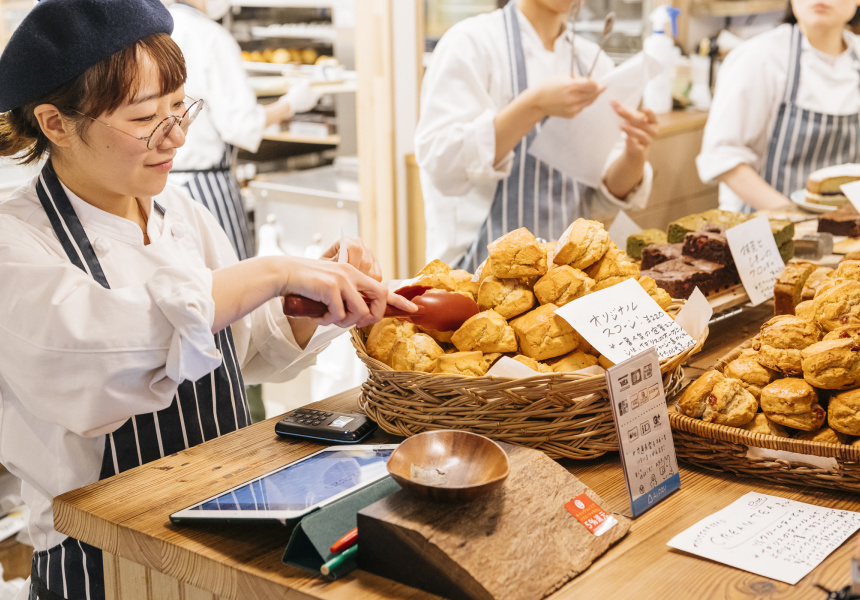 6 Chome-35-3 Honmachi, Shibuya City, Tokyo 151-0071, Japan
Ahiru Store
Demand far exceeds supply at this petite natural wine bar, so consider yourself lucky if you manage to snag one of its eight coveted counter seats (there are no reservations). Run by sibling owners Teruhiko and Wakako Saito, Ahiru Store has become known as the destination for vin naturel in Tokyo. Bottles come courtesy of cult European producers like Philippe Bornard and duo Renaud Bruyère and Adeline Houillon, and a substantial selection from Japanese makers.
Dishes are also Euro-leaning, but with a Japanese temperament: chunky terrines, fish prepared whole, hefty sausages, octopus and avocado with wasabi dressing (a menu staple), and classic bistro desserts like tarte tatin. But you could easily just get stuck into the bread, baked daily by Wakako – the fennel focaccia or classic sourdough stand up on their own as companions to vino.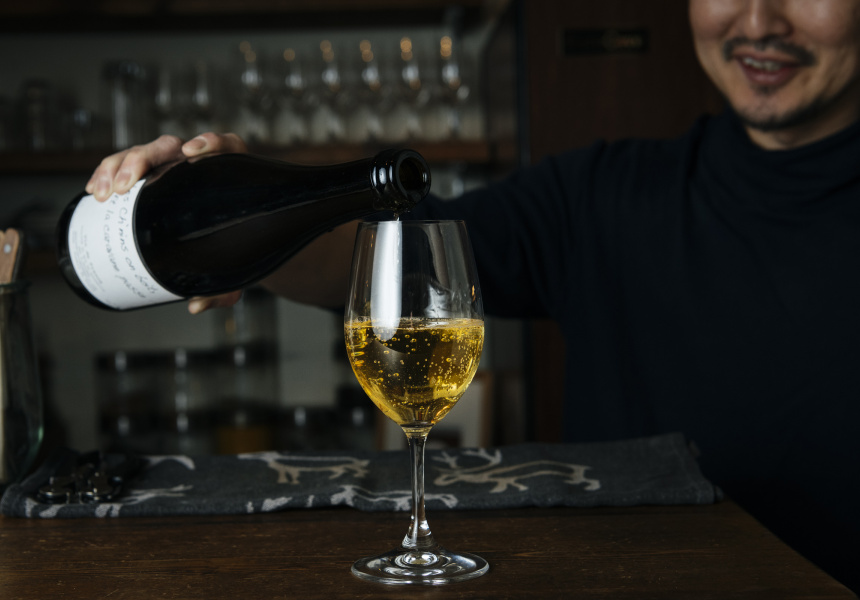 1 Chome-19-4 Tomigaya, 渋谷区 Shibuya City, Tokyo 151-0063, Japan
About Life Coffee Brewers
About Life juts out from a white-tiled Dogenzaka building, flanked by a Familymart convenience store. There's only standing room inside and a sliver of seating outside, but the central location makes it a great place to slow down, take a break and people watch.
It's the second endeavour from Atsushi Sakao, who had already refined the black, white, filter, cold-brew and quick-brew coffee offerings over at Onibus Coffee. The stand has been economically designed – despite the limited space, About Life manages to host residencies by guest baristas from around the world (including Australia). And the bike hooks on the wall are a thoughtful touch.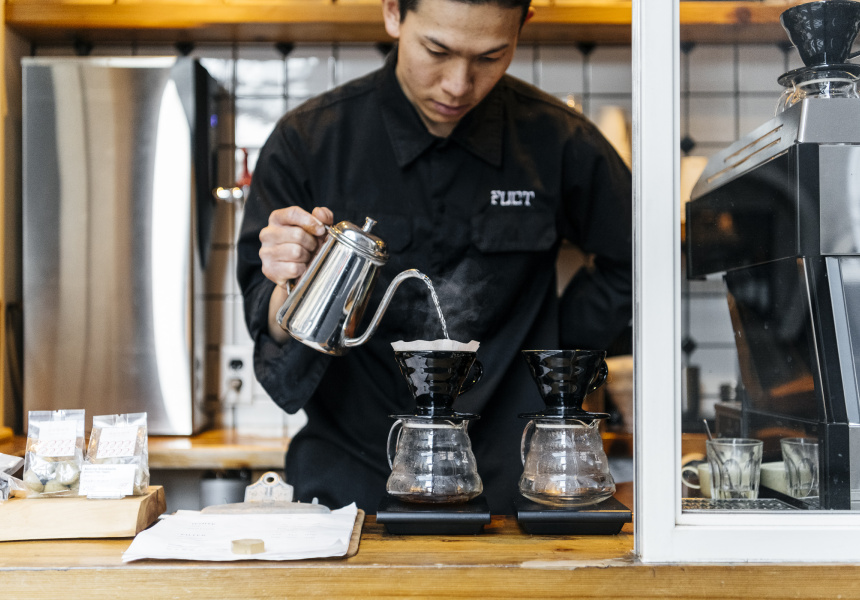 1 Chome-19-8 Dogenzaka, Shibuya City, Tokyo 150-0043, Japan
This article is produced by Broadsheet in partnership with Virgin Australia. Flights to Tokyo, Japan are on sale here.