Dressing your bed in pretty fabrics has generally come second to dressing yourself, but over the past few years, bed linen has been elevated both in importance and quality. And considering we spend one third of every 24 hours asleep (or at least we should), there is good reason to invest in your night's rest. From French linen to buttery-soft bamboo and plain, printed or striped designs, these are some of our favourite bedding brands.
Bed Threads
When Sydneysider Genevieve Rosen Biller moved house, she wanted bed linen for her new room. Unsatisfied by the price, quality and colours available, she launched her own label, Bed Threads. The brand has grown a loyal following for its sustainably minded rainbow range of linen sheets and quilt covers. The flax is grown in France free from pesticides, and every part of the crop is used, while workers in China are paid above minimum wage. It's also delivered in plastic-free packaging.
bedthreads.com.au
Cultiver
Cultiver is all about elevating our at-home experiences with the items we use most frequently, whether that's bedsheets, the dining table, bath towels or cosy robes. The brand sources flax from Europe because of the gentle climate, resulting in super-soft linen that's Oeko-Tex certified. It also makes flip pillowcases that's pure mulberry silk on one side and 100 per cent linen on the other, so you can take your pick of how you want to spend the night.
cultiver.com.au
Save 20% when you buy two or more Broadsheet books. Order now to make sure they arrive in time for Christmas.
SHOP NOW
Roomie
Roomie doesn't take life too seriously. There is a sense of joy baked into the brand that starts with its emoji-inspired logo, weaves its way through colours named "whipped cream", "iced matcha" and "olive Martini", and extends to helpful details like tags on fitted sheets that read "I'm the short side" and "I'm the long side" (which are almost as good as having a second set of hands to help you make the bed). Duvet covers are complete with inner corner ties, so you can secure your quilt insert and avoid the dreaded sag to the bottom saga.
weareroomie.com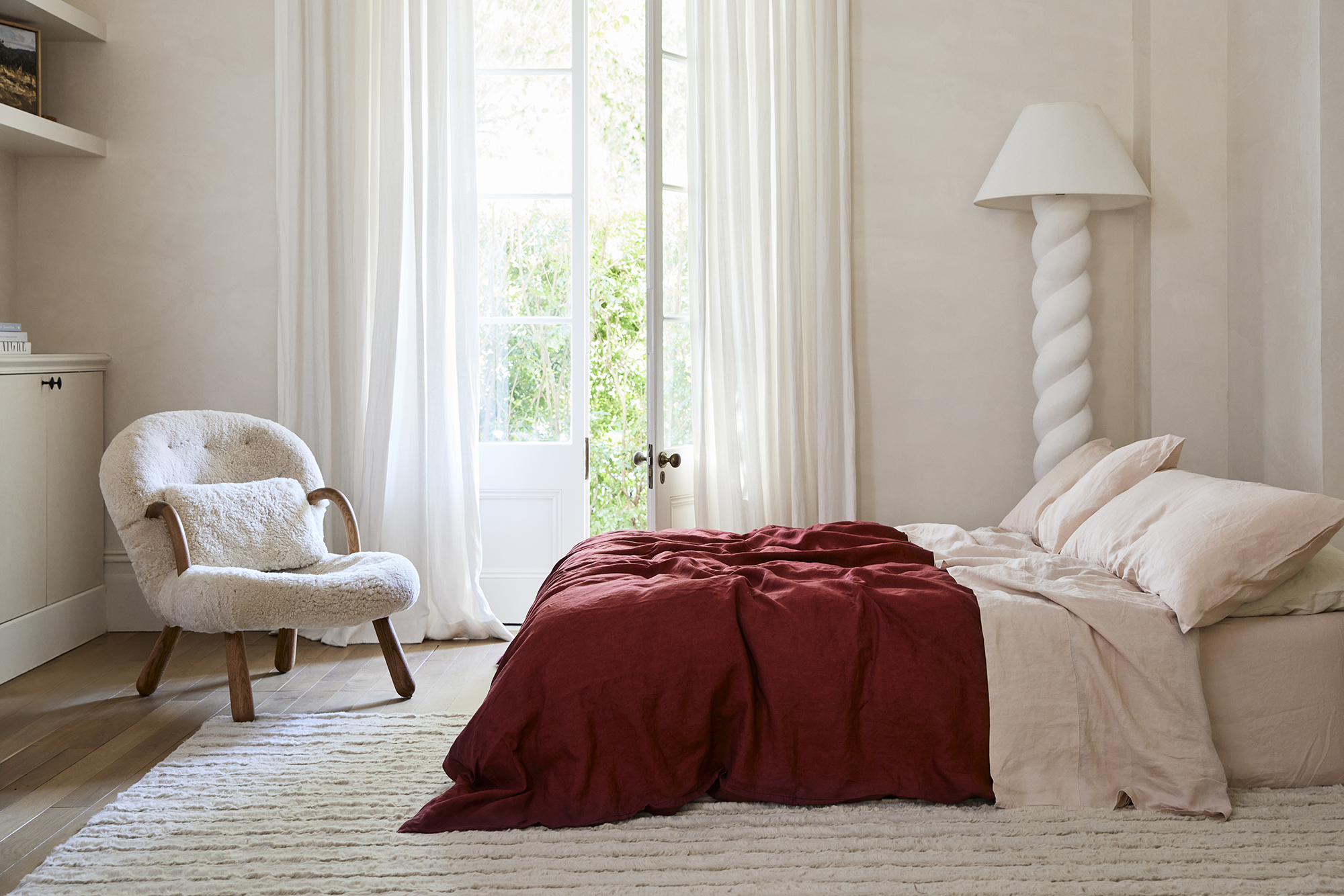 Carlotta & Gee
Sustainability meets style in Carlotta & Gee's range of French linen bedding. All about adding a little luxury to every day (and night), the brand is known for its signature warm, earthy tones. The sleep range includes sheets, quilt covers, pillowcases (standard and European), as well as valances. But the PJs and robes are also noteworthy – there's no such thing as too much lovely linen.
carlottaandgee.com
Eva
A Melbourne brand known for its actual bedding, including a popular mattress and corresponding bed frame, Eva also makes bed linen. Using hemp, the sheets have a similar look and feel to flax linen, and currently come in six shades: a charcoal grey, natural oat, olive, mustard, terracotta and (of course) white.
eva.com.au
Silvi
If you're looking to rest your head on silky softness, this is for you. Silvi is best known for its mulberry silk pillowcases, which are treated with natural silver. The brand claims this fabric helps reduce acne, clogged pores, fine lines, split ends and frizziness from sleeping on your face or tossing and turning.
mysilvi.com
Ettitude
If you thought the environmental impacts of your morning routine start with your reusable coffee cup, think again. Melbourne-based bedding and sleepwear brand Ettitude creates sheets made from a new-generation bamboo fabric that uses 500 times less water to manufacture and emits 52 per cent less carbon compared to conventional cotton. Plus, they're soft, breathable, naturally hypoallergenic and moisture-wicking to keep you cool in summer and warm in winter. The company is also certified climate neutral.

ettitude.com.au
Ecodownunder
Not just super soft, a set of hemp sheets from Ecodownunder also claim to be temperature regulating, hypoallergenic, antibacterial and biodegradable. With a similar hand feel to flax linen, this new range is designed in Australia and made in India, and is available in three colours: natural (an unbleached, undyed hue), white and sage grey.
ecodownunder.com.au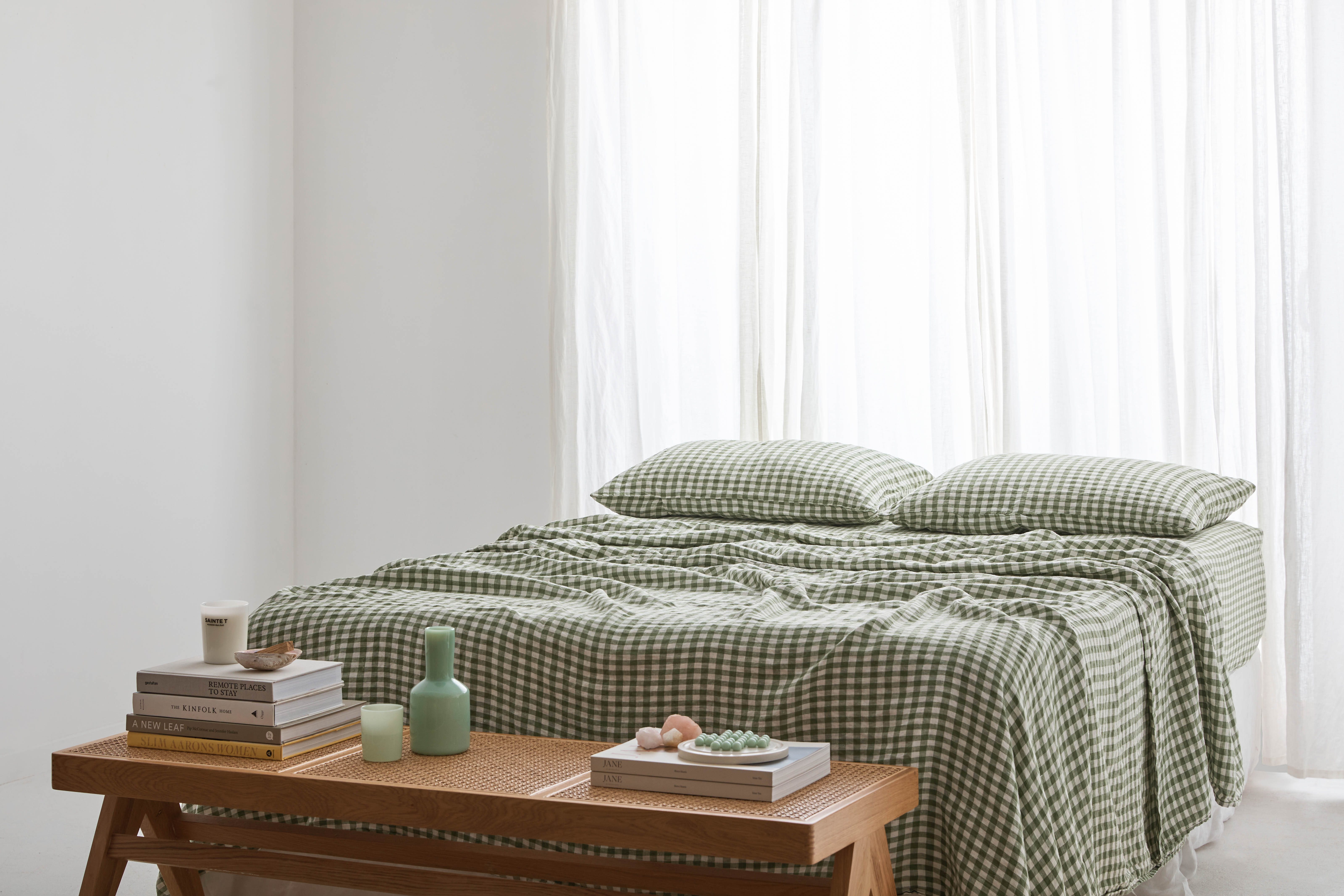 I Love Linen
Founded in 2012, I Love Linen blends a love for Australian living with experiences in places far and wide. For founder and designer Lauren Roe, the core of the brand is to bring a luxury hotel experience into every home. This is why she didn't just stop with sheets and covers – the brand also offers a range of cloud-like pillows, mattress toppers and quilt inserts (aptly called the Hotel Cloud Collection).

ilovelinen.com.au
The Sheet Society
The label hit headlines in 2018 due to its covetable '70s-inspired corduroy bedlinen, but if cord isn't your bedroom vibe, the boucle, cotton and waffle options might be the key to transforming your bed into a serious haven. Our pick? The peachy tie-dye in the label's cotton collection.
sheetsociety.com.au
Good Studios
If you're the type who struggles to find the time to wash their sheets weekly, hemp might be your saving grace. Adelaide's Good Studios' 100 per cent hemp bed linen keeps you cool in summer and warm in winter, and as a bonus has antibacterial qualities, so you can leave it longer between washes. The hemp is also much more durable than other natural fibres, meaning you won't have to fork out to replace your sheets any time soon. All of the brand's hemp linen bed sheets are made to order.
goodstudios.com.au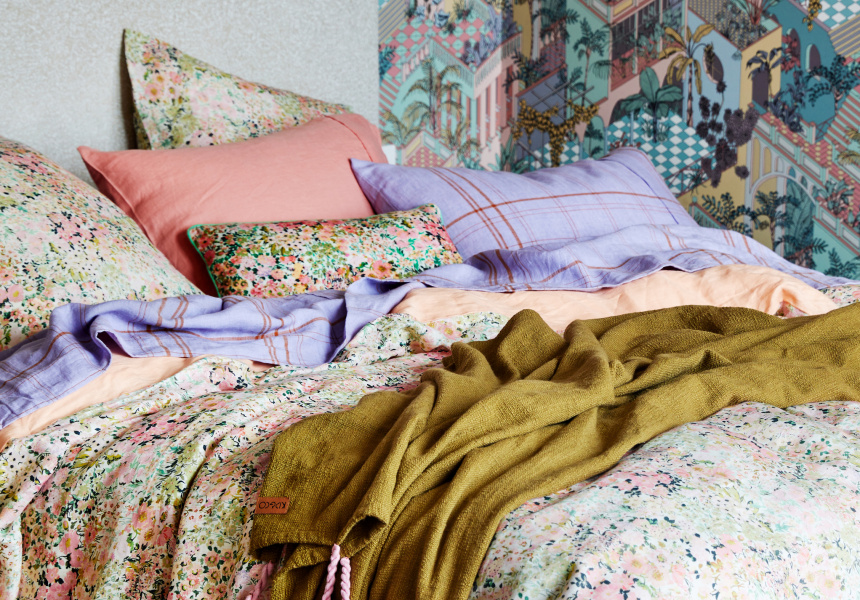 Kip & Co
Kip & Co's bedding looks as though a nearby confetti factory exploded while it was being made – in a good way. If you're after plain sheets, this isn't for you. Vibrant flowers, velvet leopard print and bright geometric shapes are splashed across its range of pillows, quilt covers, sheets and throws. The label was co-founded by Melbourne sisters Hayley Pannekoecke and Kate Heppell and their best mate Alex van der Sluys over wine back in 2012 and, as they told Broadsheet, they've since set about "creating bright, bold, fashion bedding that has a very Australian spunk about it".
kipandco.com.au
Sheridan
Sheridan is a household name in Australia and some of the brand's products have definitely lived in your linen cupboard at some point. But of late, the company has expanded its offering – linen, tencel and organic cotton collections are popular, but our pick is the stonewashed cotton, which feels lived-in and gives a relaxed look and feel to the bedroom.
sheridan.com.au
Bhumi
Bhumi roughly translates to "mother earth". A moniker with meaning, the brand endeavours to leave a positive impact on the world around us. Whether you prefer light and airy linen, smooth and soft cotton sateen or cool and crisp cotton percale, you can rest easy knowing that you're sleeping on certified organic materials with non-toxic dyes that have been made ethically in Fairtrade factories.

bhumi.com.au
Weft Textiles
Another label nailing the environmentally friendly brief is Weft Textiles. Its cushions, duvet covers, sheets and pillowcases are made from 100 per cent natural and organic fabrics. It also avoids harmful chemicals, dyes and perfumes. It was founded by Adelaide-based interior designer Samia Fisher, who was disheartened by the industry and decided to start her own line. Products are made from flax linen and hand-spun and woven organic cotton in versatile colours including navy, pink and light grey.

weft.com
Selah & Stone
Selah & Stone is a brand with heart that was born from heartbreak. Based in Melbourne, husband and wife team Jacob and Tegan Cole have grown the label in the wake of their own experience of miscarriage. And a portion of every purchase goes to helping a family experiencing infant loss or miscarriage. Adult, kids and baby sizings are available across a collection of luxe flax linen bedding so the whole family can sleep soundly.
selahandstone.com.au
This article was first published on February 5, 2019 and has since been updated.
Additional reporting by Alice Jeffery.
We hope you love the products we recommend on Broadsheet. Our editors select each one independently. Broadsheet may receive an affiliate commission when you follow some links.