Don't settle for giving sub-par gifts this Christmas. Instead, embrace summer and lean into treats that highlight sun-soaked pampering and self-care. We've done some of the heavy lifting for you and compiled a gift guide that ensures a deep variety of options at a bunch of different price points.
As a bonus, we're offering one reader the chance to win every gift item we have curated valued at $4523. For your chance to win, fill out the entry form at the bottom of the story.
Under $50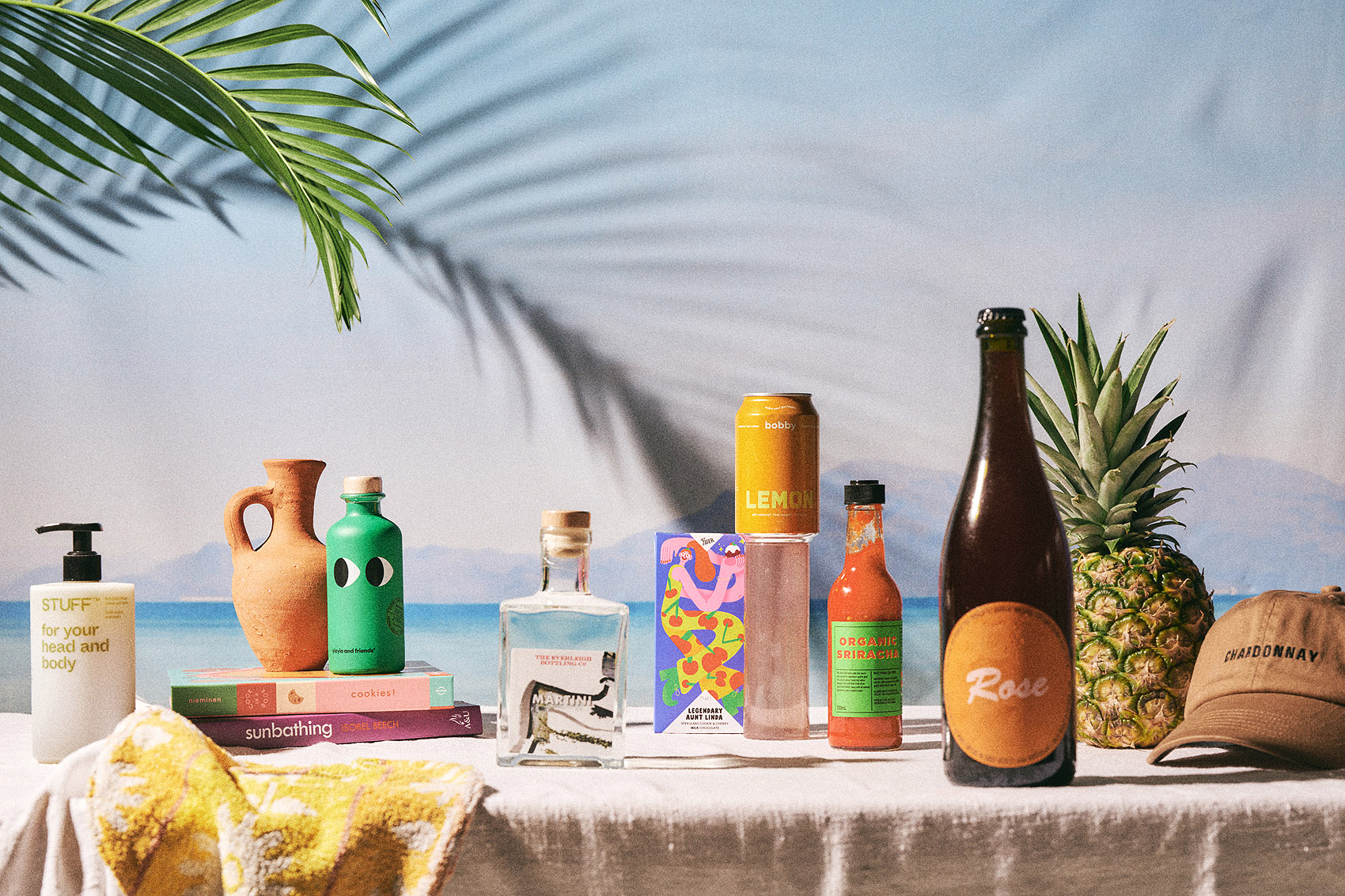 Stuff Cedar and Spice head and body wash
Save yourself some crucial time in the morning with this two-in-one foaming wash. Featuring both aloe vera and burdock, it's also vegan and Australian-made. At $20 for a 450-millilitre bottle made entirely from recycled plastics, it's a guilt-free way to make sure you're fresh and ready for the world.
Bobby gut-friendly soda
If you're after an alternative to booze this festive season, reach for Bobby. The Melbourne-made soft drink pairs an all-natural prebiotic with refreshing flavours that are low in sugar and calories. An eight-can sampler is $38, and showcases the core range of orange, lemon, cola and berry. It's also vegan and gluten-free, making it a gift option for anyone in your life with dietary needs.
Yiayia and Friends olive oil with basil
Nothing perks up the kitchen bench like a colourful bottle from Yiayia and Friends, whose reusable painted glass bottles convey childlike whimsy. Just as appealing is what's inside: in this case it's extra-virgin olive oil all the way from the Greek island of Crete, infused with an aromatic hit of basil. Made from hand-harvested, cold-pressed olives, a 200-millilitre bottle is available for $45.
Worktones Chardonnay cap
Stay sun-smart this summer while donning a cap that reminds everyone of your favourite wine. This simple tan-coloured cap from Worktones and Native Drops Artisan Cellars is emblazoned with "Chardonnay" in black capital letters, giving one of wine's great varietals a shout-out to everyone you encounter. An adjustable, 100 per cent cotton creation, it's just $40 and should last for many summers to come – with plenty of conversations started along the way.
Broadsheet Gift Card
Give a gift that will never go astray with the official Broadsheet gift card, which can be used at more than 10,000 restaurants, bars and cafes across the country. Available as either a physical card or an e-card for $50 or $100, it's a gift that can be given over and over again. You can also include a personalised message, whether suggesting a specific venue or simply passing along your warm wishes.
Cook in a Book
The Cook in a Book series is the gift that keeps giving – kids will love it and you'll get to reap the benefits of the treats they whip up. The Cookies book takes readers through the steps of baking cookies in a simple and interactive way, inviting them to try themselves. You can grab it for $24.95, which is a pretty good price for the endless supply of cookies you'll receive afterwards.
Jamoo bibs
Another gift for the little ones in your life. Jamoo bibs are unique in design and upcycled from pre-loved towels, making them both great for the planet and for keeping the kids clean at dinner time. They cost $40 and there are several different designs to choose from.
Sunbathing by Isobel Beech
Get transported to Italy in the summer with the debut novel from Melbourne writer Isobel Beech. Shortlisted for the 2022 Readings New Australian Fiction Prize, Sunbathing follows a grieving woman who retreats to a villa in the mountains of Abruzzo ahead of her friends' wedding. Using the drastic scene change as a prompt to move forward, she focuses on simple daily rituals as a form of both therapy and escape. If you're dreaming of an Italian summer, this option is much cheaper at just $30.
Mabu Mabu sauces
Indigenous ingredients shine in the offerings from Mabu Mabu, a Torres Strait Islander-owned business based in Melbourne. The brand is a great place to start if you're after an organic version of tomato sauce or sriracha. The latter includes native pepperberries, while the soy-based Island Marinade is inspired by the Asian and Polynesian culinary influences in the Torres Strait. At $10.50 per 250-millilitre bottle, you can choose your own adventure with the sauces of your choice.
Shobbrook Wines 2021 rosé
This refined rosé, hailing from the Barossa Valley, is a blend of grenache, syrah and cinsault. The juice of the grenache and syrah is run over the cinsault berries, adding notes of spice to the wine and aiding the grenache in its fermentation. Priced at $42, it's a good choice for the warm months ahead.
Under $100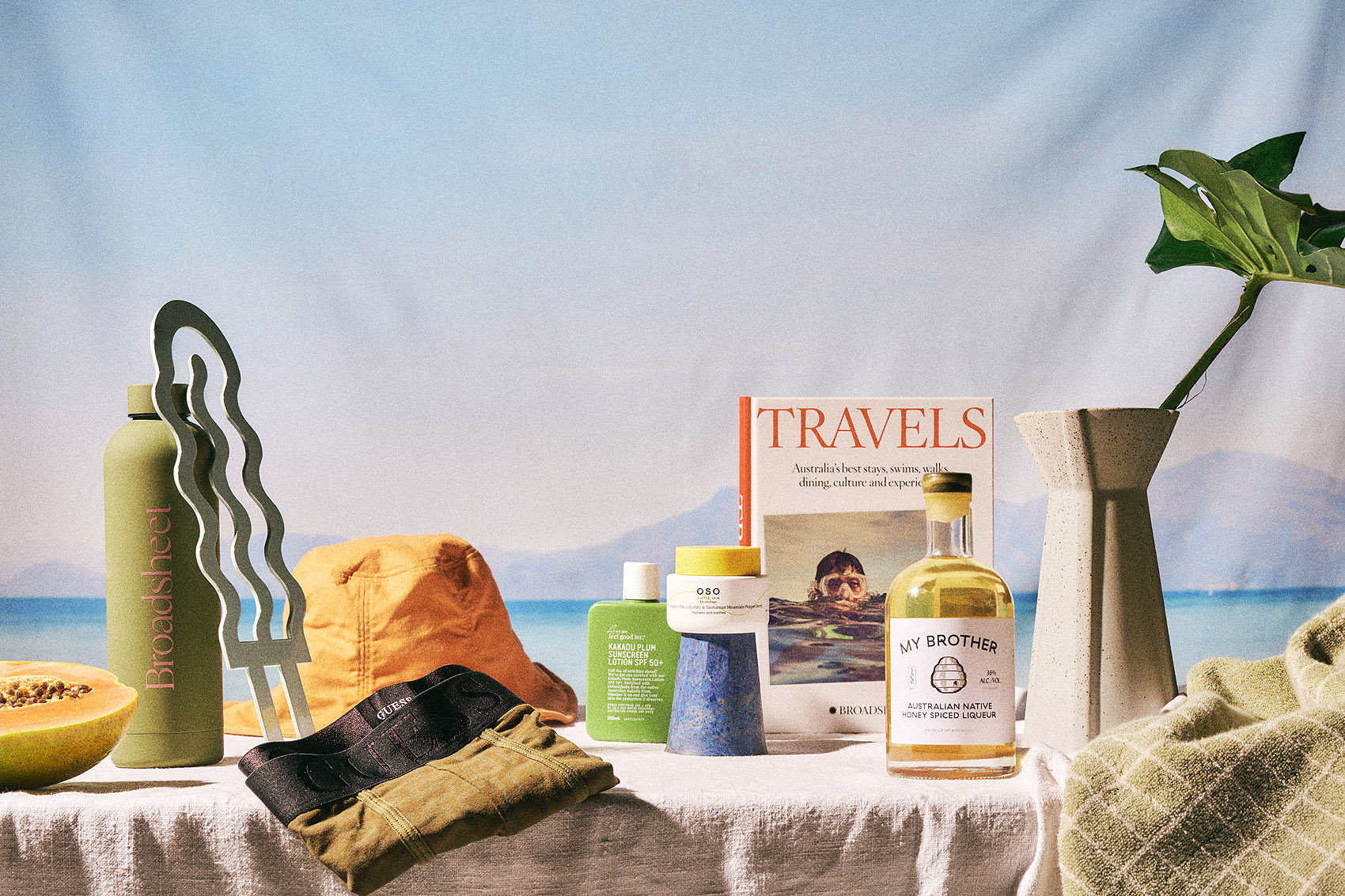 Hey Tiger chocolate
Chocolate doesn't get much better than Hey Tiger, a Melbourne brand that uses ethically sourced cacao (and no palm oil) while partnering with The Hunger Project to support the empowerment of women and children in Africa. All of its flavours are winners, from hazelnut butter dark chocolate and birthday cake crumb white chocolate, to caramelised popcorn and coconut milk chocolate. Choose your favourite three-pack for $60 and share a satisfying crunch while knowing you're supporting a good cause.
Everleigh Bottling Co Martini
Melbourne bar The Everleigh has been crafting take-home cocktails since long before lockdowns heightened the craze, and its concoctions have only improved over time. The limited edition bottled Martini is ripe for Christmas, with packaging designed by artist Belinda Aucott. It's available in 500ml bottle for $89.
Broadsheet Travels book
Plan your next getaway with our in-house hardcover guide to destinations and experiences around Australia, from islands and beaches to hikes and pubs. Travels collates much of Broadsheet's collective wisdom in one handy place, with a detailed chapter and map for each state or territory. There are also breakout sections covering wine regions, arts festivals and other road-trip-worthy anchors that stretch beyond our city limits. Gift it or own it for just $55.
Oso moisturiser
Keep your skin hydrated with this crucial boost of native ingredients in Oso's Supple Skin Moisturiser, featuring kangaroo paw, lilly pilly and Tasmanian mountain pepperberry. It's paraben-free and stocked with antioxidants, and also light, creamy and easy to apply. You only need a pea-sized amount in the morning and at night, so a 50-gram container for $52 goes a long way.
July personalised drink bottle
Never mistake or misplace your drink while on the go with this personalised stainless-steel drink bottle from July. It can feature your name – or any short combination of words you like – on either the lid or the side, with a variety of fonts available. You can even get it emblazoned with a photo. There are eight colours to choose from, and the streamlined 750-millilitre bottle itself (priced at $55) keeps liquids hot for 12 hours or cold for up to 24 hours.
Secateur Me Baby plant stake
Keep your household plants upright with this wavy, flowing plant stake from Secateur Me Baby. It's a serpentine steel structure that encourages plants to follow it upward while adding a stylish flair. Available in lilac, silversword and forest green for $65, the stakes are anti-corrosive, making for a permanent addition to the home. They're also just fun to look at, putting a creative sculptural twist on down-to-earth functionality.
Loop Home bath towel
Farmed and woven in Turkey, Loop Home's bed and bath linen showcases organic cotton sourced all the way from the Aegean coastline. Its bath towels incorporate traditional techniques that date as far back as the Ottoman Empire, and are especially soft to touch. This green Forest Code towel is $69, and will enhance your daily routine in the most natural way.
Robert Gordon x Movida carafe
Add a touch of Movida to your home with this elegant 1.5-litre stoneware carafe designed by founder and chef Frank Camorra in collaboration with Robert Gordon. Highlighting the Spanish tapas destination's philosophy of sharing food and drinks, it's an elegant vessel for your table. It's also oven- and dishwasher-safe and comes in a variety of colours. It's $79.95 but don't be surprised if you find yourself tempted by some other items in the Gordon x Movida collaboration.
My Brother honey liqueur
The second run of My Brother's spiced honey liqueur is now available, but it won't last long. The gorgeous local sipper shines a spotlight on native ingredients, from Kakadu plum and Tasmanian leatherwood honey to a dreamy array of Aussie botanicals. Priced at $79 for a 500-millilitre bottle, this distinctive local liqueur fares well either on its own, over ice or blended with a quality mixer. Whichever way you choose, the honey nose will come through.
Wellington Factory Everyday Hat
Head to the market (or garden or beach) in style this summer with a light, 100 per cent cotton sunhat from small-batch Bondi womenswear label Wellington Factory. Flowing and rustic to the eye, it provides ideal coverage from the rays while allowing for adjustable shaping via the wire-framed brim. Grab it for $79 in warm mustard-yellow or other colour options.
Guess men's boxers
You don't have to choose between style and comfort with these underduds: this three-pack set from Guess is as soft and wearable as it is form-fitting and flattering. With one pair each in black, khaki and olive, they're a soft and subtle presence made from 95 per cent cotton. Grab a trio for $79.95 and enjoy the freedom of movement and breathability in the warmer months.
We Are Feel Good Inc sunscreen and lotion Bundle
Inspired by those all-important getaways to the beach and beyond, this holiday-themed bundle from We Are Feel Good Inc includes its fragrant sunscreen with cooling lotion, cocoa lip balm, and a handy zipper pouch for carrying it all. The Aussie brand includes Kakadu plum in its flagship sunscreen without sacrificing the SPF 50+ protection and four hours of water resistance. You can grab this totable selection of five items for $89 total.
Under $200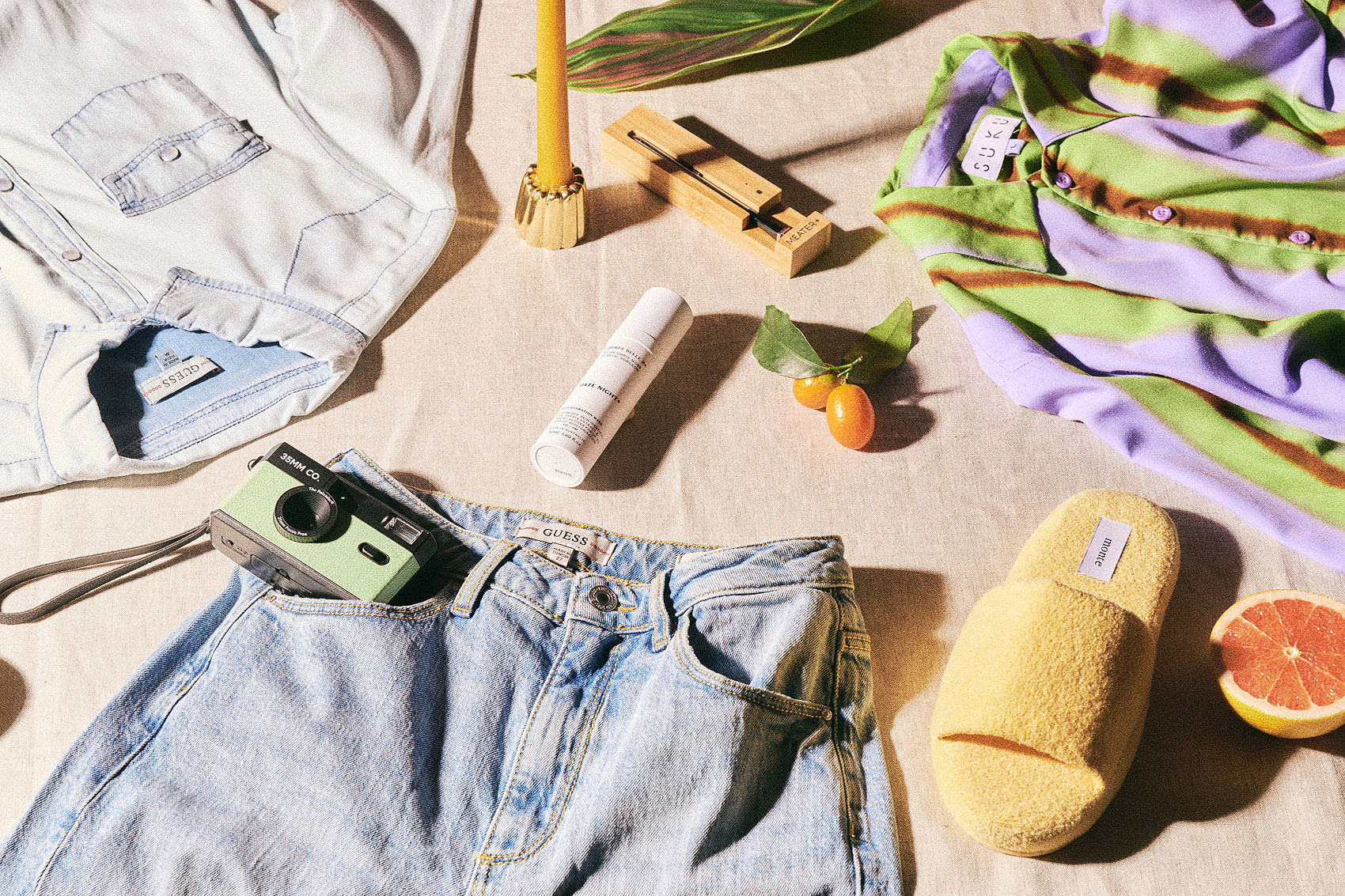 The Reloader film camera From 35mm Co
A stylish throwback to film cameras, this compact and timeless-looking snapper is easy to throw in a bag for a night out or weekend away. It's more eco-friendly than a disposable camera and is user-friendly and aimed at beginners. The flash is built-in, and focus is automatic. Pick from either pastel blue, dusky pink, mint green and yellow for $99, all of which include a vegan-leather wrist strap.
Monte terry towelling slippers
Slippers aren't just for lounging around the house anymore – especially these light and stylish ones from Monte Store, available in three different colours. They're just as well-suited to the beach and other casual outings. They make for versatile summer footwear while offering a sturdy rubber sole for both comfort and longevity. Grab a pair for $129.
Guess jeans and Denim Shirt
Denim is always in fashion, thanks in part to its blend of casual and durable. That shines in this light, elegant Blue Riley Denim Shirt from Guess, with dual chest pockets, rollable long sleeves and folded colour. Gift it to a woman in your life (or yourself) for just $129.95. Guess's 99 per cent cotton Mom Jeans are similarly stylish for everyday wear, with a vintage feel, high-rise waist and straight leg. Whether you grab them in bright white, green, classic blue or a novel chequered, they're a wardrobe staple at $169.95.
Date Night hydration mask
Originally selling out in 36 hours, this mask from Liberty Belle reduce the signs of ageing and is back in stock. Packed with ceramides, papaya extract and other ingredients, it's an unscented leave-on mask that provides deep and surface hydration for up to 72 hours as well as promoting cell turnover. Just apply it to your face, neck and decolletage before bed and wake up renewed. It's imminently gift-able at $138 for a 50-millilitre bottle.
Suku Home classic pyjamas
Featuring broad vertical stripes in cornflower and chocolate tones, these unisex pyjamas are made from 100 per cent bamboo. Like all Suku pieces, they're dyed, painted and sewn by hand. A great choice for summer due to their loose and airy fit – whether you're wearing them around the home or just to sleep. Snap up a pair for $190.
Meatsmith meat thermometer
With Christmas and barbeque season fast approaching, it's time to get serious about cooking meat – particularly when an entire feast hinges on achieving precisely the right temperature. Get your hands on this smart thermometer from Meatsmith, which nails the requisite measurements while also connecting to the Meater app via Bluetooth and separately monitoring ambient and internal meat temperatures. It also suggests cooking and resting times along the way. A wise investment for just $199.
Over $200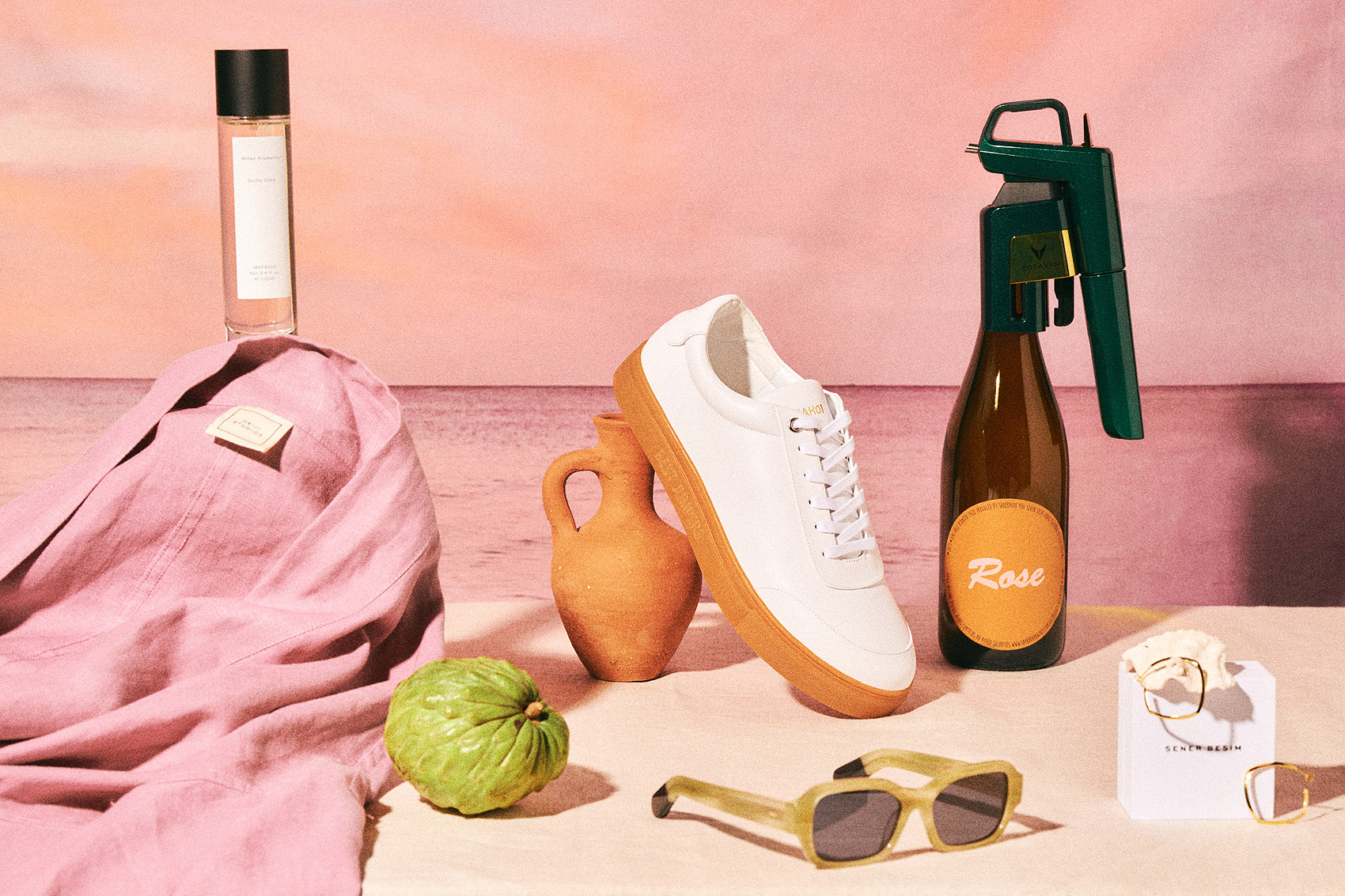 Deiji Studios robe
Pronounced "day-gee", Deiji Studios is a small Byron Bay brand with an ethical approach to blending daywear with sleepwear. This full-length robe is made from 100 per cent stone-washed French linen, with low hidden pockets and extra wide sleeves for a combination of usefulness and cosiness. One size fits all, and for $219 you can choose between mulberry, tobacco, clove, blush or many other subtle shades of colour.
Corey Ashford candle holders
Corey Ashford's handmade household items make for memorable additions to everyday living, and these French-style caneles are no different. Designed to house either candles or incense, the hand-polished solid brass holders are gently ridged all the way around. They work especially well with Corey Ashford's organic beeswax dinner candles. Buy a set for $190.
Coravin wine preserver

No longer do you have to have an all-or-nothing approach to your best bottles of wine. Rather than opening a special bottle and then feeling obligated to drink it all in a night or two, the Coravin Wine Preserver allows you to extract your desired amount via a thin needle through the cork – which reseals on its own afterward. That means you can taste a single wine every few months (or years) without it diminishing in quality. Invest in one for $419.97 (usually $699.95).
Mihan Aromatics Guilty Story fragrance
Melbourne couple Joshua Mihan and Julia Brown founded Mihan Aromatics as a subtle, gender-neutral brand of perfume. The scents also feature a conceptual element often inspired by real locations and life experience. Check out Mihan Aromatics' Guilty Story scent ($300 for a 100-millilitre bottle), with its summer-ready bouquet of amber, neroli, saffron, cinnamon, Australian sandalwood and more.
Alpha 60 sunglasses
As well as being bold and striking, Alpha 60's eyewear also provides plenty of sun protection. Styles range from the honey-coloured Andie design to chunkier looks such as Toni, making the brand a great choice for a pair that's just right for you or someone special in your life. Prices range from $220 to $240.
Best Jumpers unisex white sneakers
Embrace the classic with these no-nonsense white kicks from Best Jumpers. Made from genuine leather with microfibre leather lining, they're finished with a thick gum sole. If white isn't your thing, you can grab them in black as well, with both colours priced at $375. These shoes are strong and comfy without compromising on style.
Sener Besim gold hoop earrings
As part of Sener Besim's Accent Series, which draws direct inspiration from Ottoman architecture, these crooked hoop earrings are a mix of jaunty and elegant. They're made from 14 carat gold, cost $290 and are distinctive without interrupting the flow of your favourite outfit. That makes them easy to pair with almost anything in your wardrobe, while still being bright and angular enough to light up a room.
This article is produced by Broadsheet in partnership with Guess.