Update (October 1, 2020): voting is now closed. Sarah Norris's swimming pool is the winner, with 30 per cent of votes. Hana Okada's good witch came in second with 25 per cent, and Daniela Frangos's Puss in Boots came third with 13 per cent.
Thank you to everyone who voted. Erica W, Michelle W, Enrica L, David M, Kasey C, Heidi C, Angela H, Alison K, Catherine H and Molly M have each won a copy of the Women's Weekly Children's Birthday Cake Cookbook and been notified by email.
When the Women's Weekly Children's Birthday Cake Cookbook celebrated its 40th anniversary last month, it got us feeling all nostalgic. Broadsheet's editors are a bunch of '80s and '90s kids. Almost every one of us has been photographed next to a jelly swimming pool, choo-choo train, little piggy or another one of the book's iconic creations.
Broadsheet Access members get special tables at busy restaurants, tickets to exclusive events and discounts on food, coffee, brand offers and more.
Find out more
In honour of this milestone, we held a bake-off, with each editor making a different cake from the book. But unlike our previous baking comp, judged by none other than Maggie Beer, we figured we'd throw this one open to you, our readers. Who else has seen more of these cakes?
Vote on your favourite below and you'll enter the draw to win one of 10 copies of the book's 40th anniversary edition, which has a flash new cover but is otherwise identical to the OG.
You can judge the cakes on whatever's important to you: technical skill, aesthetics, storytelling or anything else. We just need you to crown a winner, whether it's the team's 23-year-old baby who mixed his batter in a blender, the Kiwi who'd never heard of this book before, or the editor who replaced yellow food dye with turmeric (yes, really). May the best cake win.
Koala by Elissa Goldstein, acting chief sub-editor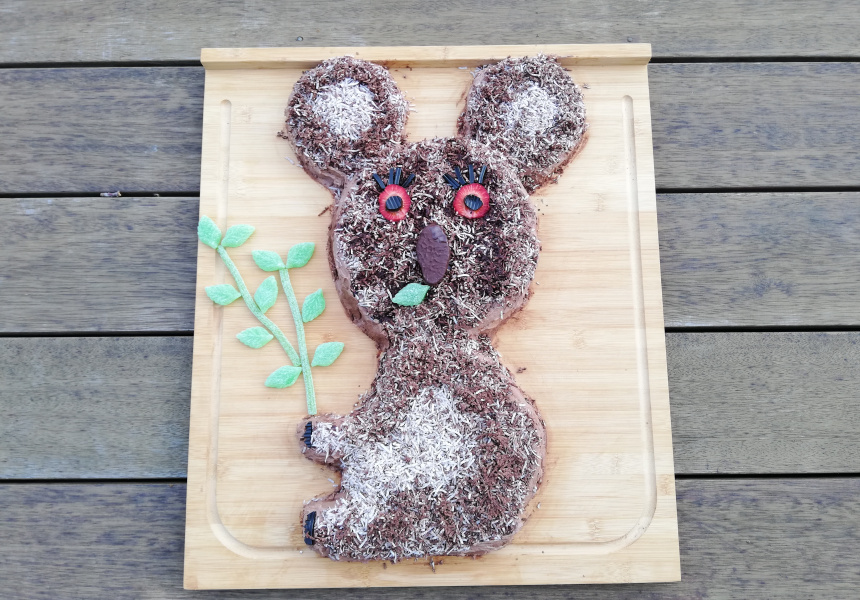 With delusions of grandeur, I decided I'd bake my cake and make my icing from scratch (using AWW recipes, of course). Joke's on me because it turns out this contest is all about optics, visual art is not my forte, and no one can taste your labour or lunacy over the internet. But this is a taste sensation, trust. The cake is moist and springy, the icing perfectly creamy and fluffy. Sure, the koala looks slightly menacing and stoned out of its tiny brain, but that makes it the perfect cake for 2020, right?


Smartie One by Callum McDermott, directory editor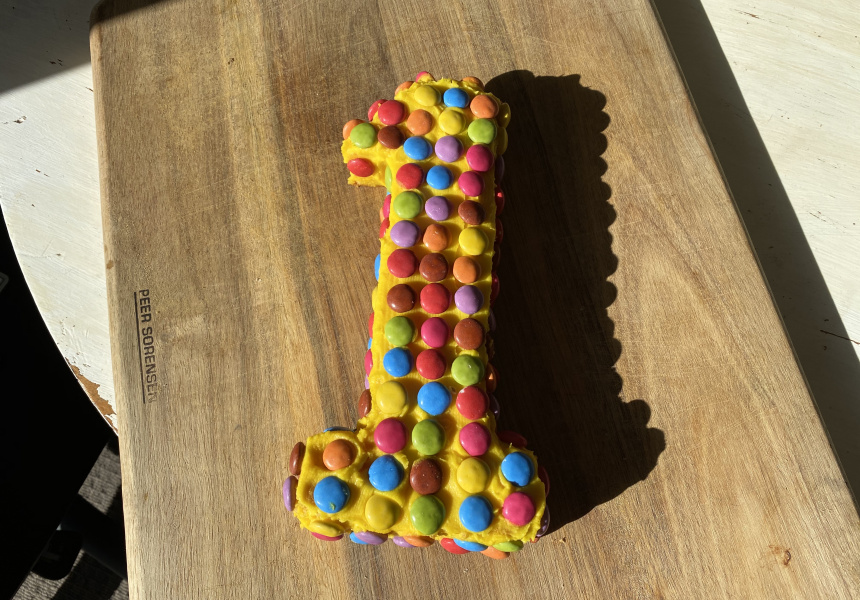 Mum made this cake for, well, my first birthday (pic for proof). She pulled it off with grace and ease, I'm told. But I am not my mum, and this is not 1997. In fact, this year being this year, I'm pretty darn pleased with this effort. I didn't have a cake tin, an electric mixer, a fully functioning oven, or the basic baking nous to pull off this caper. But I did have a Le Creuset, a Nutribullet and a truckload of gumption. This cake isn't up itself, it has a demure confidence – it doesn't need to be flashy like, say, a Timothy Tiger. 'Tis but a humble number cake. And isn't that what birthdays are about? Numbers?


Swimming Pool by Sarah Norris, national editor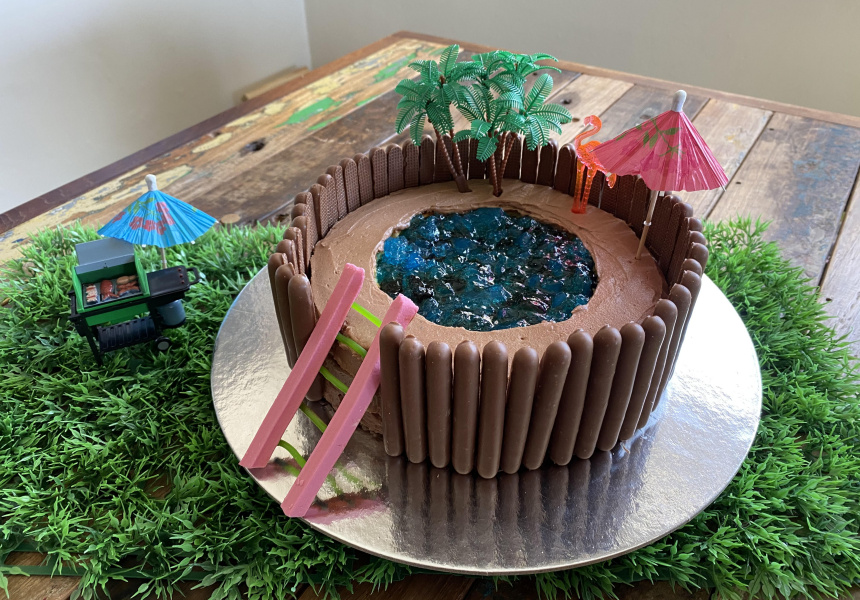 Sure, I went to seven shops to get everything and still couldn't find the right liquorice, but I got to flex my aunty skills. This isn't a hard cake to make, you just need the bling to take it to the next level. I think I've created more of an adult's pool than a kid's one, so the right thing to do is turn up the music and make a jug of cocktails.


Good Witch by Hana Okada, branded content audience growth coordinator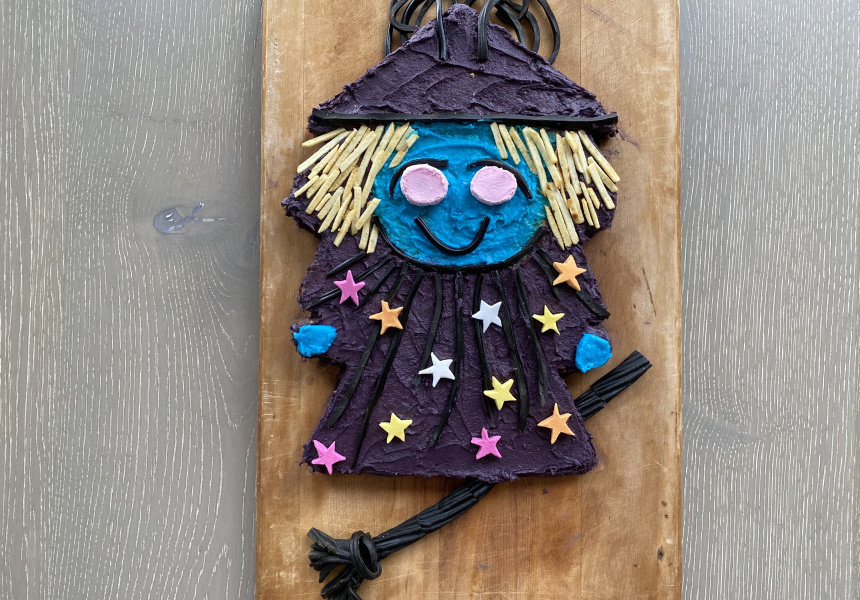 As a Kiwi, I'd never heard of this Aussie rite of passage and I went into it thinking they were cakes you made with your kid. How hard could it be? One nervous breakdown later, I realised how wrong I was. Those liquorice allsorts stars almost took a finger out. I'm also left with a lot of questions. What is that liquorice down her dress? Are they antennas on her head? I should've done a Jacinda and gone with the "easy piano cake" instead. The witch is pretty cute, though. She looks a little confused, but it's 2020 – aren't we all?


Dolly Varden by Melissa Mason, content director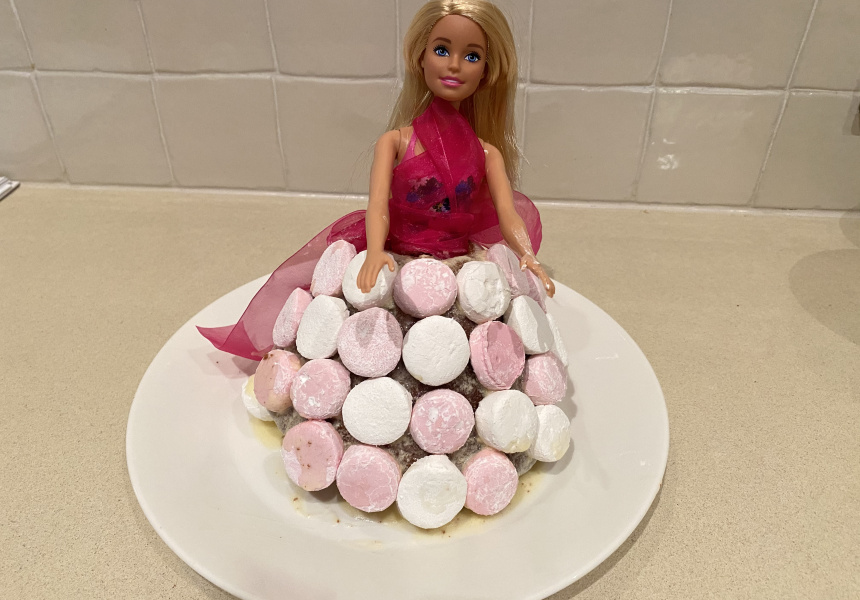 My first mistake was assuming a cake made of packet mix and marshmallows would be easy to create. I probably should have considered the fact that this is, essentially, a vertical construction nightmare where the quality of your icing is paramount. I'm the idiot who decided to forgo making the AWW's icing and instead used the free stuff that came with my butter cake mix. Mistake. It's a miracle only one marshmallow fell off for this photo, to be honest.


Pirate Face by Ellen Fraser, executive producer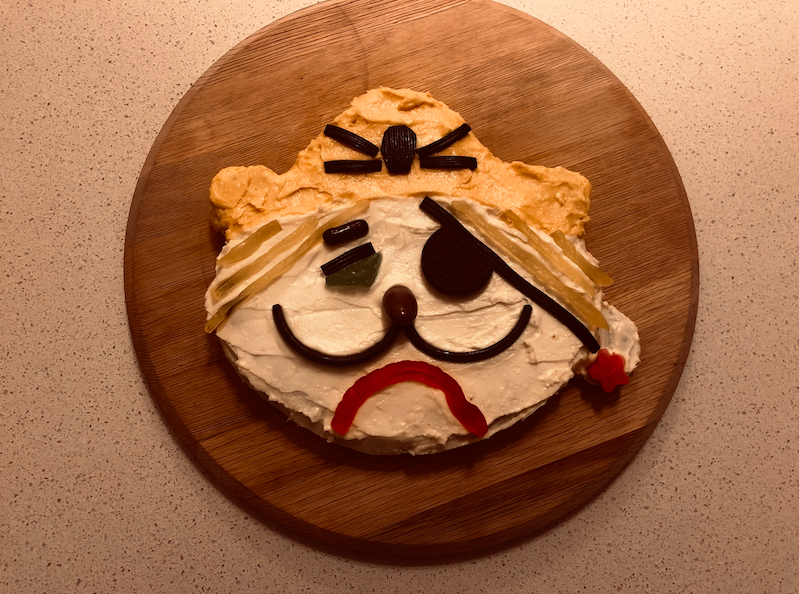 The Frasers have a long history with flat cakes. This is in part, I think, due to mum's insistence that you always halve the sugar, and in part due to a broader, and really quite belligerent approach to pretty much every recipe, ever. And so "1 x 470g packet butter cake mix" becomes an orange and almond cake, for which I also disregard some instructions. Turmeric stands in for yellow food dye (healthier, and no less yellow). I skip the electric mixer for the icing, meaning butter doesn't blend into the cream cheese, leaving little lumps on my pirate's skin. And the turmeric gives the whole thing a not-unappealing coconut-chicken curry vibe. Overall though, looking strictly top-down, I reckon it's pretty close to the picture.


Puss in Boots by Daniela Frangos, Adelaide, Brisbane and Perth editor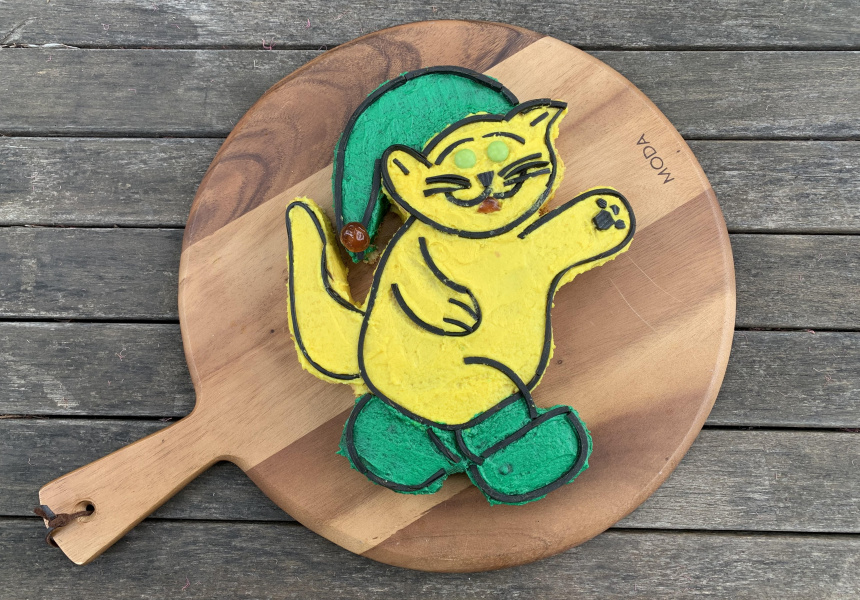 This might be the third cake I've ever baked, so no matter the outcome, I've already won. But gosh it was a journey. My housemates witnessed a gamut of emotions starting with despair and confusion (why had I picked this godforsaken cake? Who will eat it? Why is Puss in boots?), then surprise and elation (I'm still impressed with myself for adding blue dye to the excess yellow butter-cream to make green and avoid waste). Sure, his eyebrows and whiskers have grown right across his face, but he seems pretty happy about it.


Cricket Pitch by Che-Marie Trigg, Sydney editor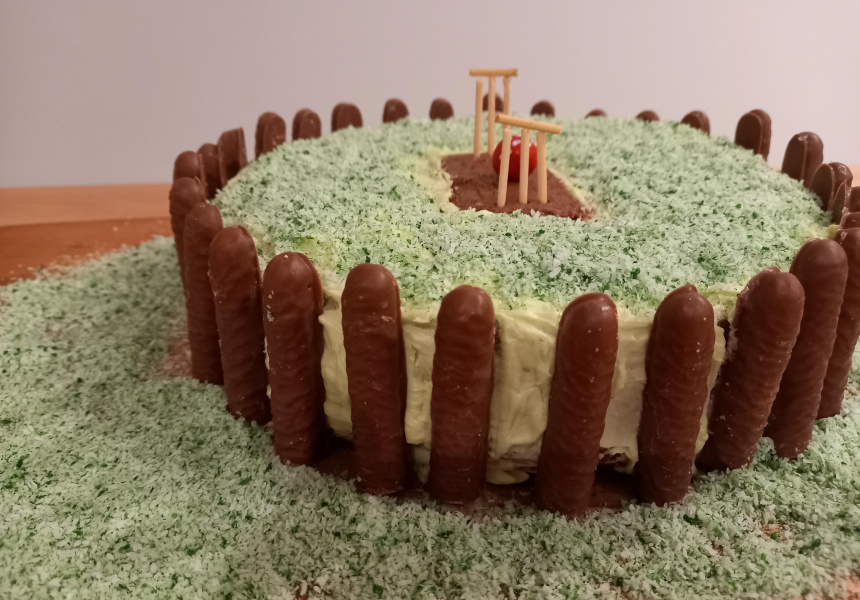 Out of all the AWW birthday cakes my mum baked my brother and I over the years, the one I remember most distinctly is the cricket pitch. I don't know why. I don't care for cricket, Jaffas or coconut, and this cake has all three. And let's be honest: it's actually quite boring on the eye. This recipe assumes a lot of things – that 40 years in the future, shops will still stock Vienna cream, that all chocolate fingers are shorter than cakes, that people will have use for several cups of leftover green coconut (I used mine to decorate a chopping board for the photoshoot). Somehow, though, it's not a complete disaster.


Ladybird by Stephanie Vigilante, audience growth coordinator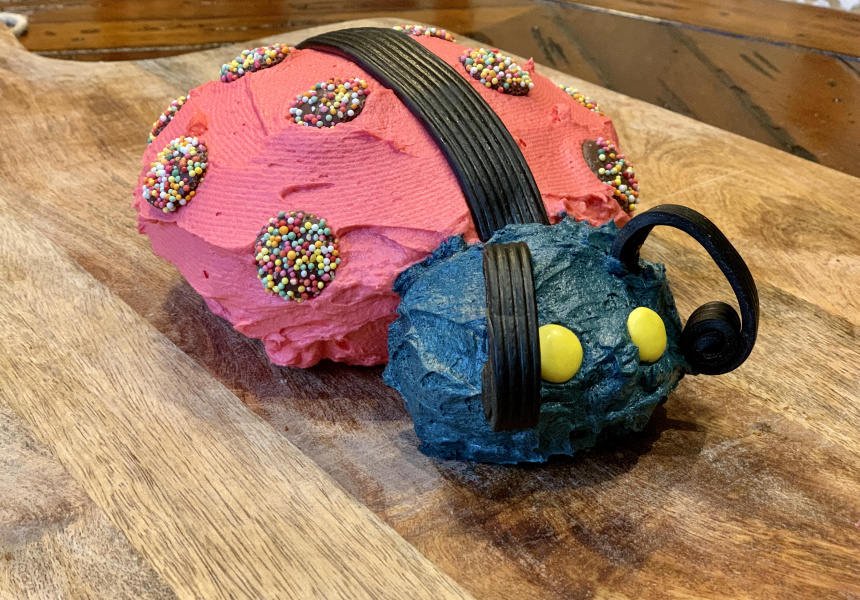 As far as cake decorating goes, this was not my first rodeo. That's only if you count the "supervising" I did of my parents' attempt at a Bananas in Pyjamas cake for my fourth birthday. And the hyperreal Ron Mueck-inspired fondant foot cake I decorated in a bake-off at year 12 art camp. But butter cream is a different beast. My sister – our family's resident baker – suggested we tackle the moon cake (it looked the easiest), but I insisted we'd challenge ourselves. Alas, I ate my words. Firstly, we don't own a pudding steamer. And despite using mum's Ikea mixing bowl as a baking pan, our dear ladybird's body was very flat. As for the icing, no amount of pink dye was enough to make her red. And our attempt to make black dye from green, blue and red was enough to turn our teeth blue. She might not be a looker, but she did pass the taste test. My sister's parting words? "We should have done the moon."


Brown Bear by Nick Connellan, publications director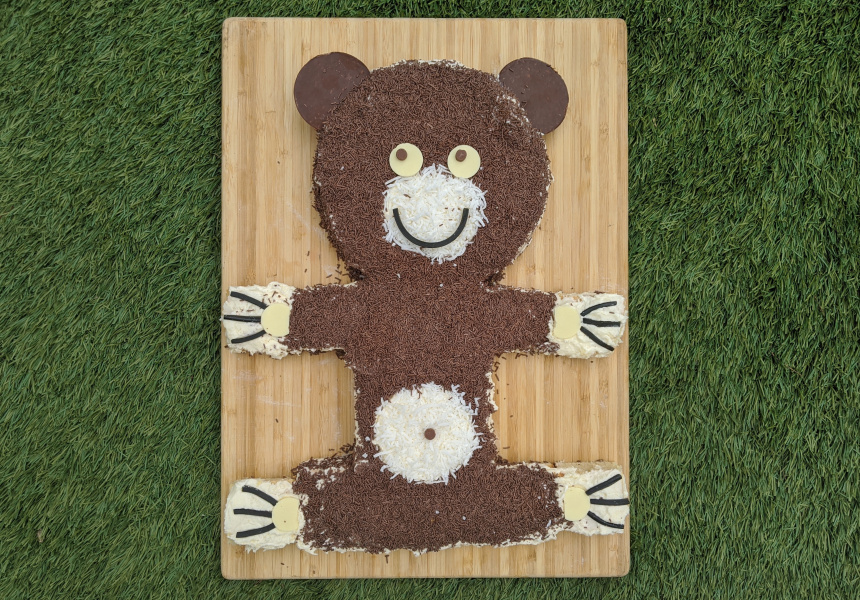 "It's always fun making novelty cakes because it does bring out your inner child," AWW food director Frances Abdallaoui told us last month when we published the recipe for this brown bear cake. Right. But it turns out my inner child has a potty mouth that would make any parent blush. Despite next to zero baking experience, the brat insisted on making the cake and icing from scratch, all the while venting his self-inflicted frustration with some choice naughty words. Oh well. For a little kid, it turned out okay, right?