Building a dinner party menu that'll have your guests vying for an invite to your next soiree can be tricky. Fussy eaters, intolerances and varied tastes mean the simple act of cooking for your mates can become a bit of a minefield. Over the years, Broadsheet has gleaned cooking inspiration and recipes from hundreds of the best chefs from around the country and abroad – including dishes that will go down a treat at your next dinner party.
From a traditional rice dish that's both plant-based and theatrical to a slow-roasted lamb shoulder that makes a gorgeous centrepiece and a creamy tiramisu to finish, there's a recipe in this collection to suit everyone.
Save 20% when you buy two or more Broadsheet books. Order now to make sure they arrive in time for Christmas.
SHOP NOW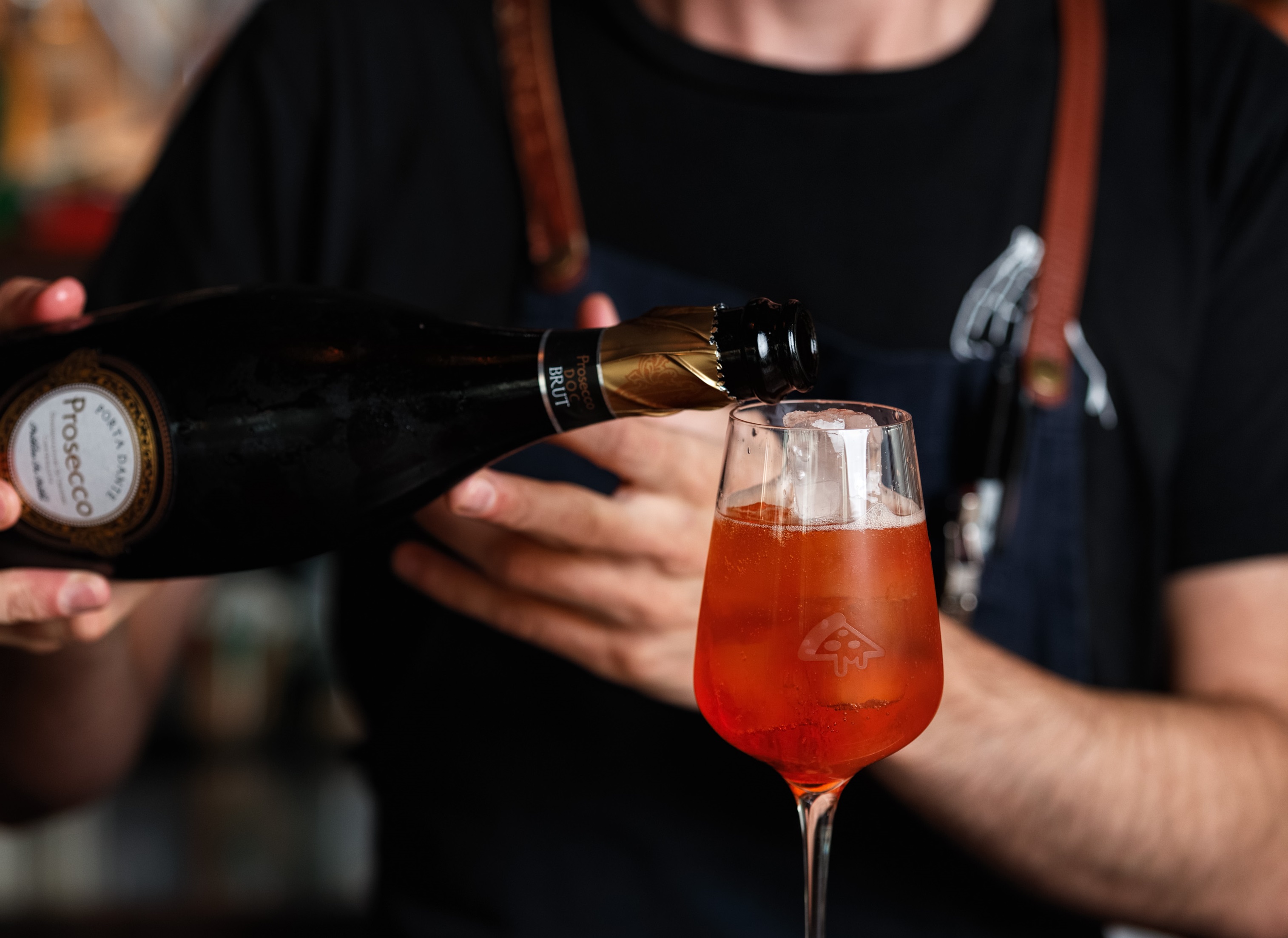 Start the evening how you mean it to continue: by making sure your guests are well-lubricated and wanting for nothing. The Negroni Sbagliato feels a little more special – and not as boozy – as a standard Negroni, with gin swapped out for sparkling wine. Serve in a sexy glass with a slice of lemon, and you'll set the right tone for the coming festivities.
Elizabeth Hewson's mortadella party sticks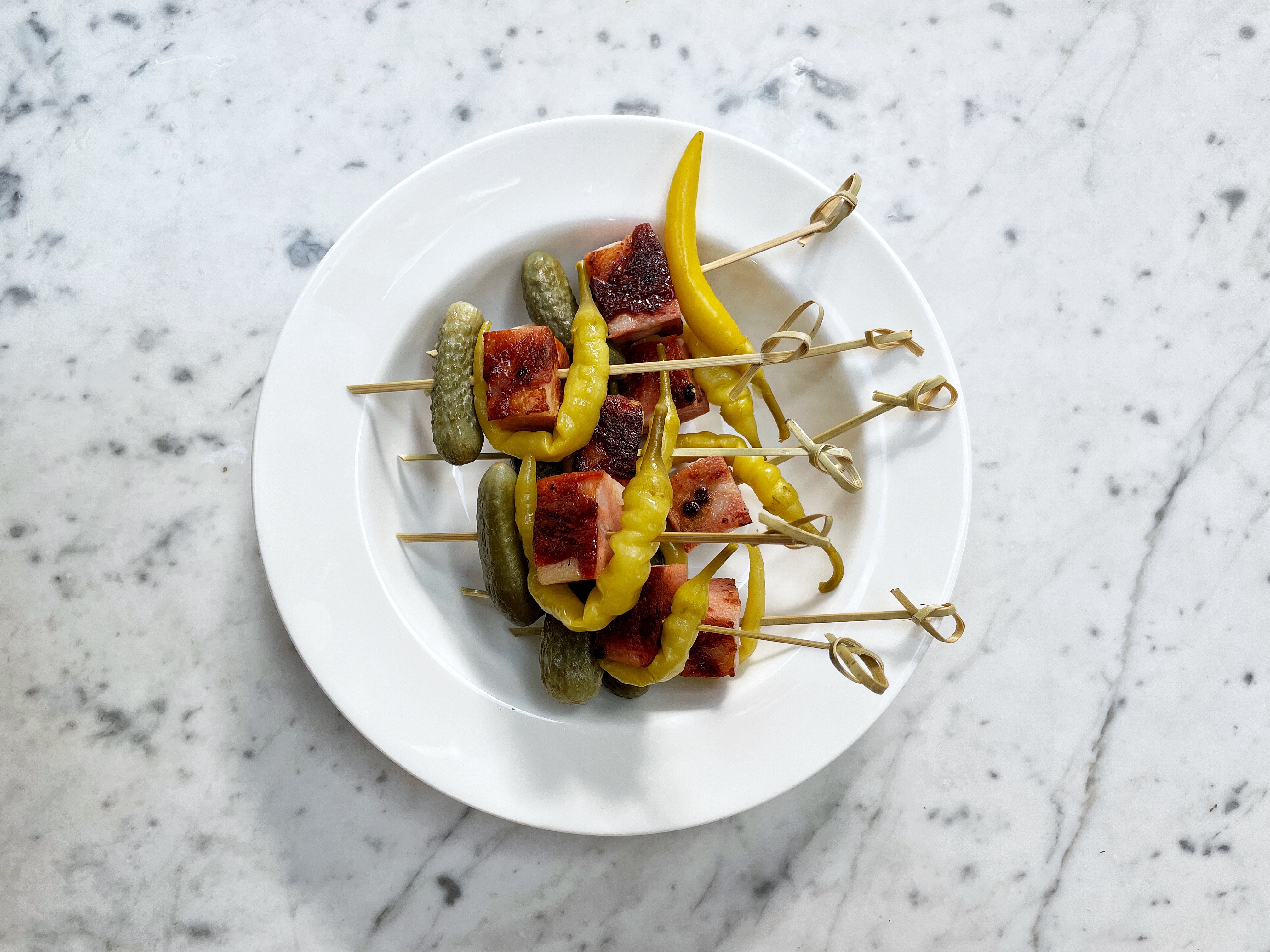 A good drink needs an accompanying snack – ideally one that can be eaten one-handed. Enter Saturday Night Pasta founder Elizabeth Hewson's mortadella party sticks. Think of them as a jazzed-up version of the cabanossi-and-cheese-loaded toothpicks your parents served at their dinner parties. Chunks of fried mortadella are threaded onto skewers with guindilla peppers and cornichons to make the perfect pre-dinner bite.
The Apollo's saganaki cheese with honey and oregano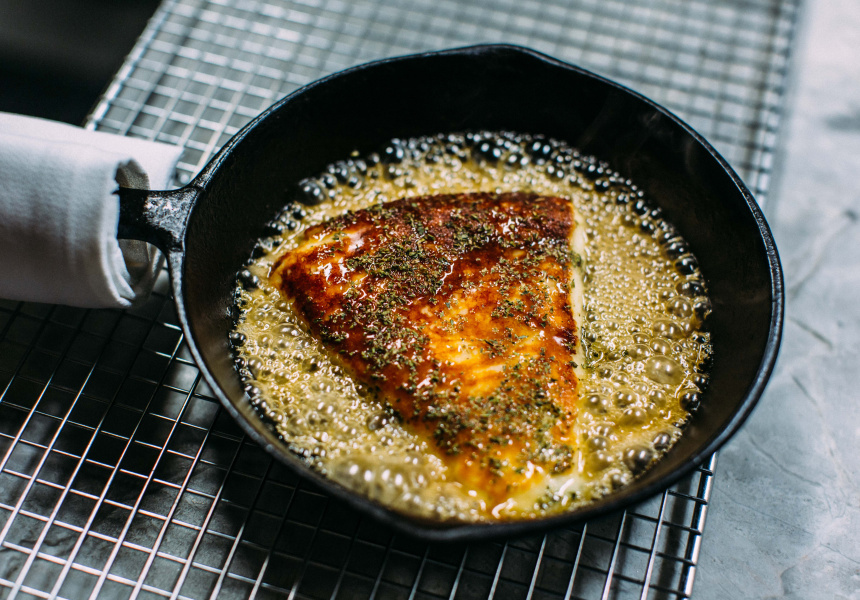 Melted cheese and honey: what's not to like? Served in the pan, this salty, sour and sweet starter looks mega fancy but takes just five minutes to cook, minimising your time at the stove and maximising quality moments with your friends at the table.
Yotam Ottolenghi and Noor Murad's parmigiana pie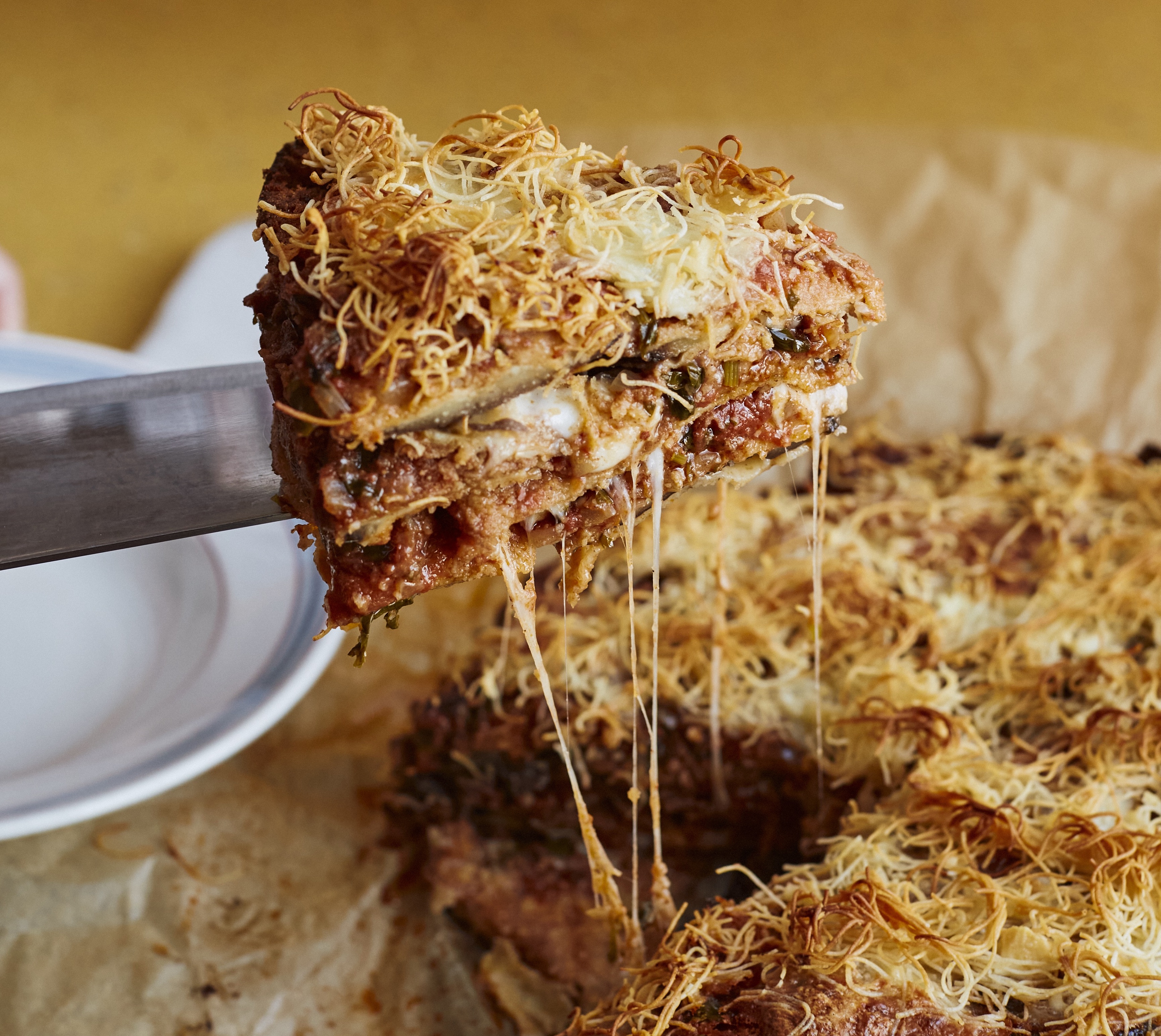 There's nothing more satisfying to a dinner party host than inspiring "oohing" noises to issue from your guests as you bring a dish to the table. And we reckon this pie – with its layers of breaded eggplant, cheese and tomato sauce – ought to do the trick. Yotam Ottolenghi's veggie recipes have been dinner party staples for years now, and this masterpiece is worthy of being added to the rotation.
O Tama Carey's Sri Lankan chicken curry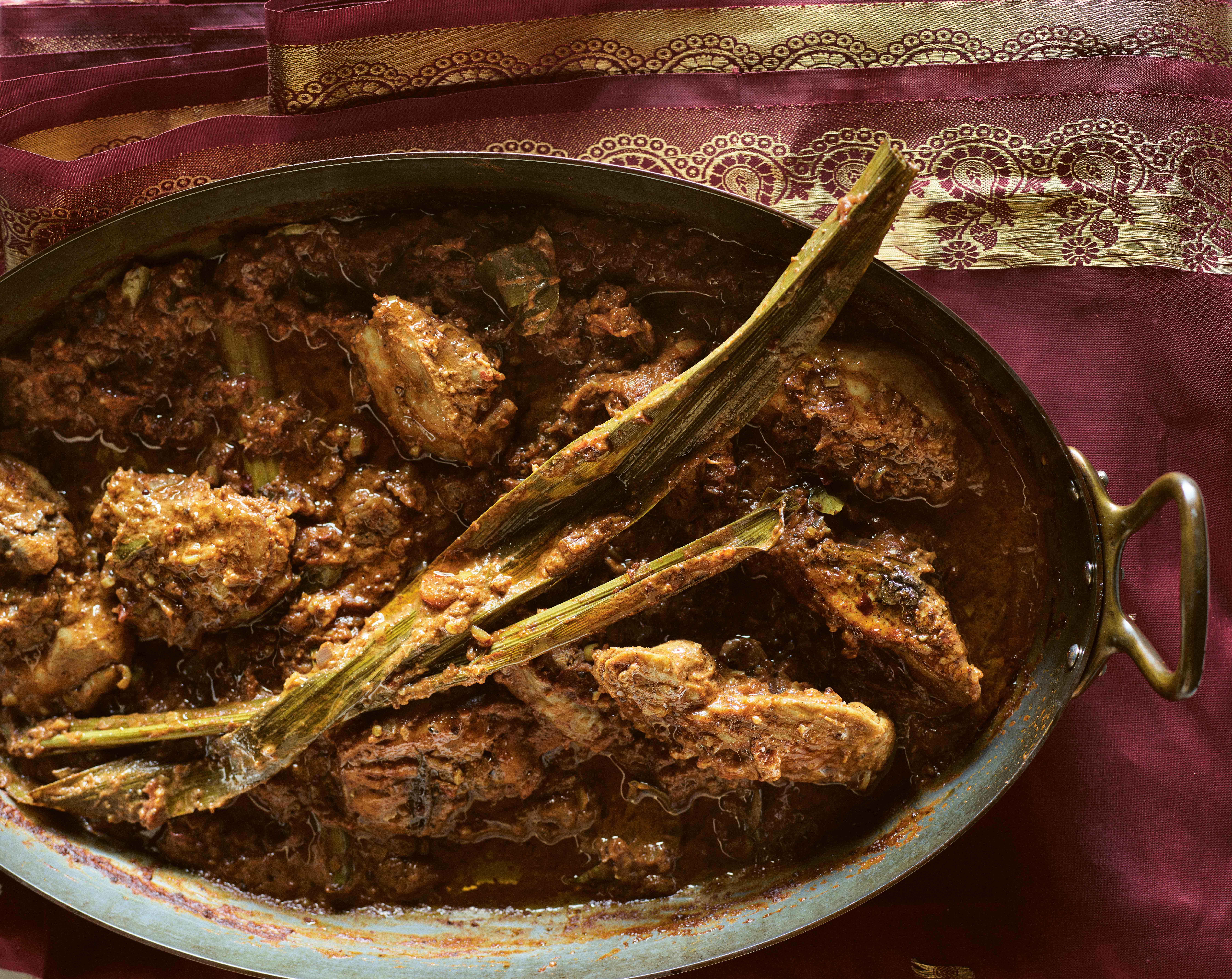 Greet your visitors with a beautiful thwack of the smell of curry cooking and you'll have them in high spirits from the moment you open the front door. This divinely aromatic Sri Lankan-style curry makes for an impressive centrepiece – and if you let slip the litany of ingredients it requires, your friends are bound to appreciate the amount of effort you've gone to. Bonus: it takes around 80 to 90 minutes to cook, so you can pop it in the oven before your guests arrive and get ready to mingle.
Shane Delia's baked salmon with tarator, burnt butter and pomegranate tabouli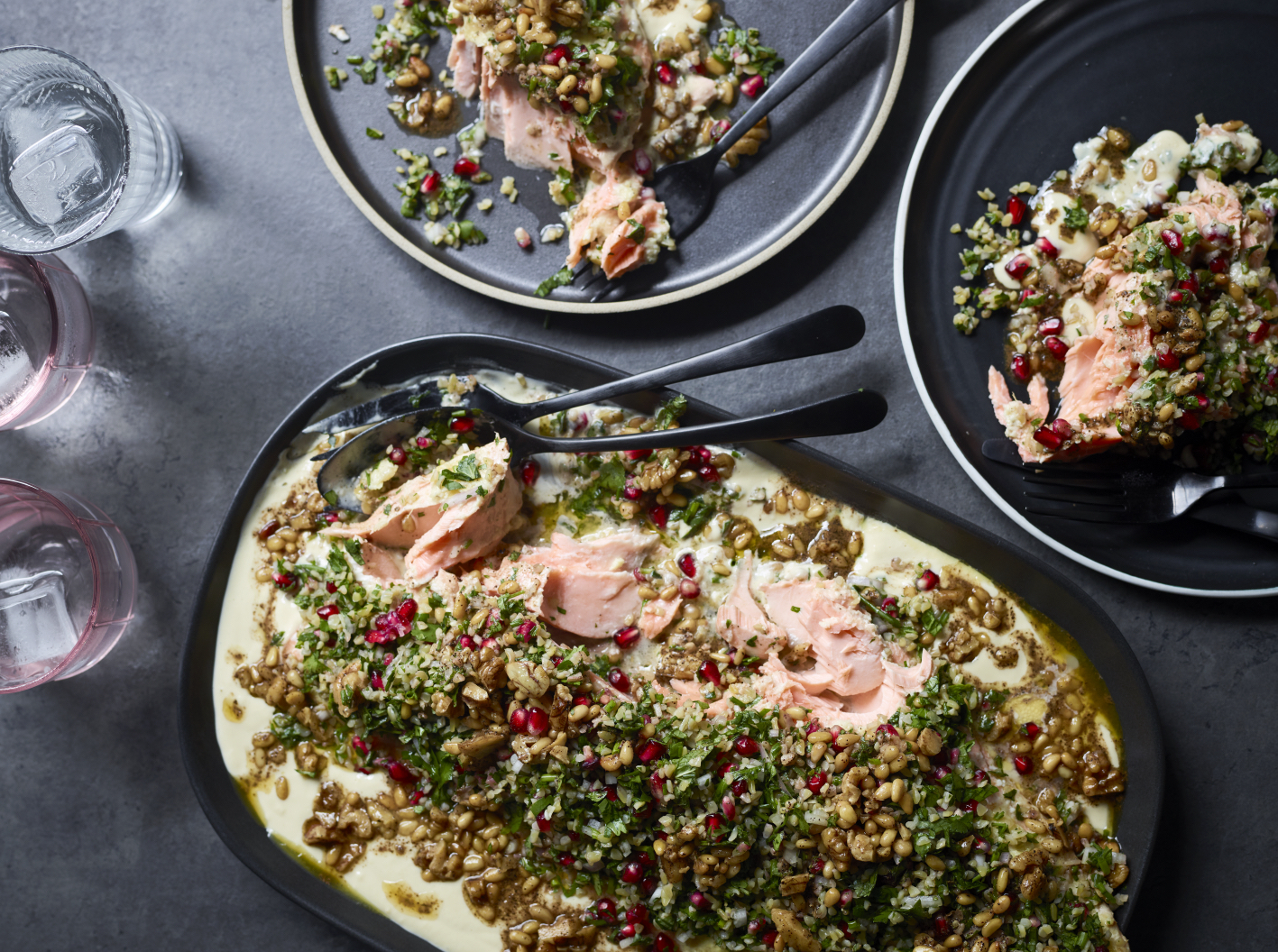 This colourful, show-stopping salmon dish looks complex, but it's actually a breeze to make (you don't even need to pan-fry the fish, just chuck in the oven, set and forget). Buying the salmon pre-boned means there's no carving at the table – just dig in and drizzle with the accompanying tahini sauce.
Sarah Shaweesh's vegan eggplant makloubeh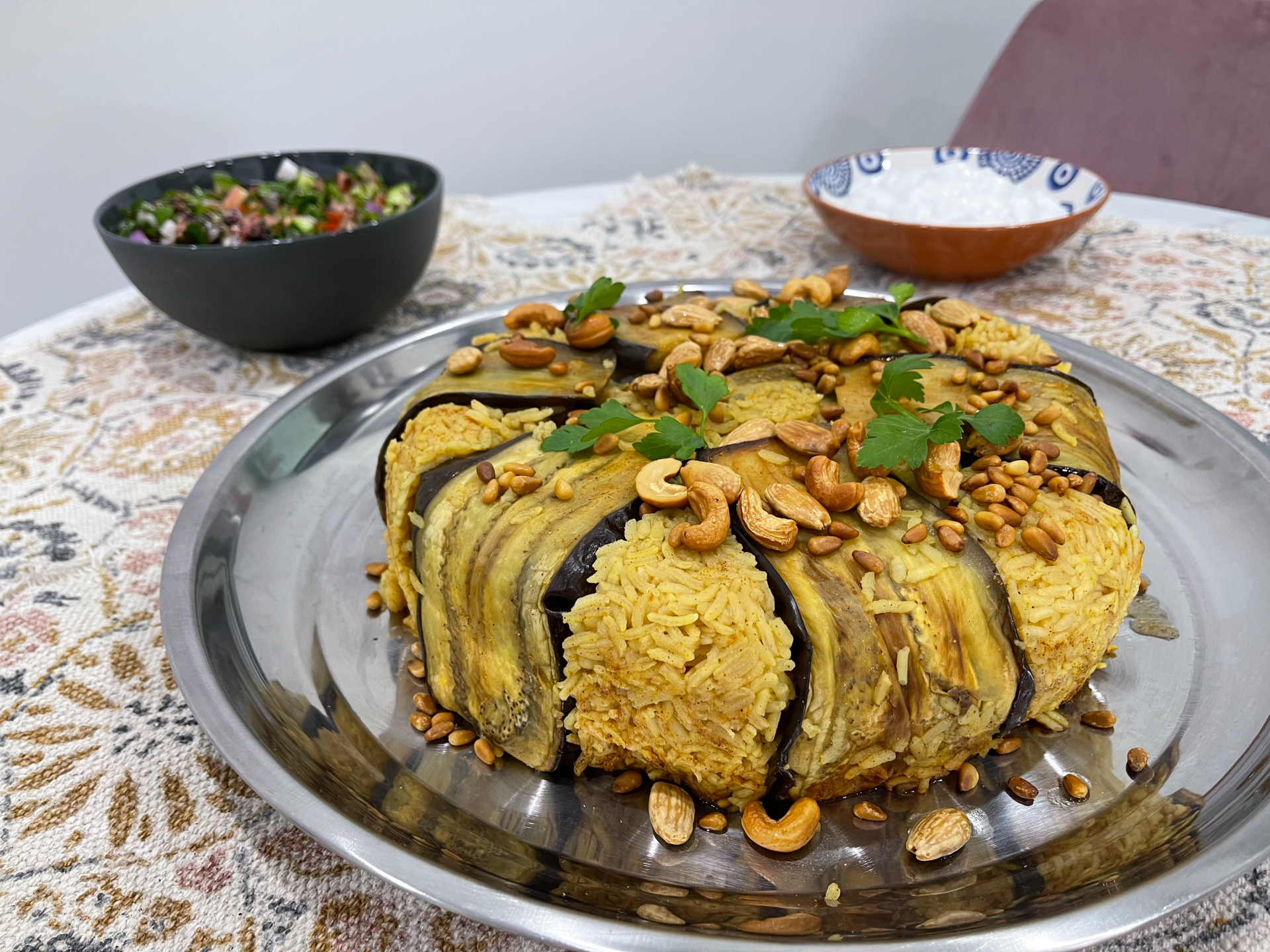 If you've never made makloubeh before, you'll probably want to give it a few practice tries before you present it to your guests: it's traditionally flipped at the table for maximum impact. This stunning Palestinian dish must have the right ratio of stock, rice and veggies to make sure it stays together. You want the rice to be fluffy and savoury and the vegetables tender and sweet. It'll knock the socks off everyone gathered around the table, whether or not they're vegan.
Cumulus Inc's whole slow-roasted lamb shoulder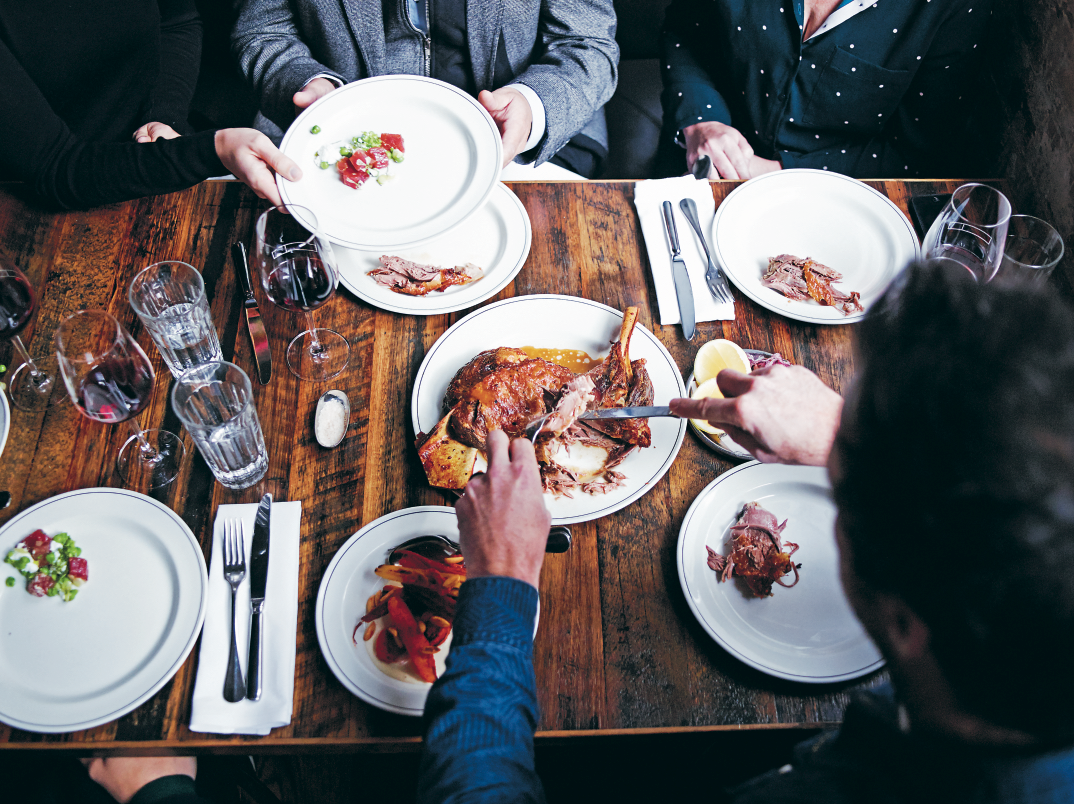 A whole, dazzling lamb shoulder is a classic dinner party centrepiece – and this looker is one of Melbourne stalwart Cumulus Inc's most-ordered dishes, meaning it's bound to be a winner. It takes eight hours in the oven, but after the first two you can just leave it to its own devices while your kitchen is flooded with the succulent scent of lamb cooking. The result? Fall-off-the-bone flesh with a magnificently caramelised crust.
Stephanie Alexander's tomato and basil salad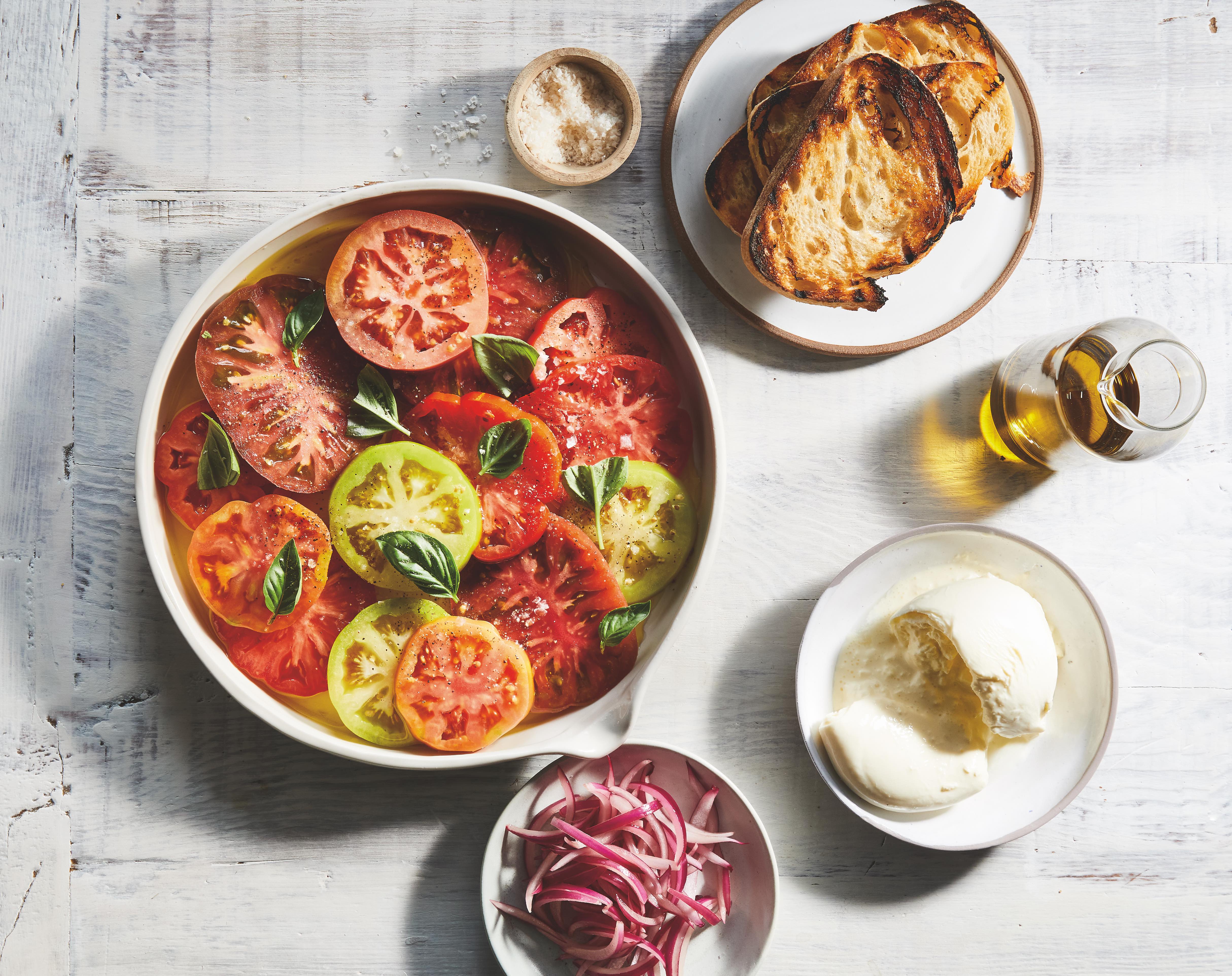 Any host worth their salt knows the visual appeal of a table groaning with dishes. In other words: sides are essential. This easy salad by Australian cooking doyenne Stephanie Alexander hits all the right notes: deep red, meaty tomatoes, bright basil and lashings of olive oil. It's simple and tasty – and won't distract from the heavy-hitting mains.
Annabel Crabb's glass potatoes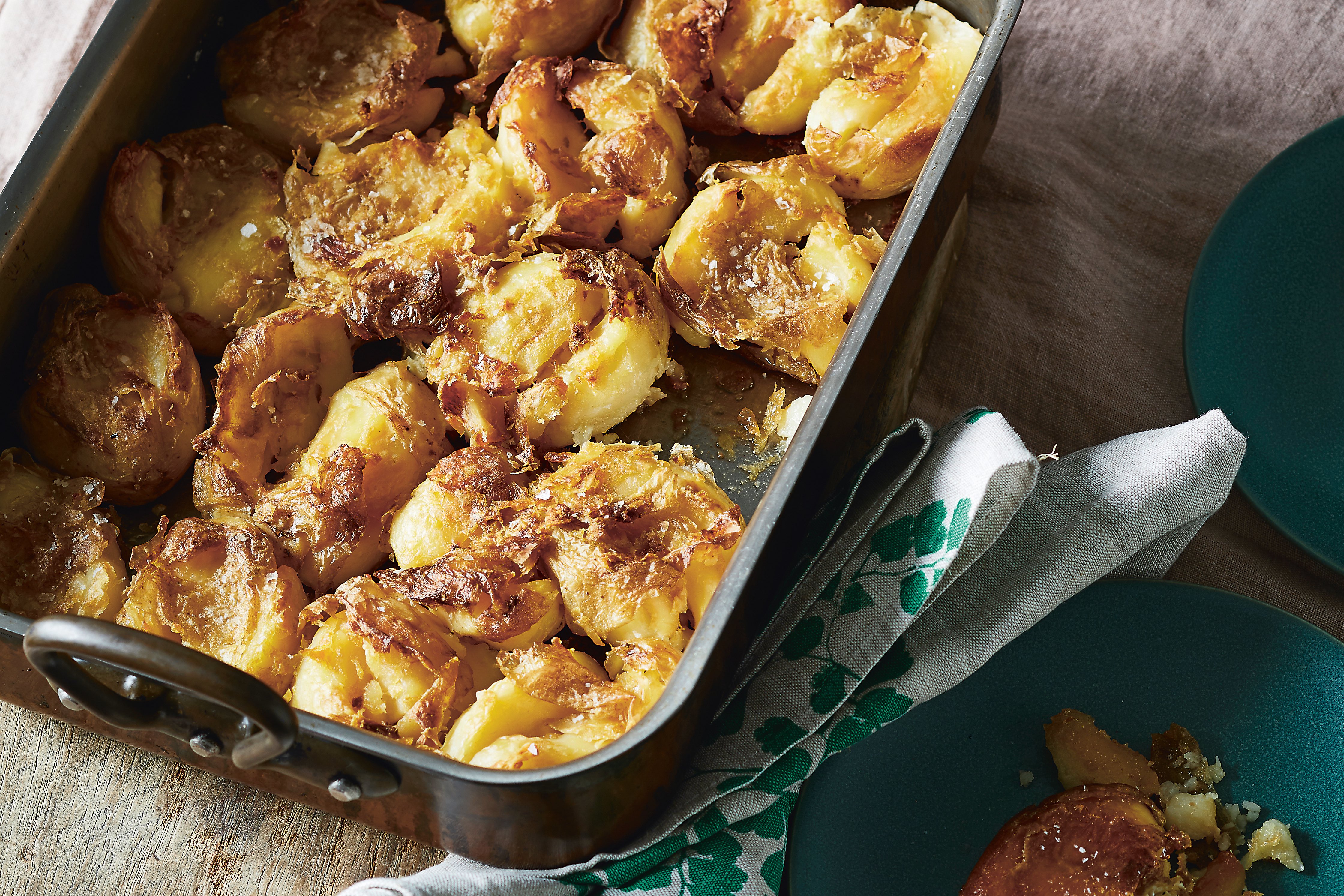 Forget what we said above about sides not distracting from the mains, because these potatoes are scene-stealers. They amp up the crispy crunchiness of a well-cooked roast potato and will have your guests begging for the recipe (another sign of a successful dinner party). And under no circumstances should you skimp on the oil or salt.
Reynold Poernomo's honey-glazed Basque burnt cheesecake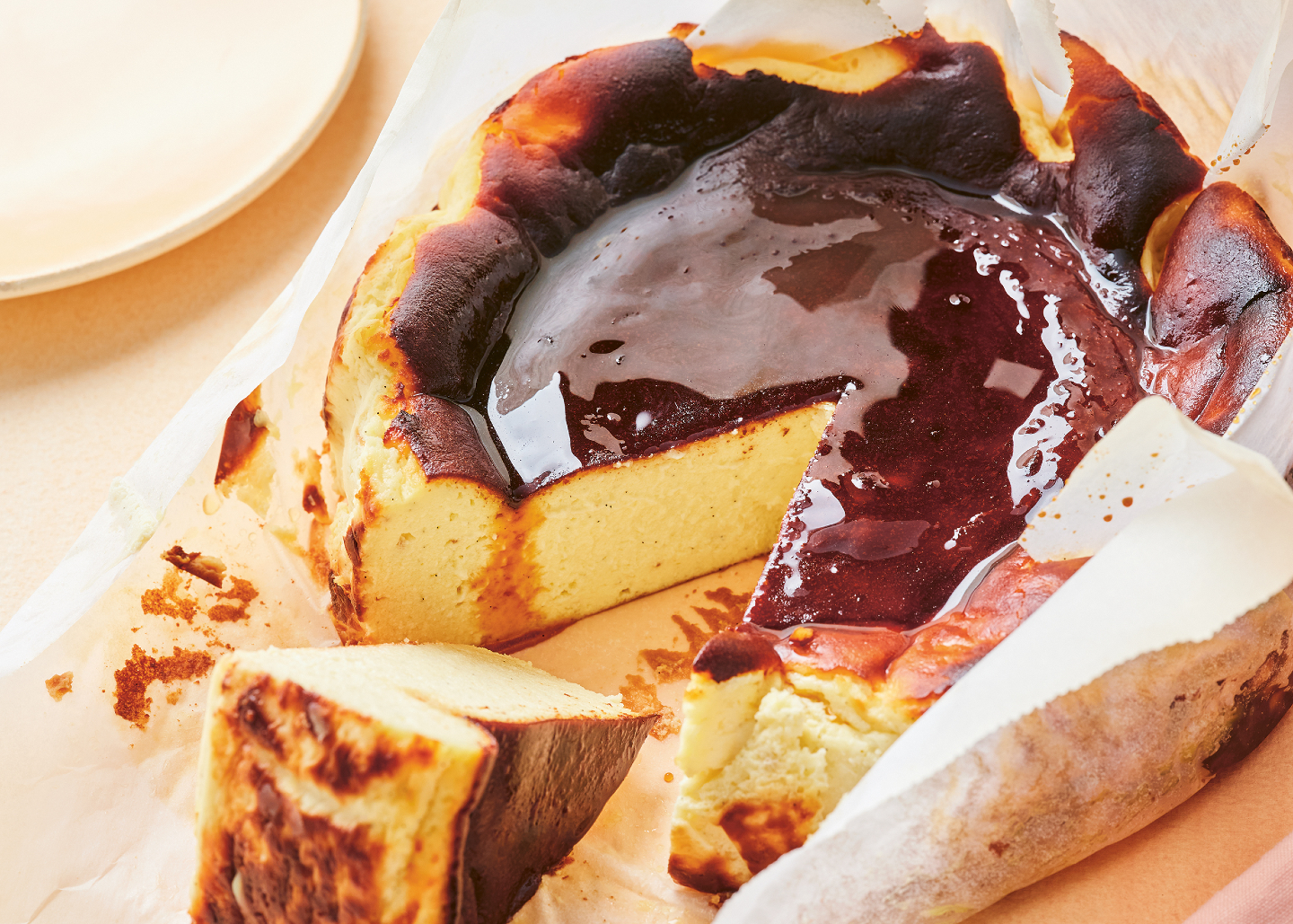 Rustic Basque burnt cheesecakes have been the dessert du jour for the past few years. Ending an already excellent meal by presenting your own homemade version to the table is sure to send your guests home impressed. Masterchef contestant and owner of Sydney's Koi Reynold Poernomo's take has the dessert's characteristic mousse-like texture, but amps up the creamy flavour even further with a honey glaze.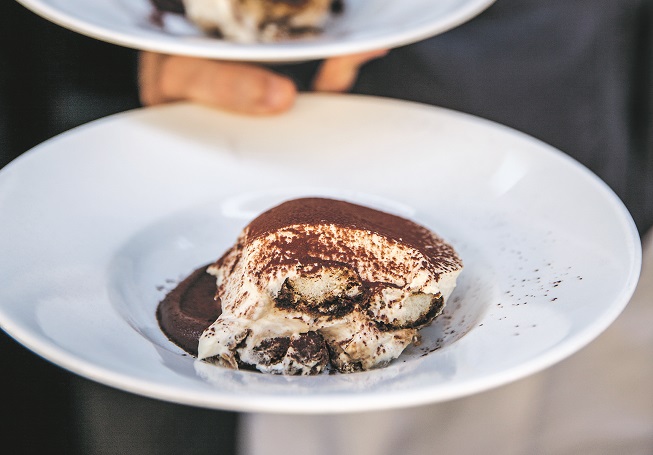 There's a lot to recommend ending a dinner party with a tiramisu: it's hard to mess up and can be prepared well in advance, biding its time in the fridge until you're ready to serve it. This version, from Sydney institution Fratelli Paradiso, is so good people visit the restaurant purely for dessert. Make sure you're using really top-tier mascarpone, and you won't go wrong.