Last night's dinner, quick eggs on toast or a bowl of cereal – these have been my go-to lunches while working from home of late. But who says you can't make a fresh, delicious meal (mostly) from scratch during the workday?
These recipes – from top chefs, cookbook authors and culinary celebs – can all be made in 30 minutes or less, meaning you'll have enough time to polish off a plate before getting back on the clock.
Here are 10 recipes for noodles, pasta, sandwiches, salads and more, for when leftovers just won't do.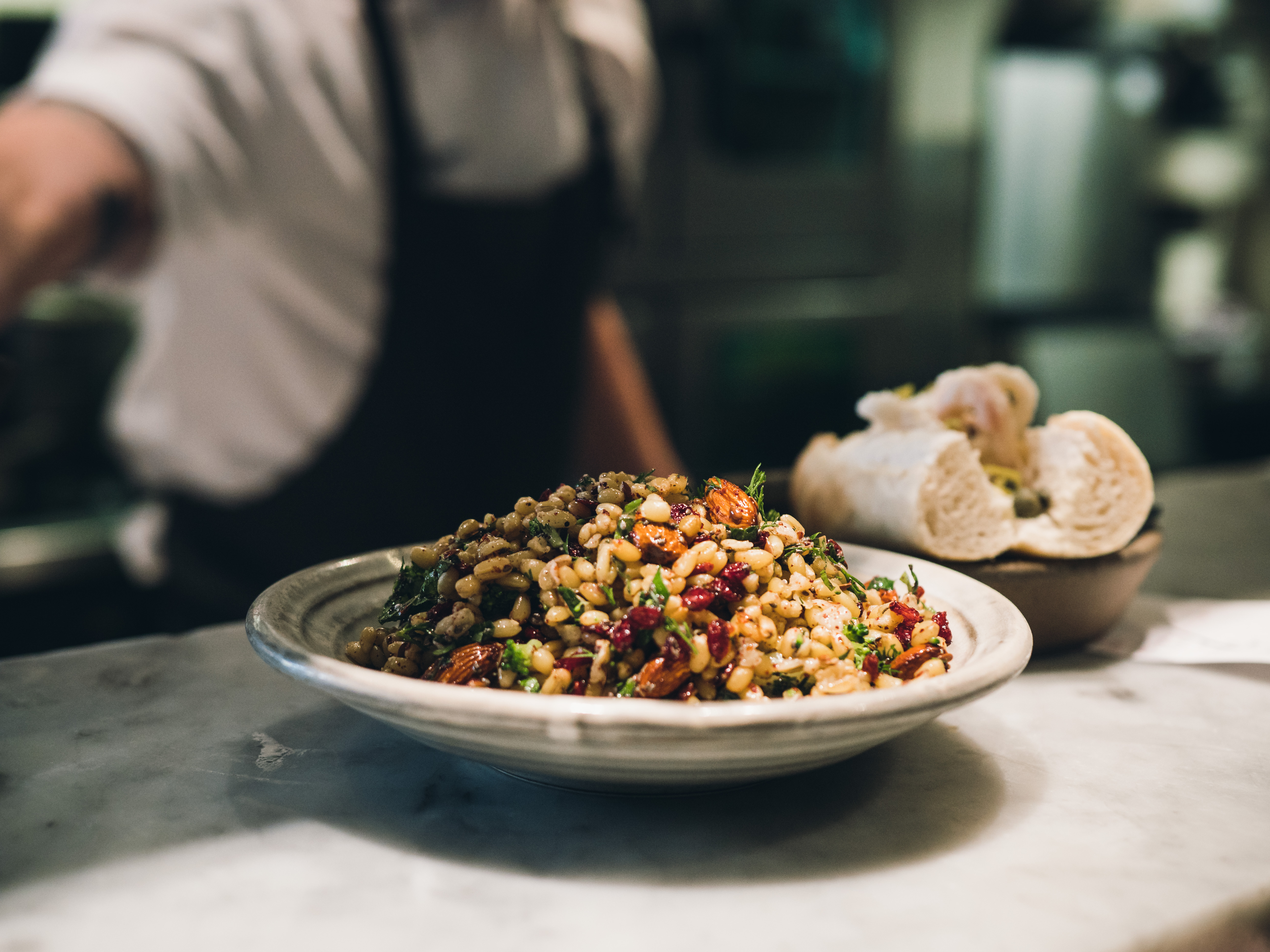 There are only three steps to this fresh and adaptable salad from chef Jesse Gerner – cook your freekeh (cracked grain will only take up to 15 minutes); blanch your broccoli (two minutes max); and mix everything else together. It's delicious enough to have on its own, or you can easily throw on some meat from the grill.

Rosheen Kaul's creamy tofu noodles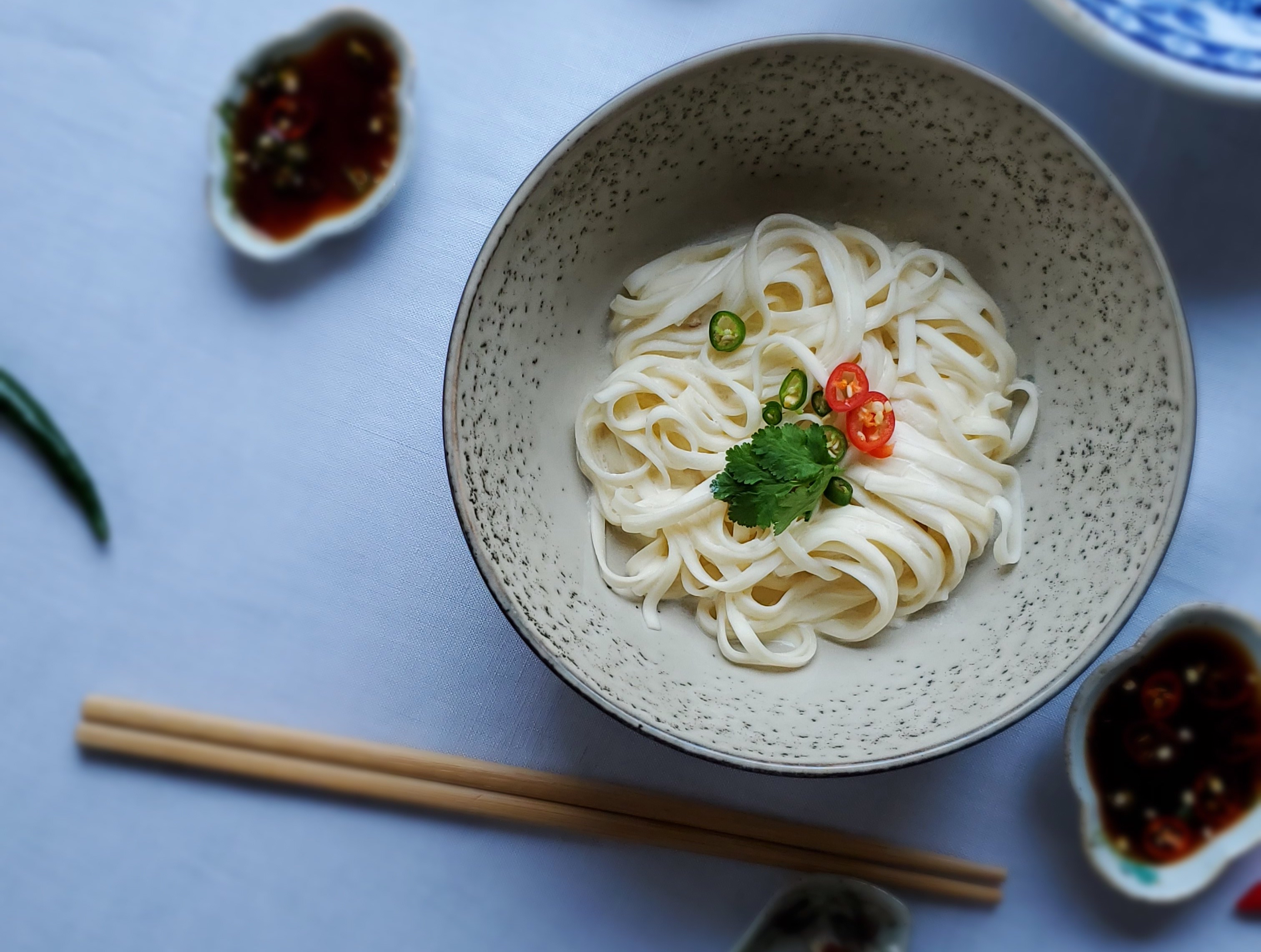 This recipe gives you noodles instantly – but it's much more comforting than packet instant noodles. You'll need to boil a pot of water for the noodles, but nothing else has to be cooked; the rest of the magic happens in your blender or food processor. Rosheen Kaul, head chef at Melbourne's Etta (she's also worked at Lee Ho Fook and Dinner by Heston), says, "the smooth tofu wraps the noodles in a weightlessly creamy blanket, cooling your tastebuds through the salty, spicy dressing".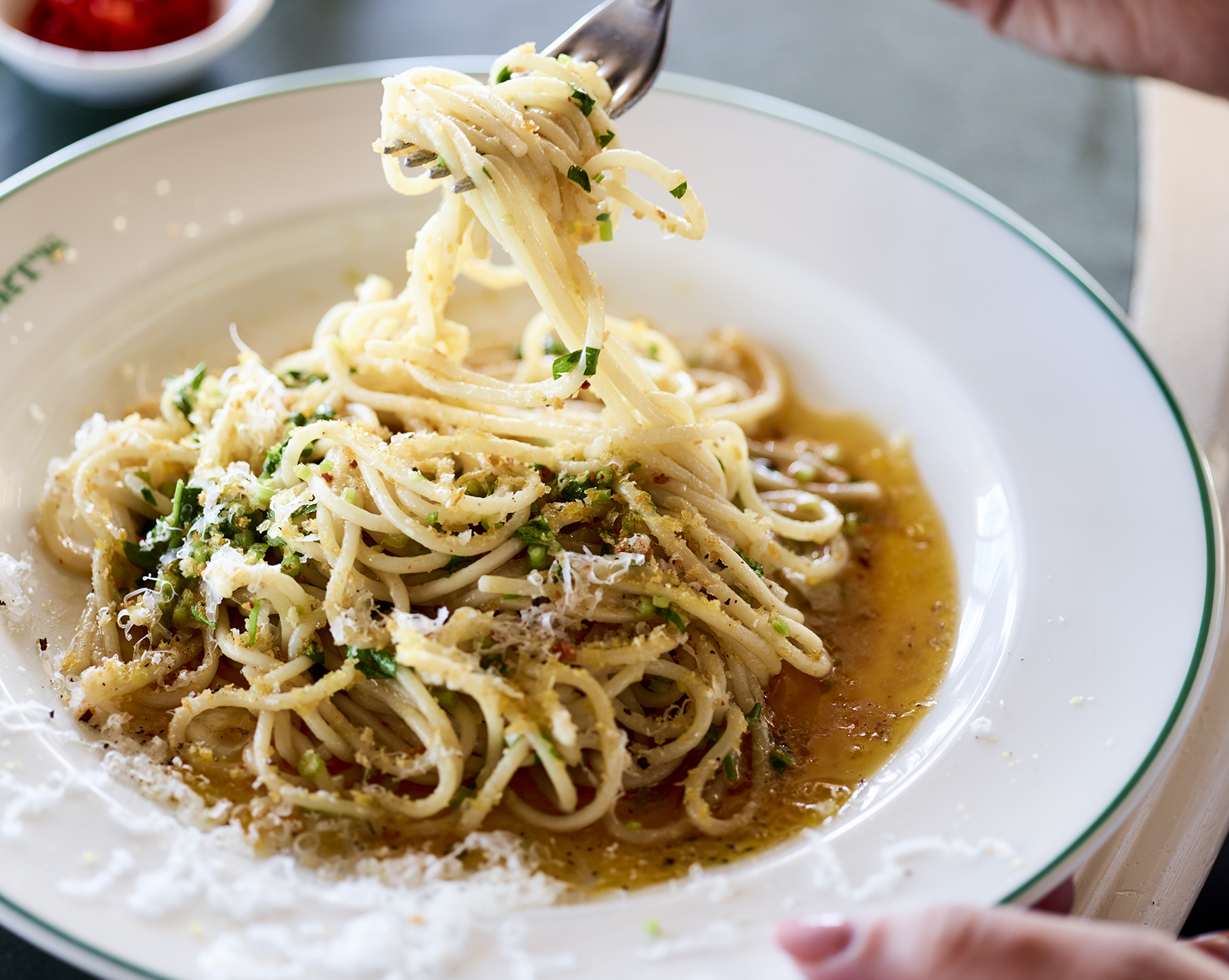 In the movie Chef, it takes Jon Favreau one minute to whip this dish up with the help of Hollywood editing. It only takes a little bit longer to cook this version from Sydney Merivale chef Jordan Toft. You only need one pan (plus a pot for boiling your pasta) and there's an added savoury bite from Parmigiano and anchovies.

Emma McCaskill's roast-chicken noodle soup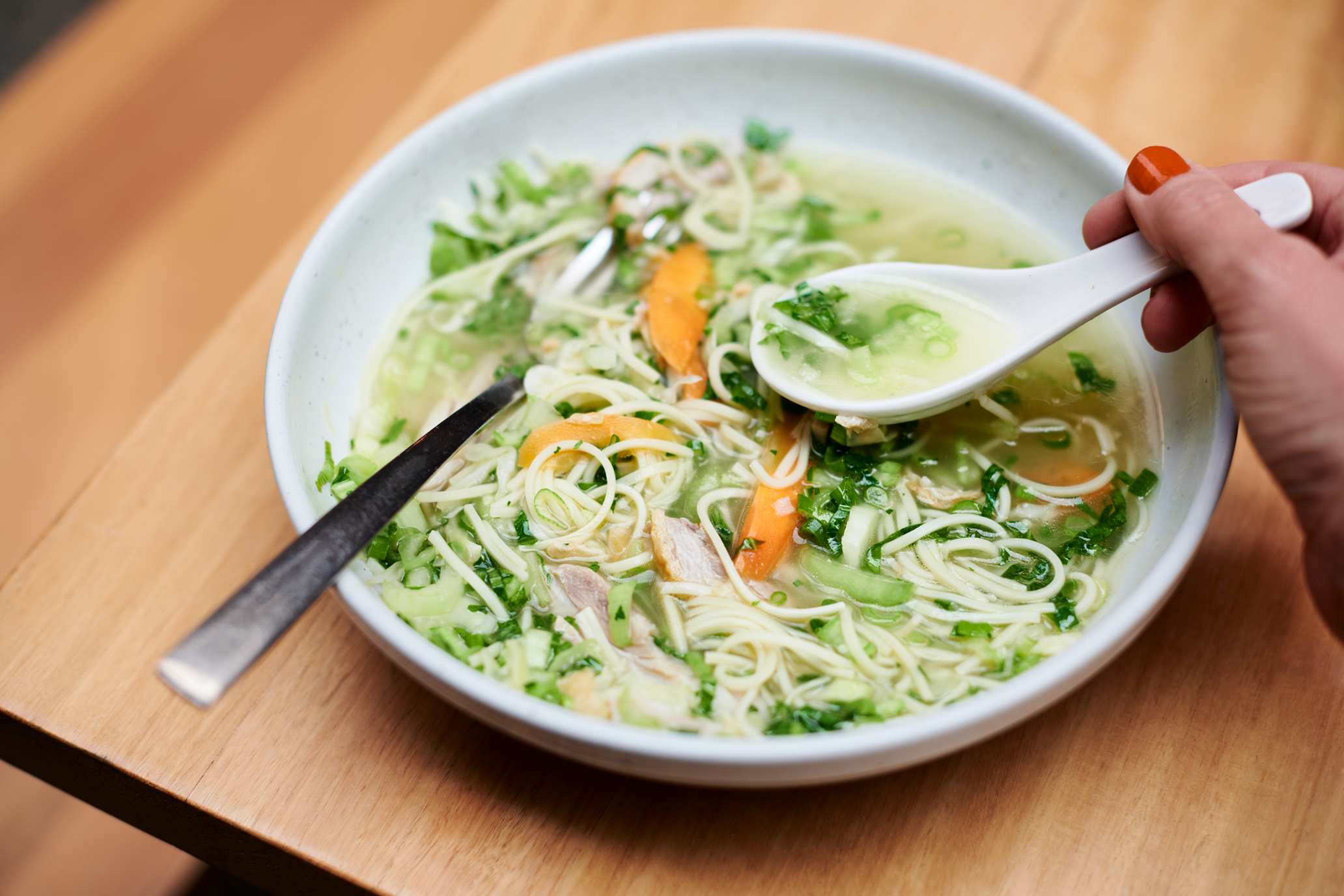 Adelaide chef Emma McCaskill makes this simple recipe once a week for herself and her kids. It calls for an easy hack ingredient – store-bought roast chicken – which means you can have it on the table in 40 minutes. And if you boil the chicken bones to make broth the night before, you can easily shave that time by another 20.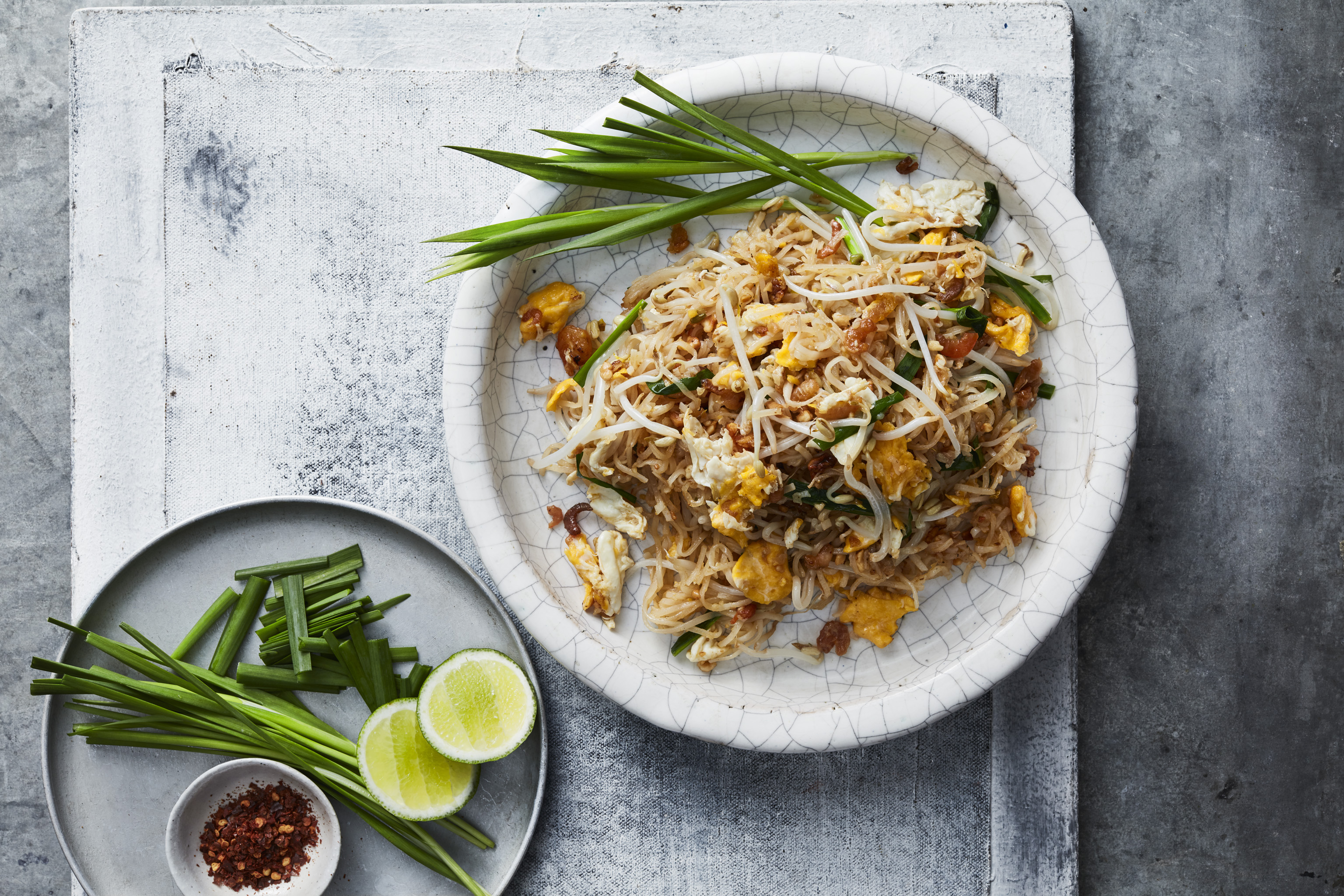 Palisa Anderson learned how to cook Thailand's national dish from her late mother, pioneering restaurateur Amy Chanta, and now she makes it for her kids too. It takes just 25 minutes to make, and most of that time is set aside for preparing your vegetables and tofu. Once the wok-cooking starts, it all happens quickly.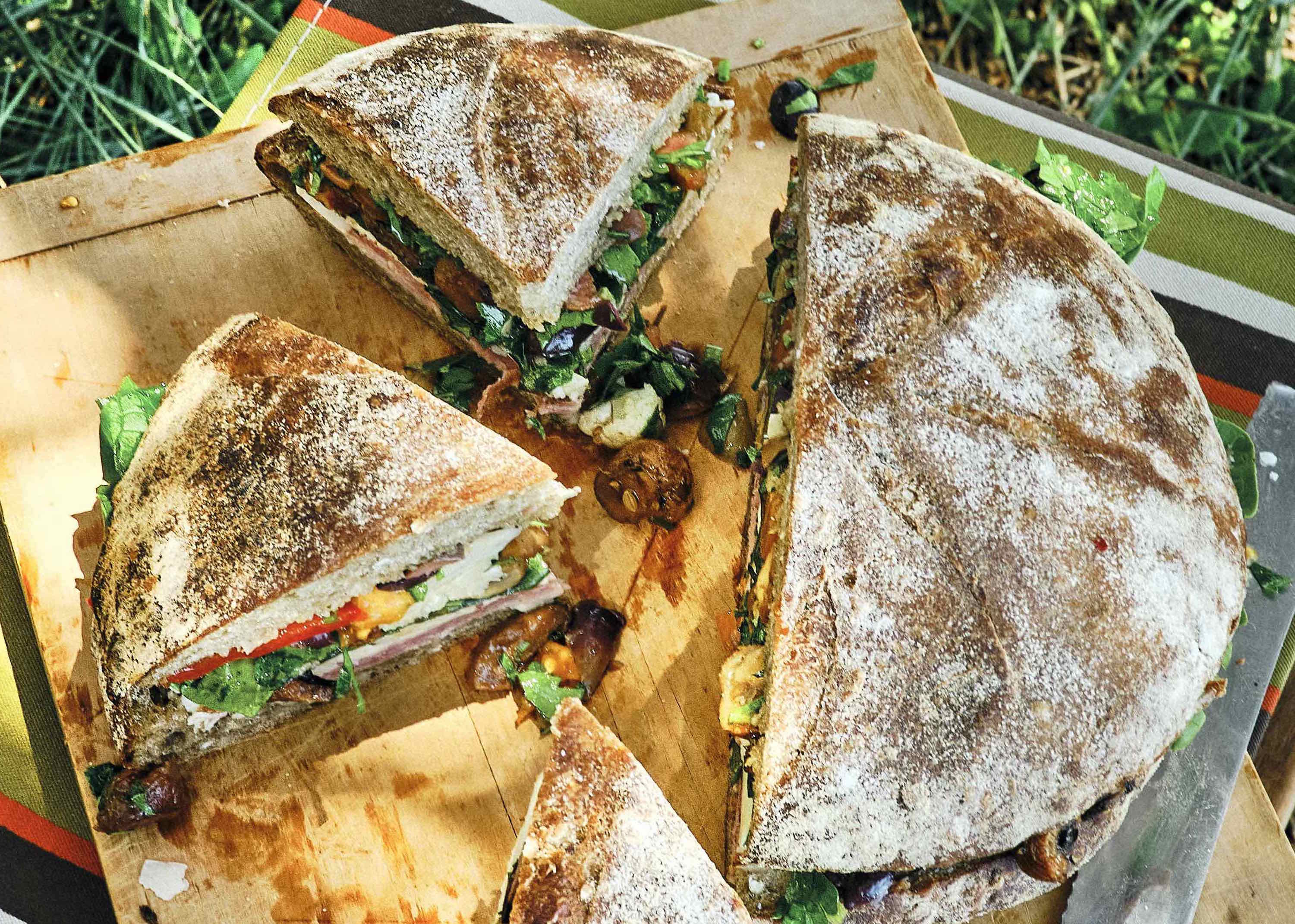 The muffuletta sandwich originated in New Orleans, but this one from food stylist and recipe developer Fiona Hammond is inspired by ingredients from the Mornington Peninsula (you can use whichever producers are local to you). It's easy to put together, but if you're an early riser you can also prepare it before work – then all you need to do come lunchtime is unwrap and chew.

Julia Busuttil Nishimura's tuna spaghetti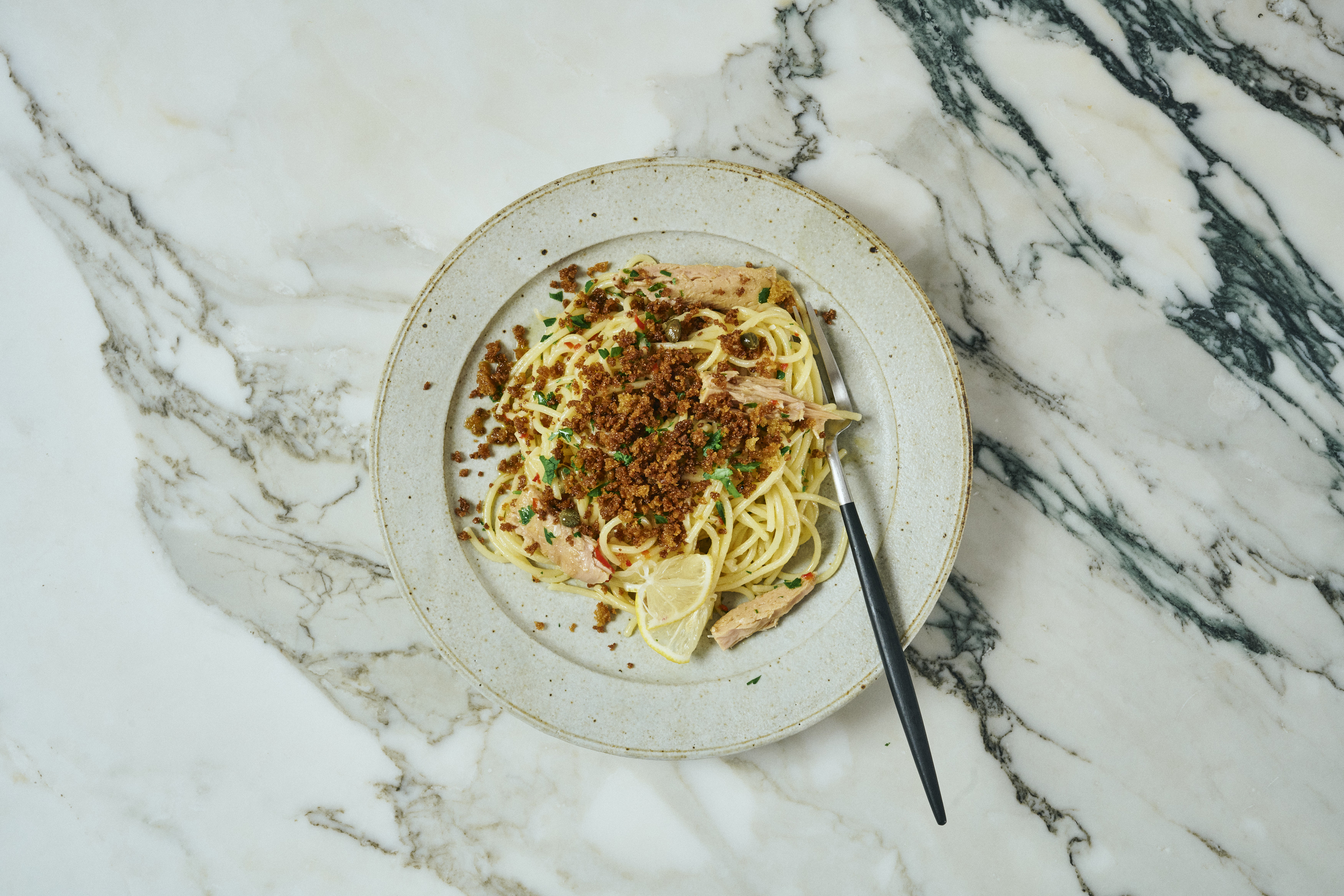 Ostro and A Year of Simple Family Food cookbook author Julia Busuttil Nishimura elevates canned tuna – the hero of many, many work lunches – with thinly sliced lemon, chilli, capers, rocket and pangrattato, or crunchy breadcrumbs. It takes just 20 minutes from start to finish, and working from home means no tuna smell in the office microwave.

Danielle Alvarez's nutty and crisp spring rice salad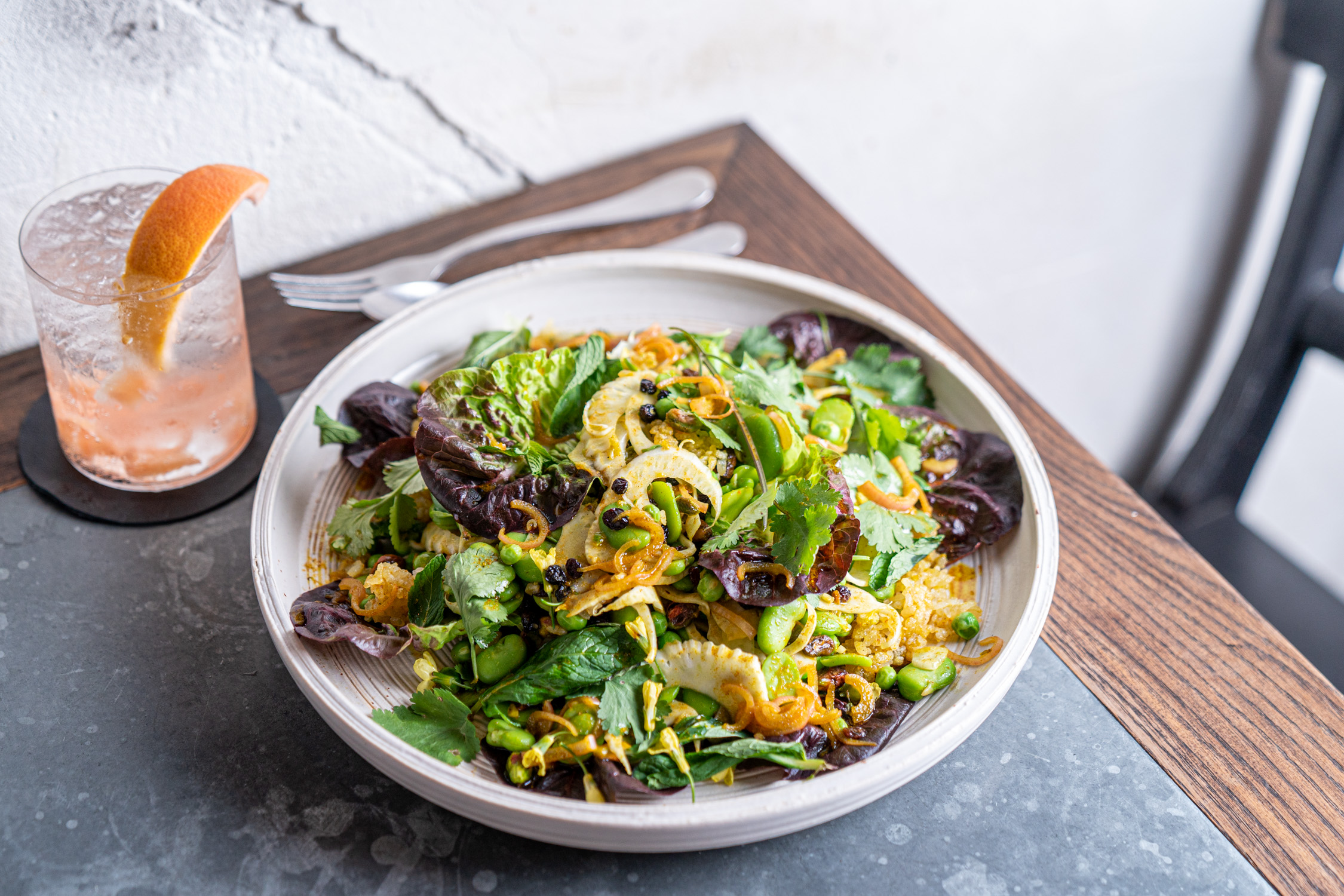 This easy-to-prepare salad from Fred's head chef and cookbook author Danielle Alvarez is full of zesty flavours, fresh spring greens and crunch from the crispy rice. You can cook fresh rice for it and dry it out in the oven, or use leftovers from the night before to save time (and waste).

Shannon Martinez's soufflé pancakes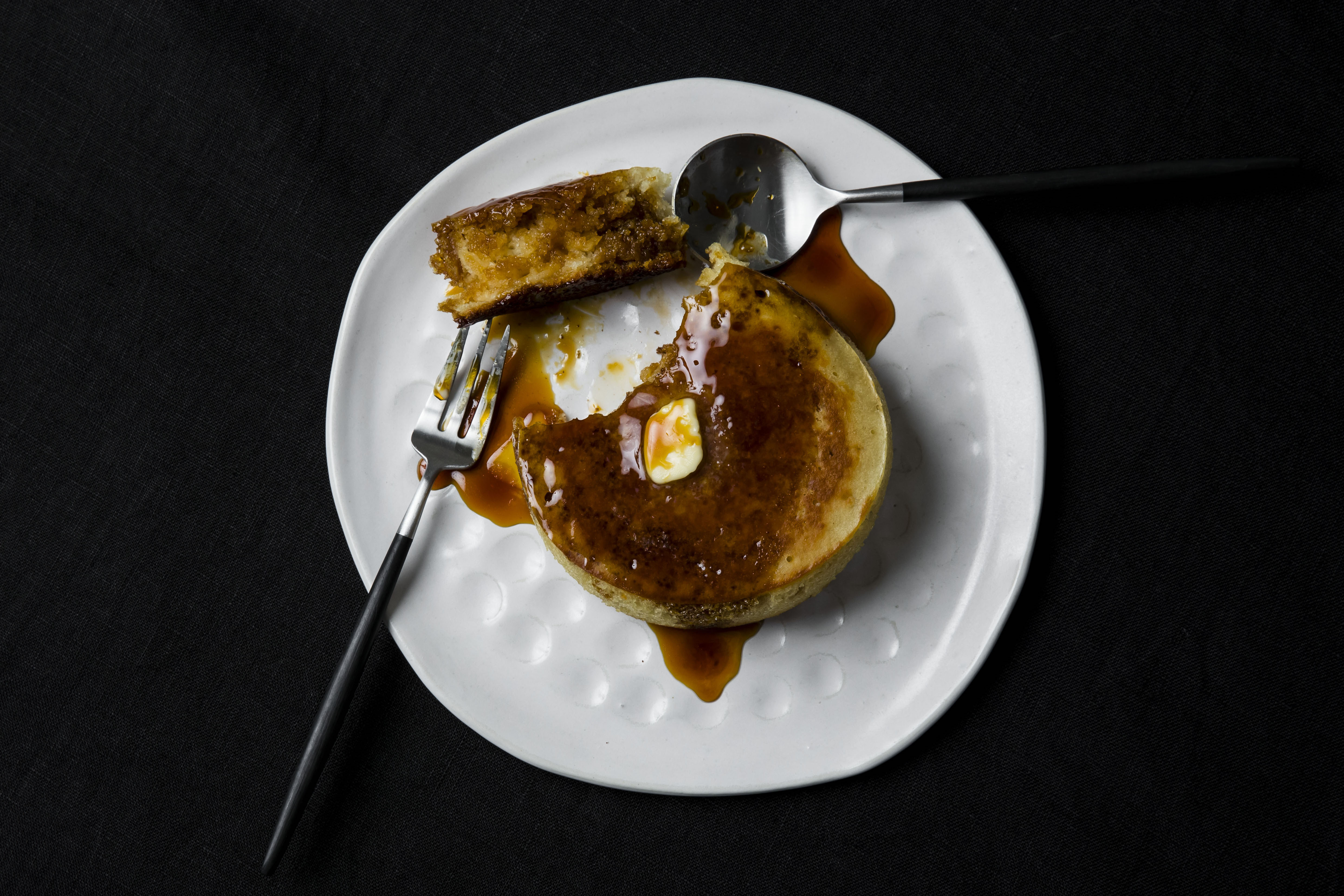 Who says lunch has to be savoury? If you're the type to skip breakfast and crave a sweet hit by midday, these "fat-arse" pancakes by Smith & Daughters and Lona Misa chef Shannon Martinez will tick your sweetness buttons. They don't use eggs and can be made vegan with plant milk – the fluffy texture comes from the clever addition of soda water. "Top with whatever you damn well please," she writes, "but I love maple syrup."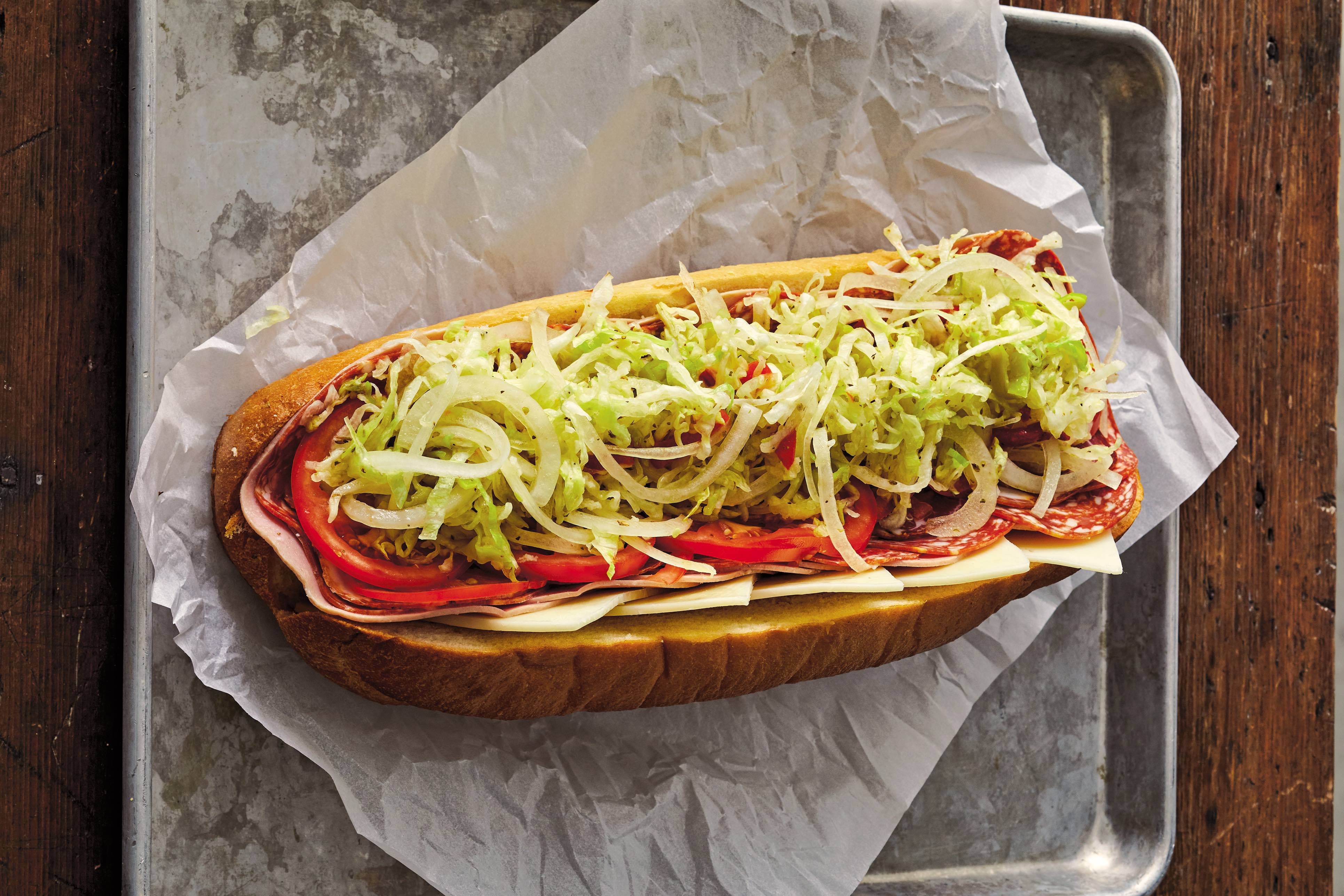 Sometimes you don't want to turn on a stove, heat up the oven or wash pots and pans during your lunch break – that's what this easy-peasy sandwich by Canadian celebrity chef Matty Matheson is for. It's a hefty, two-hander sub-sandwich inspired by New York delis and bodegas. He writes, "This is just a perfect assorted sub: a couple of cold-cuts, a couple of slices of cheese, a lot of shaved onions, iceberg, some peppers, and oil and vinegar – the way it should be." And it only takes 15 minutes to put together.