Every Christmas family function needs a big, show-stopping cake or dessert – one that'll momentarily distract the table and break up those seemingly inevitable arguments about politics. Choose one of these four, which are impressive to look at, scale well and have that certain festive something about them.
Philippa Sibley's pandoro, peach and verbena trifle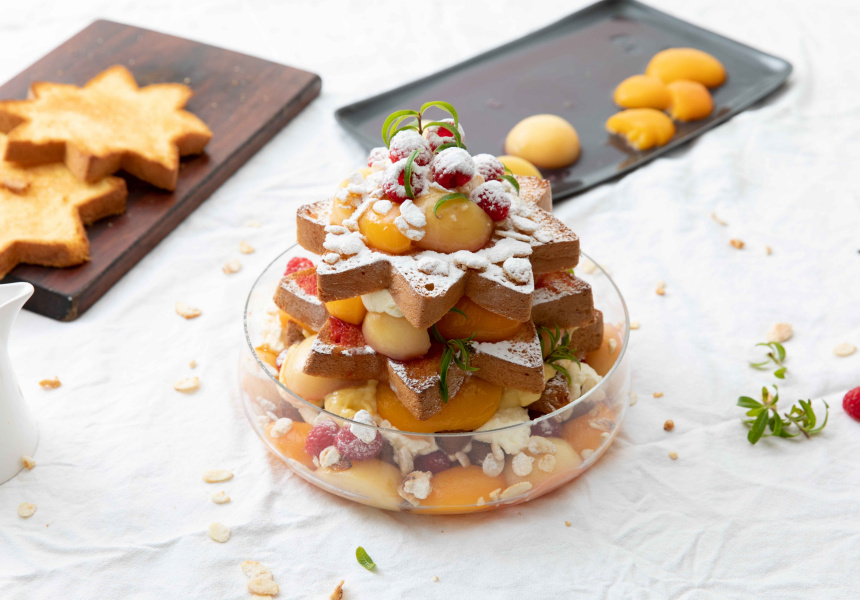 Broadsheet Access members get special tables at busy restaurants, tickets to exclusive events and discounts on food, coffee, brand offers and more.
Find out more
Philippa Sibley is one of Australia's most highly regarded pastry chefs. She was introduced to pandoro, an Italian Christmas cake similar to panettone, through her Italian sister-in-law. She began using it to make an annual bread and butter pudding for Christmas, which morphed into a trifle one stinking hot year. A large part of this trifle's appeal is in its festive look; the stack of star-shaped, store-bought pandoro slices imitating a Christmas tree. At Sibley's house, the dessert is made in advance and used as a colourful table centrepiece until it's time for it to be eaten. When that time comes, the layers of peaches, raspberries and custard are a perfect foil to a hot Christmas day.


Flour and Stone's date, raisin and rum chocolate cake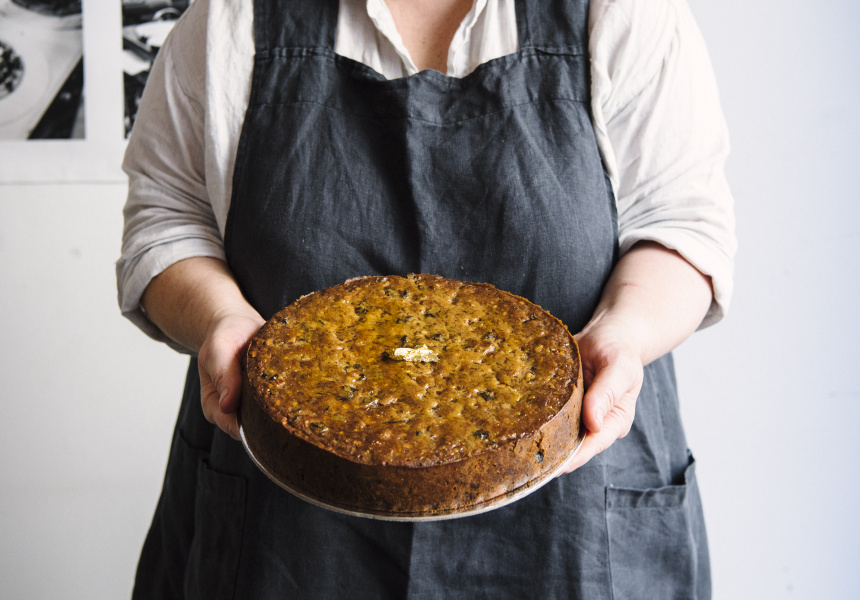 Nadine Ingram, the baking maven behind Sydney's outstanding Flour and Stone, has one condition when it comes to Christmas cakes: they must be boozy. In the past she's played with marsala, a fortified Italian wine. This dark chocolate cake pairs dates, raisins, lemon zest, candied orange peel, toasted almonds and honey with the warming notes of rum. You'll only need a small slice of this intense beauty to feel satisifed.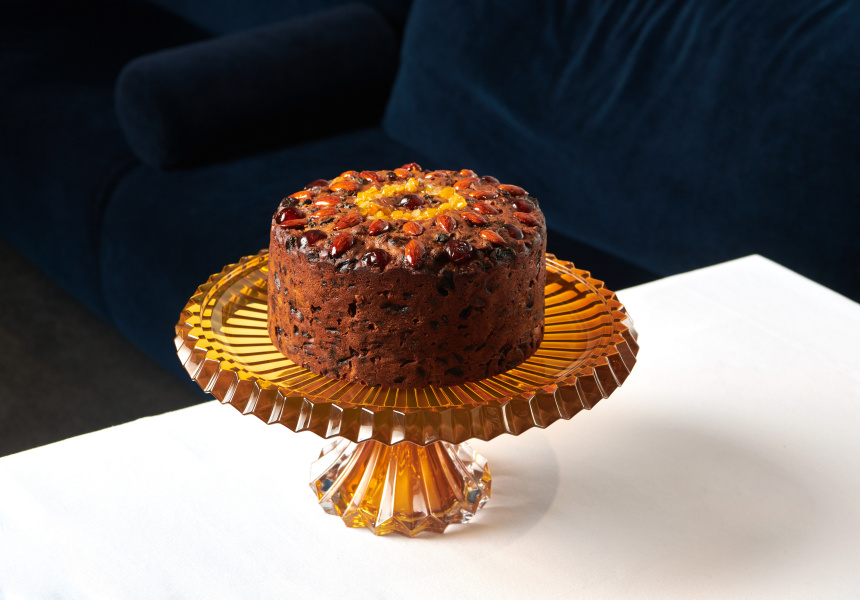 Christmas pudding – steamed, dense, often served with custard – is not the same thing as Christmas cake: baked, carpet-bombed with fruit, carefully aged and, in Attica chef Ben Shewry's opinion, far superior to the ubiquitous Christmas pud. This everything-but-the-kitchen-sink version contains a cup of brandy, whisky, cognac or another spirit you like, to really get the jolly Christmas vibes flowing post-meal.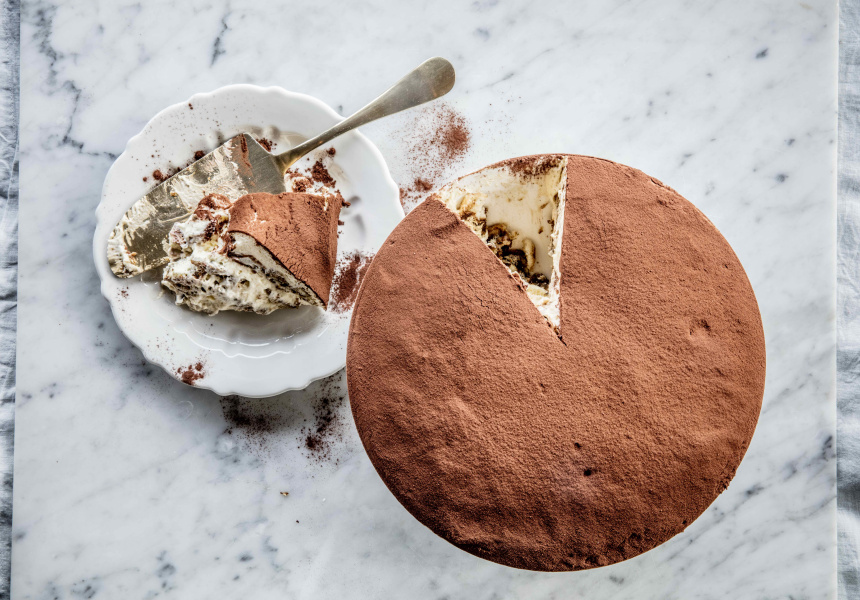 There are currently six recipes for tiramisu on Broadsheet. This one is particularly easy to make in big quantities, whether you're hosting four people or forty. Spiked with espresso, plus Strega and Sambuca liqueurs (both optional), it's the boozy kick along your Christmas Day function needs.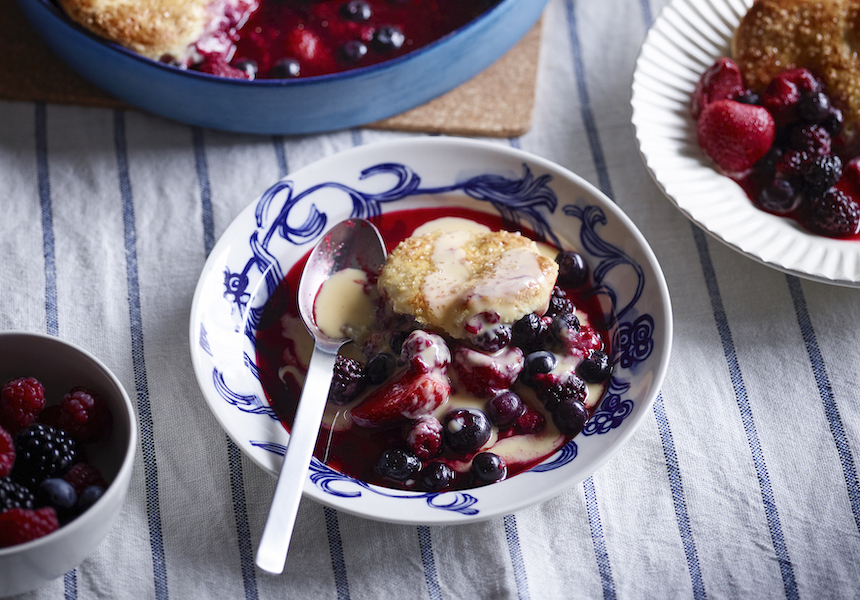 Pie dough can be a little finicky and hard to nail. The cobbler, a biscuit-topped dessert similar to a crumble, is easier and more forgiving to make. This versatile, highly shareable version comes from Broadsheet's new cookbook, Home Made, and epitomises the theme of cooking well for people you love. Fill it with apple, berries, grapes or any other fruit you like, and serve hot with a generous drizzle of delicate creme Anglaise custard.
Home Made features 80 diverse recipes for home cooking, sourced from Melbourne's best cooks, chefs and restaurants. Published by Plum, the book is available for $49.95 at shop.broadsheet.com.au