We're going to say something controversial here: it's salads that make or break a barbie. Unless the host has splashed their most recent paycheque on top-quality beef, you're probably eating the same old snags, burgers and lamb chops you always do.
The salads are where things get creative and diverse. Cold pasta, cold rice, freekeh, chopped nuts, potatoes, beans, peas, tomatoes, zucchini, broccoli – the only real limit is your imagination. And that's before thinking about dressings such as olive oil, red wine vinegar, fish sauce, lemon juice and mayo.
A good salad is refreshing and brings balance to what may otherwise be an overly heavy meal. But that doesn't have to mean a token bowl of leaves drizzled with olive oil (though that can be great too). As these 11 recipes illustrate, salads can be filling and satisfying in their own right. And you know, maybe even more interesting than a slightly burnt steak?
Broadsheet Access members get special tables at busy restaurants, tickets to exclusive events and discounts on food, coffee, brand offers and more.
Find out more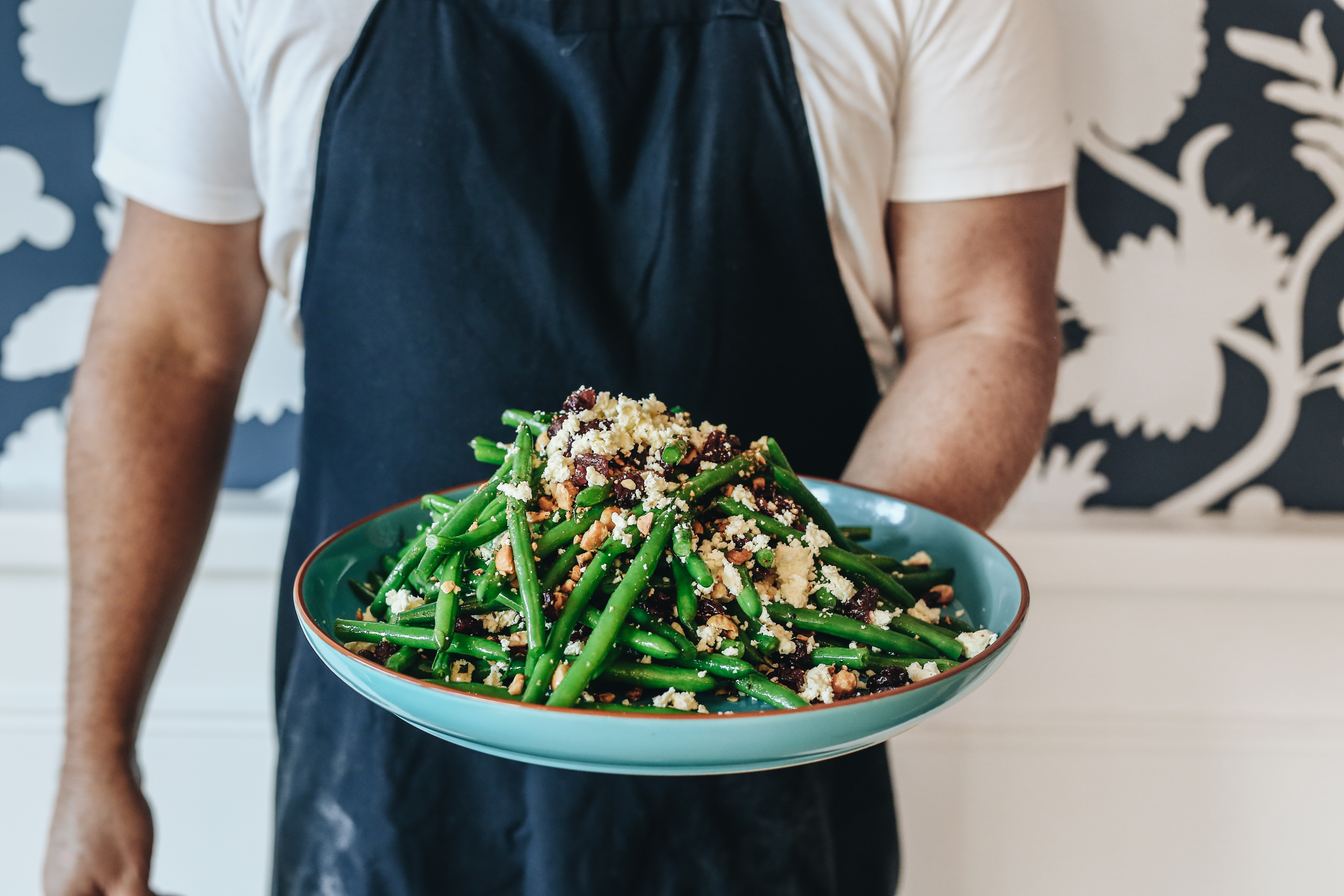 Brett and Alison Hutley, the owners of Brisbane's Botanica cafe, have been tossing together salads since 2013 for those both hungry and in a hurry. This particular number is designed for summer, but with three ingredients and just 15 minutes of preparation required, it makes a simple, delicious meal or side dish all year round.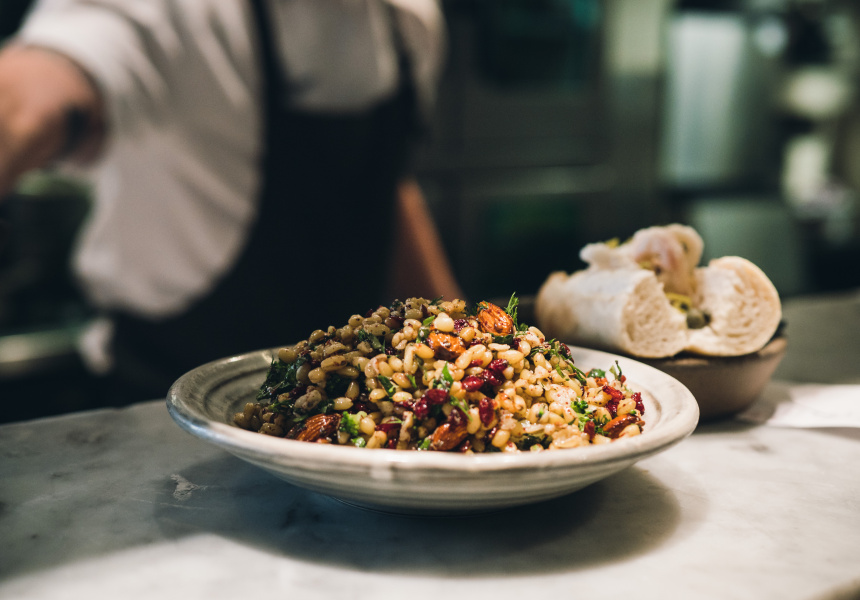 Freekeh, or roasted green durum wheat, is an ancient grain popular across the entire Mediterranean, from the Iberian Peninsula to North Africa and the Middle East. It's easy to find at major supermarkets and lends a taut, nutty backbone to this salad of broccoli, almonds, red onion and pomegranate. A trio of herbs – mint, parsley and dill – bring some freshness to the palate, making this a slam-dunk for hot summer nights.


Big Poppa's zucchini and sugar snap salad with macadamia pesto
Spring and summer are the best time of year to make this Italian-ish salad from former fine dining chef Liam Driscoll. That's when zucchini and sugar snaps are in season, and their freshness will burst right in your mouth. Mint, lemon, macadamias and a generous dusting of cheese add salty, zingy, nutty, umami characters, making this something of an all-rounder.


Danielle Alvarez's nutty and crispy spring rice salad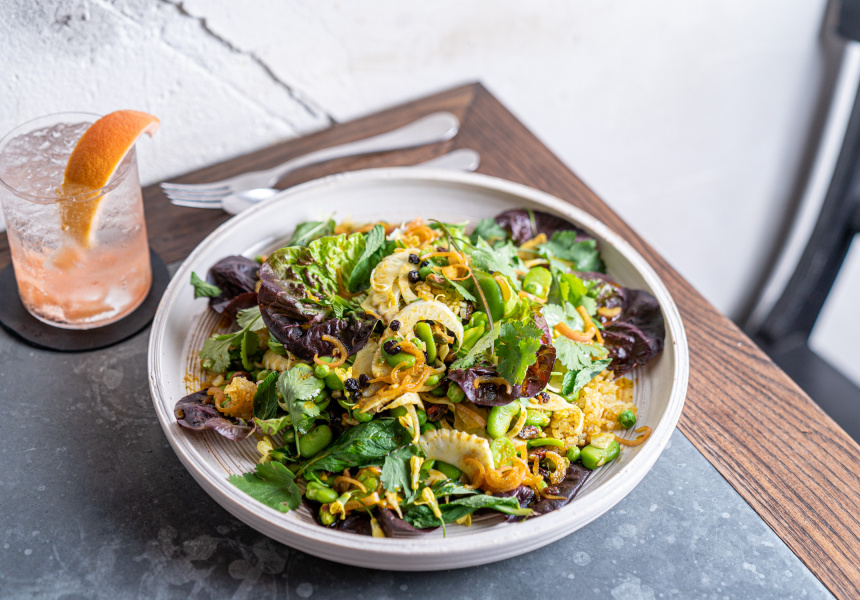 American Danielle Alvarez, the head chef at Sydney restaurant Fred's, came direct from four years at Alice Waters' famous Chez Panisse, an early proponent of farm-to-table cooking and veg-driven "California cuisine" – a background reflected in this textural salad of squishy sultanas, brittle dried rice and pistachios, finished with a sweet curry vinaigrette. "It's all about different levels of crunch," Alvarez says.


The German Butchery's potato salad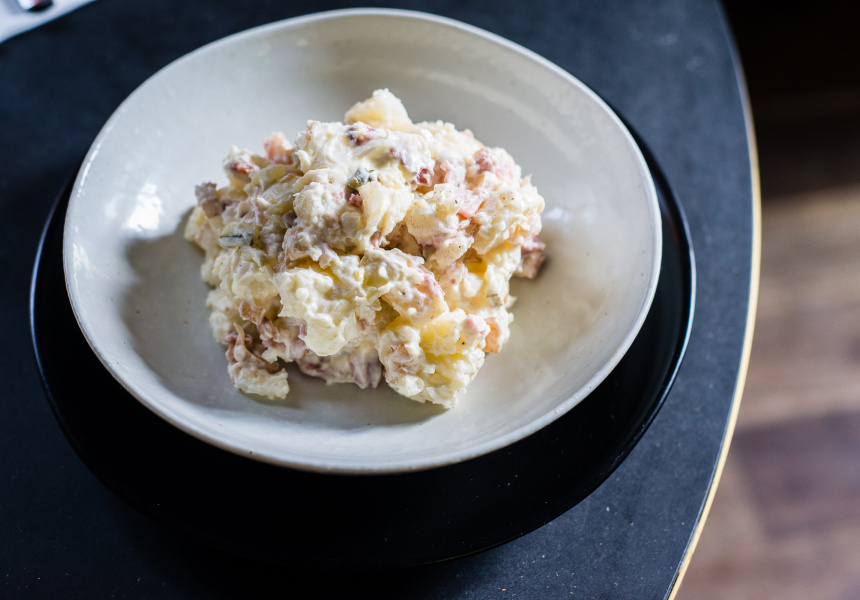 Whole-egg mayo, fatty bacon and starchy, carb-y potatoes – trust the Germans to bring us such a defiantly stodgy take on salad. If you find the whole thing a bit heavy, have a crack at this recipe, which adds sweet-and-sour gherkins, plus their juice. The pickles' sharp, vinegary acidity punches through all that richness and keeps you coming back for bite after bite.


Baby's cavolo e piselli (cabbage and pea salad)
This Baby baby started life as a side dish at the Melbourne restaurant but soon got promoted to mains when people kept ordered it on its own. Easy to scale up for 12, 18 or even 30 people, it pairs the relatively plain savoy cabbage with peas, radish, parmesan, mint and a small touch of chilli. With garlick-y, mustard-y dressing, the cabbage becomes a crunchy vehicle for a whole range of flavours.


Evan Moore's barbequed panzanella salad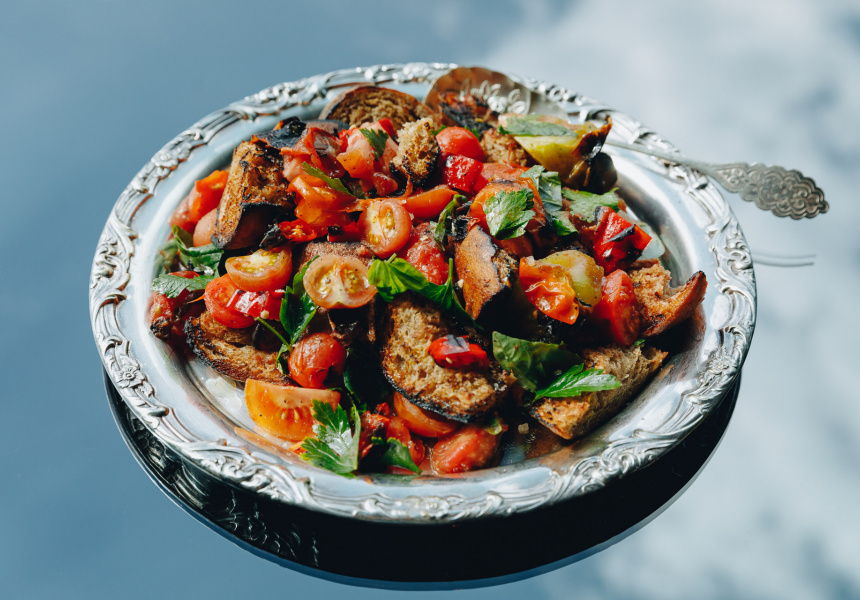 If you're firing up the barbie to cook meat, you may as well use it to make salad too. This original panzanella includes charred tomatoes and chillies for a wonderfully smoky flavour. Apart from the croutons, which spend 10 minutes in the oven, the entire thing can be assembled outside, by the barbeque, preferably with a cooling beer or rosé in hand.


Rice Paper Scissors' summery, Thai-inspired asparagus salad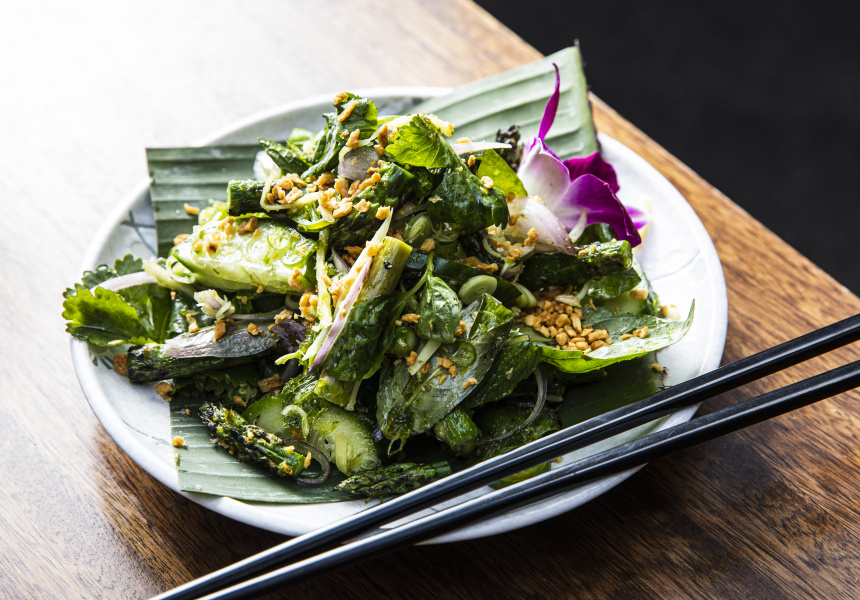 This recipe also relies on the barbeque, using it to transform regular asparagus into something deeper and more savoury. Add cooling cucumber, pickled ginger, aromatic lemongrass and sweet/salty/sour/spicy nam jim and you've got a quick, hot day hero. We can see why this salad is so popular at its home restaurant in Melbourne.


Cooked farro (a type of dried wheat similar to freekeh) forms the nutty bedrock of this satisfying yet refreshing dish from Bondi Beach icon Icebergs. Basil, mint, cucumber, celery and cold peas all play the foil, adding freshness and vibrancy, while a generous cap of grated of ricotta salata gives every bite a salty, savoury finish.


Rosheen Kaul's Sichuan-style cold potato salad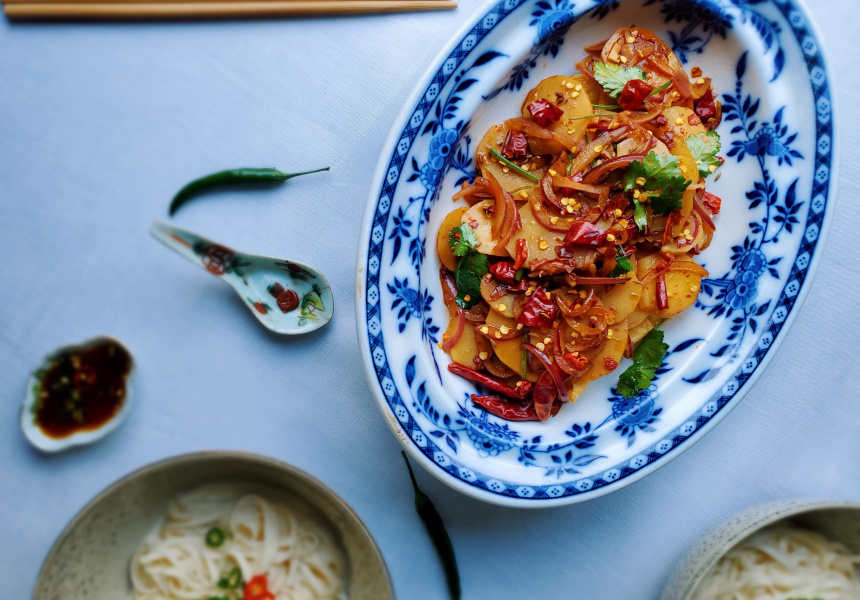 The potato isn't readily associated with China, but in Sichuan, a province renowned for its spicy food and brutal winters, it's the star ingredient of this unique salad. To Western palates the texture feels a little odd at first, as the potatoes are only blanched for a couple of minutes and retain a fresh, crunchy bite, not unlike a spongier raw carrot. But get used to that and you'll come to appreciate the punchy, refreshing and downright distinctive character on show here, courtesy of garlic, soy, Chinkiang vinegar, chilli and sesame oil.


That's Amore's potato, parmesan, parsley and pepper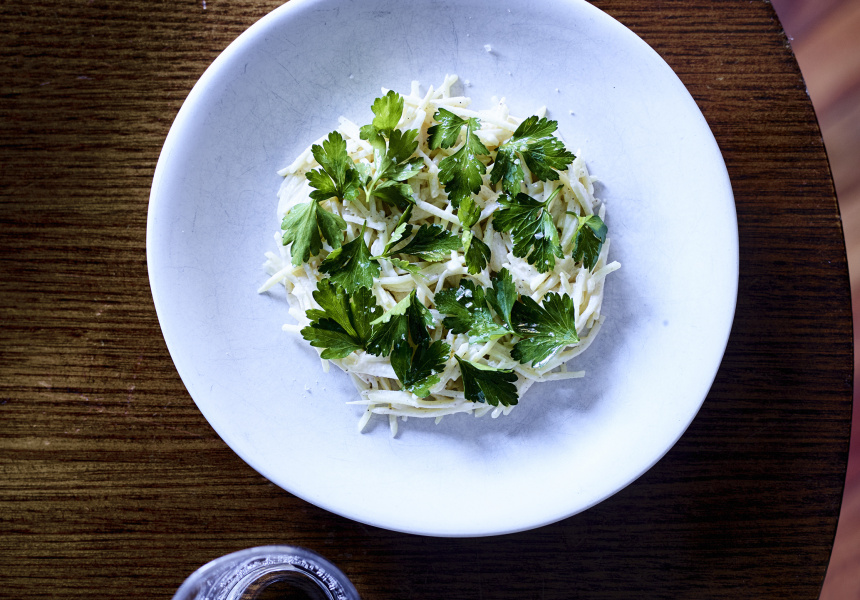 "I went to Beijing once and had this dish of stir-fried potato with Sichuan pepper and ginger," chef Pasi Petänen told us when we collected this recipe for The Broadsheet Italian Cookbook. He's referring, of course, to something much like Rosheen Kaul's recipe above. Petänen fell for the texture – he calls it "al dente potato" – and later came up with the idea to season it with classic cacio e pepe (cheese and pepper) flavour. The result is original and delicious as they come.