When it's this cold outside you need something to cut through the chill and heat you up from the inside. A piping-hot bowl of noodle soup wins every time. We're not fussy, either. It could be light, creamy noodles with a vibrant salty-spicy dressing, biang biang noodles with spicy cumin lamb, or carbonara-inspired udon noodles or a nood-packed restorative chicken soup.
Instead of tapping your apps to order takeaway, why not master one of your favourites at home? These eight easy chefs' recipes can be made in minutes, and you'll have enough for leftovers too.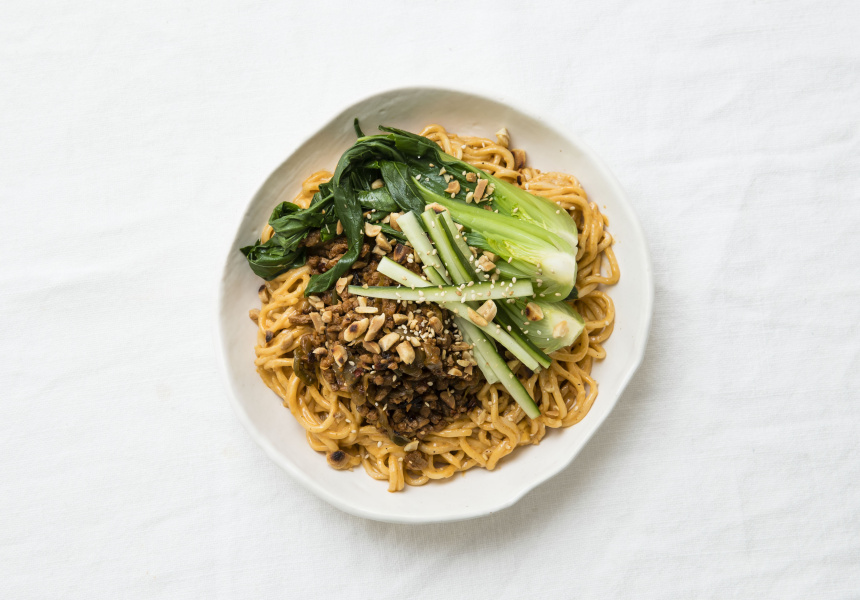 One of Australia's leading authorities on plant-based food reckons this flavourful Sichuan dish could become your next favourite. It's punchy, creamy, spicy and full of texture. You'll need a stack of ingredients – including tahini, Chinese five spice, Sichuan pickled mustard greens – but if you've got a fairly well-stocked pantry, you'll likely have most of these to hand. "It's time we ditched the pre-conceived notion of what vegan food is, or can be," says the Vegan With Bite author. We couldn't agree more.
Rosheen Kaul's creamy tofu noodles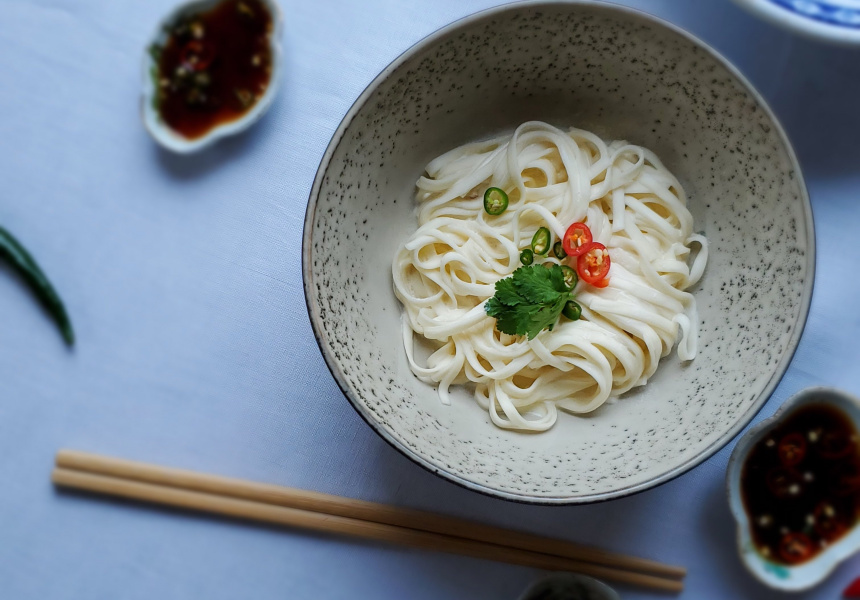 Former Lee Ho Fook and Dinner by Heston chef Rosheem Kaul lends us his recipe for a simple yet satisfying dish that's "easy as any instant noodle you'll ever make". Here, smooth tofu wraps the noodles in a weightlessly creamy blanket, cooling your tastebuds through the salty, spicy dressing. Bonus: it takes less than 15 minutes to make and you can use almost any type of noodles (Jinmailang, udon or instant).
Hetty McKinnon's cacio e pepe udon noodles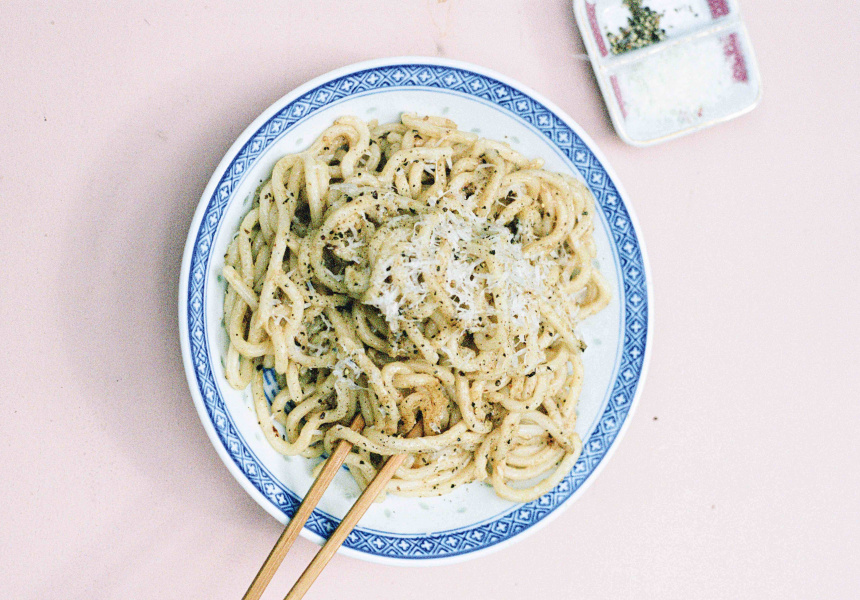 The idea for this carbonara-inspired dish came to Hetty McKinnon when she was travelling through Japan. "At Shin Udon, a sliver of a restaurant in Tokyo's Shibuya, they serve not only the best udon dish I've ever eaten … but they also offer a carbonara-inspired noodle dish that comes topped with butter, pepper, parmesan and bacon tempura," she says. The To Asia, With Love writer and cook's speedy dish is ready in 30 minutes, plus, you'll only need six ingredients. Don't scrimp on the miso, which gives it an extra layer of flavour.
Brendan Pang's biang biang noodles with spicy cumin lamb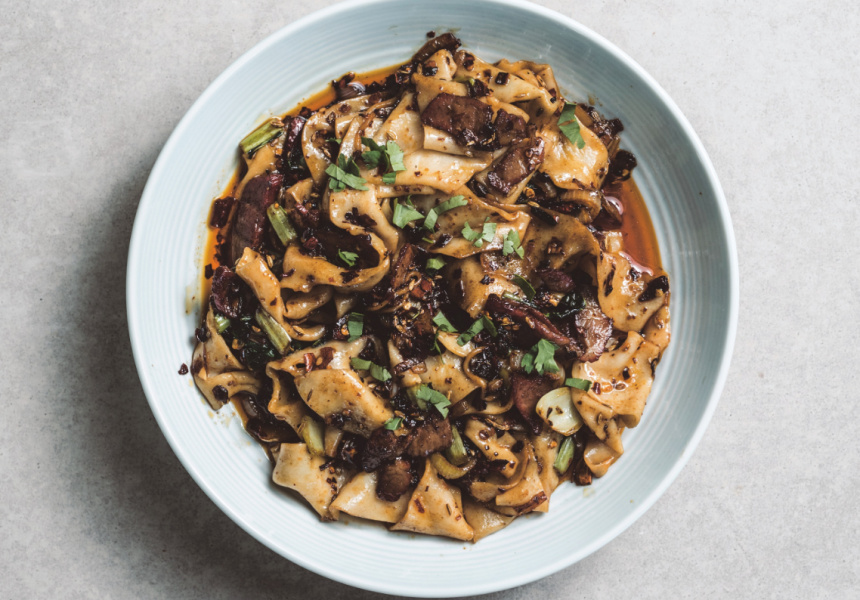 Cumin is the major player in this noodle dish, which originates in the Shaanxi province in central-northern China. Toast your spices first in a dry wok to really amp up the flavor and bring out the signature nuttiness of the cumin. Making the noodles themselves is super easy – there's no intricate wrapping or preparation required. Just roll out your dough and cut the noodles by hand. They can be thick, irregular and uneven – it's just as tasty no matter the shape.
Palisa Anderson's pad thai with tofu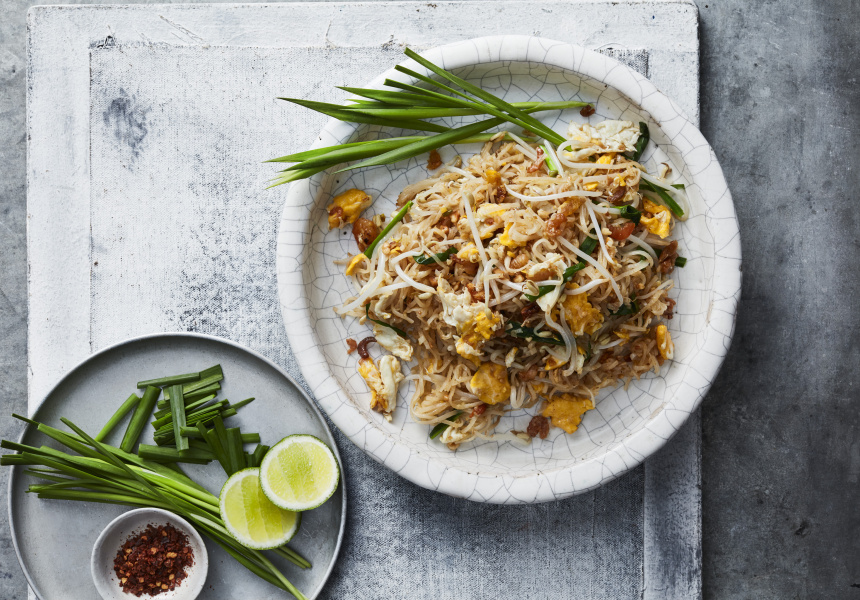 Thailand's national dish started life as a quick worker's lunch, dating back to the 1940s. Nowadays, it's a firm Australian favourite, and an easy go-to for takeaway. However, restaurateur-turned-farmer Palisa Anderson (Boon Cafe) thinks it's time we tried making it at home. Here she shares her version with tofu. "It's a middle Thai region dish [made] with bean sprouts, garlic chives and dried shrimp that pulls from all the regions of Southeast Asia," she says. "It was made not to be spicy so everyone could eat it." Anderson offers a couple of options for ingredients, depending on what you have in your pantry, one of which is light soy sauce or a gluten-free liquid protein concentrate called Braggs Aminos.
Emma McCaskill's roast chicken noodle soup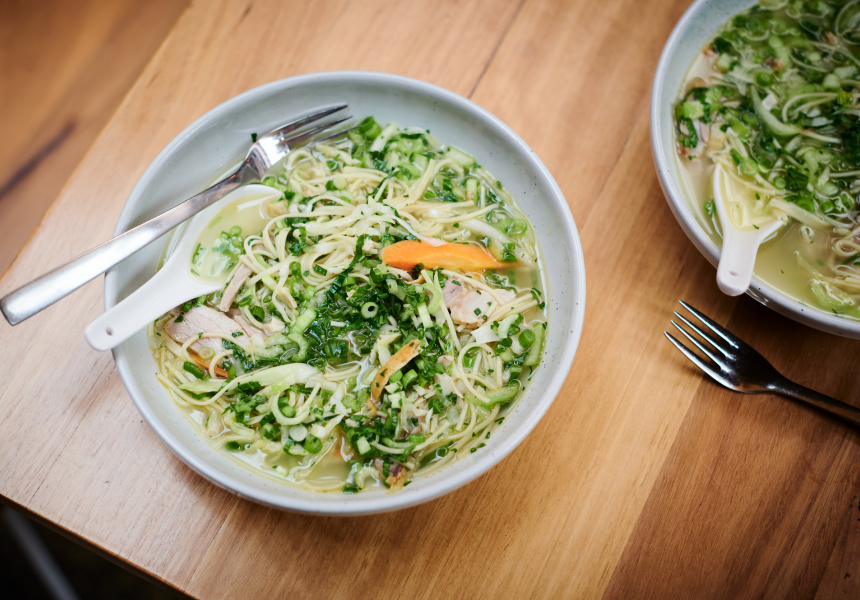 There are few things more restorative than a bowl of soup. Doubly so for a big bowl of chicken soup stacked with noodles and leafy greens. Adelaide chef Emma McCaskill (Sparkke at the Whitmore) makes this simple recipe once a week for her family. It has an easy hack ingredient – store-bought roast chicken – which means you can have it on the table in 40 minutes. McCaskill uses somen noodles, but you can use egg noodles or sweet potato noodles for a gluten-free option.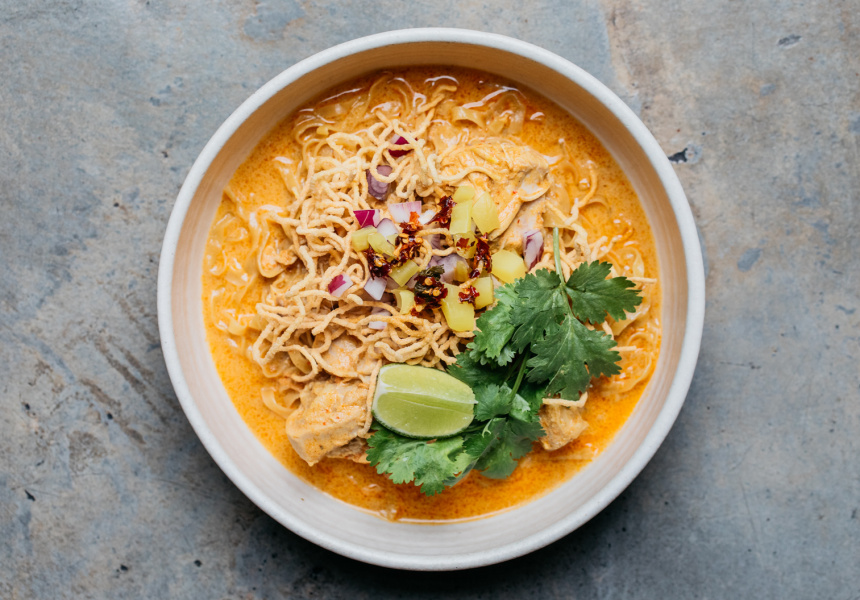 Variants of this soupy red curry are popular in Myanmar, Laos and northern Thailand. The northern-Thai version is a thin red chicken curry ladled over fresh egg noodles, sprinkled with crispy egg noodles and topped with pickled mustard greens, chilli oil, diced red onion, coriander leaves and lime wedges. Patty Antico, Thai expat and mother of Automata co-owner Tania Fergusson, shares her version with Broadsheet. Pick up a can of pickled greens from an Asian grocery store, or, if you have time, pickle your own a week before serving.
Fukuryu's vegetarian miso ramen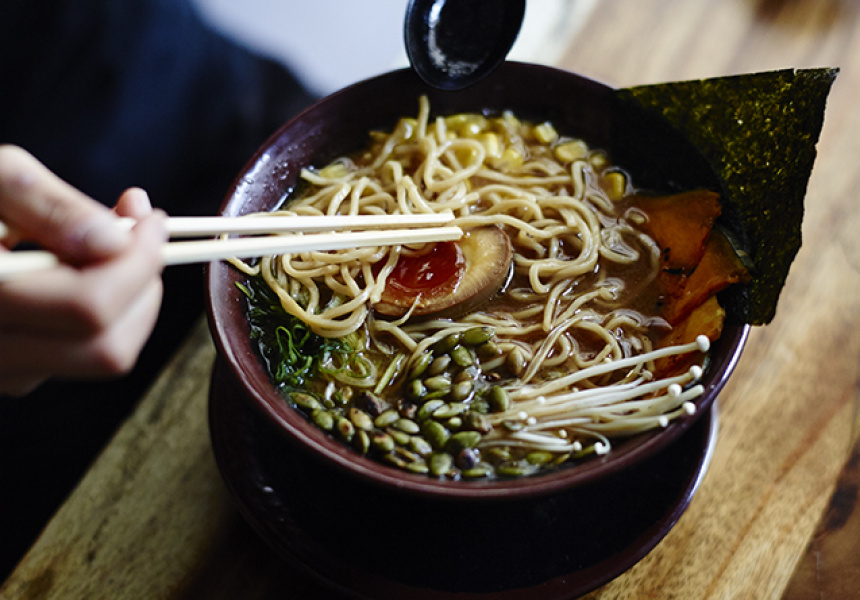 The now permanently closed Fukuryu Ramen developed a vegetarian ramen that mimics a typical, meat-based noodle soup with a rich broth. The team shared its recipe for that umami-rich broth with Broadsheet, which includes roasted vegetables, miso, shiitake mushrooms and kombu to accent the flavour. If you don't have time to make your own miso, you can skip that step and opt for store-bought miso instead. You can also make the broth up to three days in advance.
Additional reporting by Sarah Norris, Daniela Frangos and Tristan Lutze.
Looking for more cooking inspiration? See Broadsheet's recipe hub.