The price of everything has shot up – something you've no doubt felt when you're grocery shopping.
To help you keep eating well, we've gathered 20 of our favourite economical recipes that don't sacrifice flavour or nutrition. They're all proper dinners too, not sides masquerading as meals. As you'd expect, rice, pasta and canned or dried pulses are your friends here, what with meat and dairy usually being the costliest ingredients on a shopping list.
While extras like nuts, cheese and fresh herbs are relatively expensive to buy upfront, they go a long way, and we wholeheartedly recommend spending what you can afford on these crucial flavour- and texture-adders. Ditto for sauces and condiments like mustard, balsamic vinegar and soy sauce, where a jar or a bottle will last weeks or months.
Save 20% when you buy two or more Broadsheet books. Order now to make sure they arrive in time for Christmas.
SHOP NOW
Also: buy what you can at local farmers markets. The produce is almost always superior to what you'll find at a supermarket or even a dedicated greengrocer, while typically being two or three times cheaper.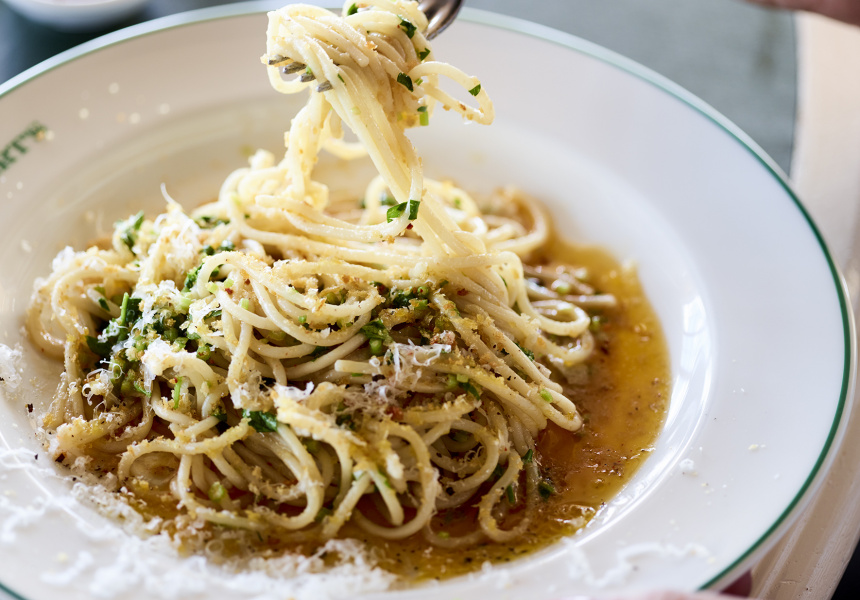 Anchovies and parmesan are the most expensive ingredients in this simple, pantry-clearing pasta of garlic and olive oil. And you need very little of each. The most flavour comes not from these two ingredients, but from closely following the advice of chef Jordan Toft from Sydney's elegant Bert's, who says it's crucial to keep swirling the pan to distribute the garlic and oil properly.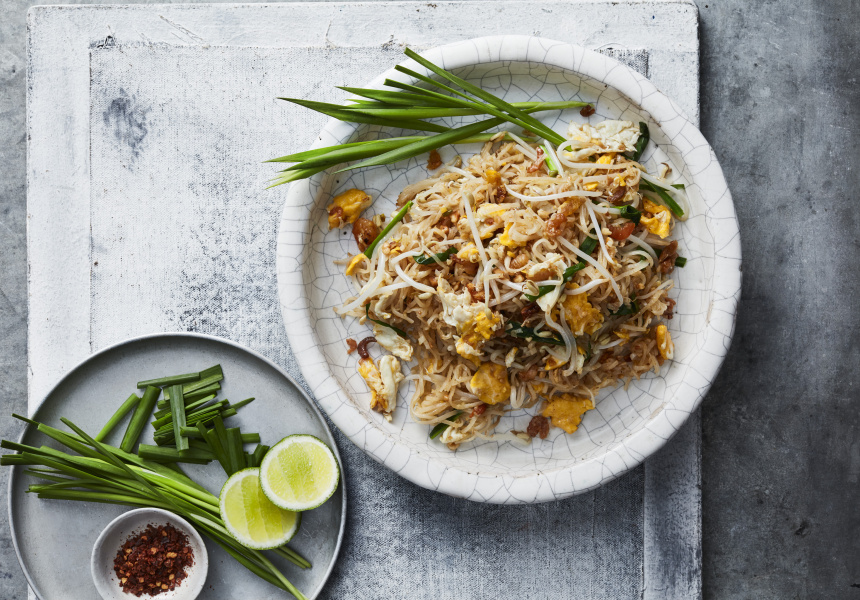 If you love this takeaway classic but can't justify the delivery bill right now, make it at home. Anderson's (Boon Luck Farms) version takes just 30 minutes and is filling and balanced, with carbs from the noodles, and protein and fat from the tofu and egg. You could also add some wilted green veggies, like bok choy or choy sum, if they're cheap and in season.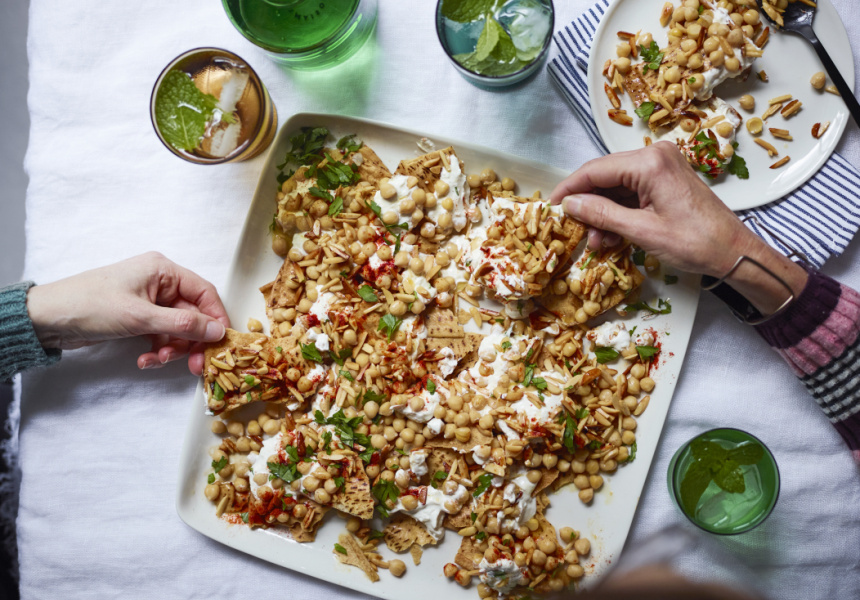 Consisting of crisp shards of flatbread, sprinkles of toasty almonds and dollops of tangy yoghurt, this home-style fatteh was a long-time crowd favourite at dearly departed Melbourne restaurant Moroccan Soup Bar. It's surprisingly cheap and easy to make – and a really great option if you're having a dinner party or looking for a tasty grazing snack.

Cornersmith's cheesy cauliflower bake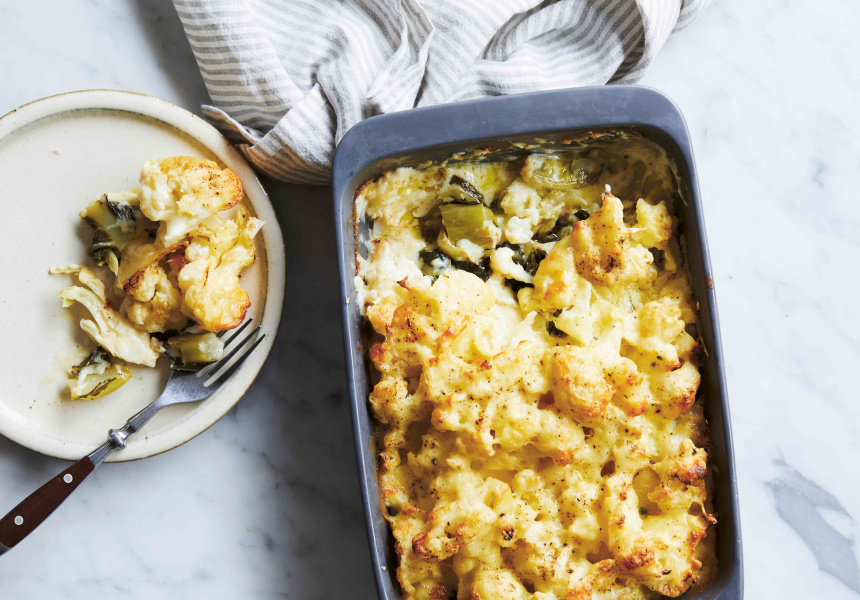 This recipe comes from Use It All, a cookbook by Alex Elliott-Howery and Jaimee Edwards of Sydney's Cornersmith, that's all about saving money by using more of what you already have. It calls for the entire cauliflower, including leaves and stem, to produce a hearty, cost-effective dinner. And if you can find them cheaper, silverbeet or celery can easily be subbed in.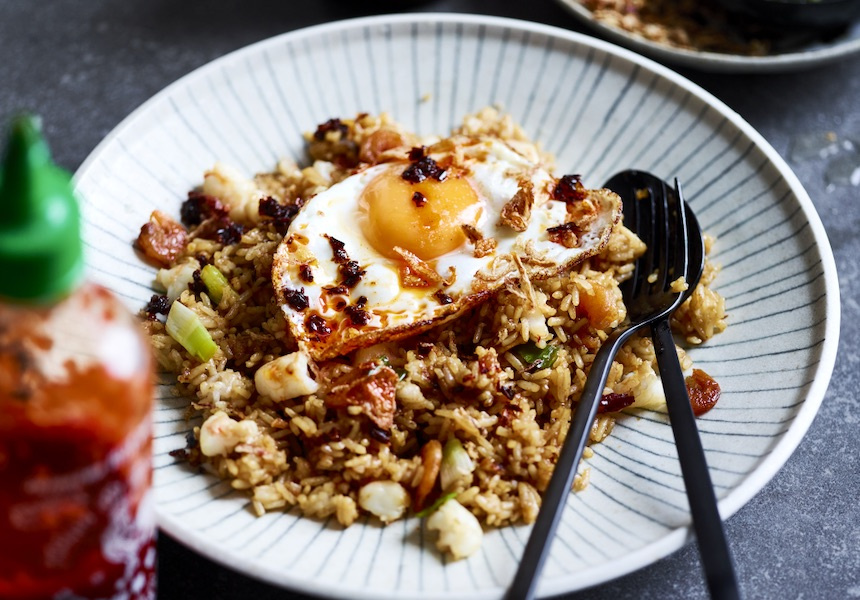 On the table in 25 minutes, this satisfying Indonesian fried rice by Melbourne's Rashid (Juanita Peaches, All Day Doughnuts) can become a weeknight classic in your repertoire. You can whip it up with whatever add-ons and condiments you have in your fridge or pantry already: hot sauce, pickled ginger, fried eggs, lemon wedges or crispy fried shallots, say.

Rosheen Kaul's burnt spring onion oil noodles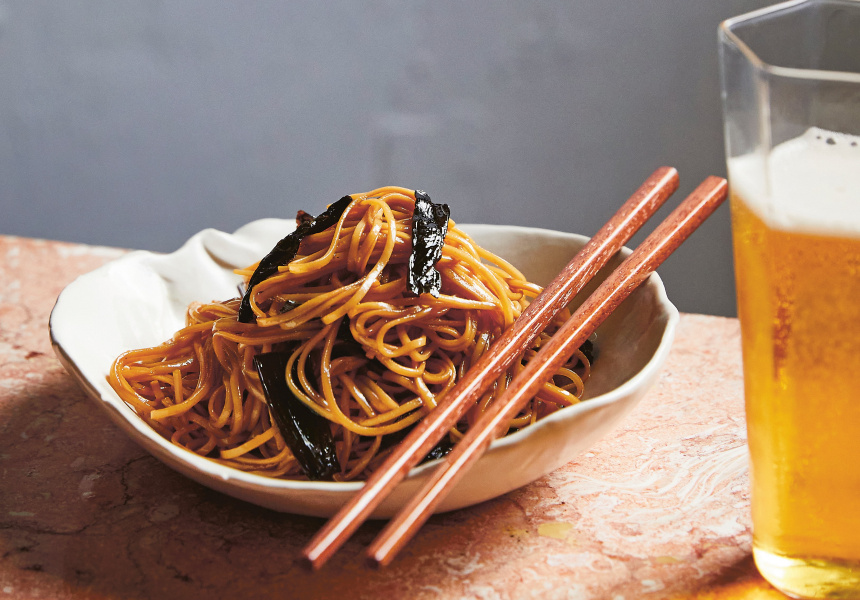 If you want to keep things simple, make Kaul's recipe as is, or use these noods as a handy foundation for further experimentation. This recipe, by head chef at Melbourne restaurant Etta, only contains a couple of ingredients, spring onion and three sauces, but you could add something like crushed peanuts, diced tofu, greens or cabbage. Whatever floats your boat.

Rosheen Kaul's creamy tofu noodles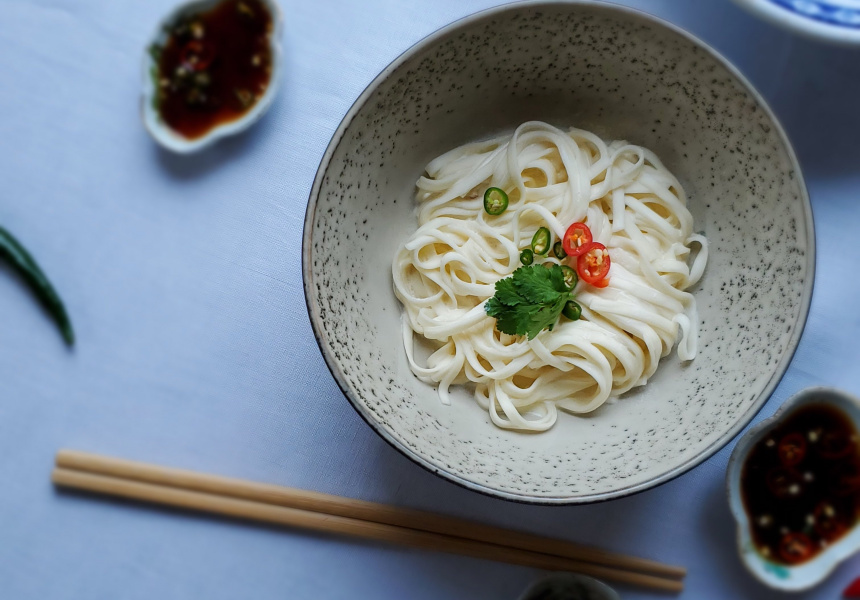 A round of applause for Kaul's method, please, which sees tofu curds blitzed in a blender to create a creamy sauce that adheres to the noodles and makes each bite a spicy, gingery, garlicky delight. Again, if this one feels a bit simple, you can jazz it up with whatever extras you want.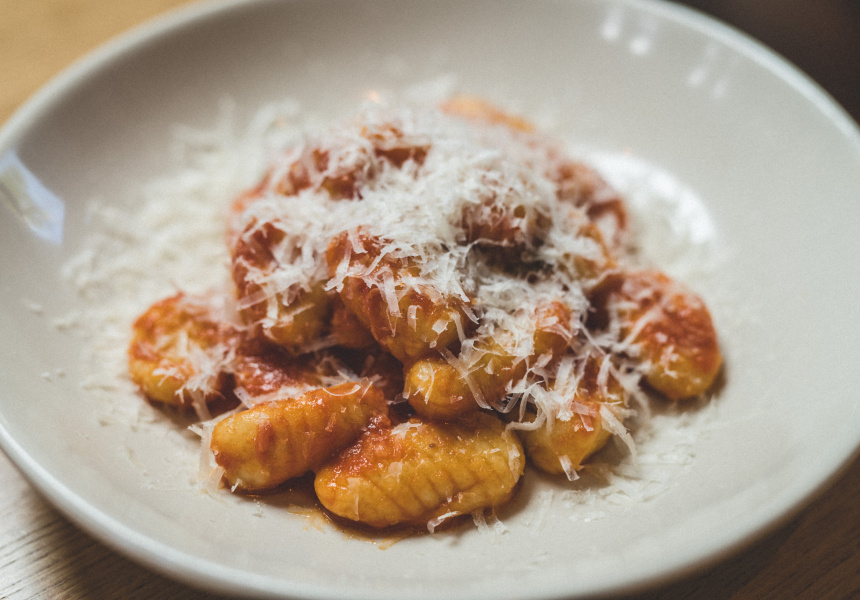 This simple tomato gnocchi, from Guy Grossi's restaurant in Perth, probably isn't something you'll feel like whipping up on a weeknight. But hey, weekend cooking projects shouldn't be limited to pricey ingredients only, should they? Take your time, roll out some fluffy gnocchi and enjoy.

Christine Manfield's spiced chickpea dal
You can't talk about affordable food without talking about dal, the possibility-filled Indian stew that can be made with split lentils, peas, kidney beans and dozens of other types of pulses. Manfield ate this particular one frequently while travelling through Sikkim, a north-east Indian state that borders Tibet, Nepal and Bhutan. It combines ginger, chilli and turmeric for a warming punch.

Shane Delia's turmeric chickpeas with tomatoes, greens and zhoug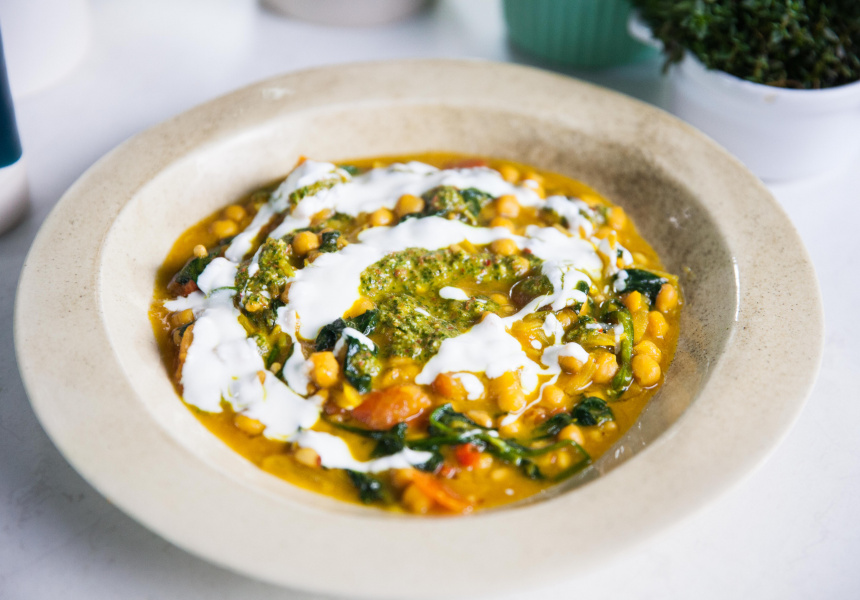 This is effectively another dal, and one of those recipes where you really need fresh herbs – coriander, in this case – to make the spicy green sauce known as zhoug. "This is a pretty simple dish but there's lots of flavours going on," says Delia of Melbourne's Maha. "You've got turmeric and tomatoes and onions in the braise, then you have the lovely fieriness of the toum, and to finish it off you've got the zhoug. It really amplifies the flavour."

Hetty McKinnon's cacio e pepe udon noodles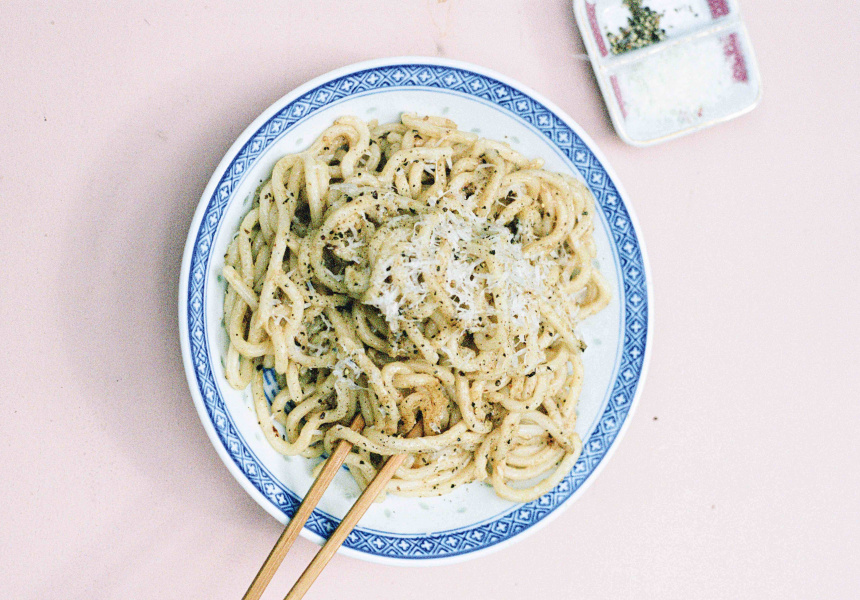 Got cheese, pepper, miso and noodles? You've got dinner. It's that simple with McKinnon's Asian take on the classic Roman pasta dish.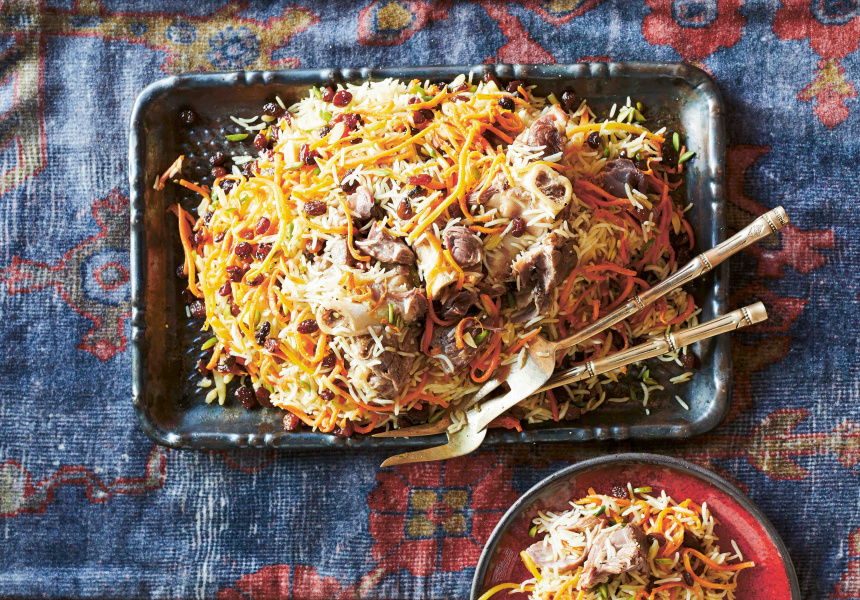 This glorious pilaf, Afghanistan's national dish, is a riot of carrot, sultanas, almonds and pistachios. This particular version is by Farida Ayubi, of Adelaide's Parwana, and also includes 500 grams of lamb, which you can easily dial back to a more modest, affordable 150 grams or omit altogether for a fully vegetarian take.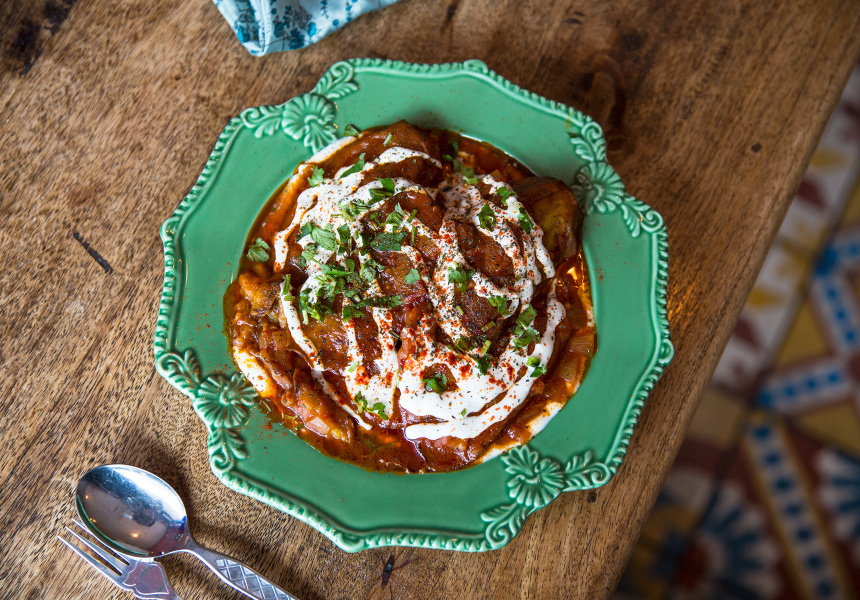 Another by Parwana. Make this dish of melt-in-your-mouth eggplant, acidic tomato and cooling, tangy yoghurt in summer, when eggplants are at their peak. If you need some more bulk, rice studded with a handful of currants, sultanas or nuts will do the trick.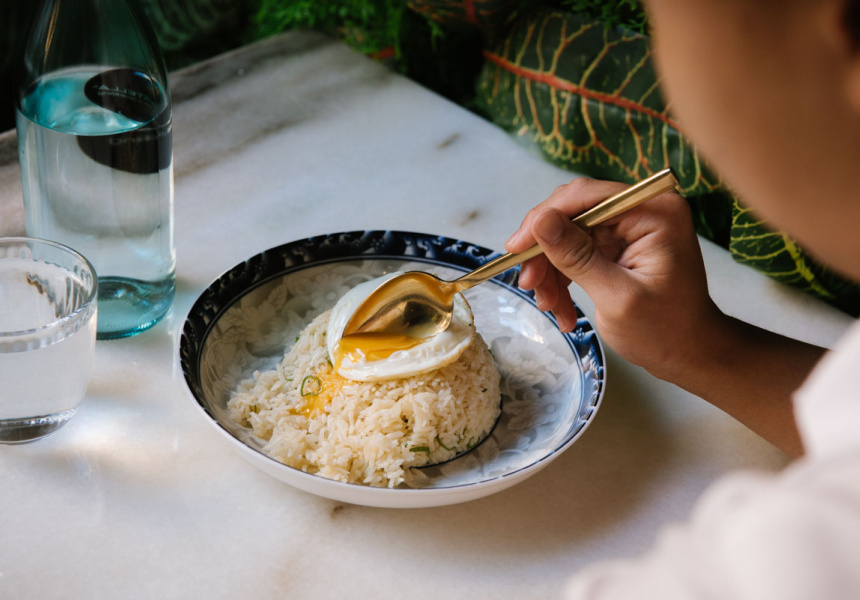 Like Raph Rashid's nasi goreng, this basic rice, butter and egg creation is ripe for customisation. Add more fried eggs, dried shrimp, tofu or anything else that feels good. Or you know, just have it as is, like Khoo, of Sydney's Ho Jiak, often does.

Kepos Street Kitchen's red lentil soup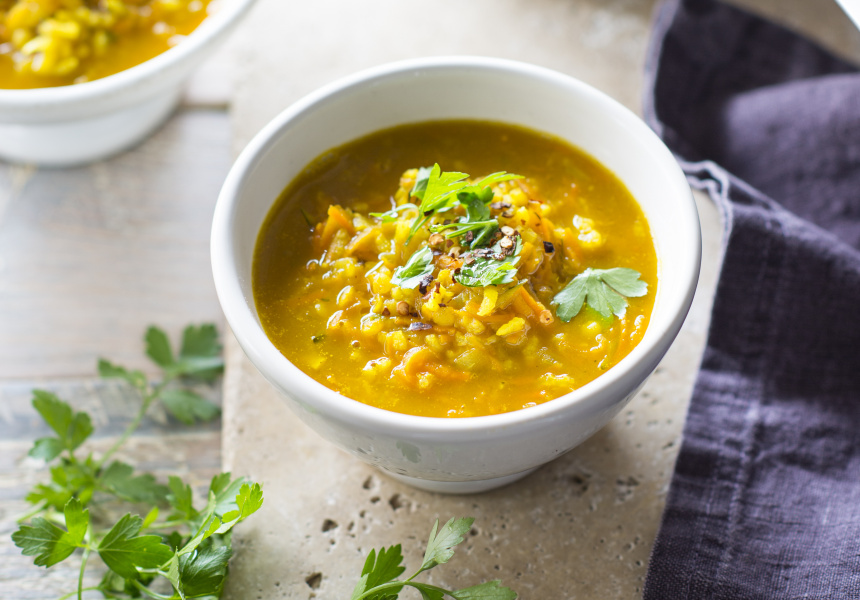 Carrot, zucchini, lentils and flat-leaf parsley come together nicely in this hearty soup, which batches and freezes easily if you're in the habit of meal prepping. Just make sure your final garnishes, like the parsley, are added fresh each time.

Shannon Martinez's tubetti with braised fennel, radicchio and chickpeas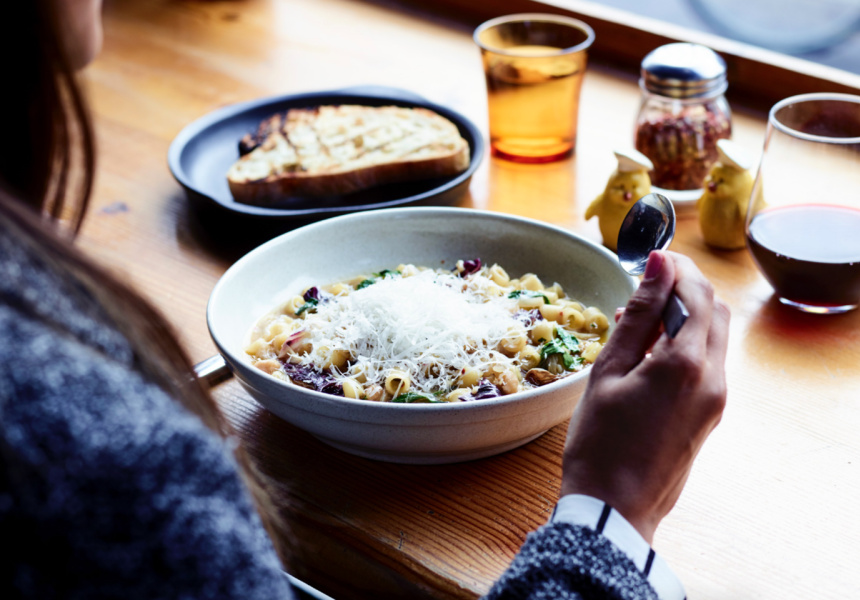 "It's perfect one-pan, one-bowl, on-the-couch-with-a-blanket sort of food," chef Shannon Martinez of Smith & Daughters says of this recipe, which she originally put together to fend off a hangover. True to form, it's wholesome yet salty, and finished in under 30 minutes.

Silvia Colloca's busiate alla Trapanese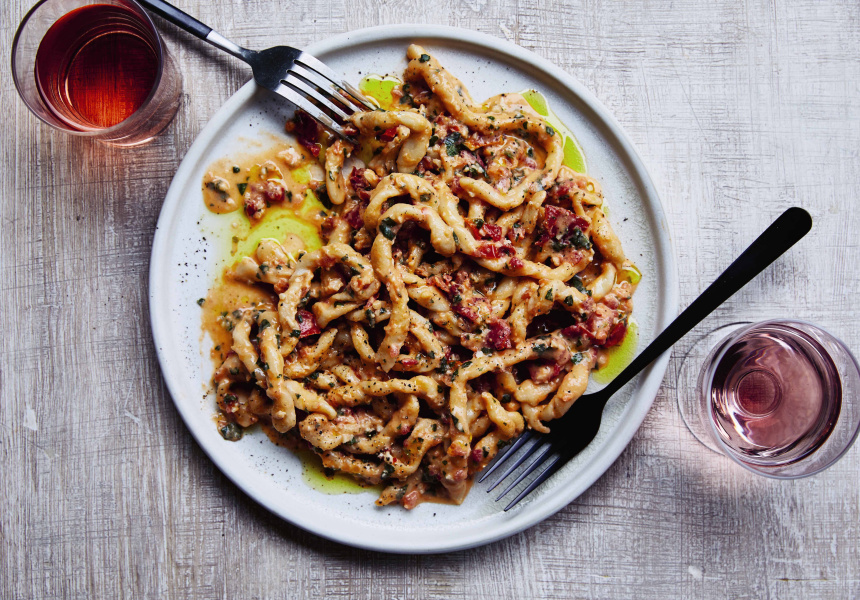 This tomato and ricotta pasta, from the Sicilian province of Trapani, is best saved for summer, when tomatoes and basil are cheap and abundant. That's when you'll want to eat it, too. This version – by Sydney-based author and TV host Colloca – is fresh, and the acidic pesto feels ready-made for open-air eating as the day's heat slowly wanes.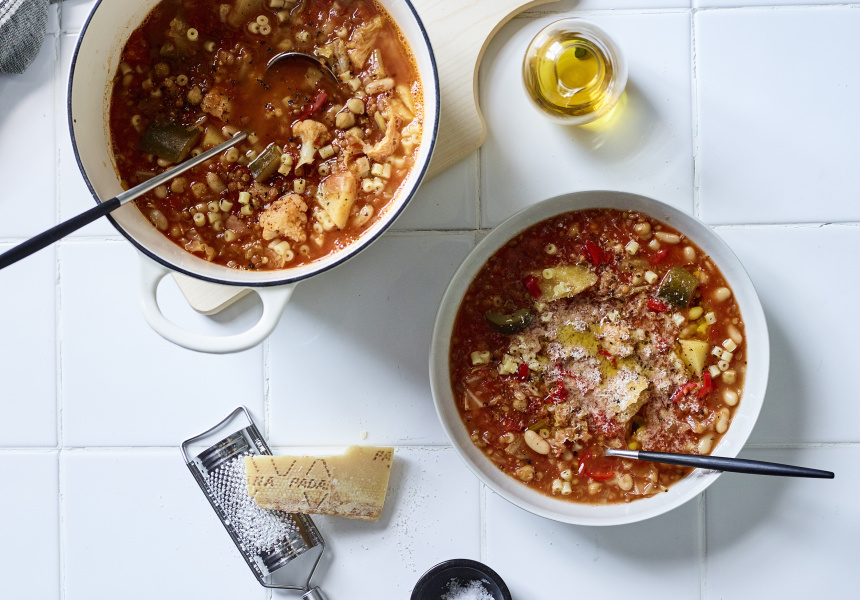 This is a cucina povera ("poor kitchen") classic that Italian peasants historically made to use up everything in the larder. While Macali's version does get a little elaborate with inclusions like a whole cup of cabbage, the beauty of minestrone is that it's endlessly customisable, depending on what you have and can afford.

Gordon Ramsay's green pasta with rocket, almonds and lemon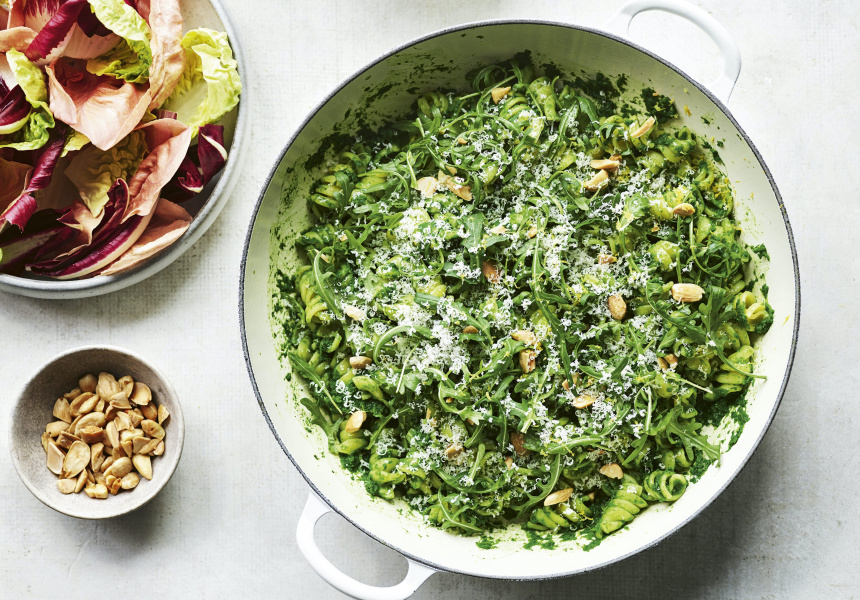 Rocket and kale are the main components of this speedy, summery pasta from the British shouty man, with the kale blitzed into a pesto. "You could add broccoli or spinach to make it even more nutritious," he says, "and use whole-wheat pasta, if you have more time."