We love Christmas, but it does bring with it a few less-than-desirable aspects. The unnecessary plastic packaging, unsustainable production processes and questionable corporate ethics can make it tough to strike the right balance of thoughtful gifting and concern for the world around us. This year, we've sourced a versatile collection of stocking-fillers and you-shouldn't-haves for everyone in your life, all backed by a greater purpose.
Win every item in the gift guide
One lucky reader will win the entire gift guide, valued at more than $2955. Enter below for your chance to win. Scroll to the bottom for the full terms and conditions.

Save 20% when you buy two or more Broadsheet books. Order now to make sure they arrive in time for Christmas.
SHOP NOW
Under $15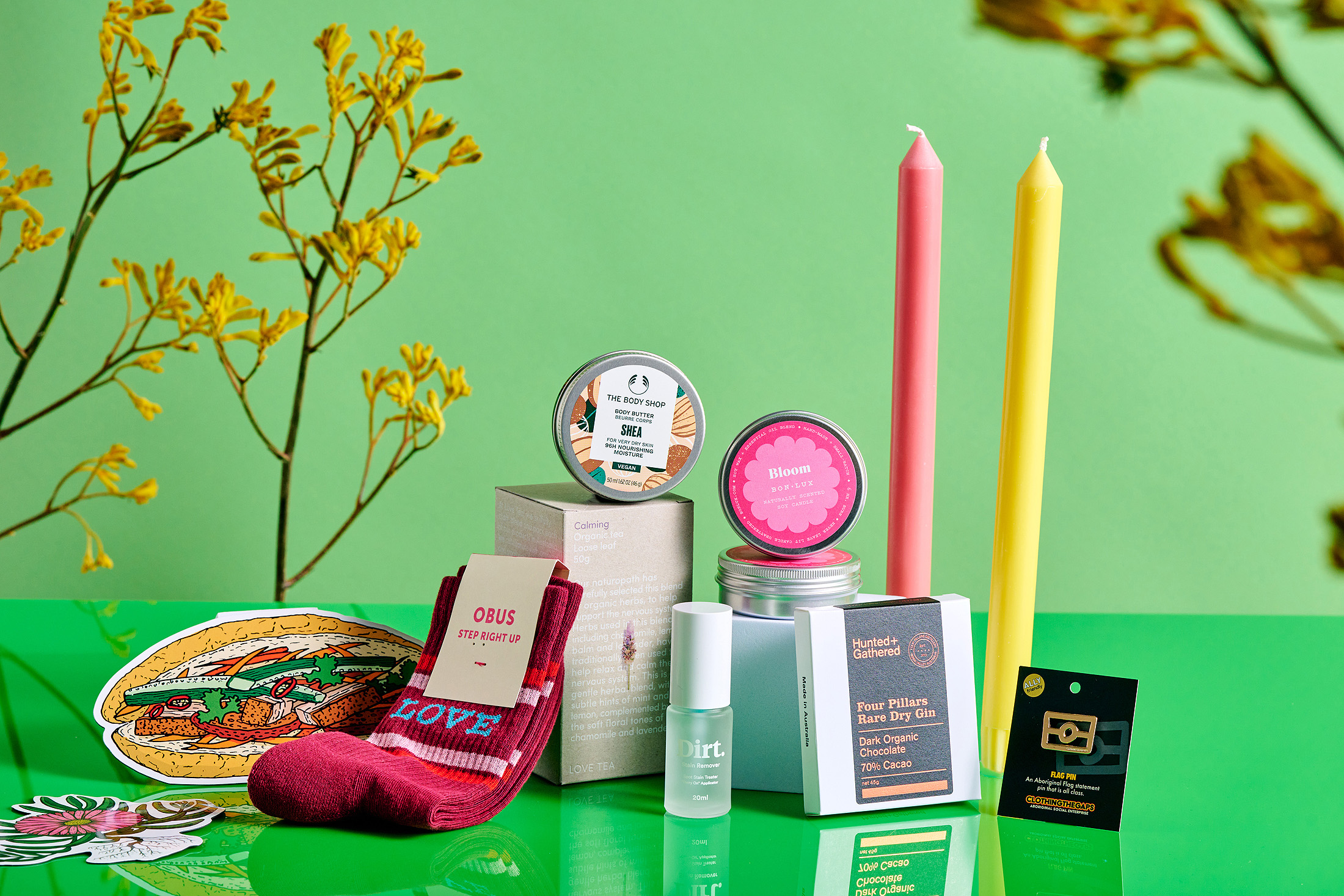 Love Obus sport socks from Obus

Giving gifts at Christmas is all about spreading the love, and these socks from Obus will make it pretty obvious how you feel. Besides being all lovey-dovey, these retro-inspired, burgundy sports socks are designed by a small team in Melbourne and ethically manufactured under Australian labour and wage standards in Turkey. They sell for $15 and are sure to keep your loved ones' feet both cosy and stylish all year round.
Shea Body Butter from The Body Shop
This Body Butter from The Body Shop ($11 for 50ml) uses natural shea and moisturising babassu oil – ethically sourced through the company's Community Fair Trade program - to nourish and hydrate the skin.
Carry On stain remover from Dirt
Don't let the name fool you – Aussie brand Dirt is not a fan of mess, and this travel-ready stain remover is an easy way to fight back for just $7.50. All you need to do is spray the stain, wait and throw it in the wash. Like all Dirt products, this stain remover uses only biodegradable and plant-based ingredients, so recipients can look forward to a clean conscience to go with their clean clothes.
The flag pin from Clothing the Gaps
Clothing the Gaps exists to elevate Indigenous voices, educate Australia on Indigenous issues, create positive change in Indigenous communities and advocate for social change. At $15, this Flag Pin – an empty flag design from the #FreeTheFlag campaign – is a good starting point for allies. Doesn't hurt that it looks great, too.
Banh mi magnet from Billy Justice Thomson
Adelaide artist Billy Justice Thomson celebrates the little details that colour our lives, whether it's an apple core, a pelican or everyone's favourite sandwich, the banh mi. This magnet, priced at a breezy $8, is a serious stocking filler for those friends and family often found lining up in front of their local Vietnamese bakery at lunchtime. Plus, you'll be supporting independent local art, so it's win-win.
Travel tin candles from Bon Lux
Melbourne artisans Bon Lux are serious about leaving a light touch on the world around them. This $12 travel tin candle set (which comes with scents like sunbeam, cosmos and woodland) is made from sustainable vegan soy wax and essential oils. And, like all Bon Lux products, is produced in its solar-powered studio in tiny batches.
Dinner candle set from Pinky's
Consider this candle set from local gift shop Pinky's a not-so-subtle way of inviting yourself around for a candlelit dinner. The Preston store is all about fun, brightly coloured gifts with an eye on local artists and sustainable practices. This $12 set is a two-pack of 30-centimetre candles made from 100 per cent vegetable stearin coloured with natural dyes.
Loose leaf tea from Love Tea
Not all tea companies are super concerned with their social and environmental impact, but Love Tea makes it a priority. The Melbourne company, founded by naturopathy students Emma Watson and Damien Amos, cares about fair trade, certified organic ingredients and giving back to the community. It's a good reason to gift their range of loose-leaf teas, with excellent flavours from classic English breakfast to Japanese genmaicha.
Four Pillars gin chocolate from Hunted & Gathered
Cremorne chocolate makers Hunted & Gathered are all about turning a few good-quality, ethically sourced ingredients into little blocks of magic. For this product they're blending a 70 per cent cacao dark chocolate with spent botanicals and oranges used to make Four Pillars gin, producing a citrusy, aromatic dark chocolate that, at $7.50, is a lot more affordable than a bottle of gin.


Under $25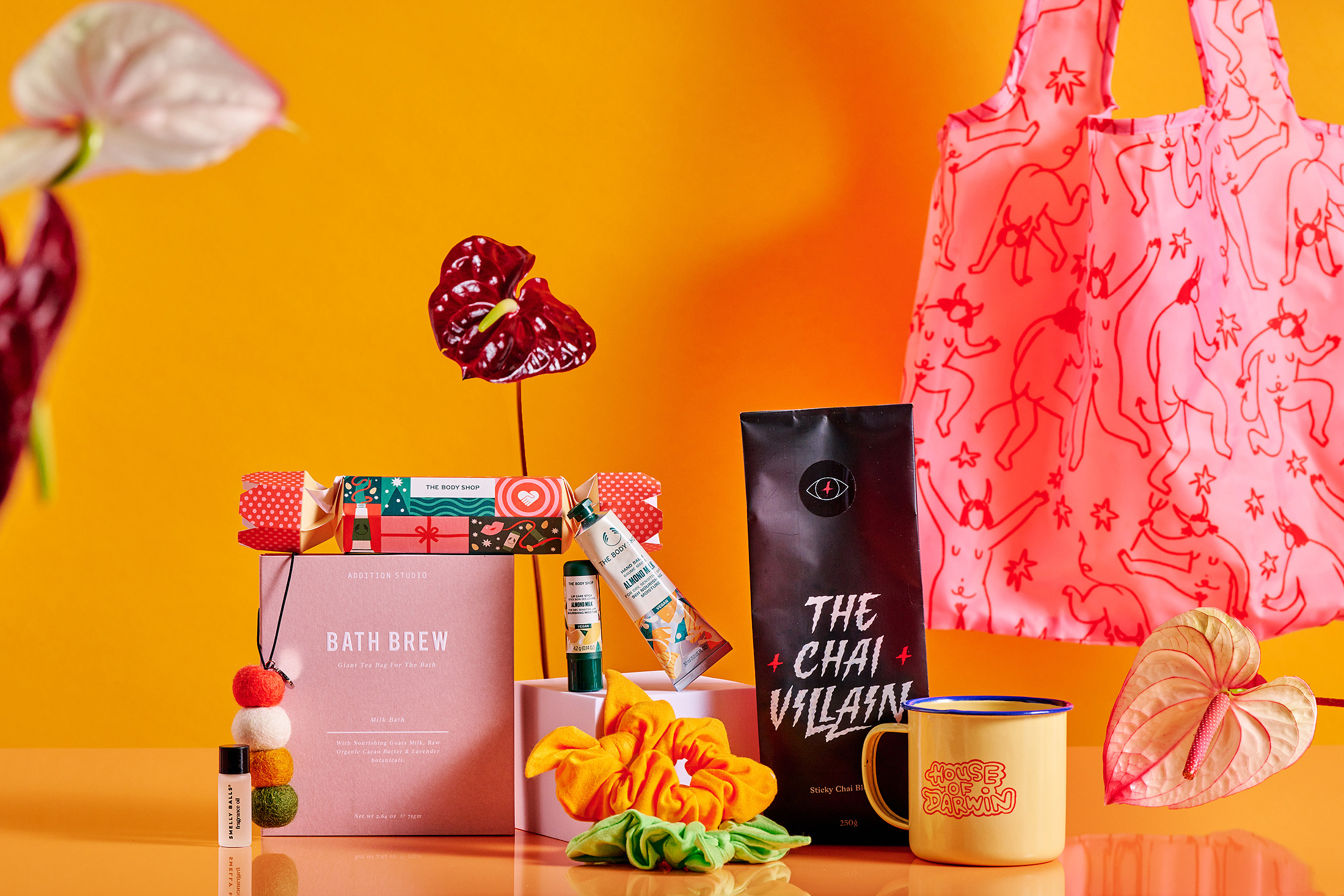 Almond Milk Hand & Lip Duo from The Body Shop

This stocking filler from The Body Shop leans on the skin-friendly properties of almond milk, here in both a lip care stick and hand balm. At $20 and made using vegan, ethically sourced Spanish almond milk and Ghanaian shea butter, it's an easy way to give the gift of soft skin this year. If only all Christmas crackers were this well-stocked.
Bath Brew from Addition Studio
With its $19.99 bath brew, Addition Studio gives us to steep ourselves in a giant, herbal tea. And when the teabag is filled with plant-based, vegan and natural botanicals like tea tree, organic seaweed and calendula, this bath time helper is perfect for anyone in need of a good relaxing soak. The brand uses local and organic ingredients where possible, so you can soak easy, knowing you're in good hands.
Sticky Chai Blend from The Chai Villain

The Chai Villain doesn't play it safe with dainty, delicate flavours. The Melbourne-based company fills its recyclable tea bags with big ingredients like Tasmanian leatherwood honey, Ceylon black tea, black peppercorn and green cardamom – all ethically sourced and organic. For $22, it packs a punch worthy of the flavour-seekers in your life.
Car air freshener from Smelly Balls
Smelly Balls has it all. The felt-ball car air fresheners are made from sustainably sourced, cruelty-free Nepalese felt and assembled by a local team in Burleigh Heads (and the name is gift-worthy enough on its own). The $20 packs include a set of reusable balls (which hang on your car mirror like a classic air freshener) and a 5ml fragrance, like coconut and lime, or fig and blackcurrant.
Logo enamel mug from House of Darwin
House of Darwin is a community-driven love letter to the Northern Territory. By gifting someone this croc-themed enamel mug, you're not only supporting the growth of their mug collection, you're helping social programs for remote Indigenous communities.
The Waste Knots from Jackfruit

Jackfruit is just one person, Charada Hawley, who makes everything by hand out of Mullumbimby. These are scrunchies made from off-cut fabric, adorably named Waste Knots. At $15 and with 13 colours available, someone in your world will be happy to wear their hair up.
Dancing Devil bag from Yes Buddy

Who wouldn't want a bag covered in naked dancing devils this Christmas? Yes Buddy specialises in reusable bags made from rPET (recycled polyethylene terephthalate), designed in collaboration with some of Australia's best artists, in this case multidisciplinary Melbourne artist Frances Cannon. Just $19 bag.

Under $50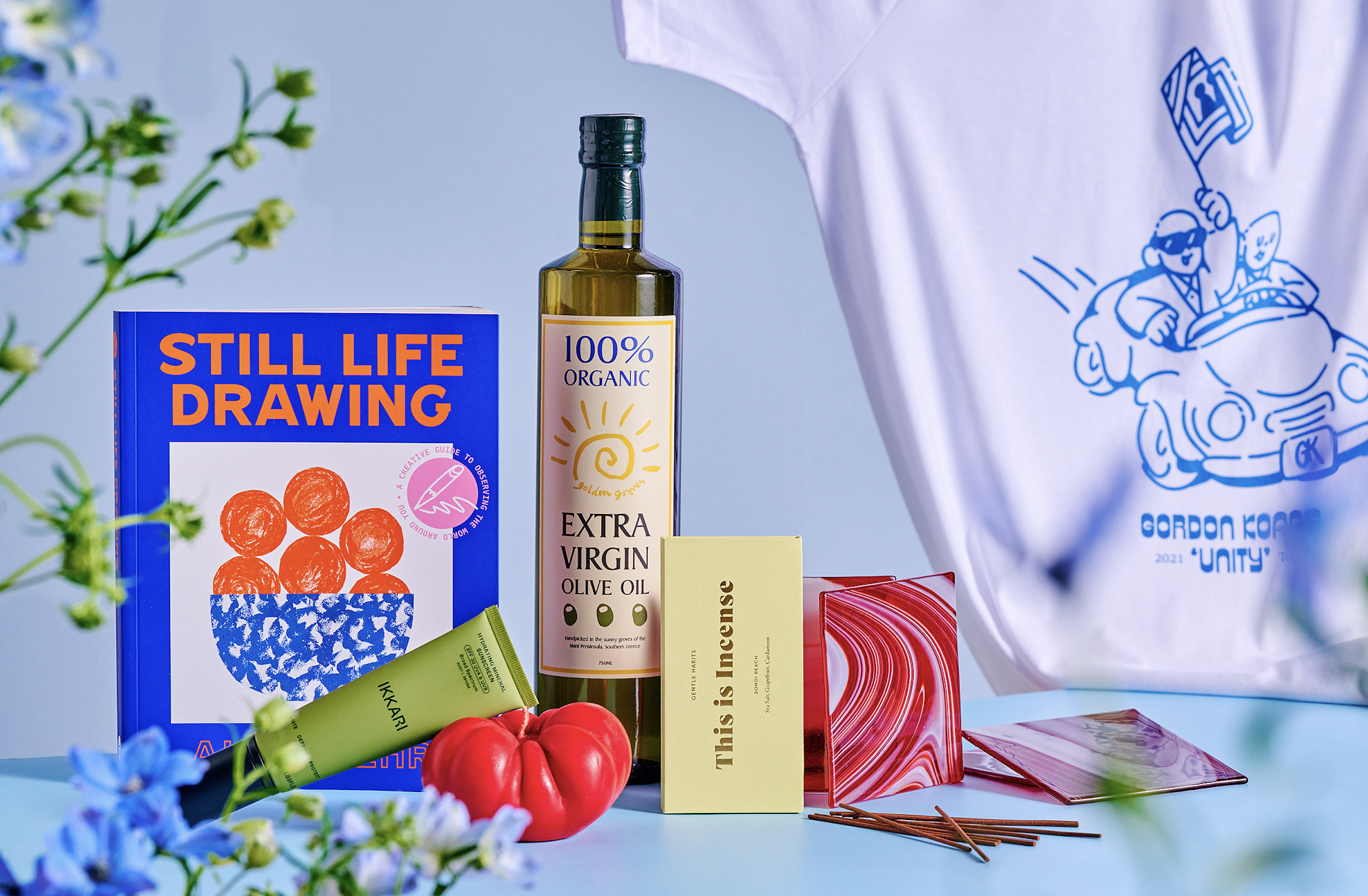 Still Life Drawing Book by Alice Oehr
If you've ever found yourself aimlessly doodling away during work, you'll know that drawing can be the ultimate form of relaxation. It's an easy way to keep your brain (and hands) occupied. This book is designed to give your drawing a little bit more guidance. There's no requirement to have any fancy equipment or even your own sketchbook – you can complete the exercises in the book itself. Retailing at $25, this is a great gift for someone looking to relax and unwind at the end of each day. Plus, each copy comes signed and with a card.
Sleep Calming Pillow Mist from The Body Shop
There's no worse feeling than tossing and turning in bed at night trying to get some shut eye. If you're looking for something to help you switch off, then this spray could be just what you need. Before you get tucked in and wind down for some shuteye, spritz your bed with The Body Shop's Sleep Calming Pillow Mist. It has a floral, aromatic, long-lasting scent that helps create a calm atmosphere and helps your switch off before bedtime. It retails for $35, comes in a recyclable bottle and is made from 90 per cent ingredients of natural origin.
This Is Incense (Bondi Beach) from Gentle Habits
Bring a delicate ocean breeze to someone in your life with this hand-dipped incense from Gentle Habits. Designed to evoke the seaside aromas of Bondi Beach, this $42, 60-pack of incense is scented with notes of grapefruit, cardamom and cedarwood. If it all sounds very calming, you'd be right – Gentle Habits asks us to slow down for the good of our mental health, and donates $1 from every sale to the Black Dog Institute.
Tomato candle from Nonna's Grocer
Gift this candle with a quick warning: it may look dead-on like an heirloom tomato (and Christmas is the season), but this isn't for eating. Sydney candle store Nonna's Grocer specialises in handmade, small-batch candles made to look like grocery store produce and, besides this $36 big tom, you'll find burrata, butter, chillies and more, all of which look good enough to eat.
Olive oil from Golden Groves
Golden Groves may be an Australian company but its olive oil is all about Greece. Made from native koroneiki olives on Greece's Mani peninsula, Golden Groves olive oil is premium quality (which you'd expect for $39 per 750ml); organic; unfiltered; and, with a robust, peppery flavour, an ideal gift for any food adventurer.
Raspberry Swirl coaster set from Fools Glass
Fools Glass is Eloise McCullough, a Melbourne-based designer making waves with some seriously cool handmade glass pieces. While McCullough's more substantial artworks will cost you a pretty penny, a set of glass coasters could be within reach. Hand-cut and handmade, this $38 set of four coasters comes in a fun raspberry swirl colour scheme that'll put a little fizz in someone's drink.
Hydrating mineral sunscreen from Ikkari
Christmas in Australia is an ideal time to receive a lovely sunscreen. This
$39, 50ml tube of SPF 30 from plastic-neutral business Ikkari is a few steps beyond the standard. It's imbued with hydrating, skin-loving botanicals like rosehip, safflower and cucumber.
Gordon Koang Unity Tour tee from Music in Exile
Australian record label Music in Exile supports refugee musicians by providing a platform for them to record, tour and share the music of their cultures. Sales from Music in Exile products – like this $30 tee from South Sudanese artist Gordon Koang – go back into helping support linguistically and culturally diverse musicians make their mark.

Under $100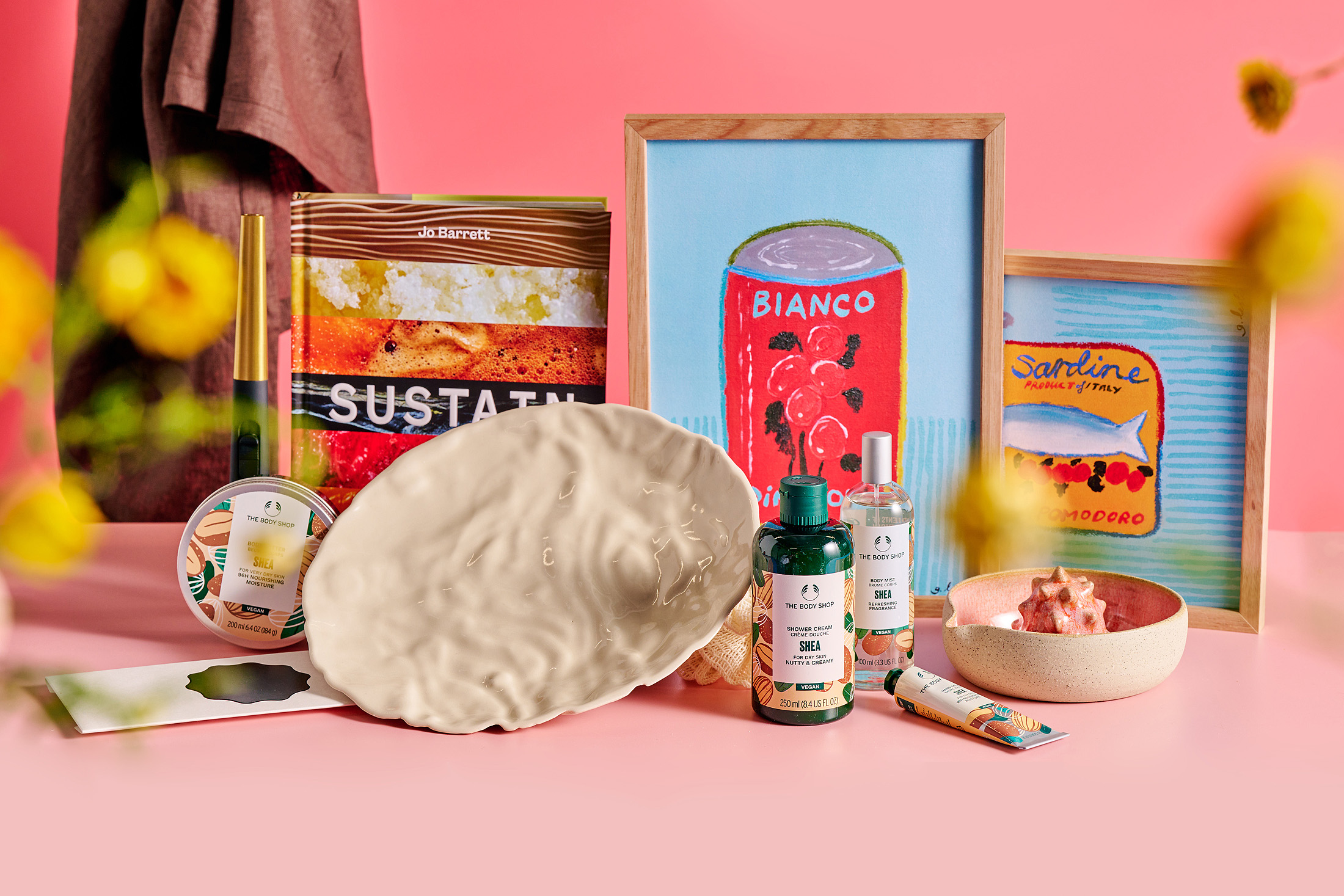 Nutty & Nourishing Shea Big Gift from The Body Shop
A perfect pampering all-rounder, this set from The Body Shop packs in plenty for $75. Included you'll find a lathering shower cream with ramie lily, silky body butter, hydrating hand balm and a spritzy body mist, all with the goodness of Ghanaian shea butter. A full package for anyone in need of a little luxury at home.
Tinned sardines by Gemma Leslie from Food For Everyone

Tinned sardines are a pantry staple worth celebrating, and this limited-edition print by Food For Everyone founder Gemma Leslie is the way to do it. Food For Everyone specialises in culinary posters and prints and, best of all, partners with local food charities. For this $75 print, they'll donate the equivalent of 10 meals to those in need.
Tidal Plate from Milly Dent
You'll always find a good Christmas gift where art and utility intersect. Such is the work of Sydney artist Milly Dent, who creates ceramic tableware in eye-catching styles. This stoneware clay Tidal Plate, valued at $80, is designed to match the undulations of the Sydney coastline. It's a serious dinner-party showpiece and bonus points – it's dishwasher safe.
Electric candle lighter from Flint
This $69 electric candle lighter from Flint works by arcing a high-voltage electrical current between two elements, giving you a more sustainable alternative to the gas-powered lighters of yore. Plus, it's USB chargeable, holds two hours of charge and should last you through many candles.
Sustain: Groundbreaking Recipes And Skills That Could Save The Planet from Hardie Grant

Chef Jo Barrett knows a thing or two about sustainable cooking. Drawing on knowledge gained from her time at Fed Square's groundbreaking, zero-waste Future Food System, Barrett presents more than 90 recipes built around sustainable kitchen skills like fermenting and preserving. She hopes to create a more purposeful, planet-conscious home cook.
Linen beach blanket from Hakea
Hakea is all about easy-going, versatile beachwear and accessories, and this linen beach blanket will make a perfect companion for someone's summer adventures. Valued at $90 and made from 100 per cent heavy-weight linen, these are endlessly usable beach blankets that'll get softer with age. The brand is plastic-free and donates one per cent of its annual sales to environmental causes.
Dino Juicer from Sono Studio
Fitzroy North ceramicist Abbey Mehrten left the media industry for the calm of clay. This handmade, $82 dino juicer is wheel-thrown in one piece with vicious-looking spikes added to terrify any citrus that comes its way. A rustic and functional piece that ought to suit anyone looking to squeeze a little more from their kitchen time.
$100 gift card from Broadsheet
It's all about choice with the Broadsheet gift card. It might be a chance to dine at that exciting new spot around the corner, a couple of pre-dinner cocktails, a lavish long lunch – whatever tickles your giftee's fancy. This versatile gift card can be used at just about any restaurant, bar or cafe around Australia.

Over $100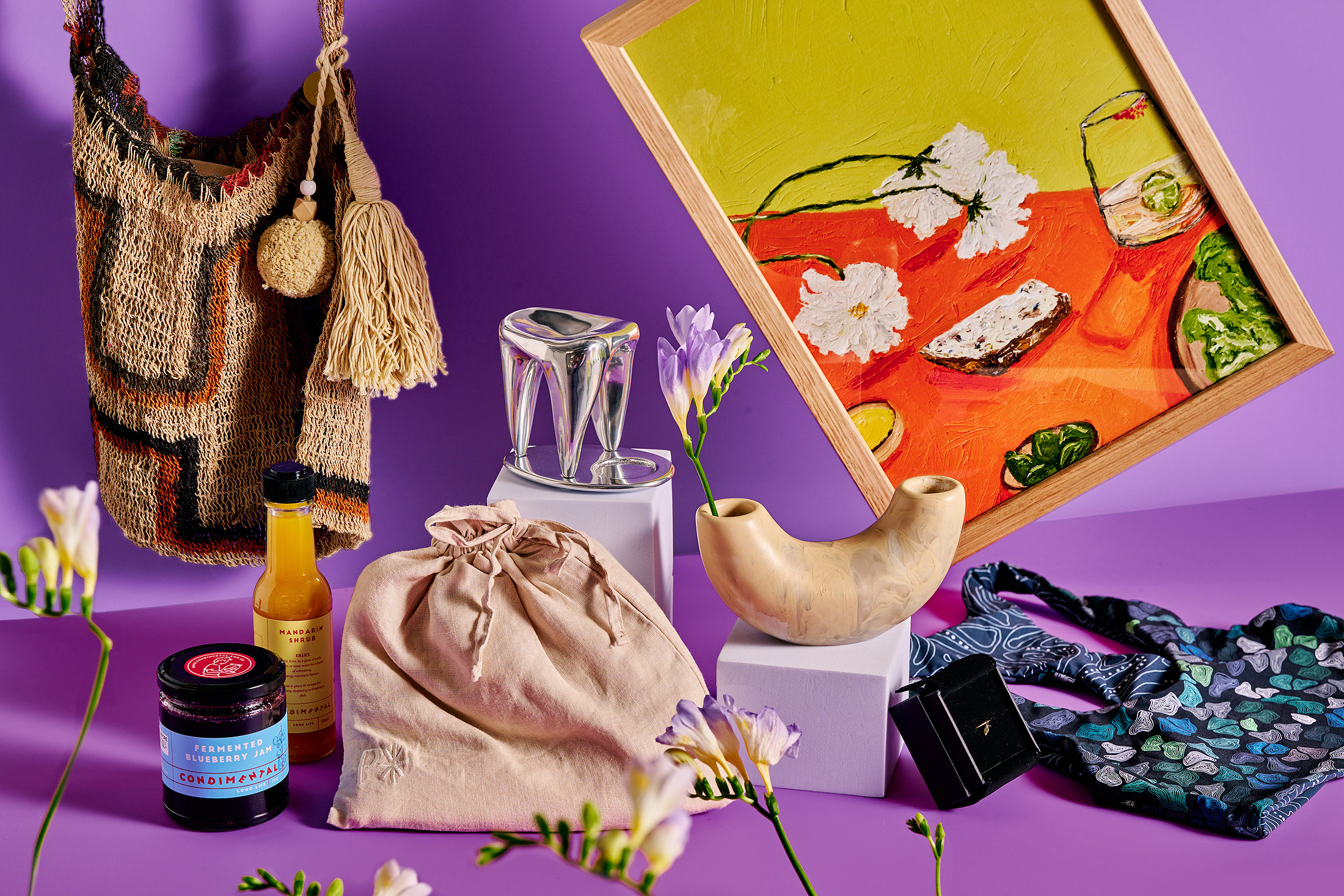 Oil burner from Tsu Lange Yor
From the mind of singer Troye Sivan and his older brother, Steele Mellet, Carlton's Tsu Lange Yor specialises in refined and emotional fragrances, and it starts with this hand-cast oil burner. Made from recycled aluminium and polished to a mirror-like finish, the $200 burner is a sculptural platform for Tsu Lange Yor's complex and evocative fragrance oils. Just place a tea candle under the burner and fill the room with aromas like sunblock, gazpacho and cold raspberries.
One-year condiment subscription from Condimental
Give someone a year of spiced-up sandwiches and flavour-filled barbeques, courtesy of sauce specialists Condimental. This $270 condiment subscription makes the most of end-of-season organic produce from local farmers and growers, with four seasonal boxes of goodies delivered every three months for a year, packed with all the pickles, jams, shrubs and relishes anyone could ask for.
Whale Ring from Sarah & Sebastian
The latest collection from Sydney studio Sarah & Sebastian, titled Blue Corridor, is inspired by whale migration along Australia's east coast. This 10-carat yellow-gold ring, valued at $220, evokes the moment when those whales emerge from the waves, represented here with a golden fluke. For every sale, Sarah & Sebastian will donate 20 per cent to the Australian Marine Conservation Society to help protect these giants of the sea.
Lunch Date print by Libby Haines
Melbourne artist Libby Haines depicts domestic scenes – particularly food and cooking. Haines uses water-soluble oil paints on recycled-cotton canvas to produce scenes like Lunch Date, an evocative image of a light meal, subtly detailed with a lipstick-stained glass and drooping flowers. All Haines's prints are limited editions with just 25 available.
Sheet set from Plantchester
It's the environmentally conscious fabric and design that set the Plantchester's bedding apart. The minimalist designs are made from organic hemp fibres (and often other fabrics like flax or bamboo). Besides being a versatile addition to the bedroom, they are also durable and fully compostable. These complete sheet sets, which retail at $229, include both flat and fitted sheets, pillowcases and wash bags, and come in colours like walnut-shell brown and oat latte.
Bilum bags from Among Equals
Among Equals sources its unique collection from artisan weavers in Papua New Guinea, aiming to shine a light on the ancient cultural practices of regions like Sepik and Telefomin. Each bilum bag – which takes around six weeks to make – is crafted from hand-rolled sisal and pandanus fibres and coloured with natural dyes. Each is a truly one-off piece.
Small Brunch vase from Dinosaur Designs
For more than 30 years, Dinosaur Designs co-founders Louise Olsen and Stephen Ormandy have been producing unique resin works like this abstract, sculptural small Brunch vase, valued at $150. Each resin piece – which comes in a spectrum of colours – is made with a by-product leftover from the oil industry, a key part of Dinosaur Designs' focus on sustainability.
Swim set from Liandra Swim

Luxury swimwear brand Liandra Swim specialises in reversible pieces that celebrate and support remote Indigenous culture and creators. This top-and-bottom set with a hand-drawn sea floor and topography print is made from plastic bottles and fishing nets. It's an ideal way to usher in the summer swim season for someone special in your life.
Win the entire gift guide
This competition is open to Australian residents over 18 years old. Entries close at 12 pm on Wednesday January 3 2024. The winner will be announced on Wednesday January 10, 2024. Terms and conditions apply.

This article is produced by Broadsheet in partnership with The Body Shop.
The Prize Pack includes Love Obus sport socks from Obus ($12), Shea body butter from The Body Shop ($11), Carry On stain remover from Dirt ($7.50), The flag pin from Clothing the Gaps ($15), Banh mi magnet from Billy Justice Thomson ($8), Travel tin candles from Bon Lux ($12), Dinner candle set from Pinky's ($12), Loose leaf tea from Love Tea ($15), Four Pillars gin chocolate from Hunted & Gathered ($7.50), Shea body butter from The Body Shop ($11), Bath Brew from Addition Studio ($19.99), Sticky Chai Blend from The Chai Villain ($22), Car air freshener from Smelly Balls ($20), Logo enamel mug from House of Darwin ($15), The Waste Knots from Jackfruit ($15), Dancing Devil bag from Yes Buddy ($15), Almond Milk Hand & Lip Duo from The Body Shop ($20), This Is Incense (Bondi Beach) from Gentle Habits ($42), Sleep Calming Pillow Mist from The Body Shop ($35), Tomato candle from Nonna's Grocer ($36), Olive oil from Golden Groves ($39), Set of Raspberry Swirl coaster set from Fools Glass ($38), Hydrating mineral sunscreen from Ikkari ($39), Gordon Koang Unity Tour tee from Music in Exile ($30), Tinned sardines by Gemma Leslie from Food For Everyone ($75), Tidal Plate from Milly Dent ($80), Electric candle lighter from Flint ($90), Sustain: Groundbreaking Recipes And Skills That Could Save The Planet from Hardie Grant ($55), Linen beach blanket from Hakea ($90), Dino Juicer from Sono Studio ($82), $100 gift card from Broadsheet ($100), Nutty & Nourishing Shea Big Gift from The Body Shop ($75), Oil burner from Tsu Lange Yor ($290), One-year condiment subscription from Condimental ($270), Whale Ring from Sarah & Sebastian ($220), Lunch Date print by Libby Haines ($125), Sheet set from Plantchester ($299), Bilum bags from Among Equals ($280), Small Brunch vase from Dinosaur Designs ($150), Two-piece swim set from Liandra Swim ($189)