It was when Peaches instructed the Auslan interpreter to sign "rimming" that I felt my Mona Foma kicking in.
On a balmy Friday night in nipaluna/Hobart, the Canadian performer born Merrill Nisker vamped through a super fun set of janky beats, X-rated singalongs and trash-metal riffs on the Mona lawns. As Peaches's coterie of barely-clad genderless band members spilled themselves all over the stage, a confused lad behind me wondered, "What the fuck's goin' on 'ere?" Wearing, at times, either a "Thank god for abortion" tee, a costume of five hairy breasts or virtually nothing, Peaches answered in song: "Shake your dick."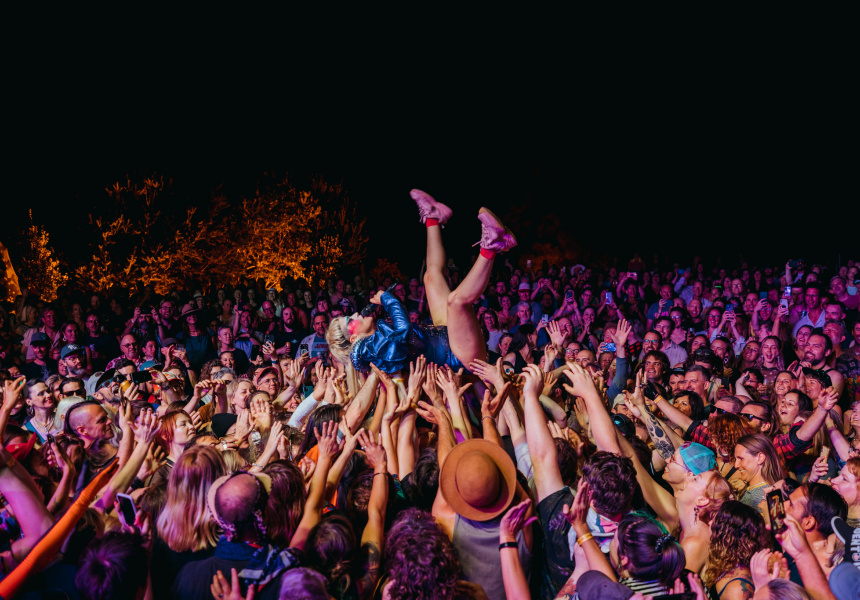 Peaches
Save 20% when you buy two or more Broadsheet books. Order now to make sure they arrive in time for Christmas.
SHOP NOW
Fatherfucker, Pussy Mask and the club-ready Vaginoplasty (which saw Peaches explain she could use her woolly green merkin to discuss with her half-naked drummer's "butthole" who was being most "nasty") whizzed by in a sweaty tsunami of mic farts, crowd-surfing, a giant inflatable penis and our Auslan interpreter being dragged centre stage to tackle signing for "jizz", "peg" and "felch" during a closing 15-minute cover of Celine Dion's power ballad It's All Coming Back to Me Now. Loads of fun, compromising sensibilities and wrecking this website's SEO remain hilariously hot-baked into the Peaches pie.
This year's Hobart edition of Mona Foma felt a lot like a great four-day music festival. From the NSFW fleshy frippery of Peaches, to indie-rock royalties in Pavement and Angel Olsen, to the still-scalding Bikini Kill on Sunday night sounding more relevant than ever. But when the annual summer event positions itself as "a festival of art, music and other stuff," with "no permanent home", the daily trek out to the Mona lawns to esentially spend each evening watching North American bands bordered on perfunctory. Even if each was great.
The surrounding cast did the heavy lifting. On Thursday following a serene Welcome to Country, Songs for Freedom, guided by Ngarluma and Yinjibarndi Elders, saw songwriters from the Pilbara town of Roebourne and surrounds sing out front of a band of local musicians, family and friends in tribute to the family of John Pat, an Indigenous 16-year-old who in 1983 was beaten by WA police and died in custody. No convictions were made and Pat remains a symbol of injustice – a thread that lived on here through the booming baritone of Mutti Mutti man Kutcha Edwards's stirring We Sing, Fred Ryan's country-flecked Songs of Freedom, and the stark message from Leanne McLean, Tasmania's commissioner for children and young people, that, to this day, kids as young as 10 in Australia continue to be routinely arrested and detained – most of them Aboriginal.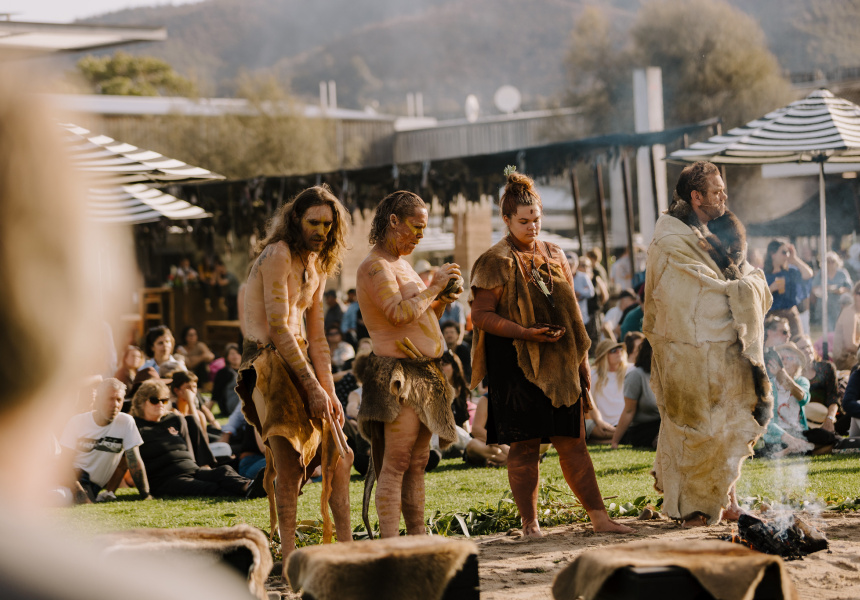 Lighter highlights of Mona Foma's musical undercard included the gentle drones of Shoeb Ahmad shimmering through the Friday afternoon heat; watching drummer Chloe Kim inch towards her goal of 100 hours of performance across the festival; Malian singer and guitarist Vieux Farka Touré shaking hips with his trio's effortlessly complex desert blues; and the titanic-voiced Angel Olsen holding off the gold-backed rain clouds on Saturday evening with a dramatic set of lonesome odes and wiry Americana.
Downstairs in the bowels of the museum, producer and composer Chris Townsend talked me through Mona's latest build, Frying Pan studio – a lush new music recording space overlooking the River Derwent and housing an ancient mixing console once used by The Beatles. "Yes, it's a professional studio but we want it to be available to the community," explained Townsend as a singer tracks vocals in the main room. "We're not trying to make number one albums. We just want to facilitate art to happen."
Art was happening at and around Mona Foma – it just felt less obvious than in recent years. Perhaps that's post-pandemic jitters, or some truth to the rumour a fair chunk of the festival's arts budget was spent on the festival's three-day stint in Launceston the previous weekend.
A trek to the CBD helped balance the account. At at Good Grief gallery on Argyle Street, Andy Hutson's Choc Lamp Ladder, made from PVC pipe, LED lamps and chocolate, paused reality for a moment, so too the window signage of Tasmanian Moulding and Casting Supplies just up the road, which in low light could pass for a Jess Johnson installation. Further north, the Contemporary Art Tasmania gallery group show Last Messages jovially detailed "artists envisioning 'blackened utopias'; existential threats both faced and future; and the general idea of apocalypses." Evidence included local Joey Gracia's Title TBC, a fridge plastered with magnetic lettering spelling out the Unabomber manifesto (Gracia cleaned out the state's Officeworks supplies to make it, apparently); Mexican artist Ziero Muko's unsettling kitschy blotter art, and – my favourite – Adelaide artist Ray Harris's video piece, Ritual For a Failed Self (Golden Domes), which saw a shaky figure under a blue sheet shakily trying to light a candle on its head, smoke a cigarette and wring meaning from its comedically ritual.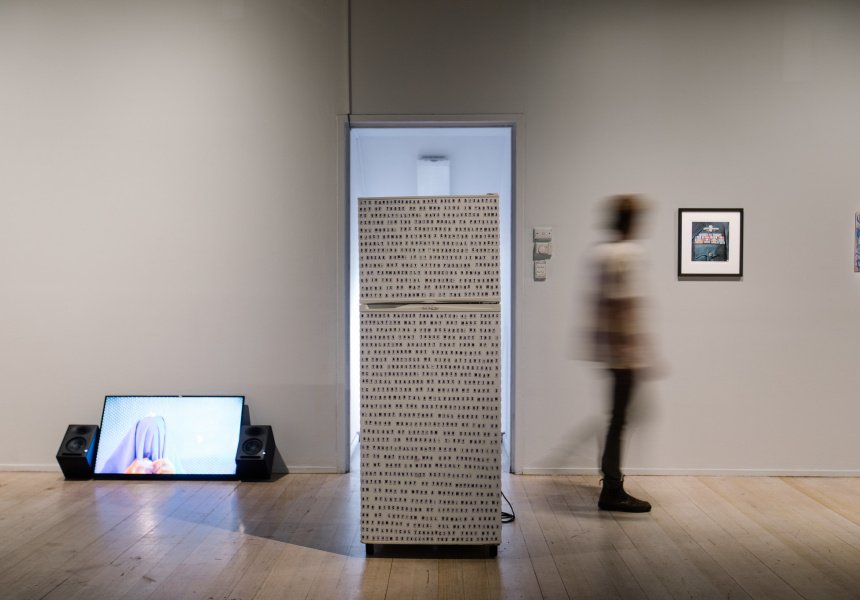 Last Messages
Back at Mona the high-camp Queer Woodchopping Championship was on-brand, shifted from an afternoon slot to early evening on account of it being too hot. MCs Hera Fox and Rose Kingdom-Barron kept the puns about hard wood and axe lube coming, as sparkly performers mimed lines from the camp classic flick Mommie Dearest and chopped actual wood. The engrossing scene meant I arrived late downstairs to Amber McCartney's Baby Girl – a tremendous error. Alongside discarded prosthetics, the Melbourne-based dancer juddered her body in quirks and spasms across the Nolan Gallery floor, finding a common ground between slapstick and body horror. Designed as a meditation on "emptying the body of familiarity in order to refill it with someone or something disturbingly otherworldly", what I caught was exactly that – McCartney's character purging itself, getting wrapped in a tent and then emerging as a sultry new figure, free of its panicked past life.
Compared to all that, Pavement's drizzly Saturday slot of graceful, tangled guitars felt elegant as hell. As someone who came of age with indie rock, I was struck how Pavement sounded just like all my friends' bands – because vice-versa. Beyond the wriggly tunes and cascading hooks, Pavement's fun comes from the tension between reserved singer and central guitar genius Stephen Malkmus, and the bands' stalking agent of chaos, percussionist and singer Bob Nastanovich. Each stokes the restlessness of tonight's expanded six-piece – dynamics fizz then fire, Malkmus plinks when the band punks, songs build to knots that each member tugs in their own direction until drummer Steve West undoes the tempo and collapses it all into murmured apologies and secret tunings. I.e, perfect indie rock.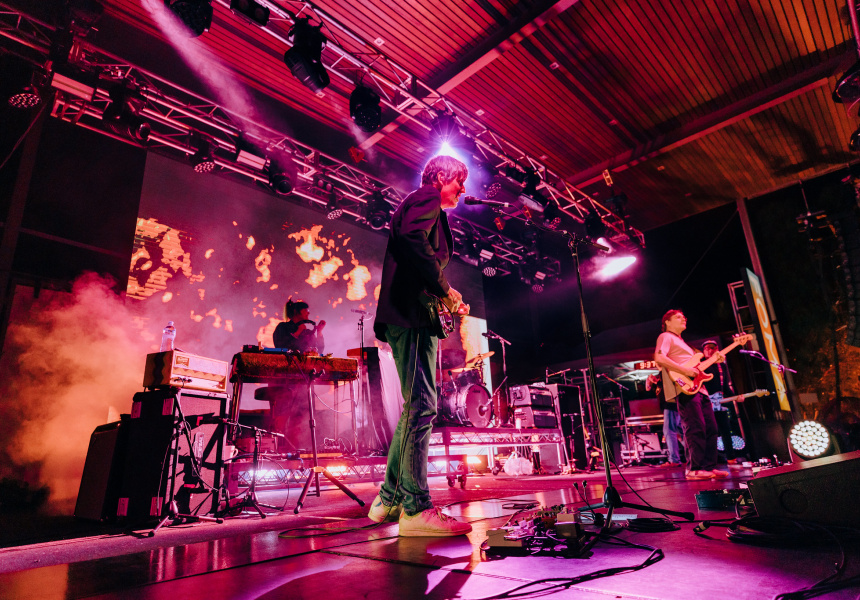 Pavement
Speaking of knotty elegance: Sunday was bookended by two unreal moments by New York composer and artist in residence Nico Muhly. An early afternoon show with the Tasmanian Symphony Orchestra at The Odeon featured Veronique Serret on electric violin, countertenor Nicholas Tolputt on vox, and the exact headspace to be emotionally invested in the harp. Just three hours later at the Ian Potter Centre, Muhly's guidance of 41 white-clad choral singers concluded with a piece written during the performance based on a phrase about adolescence written by 17th-century English poet John Milton. Watching Muhly emerge from his office and teach the singers the score in real time was almost as moving as the aching sound of his gently unspooling creation that hadn't existed when we walked in. Milton's been dead for 350 years but the secret video I took on my phone will stay in with me forever.
On the flipside, The Party. Previously Faux Mo, the rinky-dink delight of past Mona Foma parties was shunted aside for three nights of pounding techno hammering the walls of a warehouse under the Old Mercury Building. And not a whole lot more. Where once you could crawl through wheelie bins, find a rare white coin or perhaps glimpse a ship appearing from the gloom at Faux Mo, this year's party was content to be a straight-up rave cave. Some folksy corners of tarot reading suggested alternate fortunes, but the only spot you could truly crossover was on a second-storey landing perched between The Party's three main rooms. There you could merge with a brutal sonic soup constructed from the pounding downstairs dancefloor, heaving upstairs techno den and shrieks of Taylor Swift's Love Story belting from the karaoke stage around the way.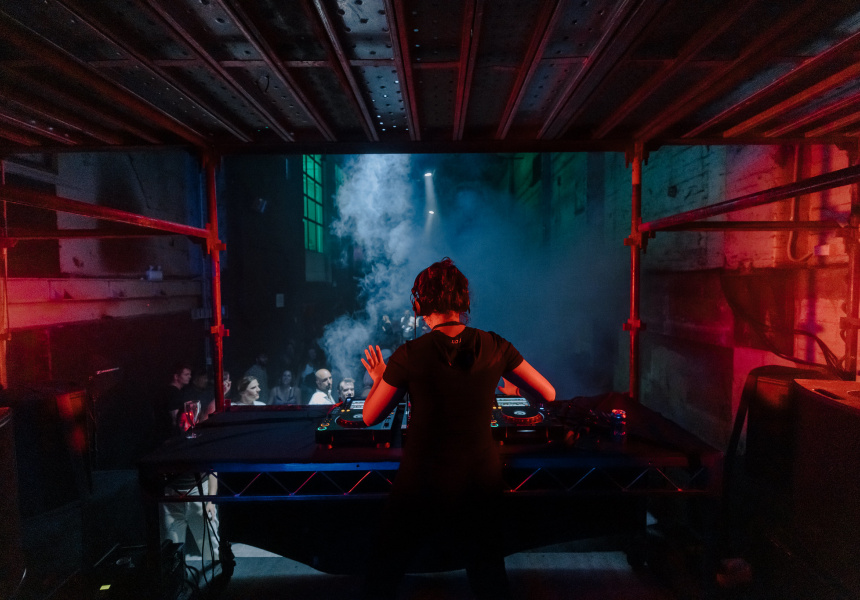 The Party
I had an excellent time at Mona Foma this year. I saw rabbits frolicking through the museum's vineyard in the evening twilight, I rated the faux duck tofu burger, and I loved pretty much all the music. But I left wanting for this "art and other stuff". Maybe that's just the high bar the festival set for itself over the past 15 years. Maybe that's glossing over Mona itself already being the reliable elephant in the room, that you can put bands on its roof and job done. Maybe it's just me not clicking with some of the auxiliary shows, like the sleepy film noir opera, A Deep Black Sleep, the plucked and scraped 50 minutes of piano in Primordial, Mona's heady current exhibition Oceans of Air by Tomás Saraceno, or the abstract artworks of Jessie French in the Michael Bugelli Gallery, which were made using algae-based bioplastic, but left me interested in the ideas, not the art.
That longing for a specific Mona Foma glue is all petty grievances when bouncing to Pavement or ace London DJ Bradley Zero, marvelling at a mixing desk used by The Beatles, or being educated by the queer woodchop gossip zine that sawdust is just "man glitter". Easy to forget. Sitting on the tarmac as my flight boarded, one satisfied traveller's new Peaches T-shirt came wandering up the aisle blaring a hopeful mantra: FUCK THE PAIN AWAY.
Marcus Teague travelled to Hobart as a guest of Mona Foma.