What do you do when the festival you've built on the virtues of surprise, chance and a little danger has to straighten out? Become Covid-safe? Socially distanced?
If the Hobart incarnation of Mona Foma was any indication, you take it easy. Let things unfurl. Wander a bit. A playful wistfulness has always been true to the annual summer event, which now stretches between Launceston and Hobart over two consecutive weekends, but this year felt decidedly less shock and awe (for the most part), more delight and dally. But still, there were lasers. It's Mona.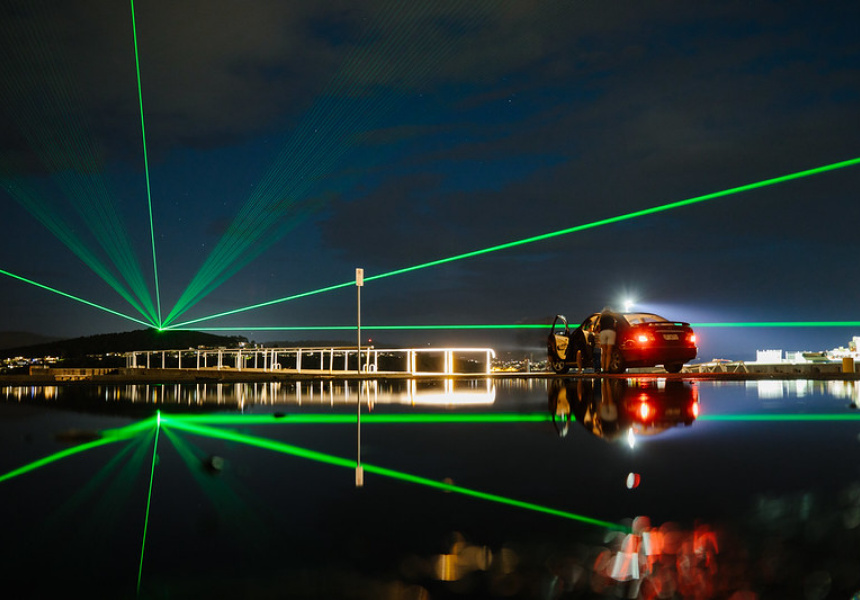 Beacon - Robin Fox
Save 20% when you buy two or more Broadsheet books. Order now to make sure they arrive in time for Christmas.
SHOP NOW
Mona Foma arrived in Hobart on a gloriously sunny last weekend in January. With headline names in Midnight Oil, the Necks and Frenzal Rhomb (a dissonant replacement for NZ band the Chills) leading the musical line-up, the bill was bolstered by a typically freewheeling slate of immersive artworks, experimental in-situ performances, and local lights laced with a handful of internationals who could actually make it into the country.
As a post-lockdown Melburnian, I felt among them. It was a rude joy just to touch down in Hobart, ride the ferry to Mona in Berriedale, descend the steps and have musician Ben Salter hand me a plastic Midi-guitar and insist I play in front of an audience while he pressed record.
Entombed in Mona for months on end in a makeshift studio on display to the public, Salter writes, records, plays video games, thinks, mucks around and does whatever he feels like down there every day. Then at 3pm he turns to whoever's watching (or not) and plays some songs – maybe something fresh from the afternoon, maybe one pulled from his vast collection of solo LPs and records made with The Gin Club, Giants of Science, Wilson Pickers and more. Today that saw Salter opening his excellent, spooky set to the gilded lounge with the unreleased track Untitled betraying his potential interior purgatory: "I got a taste for the underworld and left my home / a motherless child without a mobile phone / and the name of the person that wrote this / is Ben Salter."
Dragging myself off the carpet, I went upstairs for three rice paper rolls and a set on the Mona lawns from arguably the best Australian rock band of all time. And since Midnight Oil were in town to kick off what they're saying is their last ever tour, I went and stood up the front for the hell of it – easy to do when the Covid-friendly capacity for shows here were hovering around 1200. With the exception of bass player Adam Ventoura, who recently replaced longstanding bassist Bones Hillman following his passing in late 2020, each member of Midnight Oil is in their sixties. Now let the record show they fucking ripped.
Tearing through a career-spanning set of bangers balanced with gentler tracks from 2020's The Makarrata Project and upcoming album Resist, the band kicked off old-school with Brave Faces from 1981 landmark Place Without a Postcard. Backing singers Leah Flanagan and Liz Stringer took care of the absent Hillman's sweet vocals, and with showboating drummer Rob Hirst hammering his kit between glue-guy guitarists Martin Rotsey and Jim Moginie, it was evident the band's signature sizzle hadn't lost a step.
An iconic frontman made entirely of sinew helps. Through Back on the Borderline, Put Down That Weapon and Truganini, the ever-nervy Peter Garrett's yowling vowels, staccato dancing and dramatic fingersnaps were in full flight, even at 68. As were his politics – injecting Scott Morrison's ultra-dumb "I don't a hold a hose" quote into Only the Strong; highlighting the activism of Grace Tame prior to In the Valley ("Maybe you can't judge the moment in history too much, but you get the feeling there may be a turning point"); a dig at "big fat bogan" Clive Palmer; and gratitude to the environmental campaigners and First Nations people of nipaluna, before bolting into Forgotten Years and Hercules. All these years on, the Oils remain essential viewing.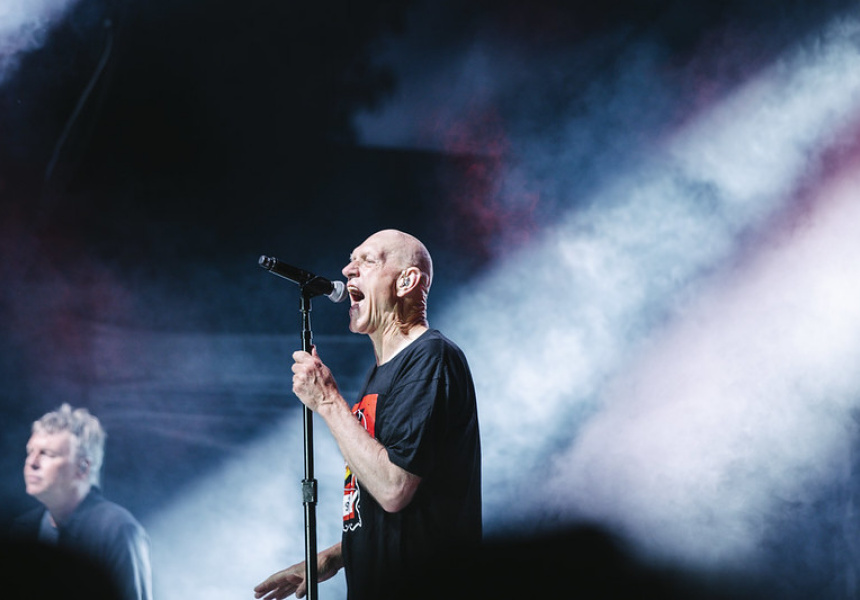 Peter Garrett, Midnight Oil
I didn't want to miss the festival's late-night party Faux Mo. So I left the museum during the last song and jumped in a cab. History won't be kind to that decision. Two hours later, I wandered out of Faux Mo unsure if the party ever started.
Socially distanced parties are an oxymoron. Despite incantations to "Have a great party!" by our host drag queens upon entering the foggy neon inside City Hall, the event leaned more fizzer than a firecracker. Yes, half-naked dancers writhed under silver columns to growling techno; a naked singer in blue paint shook his bits about in front of a metal band; a line of taiko drummers fired away under a video of a naked woman urinating in a field; and – at one point – Tasmanian senator Jacqui Lambie appeared on screen to offer a prerecorded message to remind us of the local homeless population, but also to have fun.
Which it was. But with just 150 patrons allowed through the doors at a time, entry was forcibly staggered across the night in hourly increments. The rub came when, just an hour in, we were ushered upstairs onto the mezzanine to sit and watch the next batch of partygoers hit the dance floor we'd just left behind. Seeing the night reset like that – the dancers reclothe, the DJ dial it back down to the start, the hosts perform the same welcome – felt like watching a comedian rehash their set.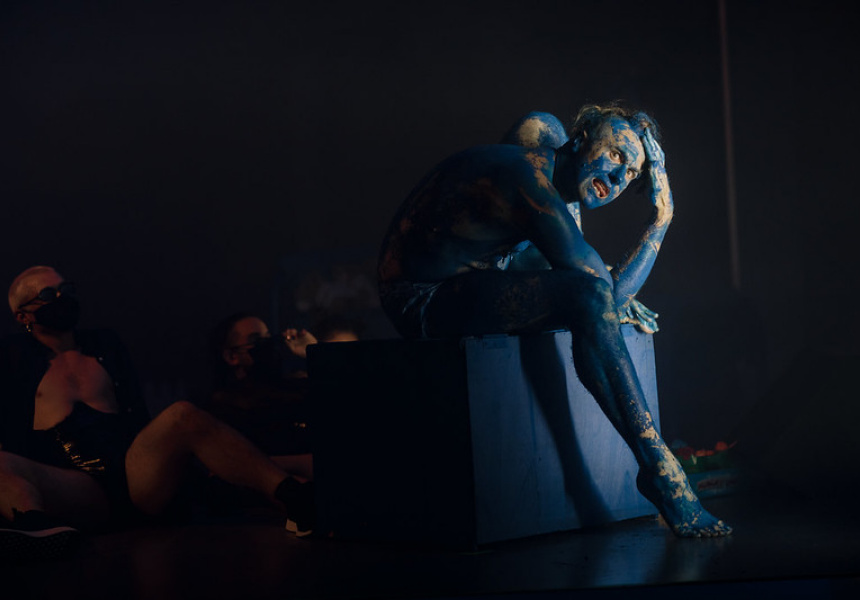 Faux Mo
Was it better than not happening at all? Undoubtedly. But when much more packed dance-floor parties were freely thumping around town into the wee hours at venues away from the festival, some ticketholders felt the grift.
Uncharacteristically, the restraint was of course intentional.
"The precarity of Tasmania's Covid-19 and border situation placed many obstacles in the paths of organisers, artists, production and the audience itself," said the festival's artistic director Brian Ritchie in a statement following the festival. "Still, Mona Foma 2022 emerged victorious with attendance exceeding expectations and targets. This can be ascribed to the spacious outdoor and indoor venues combined with controlled capacities, leading to a comfortable feeling at the events. Thanks to the people of Tasmania and visitors for getting into the spirit of a new kind of festival experience."
Come Saturday morning the bleariness of an early wake-up call was quickly pulled into focus on a media-arranged bus trip up the Midland Highway to see prominent Trawlwoolway artist Julie Gough's work, The Missing. Comprising four large black metal silhouettes, each 3.2 metres high, the work depicted scenes inspired by the 1830s government propaganda known as Governor Arthur's Proclamation to the Aborigines. These images were originally designed to suggest violence to the then Aboriginal and colonial populations would not be tolerated. But it was in fact "part of a campaign after the fact by colonial leadership to cover up the rapidity and illegality of the near annihilation of the original landholders", says Gough.
The artist's four new constructions could be – and will continue to be – seen in the hills by any traveller driving between Launceston and Hobart, joining 16 existing colonial silhouettes to provide a more truthful account of the island's history of invasion. Which, as curator Trudi Brinckman explained, continues to haunt a modern landscape of unceded farmland, European trees, introduced livestock, and unmarked sites of atrocities against Aboriginal people. And also, of course, meaning this road, this festival, this bus and us.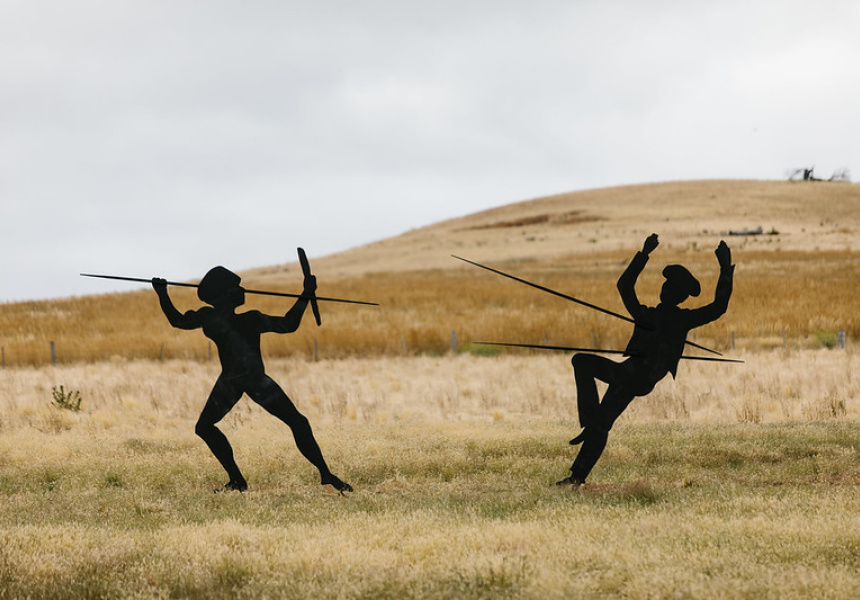 The Missing - Julie Gough
Arriving back in Hobart with a grim new lens on the surrounding landscape, slighter works slid by. Inside the Hobart Town Hall a cacophony of noise was traced to Organ Donor, a work by DJ TR!P and Scot Cotterell that saw more than 40 '70s-style organs packed shoulder-to-shoulder and played by whoever wandered in. The accumulated effect was drones at maximum volume, but a hint of bossa nova. Quieter was Time No Longer by Anri Sala, an enormous computer-generated video work inside a shed that "celebrated two musical moments of loss and humanity from history": the creation of Olivier Messiaen's Quartet for the End of Time, apparently written and first performed in a POW camp during the Second World War; and the story of Ronald McNair, a black astronaut and saxophonist who planned to perform and record the first original piece of music in space aboard the Space Shuttle Challenger – which exploded seconds after take-off. Heavy stuff. I thought the scene looked mainly like a record player floating in space, which was also nice.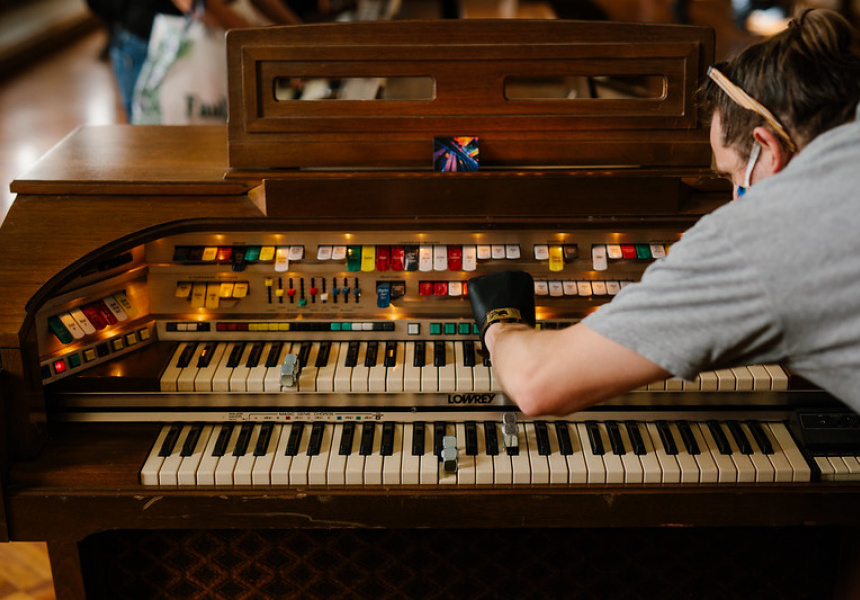 Organ Donor - DJ TR!P and Scot Cotterell
That evening celestial, improvisational jazz trio the Necks slipped under the scrim of rational thought to find music in the dappled twilight of the Mona lawn. As the sun fell behind the mountains and the temperature dipped, a growing section of sound had drummer Tony Buck lightly flicking his cymbals over Lloyd Swanston's bass moaning low alongside Chris Abrahams's achingly pretty piano. Then a blue light came on, the bass groaned louder and it felt like night had begun falling. The Necks: they make music for minor shifts in the weather. For some, at least: as Swanston took off on one dreamy solo, a guy behind told his mates how very funny it had been to lose his phone under his own pillow last night.
Those mates disappeared the second UK director Mark Jenkin's black-and-white movie Bait flickered onto the outdoor screen. With a live soundtrack by Cornish-Welsh musician Gwenno Saunders and ACT-based artist Sia Ahmad, the film about a Cornish fishing community struggling with gentrification sounds slight on paper. But the understated set-up gives way to a powerfully tender, crisply stylised character study that is lent a deep beauty by Saunders and Ahmad's ghostly snatches of songs and found sounds. An unexpectedly moving highlight.
Sunday morning saw an easing of intentions, but escalation of endurance. From the improvisational collective Fflora – which focuses on creating space for women, femme and non-binary artists – leading a seven-hour jam session, to an all-day synth soundtrack being "played" by electrical impulses harnessed from an array of fungi in a box, Sunday was for wandering. Some of which blossomed into revelations.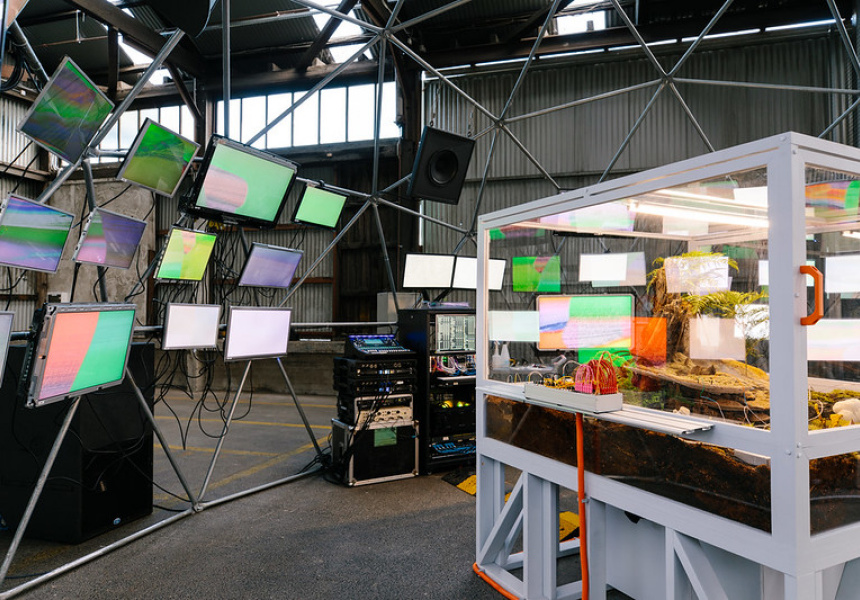 The Mush Room, Mona Foma x EPØKHE + The Glue Society
All Day Breakfast, a collaboration between Terrapin Puppet Theatre and composer Dylan Sheridan, was billed simply as a chance to "watch as the most important meal of the day –a fully cooked breakfast, including coffee – prepared entirely by a pair of metal poles poked through a wall." That's exactly what happened in a bare room inside the Old Mercury Building. What surprised was how quickly the clumsy-looking poles toiling at their seemingly impossible task elicited empathy. "Nup, won't work like that," one audience member began narrating as the poles attempted to remove an egg from its container. Though a performer was clearly working hard behind the wall, the audience rooted for the poles. "Two are better than one. Here comes the help." When the egg was finally lowered into a saucepan and lifted onto a cooker, everyone clapped. I stayed for over an hour, unwilling to break the spell.
A beer in the gorgeous Hobart sunshine did it. Then local singer-songwriter Christopher Coleman and band played a set of stirring, earnest tunes in the picture book surrounds of Salamanca Arts Centre. Coleman wears his heart on his sleeve, and with an excellent garage band and keening voice that casts his bone-dry observations profound, it helps heave his tunes towards something special. Especially when the band gathered steam behind new songs Paloona, Amelia and Jesse, all from his forthcoming album The Great Tasmanian Escape. Two on-point covers – Open Fire, by the band's recently departed drummer Mike Noga, who passed away in 2020, and Stages of Love, by his father John Coleman – underscored the deep familial pull of this music's appeal, that something sharp and true might be happening here.
Frenzal Rhomb has the same approach. "This song's about how fucked my school reunion was," announced frontman Jay Whalley midway through the Sydney punks' headline set to a full crowd on the Mona lawns on Sunday night. "It's called Fuck My School Reunion." And so it was.
The blazing trio behind Whalley barrelled through a greatest hits set sharp as a tack, but still – you kind of just want them to pause just so they can be hilarious. Before 1996 deep cut Here Today Gone Late Today, guitarist Lindsay McDougall pointed to David Walsh's museum in the distance and said, "That sarcophagus in there is a babe in the woods compared to this song." During Never Had So Much Fun, McDougall's guitar lead came out, which resulted in Whalley chiding him as he tried to fix it mid-song: "Oh no. I introduced you before this song and everything. Where are you going to come back in? On the solo?" And the band's so tight they do, and it sounds like it always meant to. "What are we doing now?" said Whalley looking at the set list after. "Apart from kill time for the next 20 minutes?" They launched into another belter.
As Ritchie said, it may have been a new kind of festival experience with more of a "comfortable feeling at events", but they did it – they pulled it off. Mona Foma again proved a golden, gentle escape hatch from the world.