Oh, grey portaloos. Plastic cups, blinking LEDs and flapping festival signage. How I yearned for thee.
The 2021 Mona Foma festival – held on consecutive weekends, first in Launceston (January 15 to 17), then Hobart (January 22 to 24) – was always going to be different. Largely because it was one of the few festivals actually going ahead in the midst of a global pandemic.
Over the first weekend in Launceston, some concessions were evident. Capacities were reduced, events were mostly held outdoors and the majority of artists were locals. Sadly, there were no bacchanalian parties – at least not on the official program. But the core tenets of the festival remained as when established in 2008: challenging art, excellent gigs, weird stuff to look at and an invitation to commune with strangers. The specifics this year really didn't matter – the joy came in having anything at all to embrace.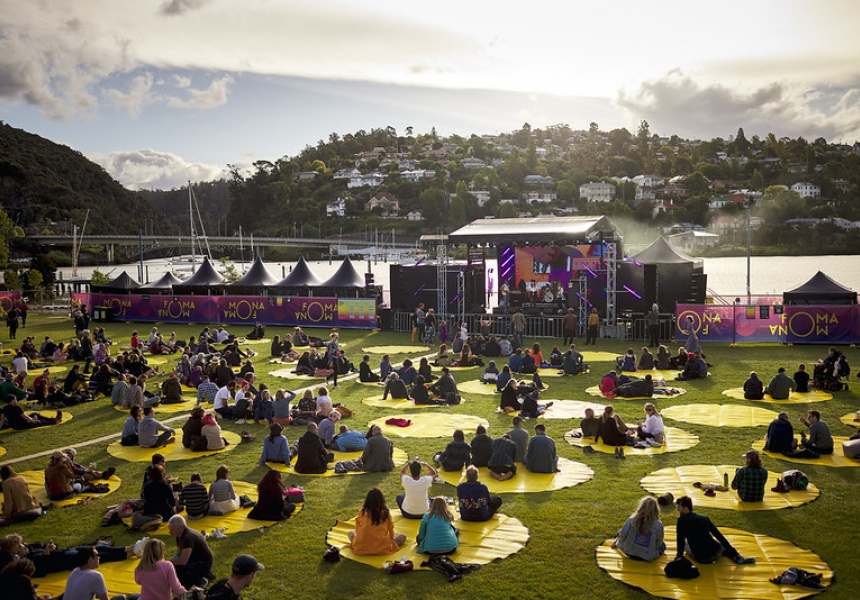 Plenty of attractions delivered anyway. Cruising over the lush Cataract Gorge in a chairlift on a sunny Saturday morning, listening to random pings of ambient sound trill from speakers attached to each seat as part of Chairway to Heaven, bordered on the sublime. So too was the Kiribati Choir, a makeshift gang of Covid-stranded fruit pickers from the small Pacific island of the same name, who sang gorgeous choral folk songs at a handful of pop-up moments. And at Mofo Sessions in Royal Park on Sunday night, when thrilling Hobart art-punk trio All the Weathers inspired hundreds to jump from their designated Covid-safe yellow mats and rush the stage to dance, I finally felt the callus of 2020 begin to soften.
It took some trying. With no masks evident outside the airport, only vague signs of social distancing, and handshakes and hugs freely on offer, Launceston seemed an alternate disease-free universe. Whether traipsing through Robin Fox's wild laser show each night at the gorge or just the aisles of Coles looking for muesli, this Melburnian could never shake it. The sheer normalcy of the city was disarming. Over my four days there, it made me realise the size of my grief for our old lives. I could've just sat on that chairlift all weekend and called the whole thing a triumph.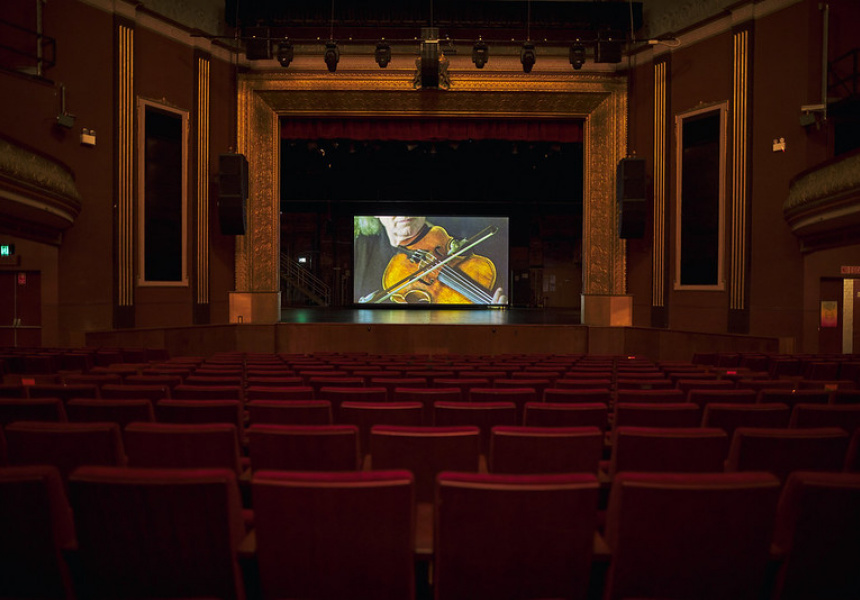 Anri Sala - If and Only If
Instead, on Friday morning I stood in an empty Princess Theatre to watch a video of a snail clinging to a violinist's bow mid-performance. Anri Sala's If and Only If was the stressful first of two clips that made up Listen Deeply. Along with Annika Kahrs's Infra Voice, which juxtaposed a performer plucking and scraping an octobass against a giraffe walking around a zoo, the show explored the concept of "humans duetting with non-human creatures". Neither shook me as much as just standing on stage looking out at the grand, now long unused theatre.
It took All Expenses Paid by local youth dance collective Stompin to snap me out of it. Thirty or so performers transformed an upper level of the Paterson Street car park with an hour of sometimes moving, sometimes sketchy dance that oscillated between the amateur community theatre group they clearly are and striking contemporary movement. Riffing on the idea of overconsumption in fashion, po-faced dancers in beige uniforms lolled to mournful synths, until two vans arrived to unload boisterous coloured clothing. With each dancer donning suddenly complicated outfits, the thing splintered into some truly compelling solo performances. At its finale the pile of clothes turned sentient and smothered them all (we get it, fashion consumes us too) but the piece worked wonders without the lecture. Still, by 9pm it was so brisk on the concrete on level three I would have welcomed the closest discarded chiffon.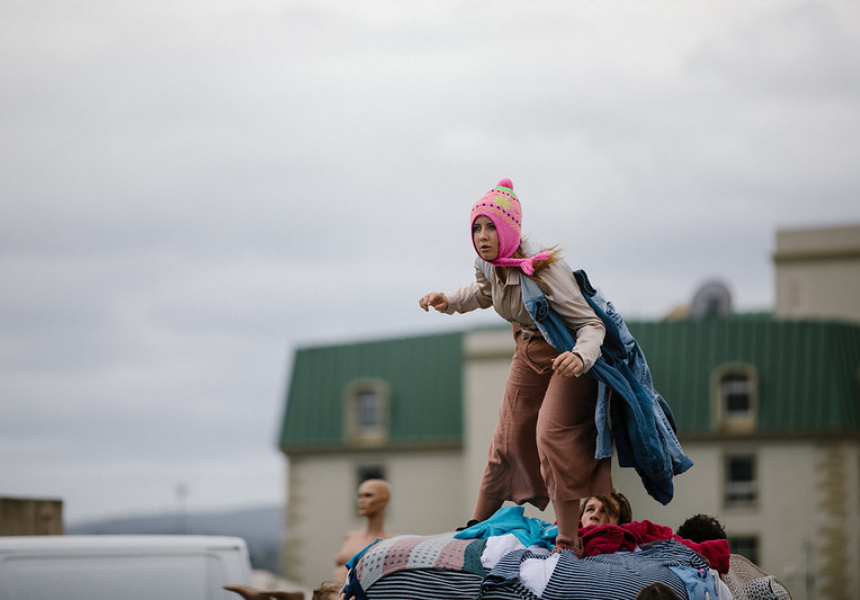 Stompin - All Expenses Paid
Leaving the venue and hearing the rumble of Luca Brasi playing in the distance – the first of three nights of gigs at Royal Park – triggered a deep pang of nostalgia for being in the vicinity of a live band. The last I'd heard the distant thud of a large PA was at Golden Plains, in early March 2020.
But I had also missed lasers. Into the blackness of Cataract Gorge that night we walked to see Mona's resident laser-whiz Robin Fox send a tessellated constellation of beams zooming around jagged quarry into washes of water jets, all set to music. With the public sprawled on the lawns and clambering around the rocks and play equipment, Fox's Aqua Luma felt like a rave – except we were only hearing sub-frequencies (the music's details could be played off an online app). As midnight got closer and the lasers more brazen, one punter braved the 9.6-degree temperature and went for a dip in the gorge's swimming pool.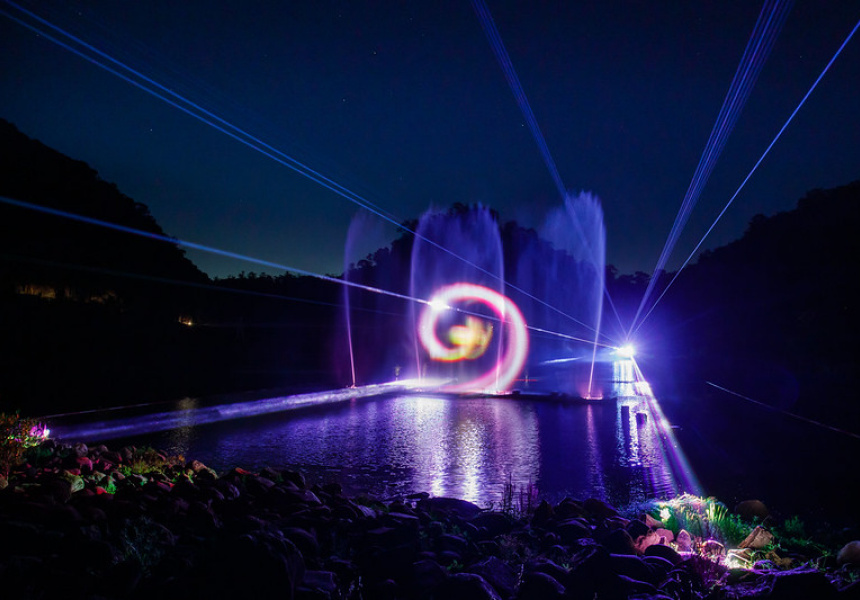 Robin Fox - Aqua Luma
The next morning I returned to the scene of the crime for a sit down on Chairway to Heaven. A work by Rachael Kim, Katerina Stathis and Mads Davey, it matched the quiet whir of chairlift cables with a clever assortment of ambient sounds blooping from speakers attached to each of its chairs. As a respite from the world, it was genuinely awesome. Tootling through the chasm, some 21 metres off the ground – above the water, distant peacocks and soft green glades – the gently orchestrated piece gave the dreamy setting some hypnotic emotional tinge.
Mona Foma has always been a breezier affair than Dark Mofo. But post-pandemic – and without international headliners causing bottlenecks – it ran on charm more than ever. It was fun to wander around the city seeing what you might bump into, be it the Instrument Builders project at QVMAG, where artists Richie Cyngler, Julia Drouhin, Dylan Sheridan and Pip Stafford clattered on random objects – for a while I watched Drouhin and Sheridan bat a contact mic over a hissing PA speaker with badminton rackets – or a performance at the City Baptist Church, where pianist Michael Kieran Harvey and trumpeter Scott Tinkler improvised guttural organ groans and sibilant bursts of brass for a rapt congregation. I tried to make Lawrence English's Clocca and its promise of "echoes with periodic sounds emanating from the ether" in Brisbane Street Mall, but all I got was a distant whine as I bolted past Cotton On. Another triumph.
That Saturday night, Glenn Richards – longtime Hobart resident and frontman of beloved mainlanders Augie March – soothed nerves with a set that ignored his great recent solo record Fibatty! in favour of stark versions of his band's staples.
Opening with Augie March's Here Comes the Night, Train, and the ever-eerie The Slant (set in Hobart, FYI), Richards's set oscillated between skeletal laments and the good banter to buffer them. "I know what you're thinking," he said after his opening trio of aches. "Bring it down, too many bangers. And in case you're wondering what I'm saying, it's the opposite." It was the icebreaker. As he launched into Cold Acre, the several-hundred-strong crowd surged forward and huddled in front of the stage for a night of good heartache and humour both. "Look," pointed the guy next to me, as two mirrored Glenn Richards leaned into themselves on the video screen during There Is No Such Place. "They're trying to make him kiss himself. Get a room Glenns."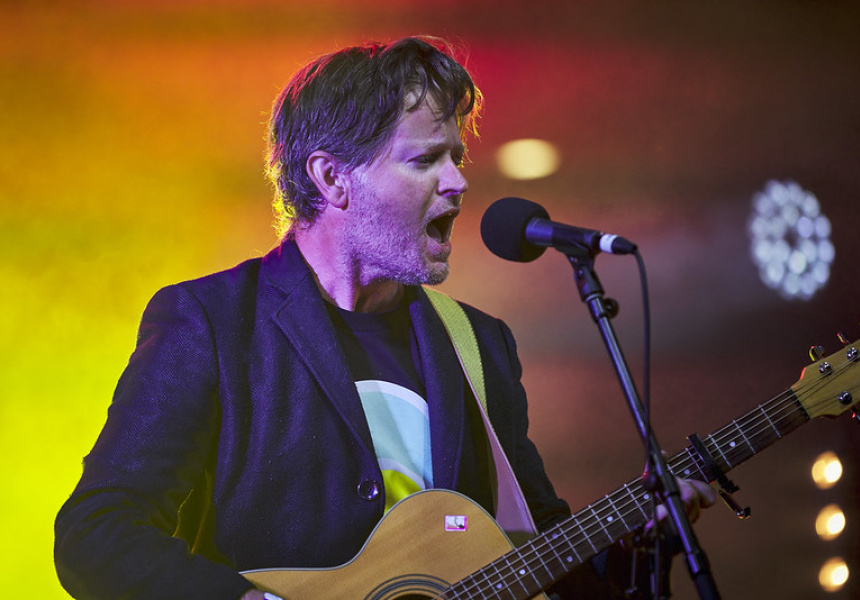 Glenn Richards - Mofo Sessions
Sunday morning I raced across town just in time to be taken offline by Self, a solo immersive experience that wouldn't be out of place at Mona itself. Just as the museum's Unseen Seen is an enjoyable but intensely personal challenge (and obvious reference point for Self), artist Harry Holcombe-James's trick with Self was needing just 10 minutes to impart the unsettling sensation of meeting yourself as if an other. It was a weirdly touching, melancholic feeling that stayed long after I put my shoes back on at the top of the stairs on the way out. I won't spoil it beyond saying it consists of a short film, music, a lie down and flashing lights. Claustrophobes and people who hate themselves should stay away.
That solitude receded as I launched into the bright Launceston sun and razorblade wind for the Acoustic Life of Boatsheds tour. An initiative of the socially conscious arts community Big Hart, the experience began with a boat carrying a dozen singing Pacific Islanders trundled into view from a bridge over the Tamar River. As the Kiribati Choir receded downstream, we walked en masse to four more in-situ performances, each of which riffed on the river system. First the mournful Fflora thrumming double-bass and vibraphone up the back of a small boatshed, before we boarded another boat and drifted ourselves up the muddy Tamar as performers Yyan and Emily played homemade instruments of eel skin and kelp.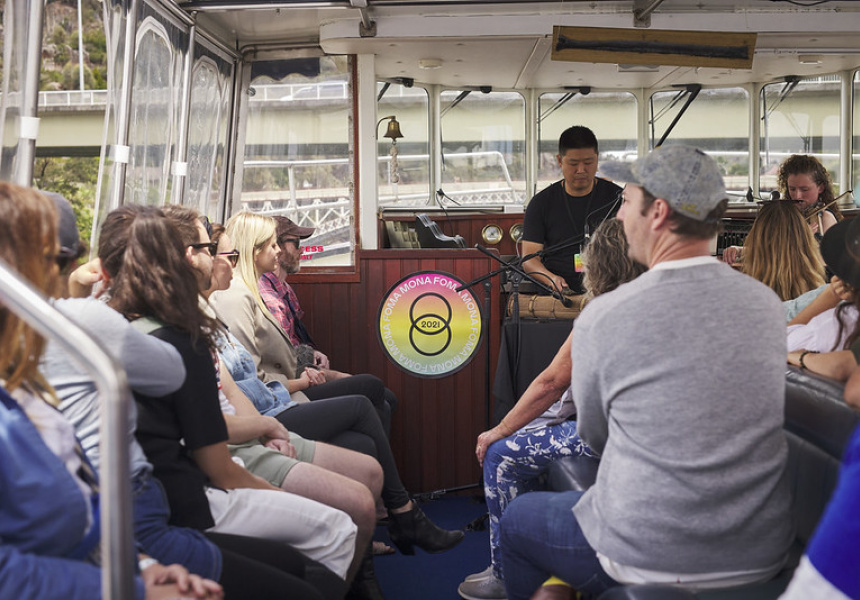 Yyan and Emily - Acoustic Life of Boatsheds
Back on land in the bowels of the North Esk Rowing Club, electronic trio Earth-Tones pulled off some sort of Flume-with-a-saxophone situation – the latter handled by the excellent Oyinbra Enisuoh. At a windswept rotunda on the banks of the Tamar, local songwriter Zac Henderson and band teamed up with two actual boatbuilders, who loudly whacked things, threw wood shavings at us, ran loops of noise and made the kind of grotesque, violent sounds that likely ricocheted here long before delay pedals were invented.
At 5pm, in the waning sun, I took a cab up over the hills of Launceston to the Paringa Archery range. There I was fitted with a wrist guard, arrow and high-powered bow, and quietly asked to wander off and try to not kill anyone. After Erika Eiffel, by Hobart-based performance artist Loren Kronemyer, explores the relationship between humans and inanimate objects – it's named after Erika Eiffel, a world-championship archer who is also a high-profile "objectum sexual" (someone who has romantic and/or sexual feelings for inanimate objects – she famously married the Eiffel tower). That was all cool pretext for Kronemyer, who in pink costume and flanked by several archery "angels", escorted us through bushland as we shot arrows into targets that read: "your fingertips suspended, you narrow one eye, the string on your lips, bodies entwined" and "this physical experience connects you to a conjoined memory that runs thousands of generations deep".
Maybe it was the prompts but it was exhilarating how quickly I did feel some affinity with my weapon. Afterwards, with the course was complete and us chatting in the clubhouse over an icy glass of limoncello, I decided Kronemyer's diamond choker, which spelled S-I-C-K-O, was not to be laboured over.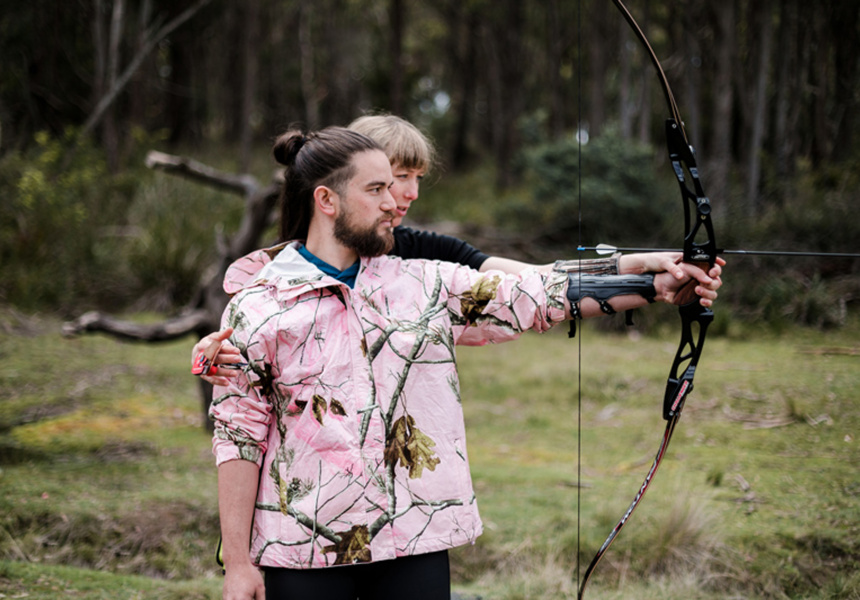 Loren Kronemyer - After Erika Eiffel
Maybe it was the fight-or-flight response I'd just nudged on the archery course, but that night's mighty cohort of excellent loud bands closing out the festival inspired some sort of weepy elation. After Ma and Pa Ubu, the lummox-like creations of Terrapin Puppet Theatre, gently chided the crowd for its art-snob leanings, True Champions of Breakfast's bluesy garage-punk and shouty mechanic's poetry ("Push on / like I said mate / you're too big to be a fucken jockey") set them on their toes with a mixture of give-a-fuck bravado and barely concealed contempt ("Go back to your nine-to-five you maggots").
Beaming trio All the Weathers turned that spirit loose and into an all-out, grinning art-rock party. But only after multi-instrumentalist and charismatic scene-chewer Georgia Lucy was earlier reprimanded by security for going full anti-establishment and dancing on the grass (a Covid-related restriction). It resulted in Mona owner David Walsh and festival curator Brian Ritchie having a stern talking to a security guard. Now on stage, Lucy was ripe for the spoils. "Come on, we can have 250 people dancing," she yelled three songs in. "They can't do that on the mainland." As the nation sat, we each leapt up and the party was on.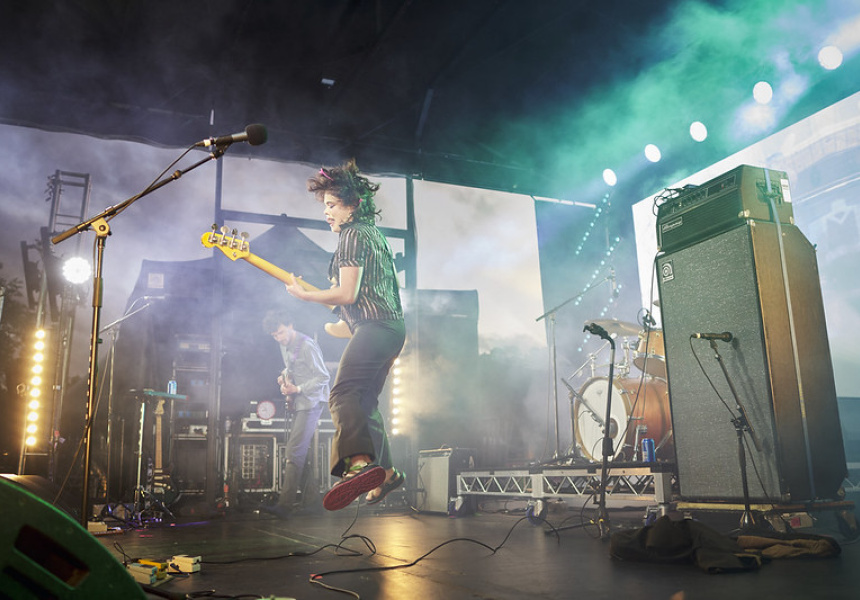 All the Weathers - Mofo Sessions
The Native Cats brought it home with a bitcrushed shiver of white noise run through spare post-punk thuds, Chloe Alison Escott and Julian Teakle adding a stoic, neon-drenched dissonance to the cold wind now blowing in off the Tamar. That came via gurning new songs My Risks Is Art and Vivian Left Me, the latter suggesting some new brute grandeur to their catalogue, but also just in immortal lines like "there were parts of my personality that were too shit-hot to hide".
After art's long absence in 2020, my four days in Launceston were restorative to an almost embarrassing degree. But Mona Foma 2021 didn't just succeed by existing in a post-pandemic landscape. It proved there's enough spark in our own backyards – its own backyard – to carry the whole thing. Yes, event capacities were reduced. But all were sold out and waitlists were long. If national travel restrictions were nil, they would have been longer. Anyway: those pesky international names often just get in the way. If Mona Foma was a litmus test for celebrations of local-only art for a while, here's the takeaway: bring it on.
Mona Foma 2021 continues this weekend in Hobart.