The prelude
I think I've slept a total of 10 hours over the last three nights. I'm exhausted. My head aches. I'm thirsty all the time. Parts of my body I didn't know could throb, now throb.
And I'm on a bus with 43 other people, which is not ideal for someone in my position. None of the others look any better than I feel.
We barely speak as the bus careens back to the city. It was a Golden Plains for the ages, but it's time to insert ourselves back into the real world.
And that world, as I discover when I get a mobile signal again, is rapidly changing. It's Monday March 9 and coronavirus is all over the news.
At home, I wash the glitter off and am in bed by 7pm, looking forward to waking up feeling normal. I sleep for 12 hours.
The symptoms
Two days later – Wednesday – and little has changed. I still can't get all the glitter out. But I also still feel like I've been hit by a trolley full of toilet paper (something heavier would be more accurate but less timely).
With the added bonus of a dry cough, a runny nose and feverish dreams, it's reading like something straight out of the Covid-19 playbook.
I worry, but only a little bit. My mum's worried.
News emerges of a confirmed case at Golden Plains.
Our publisher texts me and tells me people back in the office are worried too, so I make the call to get tested.
Actually, I make several calls. To hospitals, to GPs and back again. A different hospital. A dedicated hotline that leaves me on hold for hours. I enlist friends to call more GPs. Nobody will see me. These are dead ends more suited to a coronavirus-themed escape room than a national health crisis.
I finally get through to the nurse-on-call hotline. I relay my symptoms, my recent trip to Tokyo. I'm told it's probably a cold but to wait a day, see how I feel.
She tells me there are two possible next steps: if my symptoms stay the same or get better, then I'll be practising social distancing for two weeks. Among other things, that means no touching (never been a fan though, really). But I can go to work, see friends and catch public transport.
If my symptoms get worse I'll need to get tested. And until I get my results I can't go to work, take public transport or Uber or go to the gym. And no popping down to the shops for a croissant or a bottle of wine.
I wonder how long I can survive on the contents of my fridge, the bulk of which is whipped fish roe.
Thursday: I'm worse.
I call The Alfred and get through straight away. The woman who answers checks I have the right symptoms and circumstances to be screened, reassures me it's probably a cold, but says I fit the criteria to be screened. She says not to go to emergency. I'm to look for signs to the coronavirus screening clinic.
It sounds like wait times aren't too crazy, so I book a GoGet for the next morning then pass out.
The test
Friday. I hit the road. On the way I wonder, groggily, if I should be driving.
I arrive, find a park, get out of the car and put on my mask, which I bought online during the bushfire leg of the current apocalypse. It took two weeks to arrive. When it did, I was surprised to see it had quite a raunchy black-velvet finish.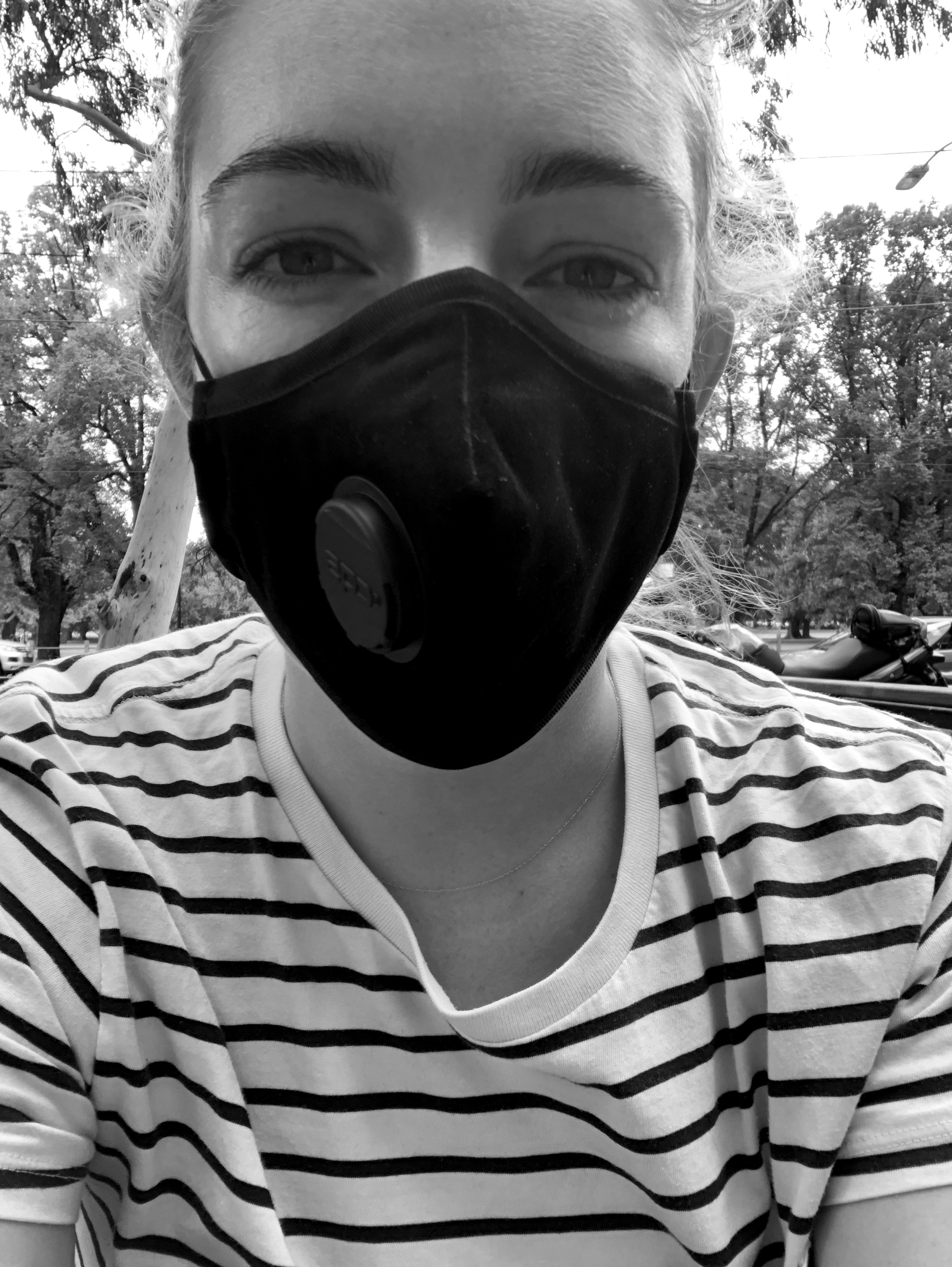 A woman driving past stops her car in the middle of the road and asks where I got it. It's my first face-to-face interaction in three days. "eBay," I croak.
The parking machine is broken and I wonder if it's charity from the council, or if the inspectors – on the frontlines after all – have taken a collective hit.
When I find the line there are about 20 people in it, and it's all far less dramatic than some sensationalist news stories would have you believe. Maybe 10 wear masks. None as saucy as mine.
It's tense though. I ask where the line ends and while one woman explains the testing team is taking a break and we make small talk, another pipes up and tells me to get behind her. She gives side-eye as I walk by, and I wonder if she's jealous of my fancy mask, afraid I'll infect her, or a little of both.
The whole process is over in about 15 minutes. A security guard calmly waves each person in the line along, and one-by-one we walk through the doors of the makeshift clinic.
Inside, the room is separated in two by dividers that reach almost to the ceiling. On my side there's a row of five desks, each one manned by a medical staffer with a computer and a lurid yellow clinical waste bin to the side.
Almost everything is covered in thick black plastic, and almost everyone (with the exception of Side-Eye) has a mask on.
At the entrance, I'm asked to stand on a gaffer-taped square on the floor – a safe one-metre distance from the nurse – and sanitise my hands.
"Oh, you already have a mask, great." She seems impressed. I beam proudly, but nobody can tell.
It's my turn. I'm sent to chair number four. Then another nurse points to chair five. I'm confused. I freeze. Shit. I don't want to stuff this up.
"All good love, choose either," the nurse says. The staff are all incredibly calm and relaxed. It's us sniffling outsiders, picturing ourselves as patient zero at our respective workplaces and homes and schools, who are quietly panicking.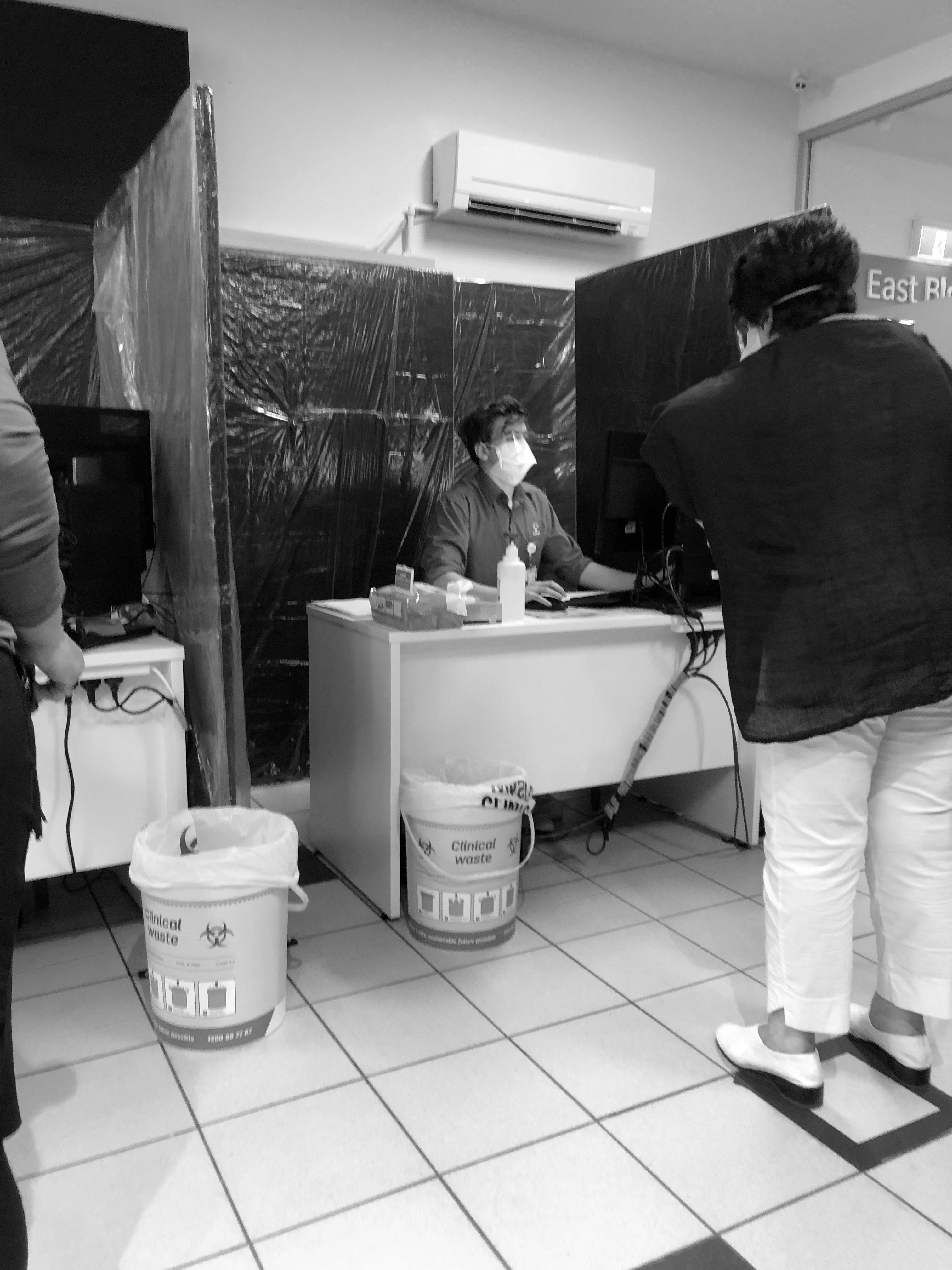 I stand on another gaffer-taped square and give my name, address and date of birth to someone at a computer. It takes a few goes as I'm the mandatory metre away from them, and the velvet mask, it turns out, has mild sound-proofing abilities.
They don't ask about symptoms or travel history here, so I'm quickly corralled into one of 10 little booths on the other side of the room and handed a small kit for a self-swab.
The instructions are on a poster stuck to the wall in my booth. There are two swabs: one to swivel around inside your nose and another to stick down your throat.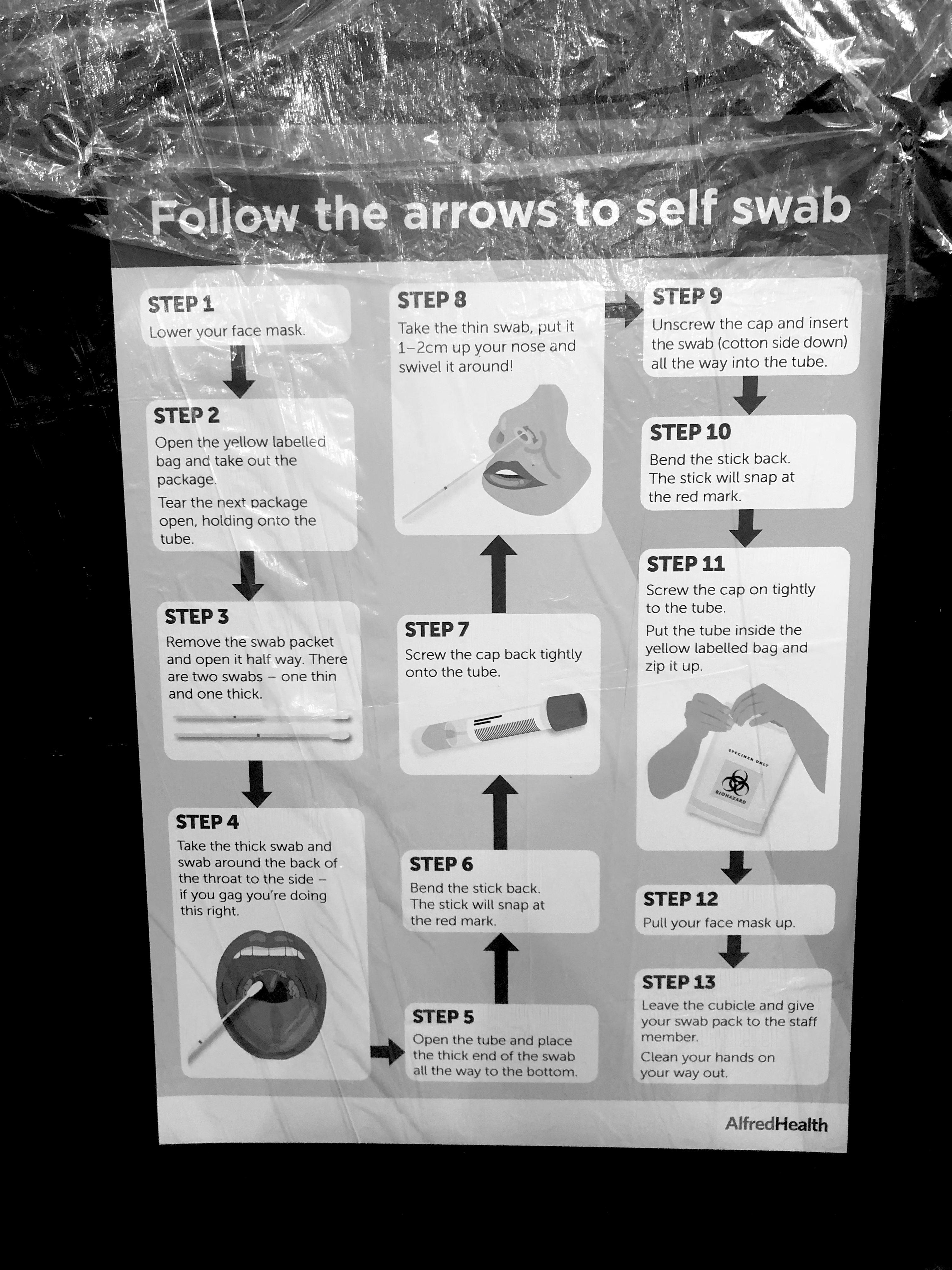 "If you gag you're doing this right," the poster reads. I can't see anyone around to appreciate an immature joke, so I post it to Instagram instead.
I hand in my swab kit, get an info pack and head home. I'm told I'll hear back in three to five days. If the test is negative, I'll get a text. If it's positive it'll be a call (because in 2020, we ration out phone calls for only the direst of situations, such as break-ups and contesting overseas data roaming charges).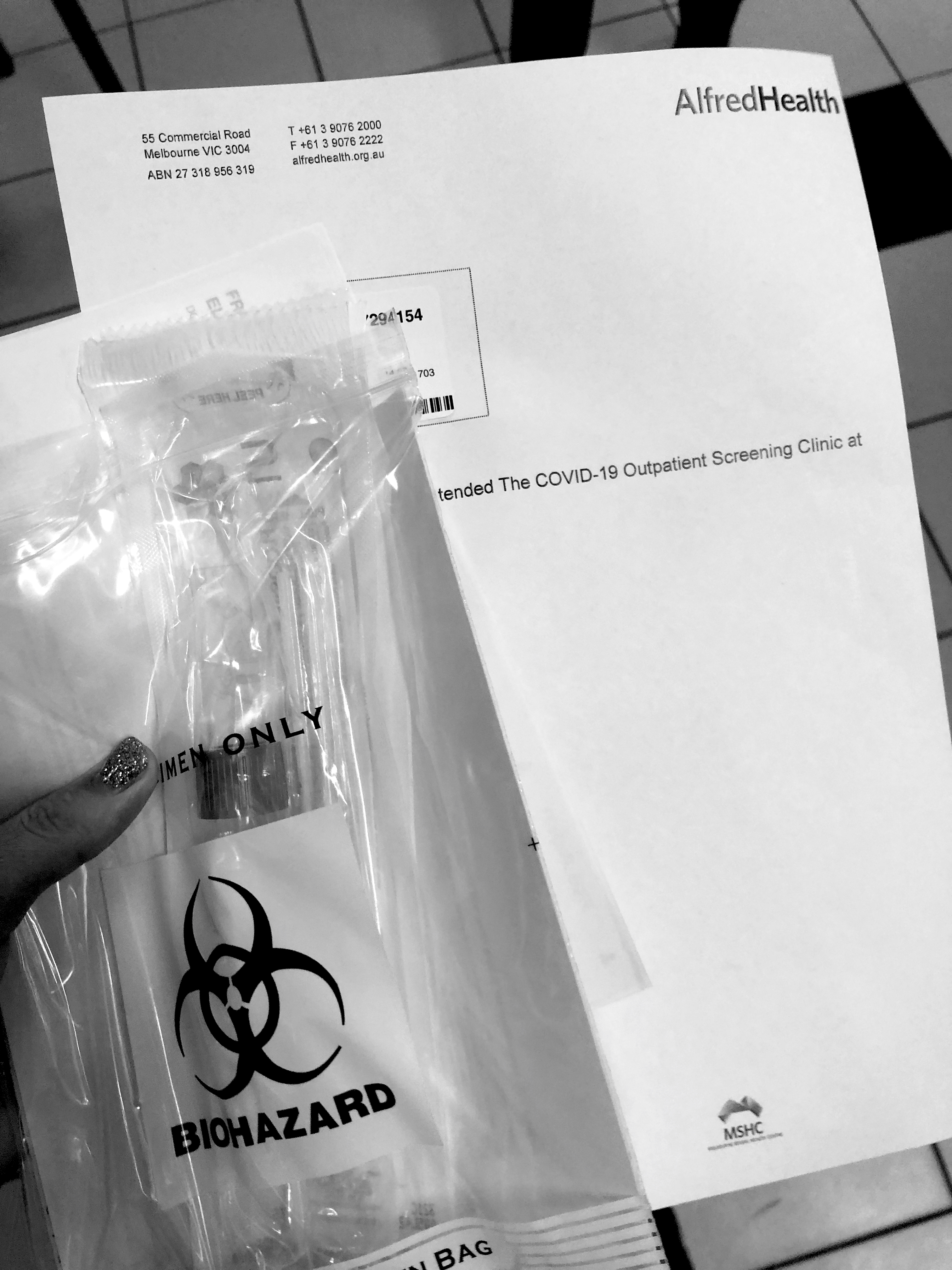 The wait
The nurse tells me I'm allowed out in public if I need essentials, as long as I wear the mask.
But when I head to the library to pick up some isolation-friendly books, the librarian bolts in the opposite direction, shouting something about helping someone else as she retreats to a safe distance. At my local overpriced organic supermarket, when a staff member and I almost run into each other in a narrow walkway, no joke, he uses his trolley to push me back.
Is it the mask? Or am I being paranoid?
I posted a bunch of Instagram stories from The Alfred and now I'm fielding symptoms from all angles. One mate thinks he needs to get tested but hasn't been travelling or in close contact with a confirmed case, and actually "feels much better today". I tell him not to go.
On Saturday I wake up at 10am. Some mates head past with get-well gifts (I'm fresh out of taramasalata). They leave them by the door, ring the bell and dash back to the street. I shout a thank you over the fence.
My sister drops off a care package – cheese, little ice-creams and a big pile of books – and we chat as she slowly retreats, her husband in the car out front, engine idling.
The result
The next day I'm worse again. I'm convinced this is it.
I sit up in bed and start canceling everything I had planned for the week ahead when a text lands. It's from The Alfred.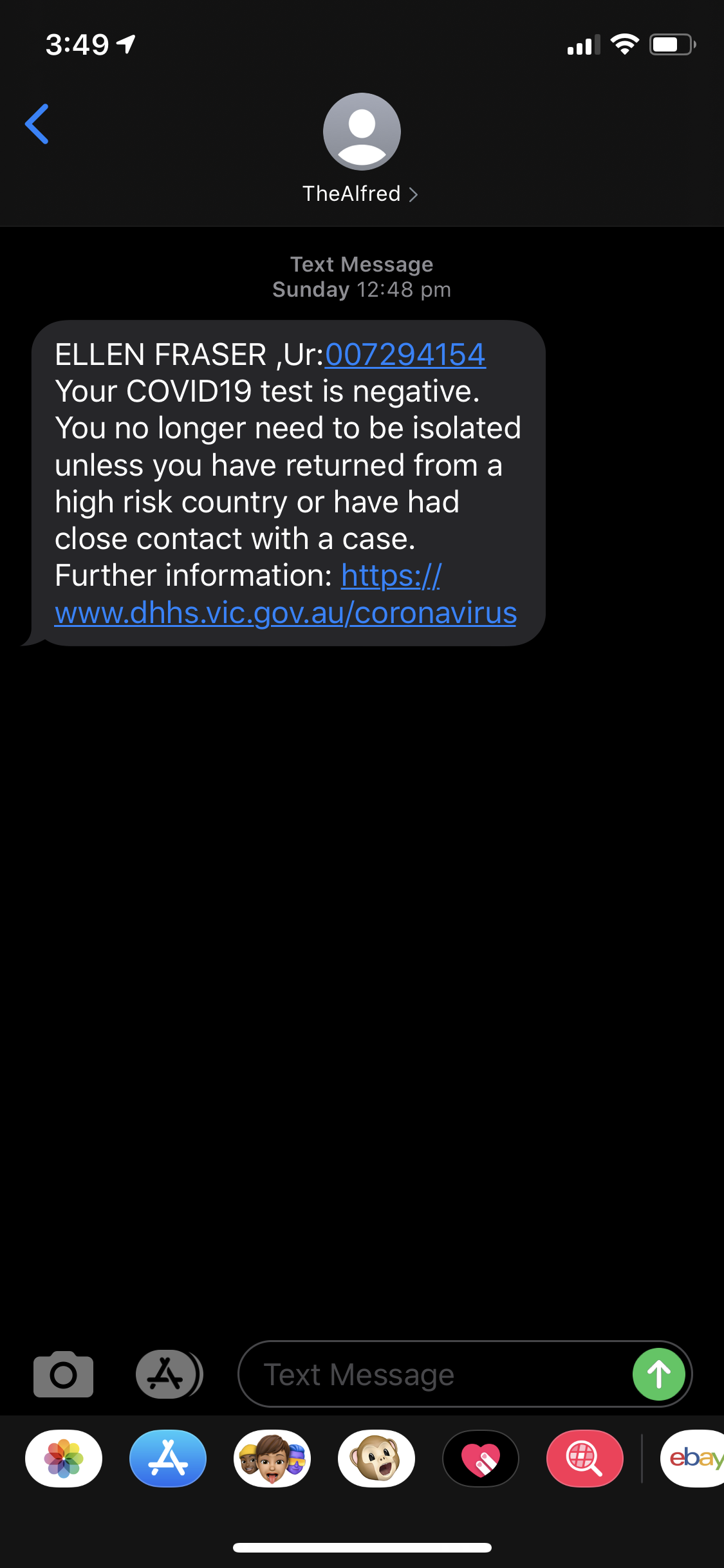 Negative.
The first thing I do is text my mum, then I go outside for a bit and breathe in the fresh air, sans-mask.
I have mixed feelings. In part I'd hoped that if I had the virus – assuming I recovered in full – I'd then have immunity. But we don't know that I would, and I didn't consider the possible long-term effects, the extent of which we won't know for years.
And I realise how lucky I am to have been tested at all; a few days later when there are reports of test-kit shortages, I feel guilty for using one for my negative result, even though I was encouraged to attend the hospital.
I'm also aware I put my health at risk heading to a hospital at a time like this. I'm young and healthy, and by all reports I'd be advised to self-isolate at home with a packet of Panadol.
Ultimately though, I'm relieved.
Oh, and I also called my sister. Just wanted to let her know I have a no-returns policy on care packages.
Ellen Fraser is Broadsheet's Melbourne editor. She was tested on Friday March 13 and followed all professional medical advice provided at all times. Processes and instructions to the public have changed since these events took place.
Covid-19 (coronavirus) means we're living in unprecedented and uncertain times. Victoria has declared a state of emergency, mass public gatherings are banned and minimal social contact is recommended. If you have concerns about visiting businesses or public spaces, or questions about self-isolation or coronavirus testing, check out the latest updates from the Department of Health and Human Services.