February 14 doesn't have to entail a corny exchange of chocolates and roses between two lovers (unless you want it to, of course). Instead, give your one true gal-entine or pal-entine a thoughtful present to show you care. Or choose yourself.
We've got picks for any budget, from a cheeky card game worth less than $25 to a $500-plus kitchen appliance that'll stand the test of time (and look good on the benchtop). Happy shopping.
Under $50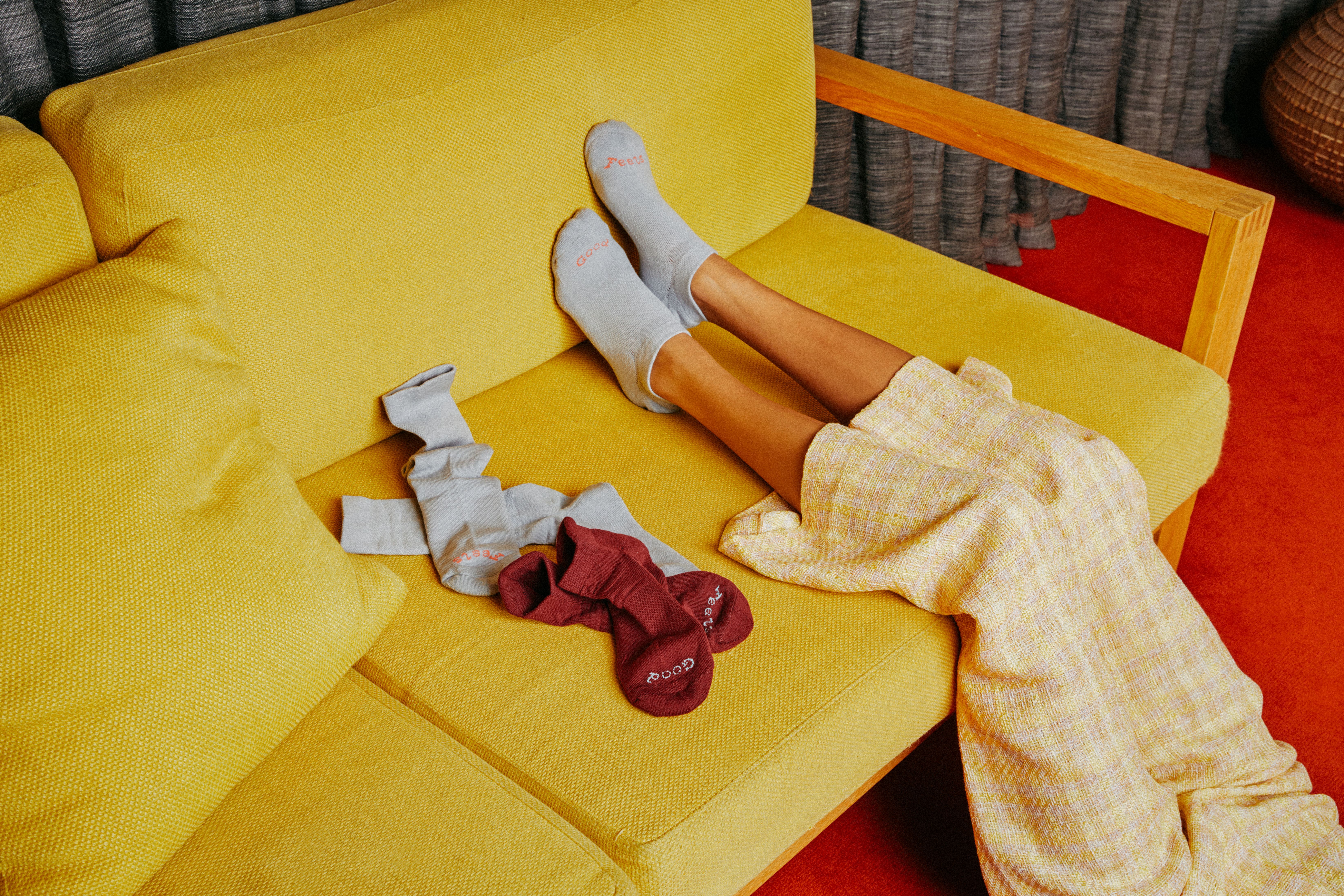 Socks from Paire
Some Broadsheet editors swear by Paire, socks developed by two Aussies that use a blend of Australian Merino wool and organic cotton. They claim they're the comfiest sock around – you (or your giftee) can be the judge. Bonus: Paire is offering 20 per cent off purchases until February 15 with the code "FEELSLOVE". From $19.90 / paire.com.au
Mo apron from Worktones
Someone who loves cooking and spending time in the kitchen probably already has all the knives, cutlery, chopping boards and pans they'd need, but if they often end up making a mess – especially on themselves – then this cross-back apron with ample pocket space is the solution. It also comes in eight colours, so you can pick their favourite. $37 / worktones.com
Native salt & pepper and handmade pinch pots from Warndu
Salt and pepper are home kitchen staples, but have you tried a native salt and pepper mix? Warndu's blend includes Murray River pink salt, native pepper leaf, Tasmanian pepperberries and dried old man saltbush for a distinctly Australian flavour. Get it in a set with pretty pinch pots so you can easily add more to your dish. $35 / warndu.com
Sand-free beach towel from Sky Gazer
Maybe Anakin Skywalker was onto something when it came to his hatred of sand. If your loved one enjoys days at the beach but think sand is a (literal and figurative) pain in the butt, these sand-repelling towels in pretty prints and practical pouches make a good gift. $44.99 / theiconic.com.au
Servd card game
Take everything that annoys you about your partner and turn it into entertainment – that's the premise of Servd, a card game that flips common relationship nuisances on their head. The cards are available in sets of his and hers, his and his, hers and hers and even BFF decks tailored to the nature of each relationship. $24.99 / servedcards.com.au
Ceramic tableware from Estudio Tres
Dinner party hosts with the most would appreciate these new additions to their dinnerware collection. Sydney-based Estudio Tres makes homewares inspired by Spain, and these pieces channel it in a summery way. Give them a new plate on its own, a set of matching colours, or mix and match hues and sizes. From $50 / estudiotreslifestyle.com
Airbnb gift cards
Whether it's a staycation in your city, a remote cabin in the middle of nowhere or an apartment in a regional hotspot, accommodation might be a better gift than something material. These gift cards from Airbnb can be used on any home and experience on the platform, with more than 137,000 listings in Australia alone. Bonus: there's no expiry date, so your Valentine can save it for when international borders reopen. From $25 to $2000 / airbnb.com.au
Under $100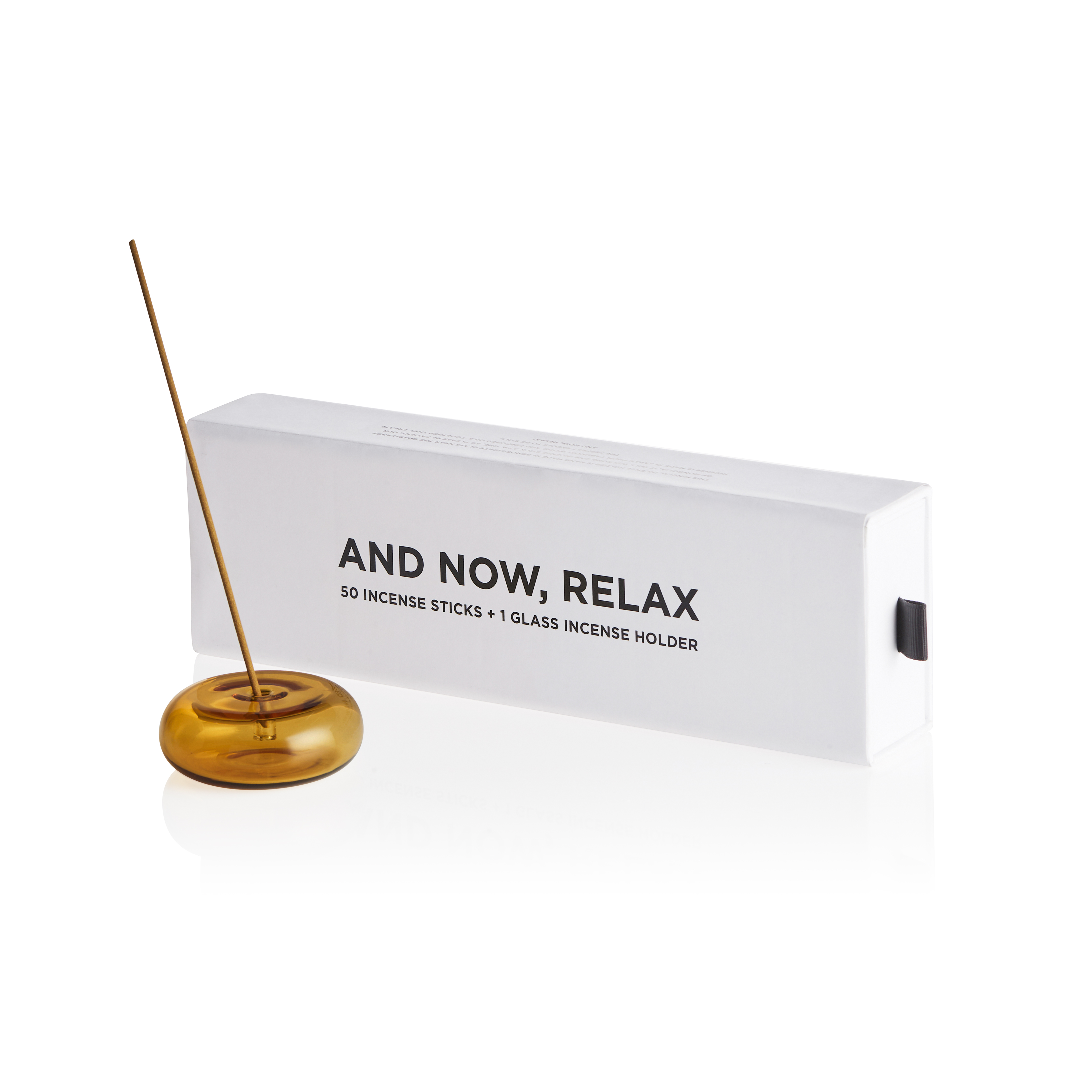 And Now Relax incense set from Maison Balzac
Incense is slowly overtaking scented candles when it comes to calming, self-care home fragrance – and they can look more stylish on display, too. This set from Maison Balzac includes a minimalist amber glass incense holder shaped like a pebble, as well as 50 sticks of Japanese incense scented with sandalwood and hydrangea tea. $69 / adorebeauty.com.au
Sol linen hat from Cultiver
This oversized bucket hat will protect them from the sun all summer – and year – round. The pure linen shell is breezy and breathable, while the cotton inner-lining will keep their hair cosy without making it a sweaty mess. The wired brim also means it can be molded into any shape they want. $60 / cultiver.com.au
Silk pillowcase from Slip
It's pricier than your typical cotton pillowcases, but mulberry silk is among the comfiest around. It's also less irritating on the skin and causes less friction on your hair from tossing and turning – it's become a beauty staple in recent years, and make a thoughtful gift for your skin and haircare-obsessed giftee. $95 / theiconic.com.au
Treat Me Good box from Welcome Merchant
Buying from this social enterprise means supporting refugee-owned-and-led small businesses. You get a soy wax candle (choose from four tropical scents), hand and body wash, soap, Habibi herbal tea and zesty ginger tonic – $5 from each box sold until February 14 is also donated to the Aboriginal Legal Services. $78 – $98 / welcomemerchant.com
Under $200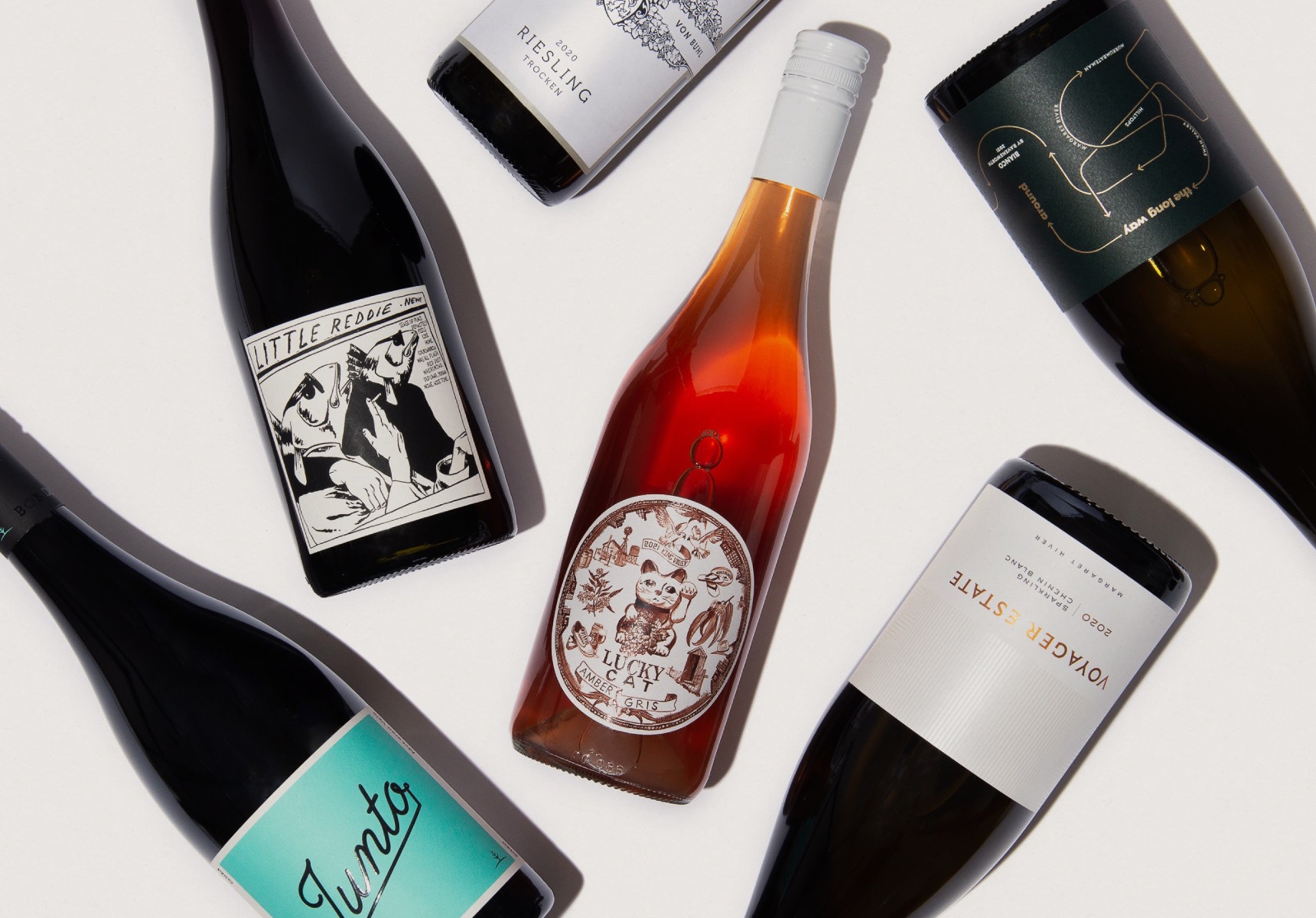 Broadsheet x Chin Chin Party Starters wine box
Every month, we get a top venue or sommelier to curate a wine box of six bottles, delivered to your door. Until February 6, you can get an eclectic selection of wines guaranteed to keep the mood light and the energy high late into the night, as chosen by Chin Chin somm Isobel McFadden – perfect for a Valentine's date or a pal-entine's party with single mates. You have until February 6 to order it before the box changes for the month. $160 for a one-time purchase or $150 with a subscription / shop.broadsheet.com.au
Unisex crossover slides from Assembly Label
It's hard to gift footwear – thankfully Assembly Label has designed a pair of versatile, comfy and stylish sandals that would go with anything, or on anyone. The black leather with a soft rubber sole is the safest choice, or you can go bold with the vanilla, olive, tan and pink clay colourways. $100 / theiconic.com.au
Open Your Heart print by Claire Ritchie
An aptly named Valentine's Day gift, this collector's edition print by Brisbane artist Claire Ritchie shows off her signature bold illustrations and bright colours. A pink maze of fronds snakes around the page, opening up into red buds. Only 20 of these have been printed, so your gift is sure to be unique and special. $180 / claireritchie.com.au
Six – Tortoise glasses from Spencer & Kyle
Some sunglasses are simple and unassuming, just meant to protect your eyes from the sun – that's not what these are. This pair by Spencer & Kyle makes a statement with its '60s inspired silhouette, oversized frame and bold tort pattern – good for those who'd rather stand out than blend in. $160 / spencerandkyle.com.au
Ogata chain stud earrings and Dawn single stud by S-kin Studio
S-kin Studio's stunning range of delicate jewellery made it difficult to choose just one for this gift guide. Both are 19K-gold filled, with freshwater pearls in the Ogata chain and a tiny cubic zirconia on the Dawn single. Choose just one, or gift them as a set. $130 and $60 / s-kin.com.au
Over $200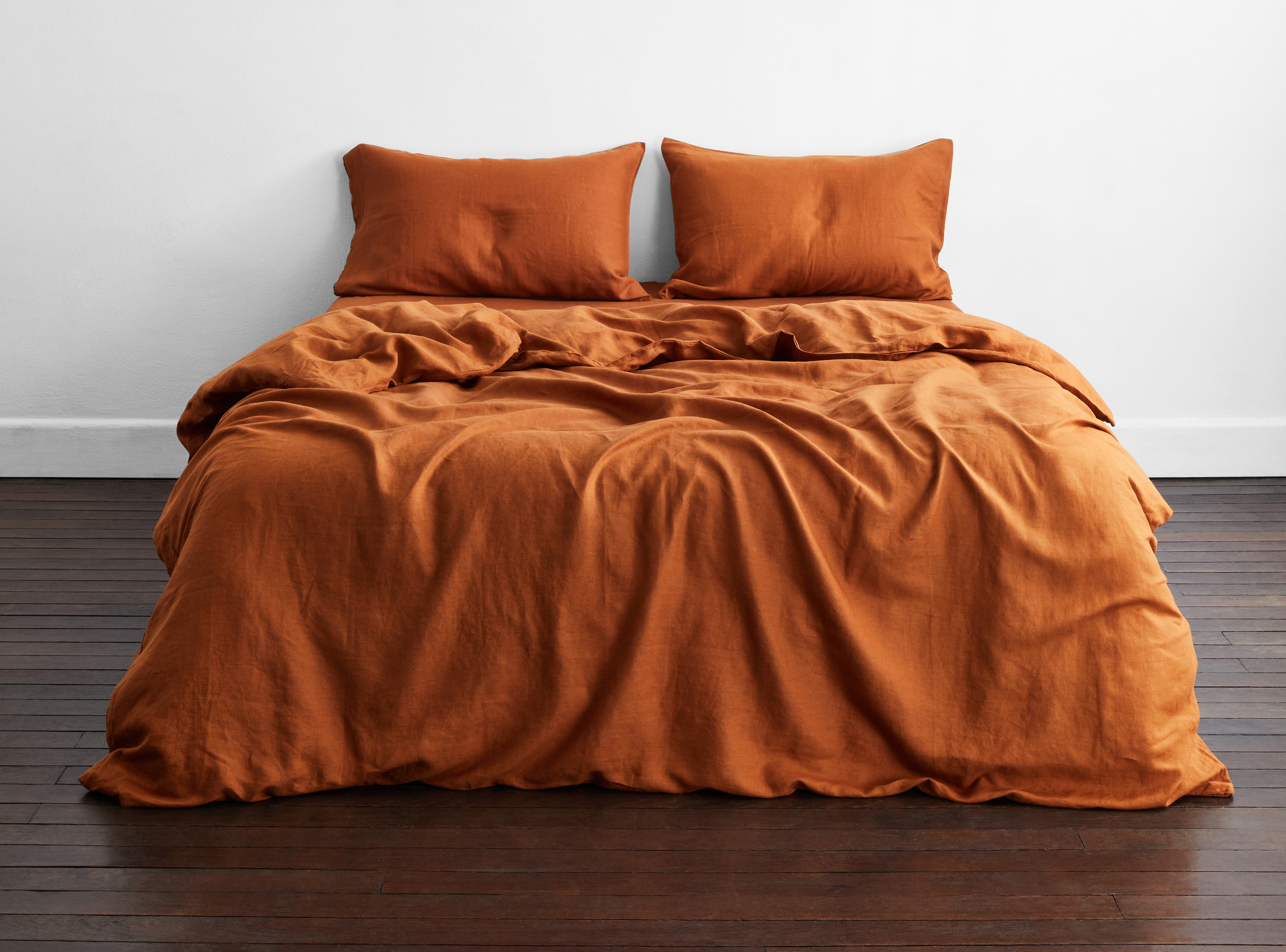 Rust linen duvet cover from Bed Threads
You can never go wrong with Bed Threads' soft, 100 per cent flax linen, especially in the bestselling rust shade. It's bold enough to draw your eyes and make a statement, but can easily be paired with whatever bedding they already own. $140 – $230 / bedthreads.com.au
Boyfriend bold chain necklace from Mejuri
The cult jewellery label is known for keeping things simple, and this is no exception – the delicate chain is composed of thin, almost rectangular links. It's made from 14k solid gold that's certified recycled to reduce its impact on the environment, and the minimalist design means you can wear it on its own or layer with other necklaces. $400 / mejuri.com
3.3L Artisan Mini stand mixer from Kitchenaid
Every serious home cook wants – no, needs – a Kitchenaid. The simple, rock-solid mixers are mostly used for whisking batter and mixing dough, but a variety of attachments can also turn them into meat mincers, ice-cream makers, pasta rollers, sifters, juicers and more. These quality machines aren't cheap, but they'll last years, if not decades. $549 / kitchenaid.com.au
Lilou mini day bag from Oroton
Trends come and go, but Oroton is seasoned at turning what's in vogue into versatile, timeless staples you can use for seasons to come – and this mini bag is no different. Made of pebbled leather and delicate brass hardware, it stands out with its fun twisted handle. Hold it there like a handbag, or use the leather crossbody strap to go hands-free. $349 / oroton.com
Pacific Rock Moss unisex fragrance from Goldfield & Banks
Each of Goldfield & Banks' luxe, gender-neutral scents evokes a different sensory experience inspired by the terrains and landscapes of Australia. Pacific Rock Moss is like a coastal walk on a summer's day, with a fresh sea scent and clear blue hue you can almost dive into, bottled into pretty packaging. $235 / goldfieldandbanks.com
We hope you love the products we recommend on Broadsheet. Our editors select each one independently. Broadsheet may receive an affiliate commission when you follow some links.