Every mum is different, though you might not know it from the Mother's Day displays you see around the place.
Not every mum loves chocolates and romance novels (though there are plenty of mums who do). Not every mum loves gardening or brisk walks (though again, there are many who do). It's exactly because there is no such thing as "every mum" that Broadsheet has put together this extensive list of gift ideas.
There's something here for all mums, of all interests. Mums who enjoy a bit of luxury. Mums who like trying different kinds of food. Mums who say, "I don't need a present." Mums who enjoy a 4pm cocktail. No matter what kind of mum you have, there's something on this list for her.
As an added bonus, we're offering one reader the chance to win a Broadsheet x Mecca Mother's Day prize pack valued at more than $2000. For your chance to win, fill out the entry form at the bottom of this page.
Under $50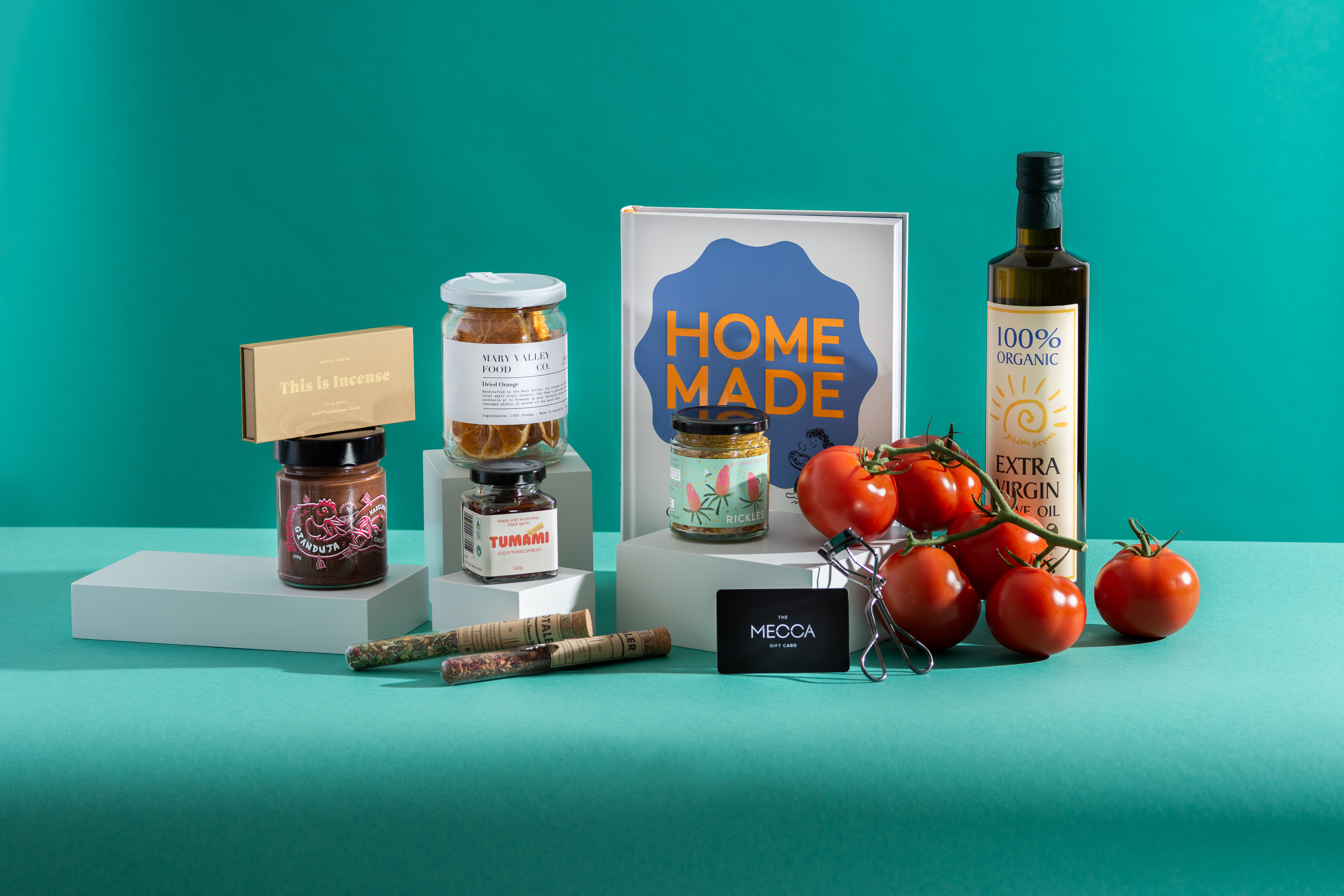 Eyelash Curler by Shiseido
It's a small addition to a makeup bag that can make a big difference – and getting the right kind of eyelash curler matters. Shiseido is a Japanese beauty company that has been around for 150 years, with an intensely loyal following . This nifty gadget works for every eye shape, only costs $33, and is carefully designed for safety and comfort – so no pinching.
mecca.com.au
Dried Orange by Mary Valley Food Co
Mary Valley Food Co is a Queensland company that specialises in dried fruit, working with local farmers to source its produce. It has lemon and lime on offer too, but we're putting forward the dried orange as a great multipurpose gift. Dehydrated to lock in flavour, the slices work equally well to top off a cake or drop into gin and tonic. They come in a range of sizes starting from $19.95 and are also packed in a glass jar, which means they'll look good on a shelf and can be repurposed once the oranges are gone.
maryvalleyfoodco.com
Extra-Virgin Olive Oil by Golden Groves
Golden Groves is a family-owned business that's all about bringing a little bit of southern Greece to Australia. The olives at the heart of its extra-virgin olive oil are grown and cold-pressed in groves along the Mani Peninsula to create an oil that makes an attractive addition your mum's table. Extra-virgin olive oil is a great all-rounder – it can be used for cooking, or for drizzling on bread, salads or soups to add a kick of flavour. A bottle costs $36 but, if olive oil is a kitchen fixture, there's also a subscription option.
goldengrovesco.com
Rickles Wholegrain Mustard
If your mum is the kind of person who has an entire shelf of different sauces carefully divided between the pantry and the fridge, then fancy mustard is the perfect addition to her collection. Or, if she loves a steak or a gourmet sandwich – again, this is an ideal accompaniment. Rickles is an Australian condiment, hot sauce, and pickle company with a focus on flavour. There's a lot to choose from, but we're singling out its wholegrain mustard for $11 as a thoughtful – and delicious – gift with a difference.
rickles.com.au
Choc Hazelnut Spread by Birdsnake Chocolate
Birdsnake is an ethical craft chocolate brand based in Melbourne. What sets it apart from most chocolate companies is that it's involved every step of the way, sourcing cacao from growers around the world, then painstakingly processing the beans into chocolate in-house. It makes a handful of products, including drinking chocolate and chocolate blocks that highlight the different flavours of cacao around the world, but for Mother's Day we think the Gianduja spread for $16 is the perfect gift. It's Birdsnake's spin on a hazelnut chocolate spread to, as its site says, "use on bread, eat straight out of the jar".
birdsnake.com.au
Tumami Spread By Alice
It's basically a life-hack in a jar. Tumami Spread By Alice is made of just two ingredients – and by bringing together tomato and Australian black garlic, cookbook author and TV personality Alice Zaslavsky has created an "everything spread" that can be added to pretty much any recipe. Whether it's a soup, pasta, or simple fry-up, Tumami – at $15 a jar – draws out the flavours and kicks things up a notch.
stali.com.au
Mecca Gift Voucher
Sometimes the most thoughtful gift of all is letting someone choose for themselves. This gift voucher is pretty much failsafe: a sprawling selection of skincare products and gadgets, exclusive access to international and local make-up brands, fragrance, candles and luxe bath goodies. It's not just a cookie-cutter gift card either – you can choose your own design, personalise it, and then either send straight away or schedule for Mother's Day.
mecca.com.au
Australian Tea Selection by T Totaler
This gift is practical and beautiful. The Australian Grown Tea Gift Box for $45 is made up of eight different loose-leaf blends, each presented in a clear tube. There's a cross section of flavours based on an array of Australian natives, from Red Wattle which features a hint of cinnamon and rose, through to Unwind, made up of lavender, passionflower, lemon myrtle and peppermint.
ttotalertea.com
Home Made by Broadsheet
After speaking to some of Melbourne's top chefs about what they like to make when they're at home, we put together this collection of 80 very different recipes designed to improve your skills. In Home Made you'll find lasagne by Joey Kellock from 1800 Lasagne, lamingtons from Hugh Allen from Vue de Monde, and many more user-friendly recipes. The dishes range from simple to more involved, and the book is dotted with advice on how to become a better cook in case your mum wants to level up.
shop.broadsheet.com.au
Bells Beach Incense
This is Incense began as a way to capture scents that reminded the founders, Sophie and Simon, of places they love around Australia. Bells Beach was the first scent the pair created, and it's all about bringing a bit of calm into your life. A box of 60 sticks for $39 gives a total burn time of around 30 hours. A good one if your mum is turned off by very heavy incense smells.
thisisincense.com.au


Under $100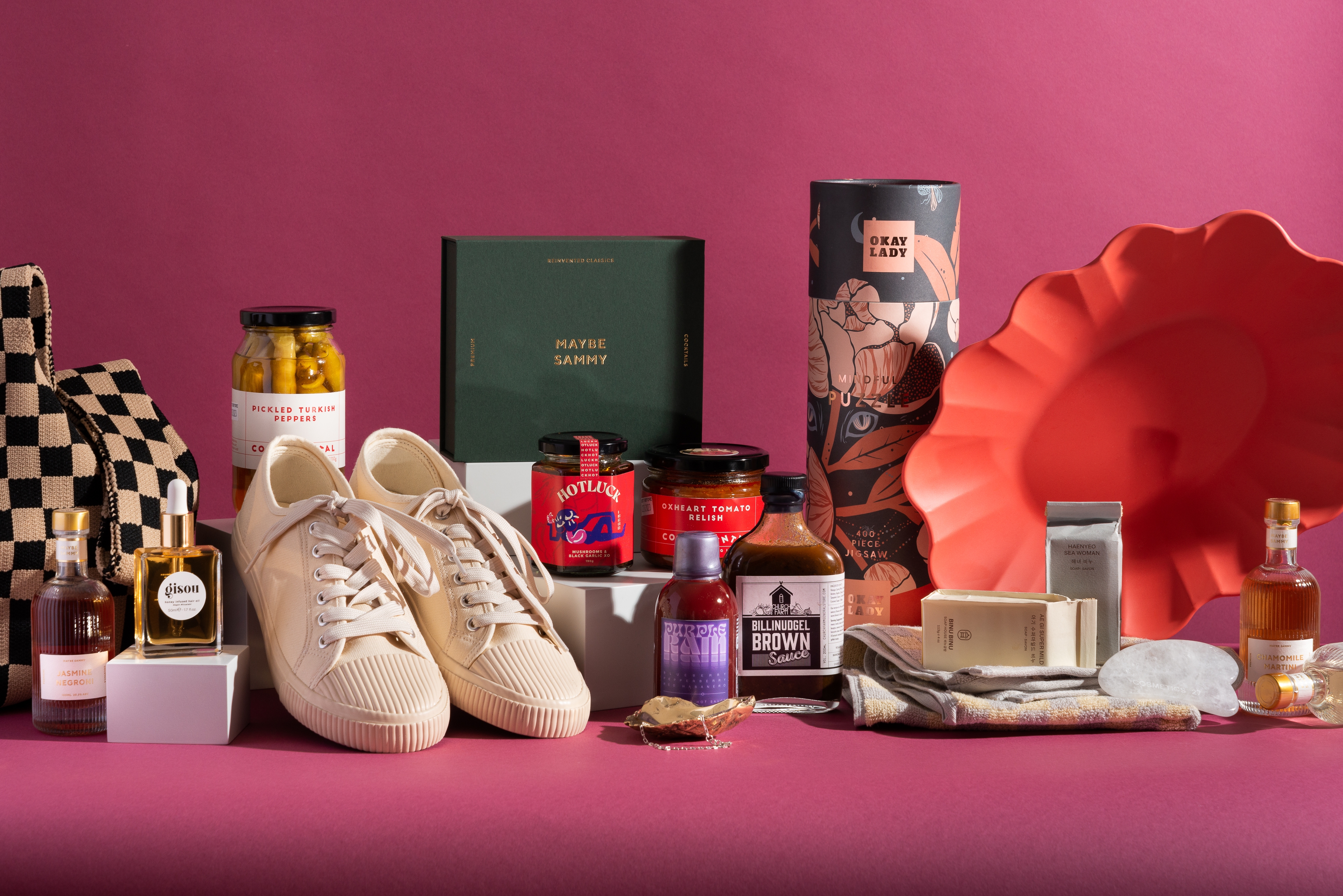 Cocktail Trio by Maybe Sammy
So here's the thing about making cocktails at home. It's all well and good if you have a favourite go-to – but if you're keen to try something new or explore different combinations, you pretty much need to have a full bar of very specific spirits and random liqueurs and miscellaneous little bottles of sugary somethings. Maybe Sammy solves this with its range of ready-to-pour bottled cocktails – allowing your mum to try something different without having to invest in several different ingredients. The Original Trio Pack cost $54 – with a Martini, a Negroni and a Gimlet on the menu it offers a nice cross-section of flavours.
maybesammycocktails.com
Tote bag by Liburan
A practical gift does not need to be a dull gift. Liburan is the Indonesian word for "holiday" – which is the sensation that this Melbourne brand wants to bring to all of its whimsical products. Its chequered tote bag ($59.99) is sturdy and has a lot of personality, making it the kind of gift you know will get a lot of use.
liburan-mlb.com
Peony Kitty Puzzle by Okay Lady
Art, but make it interactive. Featuring the work of Sydney artist Jess Cruickshank, the Peony Kitty puzzle, $59, comprises 400 double-sided pieces (does that make it easier or harder?) and makes for a good solo or team activity. It comes packaged in a plastic-free cylinder. All of the images featured on Okay Lady products are produced by women artists, who receive royalties from each sale.
okaylady.com.au
The Umami Box by Condimental
Whether your mum is a seasoned cook or enjoys experimenting, The Umami Box is an unusual gift. As the name suggests, it spotlights umami in a host of different ways. There are sauces and relishes that can be added to a recipe to make the flavours sing, or used on their own. It costs $69.95 for the box, but it's worth keeping in mind that everything included is seasonal – which means that if your mum is a fan, you can also sign her up for a subscription.
condimental.com.au
Gua Sha by Cosmetics 27
Founded by pharmacist Michèle Evrard, Cosmetics 27 is a Parisian brand designed to treat "stressed out skin", wrapped in very chic packaging. Its gua sha tool ($74) is a white jade stone that aims to "promote lymphatic drainage on the skin through massage". Designed for regular use, it's thought to help firm the skin and to also relax the muscles in the face.
mecca.com.au
Scallop Platter by Maison Balzac
Since starting in 2012, Maison Balzac has developed a cult following for its scents and tableware. Its Scallop Platter is chic, practical and can be used in a host of ways – bringing a splash of colour and whimsy to a dinner party, or used as a decorative piece for jewellery or knick-knacks in the home. Each platter costs $89 and is made from bamboo. It's also available in three different colours: coral, electric blue, and pale pink.
maisonbalzac.com
Gisou Honey-Infused Hair Oil
Gisou's story involves six generations passing down a love of beekeeping. Now the brand is blending that knowledge with beauty through a range of honey-infused haircare products. Luxurious rather than sticky, its Honey Infused Hair Oil costs $69 and is made with honey from the Mirsalehi family bee garden. It's designed to be used pre-styling to nourish and repair hair, add shine, and smooth out any flyaways, or can be left in overnight as a hair treatment.
mecca.com.au
Oyster Incense Holder by Corey Ashford
Perfect for a seafood lover or a mum with an eye for design (or both?), the Oyster Incense Holder for $80 is a delicate piece by a Melbourne maker. The shell at the core of it is a cast dipped in solid brass to give it a metallic sheen and has an opening designed to hold any size incense stick. If your mum isn't an incense person, it can also be used as a jewellery dish or for display.
coreyashford.com
Baina x Binu Binu Towel Set
High-end towel brand Baina has partnered with modern Korean incense and bath goods company Binu Binu to create a luxurious pairing. Featuring a chequered organic cotton handtowel in a new colourway along with two different but complementary soap bars for $88, this set offers up a bit of decadence alongside practicality.
shopbaina.com
Ruko Bracelet by Rbcca Kstr Rbcca Kstr is a sustainable jewellery brand with humble origins (it began in a share house lounge room). The Ruko Bracelet at $89 is both understated and beautiful, with the option to buy it in either silver or gold. Like with all Rbcca Kstr designs, they're distinct without being tied to a particular season. This is jewellery made to be timeless – to be part of her everyday, all-year-round wardrobe – and can be dressed up or dressed down.
rbcca-kstr.com
Shell-Toe Sneaker by Noskin
Noskin is a Melbourne label that focuses on sustainability and ethical clothing. Its Shell-Toe Sneakers are a simple, 1950s-style canvas runner that's pretty much the perfect basic. It's also vegan – and by all reports, extremely comfortable. Available in ecru, black and khaki, these sneakers are $99.
noskin.co


Under $200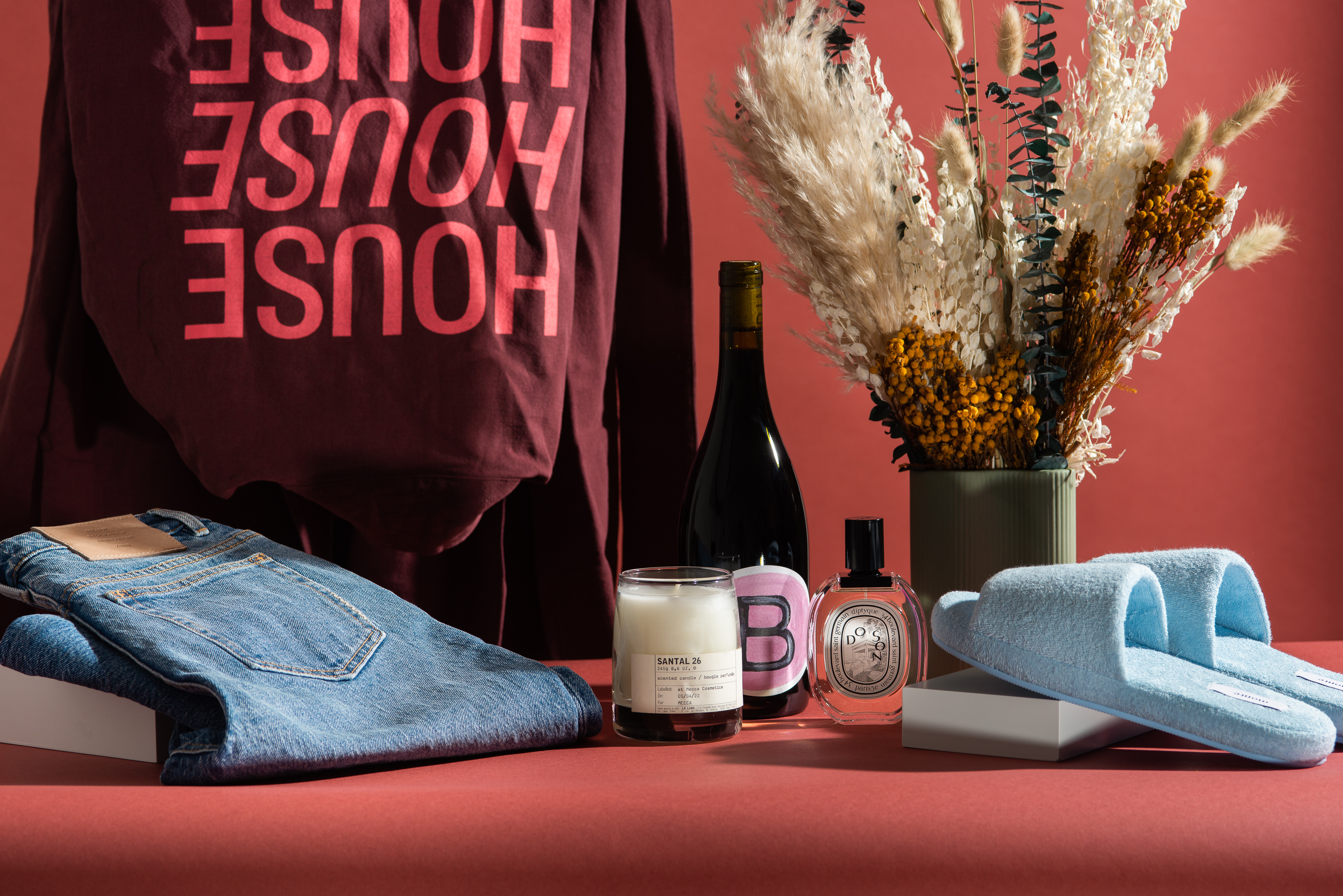 Santal 26 Candle by Le Labo
All right, candles can be a polarising gift. But the truly luxurious ones – like one from Le Labo – are something that people don't often splash out on and get for themselves. Which means that it's an ideal present. The Santal 26 Candle costs $120, is vegan, hand-poured and – to make it extra special – you can personalise it with your mum's name and a message.
mecca.com.au
Terry Slippers by Monte
It's pretty much the dream: slippers that are comfortable and yet look good enough that if you accidentally (or, let's be honest, deliberately) wear them out of the house people will think it's a fashion statement. Monte specialises in making slippers that can easily be worn in or out of the home. There are a whole lot of styles and colours to pick from, but its newly released terry towelling slippers ($135) are limited-edition, so make for a pretty fun and special Mother's Day gift.
montestore.com
Dried Flower Bouquet by Everbloome
A bouquet of flowers that will last for years is quite a unique proposition. Everbloome has a wide range of preserved flowers, from bunches of natural-looking flora, to blooms dyed in wild pastels. Instead of having to replace them after a few days, these arrangements are designed to stay beautiful long-term. They're also pollen free, so if your mum is prone to allergies or hayfever, these flowers won't cause any problems as fresh ones might. The Otis bouquet at $139 is a great choice, with earthy tones and presented a beautiful green infinity vase.
everbloome.com.au
Do Son Perfume by Diptyque
You know Diptyque from its casual-but-meaningful placement in many an interior shot. If not, it is the iconic Parisian perfumery, offering home decor, candles, and signature fragrances. Its Do Son range draws inspiration from the Vietnamese seaside resort of the same name. Do Son EDT is a floral scent bringing together notes of rose, musk and African orange flower. Starting at $149, the scent comes in two sizes for your convenience.
mecca.com.au
Julia Busuttil Nishimura's Broadsheet Wine Box
Our latest Broadsheet Wine box ($160) is a collection of wines handpicked by beloved Ostro cookbook author and food writer Julia Busuttil Nishimura. Combining her love for the relaxed lifestyle of Italy and France and deep connection to her home in South Australia, Busuttil Nishimura has selected six wines designed to be opened over a long autumnal Sunday lunch. Discover a fresh and zippy pét-nat, a super juicy friulano malvasia, a French red blend that Busuttil Nishimura calls the "pasta wine of my dreams", and more.
shop.broadsheet.com.au
Lola Mom by Neuw
Being a parent goes beyond genes – but does it go beyond jeans? Sorry. That was perhaps more of a dad joke than a mum joke. Neuw started specialising in 1970s-inspired cuts, but has since expanded its range. The Lola Mom – at $169.95 – is a flattering, classic design, with a slim fit and a high waist.
neuwdenim.com.au
Robe by Paramount House Hotel
If you can't buy her a stay at Sydney's boutique Paramount House Hotel, get her the robe instead. Made from Japanese cotton and linen, the roomy robe comes in navy and pink or maroon and peach. Why not get yourself one while you're there? Whether you get matching ones is up to you. This will set you back $180.
paramounthousehotel.store
The prize pack includes Eyelash Curler by Shiseido ($33), Dried Orange by Mary Valley Food Co ($19.95), Extra-Virgin Olive Oil by Golden Groves ($36), Rickles Wholegrain Mustard ($11), Choc Hazelnut Spread by Birdsnake Chocolate ($16), Tumami Spread By Alice ($15), Australian Tea Selection by T Totaler ($45), Home Made by Broadsheet ($49.95), Bells Beach Incense ($39), Cocktail Trio by Maybe Sammy ($54), Tote bag by Liburan ($59.99), Peony Kitty Puzzle by Okay Lady ($59), The Umami Box by Condimental ($69.95), Gua Sha by Cosmetics 27 ($74), Scallop Platter by Maison Balzac ($89), Gisou Honey-Infused Hair Oil ($69), Oyster Incense Holder by Corey Ashford ($80), Baina x Binu Binu Towel Set ($88), Ruko Bracelet by Rbcca Kstr ($89), Shell-Toe Sneaker by Noskin ($99), Santal 26 Candle by Le Labo ($120), Terry Slippers by Monte ($135), Do Son Perfume by Dyptique ($149), Julia Busuttil Nishimura's Broadsheet Wine Box ($160), Lola Mom by Neuw ($169.95), Robe by Paramount House Hotel ($180).
The winner is Jenny K.
This competition is closed. Read the full terms and conditions here.
This article is produced by Broadsheet in partnership with Mecca.