Adelaide

Brisbane

Canberra

Melbourne

Perth

Sydney

Tasmania

New Zealand
Adelaide

Brisbane

Canberra

Melbourne

Perth

Sydney

Tasmania

New Zealand
Opening Soon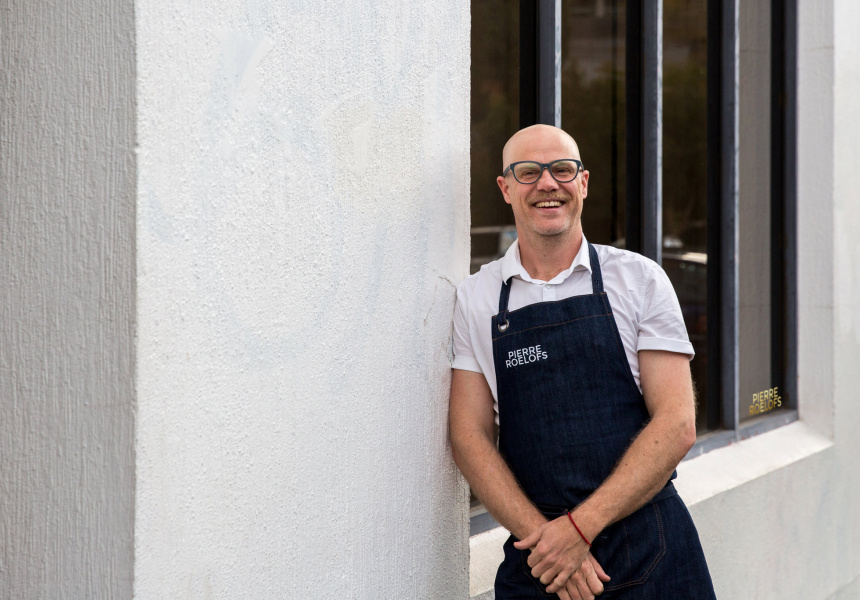 It's been almost eight years since Melbourne-based Pierre Roelofs started running his wildly popular dessert pop-ups.
A pastry chef for 24 years, with a resume that includes Michelin-starred restaurants The Vineyard at Stockcross, Heston Blumenthal's The Fat Duck and El Celler de Can Roca (twice ranked number one in the world by The World's 50 Best Restaurants), Roelofs started the nights in 2010. Spots quickly became sought after, and diners raved about his inventive, innovative sweet dishes.
Since then, he's run nights all over Melbourne at spots including Collingwood's Mina-no-ie, petite Brunswick cafe Milkwood and Adriano Zumbo's now-closed tea salon Fancy Nance), and says he's created more than 1000 unique dishes. Now, Roelofs is finally settling down, opening his first permanent kitchen workshop in Keele Street, Collingwood.
"My dream for the kitchen is to have a warm, inviting space with lots of natural light, white surfaces and a clean, uncluttered work environment … Some of the kitchens I've worked in [have been] underground, or had no natural light. Very harsh. Stainless steel. Very totalitarian."
The working title for the new space is Atelier, French for "workshop", and when it opens next year the chef says as well as offering some stability for his seasonal dessert evenings, it'll allow him to throw himself into product development, take on commissions and mentor up-and-coming chefs.
"It won't be open to the public all the time, but if I'm working on some new dishes and someone happens to be in the area, they'd be welcome to come in," he says. "Not having a home has meant I've never been able to do that before. I've always borrowed other people's spaces, prepped somewhere, trekked equipment around, packing it all down. I've always had to think very carefully about my desserts and how they'll be transported."
Those desserts include his ever-popular Dessert Tubes, which have come in flavours such as raspberry jam doughnut, lemon meringue tart or chocolate brownie. They will be a permanent fixture at the new spot.
Roelofs's final dessert degustations at Mina-no-ie will happen on October 25, 26 and 27. They'll pick up again in 2019 in the new location.
Contact Details
Updated: October 4th, 2018
We do not seek or accept payment from the cafes, restaurants, bars and shops listed in the Directory – inclusion is at our discretion. Venue profiles are written by independent freelancers paid by Broadsheet.