Make the most of crisp autumn days by exploring the rolling green hills and cellar doors of the King Valley.
The King Valley used to be strewn with tobacco farms, first planted there by Italian immigrants. But when growing tobacco was outlawed in the 1990s, these families looked to their roots for inspiration. This included planting Mediterranean grape varietals new to the area, such as barbera, sangiovese, arneis, and especially, prosecco.
The region is now a thriving network of cellar doors, tasting rooms and trattorias dedicated to celebrating the finer things in life: food, wine and company. There are plenty of small producers dotted throughout the area; cheese, cultured butter, trout, honey, nuts, olives and preserves are all in abundance.
The valley's continental climate of warm days and cool autumn nights isn't just ideal for grape growing. Visitors can soak up the idyllic surrounds of the fertile region by day – bushwalking, fishing, swimming and cycling – before retiring to a cosy log fire come evening.
The King Valley is a three-hour drive north-east of Melbourne. Start your gastronomic adventures at Milawa and follow the King River south as it winds through Oxley, Moyhu, Whitfield and Cheshunt.
EAT
From long Italian lunches that would make Nonna proud, to the tasting rooms of dairy artificers, King Valley is rich with quality eating
DO
Take your bicycle to stock up on bubbles and brie, then head for the forest. You can walk, wade and fish between snacks.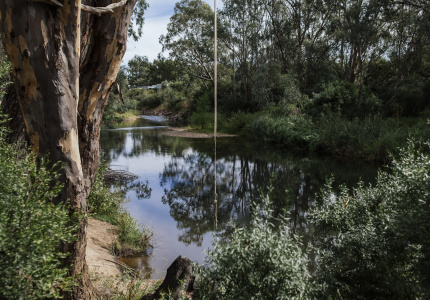 King River at Moyhu
At the crossroads in Moyhu, take Moyhu-Meadow Creek Road and head slightly past King Valley Dairy to the bridge. Just below is an idyllic stretch of King River that serves as a popular swimming spot in the warmer months. A rope swing suggests the kind of scene you might see here in summer, but whatever the weather it makes for a good place to pause on the beach – yes, there's a small beach – and soak up the surrounds. If you work up an appetite moseying around, you can head back up to King Valley Dairy to gather up a hamper of picnic goods and return to enjoy the antipasti. Just you, the spoonbills and kingfishers for company.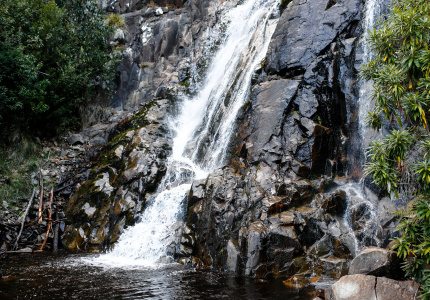 Paradise Falls
For half the year this waterfall is just a trickle. But as the weather cools, and the rains return, Paradise Falls puts on a show. To get there, turn off the sealed bitumen from Cheshunt and drive for 15 minutes up the dusty dirt road to Alpine National Park. From there it's an easy 20-minute return walk down to the misty falls and back again. There are sizeable rock formations and native Australian scrub to see on the way.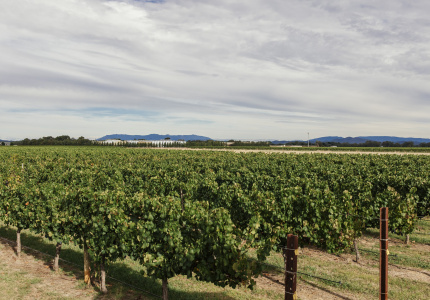 Rail Trail between Brown Brothers and Sam Miranda
With local wineries and produce merchants doubling as a network of delicious rest stops, cycling around the King Valley region becomes an attraction unto itself. With the cooler weather of autumn ushering in florid arrangements of crimson-, amber- and mustard-coloured leaves, riding a bike here verges on sensory overload. While you could send yourself in almost any direction, the rail trail between the Brown Brothers winery in Milawa and the Sam Miranda cellar door in Oxley makes a good introduction. A 10-kilometre return journey along flat gravel will take you past a series of cellar doors, farm gates, cafes and restaurants. If anything, the challenge here will be staying on your bike long enough to burn off the fuel you're consuming. If you haven't brought your own bike, visitors to Brown Brothers' Milawa cellar door can borrow one for free. It even comes with a basket to fill with gourmet loot.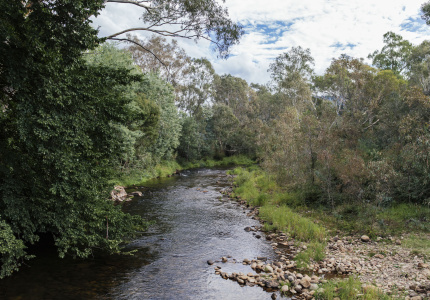 Fishing in the King River
The King River flows from the forested mountains of the Alpine National Park in the Australian Alps through to the King Valley floor. There's good fishing at Hamiltons Bridge, where you can wade into the shallows and await your catch. Then, a little further along Upper King River Road, the river meets Lake William Hovell. Here you can cast a line surrounded by forest and hopefully land a brown trout, rainbow trout, redfin or blackfish.
STAY
Between an award-winning regional hotel and a quiet cottage farm stay, accommodation in the King Valley is designed for relaxation. Check out even more places to stay in King Valley.
Itinerary
Autumn adventures on the valley floor.
Pleasant days and cosy evenings make for excellent prosecco-drinking weather. Tap into the region's Italian heritage on both a wine and food front, but make sure to leave some room for the handiwork of the valley's dairy artisans, too.