Rickshaw, a newly opened bar in the Melbourne suburb of Richmond, says it will reconsider its Vietnam War-themed concept after receiving significant backlash online.
Commenters accused the bar of capitalising on wartime atrocities and being insensitive to the people who survived the war – many of whom live in Richmond, the state's de facto home of Vietnamese immigrants since 1976, when the first refugees from that country began arriving in Australia.
"Settle into a booth or bunker down at the bar," reads a press release sent to Broadsheet about the bar, which is owned by David Anderson. He has another business, Kekou, on nearby Bridge Road.
"Exposed concrete floors, charred wood panelling and army-green booths suggest what a post-apocalyptic future may have looked like in the '70s; with burnt orange and brushed gold details mirroring the fire that flashes from the kitchen and the bar. The suggestive glow of red-neon light leads to the dark depths of the 65-seater venue, while stickers and tattered posters adorn the walls and empty bullet shells are littered throughout."
Stretching from November 1955 to April 1975, the Vietnam War lasted almost 20 years and claimed the lives of at least 1.3 million people. Even today unexploded landmines and lingering traces of the carcinogenic defoliant Agent Orange continue to cause deaths, sickness and birth defects in Vietnam, and those old enough to remember the conflict remain traumatised by it.
The wartime theme carried over to Instagram, where the bar posted a picture of a pint of beer with bullet shells resting in it, and a photo from Operation Frequent Wind, which saw more than 7000 people evacuated by helicopter from Saigon, with the caption "leave your ride at home".
These posts drew swift condemnation from the Vietnamese community and beyond, and have since been deleted. But some were screenshotted and continued to be shared on other accounts, such as that of Shop Bao Ngoc, a second-generation Vietnamese restaurant in Brunswick.
"In today's episode of 'I can't be fucked with white people opening appropriation themed restaurants': I'm so fucking tired. I'm so tired of white people capitalizing [sic] POC trauma. To open a '70s Saigon' theme bar in the middle of Richmond is peak white boy energy," owner Ngoc Tran wrote. "Read the fucking room. Richmond is a cultural hub for so many Vietnamese folks, especially our elders who survived the Vietnam War. Destruction of my home is not your aesthetic. AGENT ORANGE IS NOT A FUCKING AESTHETIC. My family didn't go through all that trauma (and still is) for your own personal gain. It's tacky and insensitive af. Do better @rickshaw_bar."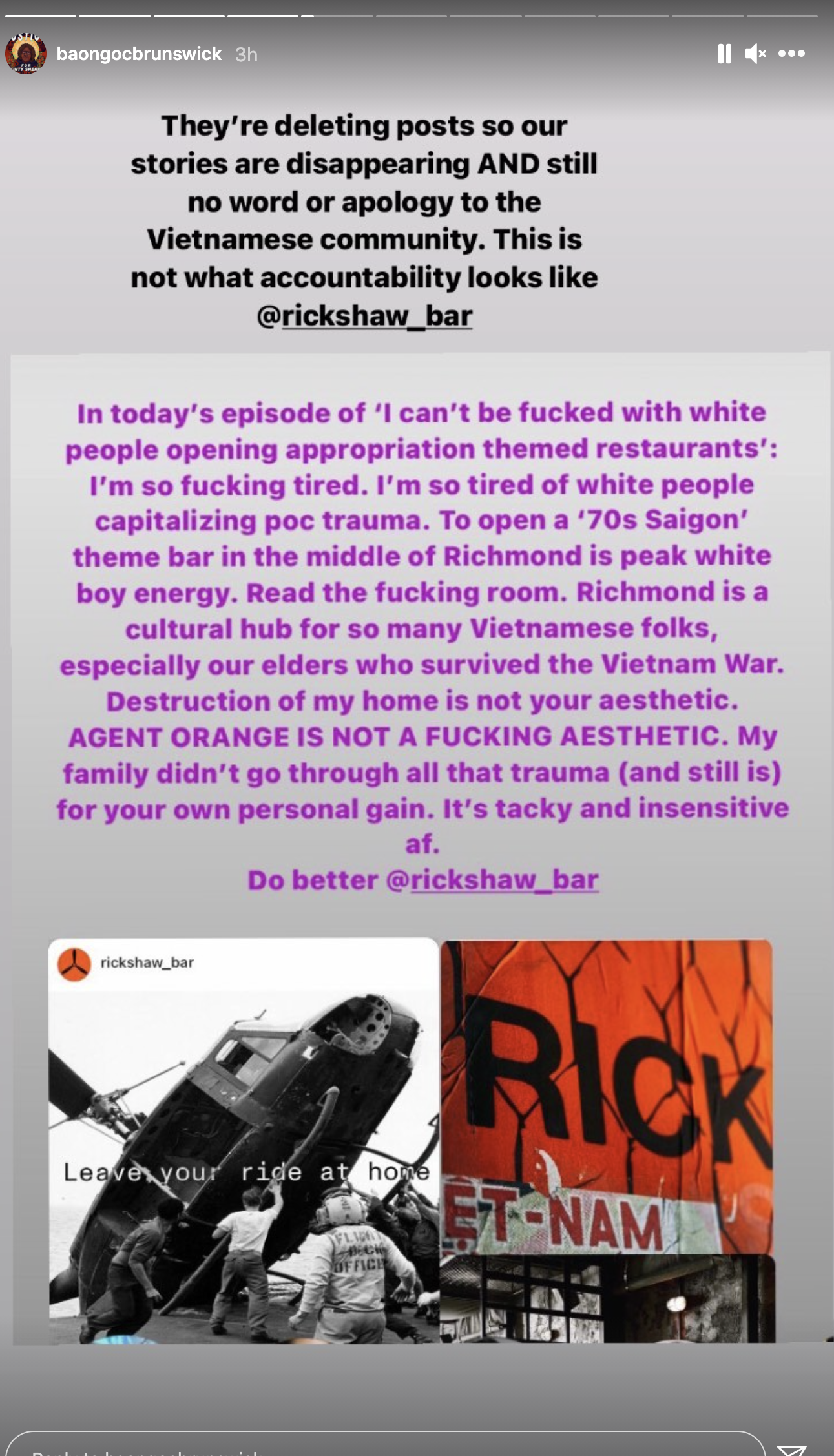 "We are saddened that our creative concept for our cool little bar has caused upset in the community, it was never intended this way," Rickshaw Bar wrote in a statement issued to Broadsheet. "Upon reflection we have decided to revisit the fit-out for the venue and will make some changes to ensure Rickshaw Bar is a fun and friendly venue for people to come and enjoy our hospitality."
Rickshaw Bar's insensitive theme is not a first. In recent years Sydney's Suey Sins and Brisbane's Colonial Co and Uncle Ho have all dealt with similar fall-out after referencing traumatic periods in history with their fit-outs and overall concepts.