Opening a restaurant was always on the road map for Nic Sandery, owner of Collingwood brewery Molly Rose. He hoped to find a good site in the area, where he could give beer the status usually afforded to wine, and show how well it pairs with food.
In a stroke of extremely good luck, the adjoining building became available. Sandery punched a doorway in the wall and earlier this year opened a schmick Southeast Asian restaurant designed by the same star firm behind Grill Americano: Mitchell and Eades.
"I wanted it to be dressed up a little bit more, to encourage a different audience to come in," he says. "People who don't want to sit in a warehouse, who want a comfy seat and nicer surroundings."
This year, gift them a dinner to remember with a Broadsheet Gift Card.
BUY NOW
Getting a topnotch chef on board was vital to that. Enter Ittichai "Biggie" Ngamtrairai, who grew up in Thailand and, after coming to Australia, spent time in the kitchens at Nomad and Matilda in Melbourne, and high-end Japanese-Italian restaurant Lumi in Sydney.
His background and experience is reflected in dishes such as the à la carte menu's cuttlefish noodles with squid-ink mayo, and a chicken wing stuffed with baccala (a cod mousse often found inside Italian-style zucchini flowers) and glazed with a sriracha-adjacent hot sauce. The unexpected pairing is an absolute banger, showing off Ngamtrairai's creativity and technical flair.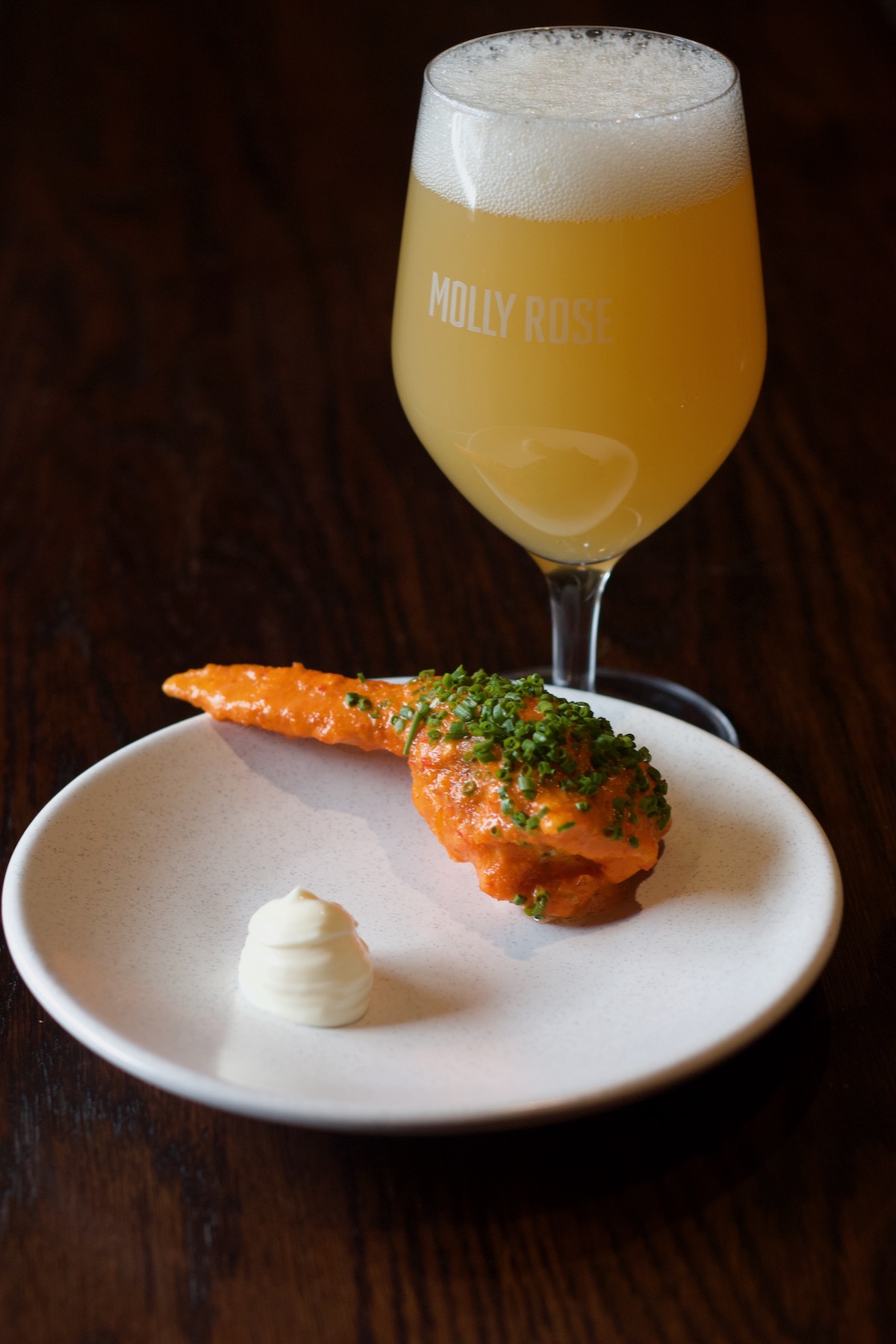 Baccala-stuffed chicken wing with house-made hot sauce, garlic chives and kewpie mayo | Photography: courtesy of Molly Rose / Liz O'Brien

Last month Molly Rose gave Ngamtrairai even more scope to flex, launching a set-menu chef's table experience with optional matched beers. Lasting for two and half hours, it's held every Friday and Saturday in a semi-private block of 20 seats both at the kitchen bar and neighbouring tables. Book a bar spot if you can. You'll get the best view of the small kitchen team blowtorching proteins and carefully arranging herbs on top, among other things. There's also the potential for chats with the easygoing Ngamtrairai as he drops dishes in front of you.
The menu is $95 and billed as five courses. But with 12 distinct dishes, it feels like much more. There are six snacks, a fish course, bread and butter, two substantial mains and two desserts. The matched drinks (one cocktail, five beers) are an extra $55 and demonstrate Molly Rose's intricate yet understated style, which might win over people who think they don't like beer.
As with the à la carte format, creativity and technical flair are at the forefront of the set menu. Thai, Japanese and Italian flavours and techniques mingle freely, in a way that feels thoughtful and inspired rather than tacky or gratuitous. The best example of this is the already signature dark tagliatelle, enriched with three types of intensely savoury seaweed (kombu, nori, wakame) and crowned with pumpkin and pecorino. It plays nice with the matched rye IPA, a dark, biscuit-y, fairly alcoholic beer that's far more challenging than anything else on the card.
This is poured late in the meal, though, with mains. Things start real easy, with a zesty cocktail of white rum, lemon syrup, citrus liqueur curacao and Molly Rose's own hazy lemon ale. The bubbles and citrus do a splendid job washing the tongue between bites – necessary when it comes to Thai-style pork crackling dusted with katsuobushi (smoked, fermented and dried tuna).
The following salvo of snacks could be the most interesting part of the experience. Mussels, ginger, lime and peanuts are served in betel leaves, miang kham-style.
Mild daikon radish slices get dabbed with herby salsa verde. Tiger prawns are chopped small and served in brittle bite-sized tarts, draped with fatty guanciale. And finger lime and persimmon prove good foils to fatty smoked lamb ribs. The accompanying beer is a delicate, easy-drinking mandarin-and-basil amber ale.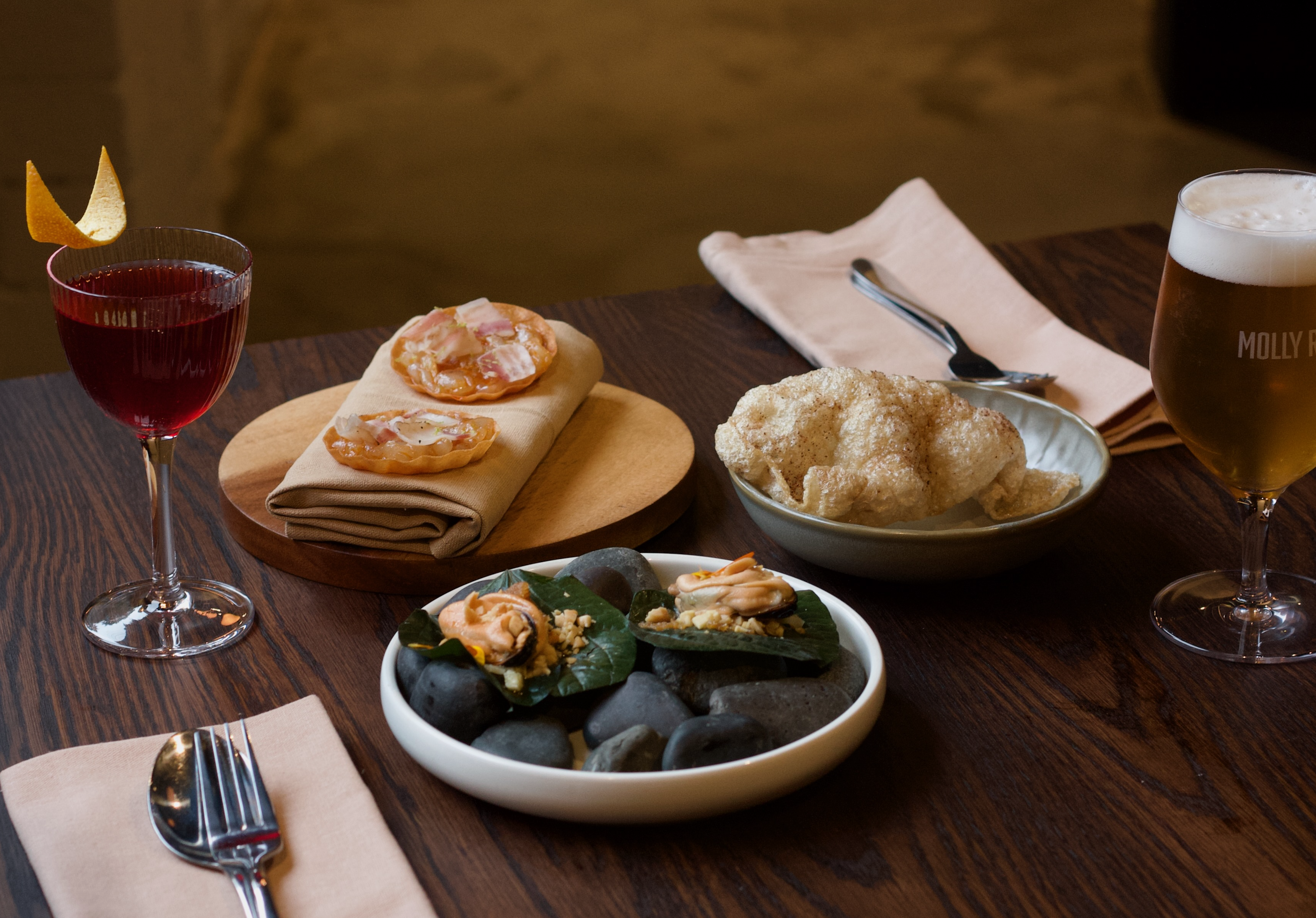 Snacks: mussels in betel leaves, tiger prawn tarts and pork crackling with katsuoboshi | Photography: courtesy of Molly Rose / Liz O'Brien

At dessert the hazy lemon ale from the first-course cocktail reappears, adding extra tang to a sheep's yoghurt studded with quince and lemon myrtle, but cutting through the doughy richness of bombolini and caramel made with sour beer. Who needs dessert wine when you have this?
"I love going to the pub and having a parma and a pint. It's my happy place," Sandery says. "But we think beer can be a great partner for more than just fish'n'chips, burgers and pizza."
Hear hear.
Molly Rose's five-course chef's table experience is $95, with matched drinks an extra $55. Seatings are available from 5.30pm to 8.30pm on Fridays and Saturdays. Allow at least two and a half hours.
Molly Rose
279–285 Wellington Street, Collingwood
Hours
Wed & Thu 4pm–10pm
Fri & Sat 12pm–1am
Sun 12pm–10pm