When Dom Gattermayr and Rose Richards, the creative minds behind wildly popular Carlton North cafe Florian, announced the opening of a new venue earlier this year, it was a surprise to many that it would be south of the river.
Florian became a north-side staple almost as soon as the doors opened in early 2021. Locals line up for perfect omelettes, anchovies on toast, jammy eggs and pop-up events from food favourites such as Julia Busuttil Nishimura.
But Gattermayr and Richards are familiar with south-side hospitality, and opening a South Melbourne venue is something of a homecoming for them. The duo worked together at Austro Bakery, which is run by Gattermayr's parents and still operates just a few blocks away from Florian's new sister venue.
Save 20% when you buy two or more Broadsheet books. Order now to make sure they arrive in time for Christmas.
SHOP NOW
Juniper is in a tiny corner spot on Coventry Street, in the former Giddiup space. It's significantly smaller than the pair's first cafe, but no less inviting, with large windows, mirrors and cosy seating inspired by European espresso bars.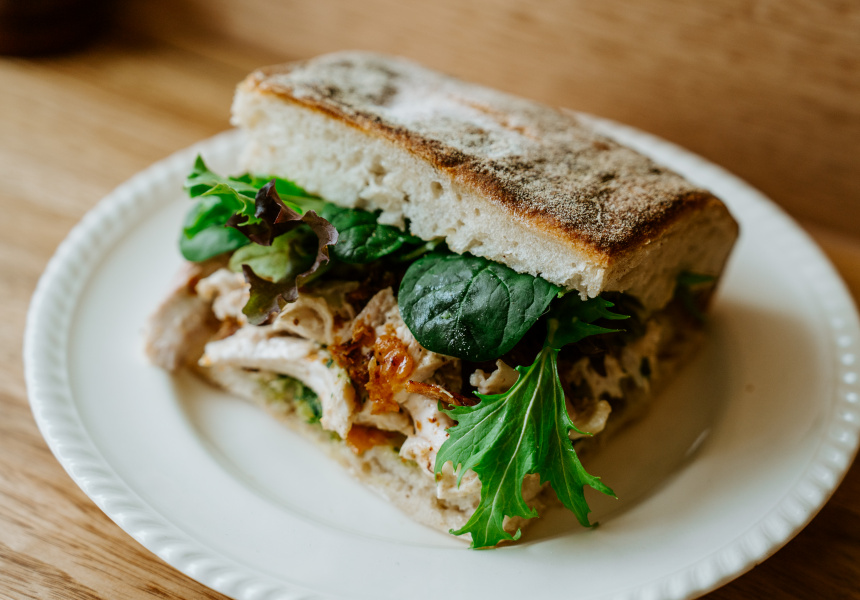 Juniper's chicken sandwich. Photography: Arianna Leggiero.

Gattermayr and Richards transformed the interiors to create an intimate setting that encourages connection between patrons. They took a hands-on approach to the fit-out, personally overseeing every detail of the design. The painted white brick, rich wood panelling, daily specials written in white on the mirrors and black chalkboards, as well as the glass case overflowing with fresh sandwiches and pastries create an elevated rustic feel reminiscent of French bistros and European coffee shops.
Chef Emily Grant, who previously worked at Florian, takes the reins in the Juniper kitchen. She worked with Gattermayr and Richards to create a menu with more Asian flavours, found in dishes like the mushroom congee with pickled mushroom and ginger, morning glory, soft egg and chilli oil, and the miso roast potato with Japanese turnip salad.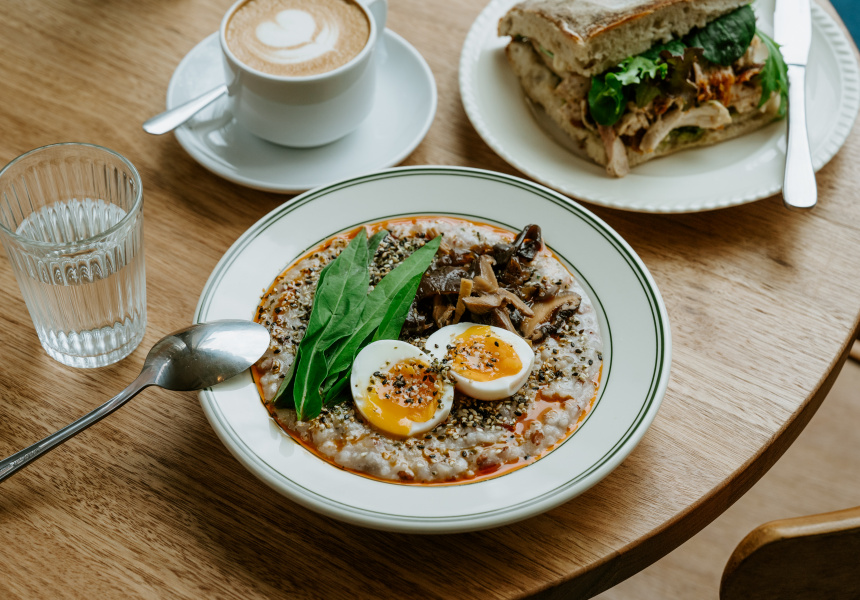 Mushroom congee with pickled mushroom and ginger, morning glory, soft egg and chilli oil. Photography: Arianna Leggiero.

The chicken sandwich – a familiar favourite from Florian – is a standout. Juniper's version includes roast chicken, still warm from the oven, in a freshly baked sourdough roll, adorned with garlic mayonnaise, salsa verde, mixed leaves and a generous helping of crispy chicken skin.
A hyperseasonal focus makes use of the cafe's proximity to South Melbourne market. When asked what everyone's ordering for dine-in Gattermayr says, "It's definitely the congee and the cured fish plate" – which right now is served with dill labneh, pickled fennel, radish and seeded sourdough.
Juniper's fresh, no-fuss takeaway options are also coveted. The lunch rush is particularly busy, so for the best chance at snagging a salad or sandwich, visit before the rush starts at 11am.
Juniper
269 Coventry St, South Melbourne
No phone
Hours
Daily 8am–3pm