Sitting in the crowd at an AFL game with a pie. Stopping for a coffee at a where-the-hell-are-we laneway cafe. Spending an afternoon wandering the NGV. They're all essential Melbourne experiences – and so is dining at Chin Chin.
By many measures, the Flinders Lane eatery is one of the most successful restaurants Melbourne has ever seen. It opened in mid-2011 and from day one had long queues, with locals and out-of-towners alike lining up in the hope of nabbing a table. On the menu was big-flavoured Thai food served to a kicking soundtrack of singalong jams.
Ten years later Melbourne's dining scene has evolved, but Chin Chin remains a fundamental part of the CBD's nightlife. Sydney, too, has succumbed to its energetic charms, with throngs of people rolling up to the Surry Hills outpost in search of good vibes and great food.
But what is it about the eateries tucked behind those iconic neon-pink bunny logos that's allowed them to experience the kind of prolonged popularity our notoriously fierce east-coast restaurant scenes rarely allow? And how do the bratty, pop-punk upstarts plan to celebrate the end of their first decade?
"I could never have imagined 10 years ago what Chin Chin has achieved," restaurateur Chris Lucas tells Broadsheet. "It started with a crazy idea to take over a nightclub in a historic building in a small but culturally rich laneway called Flinders Lane, and to serve some delicious and unpretentious Thai food."
The food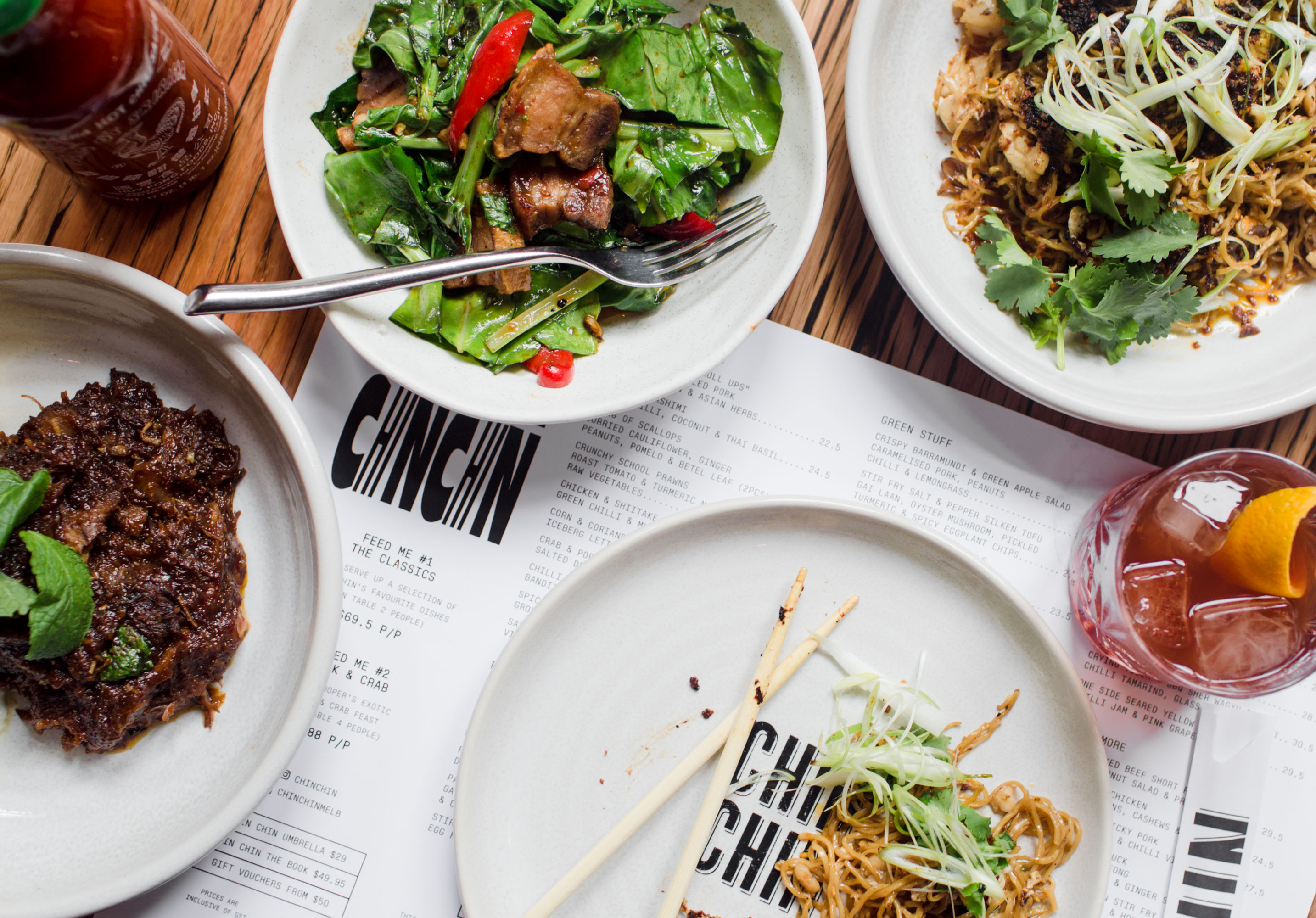 The food is, of course, the cornerstone of Chin Chin's quick and lasting success. Head chef Benjamin Cooper worked with celebrated Australian Thai-food proponent David Thompson at London's Nahm (the first Thai restaurant in Europe to be awarded a Michelin star) before Chin Chin opened. His vision was a colourfully chaotic celebration of Thai food traditions, rather than a reinvention of them.
"The food at Chin Chin, since day one, has been about a respect for authenticity and technique, with a view to using the stunning produce of our great country and the playfulness that allows," Cooper says. "I have always had a deep love for the food, culture and philosophy of Southeast Asia – especially Thailand."
While he concedes that a decade is a long time in the food scene, Cooper believes the gentle evolution of Chin Chin's offering was driven more by his own experiences than by food trends or industry expectations.
"The menu is largely a result of exploring Southeast Asia with my family, and using that experience to cook for friends at home, testing and evolving dishes that will bring happiness to our guests. It's driven more by time and experience and less by what is going on around us."
He adds that, while there have been some noteworthy additions to the menu in recent years ("the lamb and turmeric spiced beans would never have worked 10 years ago"), it's Chin Chin's continued respect for popular day-one dishes like the kingfish sashimi, pad seuw, massaman curry and barramundi salad that have allowed them to meet the ongoing expectations of diners.
"It's easy as a chef to get caught up in constantly evolving and changing the menu, but sometimes you miss the chance to really finesse a dish and to see what it can become."
The buzz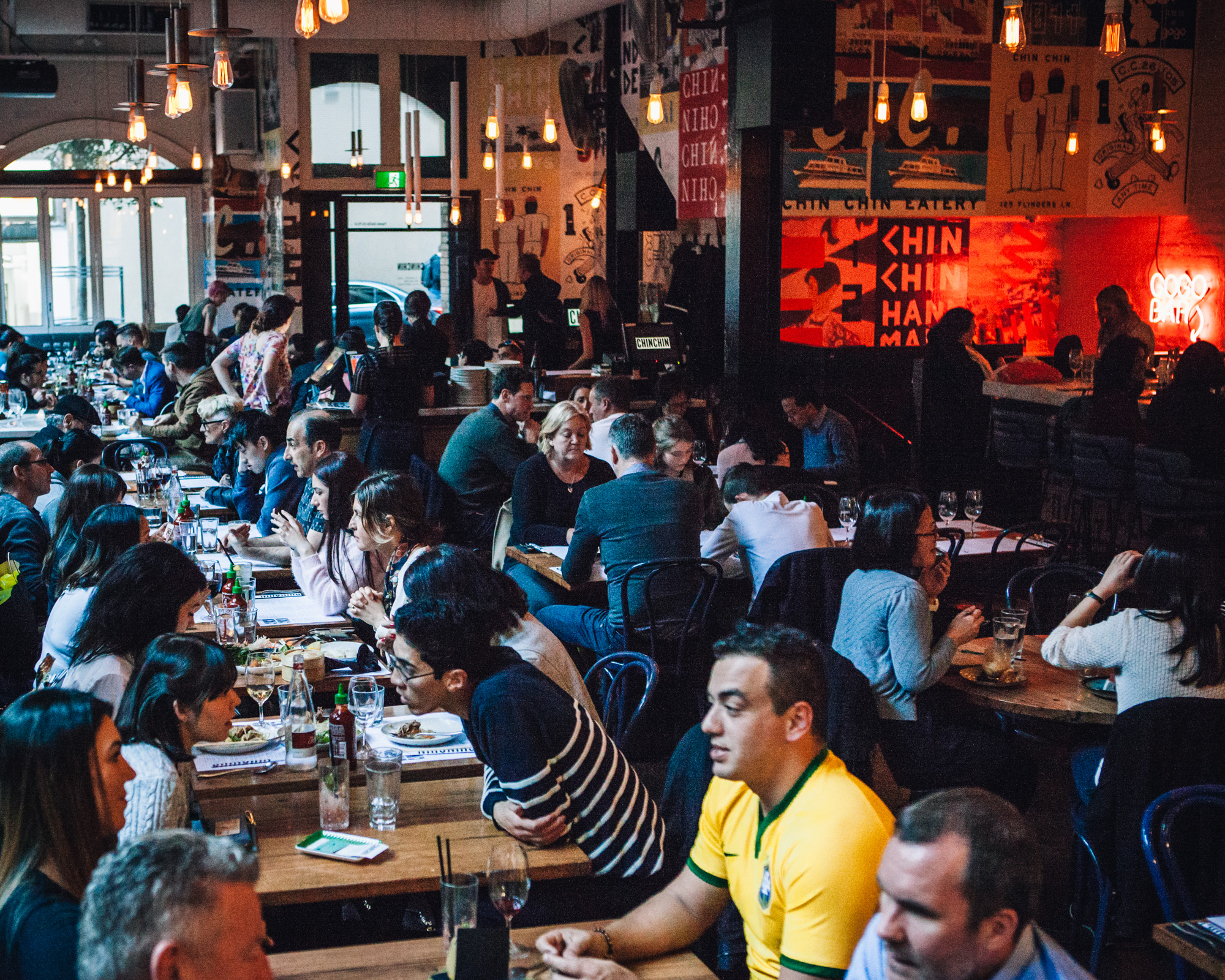 The near-instant lighting-in-a-bottle buzz Chin Chin attracted on both its Melbourne and Sydney openings was aided by the nightclub-like queues stretching far past both entrances – a product of the deliberately limited booking policy (now somewhat relaxed due to Covid) – and the menu's inviting Feed Me option.
Though not revolutionary, this opportunity to relinquish control of your order to the restaurant, taking into account dietary requirements, fave dishes, a preference for savoury or sweet, or a craving for a particular flavour ("just crab and pork, please"), allowed the restaurant to showcase its best dishes to both new and returning diners, and helped cement its reputation as a place where it's very hard to order badly.
Collaborations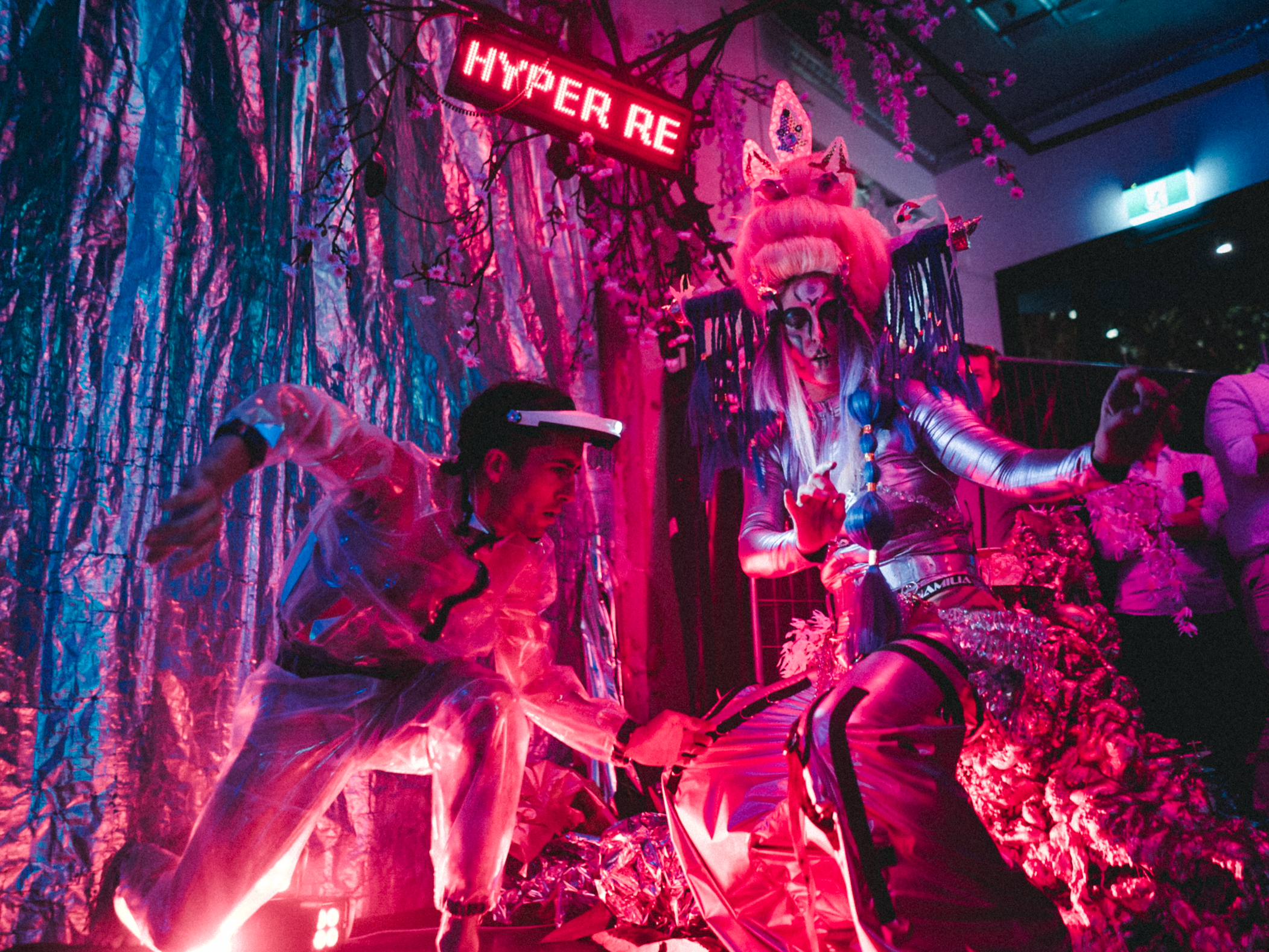 Creative partnerships have long been a key tenet of the restaurant's ethos, and a formal program has seen artists engaged for a number of opportunities – including to fill the Chin Chin Wall of Art: a free public projection space for contemporary video works, visible through the Melbourne dining room's lofty windows.
Lucas Restaurants creative director Holly Lucas says the art program, curated by former Chin Chin waiter Kat Clarke, allows the group to work with local and emerging artists and to help it "communicate the Chin Chin experience beyond its four walls".
Also fundamental to the restaurant's energy, Holly says, is its soundtrack, overseen by DJ, PBS radio show host and Chin Chin in-house music curator Miss Goldie. "She joined us as a DJ at GoGo Bar nine years ago, and now her role has grown to working full time to curate playlists and manage DJs across all Lucas restaurant venues."
(GoGo Bar is the dimly lit, drinks-forward bar-dining experience below the Melbourne eatery and next door in Sydney.)
The celebration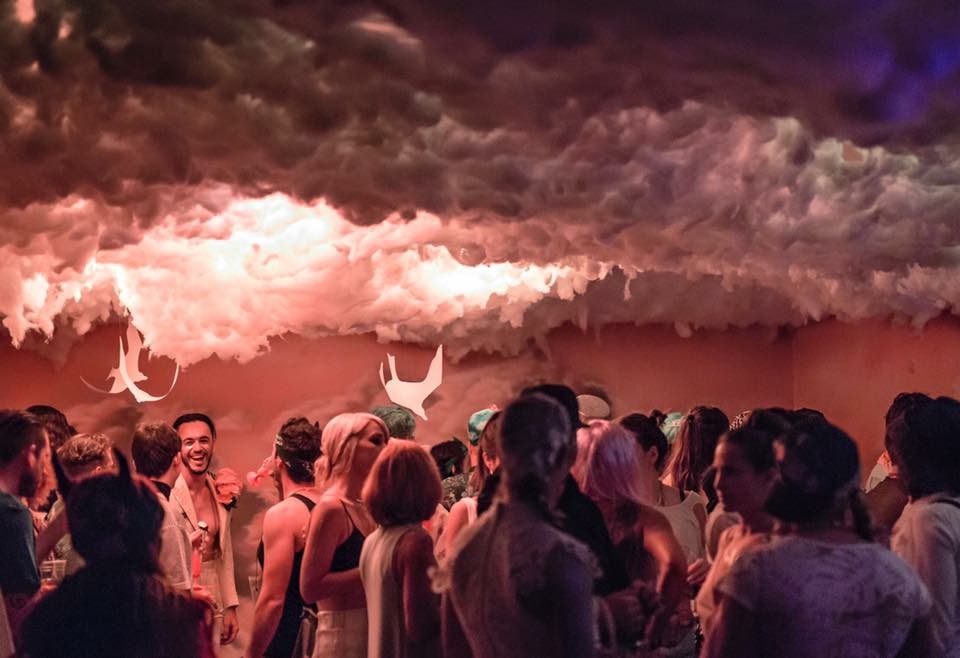 Chris Lucas says the 10-year milestone is something worth celebrating. "I think about the thousands of chefs and floor staff that have started their careers at Chin Chin, and I can't help but sit back with a sense of pride. So much fun, music and joy."
And it's going large. In Melbourne, the venue's throwing a month-long party – starting on Wednesday May 5 with Chilli Inferno, a night dedicated to eye-watering spice.
The following week, on Wednesday May 12, Chin Chin presents Garden of Eatin', a vegetarian and plant-based feast. On May 19 there's Benjamin Cooper's dream dinner (dubbed "I Dream of Cooper"), featuring boundary-pushing Southeast Asian dishes that have never made it onto the Chin Chin menu. And finally, on Thursday 27, there's the candle-blowing event.
"For our 10th birthday celebrations, we wanted to pay tribute to the incredible food, art, music and experiences that have been the foundation of Chin Chin over the decade," Holly says, "and also give guests a taste of something that they've never seen before."
Sydney's events happen over a week in June and are equally extravagant.
Beyond the parties, throughout May diners can enjoy rotating specials that include past favourites and some never-before-seen dishes – including the CC10 Birthday Cake, layered with coconut ice-cream, strawberry and lemongrass jam, coconut sherbet and makrut-lime curd.
"As well as this, the Chin Chin Wall of Art program will be a celebration of past and future collaborators, including animation artist Glynn Urquhart, Holly Block, Kurt Medenbach, and globally recognised 3D digital artist Jason Ebeyer. We'll also have performances by one of Australia's most iconic duos, The Huxleys."
Chin Chin's 10th birthday celebrations kick off in Melbourne on Wednesday May 5 and run all month. Sydney's events happen in June.
Want to read more about Chin Chin? Spend 24 busy hours with The Lucas Group in this in-depth feature, or join Broadsheet writer Tristan Lutze as he works a day in the Sydney kitchen.