If you've ever joined – or even seen – the lines for Nana Thai, Thai Tide, and Isan Soul Thai Food, you're probably already well aware that Melbourne's CBD – specifically Bourke Street – is in the midst of a Thai restaurant boom.
Then there's Soi 38 – where you might spend more time waiting for a seat than dining in the restaurant – down a nearby laneway.
So newcomer Thai Baan has a lot of competition. It's a good thing owner Jirada Ponpetch and chef Saifon Wichian are ready for the challenge.
Save 20% when you buy two or more Broadsheet books. Order now to make sure they arrive in time for Christmas.
SHOP NOW
The pair quickly became accustomed to lines down the street when they opened earlier this year. When Broadsheet visits, on what Ponpetch describes as a "quiet" Saturday night, there are no fewer than three parties waiting to be seated by 6.15pm. A big reason for the queues is the casual restaurant's Ayutthaya noodles, or boat noodles.
Ponpetch learned the recipe growing up in Isan, in north-eastern Thailand, where her family ran an Ayutthaya noodle stall for 30 years. At Thai Baan, as in Thailand, blood is a key ingredient in the Ayutthaya noodle stock.
Similarly, Wichian (also originally from Isan) learnt how to cook at her mother's restaurant in Bangkok. Her mum was known for her pok pok noodles, which are served in a clear, slightly sweet broth, and nam tok, or "waterfall" salad, served here with grilled pork cheek or beef brisket in a dressing of ground rice powder, onion, shallots, lime juice and Thai herbs. Naturally both dishes have landed on the menu. "Everything is from our families," Ponpetch says.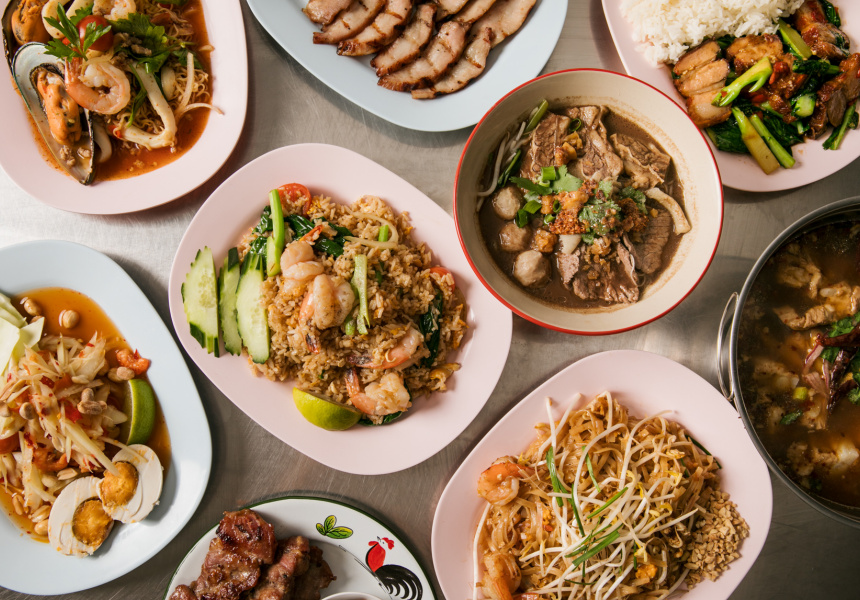 Thai Baan CBD dishes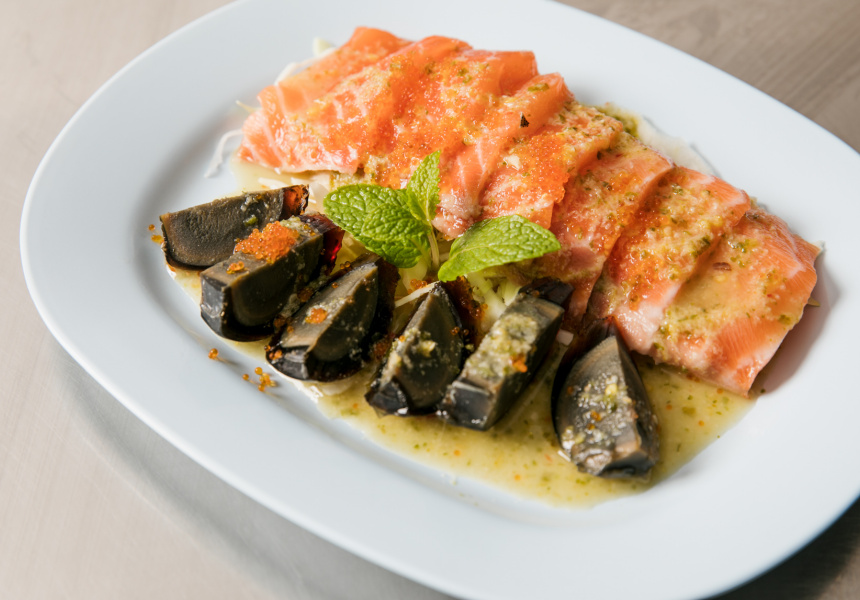 Century egg and salmon. Photography: Amy Hemmings

Ponpetch is also the owner of Thai Baan Kitchen & Bar Williamstown, her first restaurant, which opened in 2020. It's there she met Wichian, a commercial cookery student who applied for a job in the kitchen.
The Williamstown menu includes pad see ew, papaya salad and Thai fried rice. "It pulls more from Bangkok and caters more towards a Western palate," Ponpetch says. The city venue – in the space formerly home to The Mess Hall – offers an expanded menu that takes inspiration from Isan street eats. You'll find dishes such as fermented lotus root salad; salmon with century egg; and som tum pu plara, a green papaya salad with fermented fish and pickled crab.
Thai Baan dishes are spicy – although most can be made mild, or at least with slightly less chilli. And the spice can be tamed with the help of drinks including Chang and Leo beer from Thailand, apple soju and Thai milk tea.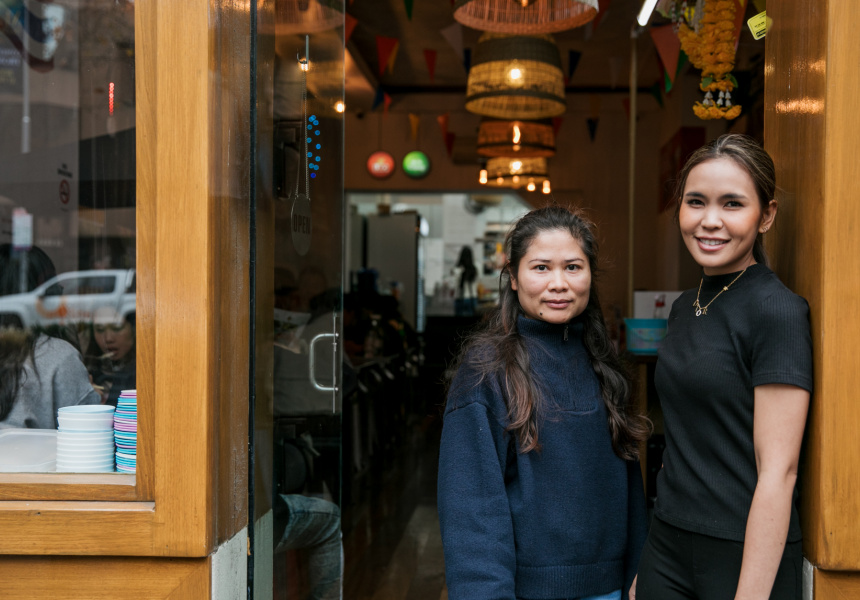 Chef Saifon Wichian (left) and owner Jirada Ponpetch (right)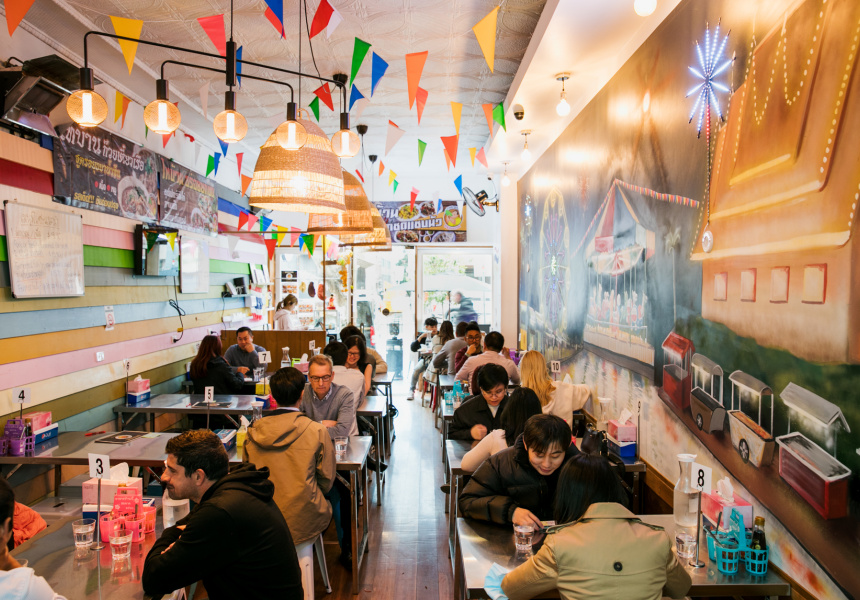 Thai Baan CBD interiors. Photography: Amy Hemmings

The two desserts on offer also help counter the heat levels. Ruam mit combines Thai jellies and sliced jackfruit with coconut milk and ice, while the coconut ice-cream is served with an egg yolk swirl, which provides a textural element similar to a frozen Aero bar or a giant Dippin' Dot.
Perhaps the only thing more joyful than the desserts is the Thai temple-inspired décor. Brightly coloured bunting hangs from the ceiling, and a mural embellished with LED fireworks adds to the bustling energy of the space.
To avoid the queues, try visiting after the dinner rush. Thai Baan is open until 1am on Wednesday and Thursday nights, with live acoustic and Thai pop music from 10.45pm.
Thai Baan
51 Bourke Street, Melbourne
0423 469 552
Hours
Fri to Tues 11.30am–3pm; 5pm–10pm
Wed & Thurs 11.30am–3pm; 5pm–1am