Jack Shanahan has noticed a change in Melbourne's breakfast culture. He tells Broadsheet he's seen a move away from camera-ready, overly decadent brunches to simple, unfussy food. This shift is celebrated at Walrus, a casual American-style diner on Sydney Road in Brunswick opened by Shanahan and his business partner, Miles Davis, both first-time owners.
While inspired by their reconnaissance trips to west coast diners, particularly in LA, Walrus is more intimate than most of its US counterparts. The space features a handful of cosy wooden booths, with wipe-down Laminex tables up the front and a curved counter towards the back. Dark tiles, naked lightbulbs, thrifted artwork, and a handwritten specials board finish the lo-fi, Twin Peaks-style fit-out.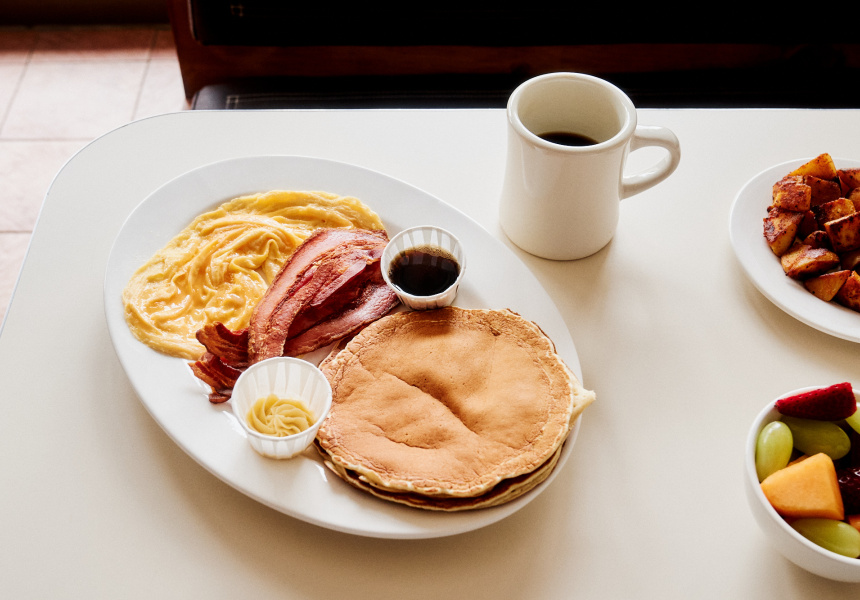 Bacon, eggs and pancakes from Walrus. Photography: Ashley Ludkin.

Save 20% when you buy two or more Broadsheet books. Order now to make sure they arrive in time for Christmas.
SHOP NOW
At Walrus you'll find good old-fashioned filter coffee brewed using a vintage Coffee Queen machine. "It's a real workhorse," says Davis. The beans come from Fieldwork in Abbotsford and the coffee is served black or white, hot or iced. Whichever you choose, it'll pair well with a thick slice of the caramelised pecan or cherry pie usually found on the counter.
Old-school American staples are served all day, including crisp bacon made from fatty pork belly rather than the leaner loin cut popular in many cafes. Eggs are served fried – sunny-side up or over easy – or scrambled, and omelettes include a Mexican-inspired number with queso fresco and house-made salsa.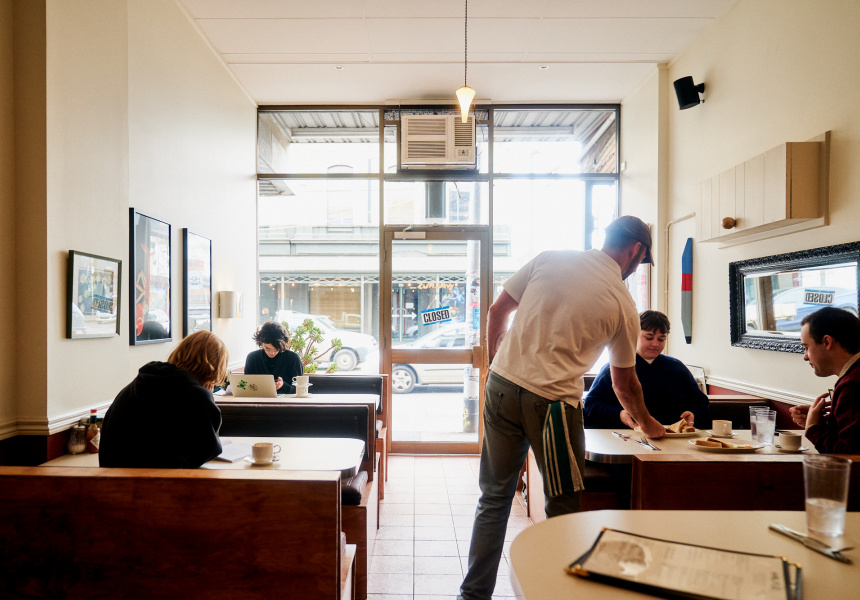 Inside Walrus. Photography: Ashley Ludkin.

Lunch options – a BLT, a tuna-salad sandwich, a cheeseburger with fries – are available from 11.30am. You'll also find state-specific breakfasts like Texas French toast made with extra-thick slices of bread, and New York bodega-inspired breakfast sandwiches – on sturdy knot rolls to contain combos of egg and cheese with sausage or hash brown with minimal spillage. "[The rolls have] got a little bit of crunch and they're really soft – everything just kinda shines through," says Davis.
Pancakes are cooked on a flat-top griddle, tripled stacked to resemble an emoji and served with plenty of maple syrup and whipped butter. Customers are encouraged to add bacon to the mix. "It's sweet, it's salty," says Shanahan. "It's classic food that's never gonna go out of style."