The soufflé pancake origin story is subject to speculation. Some sources suggest the pancakes first appeared in late-1970s Hawaii at breakfast restaurant Eggs 'n Things. Others credit their inception to Japanese manga and anime Crayon Shin-chan, whose doughy cheeks resemble a squishy pancake. The puffed-up snacks gained a cult following in Japan before reaching a sky-high level of online fame usually reserved for pop stars and cats.
The pancakes have been appearing in Melbourne for some time, with venues including Fresh Air & Pancake and Keki Milk Bar seeing lines of fans snaking out the door eager to try the internet-famous creations. In May, brothers Jason and Jin Tan opened Kumo Desserts in the city, a new dine-in spot specialising in the Instagrammable treats.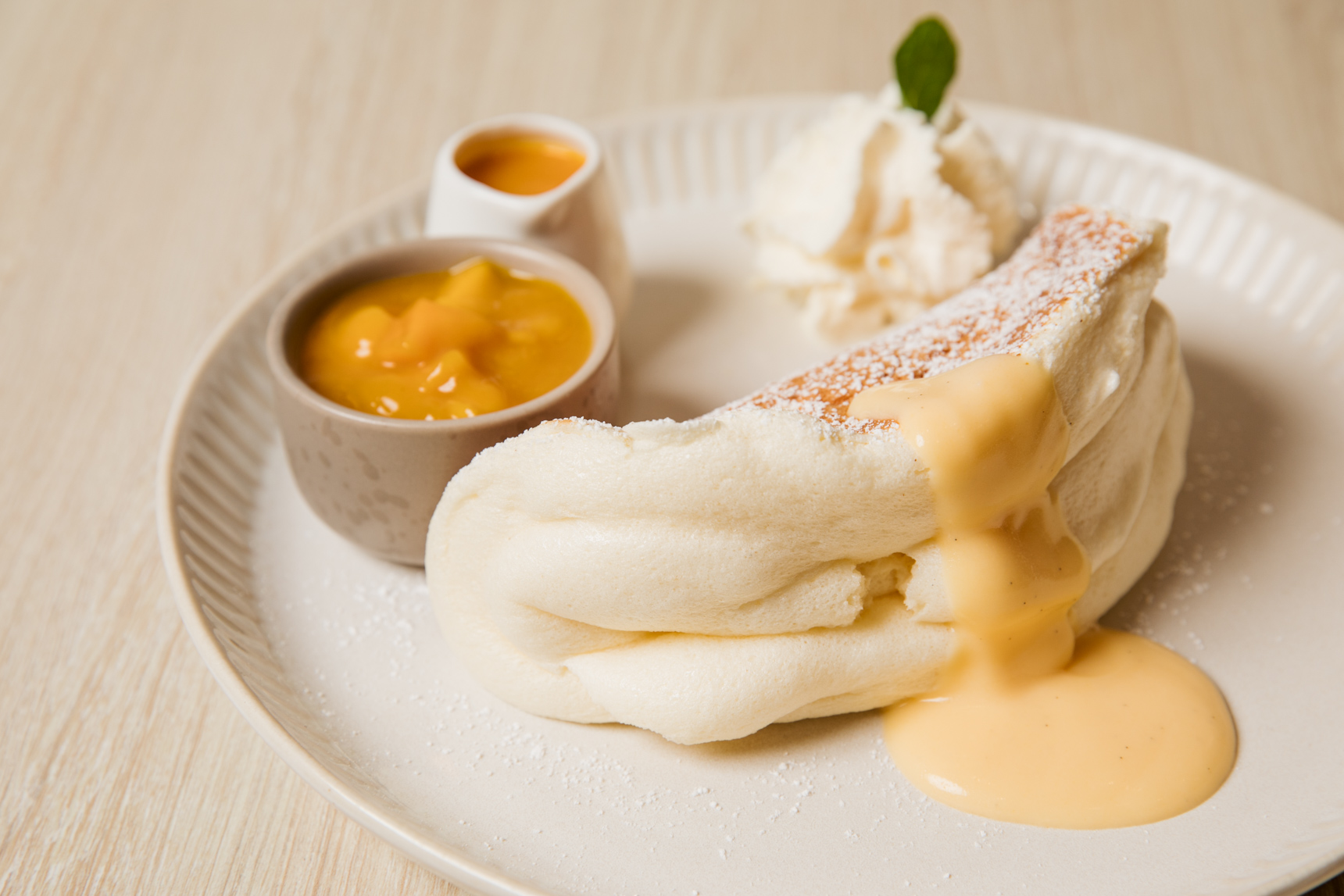 Kumo's Mango Tango soufflé pancake. Photography: Amy Hemmings

Save 20% when you buy two or more Broadsheet books. Order now to make sure they arrive in time for Christmas.
SHOP NOW
Kumo's own origin story is less fuzzy than its signature pancake. It began as a pop-up called Kumo Kumo – kumo is Japanese for "cloud" – at the Night Noodle Markets in Sydney and Melbourne in 2019, before popping up in Brisbane and Perth. The brothers opened a permanent Kumo Kumo store in Perth, then left the business and brought the concept to Melbourne's CBD.
Before the pop-ups, Jason embarked on a pancake pilgrimage across China, Taiwan, Hong Kong, and Japan with the mission to uncover secrets of the perfect soufflé pancake. He was introduced to numerous recipes but wasn't completely satisfied with what he found. When he came home, he developed his own.
Unusually for soufflé pancakes, which often don't have butter in the batter, the pancakes at Kumo are 20 per cent Pepe Saya cultured butter. This not only adds extra richness but is the reason for the pancakes' distinct shape.
"When the mixture is heated, the butter becomes liquid," says Jason. "So, with a round shape we would have lost the height we were looking for. That's why we decided to fold our pancakes, creating a unique, omelette-like shape that preserves their fluffy texture and impressive height."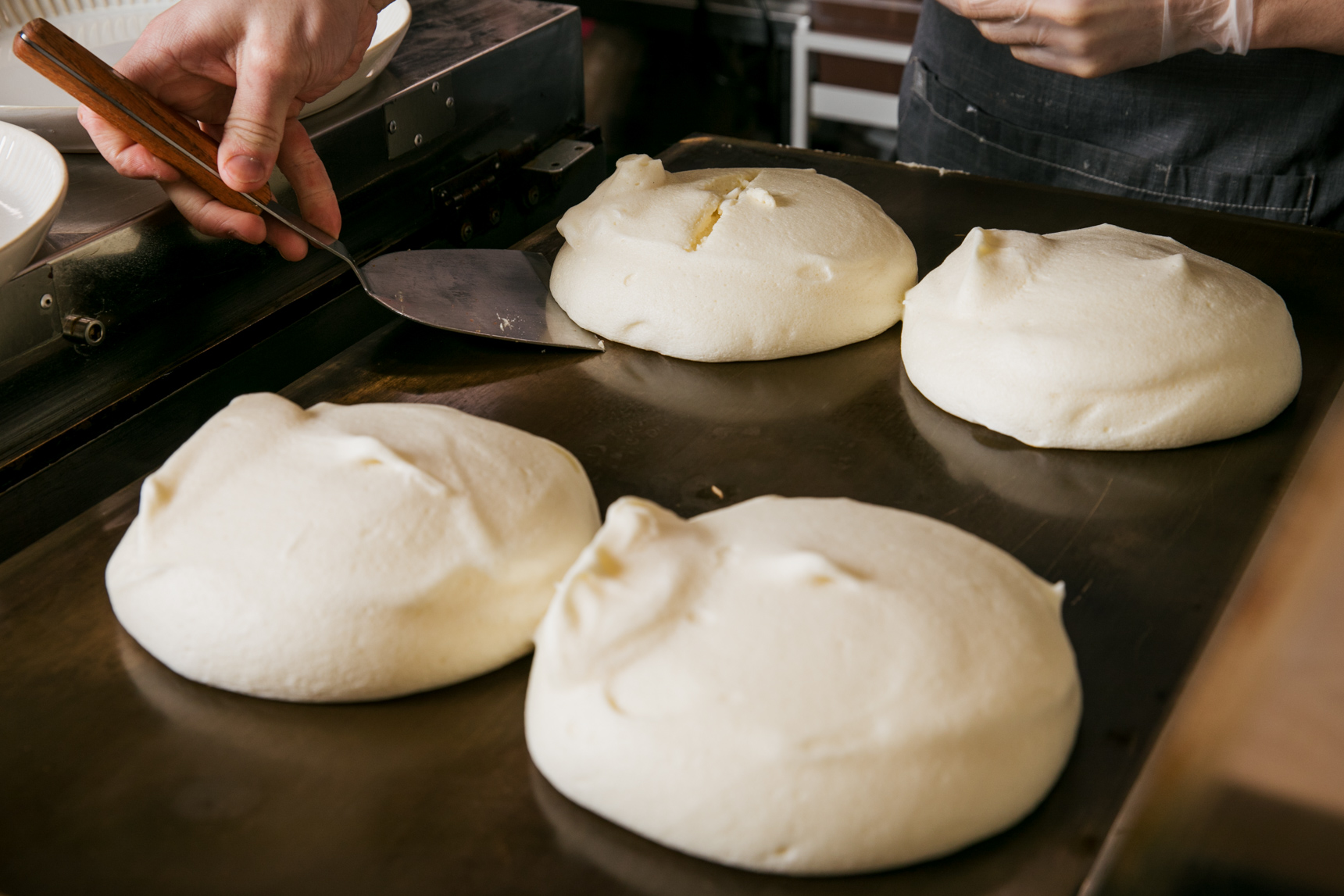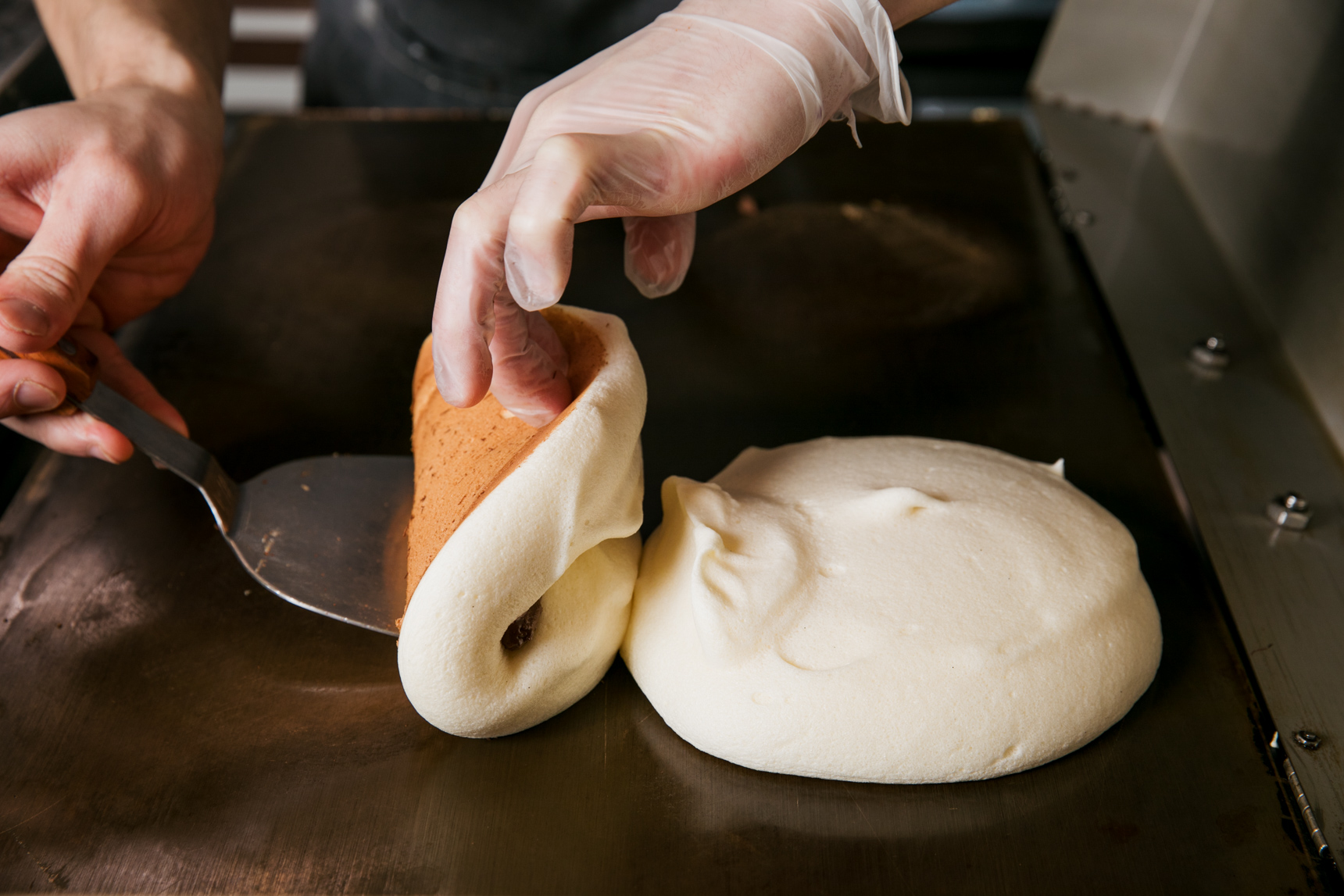 Kumo's soufflé pancakes in the making. Photography: Amy Hemmings
Apart from the soon-to-be-launched pandan pancake, all Kumo pancakes are made from the same batter, but are served with a variety of toppings and fillings including Jarrah honey, mango coulis or Nutella. The bestseller is the Boba Brûlée Bomb, a decadent creation combining the nutty sweetness of brown sugar with the chewiness of boba pearls, finished with blowtorched caramelised custard.
Each pancake is made on a machine Jason designed and takes 20 minutes to cook. Guests can enjoy house drinks including hojicha with cream foam, yuzu and ginger lemonade, and ube lattes while they wait for the main event to arrive. Kumo has a semi-open kitchen, and an airy and bright dining space, so guests can also just hang out and catch glimpses of the pancake magic while they wait for fluffy perfection to arrive.
Kumo Desserts Melbourne
198 Little Lonsdale St, Melbourne
No phone
Hours
Mon to Wed 3pm-9.30pm
Thu & Fri 3pm-10:30pm
Sat 11am-10.30pm
Sun 11am-9.30pm