Chef Tomoharu Shono has strict guidelines for eating ramen: "Concentrate on eating one bowl of ramen per person, not sharing," he tells Broadsheet. "Hold back a little on the pleasant conversation with your companion friends and family. Ramen is a full bowl, a meal that tastes best when freshly prepared."
It's worth paying attention, because if there's one thing Shono knows, it's ramen. In 2015, the chef founded Mensho Tokyo, a revered ramen chain with outposts in the US (the San Francisco location is listed in the Michelin guide), Thailand, India, and now, Australia.
The Russell Street store is the first Australian location for the chain. Be warned, taking up one of Mensho's 28 seats can require a significant amount of time in line. Patience is key, as getting in can sometimes be a two-hour endeavour (or longer). But if guests hold back on the conversation, as Shono suggests, diners can be in and out relatively quickly.
This year, gift them a dinner to remember with a Broadsheet Gift Card.
BUY NOW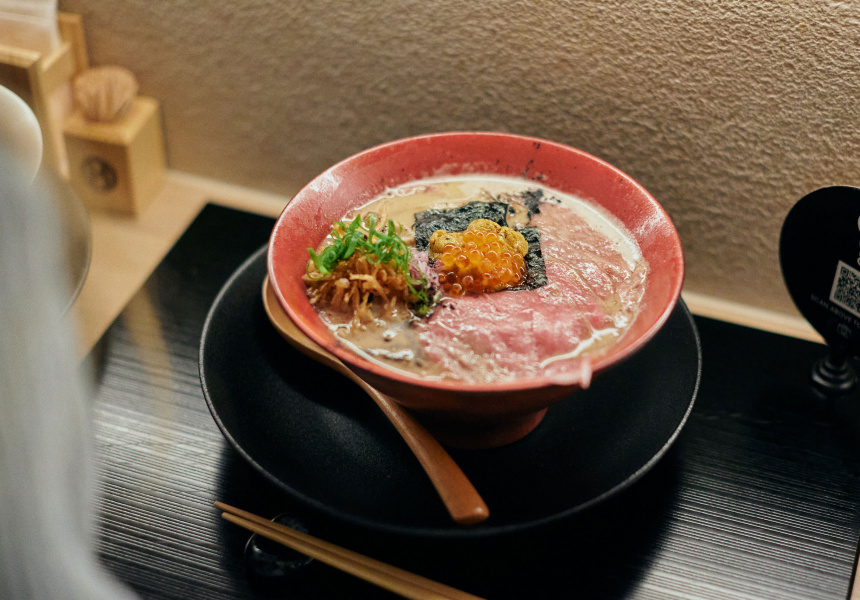 Mensho Tokyo's signature tori paitan ramen. Photography: Harvard Wang.

The menu offers six types of ramen. The signature bowl is the tori paitan ramen, which uses a chicken broth based on mizutaki, a Japanese hot pot dish. To make the broth, the kitchen team simmers chicken, kelp and vegetables for six hours and then refrigerates the soup for 24 hours to help develop flavour. The resulting tori paitan (creamy white broth) is served with fresh noodles and topped with duck char siu.
The richest offering on the menu is the premium Wagyu ramen, which is limited to just 20 bowls per day. For this dish, broth is made with Australian chocolate-fed Wagyu and is served with Yarra Valley salmon roe and Tasmanian sea urchin as toppings.
Upstairs, a machine produces noodles using a blend of milled local wheat, rye and quinoa. Noodles will change seasonally. During the winter months, noodles are made thick and wavy, but in summer the team will make thin and straight noodles more suited to the cold rei-men and tsukemen they plan to serve.
More adventurous diners may prefer the GKO or "garlic knock out" ramen, where this chicken broth is topped with black garlic oil and three types of fried garlic, or the green tea ramen, which is infused with matcha powder from Uji, Japan. There's also a fiery lamb ramen with aged miso and vegan tantanmen, plus sake pairing recommendations and side dishes including chicken and eggplant karaage, fried enoki mushroom, and crispy corn 'wings'.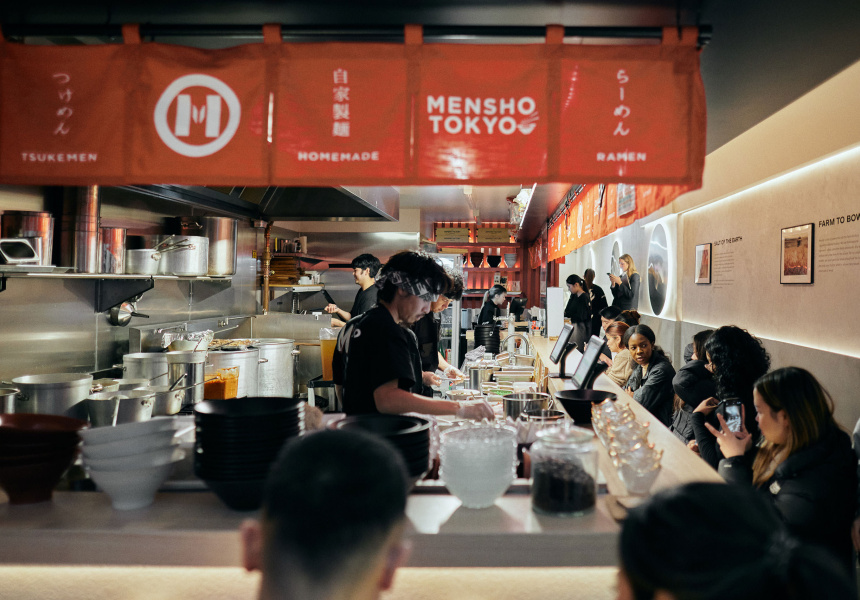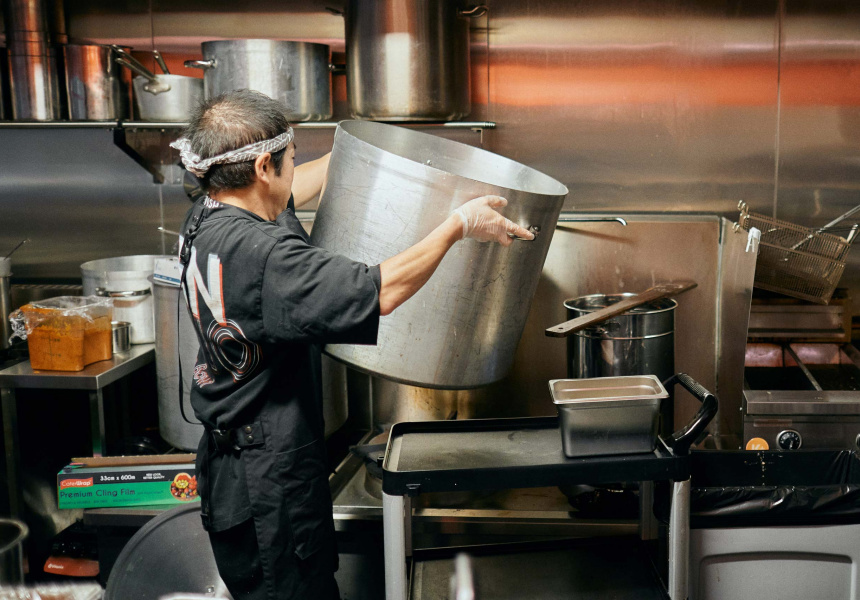 Inside Mensho Tokyo. Photography: Harvard Wang.

All Mensho locations employ a "farm-to-bowl" ethos. "The brand is global, but the operation is completely local," says Australian flagship owner Justin Ko, who also owns the Australian franchise rights for Pelicana Chicken. That means everything from the noodles to the broth is made in-house daily from local Australian produce. The GKO includes infused coffee oil, using Melbourne coffee beans, and the konbu (kelp) is from Tasmania.
The interiors also utilise Australian timber for the countertops and louvres offering a modern take on traditional Japanese ramen shop design. "I think we are the piece of the puzzle missing from the Australian ramen scene," says Ko.
Mensho Tokyo
166 Russell Street, Melbourne
1300 339 603

Hours
Daily 5pm–10pm