"I really, really hope this is the restaurant at the end of the universe."
"Better than an urban myth, this place is legendary."
"In a world full of Scomos and Trumps, places like Moroccan Soup Bar give us hope!"
Broadsheet Access members get special tables at busy restaurants, tickets to exclusive events and discounts on food, coffee, brand offers and more.
Find out more
"Marrakesh in five minutes."
"Thank you for providing a space where basic human values have priority above all else."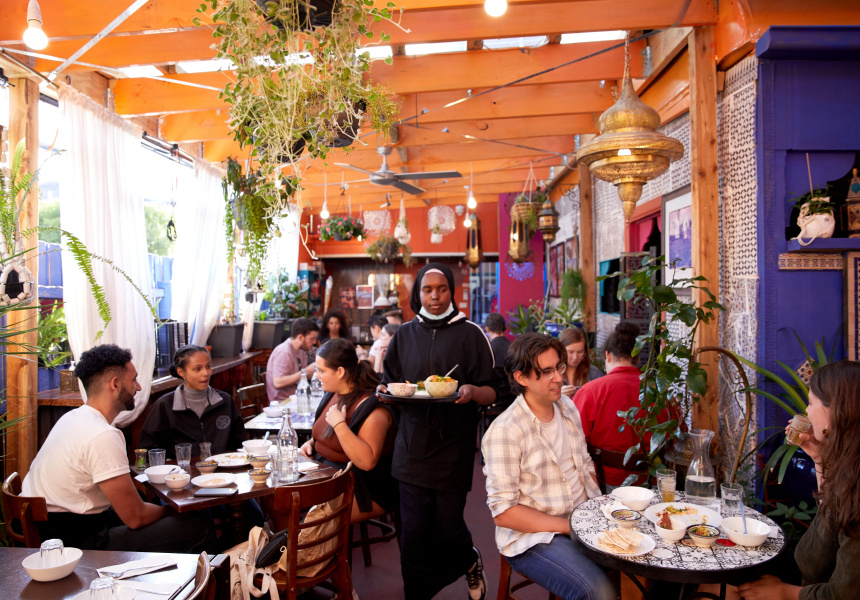 The current Moroccan Soup Bar.

It's not often that a restaurant changes lives. But in its 24 years, Moroccan Soup Bar has done just that.
Though tonight owner Hana Assafiri will close the doors of her Melbourne institution for the last time, it leaves behind a blazing legacy – and a lifetime's worth of stories.
Above are just five of a hundred messages Assafiri has collected – and treasured – over more than a decade, scrawled on napkins by customers moved to share their experiences. The substance may differ, but the sentiment is always the same: whether just once or 50 times, it's been a privilege to take a seat at Assafiri's table.
It's not a line-in-the-sand goodbye, though; Moroccan Soup Bar will live on in a takeaway and events capacity, based out of a new space. But it does mark the end of a very special era for many Melburnians. Some have dined there since childhood and considered it a second home. Others have had their eyes completely opened by it.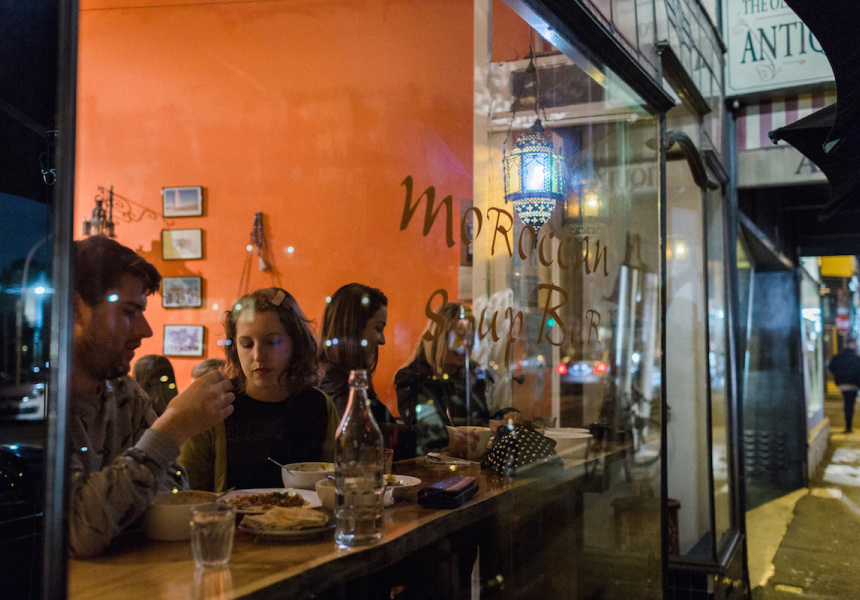 The original Moroccan Soup Bar.

Assafiri opened Moroccan Soup Bar on St Georges Road in Fitzroy North in 1998 – after 13 years working in domestic violence services. It was in response to a domestic violence initiative introduced by the federal government, which she says partially disregarded women from marginalised backgrounds.
"We did not understand the need of diversity and the intersectional experience of migrant women, women from non-English-speaking backgrounds [and] women whose needs were more complex," Assafiri tells Broadsheet.
Moroccan Soup Bar gave them a safe space to work. At home, the kitchen subjugated them; at the restaurant, it empowered them. They were recognised and compensated for their skills, and could "find themselves – and that level of connectedness when women come together [is] invaluable". Assafiri has since watched hundreds of women transition out of the often-violent situations in which they found themselves.
In the restaurant, they helped recreate the bustling communal dining of Morocco, alongside golden lanterns, hand-painted tagines and multicoloured glassware. And they introduced a dining model Melbourne hadn't really seen before: a spoken menu, extremely affordable prices, no alcohol, no meat and no bookings. While customers initially shifted at the idea, they soon found themselves drawn to its warmth.
The shared banquet – inspired by Assafiri's Moroccan, Lebanese and Turkish heritage – was ever-changing. Your table might have been blanketed in an abundance of dips and bread, generous bowls of tabouleh, eggplant tagine, aromatic stews and soups, or hearty seven-vegetable couscous-and-lentil dal. And, of course, the cult chickpea bake; this vegetarian spin on the Egyptian and Levantine dish fatteh (flatbread soaked in juices and normally topped with beef or lamb) is a heavenly, buttery medley of crisp pita shards, chickpeas, caramelised nuts, and dollops of yoghurt. "It's everybody's chickpea bake," says Assafiri. "I love that people have made it their thing and the signature dish that it is. I didn't decide that."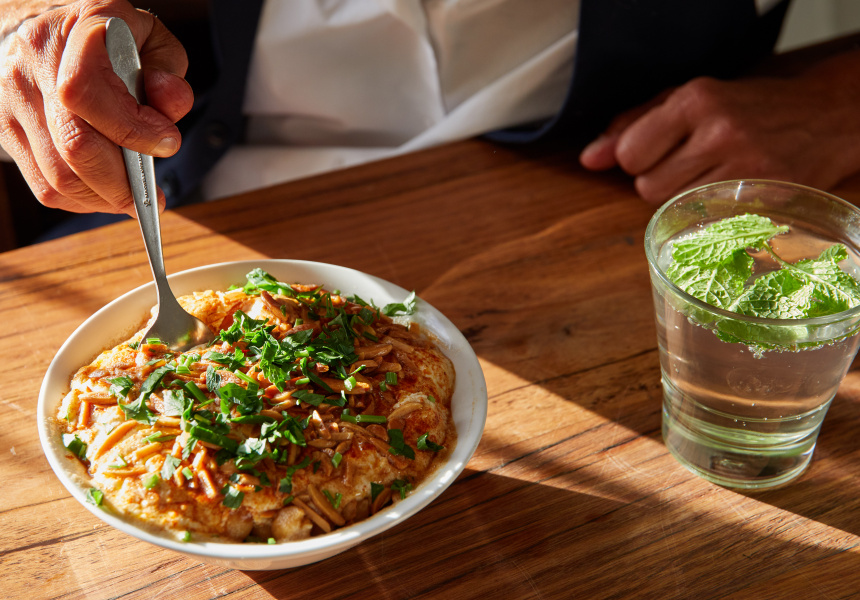 Beyond the food, though, Moroccan Soup Bar was always home to open discussions – and groundbreaking community-engagement events. There was Speed Date a Muslim, which invited Melburnians to engage in conversations "developed and defined by Muslim women", and popular fortnightly conversation "banquets", discussing everything from same-sex marriage and the climate emergency to how to be a better ally to First Nations people. Every single session drew a crowd.
When the pandemic uprooted everything in 2020, Assafiri continued to nourish the neighbourhood from her now-closed takeaway offshoot Moroccan Soup Bar Two Go, which first opened in 2018. During lockdown you might have been one of hundreds who lined up with a Tupperware container, ready for it to be filled to the brim with comforting, wholesome food. The restaurant also provided food relief to hospitality and healthcare staff and launched a pay-it-forward campaign.
In its final years, Moroccan Soup Bar moved to a new location a few hundred metres up the road. Inside were six dining rooms, each themed around a cause close to Assafiri's heart, with quizzes and conversation prompts. Most popular, she says, was the Garden Room, centred around climate change and the challenges facing First Nations people.
Hana Assafiri.

Assafiri's brand of hospitality is entirely her own, but it's clear that the unwavering community spirit behind the soup bar is what's kept it in motion. "I'm a surrogate aunt of this community," says Assafiri. "I know them more than my biological family."
She tells me about 17-year-old Tam, who has spent every single birthday at the restaurant since he was born. Then there's Peter and Effie, who always bring Assafiri a cake for her birthday. And artist "Mikko" Lindell, who has been dropping off illustrated tributes to the restaurant for the past two decades.
Close to Assafiri's heart is a memory of when the child of a same-sex couple approached her at the restaurant in tears. Earlier that day he'd seen a plane skywrite "Vote no" in response to the same-sex marriage debate. "I just thought, 'This is ridiculous, I have to do something'," says Assafiri. So, she tapped on a glass to welcome diners before proclaiming, "This is about the importance of affording everybody dignity and respect".
Assafiri has countless stories like these, but she says the most important ones come from the diners themselves. That's why she started inviting them to write on napkins.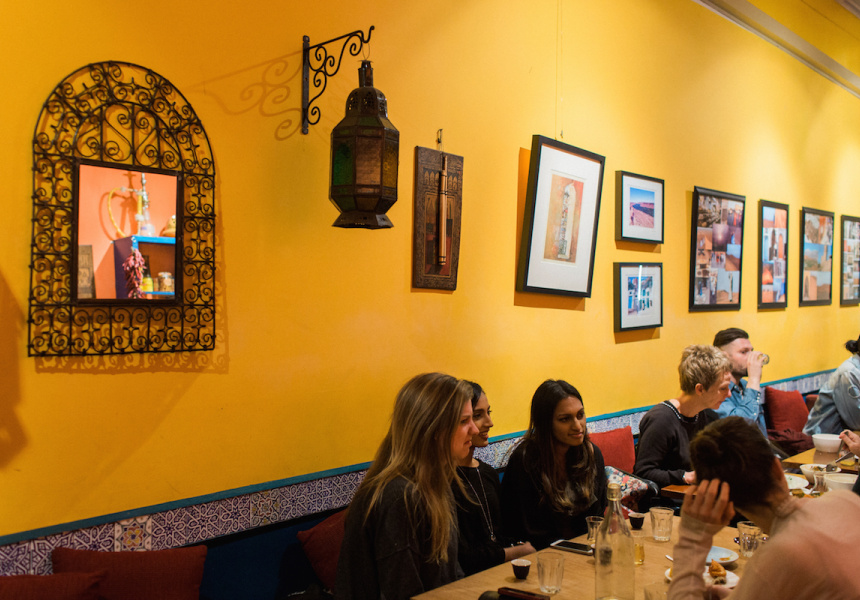 It's been a long journey for Assafiri, who has ultimately made the decision to close Moroccan Soup Bar to protect her staff. "Anyone who thinks the pandemic is over is not paying attention," she told Broadsheet when she announced the closure earlier this year.
"That conversation, for me, needs to dictate to some extent how we reinvent and redefine," she says. "So, the dine-in component, for now, must go."
The brand will continue to trade through a takeaway-only kitchen in North Melbourne; you'll soon be able to order delivery. And Assafiri will continue to bring together and help galvanise the community through conversation "salons" across Melbourne – events in a similar vein to the restaurant's themed dining rooms – with inspirational speakers, performances and plenty of food.
And as for Moroccan Soup Bar – the physical, permanent restaurant – she hopes it will be remembered as a place of hope: "Where women lead with compassion [and] where hospitality can be reinterpreted as something more than [just] coming together."
Moroccan Soup Bar's last service is today, Thursday June 30. Takeaway service starts on Tuesday July 12. Order online.
moroccansoupbar.com.au
@moroccansoupbar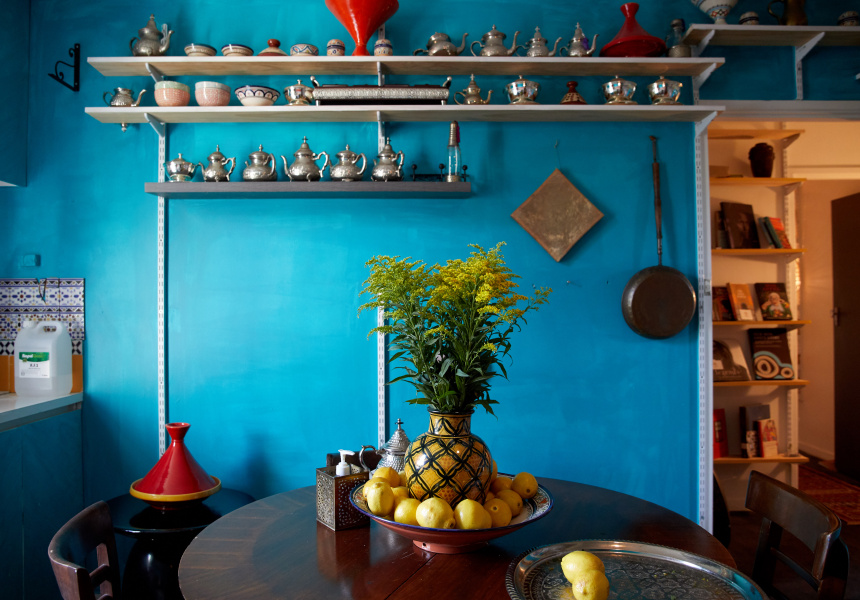 Photography: Ben Moynihan, Adrian Tuazon-McCheyne and Samantha Schultz.
If you would like to speak with someone about an experience you have had, or would like information, please call 1800 Respect on 1800 737 732 or visit 1800respect.org.au.