It's been 15 years since Shane Delia opened Maha in a CBD basement, introducing Melburnians to creative, high-definition Middle Eastern food. Chef Greg Malouf had seeded this patch years earlier with Momo, but Maha represented something more accessible and down-to-earth, more shared family meal than fine dining.
"It was a fucking nightmare. I had no idea what I was doing," Delia tells Broadsheet. "It was fun, exciting and scary … scary on the first night, when you've got three people booked, but gratifying when you start to see 50."
The first-generation Maltese-Australian has parlayed that success into two wine bars, Maha East in Windsor and Maha North in Collingwood. Then there's Jayda, the opulent cocktail bar a few doors down from the mothership, and Biggie Smalls, a kebab joint at the airport.
Save 20% when you buy two or more Broadsheet books. Order now to make sure they arrive in time for Christmas.
SHOP NOW
Providoor, the company Delia founded in 2020, kept many restaurant operators afloat during Covid and delivered more than a million meals before folding earlier this year.
Even if you know nothing about all this, you probably recognise Delia's characteristic grin from TV. In addition to starring in his own SBS shows Shane Delia's Spice Journey and A Middle East Feast With Shane Delia, the chef is also a host on travel show Postcards and makes guest appearances on Masterchef Australia.
Delia's come a long way since leaving school to start apprenticing in kitchens at 17, and there's still plenty more in the works for the Maha brand. But he remains exceedingly modest and thankful for his lot.
"When it comes down to it, to still be standing is a huge achievement," he says. "[In 15 years] I just hope we can still open the doors and be considered one of the cornerstones of Melbourne's hospitality industry."
To celebrate the milestone, Delia and his team are putting on a special anniversary menu with 15 of the restaurant's greatest dishes, each from a different year, until the end of July. If you're in for lunch it's an à la carte situation. At dinner the menu is set at $185 per person for the whole experience. Here, Delia unpacks all the hits for us.
2008: Turkish delight doughnuts with rosewater honey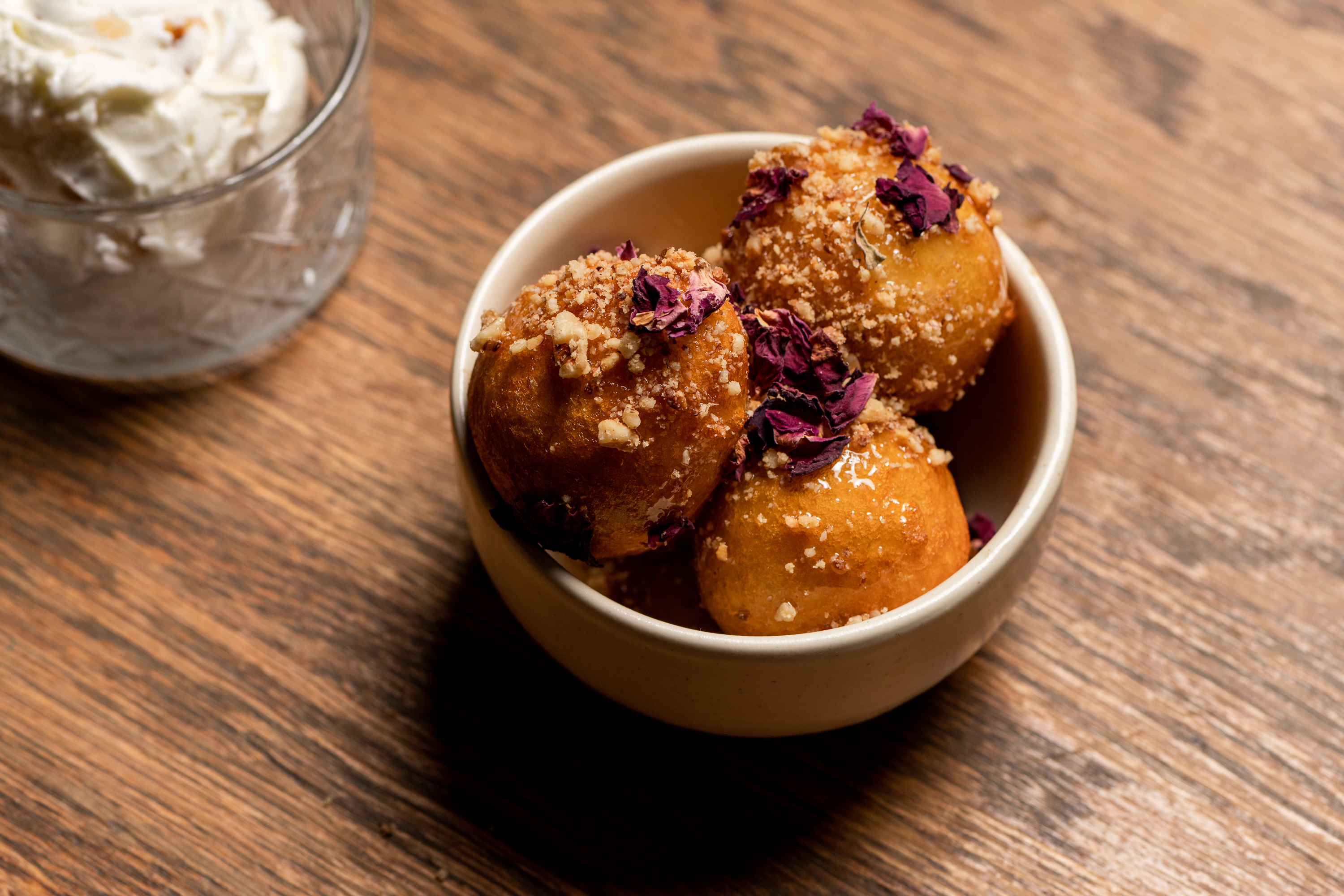 This was one of the first dishes we ever did. Back in 2008, [doughnuts] were one of the things I enjoyed eating most. I also thought about quintessentially Melbourne desserts, and the one that kept coming to mind was the unbelievable hot jam doughnuts at Queen Victoria Market. We've got a pretty good doughnut called luqaimat in the Middle East, and I wondered if we could do a Middle Eastern [take on] the jam doughnut.

2009: 12-hour roasted lamb shoulder, za'atar and pine-nut jus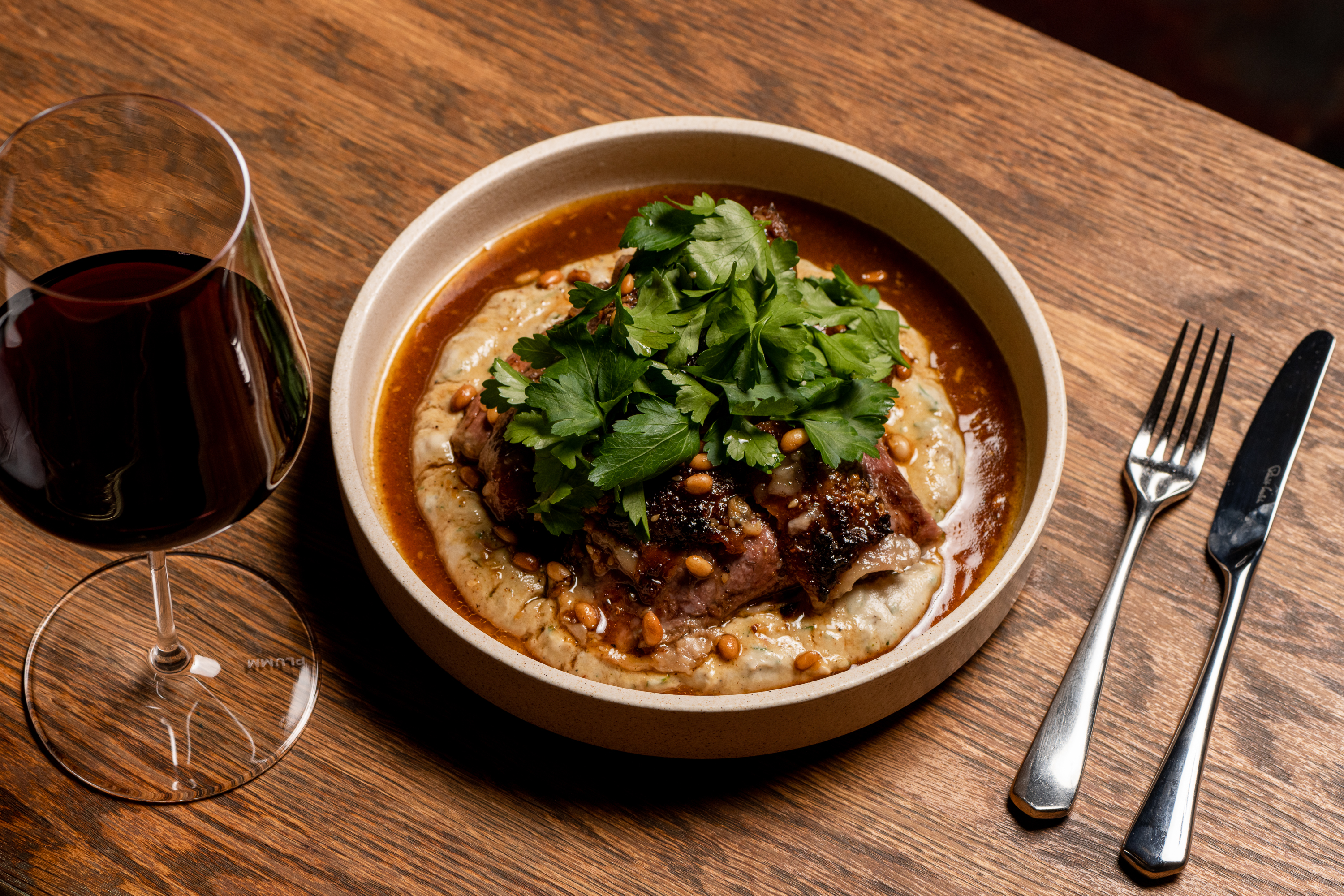 We were very lucky to get some hits in our first few years, and they've carried us through. There have been different iterations of [our] lamb shoulder, but this version pays homage to the original and it's probably the best one.
We marinate beautiful Victorian lamb in toum, sumac, cumin and lemon for about 48 hours. It's then slow-roasted overnight – almost braised in its own juices. Just before service, we roast the lamb really hard to caramelise it and really let that garlic flavour come through.

2010: Oyster kataifi with taramasalata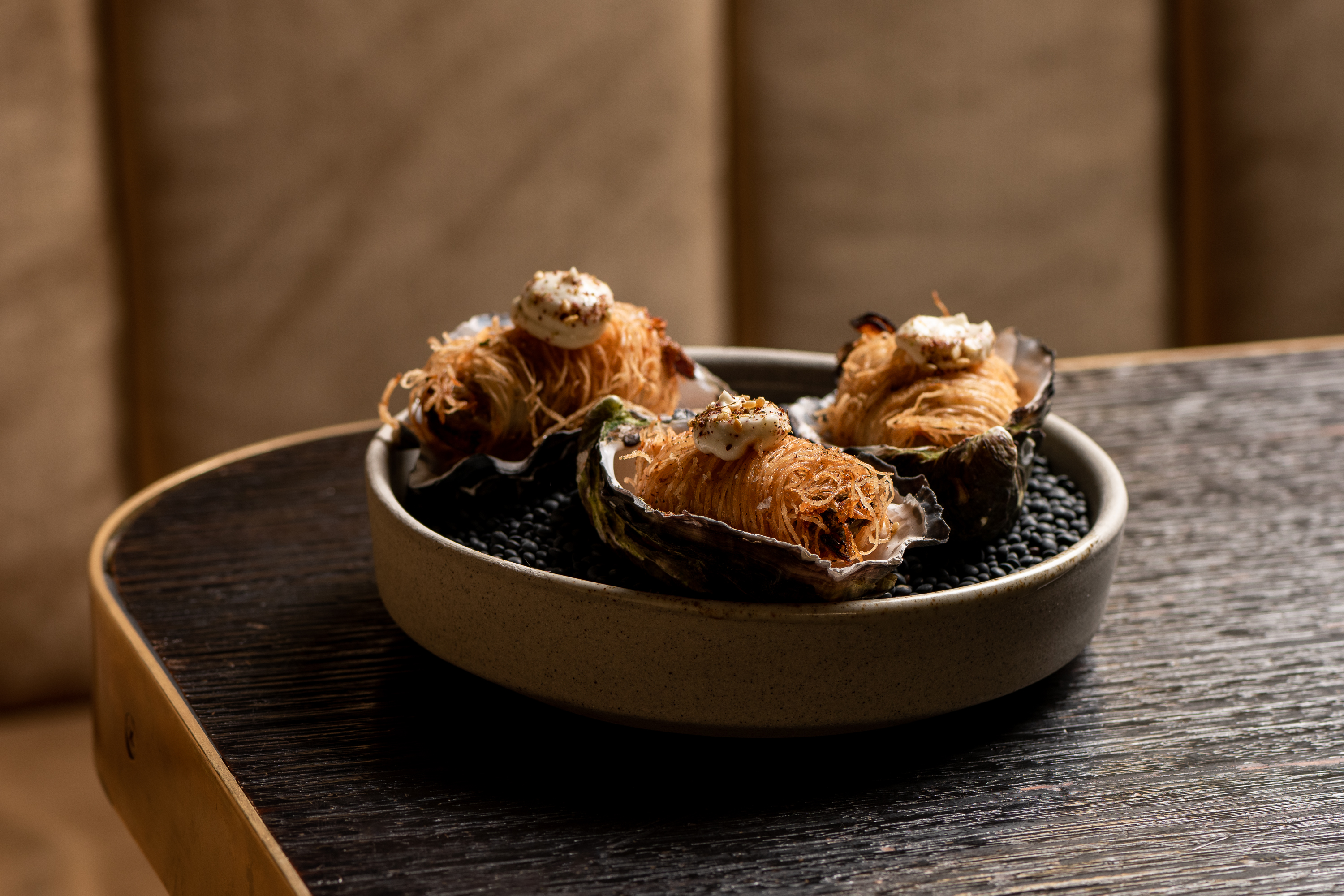 This was a really beautiful, simple dish. Back then, half of Maha's dining space was a huge high bar, and we were doing a late-night hospo supper every Thursday and Friday night, so we were cooking a lot of snacky food like the kataifi.

2011: Spiced lamb and almond cigar with cinnamon sugar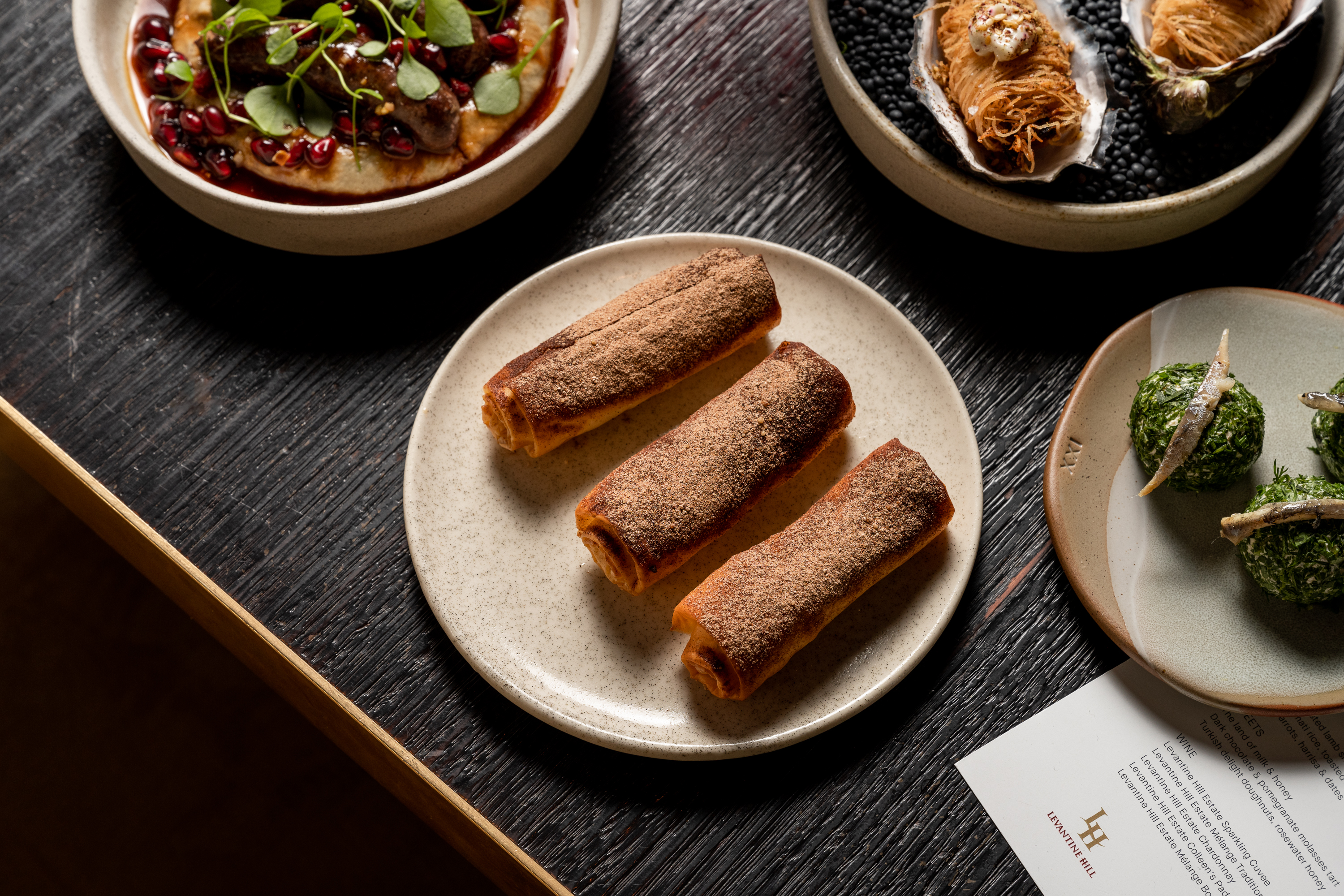 This is probably one of our more classic dishes. I'd just been on a trip to Morocco and fell in love with pastilla, a pigeon pie wrapped in pastry and covered in sugar and cinnamon, and the play on sweet and savoury North African dishes I really love. When we got back, we started testing different types of meat. Obviously lamb goes so well with Middle Eastern spice and flavours, and it worked really well in that little pastilla. It was a crowd hit, but we haven't cooked it in about eight or nine years.

2012: White anchovy labneh with herbs and Aleppo pepper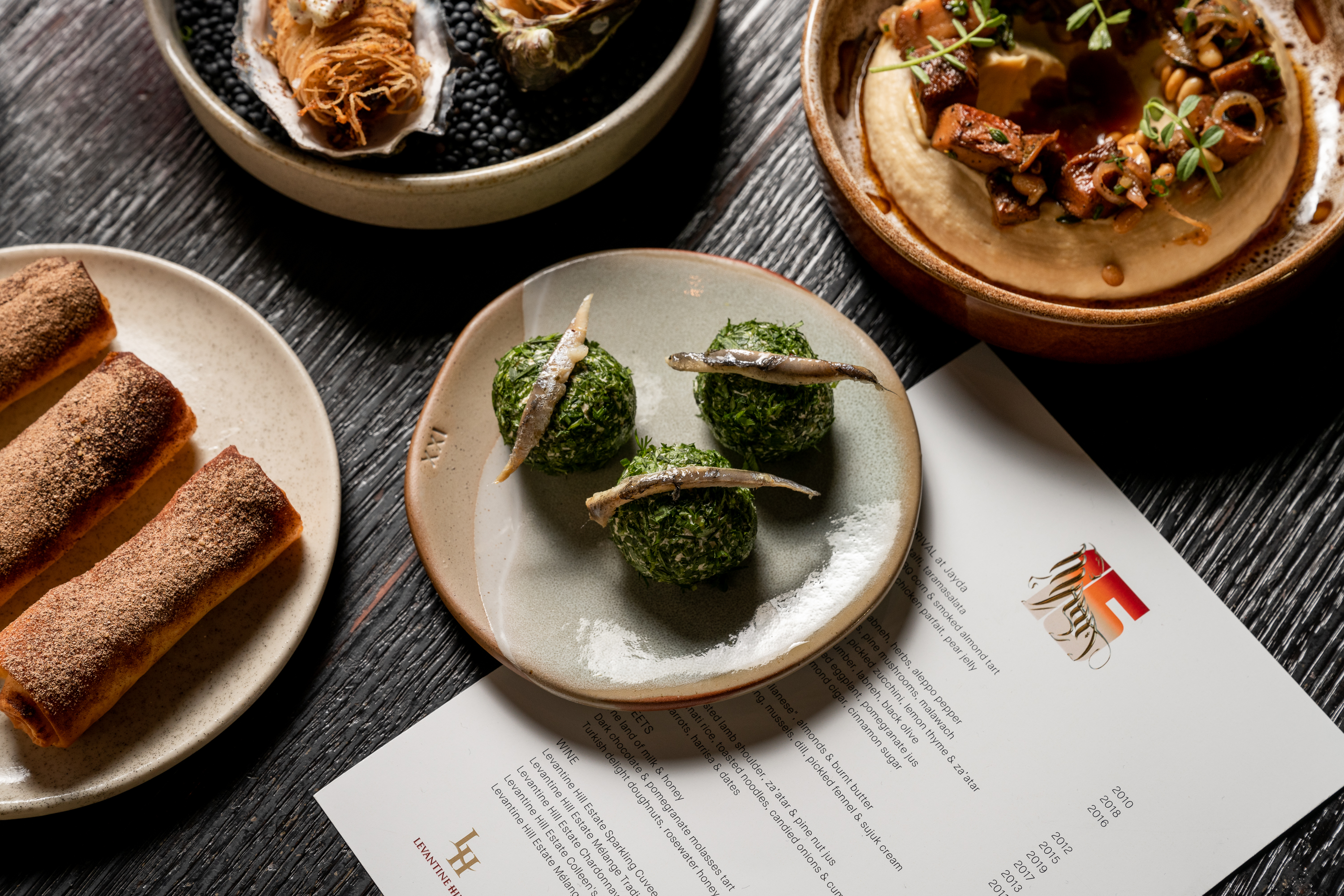 I remember sitting in a little restaurant in Tripoli, right near the sea, and eating white anchovies with labneh smeared on a plate with beautiful tabouleh salads. It [worked] so well together as a dish, so we came home and started playing with those memories and thought about how to bring [the components] together as one meze. We were doing a lot of that sort of cooking back then, looking at so many flavours. But that one was a bit of a hero.

2012: Dark chocolate and pomegranate molasses tart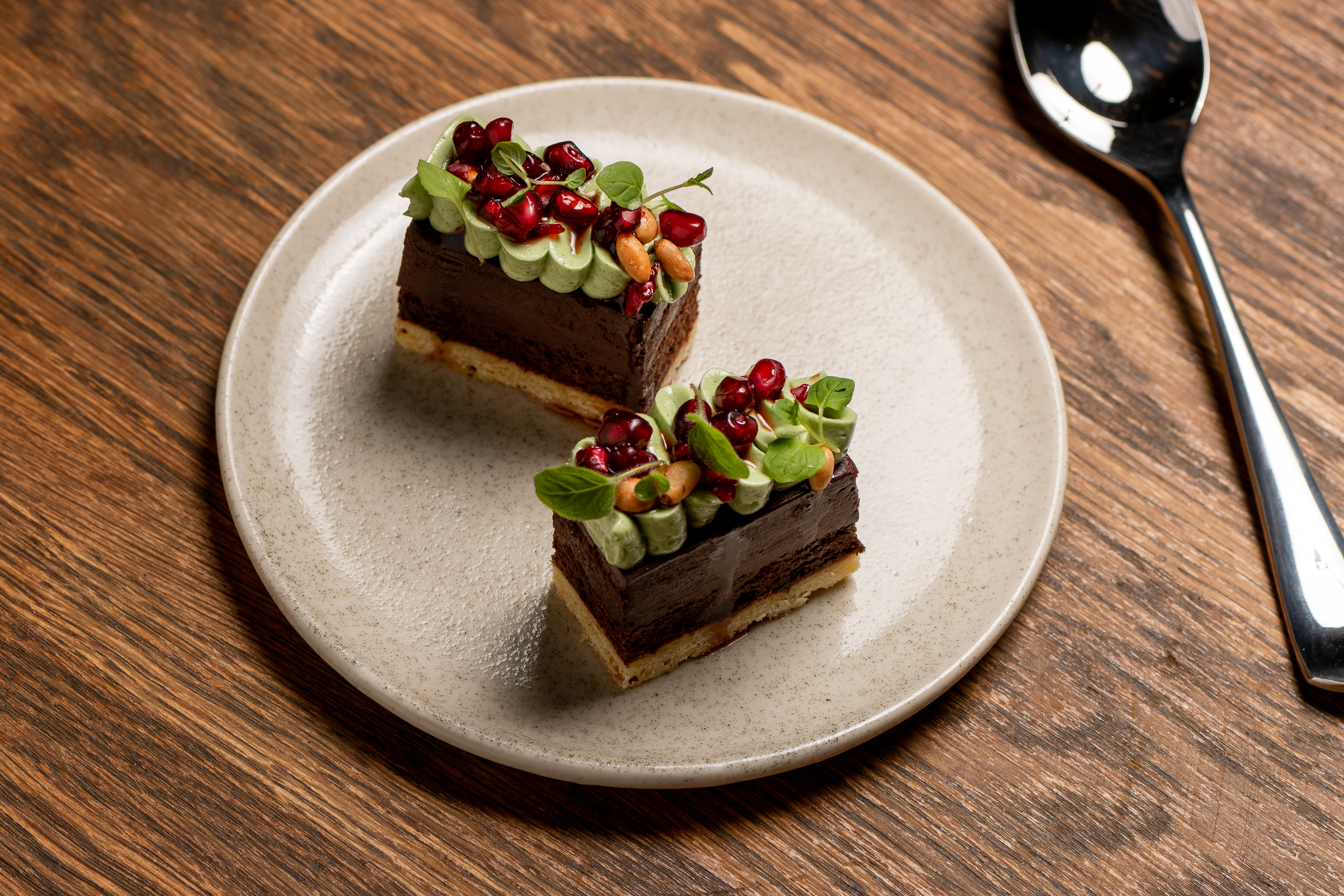 You can't beat chocolate for dessert, right? When you add molasses and pomegranate it creates a real sort of Cherry Ripe flavour. The bitterness of dark chocolate and the acidity and sourness of the pomegranate molasses blends so beautifully.
This dish stayed on the menu for about four or five iterations with different ingredients, but the pistachio cream and mint takes it to another level. When we were looking through some old photos, I realised I'd forgotten all about the dish and thought, "Jeez, why did we stop cooking this?" I think it might stick around for a while.

2013: Mahanek with whipped eggplant and pomegranate juice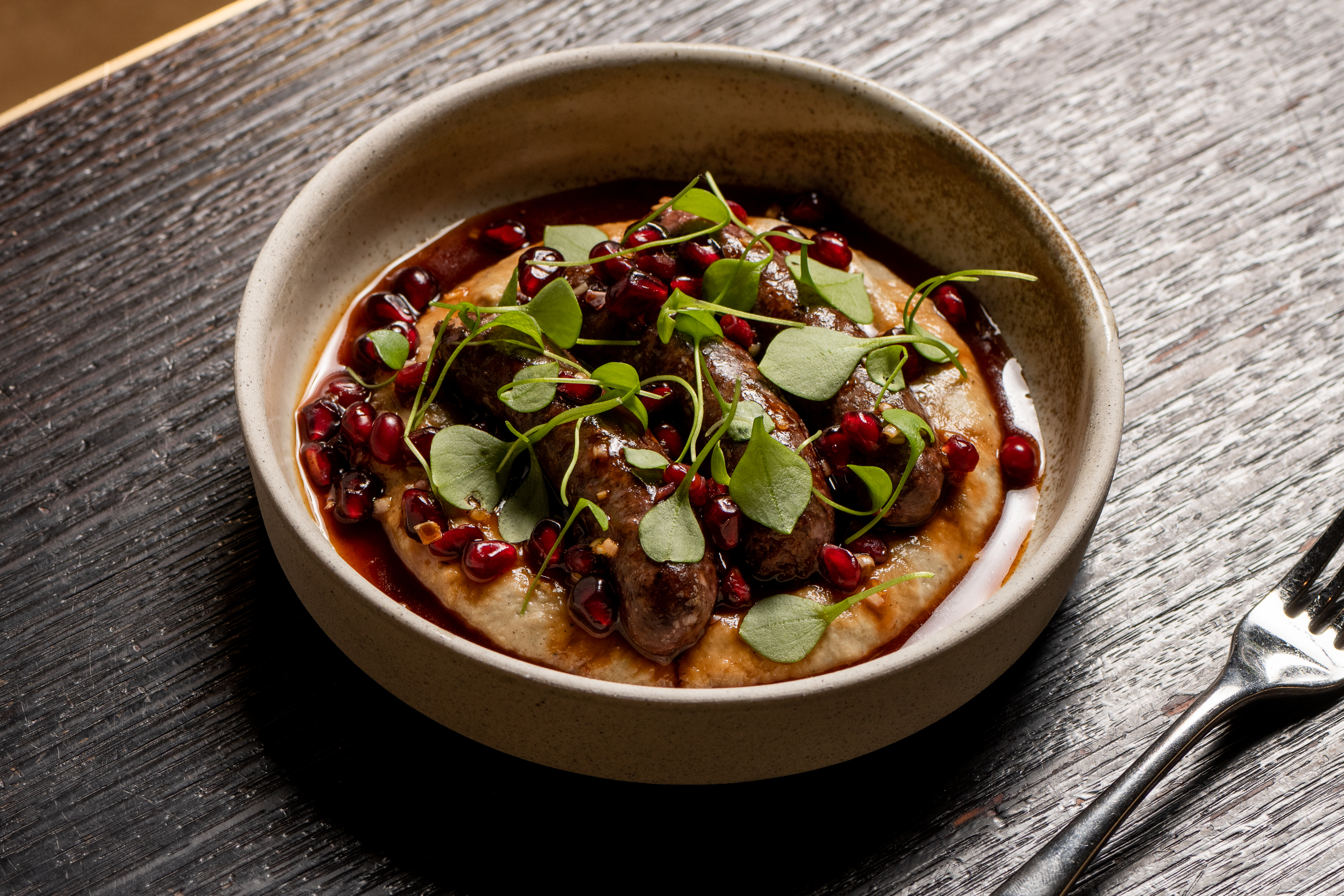 Maha doesn't really do classic Middle Eastern food. It's always taken cues from different regions and cultures, but this is a classic meze. Eggplant and mahanek [sausage made with lamb mince and baharat] work so well together. Mahanek has quite a pungent flavour, so we cook and caramelise it in pomegranate molasses and pomegranates, softening it to make it more appealing.
When you play with a classic, it has to be just as good or better. I think this version is on par with the classic.

2014: The Land of Milk and Honey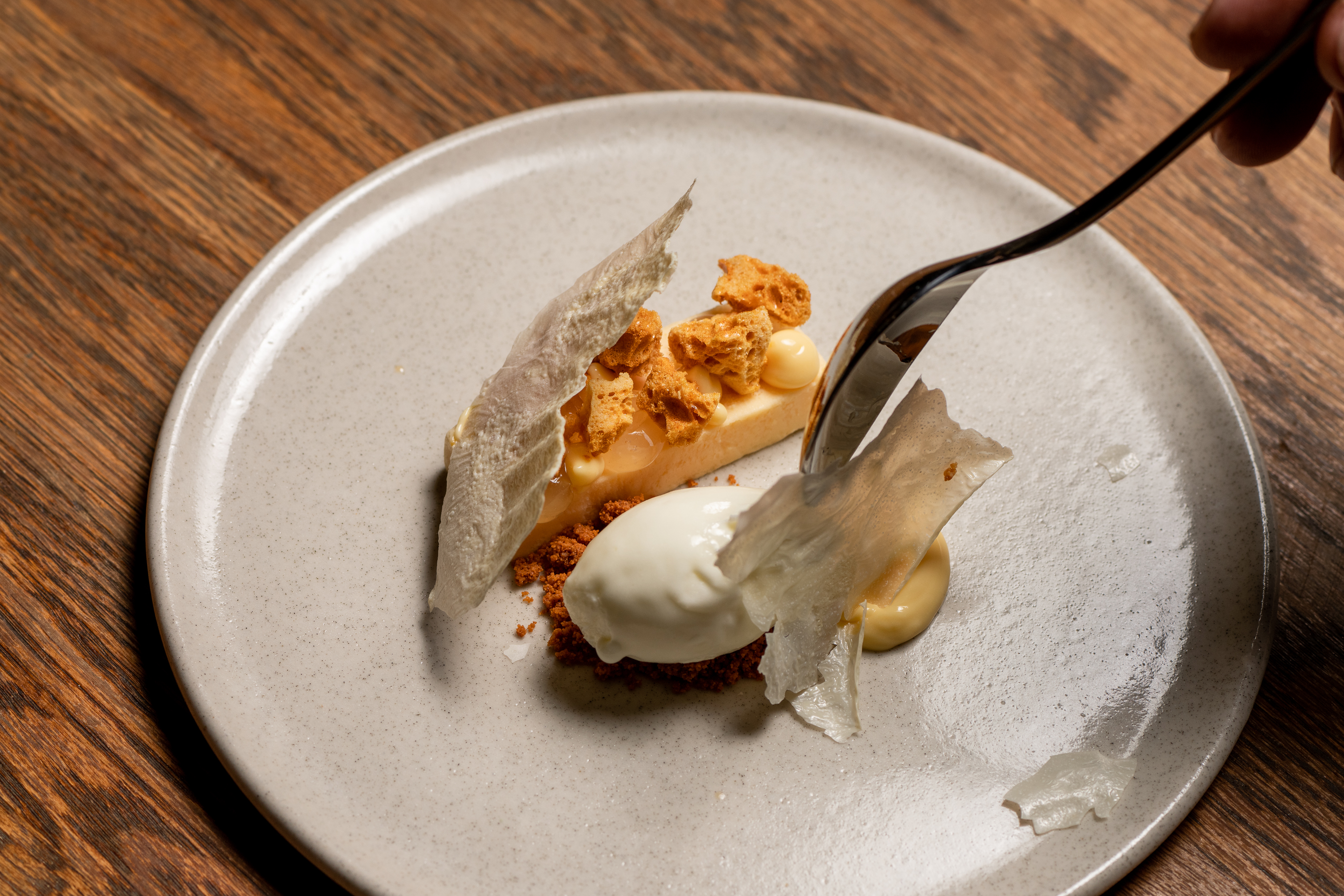 Lebanon is often referred to as the "land of milk and honey". This was a desert that one of our pastry chefs developed in 2014. I told her about a rice milk custard called a riz bi haleeb served with honey and lemon ice-cream I'd eaten in Mount Lebanon. She came back to me and said, "I've been playing with the dessert, let me see what you think." It was on the menu for a good year and a half, and it's another dish I had forgotten all about until scouring through the menus. I could taste it as soon as I read it.

2015: Smoked hummus with pine mushrooms and malawach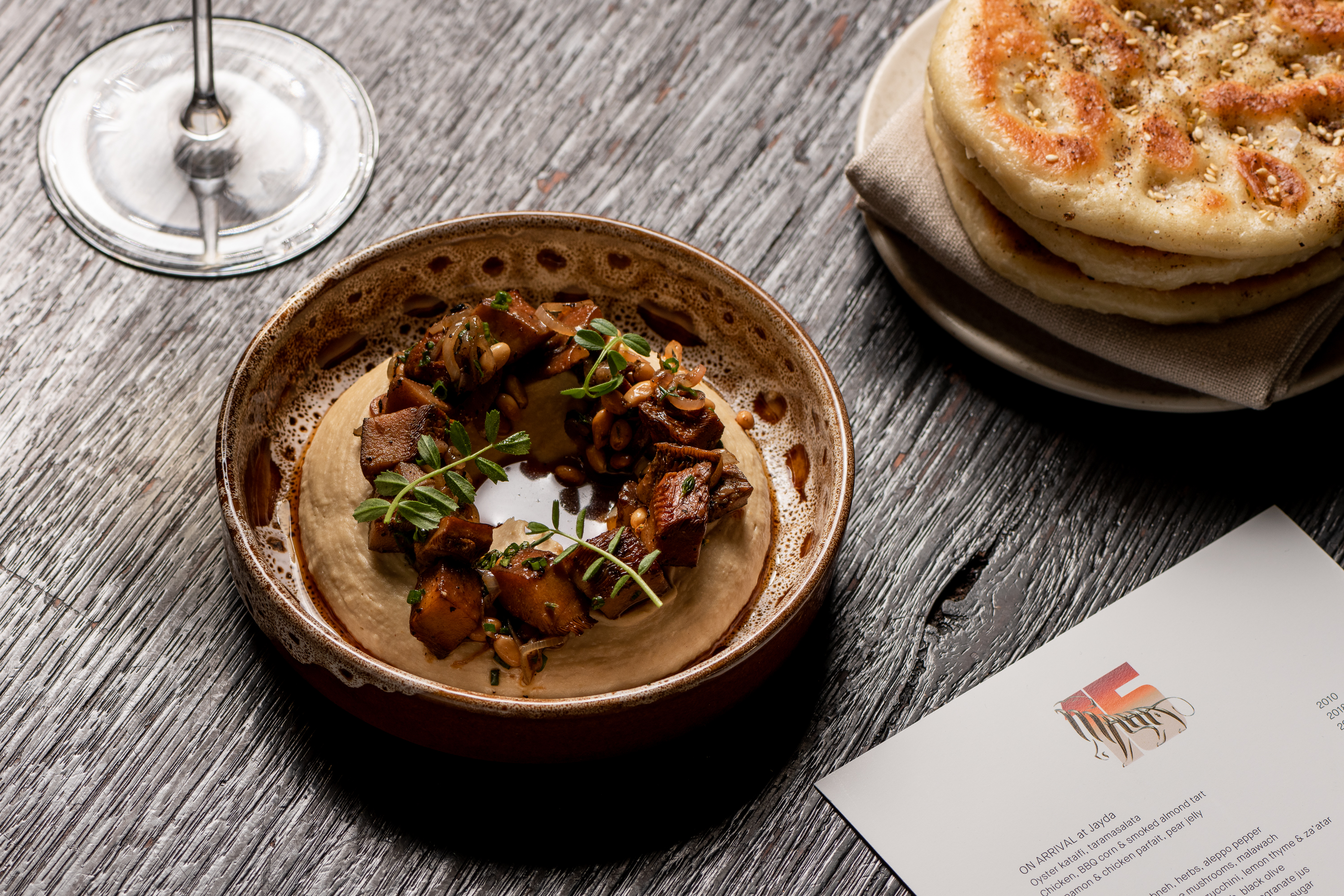 I know there are a lot of claimed "kings of hummus" out there at the moment, but we've been doing it for a while now. I needed a hummus dish on the [anniversary] menu, and we were never going to do anything but smoked hummus. It's a Maha staple!

2016: Cinnamon and chicken parfait with pear jelly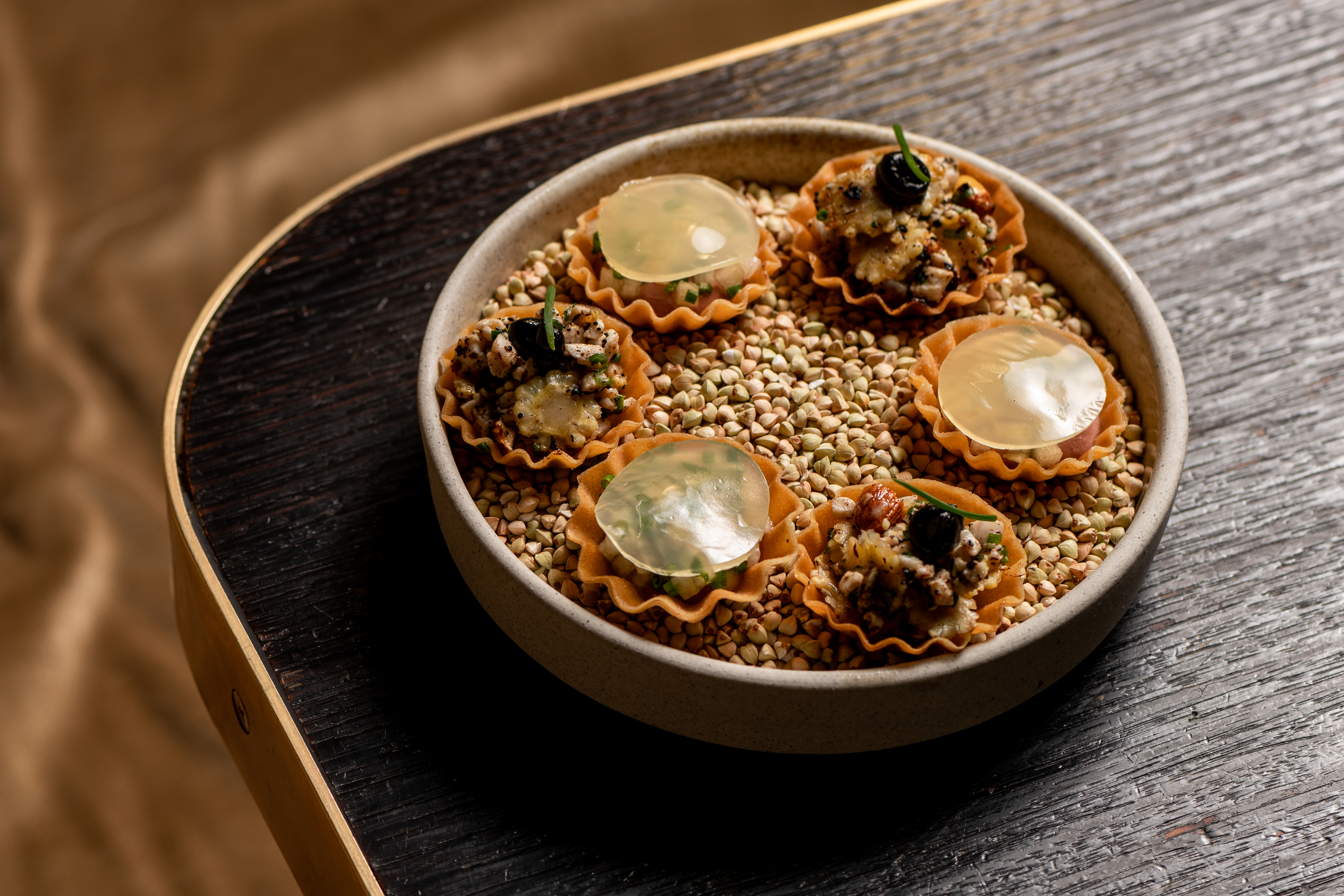 Pears are underrated, [especially with] cinnamon, clove, pear and mace. These singular spices have a way of unlocking flavour. This dish is a nod to Lebanese, French-based cooking. Beirut was known as the Paris of the Middle East for a long time, and French cooking techniques are prevalent throughout Lebanese cooking. This was more inspired by a place. We were steeped in more traditional cooking techniques back then and looking for ways to use the best of what was available in the season.

2017: Arak pickled cucumber, labneh and black olive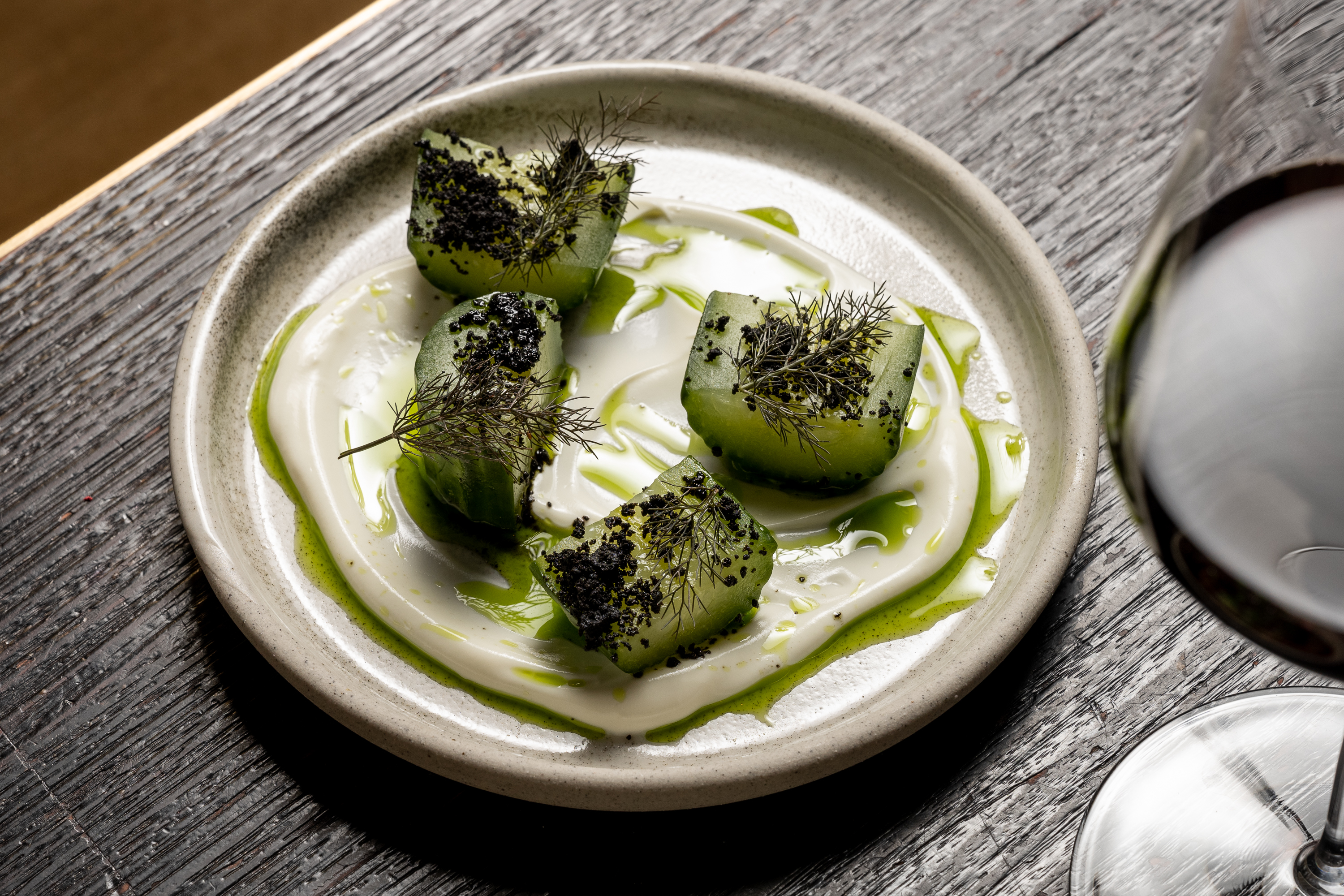 You need a pickle with your meze. Arak, with its strong aniseed flavour, goes so beautifully with cucumber, a bit of yoghurt and candied olives over the top. It's a classic flavour combination, but the way it's brought together [here] really symbolises what Maha's food is about. It feels quite traditional, but you can't say where it's from.

2018: Chicken, barbeque corn and smoked almond tart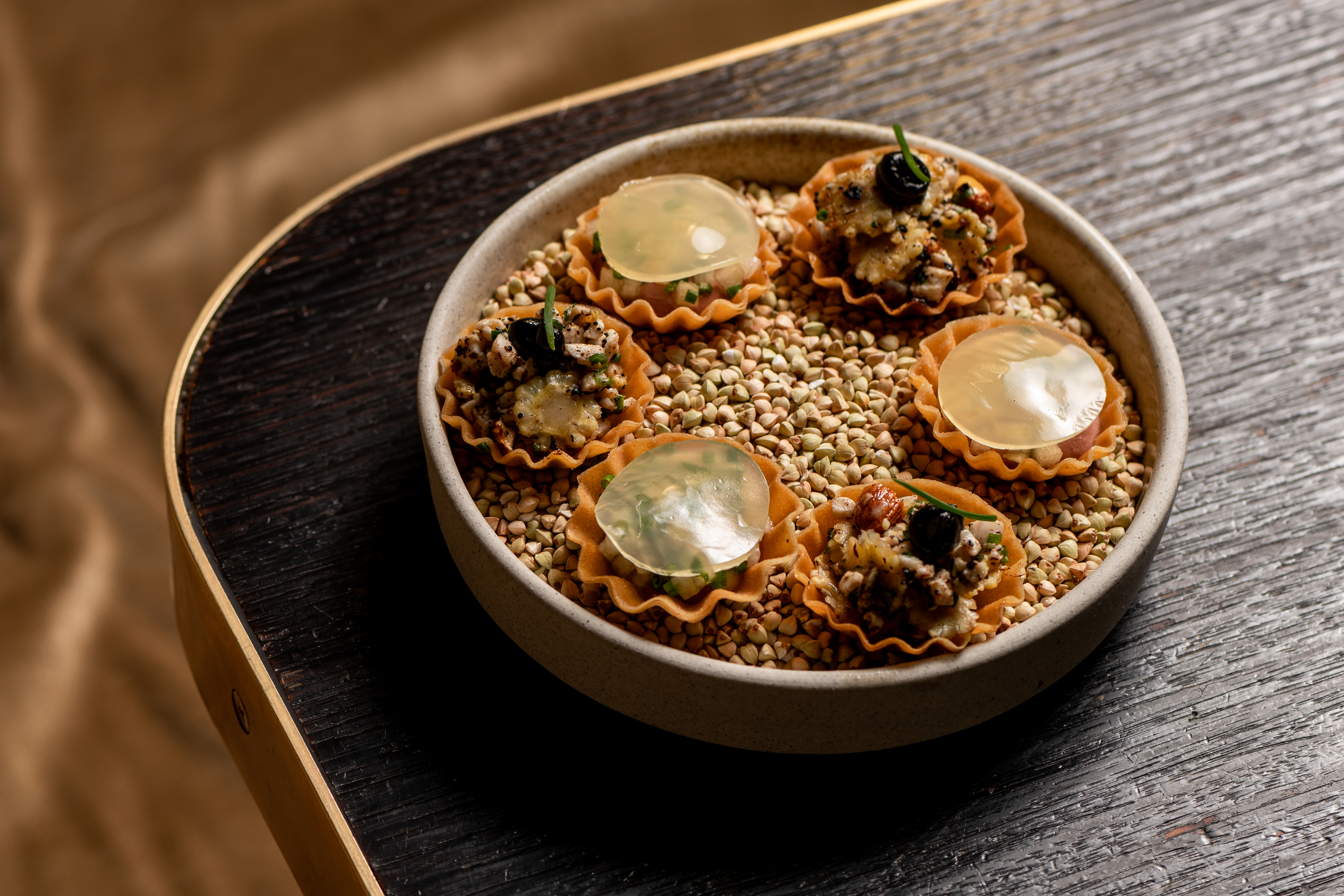 This started as a barbequed corn and smoked almond salad with poached chicken – a dish I served at St Katherines in Kew. We developed [it] further at Maha, using poached chicken with saffron and corn custard. Later on, it transformed into a coconut milk- and corn-based soup, then a salad dressing, then chicken wings filled with sujuk and topped with the same garnish. This final iteration is a tart layered with corn custard, smoked almonds, chopped poached chicken and Turkish smoked pepper. Those flavours work so well together that I think we'll keep reinventing [it] – hopefully for the next 15 years!

2019: Charred kingfish with pickled zucchini, lemon thyme and za'atar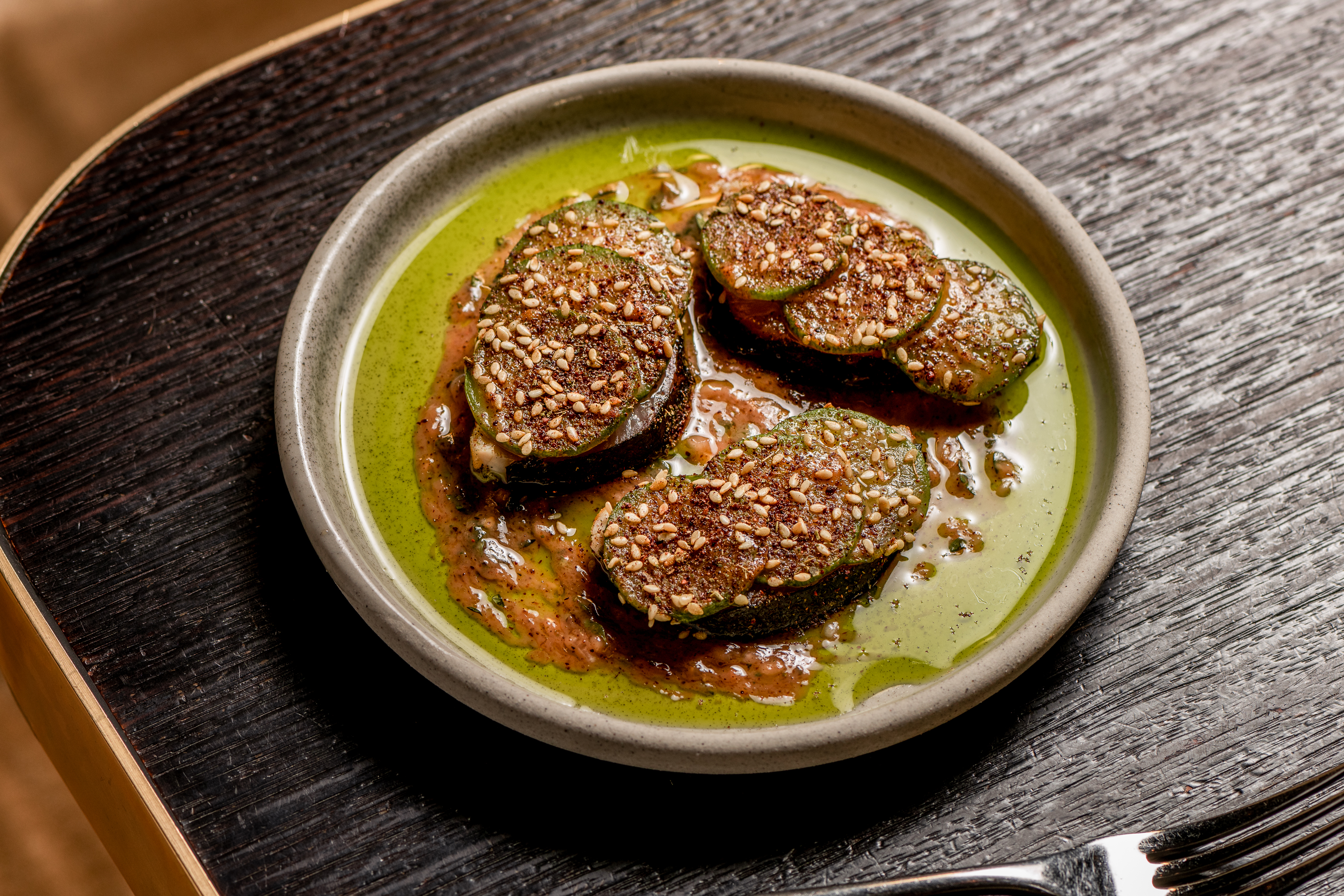 I challenged all the head chefs to come up with a new fish meze idea, and this was Federico [Fioravanzo]'s brainchild. He said he wanted to char and pickle kingfish. I wasn't sure if that was going to work, but it ended up being so Maha. It's not Middle Eastern in its technique or flavour profile, but when you eat it, it feels like it has a place amongst the rest of the meze.

2022: Steamed rockling, mussels, dill, pickled fennel and sujuk cream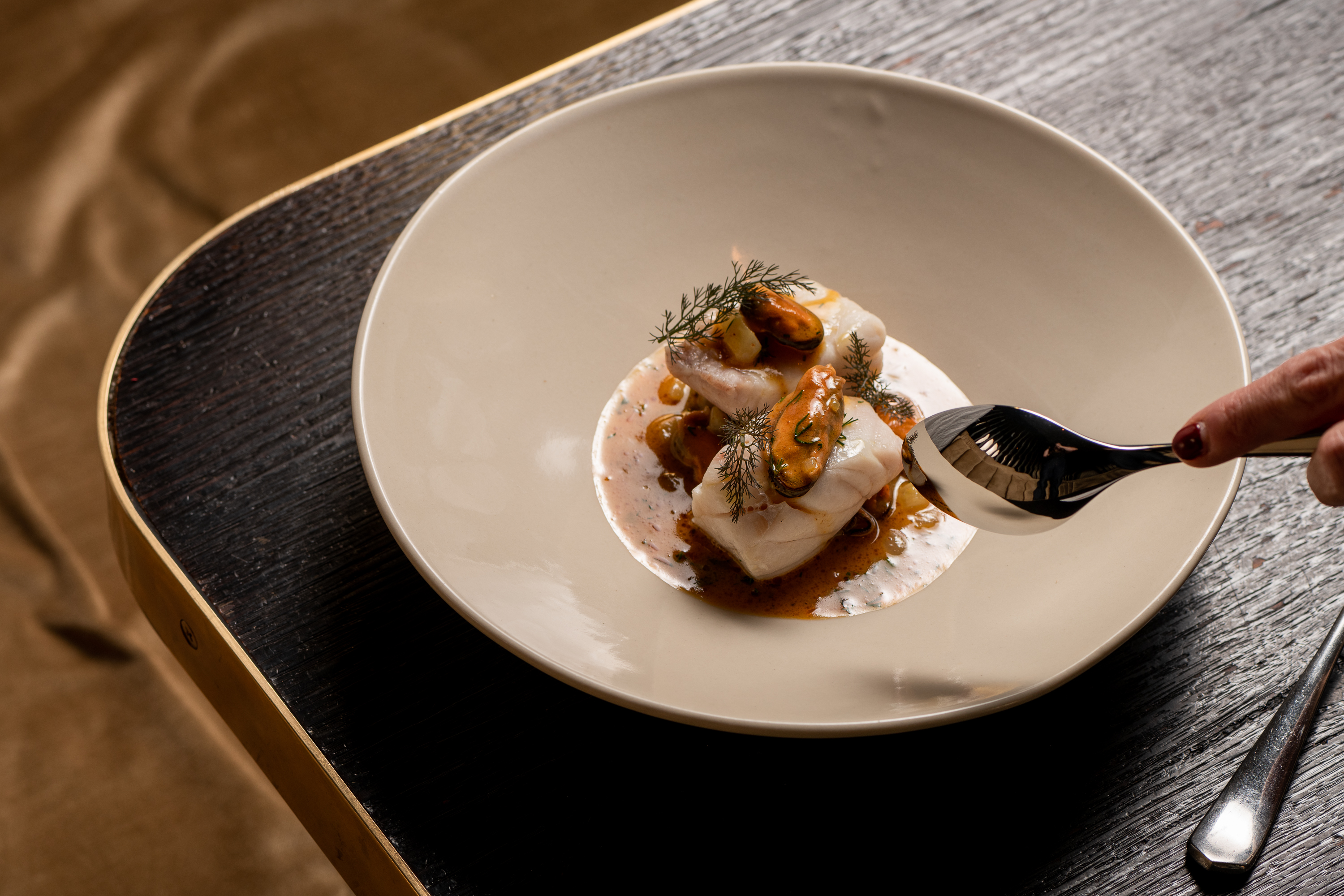 When we came back from lockdown, we hadn't been creative for so long. Trying to get the wheels turning again and understanding where the market now was, it was almost like a rebirth of the restaurant.
I remember eating fish dishes with chorizo [in Spain] and being in Morocco [trying] poached fish mains with dill and fennel. I wanted to bring these two worlds together. Sujuk is the chorizo of the Middle East and is lovely with poached fish. We just started playing with it, introducing mussels, acids and pickled fennel.

2023: Moghrabieh Milanese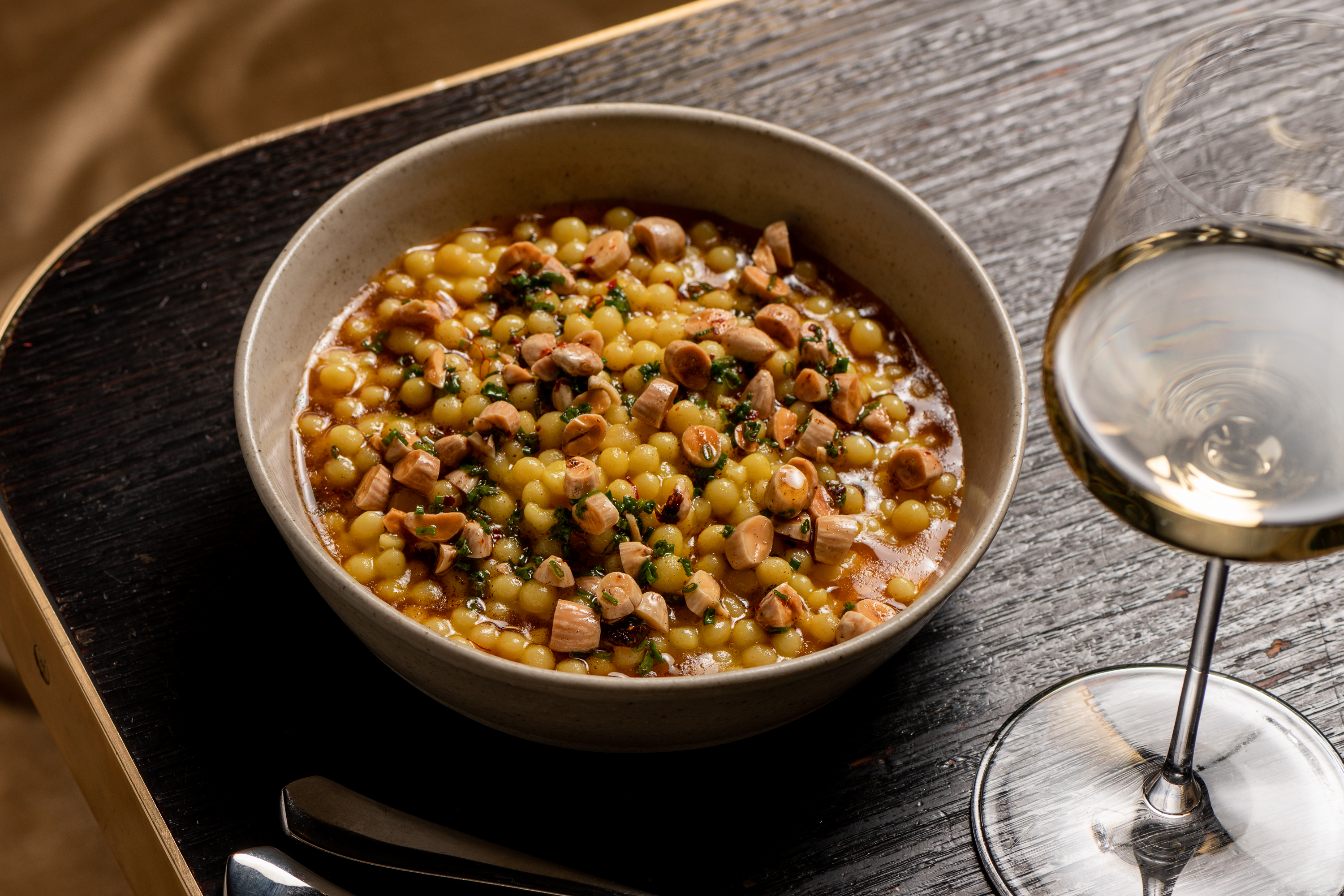 This dish talks about where we are now and where I think Maha and the industry are. Thank fucking god there's been a resurgence in classical flavours and cooking techniques. You see it in [Melbourne] venues like Gimlet and Entrecote, or Hubert in Sydney.
When I think about classic dishes that I love, I think of risotto Milanese or a classic saffron risotto. Saffron plays such a big part in our food, and I wanted to give it new life with moghrabieh. We cook it with large pearl couscous before treating it the same way you would risotto rice. It's a stunning, creamy dish.
The 15th anniversary menu is available at Maha until the end of July.
Maha
21 Bond Street, Melbourne
(03) 9629 5900
Hours
Daily 12pm–3pm & 6pm–10pm