For Alicia Millan, founder of Melbourne label Aletheia & Phos, making jewellery is about more than creating accessories – it's about telling stories.
"When you create something with intent, you're thinking about the wearer and the stories [they'll] attach to something," she tells Broadsheet.
Over the last 10 years, she's designed and hand-crafted jewellery for Aletheia & Phos with that in mind – creating pieces that honour our relationships and the stories behind them.
Save 20% when you buy two or more Broadsheet books. Order now to make sure they arrive in time for Christmas.
SHOP NOW
Take the popular I Carry Your Heart necklace, which features an anatomical heart-shaped charm and is intended to be given to a loved one – acting as a symbolic tether between you. Or the Moka pot-inspired La Caffeteria pendant, which pays homage to Millan's Nonna and Nonno.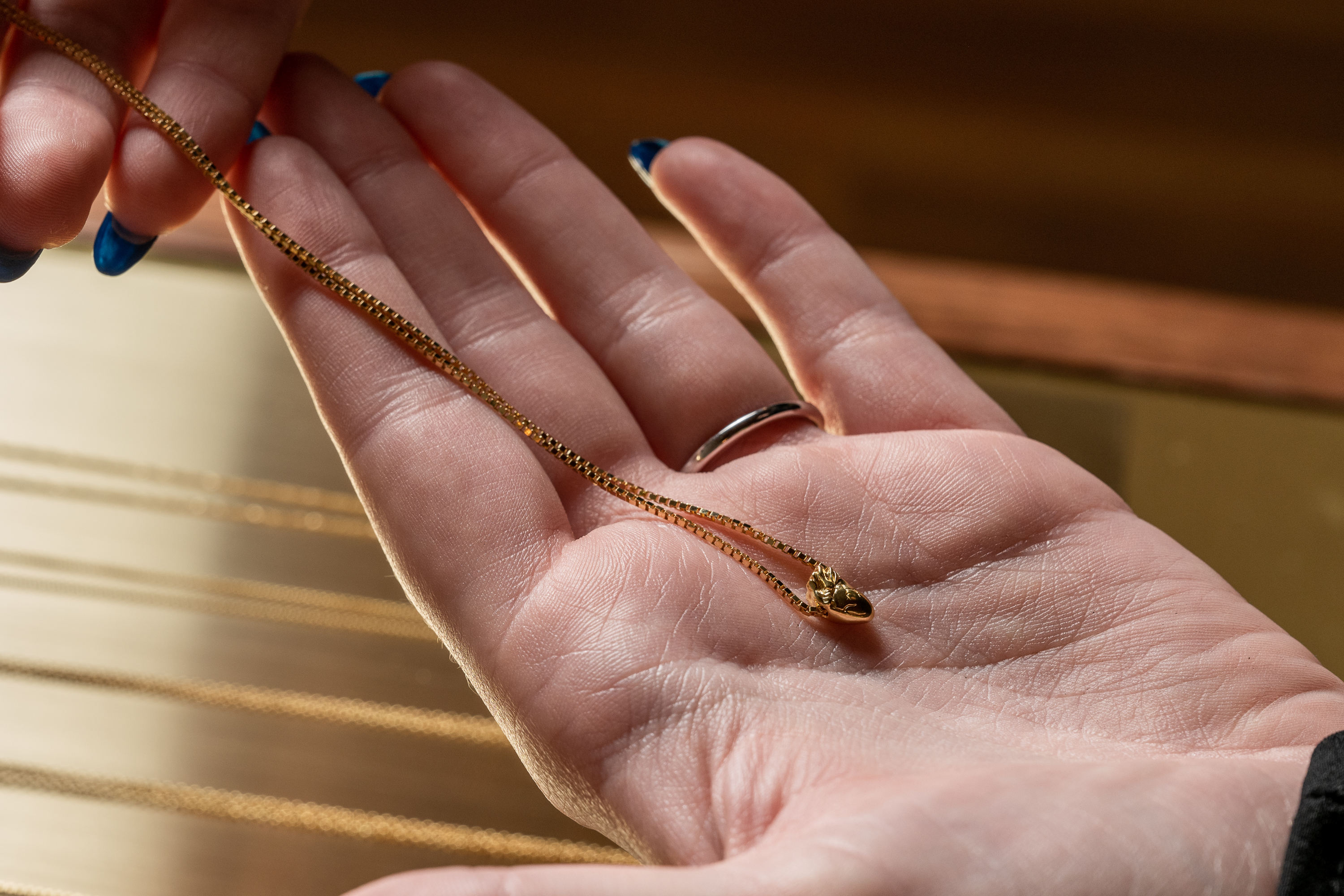 Aletheia & Phos's I Carry Your Heart necklace. Photography: Samantha Schultz

You'll find those pieces and more at Aletheia & Phos's debut store, which opened on Smith Street, Fitzroy in May. It joins a clutch of other jewellers that have opened in the area over the last 24 months, including Cleopatra's Bling, Millie Savage, and Black Finch Jewellery.
Millan fitted out the Venetian-inspired shop with her dad John (a carpenter and joiner) and partner Kyle Connelly (a custom fabricator and founder of Pretty Polly Designs).
"I wanted to make it feel like a little Italian coffee shop … warm, inviting and vibrant. And like you weren't in Melbourne anymore," she says.
Walking into the space, that certainly rings true. The room is lit by vintage floral Murano chandeliers, which were originally shipped over from Venice in the '60s (and Millan saved from going to landfill in a Facebook Marketplace buy). While the grand brick archways that flank the room are reminiscent of those that line the canals and piazzas of Venice.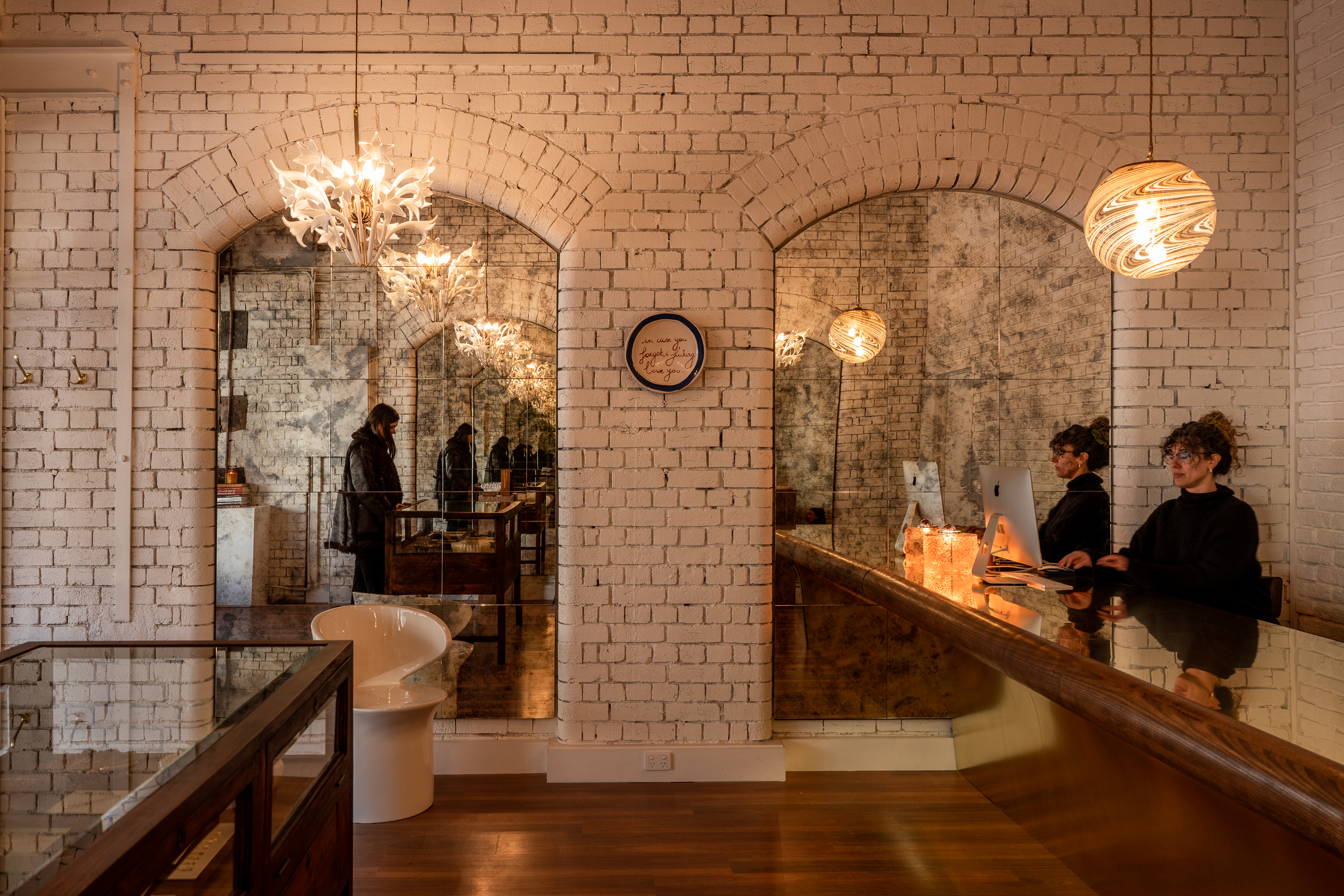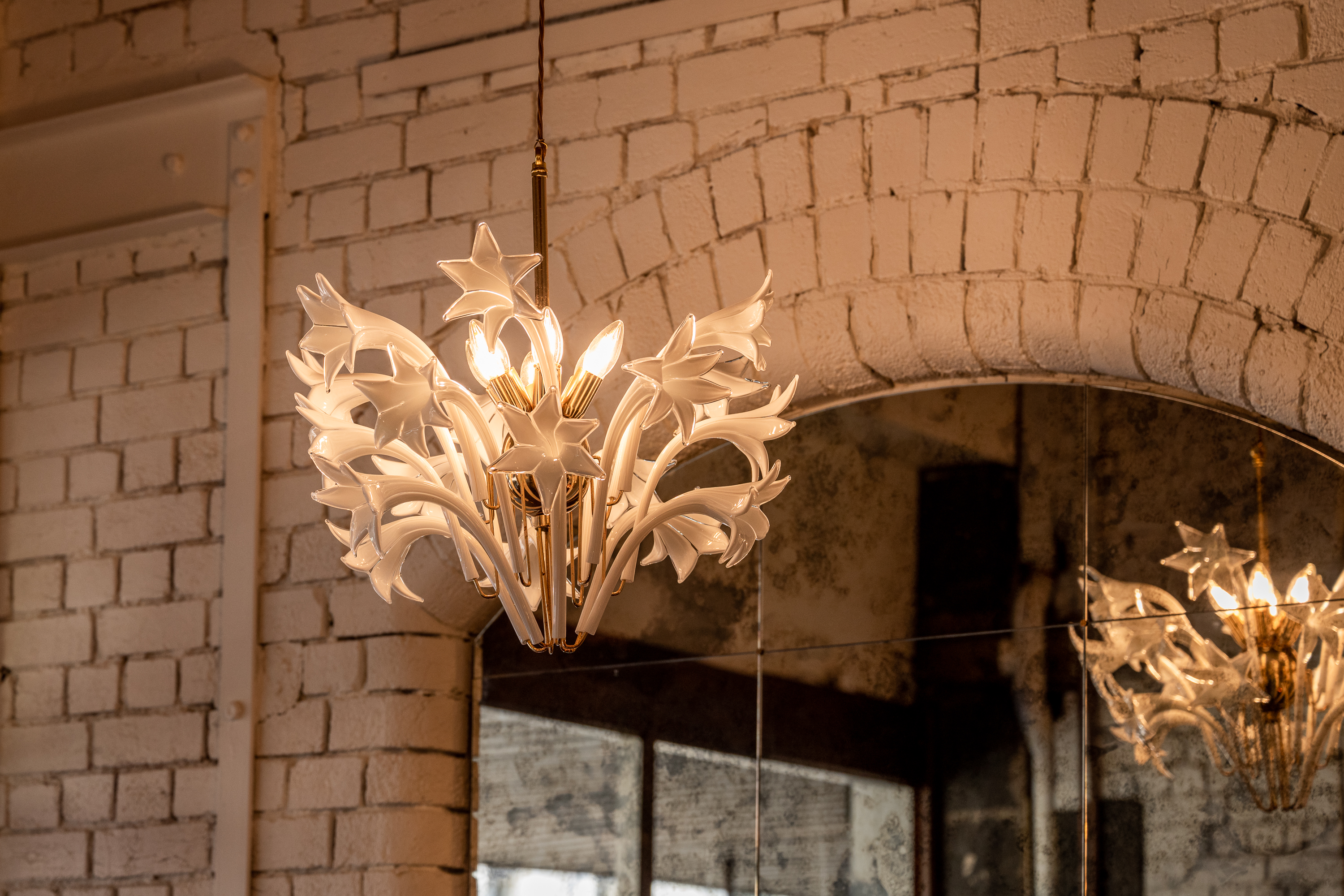 The Smith Street space features vintage Murano chandeliers. Photography: Samantha Schultz

Yet the focal point is the imposing brass and Tasmanian oak counter, which Connelly made in his workshop in Melbourne. Millan wanted to reduce waste where possible, so the oak offcuts were used to create display plinths and trays for the jewellery. The accessories, furniture and central display cabinet are mostly vintage, sourced from Etsy, Facebook Marketplace, and her personal collection.
These elements play a role in displaying much of the collection, including the striking Nebula Trinity hoops with white topaz gemstones; the Proxigean Glyph necklace featuring sun, moon and kite charms; and the majestic Mythology necklace made with royal-blue lapis lazuli gemstones.
Recycled materials can be found throughout the collection – including 14-karat gold plate, nine-karat solid gold and sterling silver – and prices range from $89 to $1895. The pieces are made in Bangkok, by a family-run manufacturer that's certified by the Responsible Jewellery Council, a leading global standards authority for the jewellery industry.
In some ways, this opening has been a full-circle moment for Millan. It's been 10 years since she left the fashion industry and started selling her handmade jewellery online. And her chosen space is just 900 metres from St Vincent's Hospital Melbourne – where she was born – and close to where her Greek and Italian families settled after migrating to Melbourne in the '50s and '60s.
Someday, she dreams of retracing their path and opening shopfronts in Athens and Rome. But before that, she's excited to use new materials like enamel and pearls in her designs; and make the most of the space with events, talks and collaborations.
Aletheia & Phos
91 Smith Street, Fitzroy
Hours
Wed to Fri 11am–5pm
Sat 10am–5pm
Sun 12pm–4pm