We sent stylish snapper Kaede James Takamoto on a mission to find fashionable locals around inner-city Melbourne, from Fitzroy and Carlton to Richmond and South Yarra. Here are some of our favourite looks of the moment.
Eric Jiang, Gertrude Street, Fitzroy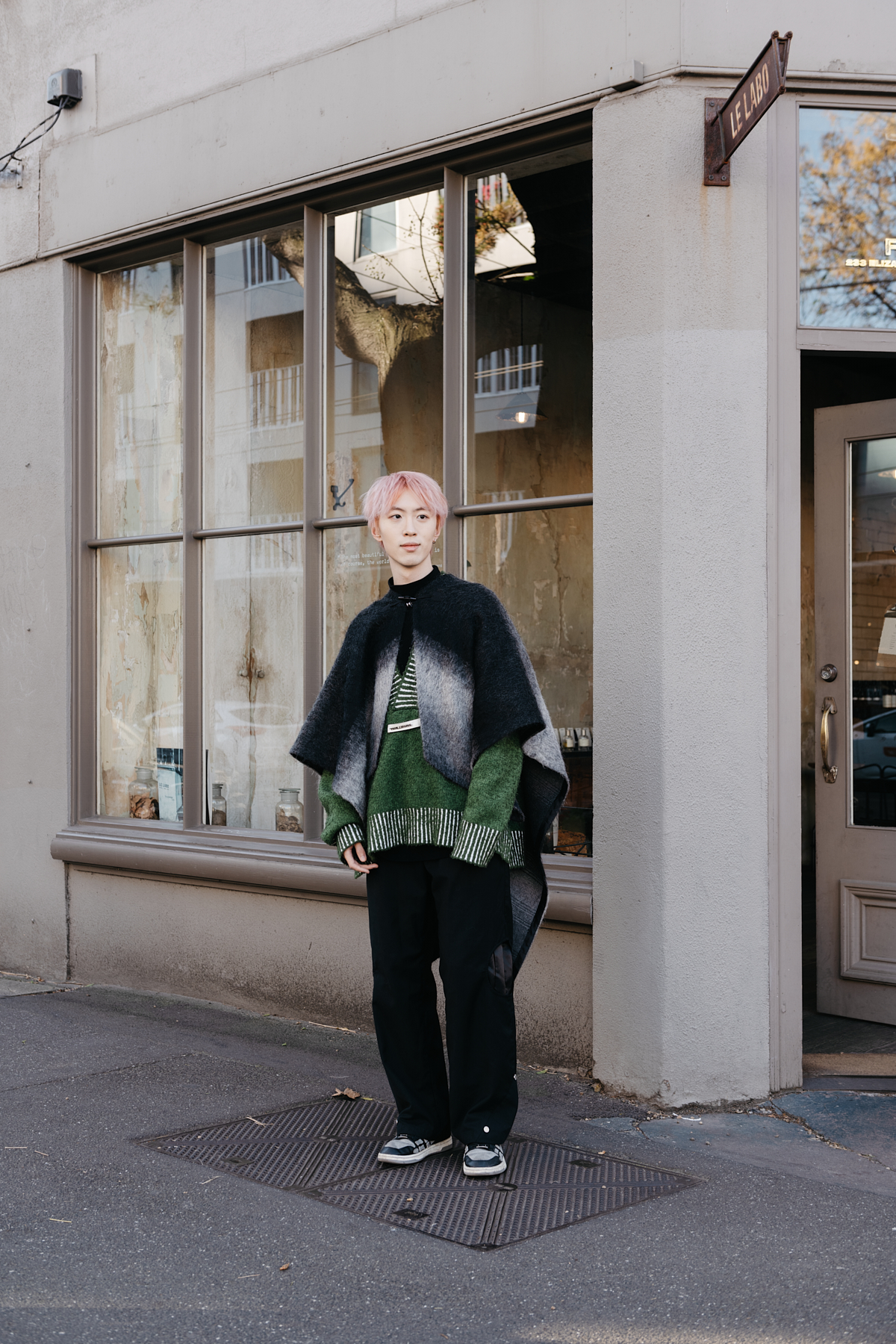 Age: 23 Occupation: Student What are you wearing today? I'm wearing a sweater because Melbourne is cold now, so I want to keep warm. I bought most of my clothes overseas in my hometown in China, and this poncho is from a vintage store in Adelaide. How would you describe your style? My style? Freedom!

This year, gift them a dinner to remember with a Broadsheet Gift Card.
BUY NOW
Zoe Zhang, Yarra Promenade, Southbank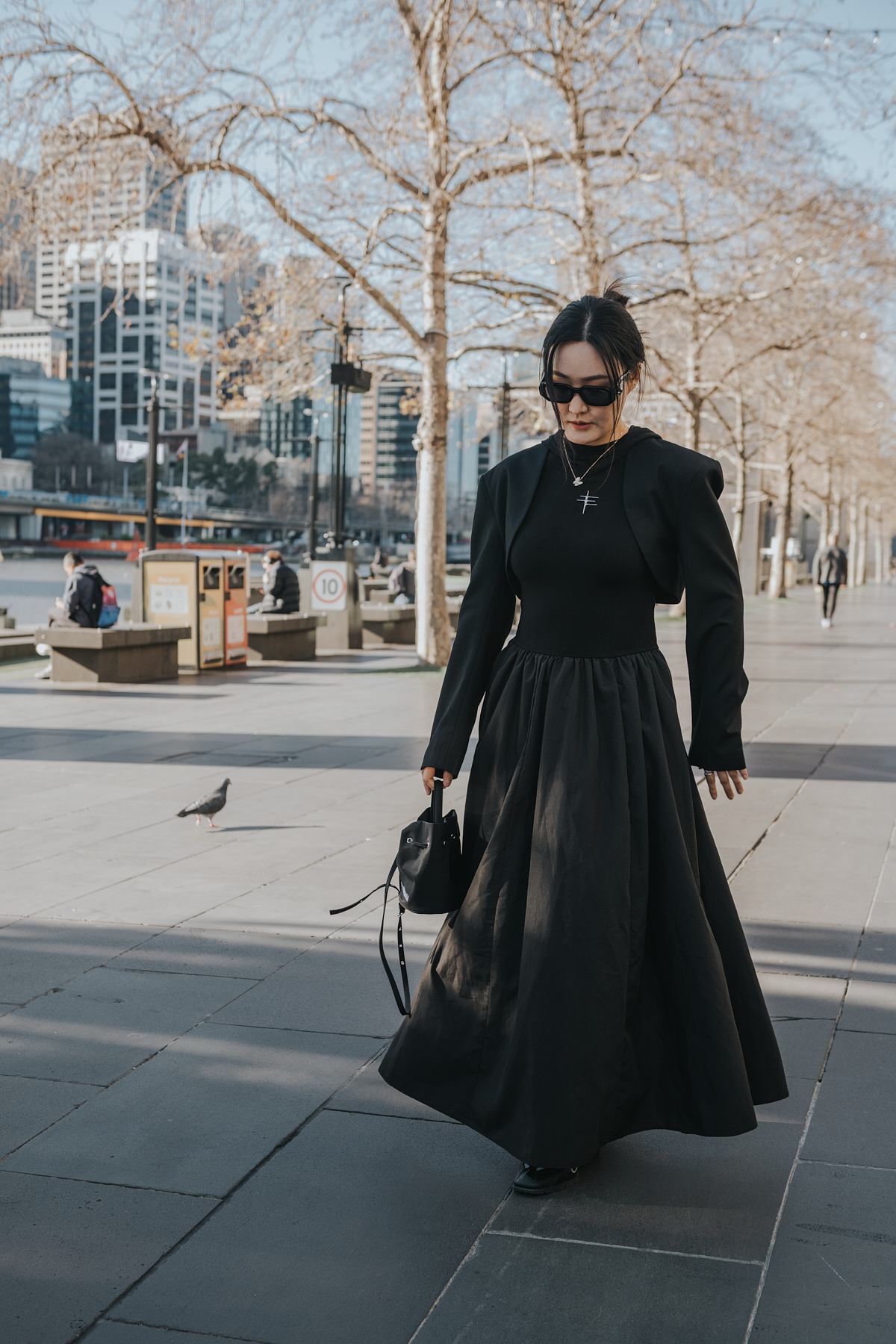 Age: 25 Occupation: Freelance model What are you wearing today? I'm wearing Nike shoes that I bought online and I have my Balenciaga bag and Prada sunglasses on today. I like my high-end fashion brands and got all of these pieces in Melbourne. How would you describe your style? I prefer black or white. My style usually depends on where I go, the weather, my mood and lots of other things. Today my partner and I went to a museum and exhibition, so I decided to wear all black for it.

Louis Harrison, Swanston Street, CBD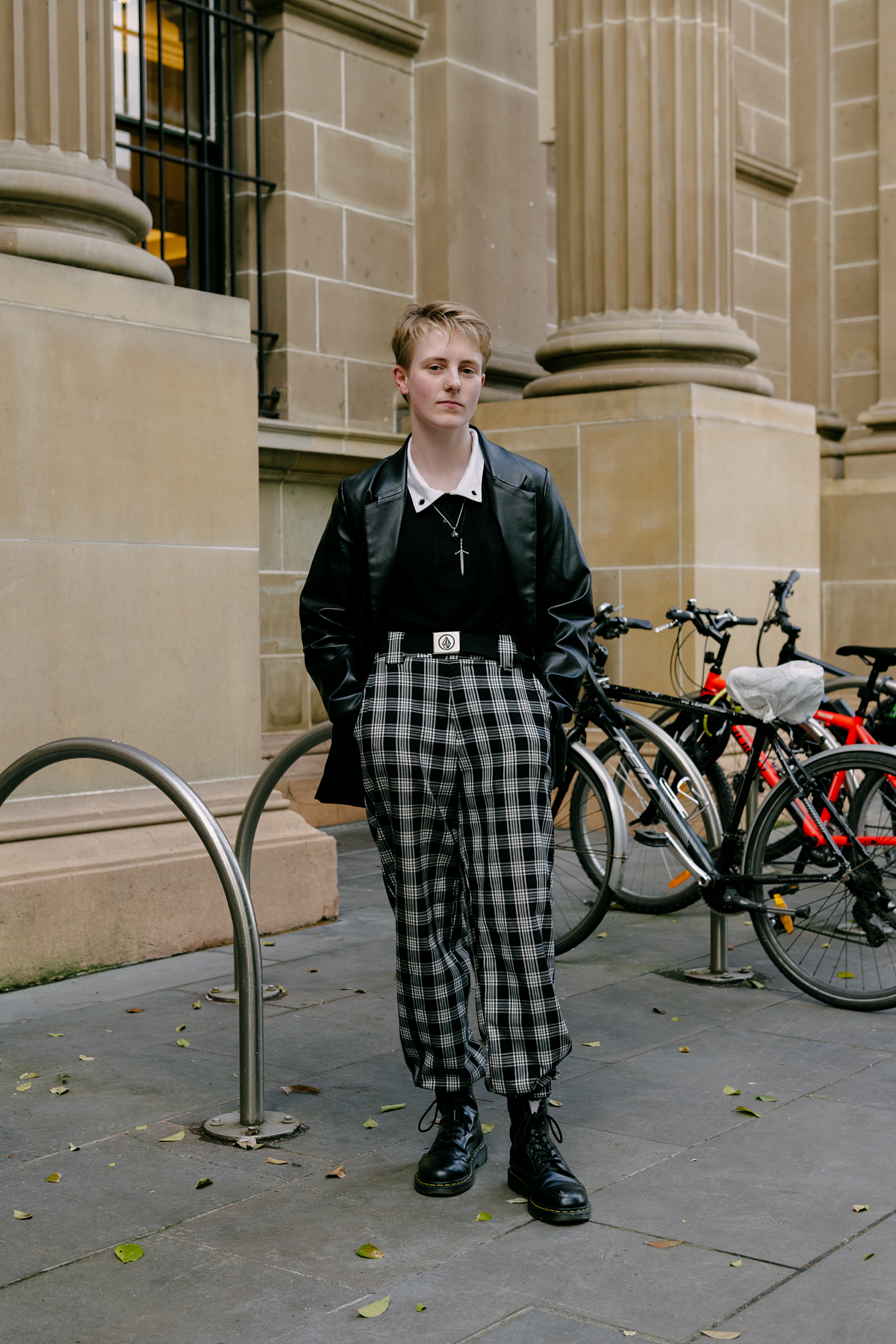 Age: 18 Occupation: Freelance photographer and writer What are you wearing today? I found these pants at an op shop for $6 – they're my best purchase. I wear them every day; they're my lucky pants. My necklace is a globe that I got for my 18th birthday from my mum, and it came with an inscription in the box saying "Be the change you want to see in the world". My shirt is from Dangerfield and the shoes are Doc Martens – they are just so comfy. How would you describe your style? I really like monochrome colours like black, white and grey. I have pretty much this same outfit paired with a skirt as well, but I tend to prefer dressing a bit more masc.

Margot Deen, Corner Faraday and Lygon streets, Carlton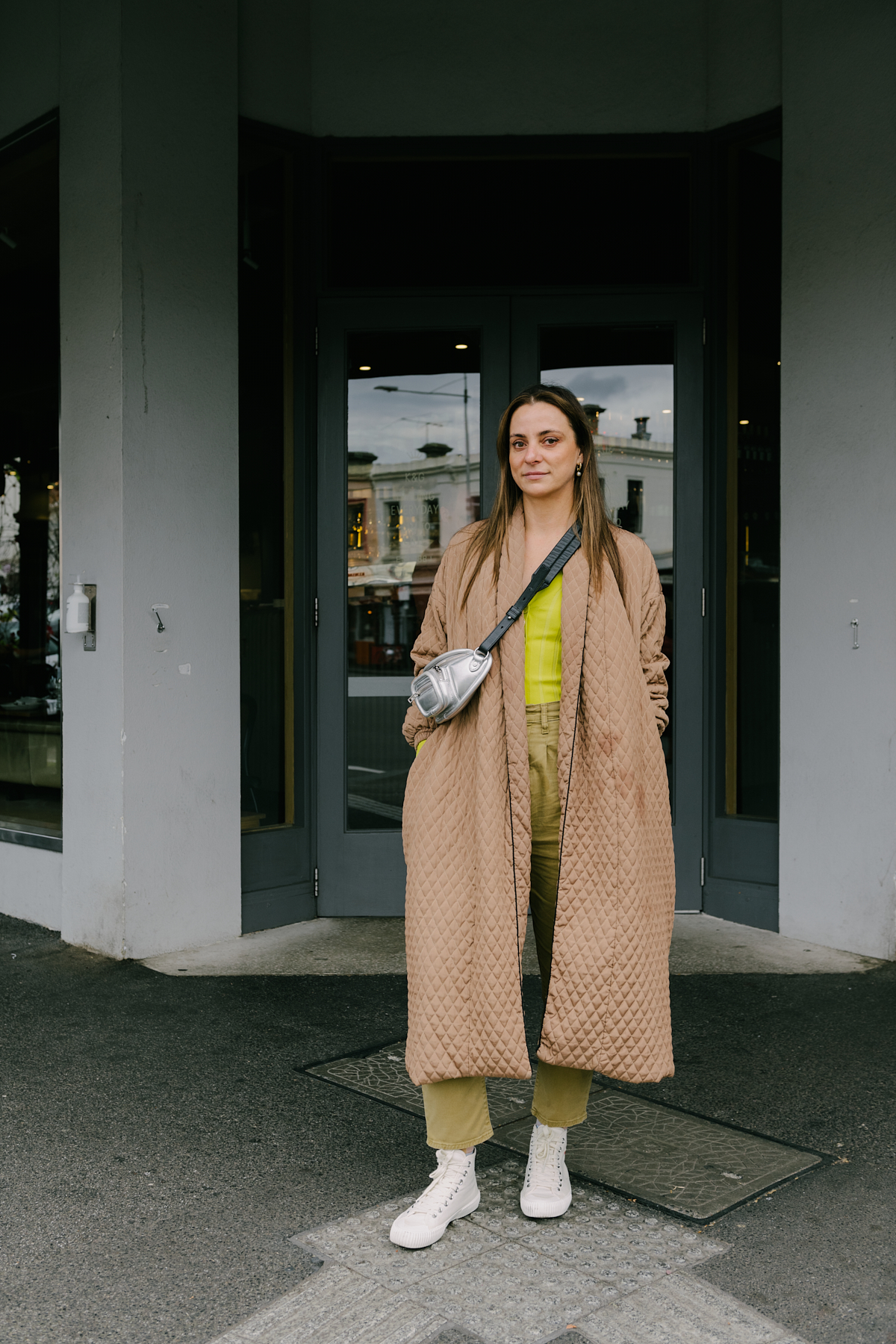 Age: 40 Occupation: Podiatrist and artist What are you wearing today? Levi's pants, Oroton top, Noname jacket and Alexander Wang bag. The necklace is an heirloom, the shoes are Paul Smith and the earrings are something I got in Bali when I was really drunk. How would you describe your style? Definitely mood-based and colour-based. I don't know what I'm going to wear the night before. I wake up in the morning and see how I'm feeling. I could smell spring in the air this morning, and I was like, "I need something bright." I usually wear something that my mum has given me. She used to collect a lot of clothes in the '80s – Adele Palmer and Sara Sturgeon and things like that.

Aliet Bior, Clarendon Street, South Melbourne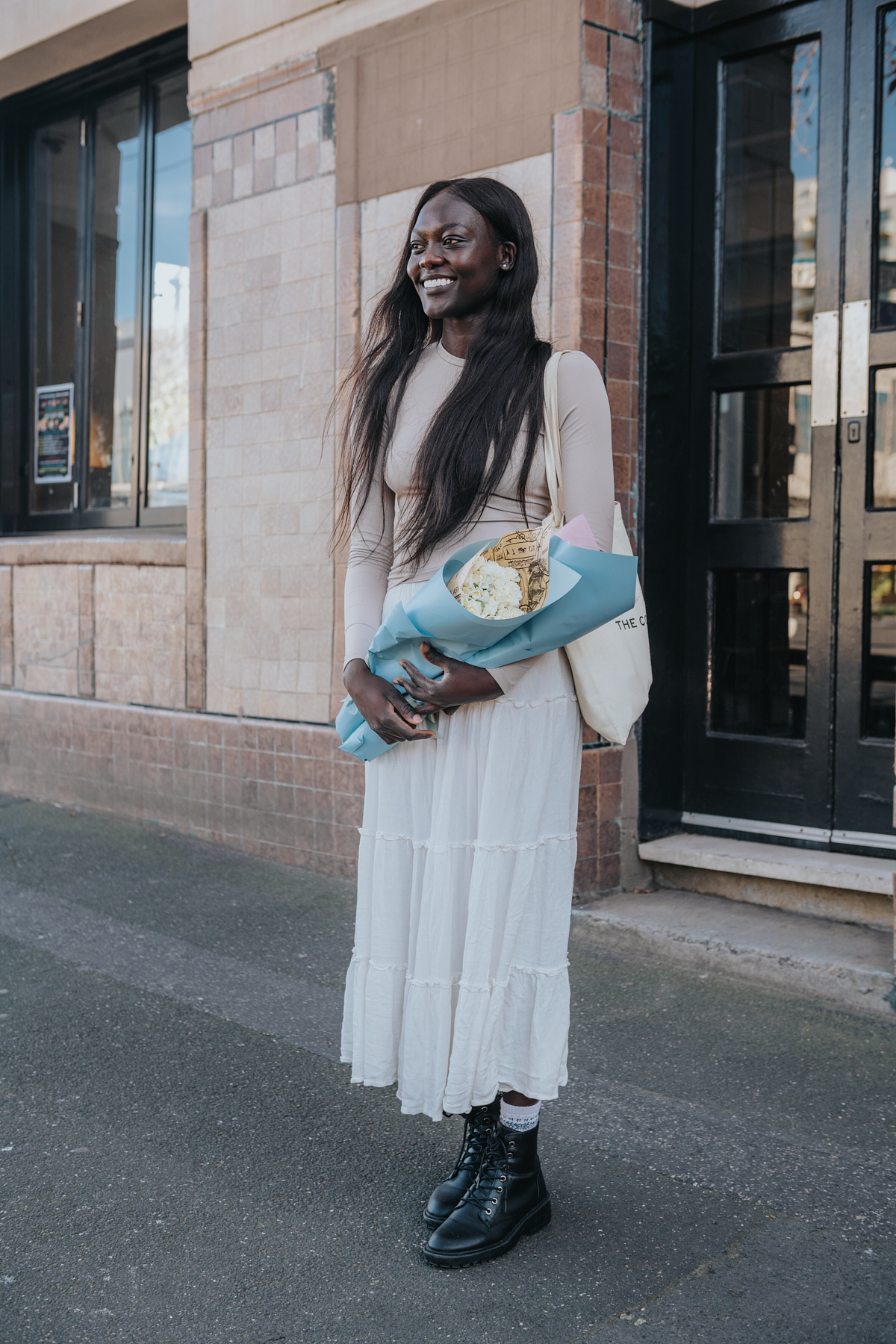 Age: 20 Occupation: Studying pre-law and business What are you wearing today? I got this skirt from Princess Polly – it's one of my favourite stores. The top is from Glassons and the tote bag is from The Commons. I have my best friend coming from overseas and I got her these flowers because she deserves it. The boots I stole from my sister! How would you describe your style? My style in general is mostly flowy. I go with a breeze, which I think I got from my mum. She is more of a free-spirited woman – long dresses and lots of patterns are the things she wears, and those are the things I've been inspired to wear. Hence why I'm wearing this long skirt! I like to lean into my femininity more, just because that's what makes me feel comfortable.

Sastra Y, Chapel Street, South Yarra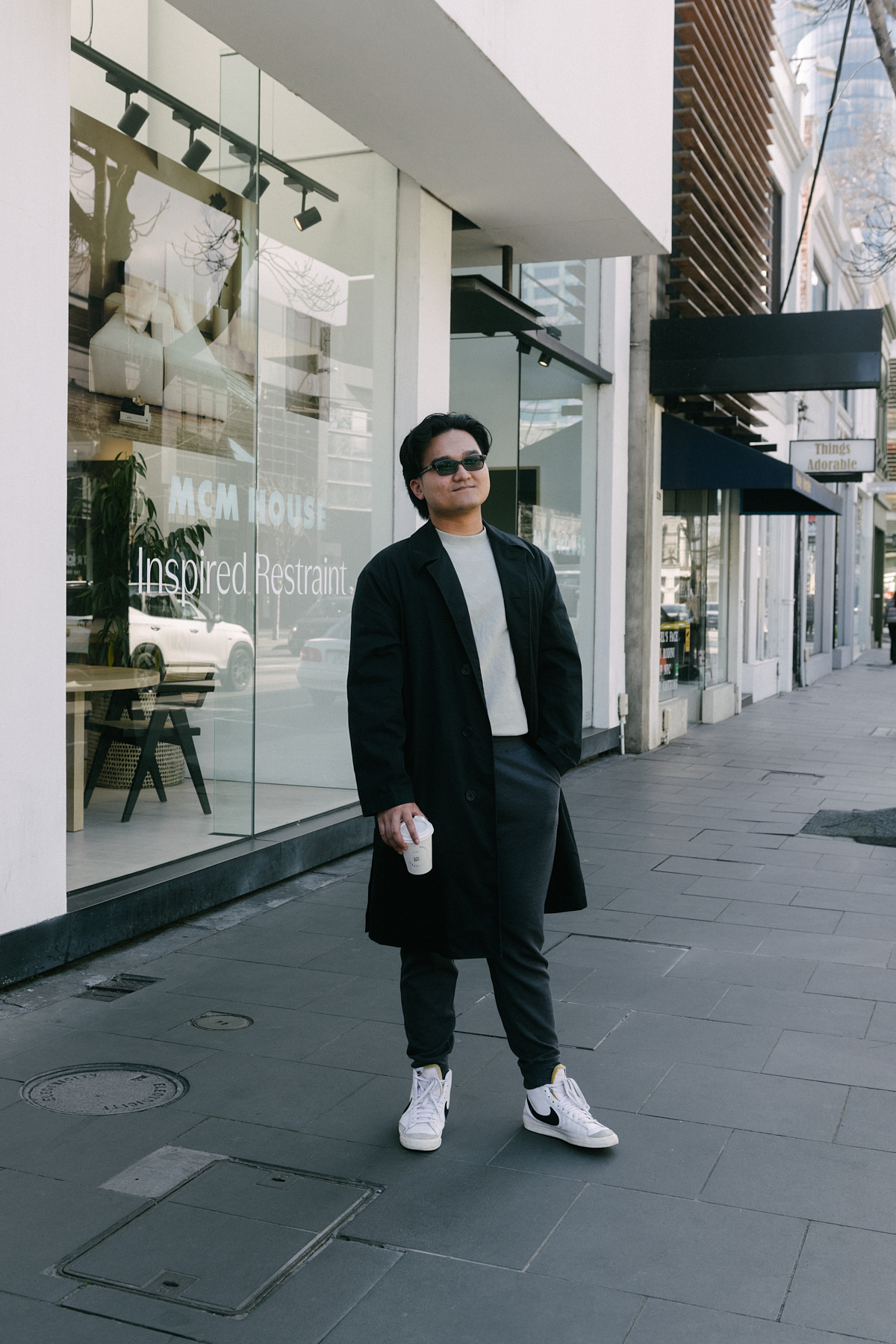 Age: 20 Occupation: Studying Bachelor of games and interactivity with animation What are you wearing today? My trench coat and pants are from Uniqlo and the shirt's from Zara. Shoes are Nike Blazers from Foot Locker. I felt like wearing these pieces today because I think they go well together. The sunnies help me see – they're Gucci, a gift from the family. They gave them back in 2018 as a birthday gift. How would you describe your style? Casual, very casual for me at least. When I came here, I had no sense of style. I have somewhat of a sense of style now, so I guess I've been inspired by Australian fashion. Just here in South Yarra today to have a walk.

Thérèse Tynan, Swan Street, Richmond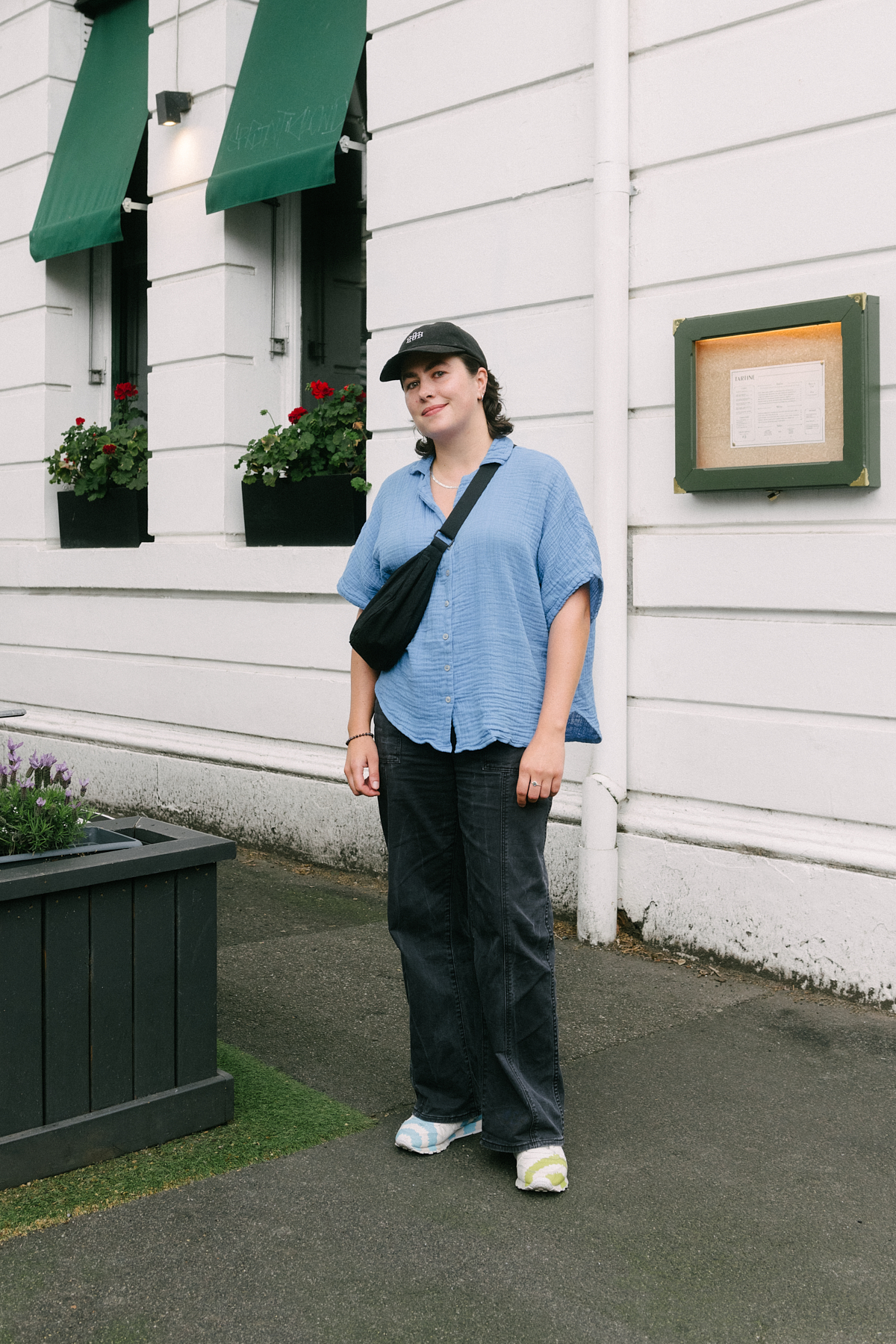 Age: 28 Occupation: Chef What are you wearing today? I'm wearing a shirt from Billabong that I got recently on my travels because I lost half my clothes – just doing washes in hostels means things go missing. I got the pants at Universal and the shoes I got online – they're a Collina Strada x Reebok crossover. People often ask me if I painted them myself. I didn't paint them myself! Also wearing a Homie cap from Fitzroy. How would you describe your style? Comfy, colourful, always with a bit of black and white in there, and often donning a hat because I've been having a bad hair day for the last couple of months. I like to leave the house in the morning with the potential of drinks in the evening, but still comfy.

Abby Goldie, Johnston Street, Abbotsford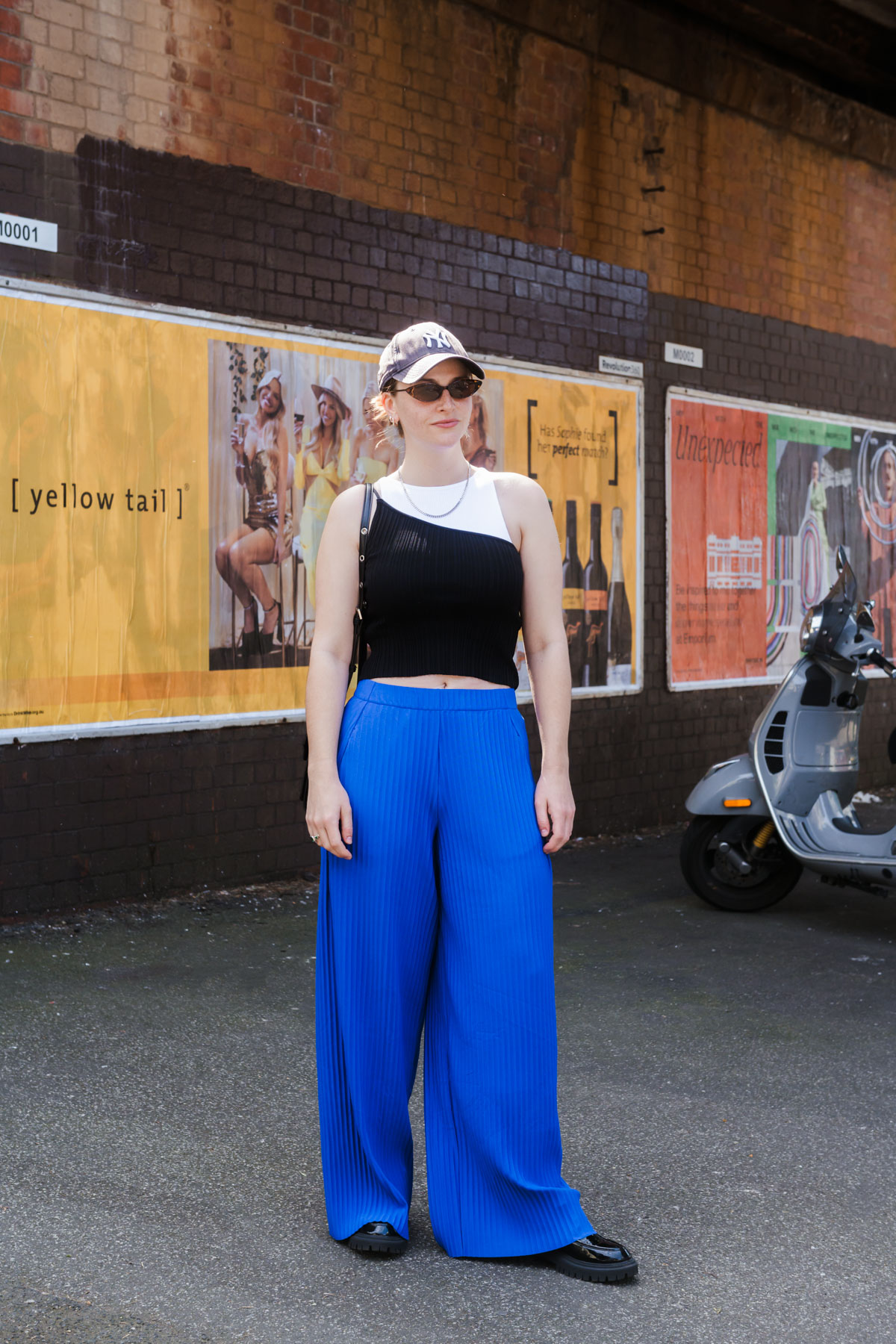 Age: 28 Occupation: Studying education What are you wearing today? I'm obsessed with Issey Miyake but cannot afford their designs, so when Cos came out with these pants I was like, "They can pass, it scratches the itch, I'll get them." And cobalt blue is very fun, so that's the story there. I'm wearing two tops together and the hat is hiding really horrible hair! The bag is Sans Beast and I'm wearing my Millie Savage ring. How would you describe your style? My style fluctuates with my mood, so today I'm feeling very colourful, edgy and fun. I think it also fluctuates in terms of my queerness. Some days I'm wanting to dress quite femme queer, other days I want to explore my more androgynous and masculine side.

This article first appeared in Domain Review, in partnership with Broadsheet.