Opening Soon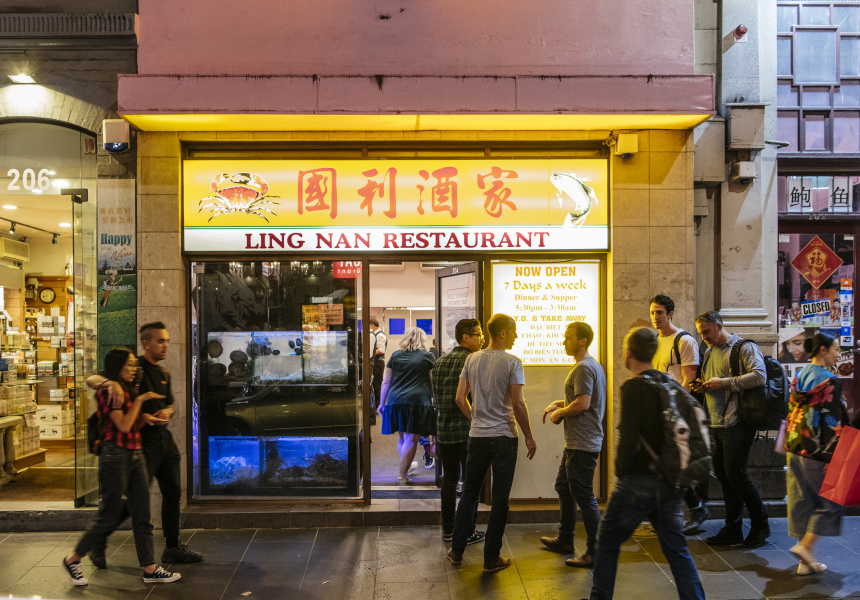 Ling Nan closed on Little Bourke Street in 2020, but will reopen in December 2021 at a new location on Lonsdale Street.
Ling Nan is a no-frills restaurant that knows exactly what it is. Look at the laminated menus, paper tablecloths and brusque service, and you'll know too. But the food always hits the spot, and the place serves it until 3.30am.
Make sure you order the generous serving of XO pippies. They pack a meaty punch and arrive in an aromatic sauce that smacks of fried shrimp alongside some crispy Chinese doughnuts. And don't miss out on the shredded duck pancakes, prawn toast and chicken ribs, either.
Ask staff members what they recommend, though, and they'll silently step aside and point to the various critters nervously circling around the restaurant's small tanks. There's abalone, Queensland mud crab, prawns and lobsters, to name a few. Ling Nan allows BYO wine, but you probably guessed that already.
Updated: November 11th, 2021
We do not seek or accept payment from the cafes, restaurants, bars and shops listed in the Directory – inclusion is at our discretion. Venue profiles are written by independent freelancers paid by Broadsheet.