The snap lockdowns at the beginning of the last year meant a slow start for Brisbane's cafe openings. But a charmed run afterwards saw an influx of arrivals in the second half of the year, including a number of impressive bakeries and some very aesthetically minded cafes.
From an all-day Lebanese eatery, plant nursery and deli that's green by name and nature, to the arrival of a world-famous Melbourne croissanterie, here are the best cafe openings of the year.
And if you missed our best restaurant openings of 2021, you can find the list here.
Broadsheet Access members get special tables at busy restaurants, tickets to exclusive events and discounts on food, coffee, brand offers and more.
Find out more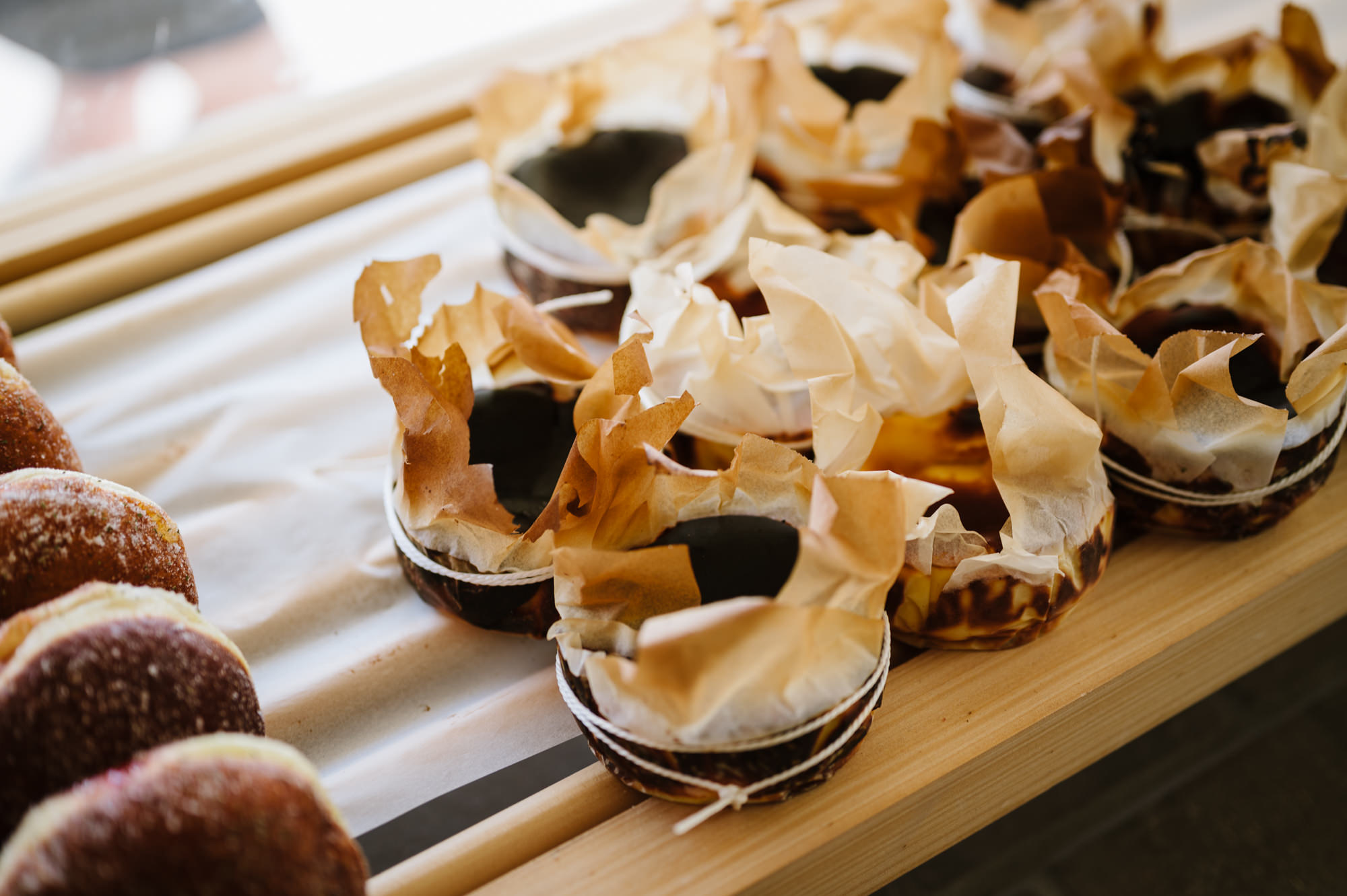 The enormously popular lockdown-era pop-up bakery took on a permanent location in October, opening in an old Queenslander corner shop on James Street. It was given a smart coat of white paint on the outside, and a brick floor inside. Otherwise, it's a marble counter, a coffee window, some movable timber bakery shelves, and that's pretty much it. The simple treatment means that, from outside, your attention is drawn to the lines of baked goods that fill the window, and inside to the enormous four-tonne, locally made Beech oven. On offer are five different types of sourdough, Basque burnt cheesecake, rotating kouign-amann, a range of danishes (including a savoury number with toum and potato), breakfast rolls (a smoked potato bun with bacon, egg and German relish), chocolate tarts, and cinnamon and jam doughnuts (plus a rotating special doughnut). Coffee is by Bear Bones.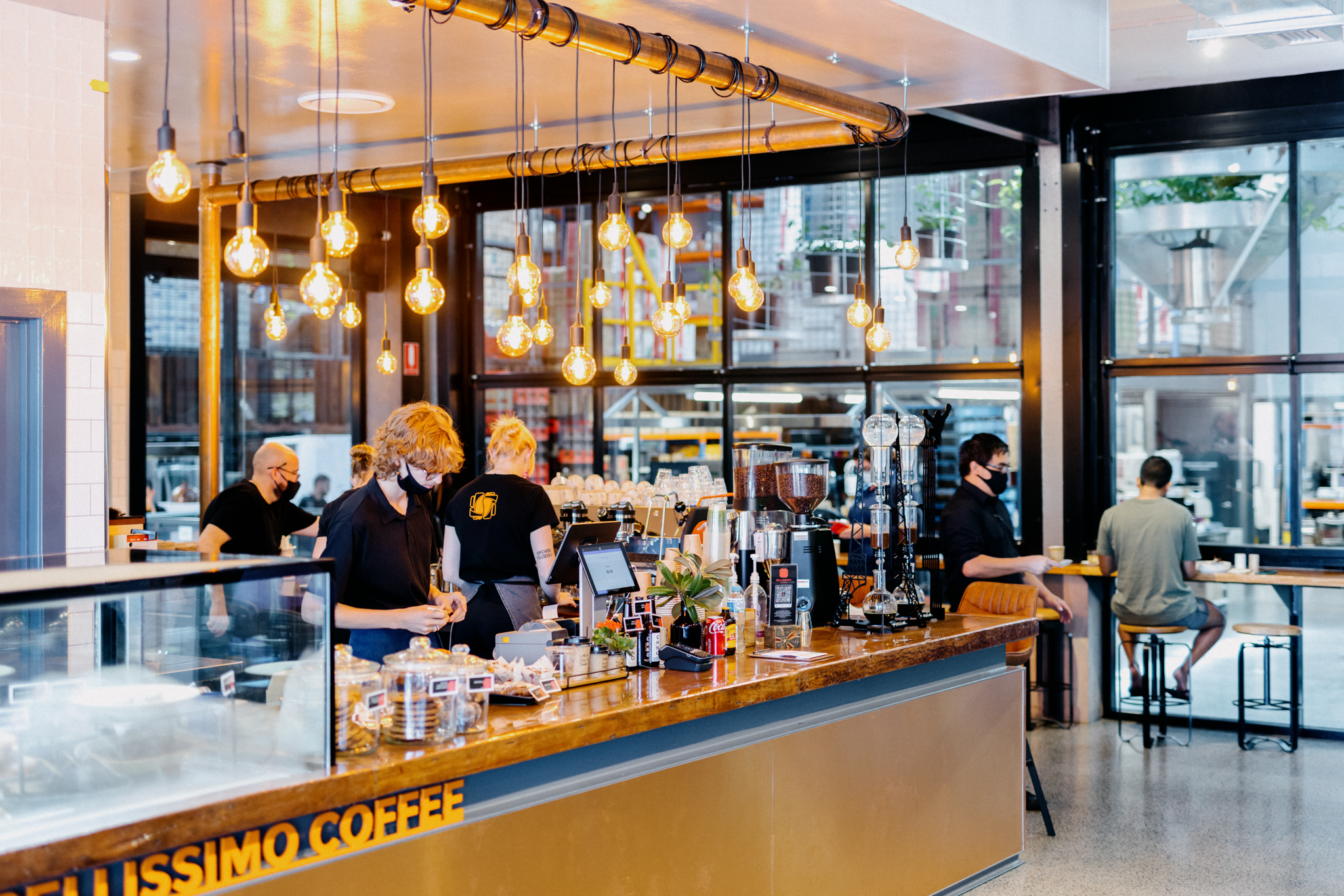 After five years of delays, Bellissimo (Australia's highest awarded coffee roaster) finally opened its impressive cafe and roastery headquarters in Coorparoo. It's housed in an old, charismatic and high-ceilinged warehouse that's been given new life with polished aggregate concrete floors, a long bar and plenty of timber. The visually impressive roasting area sits behind a glass enclosure, giving the venue a feel similar to a flash brewpub. For coffee, Bellissimo Coorparoo runs its super popular Italian dark roast and Ultimo blends through the espresso machine, with a rotating single origin also available. For food, an all-day brunch menu runs from truffle scrambles, fried egg brekkie burgers and onion bhajis with spinach and poached eggs for the morning trade, to a broccolini salad and a pair of burgers once the afternoon comes around.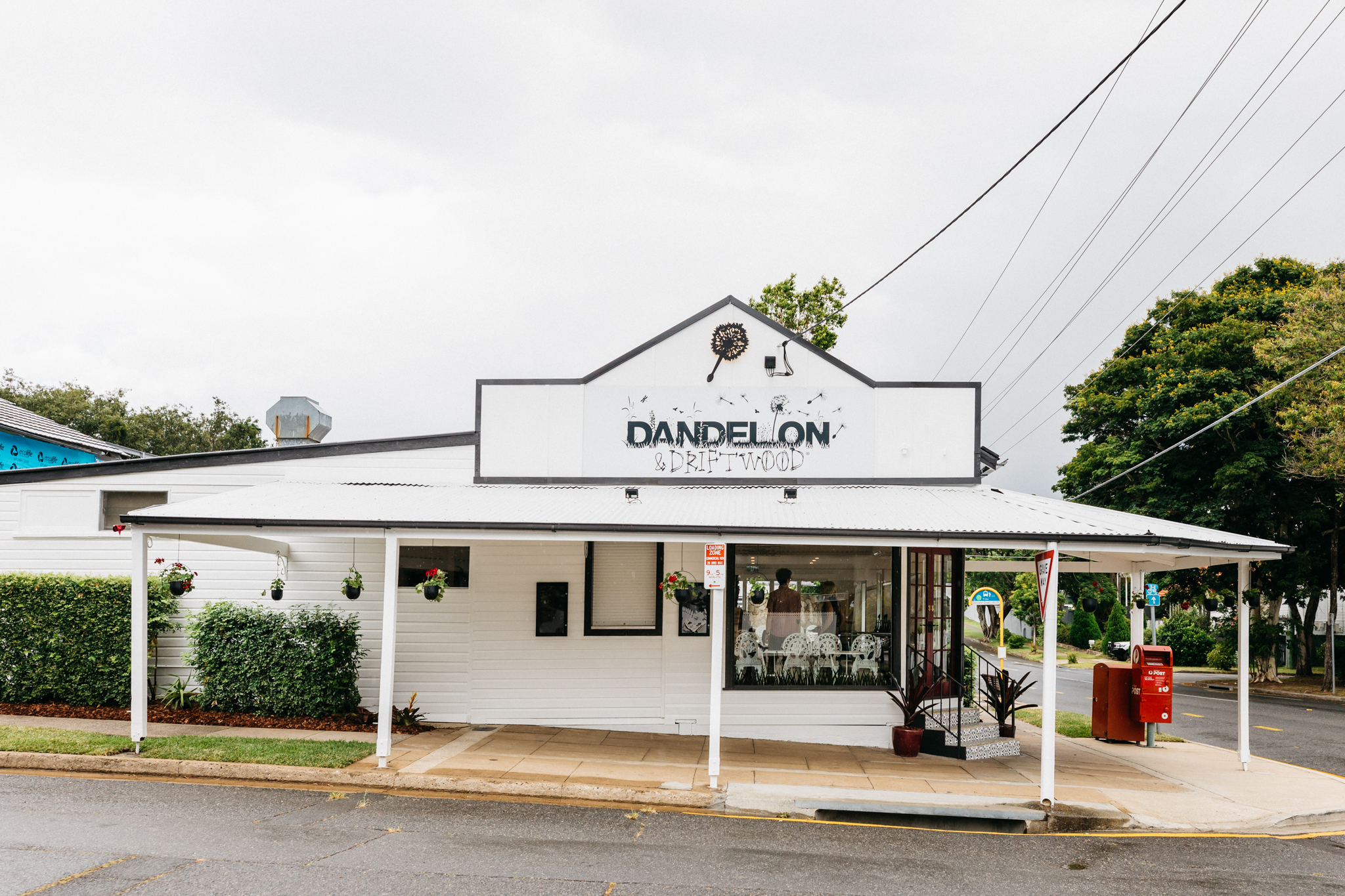 The north-side coffee pioneer returned to Gerler Road in February – the same road where it made a name for itself when it first opened in 2010 (owners Penny and Peter Wolff closed the cafe in 2018 to focus on their wholesale operation). Housed in a beautiful old Queenslander corner store, the classic VJ-board timber walls and corrugated roof remain, but the Wolffs sharpened it up with a fresh coat of white paint and a pair of burgundy doors. Expect a classy brunch and lunch menu featuring a breakfast roll, house-made savoury mince and classic corn-and-zucchini fritters. There's also a high tea menu (for which you'll need to book). Coffee comes from sister venue Wolff Coffee Roasters, and there's a range of teas, smoothies and juices.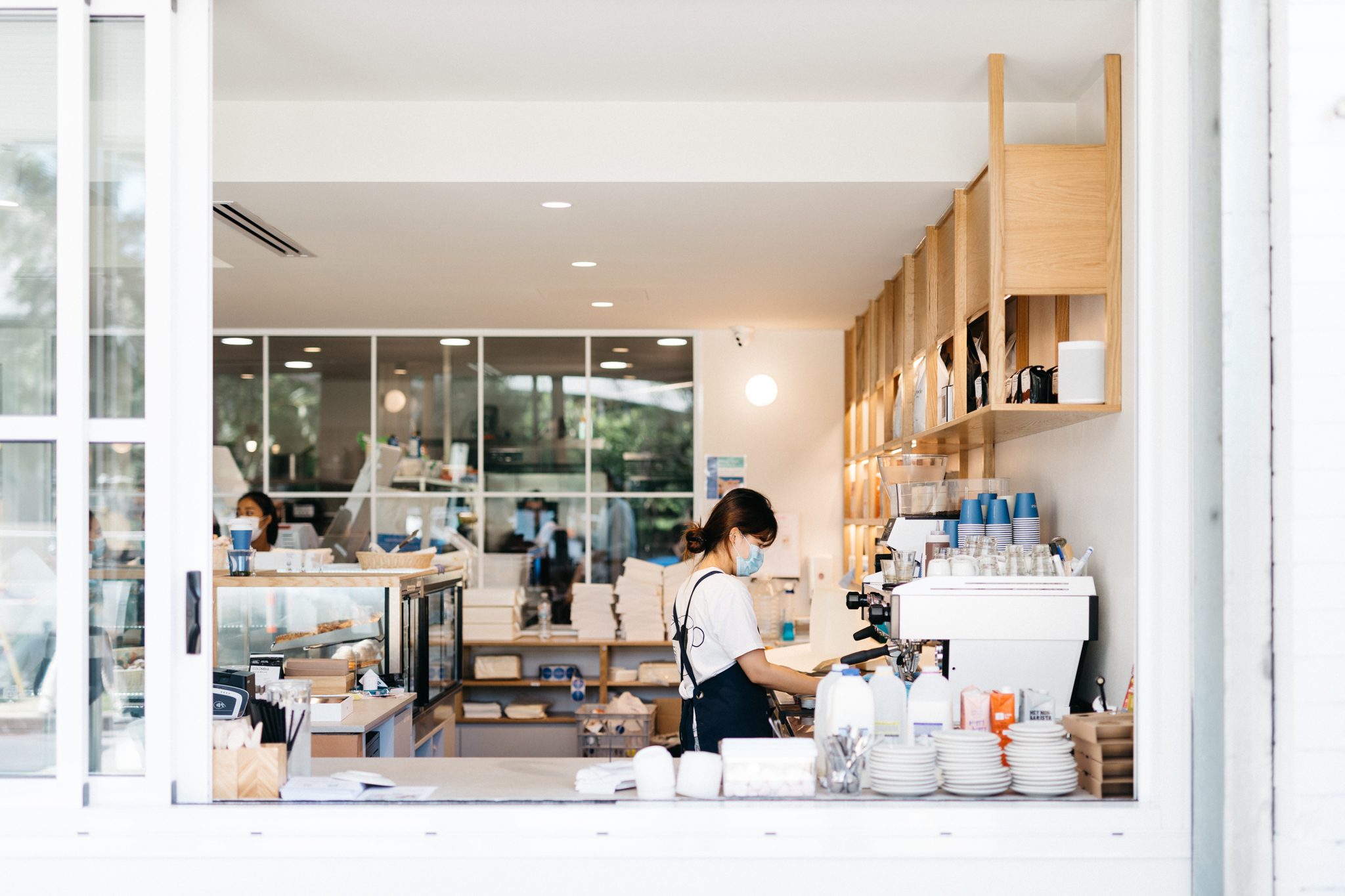 The year started on a strong note when Giorgina Venzin opened Darvella on January 1. For the Swiss-influenced Bulimba bakery and patisserie, she nabbed the services of pastry chef Lindsay Krahenbring (ex-Rockpool, Bentley and Quay). Venzin gave Krahenbring something of an open brief. The result is a rotating selection of jam-filled doughnuts, croissants, cruffins, tarts and signature triple-tier baby cakes. There's also sourdough and Swiss-style braided challah, alongside a deli section serving Swiss cheeses from Eudlo-based Fromart, and sister venue Monocle Coffee's house-blend espresso. The bakery itself is a handsome space of timber, terracotta and flagstone paving with a bi-fold window for takeaway coffee orders and outdoor tables.
Adam and Rejoice Thomson's follow-up to Dovetail on Overend opened in December 2020 (after we published our 2020 wrap, which is why we've included it in here). Housed in an old Queenslander on Laura Street, the space feels very warm and inviting – as if you've walked into the Thomsons' own home. On offer are dishes like avocado on sourdough and a bacon-and-egg sandwich, but it's Rejoice's creative, Filipino-influenced dishes that are the highlights. For example, her signature adobo bowl combines braised chicken and pork served with coconut curry, oyster mushrooms, devilled eggs and toasted garlic on a bed of garlic fried rice. The Thomsons use a blend from local coffee roaster Almanac for milk coffees, while they rotate single origins for black. There are also house-baked gluten-free treats on offer, including doughnuts and a Filipino ube leche flan cake (purple yam cake with crème caramel).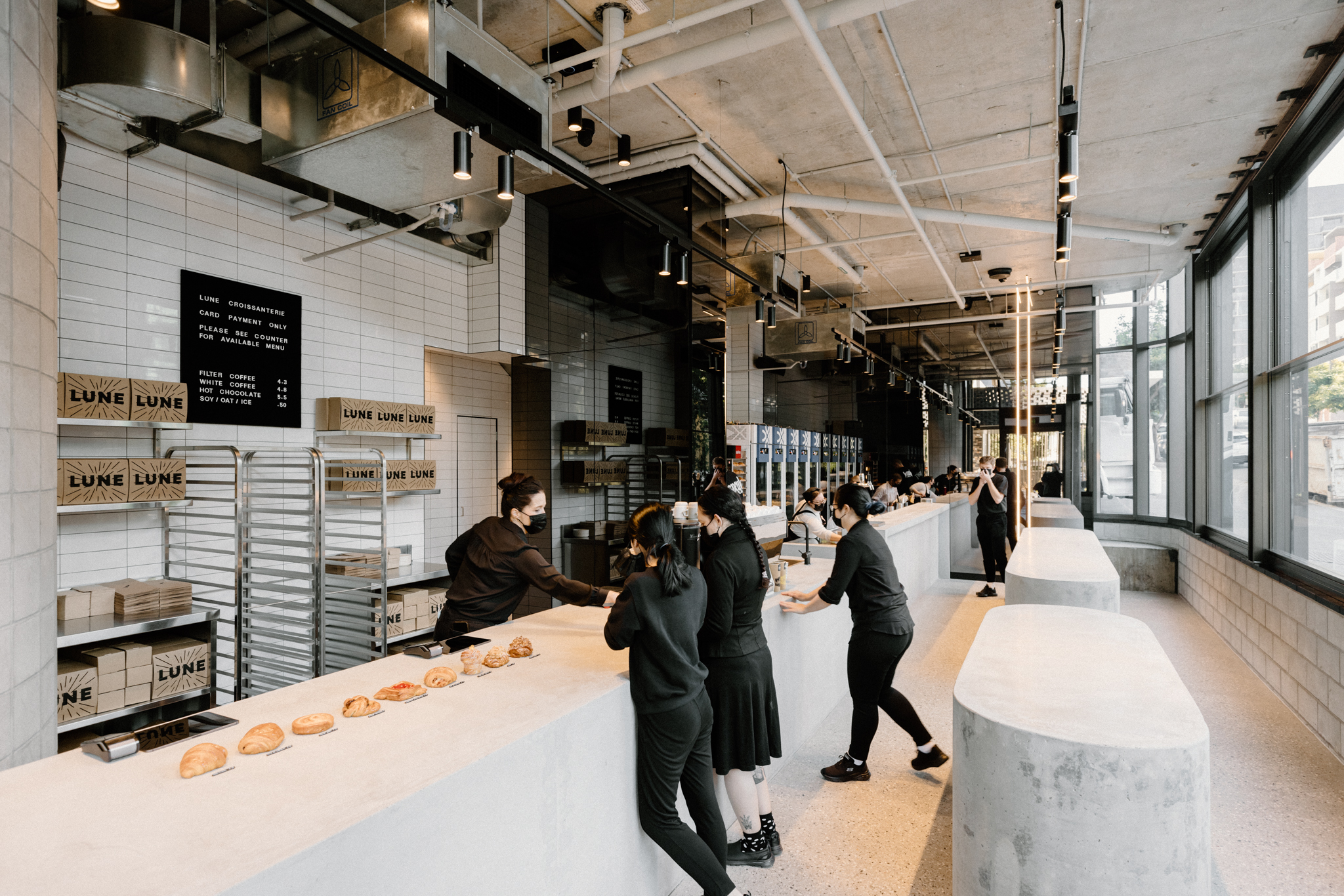 If you know Melbourne's food scene, then you know Lune. The croissanterie has turned heads internationally, with the New York Times asking in 2016, "Is the world's best croissant made in Australia?" Lune's highly anticipated Brisbane outpost – all concrete, tiles, glass and high ceilings – opened in August across two immaculate Hogg & Lamb-designed spaces beneath The Standard on Manning Street. On the street is the retail shop, where a line of convection ovens punches out croissants (some twice-baked), pain au chocolat, kouign-amann, morning buns, danishes and cruffins. Coffee is by Coffee Supreme. Out back is the Cube – an enormous glass box temperature-controlled to 18 degrees Celsius. Here, the Lune team prepares its pastry over three days using local flour, eggs, milk, and local and imported French butter – the most important of which is a preservative-free Beurre d'Isigny from coastal France used for the laminating process.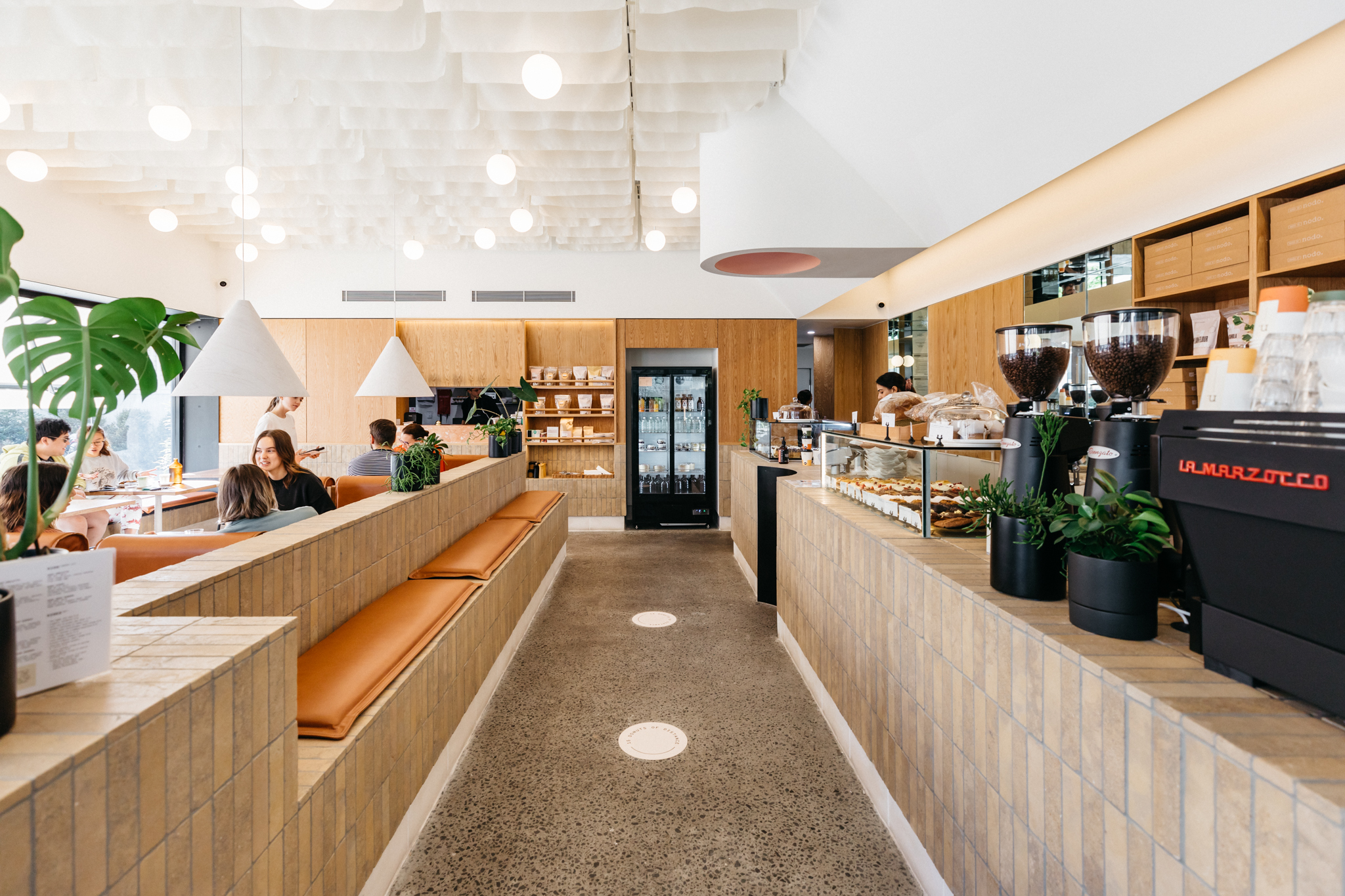 Nodo's fifth venue could be its most stunning. It's a distinctly Nodo space, but it's also different. Pink-marble tables, caramel-leather banquettes and terracotta brick create a warmly coloured cafe that's a clear evolution from Nodo's traditional black, white and concrete. The menu has evolved too, with long-time favourites such as the Nodo eggs and the egg-and-bacon milk bun recently joined by a sambal crab omelette and a Nodo nourish bowl. New to Hawthorne is the native-spiced fried chicken burger (with lemon-myrtle mayo and mountain pepperberry), plus a mushroom version. Everything is, as always, gluten-free. What hasn't changed is the signature baked doughnuts, which include classic flavours such as Novo, Beetroot Blackout and the Breakfast doughnut. For drinks, there's Nodo's house-blend coffee served espresso, and a single-origin available on batch brew. Also new for Hawthorne: a dedicated pantry section.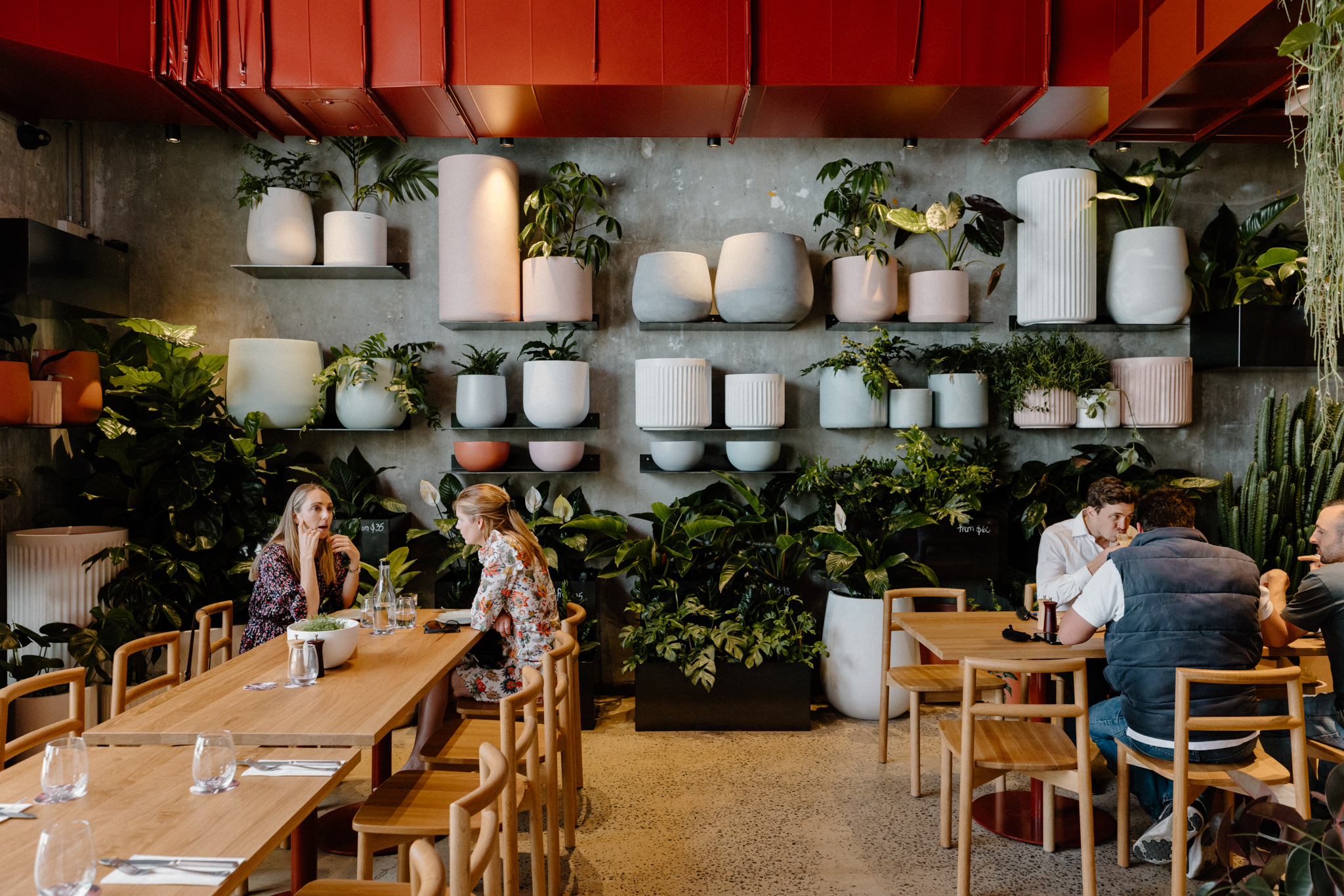 One of the most aesthetically pleasing openings of the year (along with Nodo Hawthorne) is from Angela Sclavos (who also co-owns Essa) and Christina Habchi. Sclavos describes The Green as an ecosystem in that all aspects of the business — an all-day Lebanese eatery, plants and ceramics shop, and deli — work together as one. The airy space is filled with plants, raw concrete, marble and red accents, while there's also a cacti-filled outdoor dining space out front. Executive chef Warren Turnbull and his team serve breakfast dishes such as green shakshuka with smoked labneh, chilli and turkish bread; while the lunch menu runs from meze options such as hummus, muhammara and smoked eggplant dip, to share-style mains like roasted barramundi with saffron, mussels and tomato tagine. The deli focuses on takeaway Ottolenghi-style salads and falafel, while coffee is from Melbourne roaster St Ali.
Honourable mentions
Wholly Crumpets – a tiny al fresco cafe dedicated to crumpets.
Sprout – a long-awaited permanent shopfront from a Rocklea market favourite.
Mr Badgers – an old world, New York-inspired Woolloongabba deli.
Rings a Bell – a sibling run cafe with a lush, leafy courtyard in a heritage-listed building.
Picnic – the long-standing Camp Hill favourite opens a stunning outpost in West End.
Bear Boy Espresso – the popular Gold Coast cafe finds a second home in a heritage Windsor spot.