What qualified as a restaurant opening was a little different in 2021. Such is the way of global pandemics.
Two of the best new eateries this year weren't even new creations, exactly: one was a remarkable resurrection in a new location for an operator that early in the pandemic looked out for the count, the other a fresh waterside home for one of our most celebrated Italian joints.
Still, what strikes you most when looking back is just how many venues opened during Covid, underlining our charmed run through the past 20 months (touch wood, always). Hence, the lengthy list of honourable mentions at the bottom of the story – make no mistake, all are worth your time.
Otherwise, here's what you need to tick off.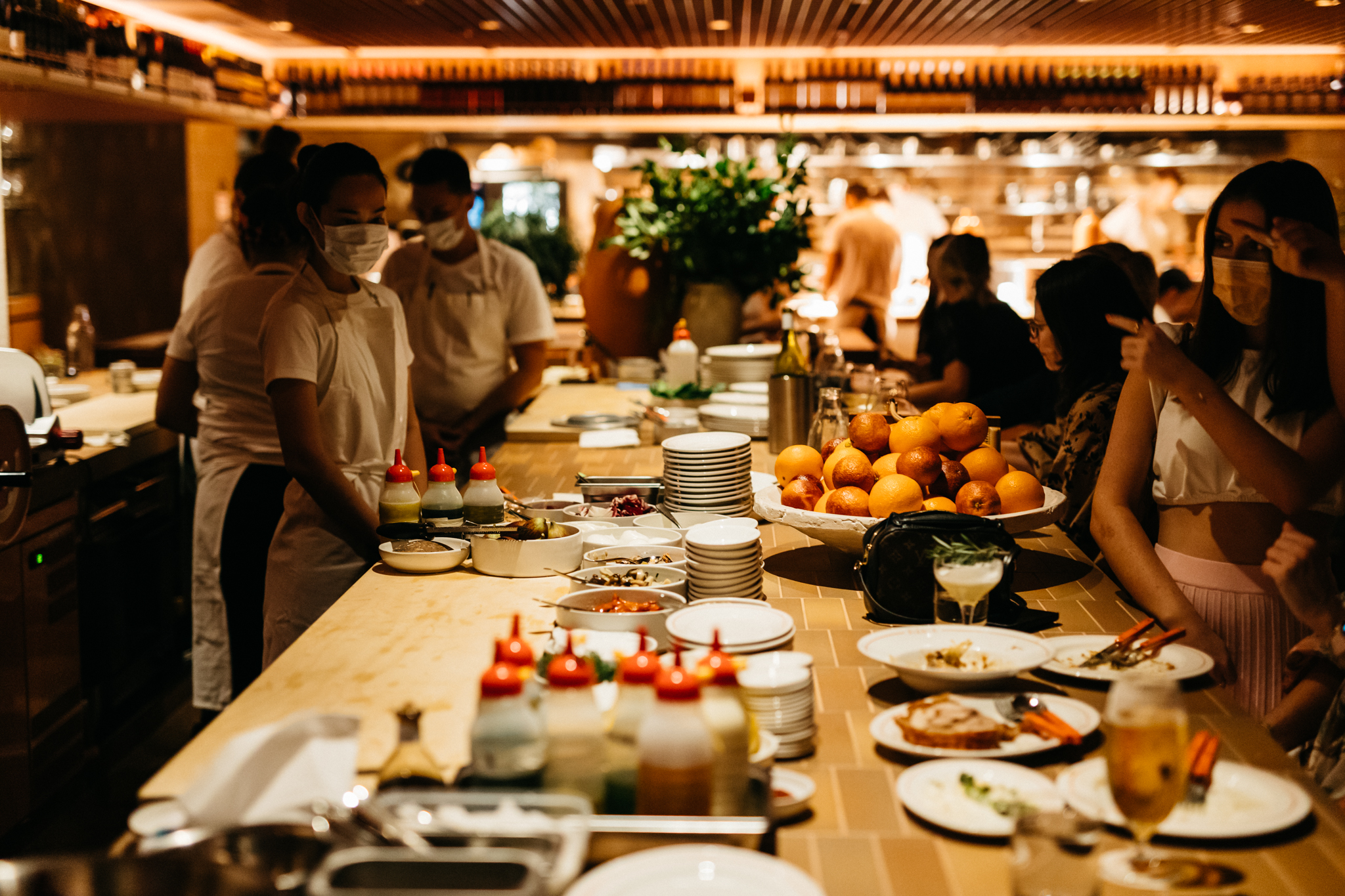 Probably the biggest opening of the year comes from the team behind Honto, Same Same and Agnes (the biggest opening of last year). Bianca is a striking, tile-laden James Street venue, its bright orange branding inspired by the acrylic-handled Sabre Paris cutlery with which you wolf down plates of paccheri al pomodoro with stracciatella, pork and fennel lasagne, and lamb neck and mint rigatoni. There's also an extensive list of snacks, entrees and mains, plus an Italian-made Carpigiani soft-serve gelato machine that pumps out Instagrammable desserts. For wine, a 350-bottle selection focuses on Italian varietals and local vino made in an Italian-style.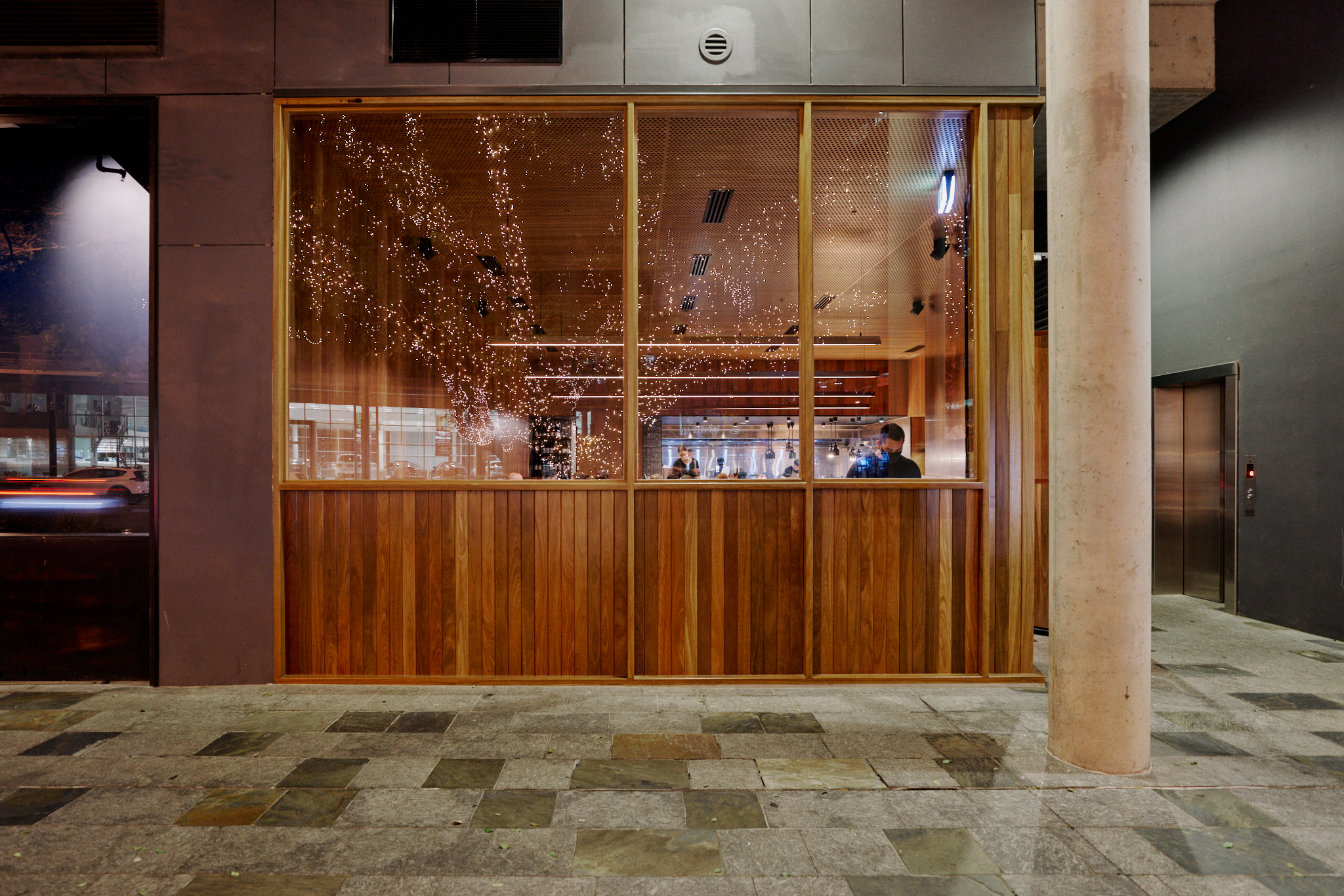 The Votan brothers' online curry house finally became bricks and mortar in September when it opened in a beautiful Nielsen Jenkins-designed space next door to sister venues Happy Boy and Snack Man in Fortitude Valley. Chef Tom Swapp has expanded the tight online curry selection into a broad menu that incorporates raw and small plates, and a long selection of mains split across seafood and "non-veg" dishes – all the better to take in as many styles of cuisine as possible from India all the way down to Indonesia. The 25-bottle wine list favours crisp small producer (and often Italian) drops that are powerful and acidic enough to stand up to the curries – and you can always arrange for something from Snack Man's enormous cellar if you really want to go large.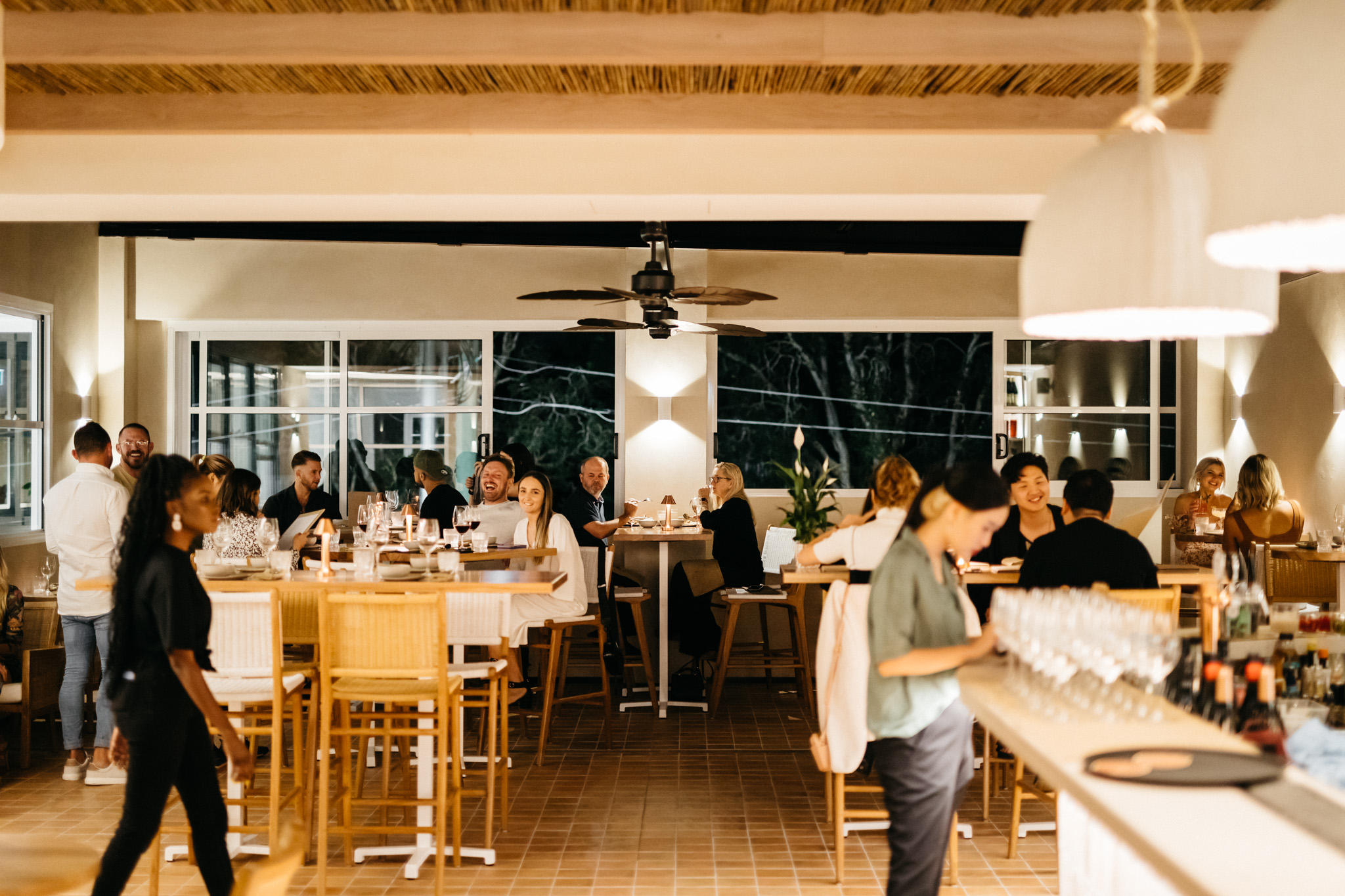 Melrose came out of left field towards the start of the year, Giorgina Venzin nabbing the services of former Longrain Melbourne head chef Arte Assavakavinvong to create a brilliant pan-Southeast Asian eatery on a breezy first-floor Oxford Street rooftop. Inspired by the lavish beach clubs of Bali and Koh Samui and decked out in timber, terracotta tiling and plenty of greenery, the killer feature is a retractable roof that the team rolls back on clear afternoons and evenings. For food, Assavakavinvong is preparing prawn and pomelo betel leaf wraps, yellowfin tuna larb, a pair of Indonesian skewers (beef, sticky pork), and a mains menu that features fried half chicken with sticky tamarind and chilli sauce; a turmeric curry with coral trout, betel, green mango and watercress; and a red curry of pumpkin, tofu and eggplant. Drinks are a classy cocktail menu backed by a 60-bottle wine list.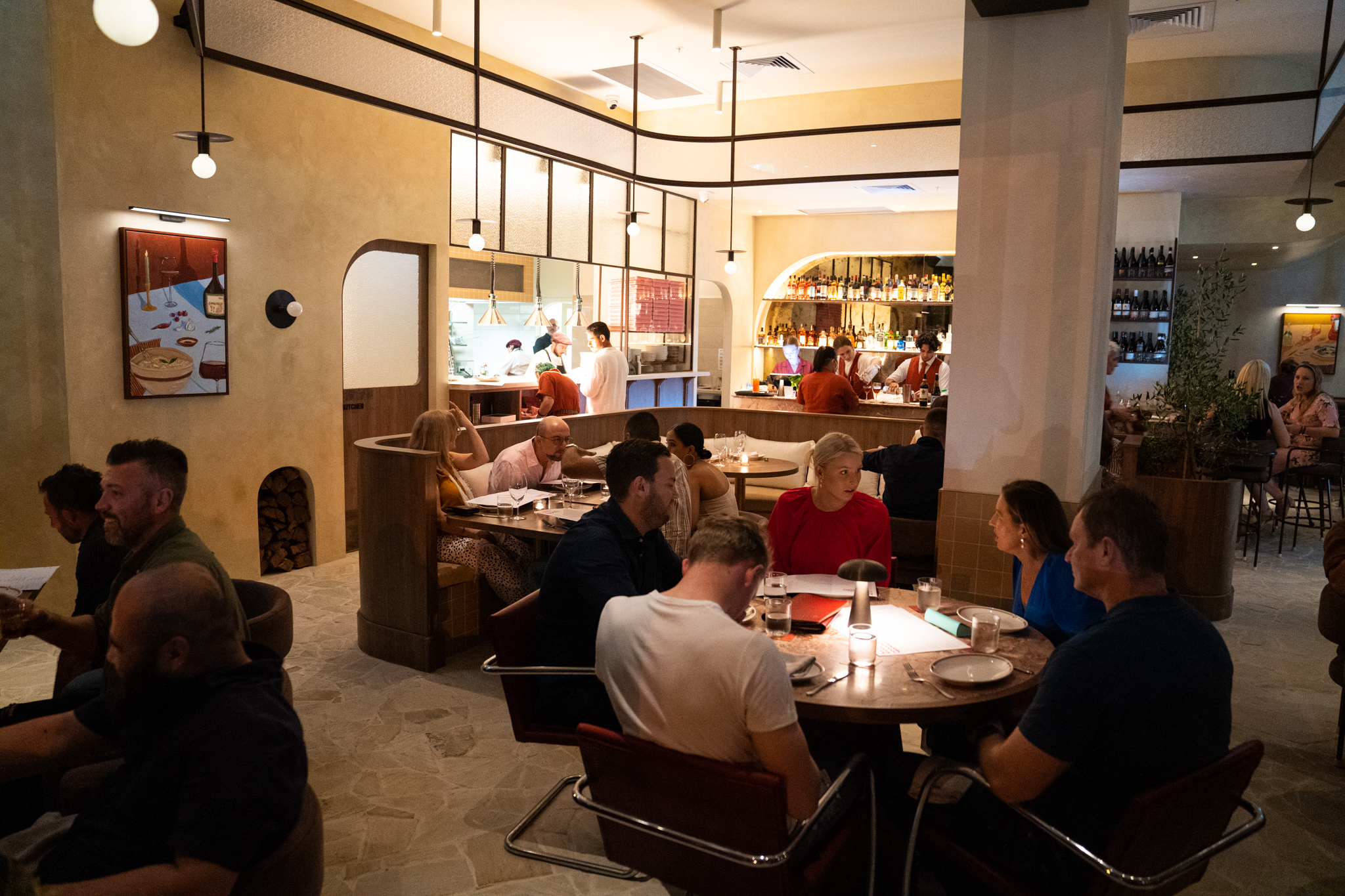 One of the last Italian restaurants to open this year was also one of the best, Sasso Italiano the brainchild of ex-QT and Ovolo food and beverage directors Vince Lombino and Jared Thibault. The venue has been built with plenty of timber and glass, curved entry ways, marble countertops and crazy paver floors. The lighting is dimmed just so; the music, Italian disco-inspired throwbacks curated by former QT music director Andrew Lewis. For food, ex-La Lupa head chef Gabriele Di Landri is cooking an efficient menu of crudo, antipasti, mains, pizza and pasta, with everything designed to be shared. For drinks, Thibault has put together an 80-bottle Italian-focused wine list, and a Negroni menu that includes Birthday Negronis, with vintage gins, vermouths and Campari sourced from every decade back to the 1960s.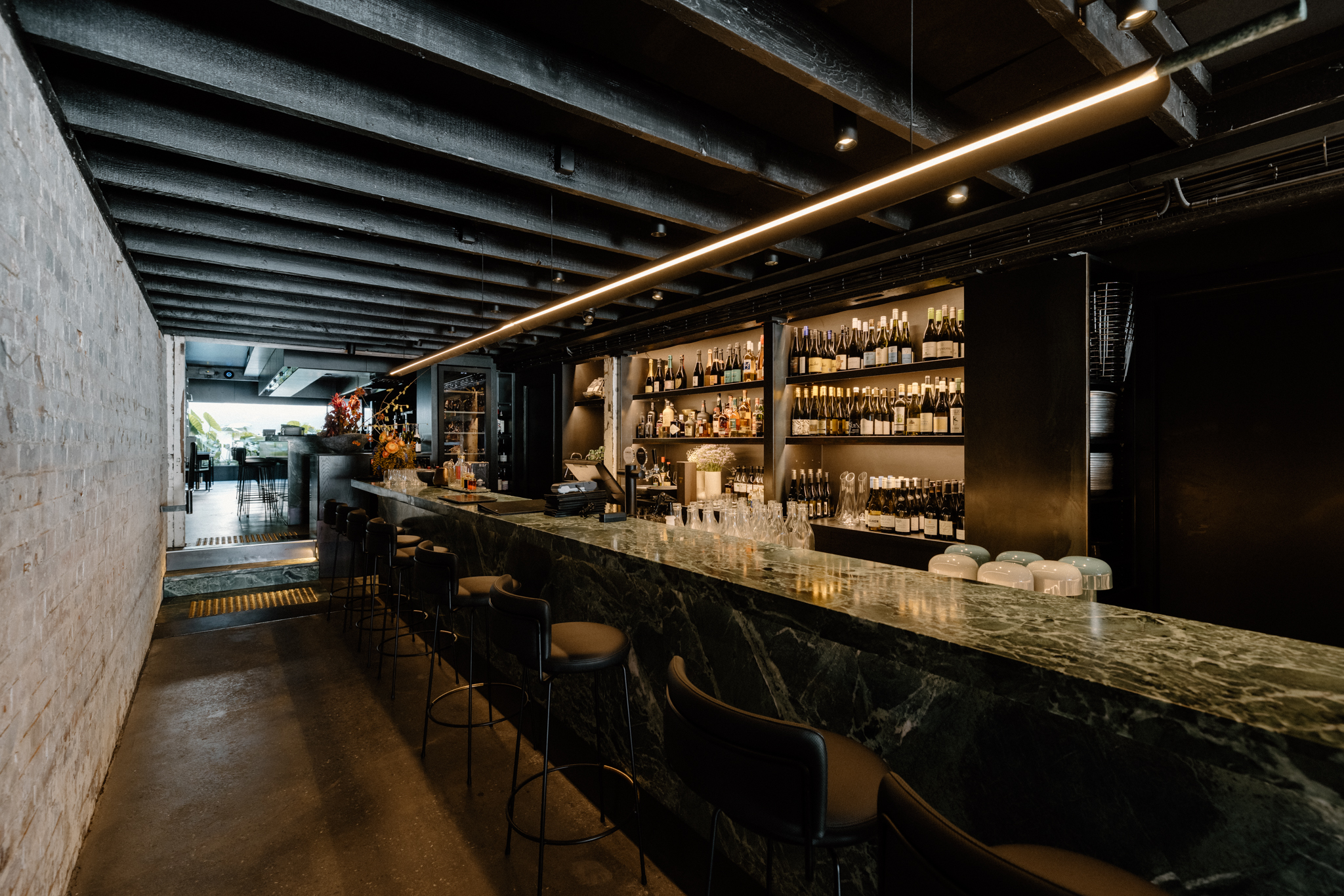 The long awaited Essa opened in August in an unassuming tenancy just off James Street. Where other eateries in the popular precinct tend to be full of light, Essa is dark and charismatic, architect Craig Channon fitting it out in black timber and banquettes, green marble tables and hidden lighting. The centrepiece of the venue is a long green marble bar, behind which co-owner and former Gauge head chef Phil Marchant prepares a local produce-focused menu anchored by a woodfired grill built in Melbourne by The Brick Chef. Marchant switches up the menu regularly but expect dishes such as burnt kohlrabi that's then pickled and served with fresh curds, bay leaf, pistachio and nasturtium; house-rolled gnocchetti sardi served with Fraser Isle spanner crab, nduja and carrot; and spatchcock quail with brown butter, caper leaves and salt bush. At launch the restaurant had around 110 wines drawn from both Old World and New World wineries, with the collection destined to grow out towards 150 in the coming months.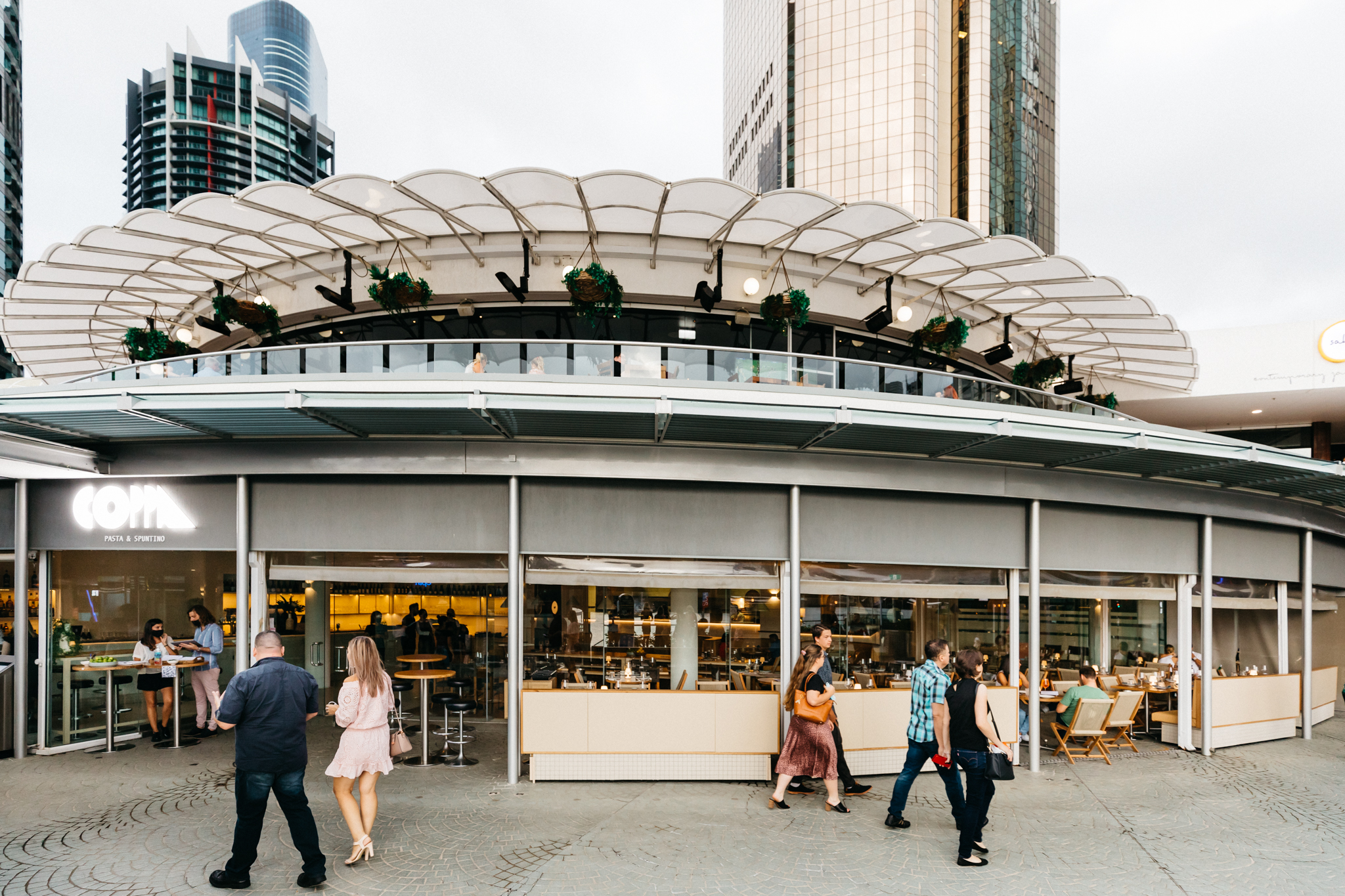 Creek Street favourite Coppa Spuntino was resurrected by the river at the start of the year in the iconic former digs of Il Centro, completely transformed into a breezy, beautiful Amalfi-inspired restaurant with tiles, timber and white rendered walls. The share-plate menu remains much the same and includes the killer burrata, pork and veal meatballs, and gnocchi with kale and walnuts (although the pizzas have disappeared). For mains there's roasted porchetta with rocket and apple, and a bistecca alla fiorentina designed to share. The wine menu focuses on Italian styles and a bunch of local minimal-intervention drops, but there's also a slushy machine spinning frozen Prosecco, Pina Coladas, and chilli and watermelon Margaritas.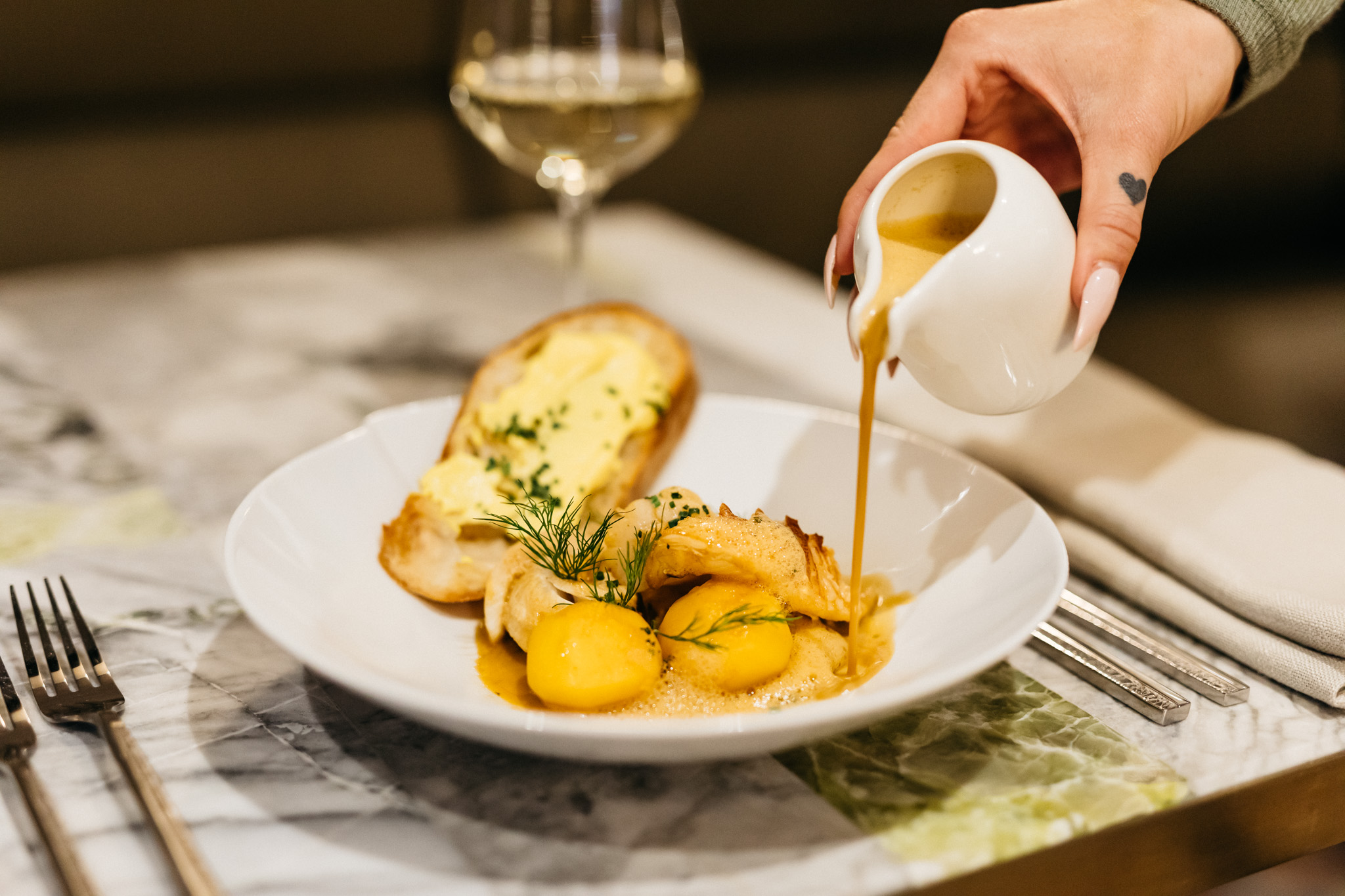 Rooftop restaurant and bar Iris might be a hit on Instagram, but it's sister venue Bisou Bisou on the ground floor of the newly opened Hotel X that's perhaps the better proposition for dinner. The classy AZB Creative-designed restaurant is all arched brickwork, parquet floors and marble countertops. For food, the restaurant deals in French icons such as pommes aligot (silky potato puree with melted cheese), rotisserie chicken, and steak frites with cafe de Paris butter. The wine list runs to 200 bottles and is backed by an adventurous mix of classic and signature cocktails. The restaurant is also open for breakfast, so you can take a seat in its little courtyard and start your day with a croque madame, or Lyonnaise sausage and eggs.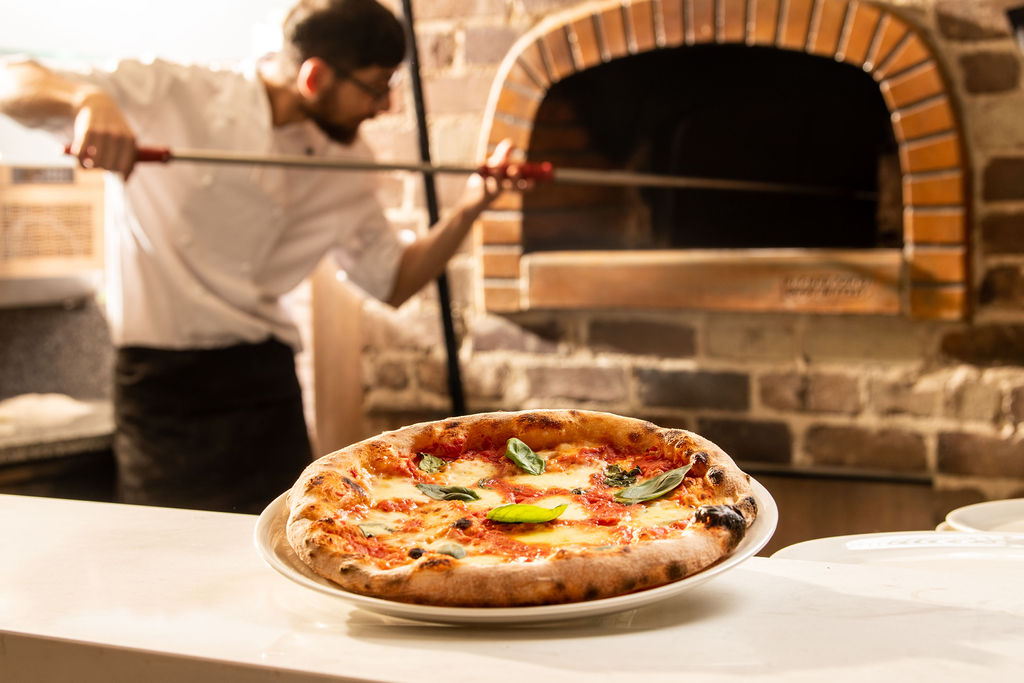 This causal Given terrace Italian joint comes from Beccofino veterans Mauricio Zarate, Pedro Sanson and Stefano Spataro. The food menu is anchored by a Marra Forni woodfired oven that punches out a pizza menu divided into classic rossa options – including the Salsiccia (scamorza cheese, pork sausage and onion) and the Marina (mozzarella, white anchovies, artichokes and watercress) – while the pizza bianca get a little more creative, with choices such as the Trevisana (mozzarella, gorgonzola, radicchio, cherry tomatoes, walnuts and ham) and the Piemontese (mushroom puree, mushrooms, buffalo mozzarella and artichokes). The rest of the menu includes leek and goat's cheese arancini; fried stuffed olives; and a clutch of pastas such as linguine with clams, garlic, chilli, lemon and seafood bisque, and tagliatelle with Brazil nuts and basil pesto, green beans and salted ricotta. Drinks go big on classic Italian wines but also include lesser-known varietals.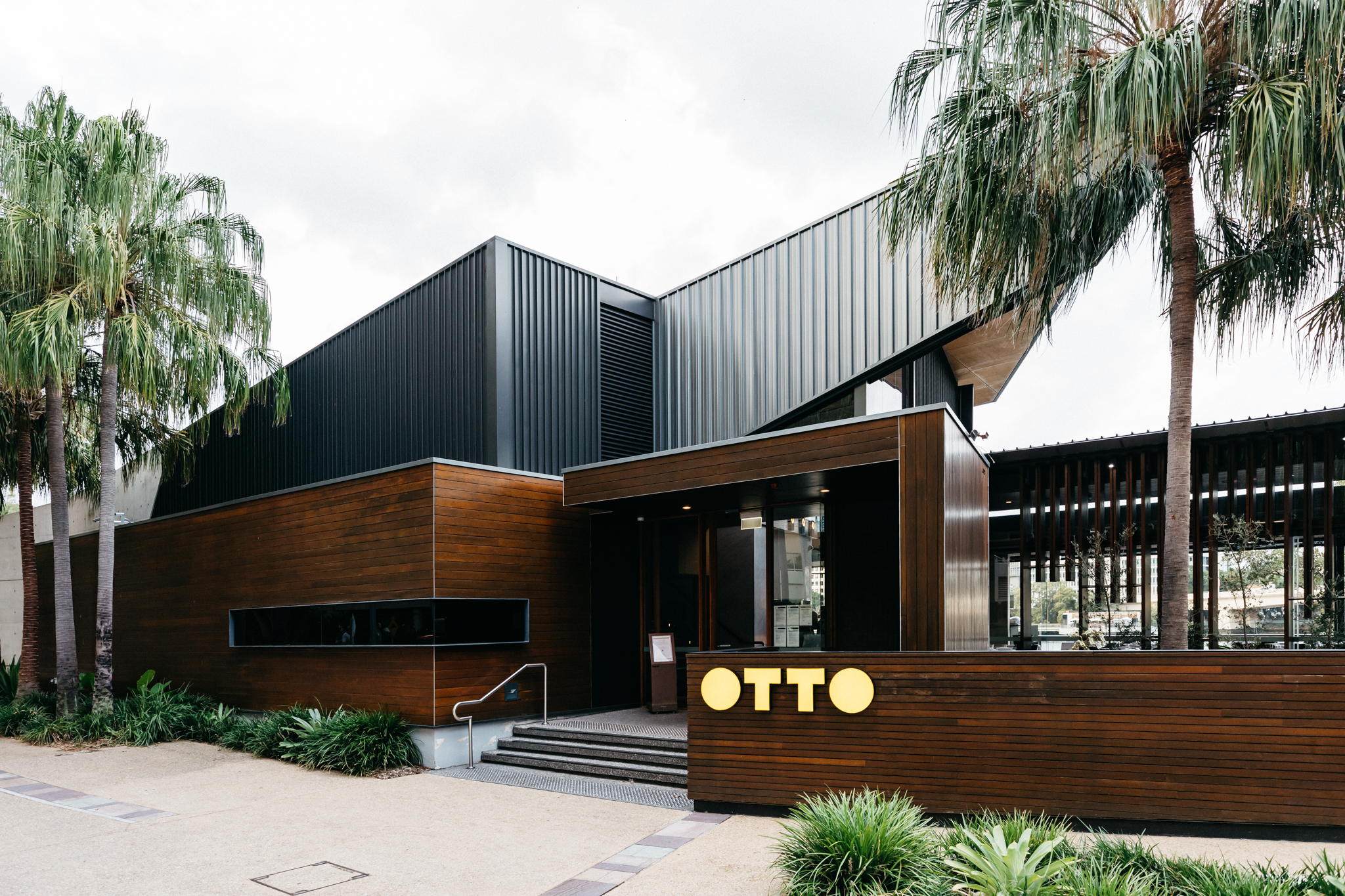 Otto moved on from its 480 Queen digs at the start of the year to find a new home by the river in the now iconic Arkhefield-designed South Bank tenancy previously occupied by Stokehouse Q. This is still that elevated Otto experience, and chef Will Cowper and restaurant manager Alan Hunter's respective food and wine menus are much the same, but those unencumbered views of the water and CBD better suit the restaurant's peerless sense of occasion. The celebrated lobster spaghettini, carpaccio, and Otto's tight selection of beef are all present and correct. Elsewhere on the menu, you might opt for hand-rolled pici with pork sausage, rapini, roasted onion and basil pesto; Longreach lamb with green asparagus, peas, zucchini, broad beans, goat's feta and mint; or Maremma duck breast with corn, pancetta, sugar snaps, pickled mushrooms, mustard and duck brodo. The wine list – one of the best in town – can take you in any direction but specialises in small-producer Italian drops. The biggest change is the opening of Otto Osteria, which transcribes the classy Italian eats and drinks into a more laidback bar-style setting.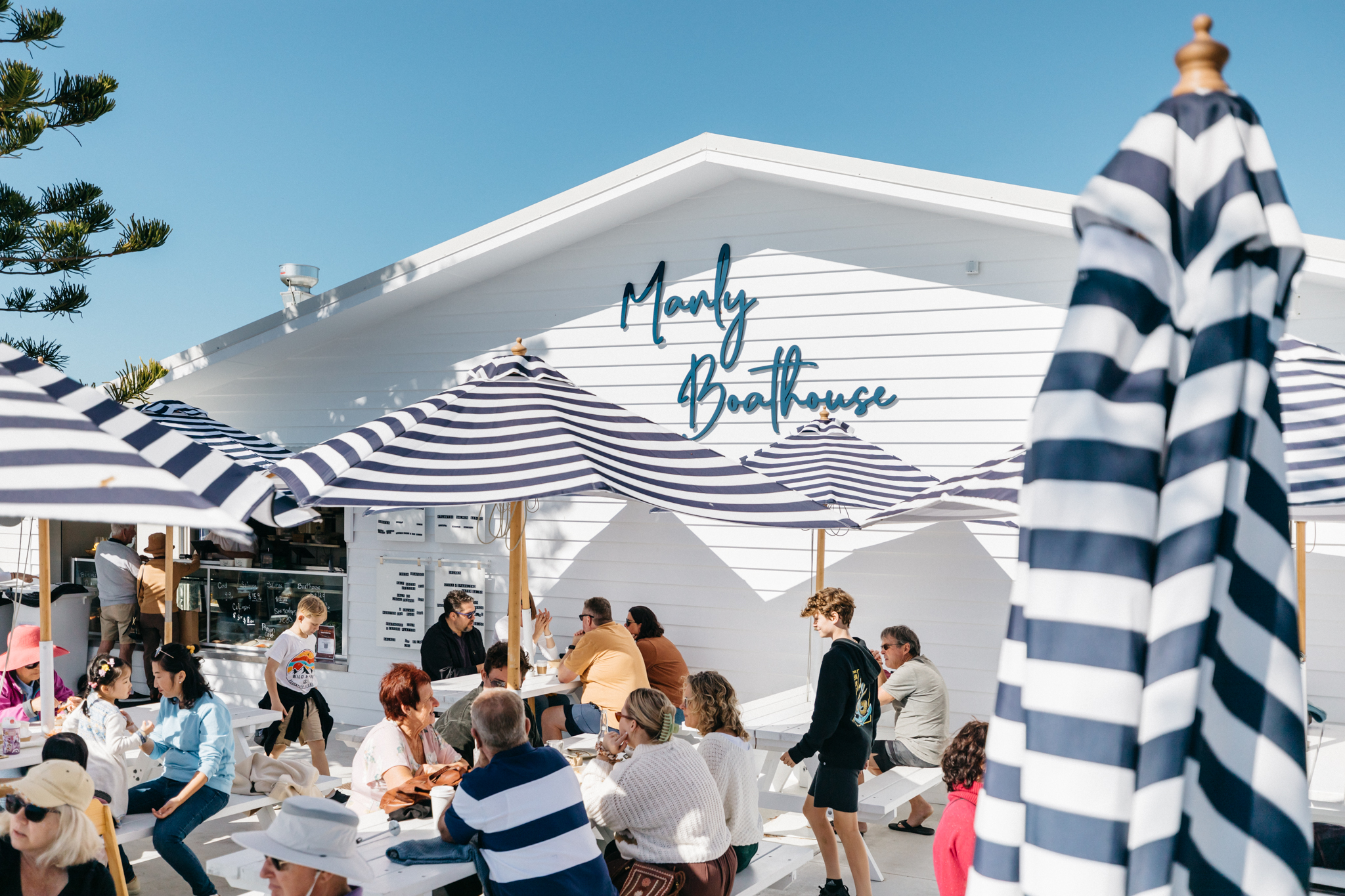 Occupying the timber-framed former home of the 18 Footers Sailing Club, Manly Boathouse is an Instagrammable waterside restaurant, cafe and bar from the team behind Reef Seafood & Sushi. Inside, just about everything is white – the light shades, the section curtains, the exposed ceiling beams – and the restaurant is lined with French doors to make the most of peerless views of Manly Boat Harbour and Moreton Bay. For food, chef Braden White (formerly Hatch & Co, The Apo, Ricky's and Miss Moneypenny's Broadbeach) has written a menu heavy on seafood – think barbequed Tasmanian scallops with miso mayo, or barbeque rock lobster with a caviar and scallop butter emulsion, soft herb salad and lemon – washed down by breezy cocktails, 10 beers and ciders on top, and a generous wine list that favours classic Australian drops. There's a cafe on-site for early risers and a fish and chippery for those keeping it more casual.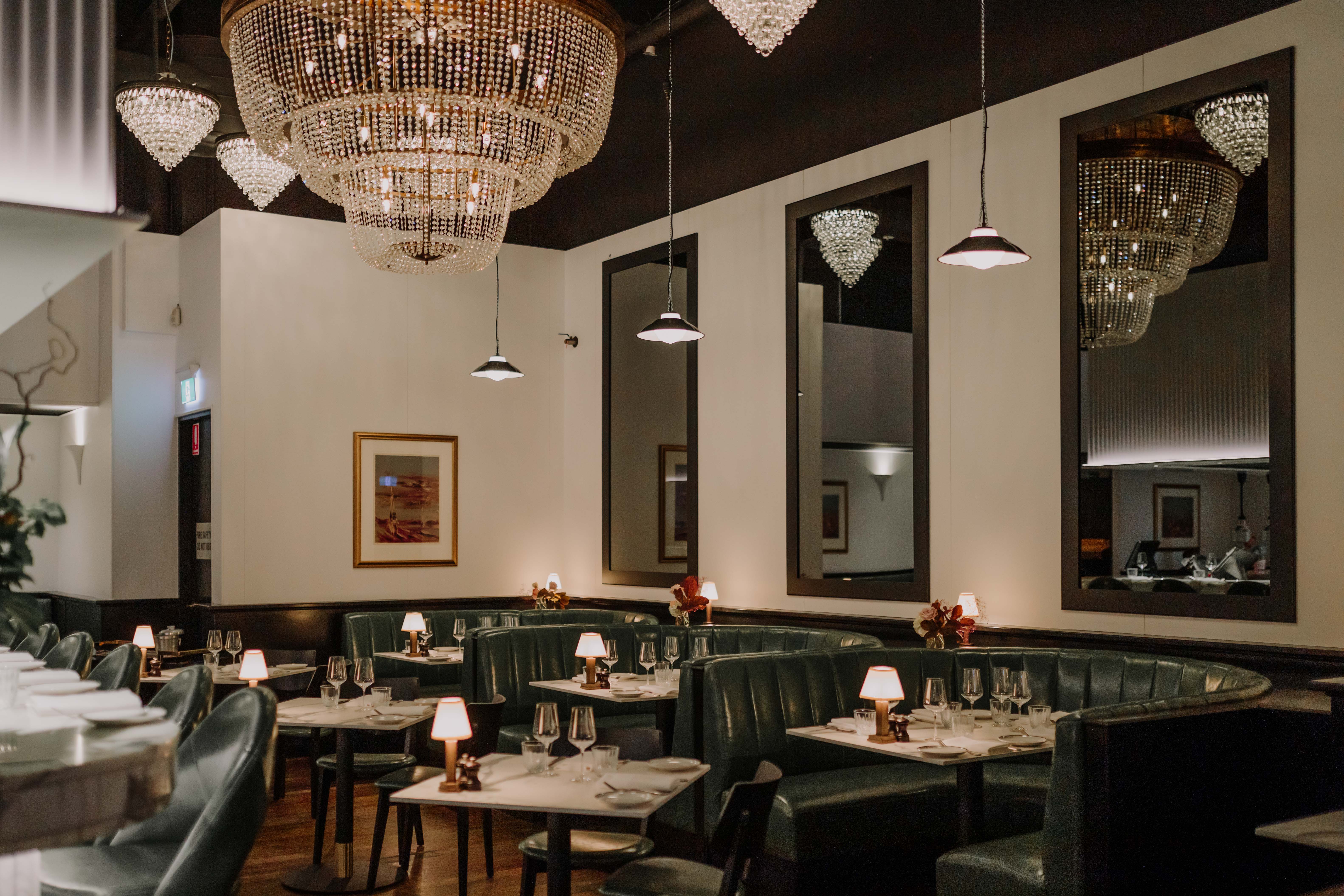 The new restaurant from 1889 Enoteca co-owner Dan Clark and celebrated former Aria chef Ben Russell is a mirror-lined, leather boothed beauty in the old Jamie's Italian space on Edward Street in the city. Designed to capture the feel of international icons such as the Musso & Frank Grill in West Hollywood, or London's iconic Wolseley cafe-restaurant, Rothwell's deals in the classics done well – think Moreton Bay bugs with cafe de Paris butter, duck cassoulet with confit leg and Toulouse sausage, and a a 600-gram beef Wellington served with red wine sauce designed to be shared. As always with Clark, wine plays a central role in the experience, with a 350-bottle list tapping French regions such as Burgundy, Loire Valley, the Languedoc and Champagne, as well as classic Australian and Italian varietals. There's a cocktail list that features an Old Fashioned, a Gibson, a Negroni and a Hemingway Daquiri, as well as a Martini delivered in a coupe glass with a sidecar on ice.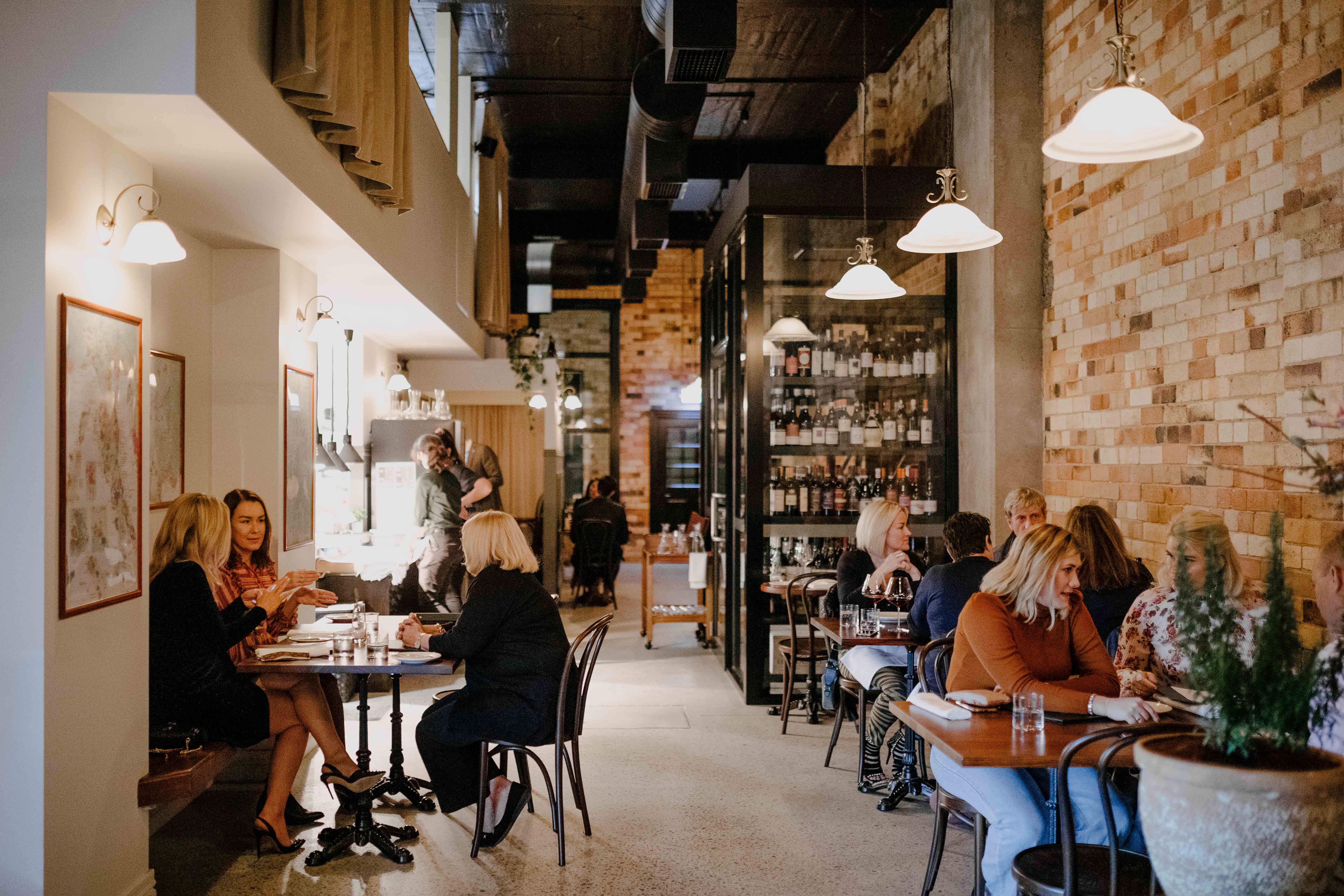 One of the first tenants in the recently reopened Stewart and Hemmant building, Rosmarino deals in elevated Italian comfort food such as housebaked breads, antipasti, housemade pastas and main meals. You might eat roasted duck with tonnato sauce, caper berries, Amarena Fabbri (a brand of wild cherry syrup) and garlic oil bread crumb, or a 9+ Wagyu tri-tip aged in white chocolate and served sliced with black bagna cauda (a dipping sauce made from garlic and anchovies) nectarine and pearl onion. Pasta dishes include fusilli with Mooloolaba king prawns, garlic, red chilli, parsley and guanciale, and casarecce with rabbit ragu, shallot, goat curd and lemon tyme. The wine list will eventually reach 800 bottles – it focuses on Italian varietals and expressions from Mount Etna, in particular, with many of them biodynamic or sustainable. A fabulous fit-out is all high ceilings, tall and heavily framed windows, and concrete floors, with plenty of personality added via mangrove-green walls, vintage light fittings, and old family photos dotted about the place.


Honourable Mentions

Banc – the team behind the Port Office Hotel opens a fabulous brasserie and bistro in an old Queen Street bank.
Paella Y Pa' Mi – a poky 11-table Coorparoo restaurant dedicated to paella with a former Miguel Maestre protege in the kitchen.
The Inchcolm Bar – an old-world, Los Angeles-inspired bar and bistro from the Ovolo crew.
City Winery Eagle Street – the Valley urban winery opens a beautiful al fresco cellar door in a buzzy riverside location.
Iris – Ghanem Group's fabulous new rooftop eatery and bar deals in a broad menu of Mediterranean share plates served against a backdrop unlike anything else in the city.
Rita's – a freewheeling Mexican restaurant and bar from the Siffredi's crew.
Ma Pa Me – a fabulous pan-Southeast Asian restaurant from the team behind Harajuku Gyoza and chef Alfie Musthafa.
Revel Rivermakers Restaurant – the Bulimba craft brewer launches a brick-lined restaurant in a new riverside precinct.
Opa Bar and Mezze – Michael Tassis takes over the old Jellyfish spot with an immaculately fitted out Greek restaurant and bar.
La Mexicana – star chef Louis Tikaram serves lamb barbacoa, kingfish aguachile and grilled street corn, washed down by a back bar stacked high with tequila and mezcal.
Gemelli – the star Gold Coast operator comes north, serving woodfired Naples-style pizza and fabulous pasta, helped down by a 200-bottle wine list.
La Costa Restaurant – the beating Italian heart of a mini food and drinks precinct created on Alfred Street by Stefano de Blasi and Edoardo Perlo.