Adelaide

Brisbane

Canberra

Melbourne

Perth

Sydney

Tasmania

New Zealand
Adelaide

Brisbane

Canberra

Melbourne

Perth

Sydney

Tasmania

New Zealand
Opening Soon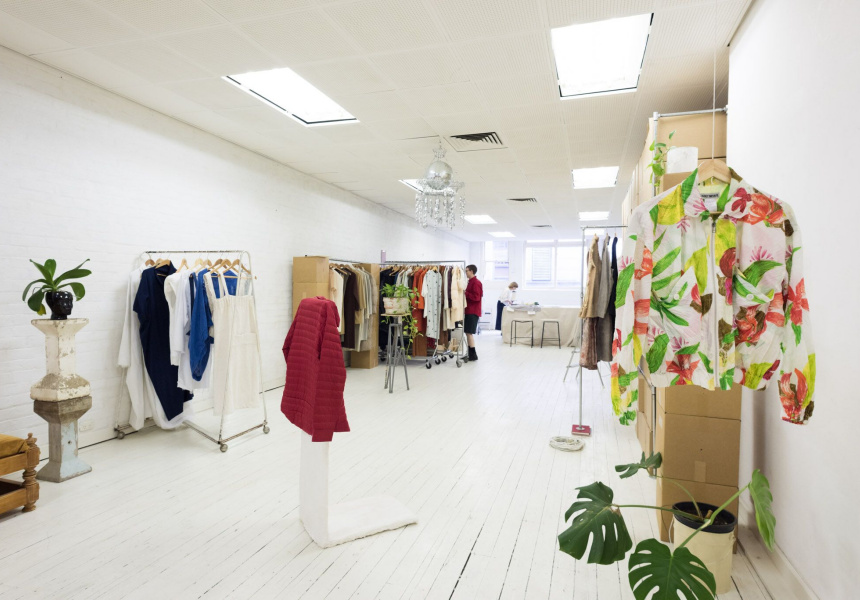 A Flat Shop is about to be Adelaide's latest retail destination for designer vintage fashion. The new shop and studio on Gresham Street is the new venture by four local creators, collectors, designers and lovers of clothes.
The team has sourced garb from designers that prioritise beautiful textiles: international designers such as Issey Miyake, Comme des Garçons and Jil Sander, plus unique, inspired garments from the store's in-house designers.
The four behind A Flat Shop – Christopher Arblaster, Angela Carrig, Lachy Lang and Nathan Peacock – are no strangers to Adelaide's fashion, design and creative scenes.
Long-time collector Arblaster has sold his various finds under the Filter Store name in temporary and pop-up spaces since 2012. The evolution from Filter into a more comprehensive retail concept is a long time in the making, from the brand's initial home on Payneham Road (a Renew Adelaide project) to its online store and its residency in the now-defunct Format art space. The tremendous collection Arblaster has amassed over the years – including items from Maison Martin Margiela, Jean Paul Gaultier, Helmut Lang and Yohji Yamamoto – will be available for purchase at A Flat Shop.
"I just want people to enjoy clothes," he tells Broadsheet. "I want to find and sell good clothes; I want people to think about clothes."
Carrig and Lang have both made their mark on the local fashion design scene, more recently as part of shared workspace and design studio Cloister Workrooms (alongside Arblaster and designer Andrija Sala). Both Carrig and Lang's garments will be available at A Flat Shop.
Carrig's unisex garments focus on form and textile over trend. Where most unisex designers play it conservative with T-shirts and trackpants. Carrig's clothes push the boundaries of what we consider feminine and masculine attire. Lang's minimalist designs add an element of humour and dissent – whether it's the scarf constructed simply from the arms of a sweater, the "free the nipple" shirt (a white shirt with slits cut out at the chest) or his "cardinal sin" series of shirts that appropriate the clerical collar.
Nathan Peacock is a fast-emerging name in the local art scene and the final piece of the puzzle that is A Flat Shop. His art focuses on crafting sculpture work, but extends to ceramics too. While his three Flat-mates focus on fashion, Peacock ensures customers have beautiful, handmade goods for their apartments.
There will also be locally and handmade items by some of Adelaide's top craftspeople including expected contributions from Jam Factory designers. Arblaster's significant collection of fashion books will also be available to buy – something he says is a unique offering in Adelaide. "We will have a selection of books mostly covering fashion and clothing like books on Japanese designers, photography and zines," says Arblaster. There'll be a particular focus on the designers stocked in-store, "Which will help fill in details and give context to the clothes", he adds.
The store will also stage occasional events, exhibitions, screenings and workshops about clothes and design. The launch on April 4 will be accompanied by an exhibition called Hangers, which will explore the functionality of the clothes hanger as an object or tool. Thirty-five local artists including Lilly Buttrose, Jennifer Mathews, Connie Augoustinos, Timothy Tuppence, Julia McInerney, Henry Jock Walker, Eleanor Amor and Grace Marlow will exhibit conceptual clothes hangers they've made, modified, or found, which will be hanging on the racks, walls and from the ceiling.
A Flat Shop will launch on Thursday April 4 from 6pm to 9pm at level 2, 25 Gresham Street, Adelaide. Drinks are provided by Sparkke. Hangers will be on display for six weeks.
The store will open every Friday from 9am until late or by appointment at other times.
Contact Details
Updated: March 26th, 2019
We do not seek or accept payment from the cafes, restaurants, bars and shops listed in the Directory – inclusion is at our discretion. Venue profiles are written by independent freelancers paid by Broadsheet.